Yaber Ace K1
Pros
Crisp, ultra-bright video with clear colors.
Automatic focus and keystone adjustment.
Easy-to-use user interface.
Built-in 15-watt speaker sounds great.
Excellent build quality.
Cons
Remote sensor is not very sensitive.
On-screen keyboard is missing some special characters.
There's something about watching a movie with a projector that feels special. Sure, you could use the same old TV you always use. But a projector brings a sense of nostalgia to the experience. Projectors are also easy to transport. A backyard movie night with your heavy flatscreen TV isn't exactly the most practical idea.
Modern projectors are a lot more than just a dumb box with a lens. They're a complete media system, with support for multiple inputs and wireless connections. If your new projector doesn't support WiFi and Bluetooth, you're not getting the latest and greatest design. Thankfully, there are plenty of good options out there.
Today, we're going to review the Yaber Ace K1. This is a brand new projector from an up-and-coming brand. But is it the right choice to meet your needs? To find out, we'll have to take a close look at its performance. We'll look at the connectivity, video quality, and all the relevant features. After that, we'll have a clear enough picture to deliver a fair verdict. Let's begin!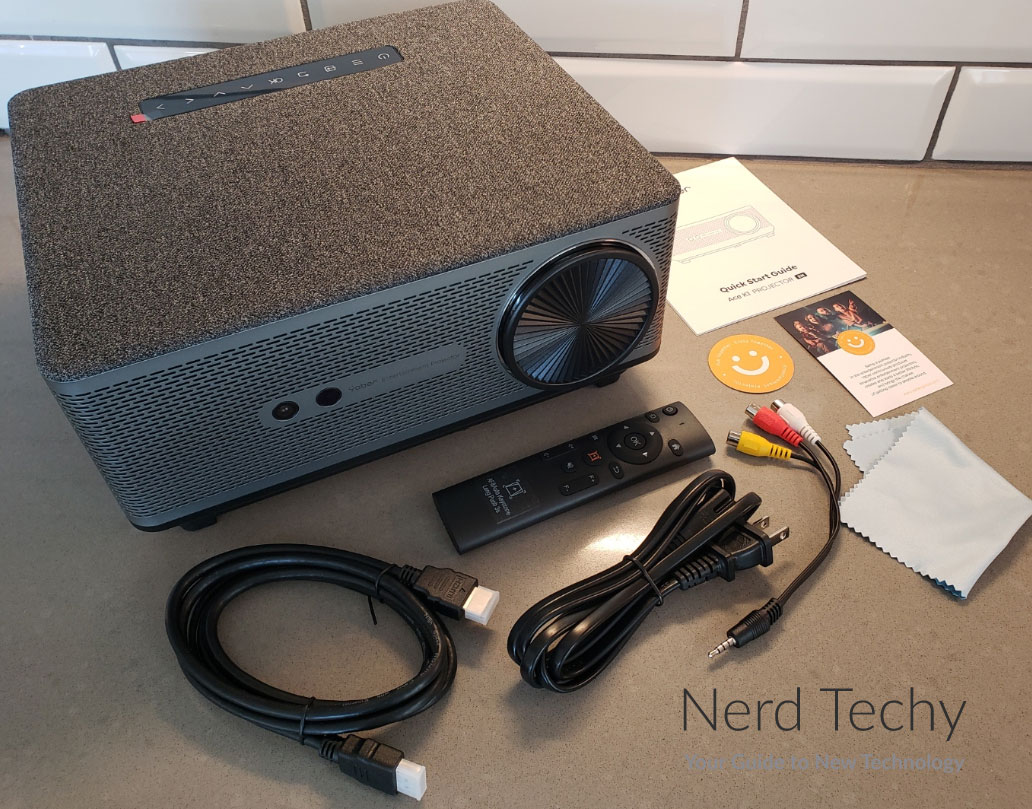 Overall Design
The Yaber Ace K1 has a black rectangular housing, with rounded corners for added durability. The sides are made of plastic, with vents towards the back to allow the cooling fans to work. The bottom has a set of sturdy rubber feet, which provide an air gap underneath the housing. This further improves the cooling efficiency.
The top of the projector is a dense cloth, similar to the material on many speaker covers. It's rated IP5X for weather-resistance, which means it's not splash-proof. However the "5" indicates an excellent dust-resistance rating. You don't have to worry about dust getting in and clouding up the lens.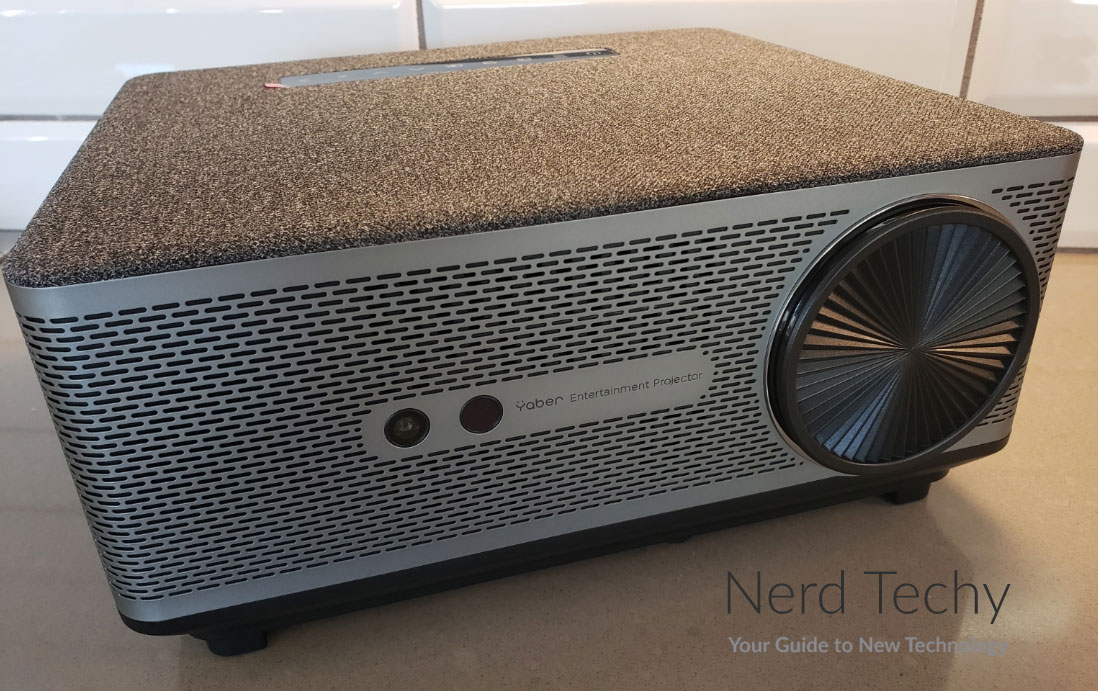 The overall size of the unit is 11.7 inches wide, 5.4 inches thick, and 10 inches long. At 8.61 pounds, it's a bit heavier than we expected. That's probably because of the unusually large internal speaker, which we'll talk about more in a minute. Even so, it's not prohibitively heavy, nor is it too bulky to carry.
The lens is located at the front left of the projector. It's recessed deep into the housing, which is an excellent safety feature. Since it doesn't protrude, you're unlikely to graze it with your finger during handling. To the right of the lens are a pair of sensors for the focus and keystone adjustment.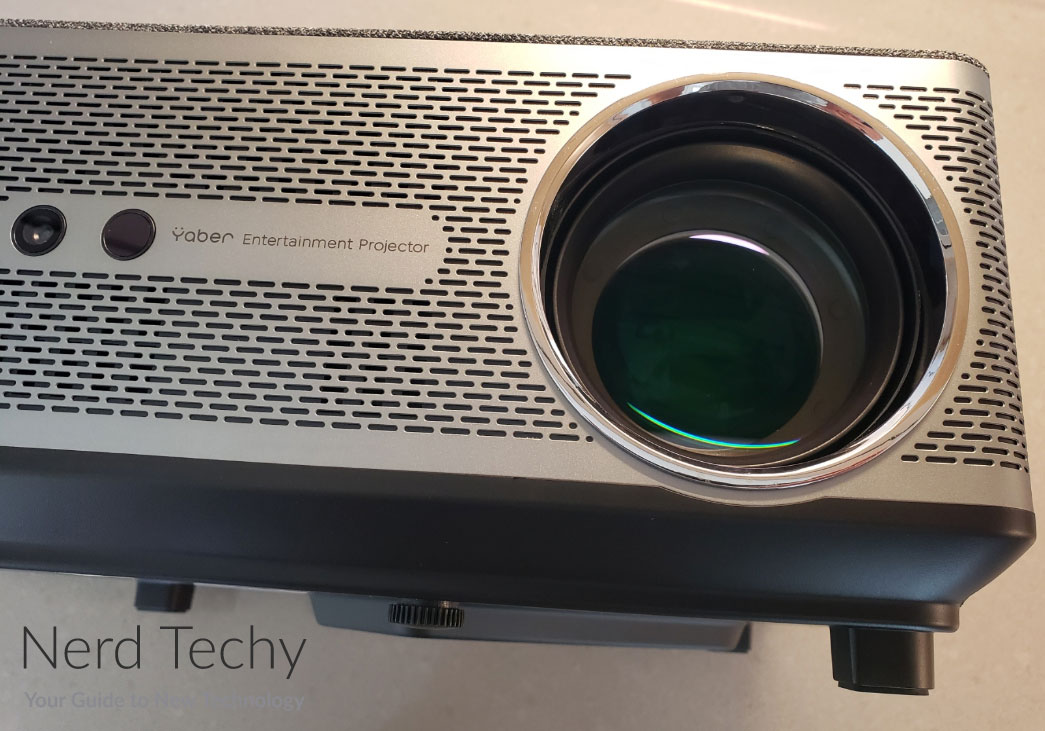 Yaber's warranty period has two stages. For the first six months, it's a money-back guarantee. After that, the repair warranty will cover you all the way out to three years. That's about par for the course with today's projector warranties.
If you're looking for something on the smaller side, the Vankyo Leisure 495W is a good choice. It's ultra-compact and lightweight, which makes it great for travel. On the downside, the video quality isn't quite as good, and it doesn't support 4K video inputs.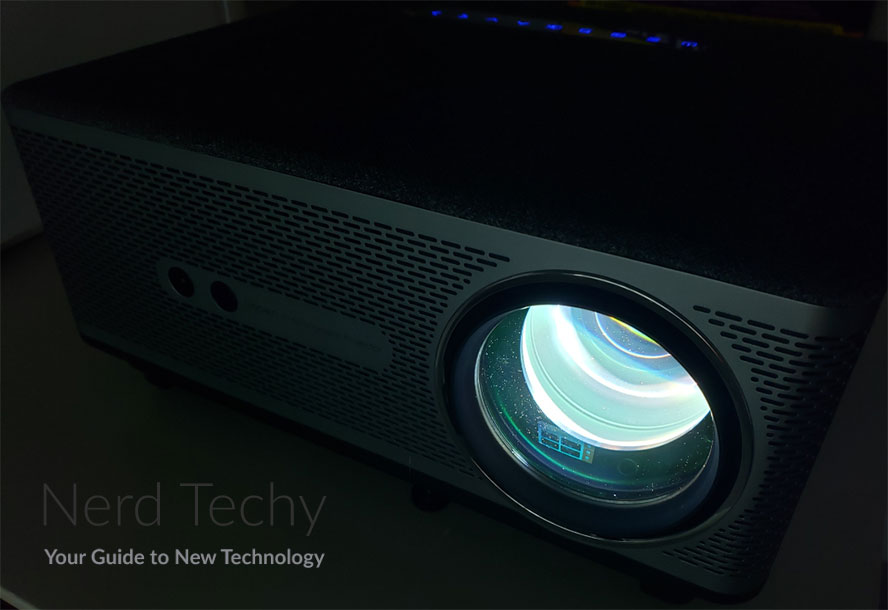 Video Quality
The Yaber Ace K1 has a native resolution of 1080p, and a supported resolution of 4K. This means that it can accept any video input up to 4K resolution. Plug in your Blu-Ray player, and you won't have to mess around with your output settings. That said, the video you see on your screen will be downscaled to 1080p. Keep in mind that the same doesn't work in reverse. If your video source is 720p, it will still come out as 720p. There's no way to "upscale" it to 1080p.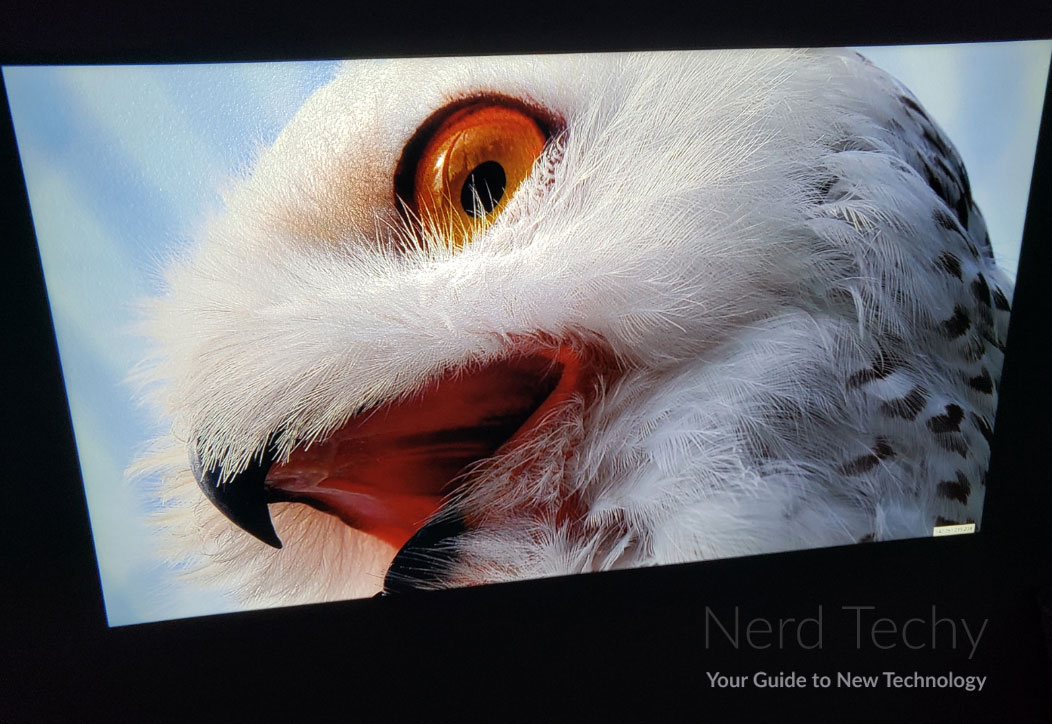 Perhaps the most noteworthy feature of this projector is its brightness. With a 650-lumen LED bulb, it's half again as bright as some of the other bright home projectors on the market. Despite this, it's surprisingly quiet when it's running. The fan doesn't create a ton of noise, even when you have the brightness cranked up all the way.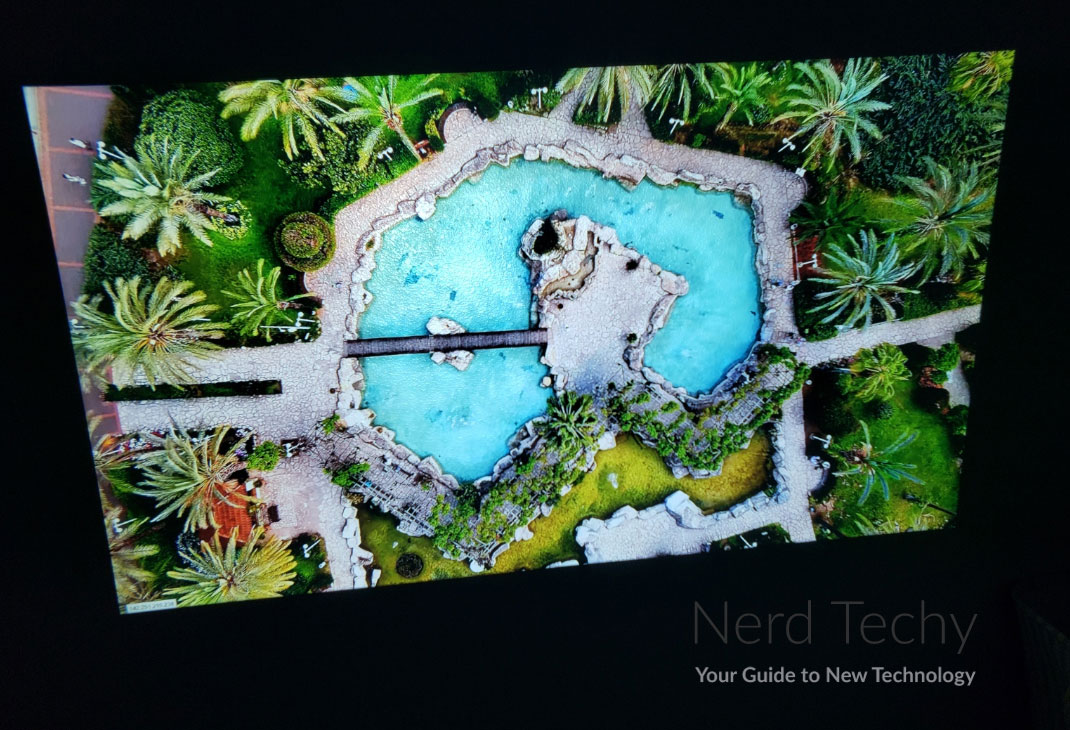 The actual image quality is incredible. It perfectly replicates colors in their true form without any tearing, blurring or unwanted effects. Regardless of if you're playin a movie or simply watching some high-definition content on YouTube, the Ace K1 truly shines in this aspect. In fact, we were impressed with the video quality that we felt it easily comparable to other projectors we've tested in the past that have cost two or three times as much.
The total size of the display will depend on how far your projector is from the screen. The further away, the larger the image, but the brightness also goes down with distance. In total, you can go from 40 to 300 inches. Yaber recommends 150 inches to get the optimum quality, but even 300 inches looks good in complete darkness. It'd be a great addition to use with any of the best inflatable screens for projectors.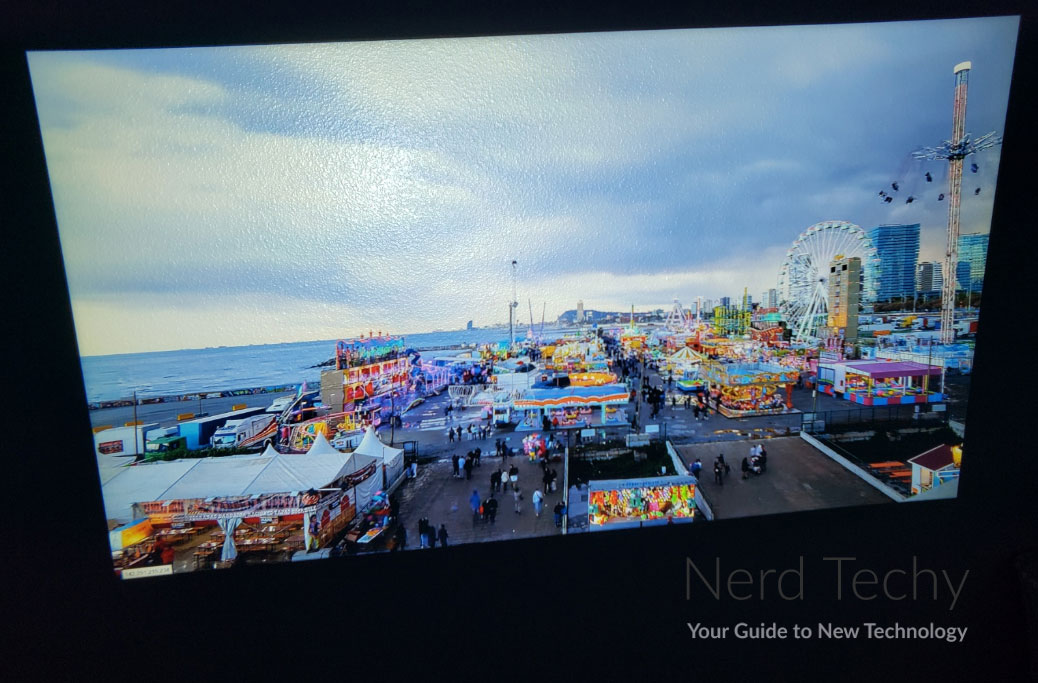 The contrast ratio of 1,600:1 is better than our standards. This number represents the ratio of the lightest to the darkest colors on the screen. In very dark scenes, a low contrast ratio makes it tough to distinguish what's going on. That's simply not a problem here. You'll be able to make out dark scenes and video games without cranking up your display contrast.
Connectivity
On the back of the Ace K1, you'll find all the ports you need to connect your devices. There's a pair of HDMI ports to start with, which are probably what you'll use most often. There's also a VGA port for connecting older computers, and an AV port for other devices.
In addition to that, you'll notice a pair of USB Type-A ports. These ports can be used to connect a USB thumb drive or an external hard drive. That way, you can watch videos from your drone or camera.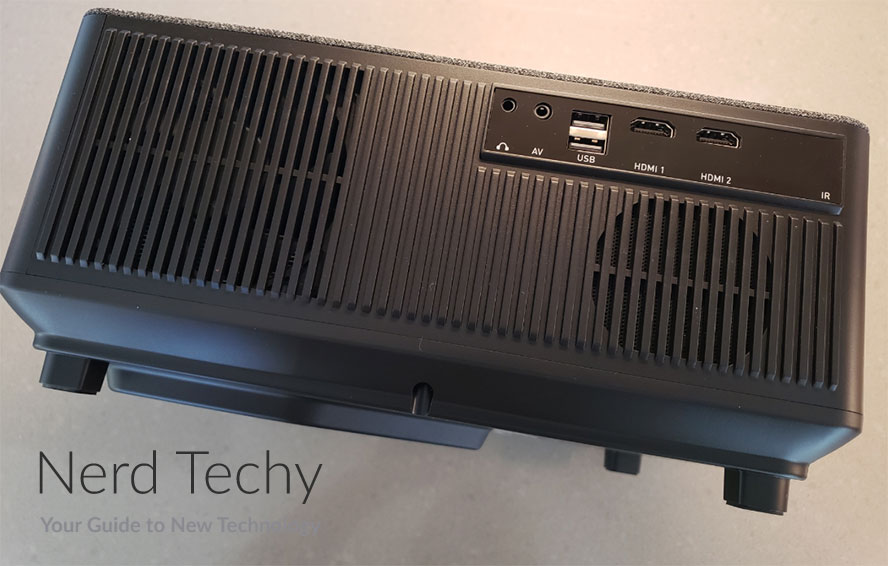 That said, there's no need to use a wire at all. The projector can connect to your WiFi network so you can stream to it from your phone or computer. That way, you don't even have to plug in. The setup process is simple and intuitive, and is generally easy. The only hitch is that some of the more oddball special characters aren't available on the on-screen keyboard. This could be problematic if you use them in your WiFi password. But once you're connected, you'll enjoy a fast, smooth connection with near-zero latency.
In addition, the Bluetooth 5.0 chip allows you to connect other peripherals. You can't stream video to the projector via Bluetooth. Bluetooth just doesn't have the bandwidth. But you can connect to an external speaker or Bluetooth soundbar to amp up your audio.
If you want even better Bluetooth performance, consider the Vankyo Performance V700W. Its Bluetooth 5.1 chip allows for an even faster, lower-latency connection. It's also a two-way connection, so the projector can double as a Bluetooth speaker. On the downside, it doesn't support 4K video inputs.
Controls
You'll find a set of controls on top of the housing, towards the back. These controls are soft touch buttons, arranged in a row. The soft touch design makes them easy to operate, and you don't have to press down hard. Using these buttons, you can adjust the volume, switch inputs, and trigger focus and keystone adjustment.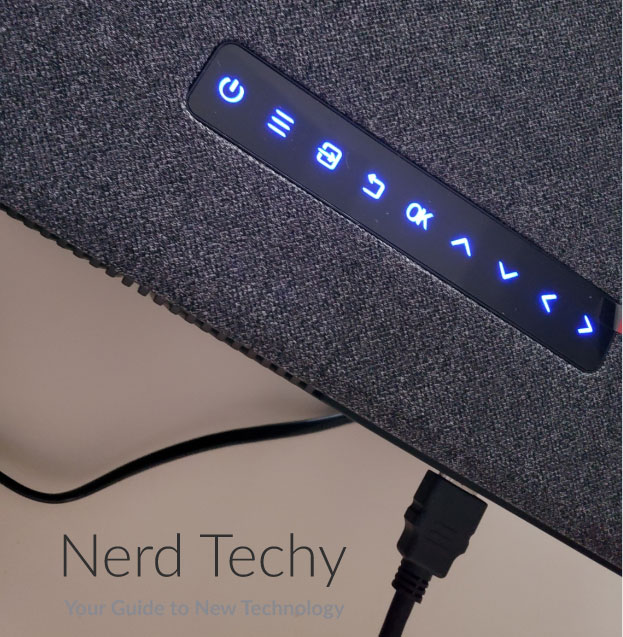 In addition, you can navigate the menu and change other settings. We liked the user-interface here, which is very intuitive to navigate. It's easy to adjust the brightness, contrast, color saturation, hue, and other more advanced options. There's even a little equalizer menu for the sound. All in all, the system easy to operate and adjust as needed.
If you don't want to mess around with on-board controls, you don't have to. The kit includes a handheld remote that can perform all the same functions. It's about the same size as a small TV remote, and it fits comfortably in your hand. The only downside is that the remote control receiver isn't very sensitive. You have to point the controller directly at the projector, or it won't register any of your inputs.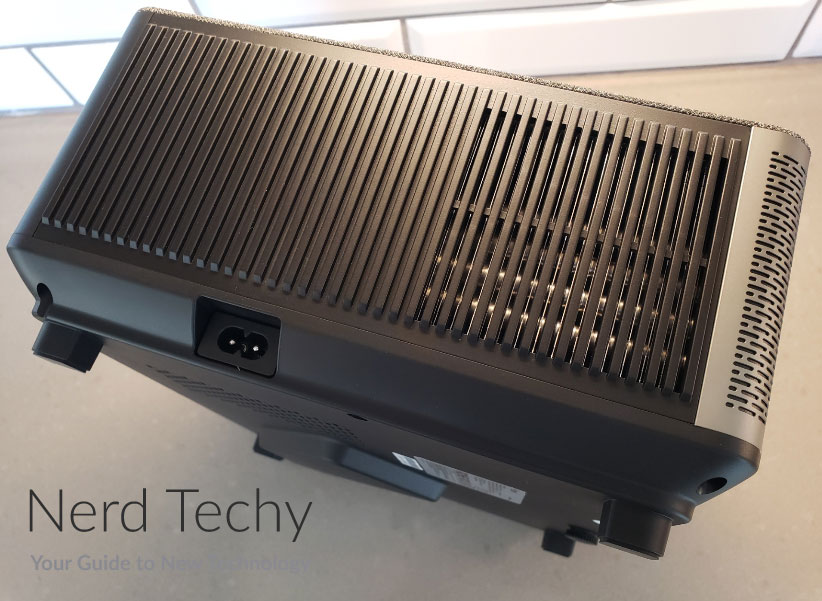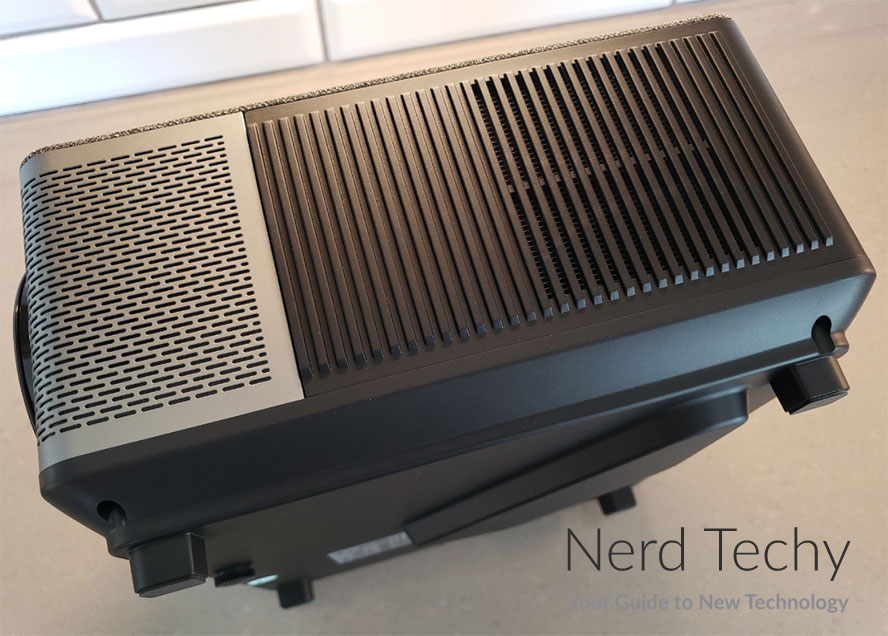 Use code "05NERDTECHY" for a 5% discount when you order the Yaber Ace K1.
Extra Features
As we mentioned earlier, the built-in speaker on the Ace K1 is more powerful that you'd expect. At 15 watts, you're not looking at a dinky little projector speaker. It's not like it's a big 30-watt sound system. But it's about on par with the audio you get from a TV. That's refreshing, since most projectors don't put out enough sound to fill your living room. It's not like it's Dolby-quality or anything, but it should work well for most people.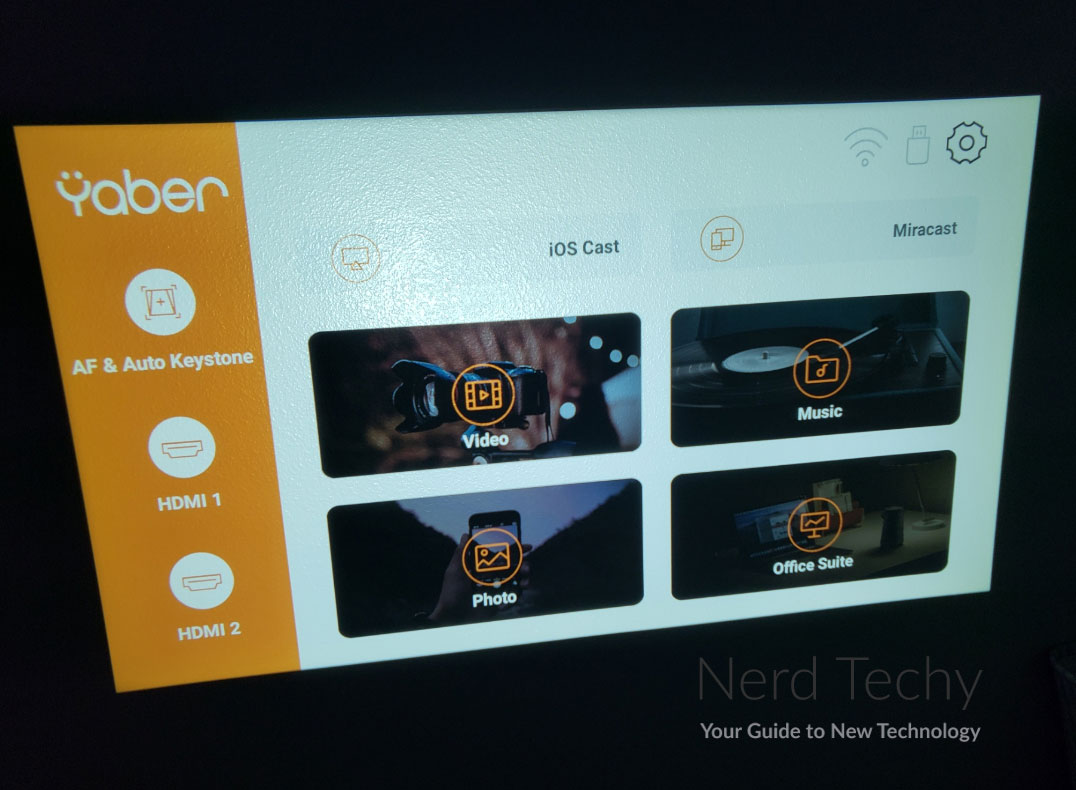 The focus and keystone correction are also automated. Instead of manually adjusting a couple of dials, you just press a button. Within a couple of seconds, you'll have a crisp, properly-proportioned image. If you bump the projector, it could go out of focus. But another press of the button will set things right.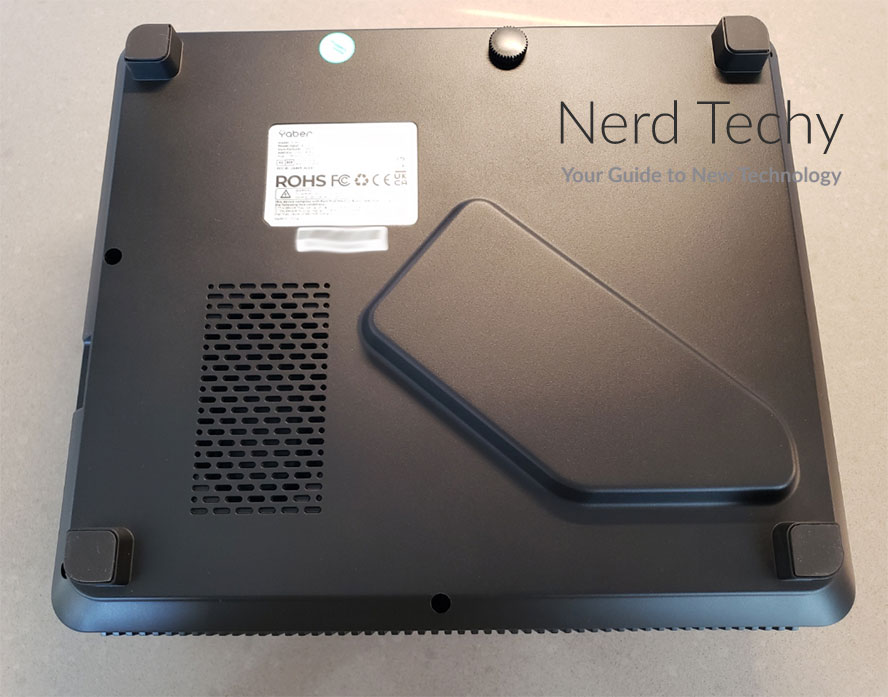 Besides all that, there's also the option for 50% digital zoom. This allows you to zoom in during presentations to highlight important information. Keep in mind that the zoom is digital, not optical. The further you zoom in, the grainier the image will become. Even so, it's a useful feature for office applications.
If you're looking for something entirely different, check out the Vankyo Leisure E30. It comes with its own projector screen, so you don't have to purchase anything separately. It also has a wide, 50% keystone adjustment range, although the system isn't automated.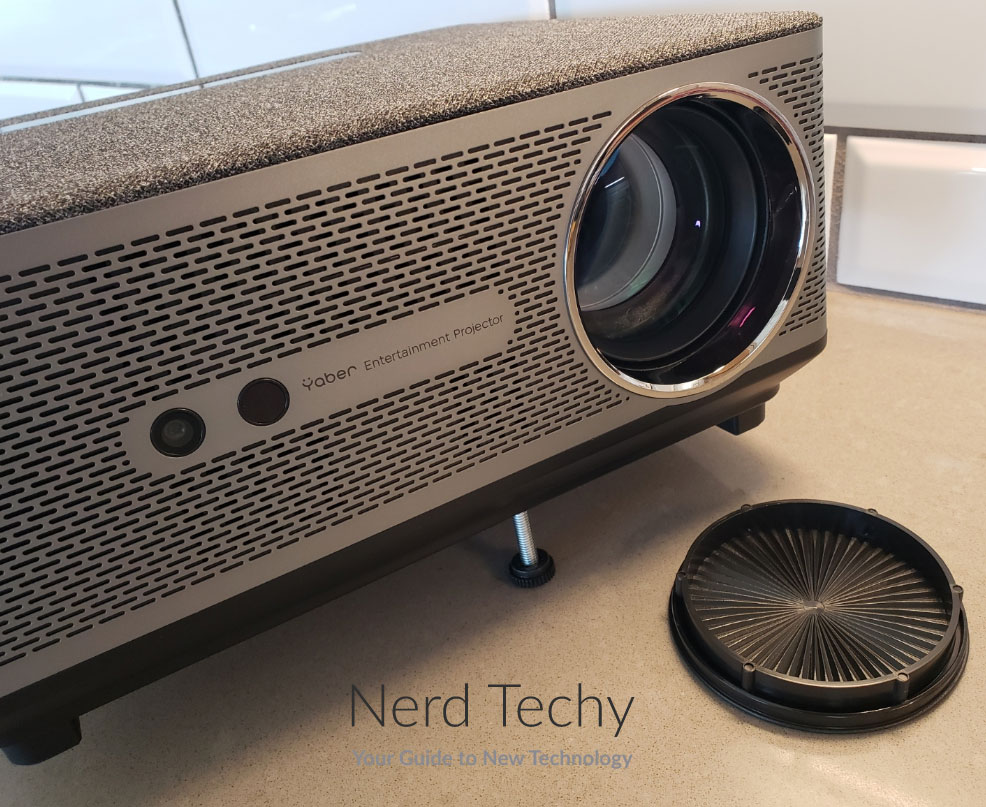 Final Verdict
The Yaber Ace K1 is one of the better projectors we've reviewed. While it isn't a true 4K projector, there are few of those on the market. 1080p remains the standard, and the support for a 4K input means you can still use your Blu-Ray player. Not only that, but the video is insanely bright, and the colors are crisp and clear. And with a high contrast ratio, there's no need to fiddle with your contrast settings all the time.
Connectivity is a breeze. Whether you want to cast video from your smartphone or plug in your game console, you'll be all set. The WiFi setup can be fiddly, depending on your password. But other than that the system is very easy to configure. Controls are also straightforward, as long as you keep the remote pointed directly at the projector.
The physical design is well thought-out. The fabric top is a perfect speaker cover. The vented sides, meanwhile, allow for excellent air flow, aided by a bottom with plenty of clearance. This means you don't have to worry about a loud fan overpowering your streaming session. And with automatic focus and keystone correction, setting up your projector is easier than ever.
Meet Derek, "TechGuru," a 34-year-old technology enthusiast with a deep passion for tech innovations. With extensive experience, he specializes in gaming hardware and software, and has expertise in gadgets, custom PCs, and audio.
Besides writing about tech and reviewing new products, Derek enjoys traveling, hiking, and photography. Committed to keeping up with the latest industry trends, he aims to guide readers in making informed tech decisions.