VANKYO Leisure E30
Pros
Supports most video sources.
Wide throw ratio.
±50° Keystone correction.
Includes a portable projector screen.
Support 4K video inputs.
Cons
Downscales 4k to 1080p.
Instructions are somewhat difficult to understand.
Some technologies never get old. Like a fine wine, they get better with age, and even gain a sort of retro appeal. Projectors and vinyl records are both excellent examples.
Once upon a time, they were the standard. If you wanted to watch a movie at home, you had to use a reel-to-reel projector. If you wanted to listen to music, you needed a record player. Both technologies seemed to age out in the 80s, with the introduction of magnetic tapes and optical discs. And both have recently seen a recent surge in popularity.
In the case of vinyl records, the surge in popularity is due to the quality. Analog records will always have better audio quality than digital. At the same time, anyone who wants a portable audio source is streaming their music. CDs and cassette tapes are all but dead, but vinyl endures.
In the case of projectors, the cause is a bit more complicated. Projectors went out of style because they were inconvenient and expensive. For a while, you'd only ever see them in conference rooms and classrooms.
But with digital video and more affordable modern technology, projectors have once again become viable. With HDMI, USB, or WiFi, you can use the same video sources you use for your TV. And for less than the cost of a small TV, you can project a huge, floor-to-ceiling video. Not only is it a fun, nostalgic way to watch a movie. A good projector is also an excellent value proposition.
VANKYO Leisure E30
Today, we're going to review the VANKYO Leisure E30. This is a sturdy little projector that supports almost any type of video source. It's also very easy to position, with a wide throw ratio and an impressive +/- 50 degrees keystone adjustment.
But is it worth your time and money? To find out, we'll have to dig deeper into its design and features, starting with the physical build. We'll need to talk about how you connect to it and how the controls function. We'll go over any important extra features, as well as the quality of the video. After that, we'll have enough information to make a fair judgement. Let's get started, and see what we find!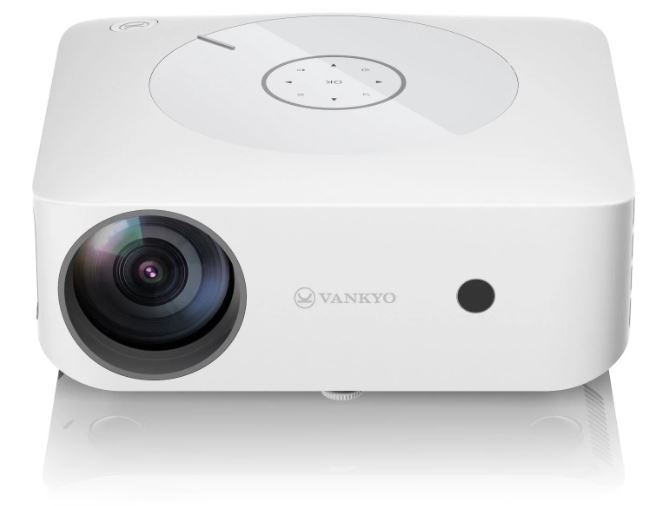 Overall Design
The VANKYO Leisure E30 has a rectangular plastic housing with a smooth white finish. The corners are rounded, which gives it a sleek, contemporary appearance. It also makes the housing tougher and more durable. Not that this is necessary; an internal metal frame provides plenty of support and rigidity.
On the top, you'll find the controls, located directly in the center. The exception is the large power button, which sits at the back left corner. All of the various input ports are located on the right side of the housing. We'll talk about the controls and inputs in more detail in their own sections. The power cord connects into a port in the back right.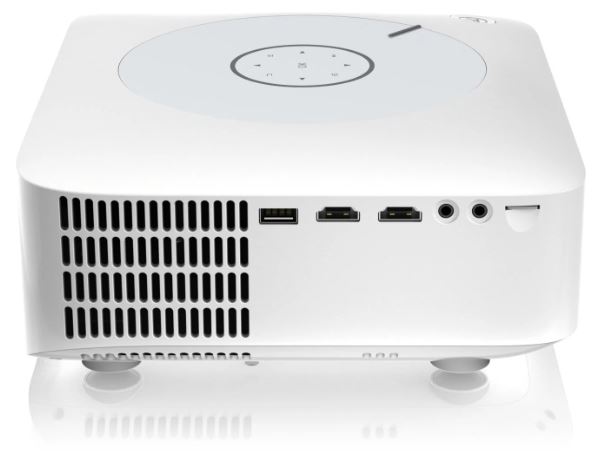 The sides of the housing are vented, with vertical slits along the front portions. These vents allow plenty of air flow through the inside of the housing. When the projector is powered on, a set of fans will spin up to increase the rate of flow. The fans are very quiet. Even if you're watching a quiet video, they're not going to overpower your audio.
The lens itself is located at the front left of the housing. It's recessed, so you won't graze it with a stray finger when you're moving the projector. This makes it harder to accidentally burn yourself.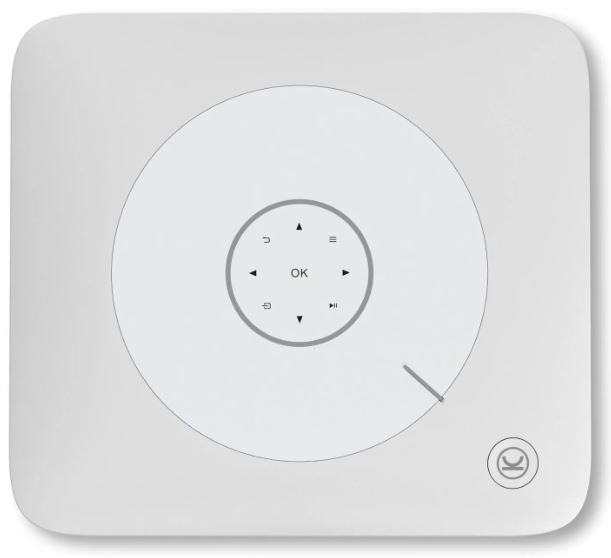 To the right of the lens is a grey "Vankyo" imprint, followed by a black circle. This is a light sensor, which monitors the current level of ambient light. Underneath the front of the housing is a small white foot. You can screw it in to lower the height, or screw it out to extend it and tilt the lens upwards. Everything is covered by VANKYO's 3-year manufacturer's warranty.
Video Quality
The VANKYO Leisure E30 has a native resolution of 1,920 x 1,080 pixels, or 1080p. This means it can produce a maximum video quality of 1080p. You can play back lower resolution videos if you want to, but not higher resolution. So far, so straightforward.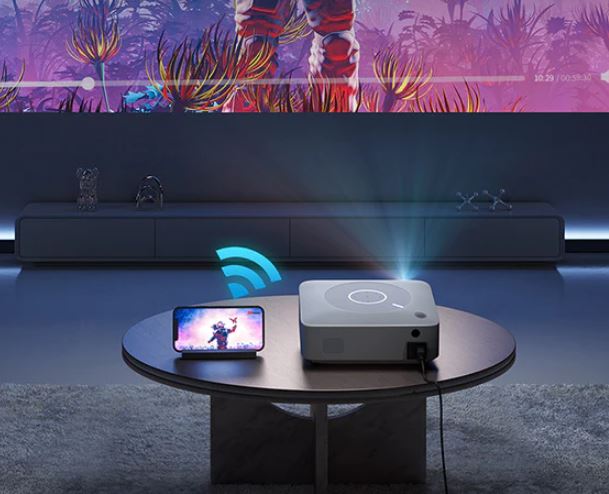 But in addition to native resolution, projectors also have a supported resolution. If the supported resolution is higher than the native resolution, you can play back higher resolution videos. The quality will simply be reduced to your projector's native resolution. So, for example, you might be able to play a 4K Blu-Ray movie on a 1080p projector. Sadly, the Leisure E30 doesn't support any higher native resolutions. If your video source is in 2K or 4K, the projector will automatically downscale it to 1080p. Not a big deal for most, but worth mentioning.
The 250-watt bulb is suitable for use in low-light environments, but not in a brightly-lit room. At a bare minimum, you'll want to draw the curtains before you use it. The built-in light sensor will adjust the brightness as needed based on the ambient lighting. In a pitch black room, your video will be dimmed slightly. However, it's not very noticable. With a 10,000:1 contrast ratio, video quality is superb in most regards.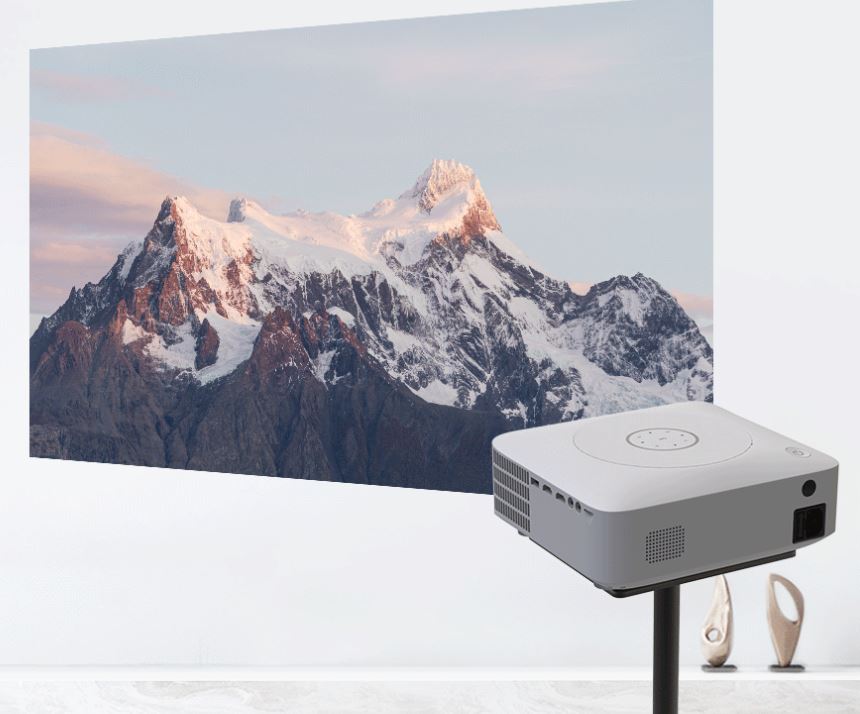 Connectivity
One of the Leisure E30's biggest strengths is the number of ways you can connect to it. To begin with, there's a pair of HDMI ports, which probably have the most applications. You can use these to connect your DVD player, game console, or even a PC or laptop. In front of the HDMI ports is a USB port, which you can use for thumb drives and external hard drives. You can also plug in an Amazon Fire or Roku stick.
Behind the HDMI ports, you'll see a pair of round ports that both look like headphone jacks. In fact, only the back one is an audio port. The front port is an A/V port, which is a less common connection method. Behind the 3.5mm audio port is an SD card slot, where you can insert a card from your camera or phone.
Speaking of your phone, you can cast videos directly from your iOS or Android device. Bring up your favorite streaming app, press the cast button, and select your projector. In order for this to work, your projector will have to be connected to your WiFi network. You can do this from the menu screen. Once you've entered your password, it will automatically connect whenever it's powered on.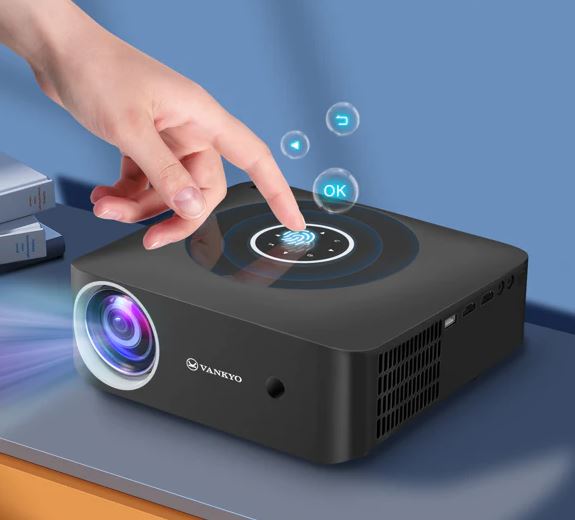 Controls
The controls are located on the top center, with a radial layout. The central "OK" button is surrounded by eight other icons. The four arrows are used for menu navigation, as are the forward and back buttons. There's also a button to bring up the menu, along with a play/pause button. The soft touch design makes all the buttons easy to operate, although you can also trigger them accidentally.
Surrounding the buttons is a large rotating dial. This dial is used for keystone adjustment, and its large design makes it easy to make ultra-fine changes. Not only that, but it has an impressive range of +/- 50 degrees. You can set the Leisure E30 way off to the side, top or bottom of the screen. This is very useful in spaces where a more central placement isn't practical.
The kit also includes a handheld remote control. It's made from a matte black plastic, and it works via line of sight, similar to a TV remote. It does everything the controls on top can do, plus a little extra. You'll find fast forward, rewind, mute, and volume control buttons.
If you want a different projector option, the VANKYO Leisure 410W Mini WiFi Projector is a popular choice. It ticks most of the same boxes, including a compact design and intuitive controls. It also has a brighter bulb, so it's suitable for more brightly-lit spaces. On the downside, the maximum resolution is only 720p.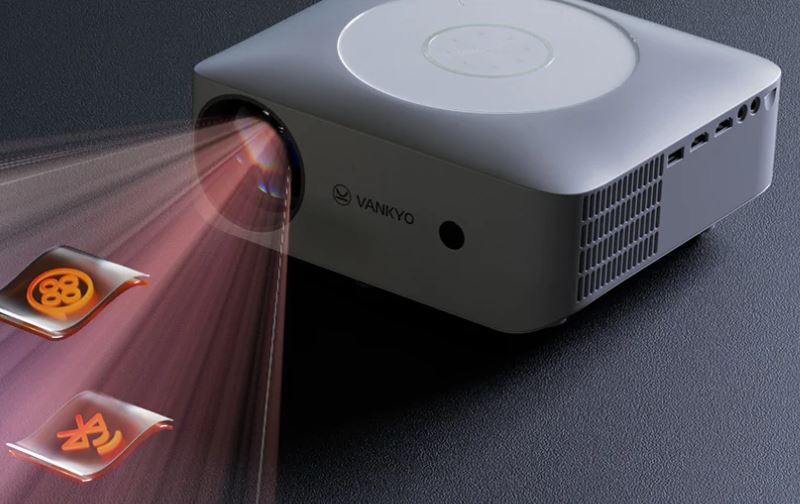 Extra Features
The VANKYO Leisure E30 has a throw ratio of 1.35:1. That's unusually wide, and allows for a very large display, even when the projector is close to the screen. For example, at only 8.2 feet from the screen, this projector will create an 80-inch image. At 10.2 feet away, it will create a 100-inch image. At 21.2 feet away, you'll have a truly massive 200-inch video. Perfect for an inflatable projector screen. If you're in a smaller room, you can still get the enormous video that projectors are known for. You can make the video even bigger with the 50% zoom function.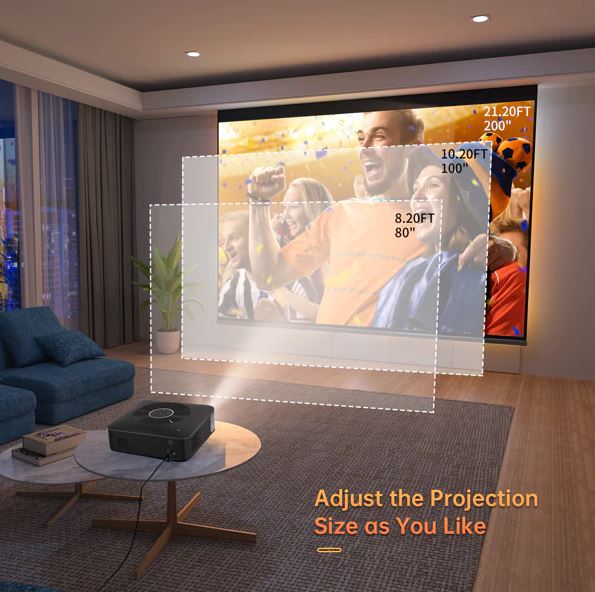 Along with the projector itself, the package includes a 100-inch projector screen. The screen has a bright white surface, ideal for getting true colors and vibrant images. The edges are reinforced with a heavy nylon band, and built-in grommets make it easy to hang.
It's worth noting that the Leisure E30 also has a set of built-in stereo speakers. They're not terribly loud, but the audio quality is reasonably good. If you don't need a ton of volume, you won't need any external speakers. If you do, they'll be easy to connect.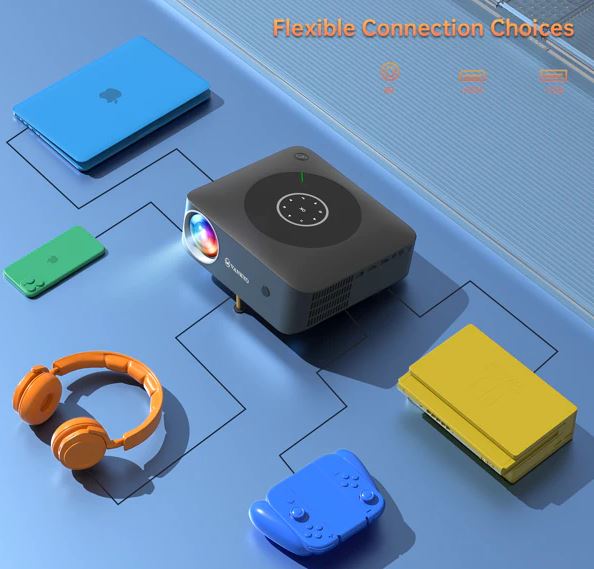 Final Verdict
The VANKYO Leisure E30 is a well-engineered little projector. We're a bit concerned about the low contrast ratio, but other than that it performs pretty well. We particularly appreciated the large keystone adjustment range, zoom function, and high throw ratio. These combined features make placement a breeze, which is essential for smaller environments.
Meet Derek, "TechGuru," a 34-year-old technology enthusiast with a deep passion for tech innovations. With extensive experience, he specializes in gaming hardware and software, and has expertise in gadgets, custom PCs, and audio.
Besides writing about tech and reviewing new products, Derek enjoys traveling, hiking, and photography. Committed to keeping up with the latest industry trends, he aims to guide readers in making informed tech decisions.