There's something beautifully retro about watching a movie on a projector screen. In many ways, it's like listening to vinyl.
Yes, there's newer technology, but you're getting a more authentic experience. And with a modern projector, you can get the same resolution as a good quality television.
But projectors offer more than just old-school appeal. They can also do things a traditional TV can't.
Take size, for instance. Once you start getting bigger than 70 inches, TV screens get very expensive. And 70 inches is certainly a generous screen size! But if you want a wall-sized image, a projector is the only way to go.
Along the same lines, TVs are poorly-suited for outdoor use because they're not waterproof. Yes, you can bring a TV outside for special occasions. But it's inconvenient, and large TVs are a pain to haul around.
Not only that, but a sudden downpour could still ruin your night. And even if you ignore those drawbacks, you still get back to the issue of size. You want an outdoor screen to be very large so it can be seen from a reasonable distance.
An inflatable projector screen is designed to solve all of these problems. Inflatable screens are self-supporting. You don't need to tie a screen up between two trees or set up a big metal frame. They're also easy to store, since they deflate to a fraction of their inflated size. For these reasons, many people prefer inflatable screens to more traditional varieties.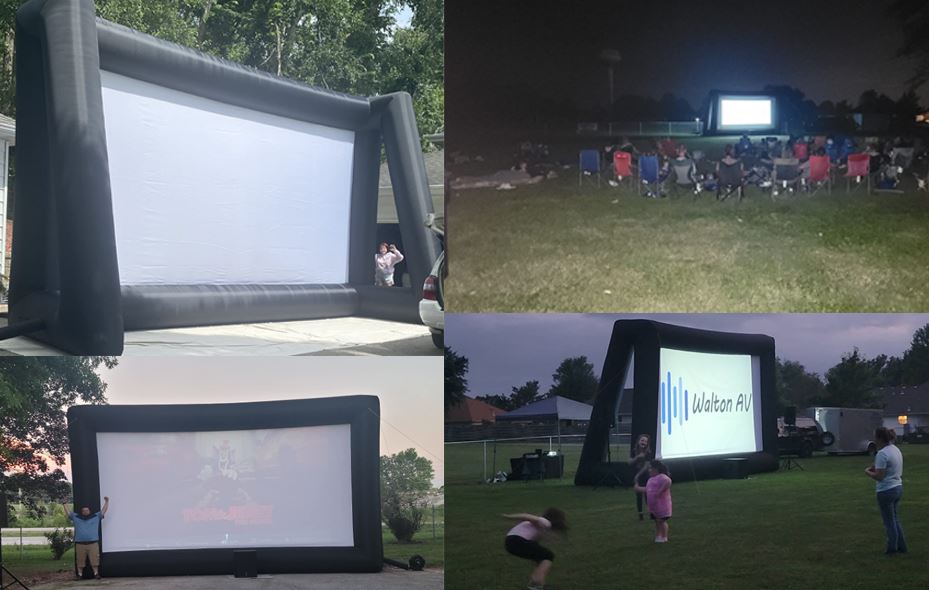 Choosing the Best Inflatable Projector Screen
Today, we're going to review three of the best inflatable projector screens on today's market. These screens have a lot in common. They're all supported by inflatable frames, and include a blower to keep them tall and straight. All of them also come in multiple sizes, which we'll note as we talk about each screen.
That said, there are many differences we'll have to take into consideration. What material is the screen made out of, and how good is the image quality? How do you set it up and take it down? How do you secure it in place? Is the screen washable?
To answer these questions, we'll have to dig deeper into the design of each individual screen. After we've given them all a thorough evaluation, we'll have enough information to deliver a fair verdict. Let's get started!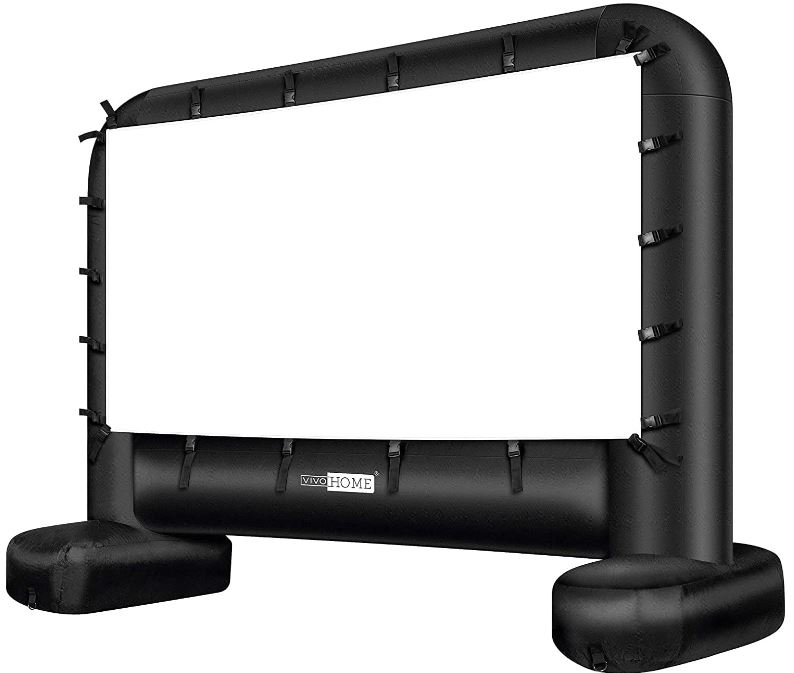 VIVOHOME Inflatable Mega Movie Projector Screen
The VIVOHOME Inflatable Mega Movie Projector Screen has a large inflatable frame. It's constructed from 210D Oxford fabric, which is very durable. The fabric is black in color, so it fades into the background while you're watching a movie. At the bottom, there's a set of legs, shaped like inverted T's. These help to keep the frame stable.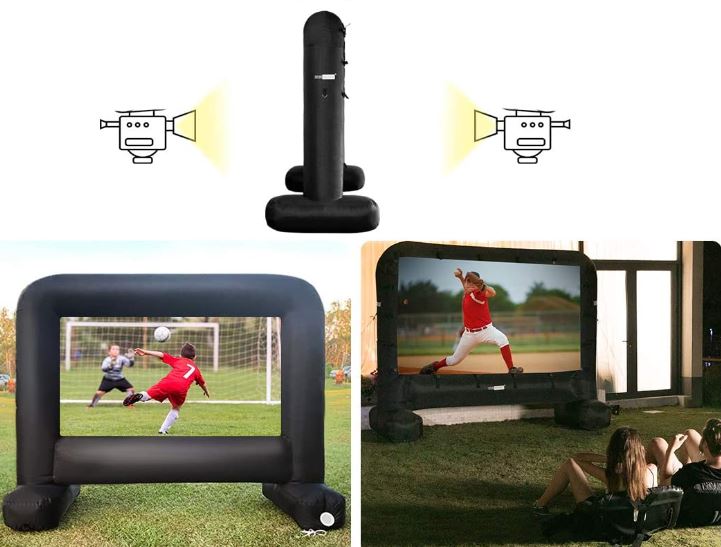 The screen itself is inside the frame by a set of buckles. The female ends are stitched into the edge of the screen, with 22 of them altogether. That's two buckles at each corner, three on each side, and four each on the top and bottom. The male ends of the buckles are attached inside the frame, and have adjustable nylon straps.
In total, you can choose between seven different sizes. These are 14, 15, 16, 17, 18, 20, and 24 feet respectively. Note that inflatable projector screen measurements are diagonal, like any other type of screen. However, the measurement also includes the base and the frame. This is true for all of today's selections, so keep it in mind when you're envisioning the size.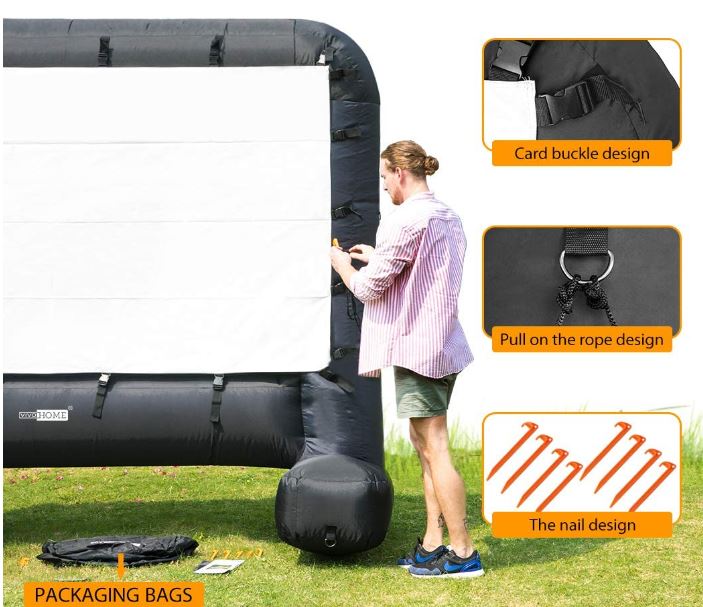 Along with the screen itself, you get a few accessories to make things more convenient. Besides the blower, which has a 7-foot cord, there's also a nifty storage bag. The bag is made of even tougher 420D Oxford cloth, and sports large handles for easy carrying. Finally, there's a set of eight orange plastic stakes and a set of tie-down lines.
Viewing Experience
The VIVOHOME screen is made from the same 210D Oxford cloth as the frame. This makes it very durable, so you don't have to worry about scratching. It's a bright white color, which allows for beautiful, vibrant colors. To be clear, it's not quite as pure a white as you'd get from a polyester screen. But it's close enough that most people won't notice the difference.
Moreover, the screen can be laundered, which is a big advantage of the removable design. Just unclip it and throw it in the laundry. This is a big deal, since a dirty projector screen can ruin your movie watching experience. With an all-in-one design, you'd have to take the whole thing to a laundromat and use an oversized washer.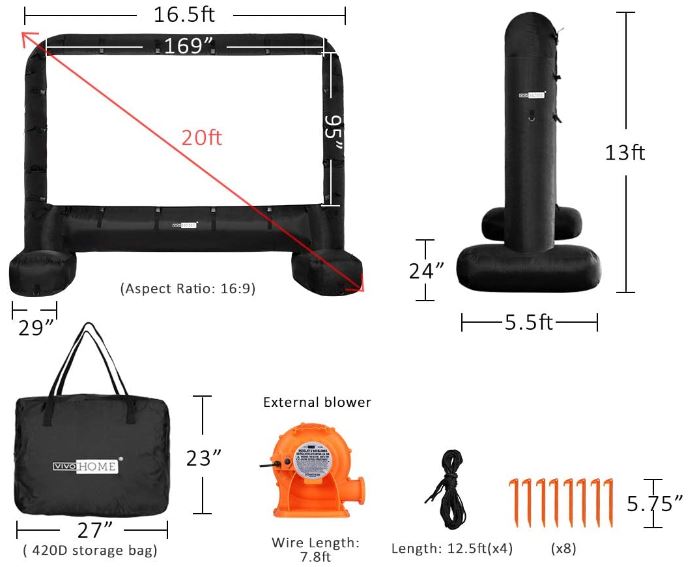 This projector screen supports both front and rear projection, which is a big deal for outdoor use. Indoors, most people just put the projector on a table or overhead. But outdoors, you're typically dealing with a large group. People moving around in front of the projector could quickly get distracting. By putting your projector behind the screen, you keep it out of the way.
One other thing we should note about the VIVOHOME screen is that the fan is relatively quiet. It's not silent by any means, but it's quieter than you'd expect for a fan that puts out this much air. Once your movie's audio starts playing, you won't even be able to hear it.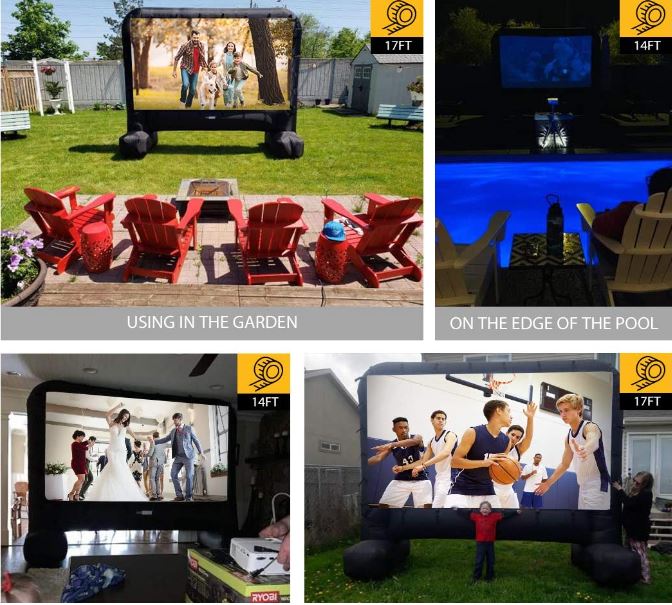 Ease of Use
To set up the VIVOHOME inflatable projector screen, you first need to attach the blower. It goes into a little shroud which you zip shut around the front of the fan. Once it's set up, turn on the power and wait for the frame to inflate, which should only take a minute. If you've ever blown up a bounce house, you're already familiar with the process.
Next, you'll need to install the screen. Connect all the buckles, and tighten the straps until it's nice and smooth. This can take a few minutes the first time you set it up. Afterwards, you can leave the screen in and only take it out for laundering. In that case, you'll only need to make some minor tweaks when you set it up.
One thing we would have appreciated is a sturdier set of buckles. As is, the flimsy plastic is too flexible. It won't break, but the buckles easily disconnect when they're put under strain. There's a fine line between a firm, tight adjustment and your buckle popping out.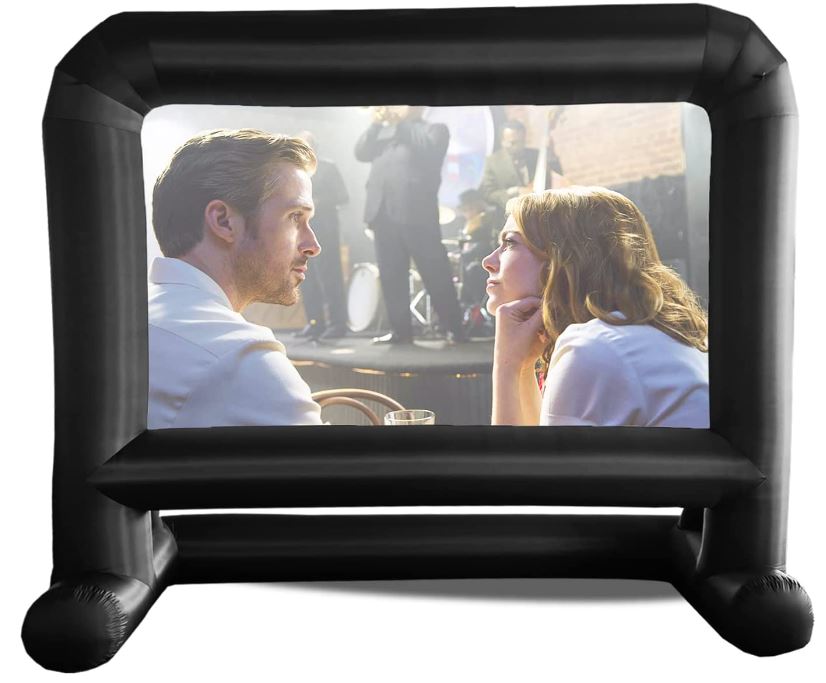 HuaKastro Inflatable Projector Movie Screen
The HuaKastro Inflatable Projector Movie Screen has a similar frame design. It's also constructed from durable 210D black Oxford fabric, and it has a set of T-shaped legs.
However, there's another inflated tube running across the backs of the legs. This makes it a tad more stable, at least when subjected to stress from the front. The main difference is the screen; instead of being removable, it's stitched directly into the frame.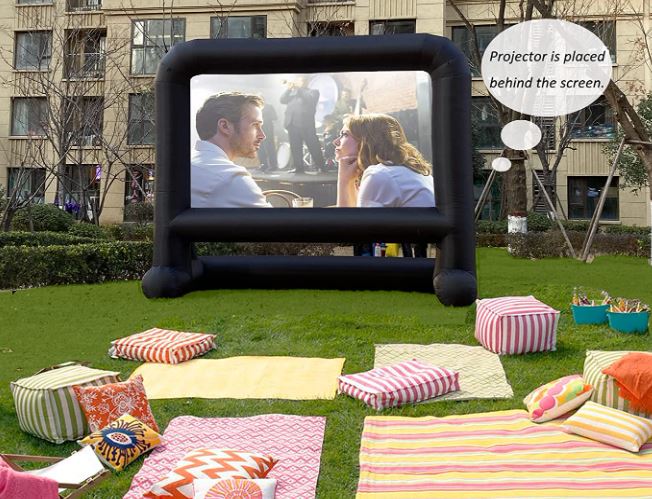 Your size options here are a bit more limited. You can choose between 14- and 16-foot options, both of which come with a full set of accessories. You get a blower, tie downs, stakes for the screen, more stakes for the blower, and a drawstring storage bag. The kit also includes a small repair kit for the screen.
Viewing Experience
The screen material is a brilliant white polyester material. This offers superior reflection to other white fabrics, so you get excellent color clarity. You won't have to fiddle with your projector's color balance to compensate for off tones. The material also allows for both front and rear projection.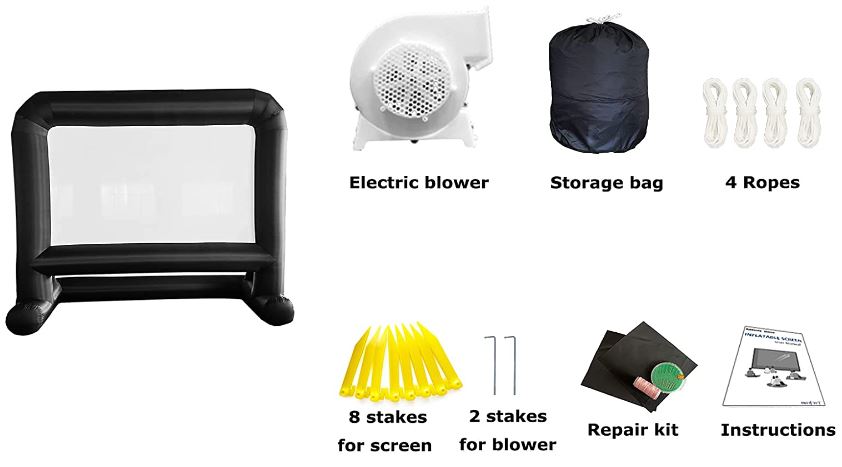 Beyond that, you get a viewing angle of 160 degrees. That's almost as good as the 178 degrees you get from an IPS display! Keep in mind that this will vary depending on your projector brightness. With a dimmer bulb, you won't have quite as wide a viewing angle.
Ease of Use
The main advantage of the HuaKastro's all-in-one design is how easy it is to assemble. As before, attach the blower and zip up the shroud. Inflate it, and tie it down to keep it from blowing away. That's all there is to it. You don't have to make any adjustments, since the screen will already be taut.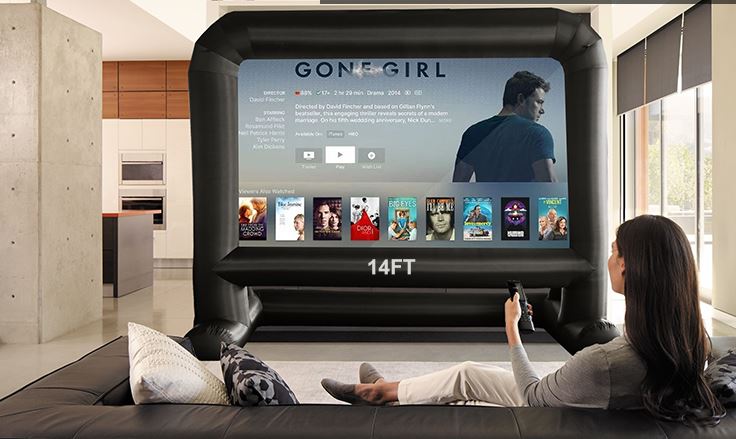 That said, the screen material itself has a serious drawback. It's fragile, and it's very easy to tear. The included repair kit is a nice touch, but it would have been better to have a sturdier screen.
On the plus side, the material is easy to keep clean. You can get most stains out of polyester with a vinegar-water spot treatment. Unless something very unusual happens, you shouldn't have to launder it.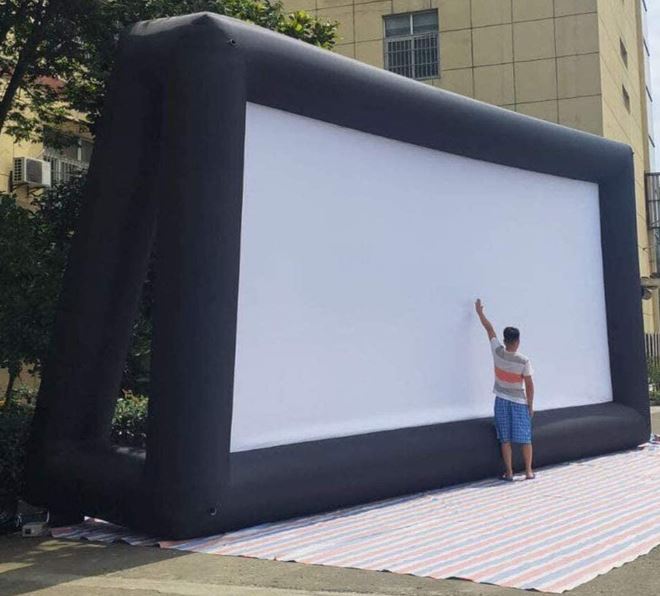 Fitnessandfun Huge Inflatable Projector Movie Screen
The Fitnessandfun Huge Inflatable Projector Movie Screen has a 210D Oxford fabric frame, just like the others. However, the shape of the frame is entirely different.
Instead of legs, the frame sits flat on the ground. It's supported by extensions to the back that form a pair of wedges. The tops of these wedges attach to the tops of the frame, so it's all very sturdy. The screen and frame are all in one piece.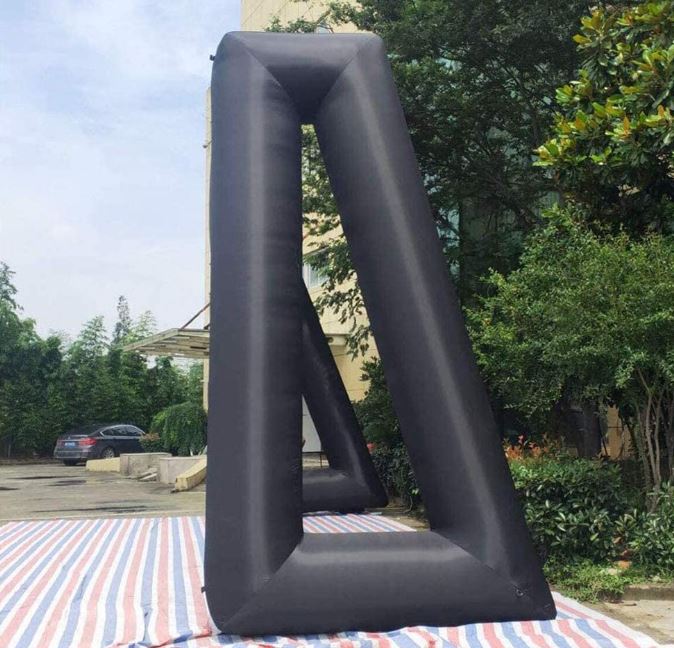 The main attraction of this screen is the size. The smallest option is 20 feet, and since there are no legs, more of that area is actual screen. Beyond that, you can order it in 24, 25, 30, and 33 feet.
The kit includes all essential accessories, including a storage bag, a large blower, spikes, and tie downs. However, there's also a set of sandbags. This is a nod to the large size of the screen. You can tie these to your tiedowns in addition to using your spikes, as an added security measure.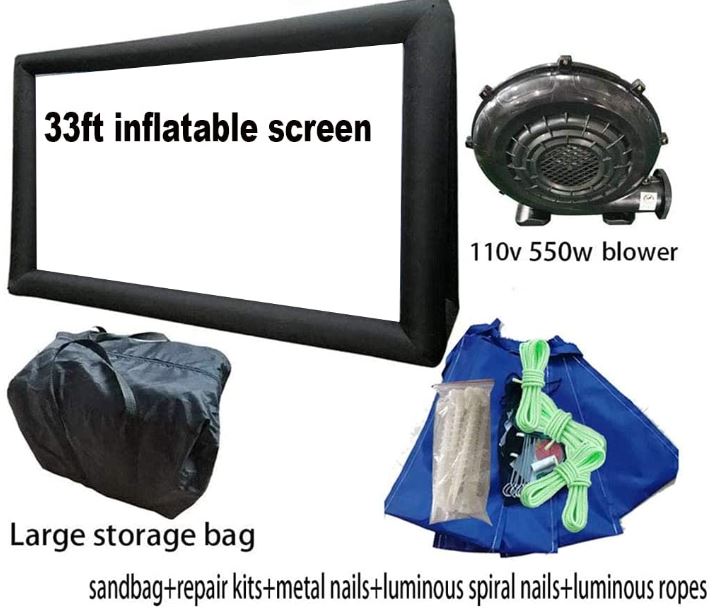 Viewing Experience
The screen is made from a white 210D Oxford fabric, the same material as the VIVOHOME screen. It offers similar performance, including good color clarity. It also supports front and rear projection, with a viewing angle of 160 degrees. The only drawback is that it's Oxford fabric, and it's stitched to the frame. If you want to wash this screen, you'll need access to a very large washer.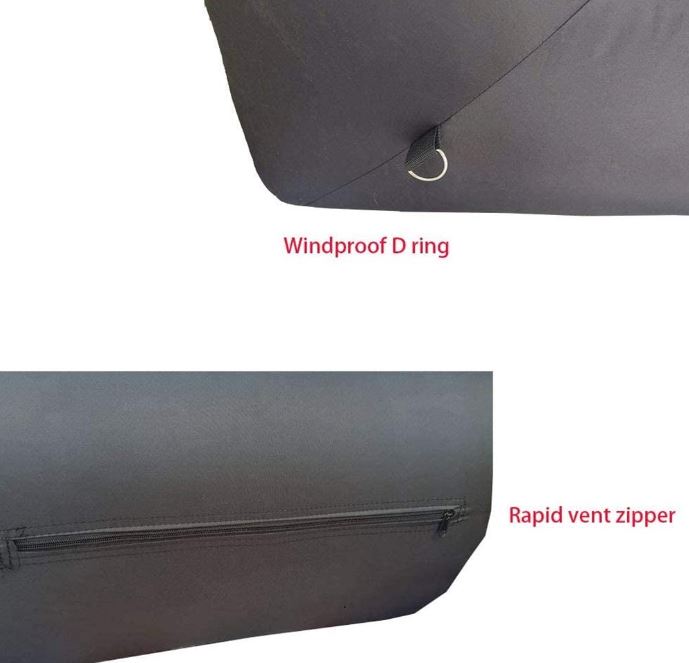 Ease of Use
Setting up the Fitnessandfun projector screen is as easy as it gets. Connect the blower, wait for it to inflate, and tie it down. However, we should stress that you need to use all of the tie downs. If you don't, even a light breeze will catch this huge screen like a sail. Also, be careful of strong winds. They can and will tear the tie down rings free of their fabric loops.
Which Inflatable Projector Screen is Best?
So, which one of these inflatable projector screens is the best of the bunch? Let's recap what we've learned.
We started out by looking at the VIVOHOME Inflatable Mega Movie Projector Screen. This screen stands out for its reliable motor and removable screen. You also get to choose from many sizes. We would have liked some sturdier buckles around the edges, but all in all it's well-engineered.
Next, we checked out the HuaKastro Inflatable Projector Movie Screen. This screen is very easy to set up and offers the best overall image quality. The material itself isn't as durable as the other screens, but it's easy to keep clean.
Last but not least, we evaluated the Fitnessandfun Huge Inflatable Projector Movie Screen. This is the biggest of the bunch, with sizes available up to 33 feet. It's also very durable, made entirely from 210D Oxford fabric. If it had a removable screen, it would be perfect.