In the realm of outdoor entertainment, inflatable projector screens have emerged as game-changers. Gone are the days of bulky setups and cumbersome equipment; today's inflatable screens offer the perfect blend of convenience and cinematic experience.
Whether you're hosting a backyard movie night, a community event, or a grand outdoor presentation, these unique screens promise unparalleled visuals with easy installation.
But figuring out the right one to invest in can be difficult. For that reason, we've done all the hard research and narrowed it down to three of the best inflatable projector screens we can completely recommend.
Key Takeaways:
#1 – VIVOHOME – Offered in sizes up to 24′, this is one of the largest and most popular inflatable projector screens available. While it only supports front projection, the buckled design of the screen adds an ideal amount of adjustability for fine-tuning and removing any wrinkles or imperfections.
#2 – XHYCPY – With a triangular base, it's more stable than the VIVOHOME. In addition, it supports both rear and front projection for an added layer of versatility. Although it's not offered in as many sizes as the aforementioned, it's much less expensive.
#3 – GOOSH – The least expensive option available, but also the smallest. Equipped with the smallest bezel (frame) for a picture-viewing experience that's much larger than you may originally anticipate. Stays low to the ground for improved stability and an excellent viewing experience.
#1 – VIVOHOME Inflatable Projector Screen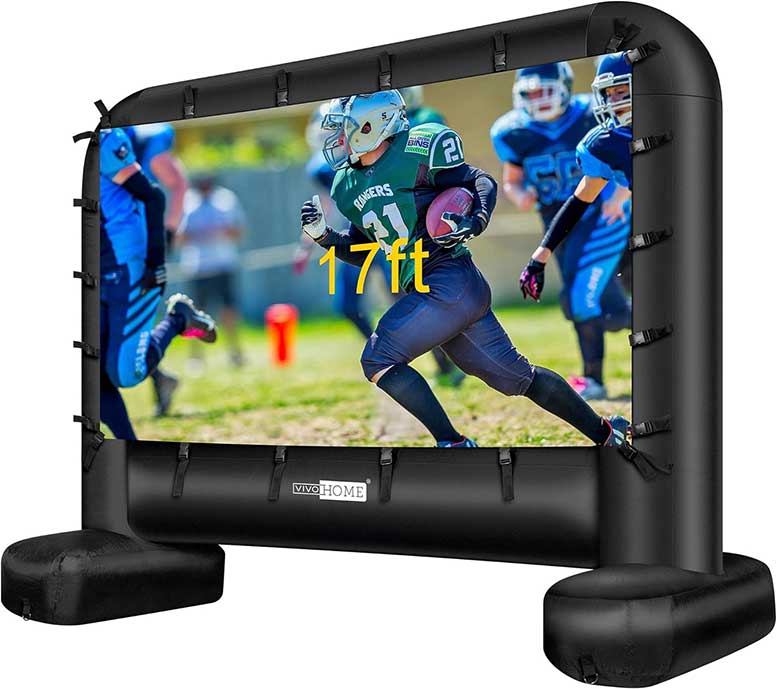 Key Takeaways:
Available in sizes from 14′ to 24′
Supports front-projection only.
Quick-inflates with built-in air pump.
Comprised of weather-resistant material.
Includes stakes and tethers.
Having had the pleasure of personally using the VIVOHOME Inflatable Projector Screen, we can confidently attest to its top-notch quality and innovative features. The setup is incredibly straightforward.
As soon as you take it out of the box, all you have to do is clip on the screen and let the magic unfold. The built-in 85W air pump ensures the entire structure quick-inflates in under 5 minutes. This is impressive, given its vast size options – 14′, 15′, 16′, 17′, 18′, 20′, or 24′ (measured diagonally).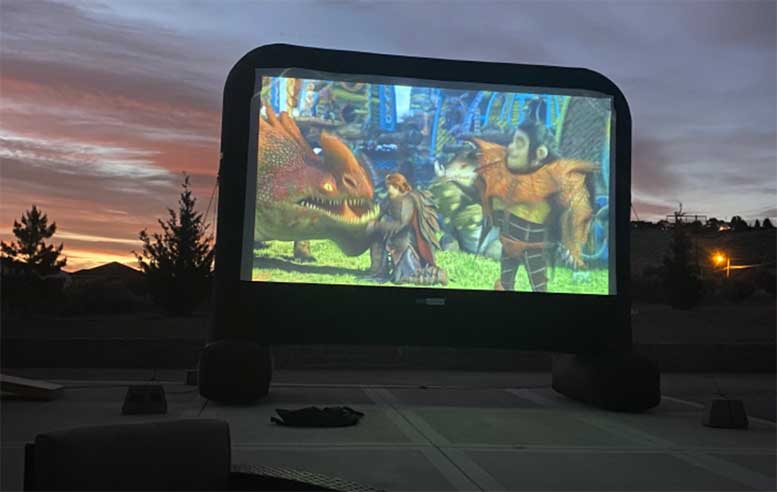 Speaking of size, the 16:9 aspect ratio offers a genuinely cinematic experience, ensuring that movies and presentations appear as they were intended. But it's not just about size; the quality of the screen material is equally commendable.
Crafted from 210D Oxford cloth, the screen feels incredibly robust and thick. The absence of any seams further elevates the viewing experience, ensuring no distractions come between you and your content.
Be it rain, wind, or the scorching sun, this projector screen stands tall and unyielding. Its weather-resistant nature also makes it versatile for both indoor and outdoor use.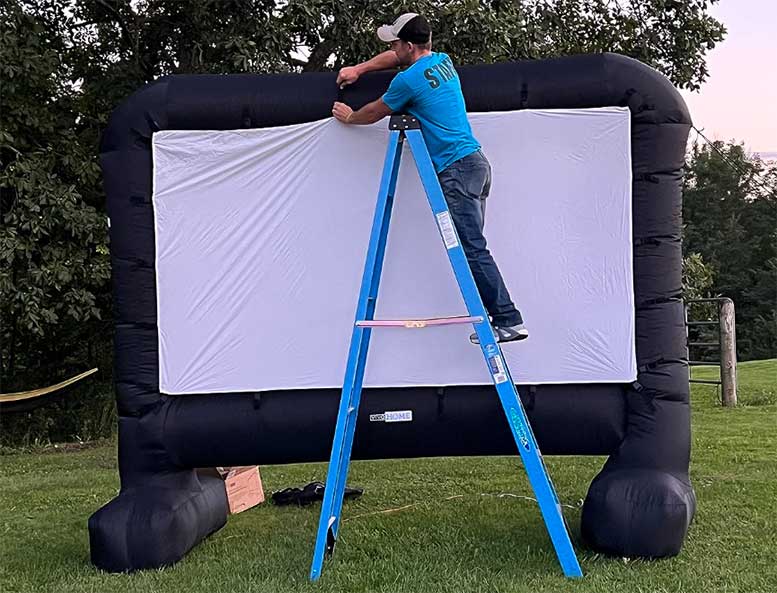 Once inflated, the screen attaches seamlessly with multiple buckles. This feature allows for fine-tuning, ensuring that the screen remains taut and wrinkle-free, regardless of its size. And when the show is over? Deflating and packing it up is a breeze.
The package includes a storage bag, 8 stakes, and 4 tethers, making it relatively portable. When deflated, it can comfortably be stored in a 30-gallon tote, waiting for its next outing.
Pros:
Built well, nicely designed.
Easy setup.
Relatively portable once deflated.
Buckle system makes it easy to remove screen imperfections.
Cons:
Pump is slightly loud and must be kept on continuously.
Does not support rear projection; front only.
#2 – XHYCPY Inflatable Projector Screen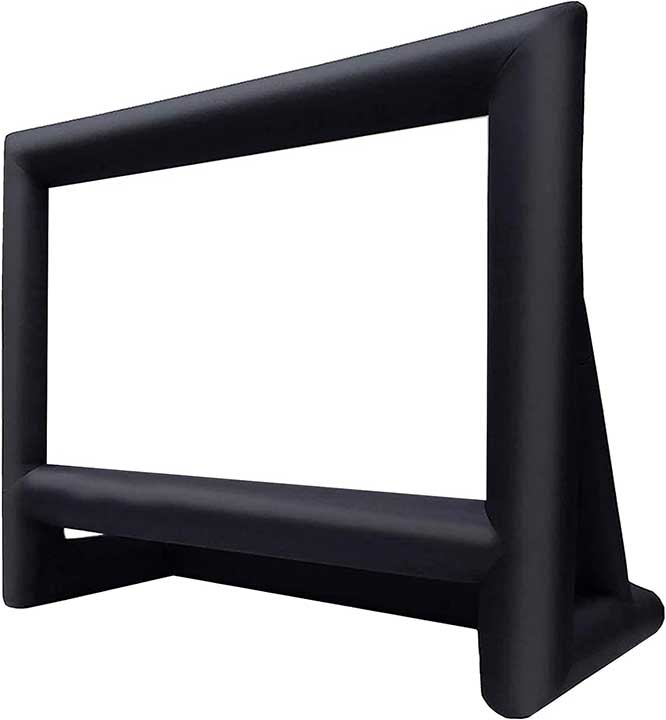 Key Takeaways:
Only available in 16′ and 21′ sizes.
Supports both front and rear projection.
Utilizes a 250W external air pump.
Unique triangular base improves stability.
Polyester screen attaches via Velcro.
When we tested out the XHYCPY Inflatable Projector Screen, its appeal was immediately clear. While it may not boast as extensive a size range as some competitors, offering 16′ and 21′ options, it makes up for it with a more affordable price point. This makes it an excellent choice for those looking for a balance between size, quality, and cost.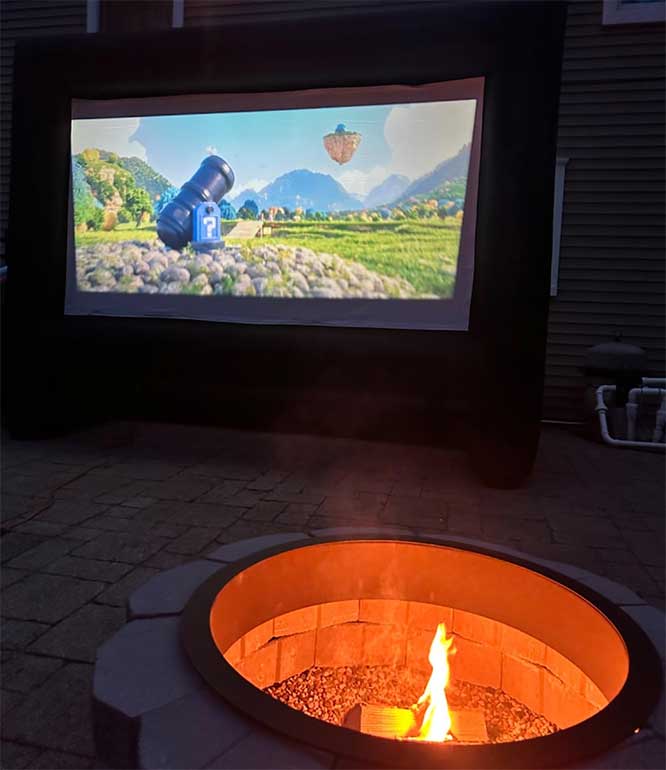 The triangle base design is a welcome innovation. Unlike most round-base models, this unique structure provides a significant boost in stability, ensuring your viewing experience remains uninterrupted even in slightly windy conditions. Although it can just as easily be used indoors as out, this design is commendable.
A necessary inclusion is the external 250W air pump. While it needs to remain plugged in during use, it efficiently inflates the screen in just around 3 minutes. There's a noticeable hum from the pump, but once your movie starts with the speakers on, it becomes a background noise that's easy to ignore. The setup is as straightforward as it gets: connect the blower, attach the screen, let the structure stand, and secure it using the provided stakes.
Constructed from 210D Oxford cloth, this screen promises durability akin to its pricier counterpart, the VIVOHOME. Fully weatherproof, you can set it up without worries, regardless of the forecast. An added assurance comes in the form of a 1-year warranty, safeguarding your investment against potential defects.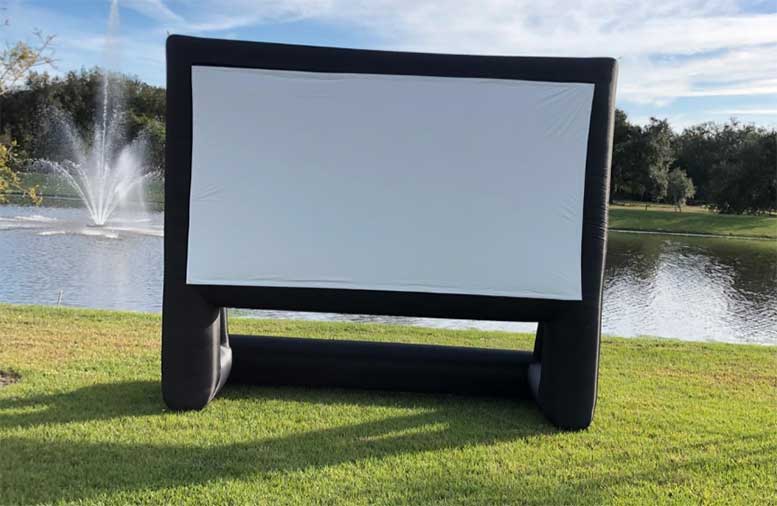 A thankful feature that's included with the XHYCPY inflatable screen is its dual projection support. Whether you prefer front or rear projection, this screen is suitable for both. The removable polyester screen, which attaches seamlessly via Velcro, ensures a tight, wrinkle-free finish, without any annoying guesswork.
Overall, the total package is comprehensive, coming with 8 base stakes, 4 tether stakes, and 4 tether lines. And when the movie night is over? Packing it away is hassle-free, thanks to the durable storage bag included.
While it's very similar to the VIVOHOME, its triangular base, external pump and Velcro screen attachment stand-out as very attractive aspects. The fact that it costs significantly less is an added bonus and welcome treat for those who aren't trying to spend a fortune to enjoy movies in an outdoor environment.
Pros:
Fantastic visual quality; screen is smooth and bright.
Incredibly stable, triangular base.
Less expensive than most other brands.
Comes with a 1-year warranty.
Cons:
Pump must remain on at all times; about the same noise-level as the VIVOHOME.
#3 – GOOSH Inflatable Projector Screen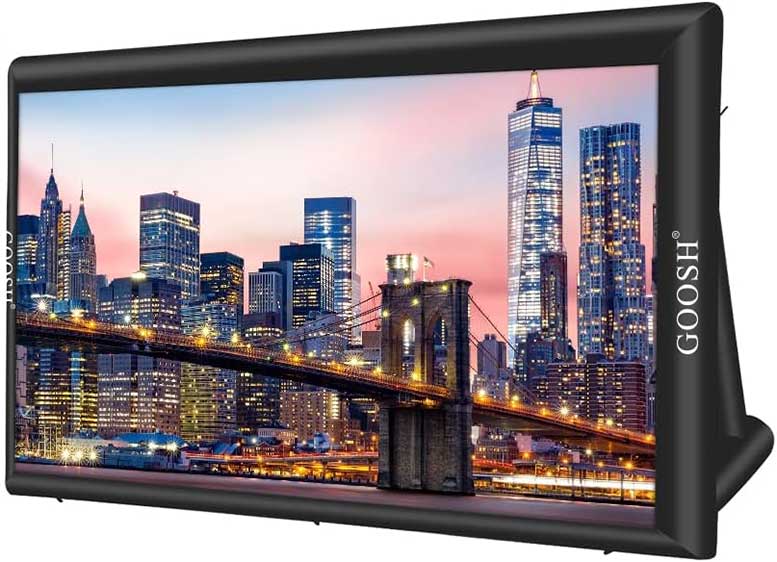 Key Takeaways:
Available in 12′ and 14′ sizes.
Smallest bezel (border) compared to others.
Supports both front and rear projection.
Inflates in under a minute with included external 350W air pump.
Polyester screen attaches via Velcro.
When we experienced the GOOSH Inflatable Projector Screen first-hand, it was evident that it's perfect for those who prioritize affordability without compromising on quality. With available sizes of 12′ and 14′, it might not measure up to the expanse of VIVOHOME and XHYCPY, but it comfortably fulfills the needs of most outdoor movie enthusiasts. Its pocket-friendly price tag, coming in at under $100, only adds to its allure.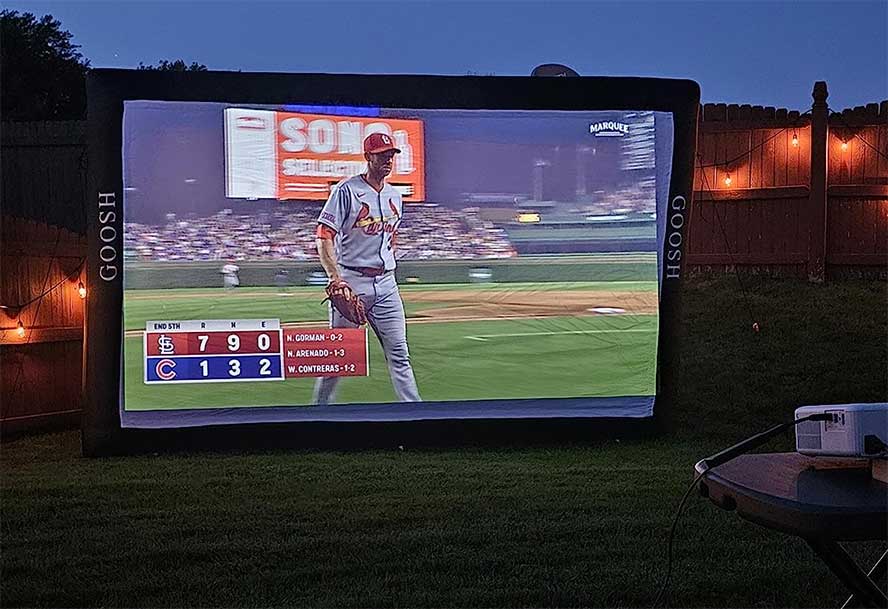 The triangular base, reminiscent of the XHYCPY, ensures the screen remains stable throughout your viewing session. What sets the GOOSH apart, however, is its ultra-slim bezel. This design feature maximizes the viewing area and provides an immersive cinematic experience, making it feel like the movies are larger than the screen's actual size.
Attaching the screen is a breeze, thanks to the secure Velcro mechanism. The result is a tight, smooth finish that rivals pricier models. However, some wrinkles may exist at first; just keep using it and these seem to go away on their own. Its dual projection support, both front and rear, further adds to its versatility, making it suitable for different setups.
A standout feature is the powerful 350W external air pump. Not only does it inflate the screen in under a minute, which is impressively quick, but it also operates quieter than both the VIVOHOME and XHYCPY models. While there's still a noticeable hum, it fades into the background once the speakers come alive.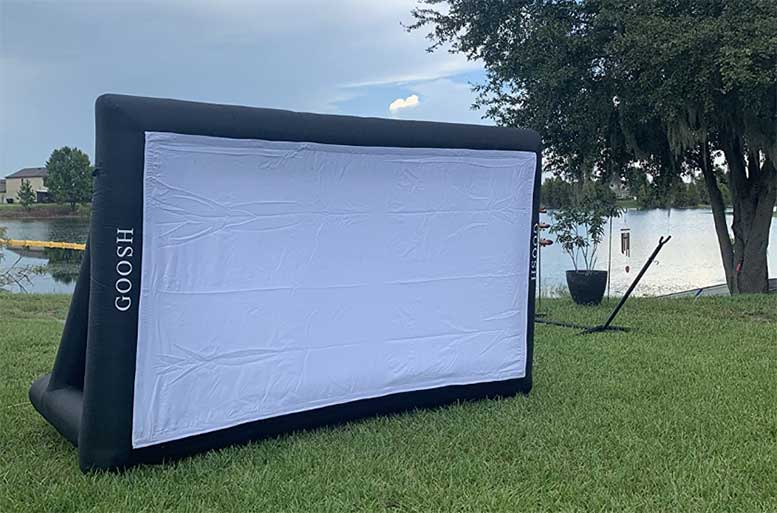 The assurance of a 1-year manufacturer's warranty, mirroring the XHYCPY, speaks volumes about GOOSH's confidence in its product's durability and performance. Furthermore, the package comes complete with 11 tethers and 4 stakes, ensuring the screen remains firmly grounded, if you find it necessary to use them. Best of all, the manufacturer even includes a few patches in case of an emergency leak. And when it's time to pack up? The provided storage bag makes it both convenient and compact.
To sum it up, the GOOSH Inflatable Projector Screen offers an exceptional balance between size, quality, and price. We really love the slim-bezel design and quieter air pump that adds to the movie-watching experience in the best possible way. It's an excellent choice for those who seek a cinematic experience on a budget, without skimping on the essential features.
Pros:
Less expensive than other models.
Slim border for a better viewing experience.
Perfect screen quality; tight and secure, without sag.
Air pump is noticeably quieter than the VIVOHOME and XHYCPY.
Included 1-year warranty is nice to have.
Cons:
Not offered in any larger sizes.
Pump must remain on at all times.
Inflatable Projector Screens FAQs
How do I set up my inflatable projector screen?
Setting up an inflatable projector screen is generally straightforward. Typically, you'll unroll the screen, connect it to the provided air pump, and inflate it. Once inflated, you can attach the screen material, usually with Velcro or buckles, and secure the entire structure using the provided tethers and stakes.
How do I clean and maintain my inflatable projector screen?
Cleaning is usually as simple as using a soft cloth and some mild soap and water. Avoid using harsh chemicals, as they might damage the material. After cleaning, ensure the screen is completely dry before storing to prevent mold or mildew.
How long does it take to inflate the screen?
The inflation time varies based on the screen's size and the power of the air pump. Most screens inflate in under 5 minutes. That said, some models (like the GOOSH) have inflation times as quick as 1-2 minutes.
Can I use my inflatable screen indoors?
While inflatable screens are primarily designed for outdoor use, they can be used indoors if you have enough space. Ensure the area is clear of sharp objects that might damage the screen. There's nothing saying you can't use an outdoor screen inside your home.
Do inflatable projector screens support both front and rear projection?
Many modern inflatable screens support both front and rear projection, but it's essential to check the product specifications to be sure. For example, the VIVOHOME only supports front projection, but the other two support both.
How do I store my inflatable screen when not in use?
Once deflated, fold the screen neatly, and store everything in a storage bag or plastic tote. Keep it in a cool, dry place away from direct sunlight to ensure longevity. Keep in mind that the larger screen size you choose, the more space it will take up when deflated.
Why do inflatable projector screens require the air pump to constantly be turned on?
They require an air pump to be constantly turned on due to their continuous airflow design. This design ensures the screen maintains its shape and tension for optimal viewing. The constant flow counteracts potential air loss from small leaks, changes in temperature, or wind pressure. Ultimately, it ensures the screen remains taut and wrinkle-free.
Meet Derek, "TechGuru," a 34-year-old technology enthusiast with a deep passion for tech innovations. With extensive experience, he specializes in gaming hardware and software, and has expertise in gadgets, custom PCs, and audio.
Besides writing about tech and reviewing new products, Derek enjoys traveling, hiking, and photography. Committed to keeping up with the latest industry trends, he aims to guide readers in making informed tech decisions.