Overall Design -

8.5/10

Sound Quality -

8/10

Battery Life -

9/10

Comfort & Fit -

8.5/10
Summary
After spending significant time with the Oladance OWS Pro, we can confidently say they hold their own in a fiercely competitive market. These earbuds offer a rare blend of quality sound, ergonomic design, and battery longevity that would please even the most discerning of tech enthusiasts. They're a solid choice for anyone, from those looking for a daily driver for commutes and workouts to those who need reliable, long-lasting performance.
Pros
Exceptional sound quality
Impressive battery life
Seamless device switching
Comfortable, secure fit
Cons
Lack of waterproofing
Bass could be stronger
Today, we're sinking our teeth into something rather intriguing – the Oladance OWS Pro Open Ear Bluetooth Headphones. A beast in playtime and a saint in comfort, this unit promises to redefine how you listen to your favorite tracks.
So, can it deliver on all these towering expectations? We're about to find out together. We recently spent some quality time with these earbuds to bring you an in-depth review of how they perform. Let's jump right in.
Unboxing the OWS Pro
Slide open the box, and you'll discover a neat little bundle that includes more than just the headphones. You get a stylish charging case that promises extended playtime, a Type-C cable for fast charging, a user manual, and a brand card. It's the standard fare these days, but it's also everything you need to start using these earbuds right away.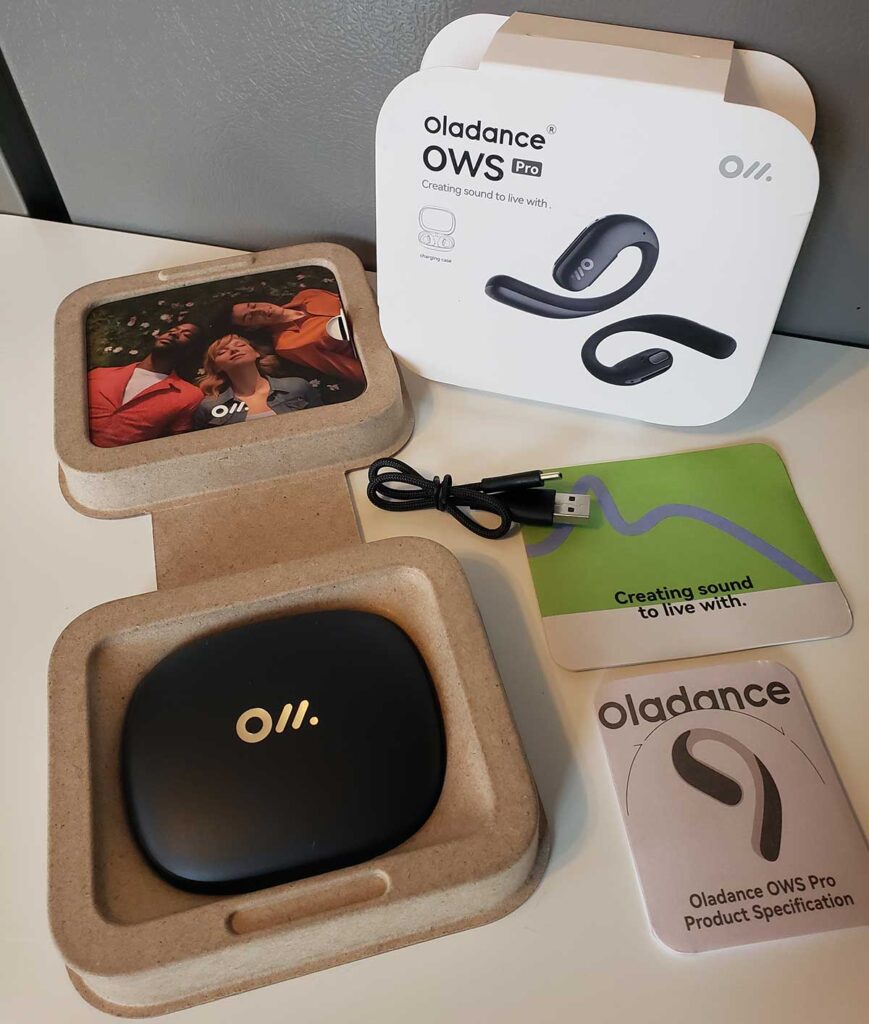 Design and Build Quality
To start, we need to point out that the open-ear form factor is a break from the conventional in-ear or over-the-ear designs. If you're not used to this design choice, it will most definitely throw you for a loop.
So, what's the big deal? Rather than pushing the earbud into your ear, it sits on the outer ear, thus avoiding any inner-ear contact. While it's comfortable, the question of how well it stays in place during high-movement activities is something to consider. Let's continue.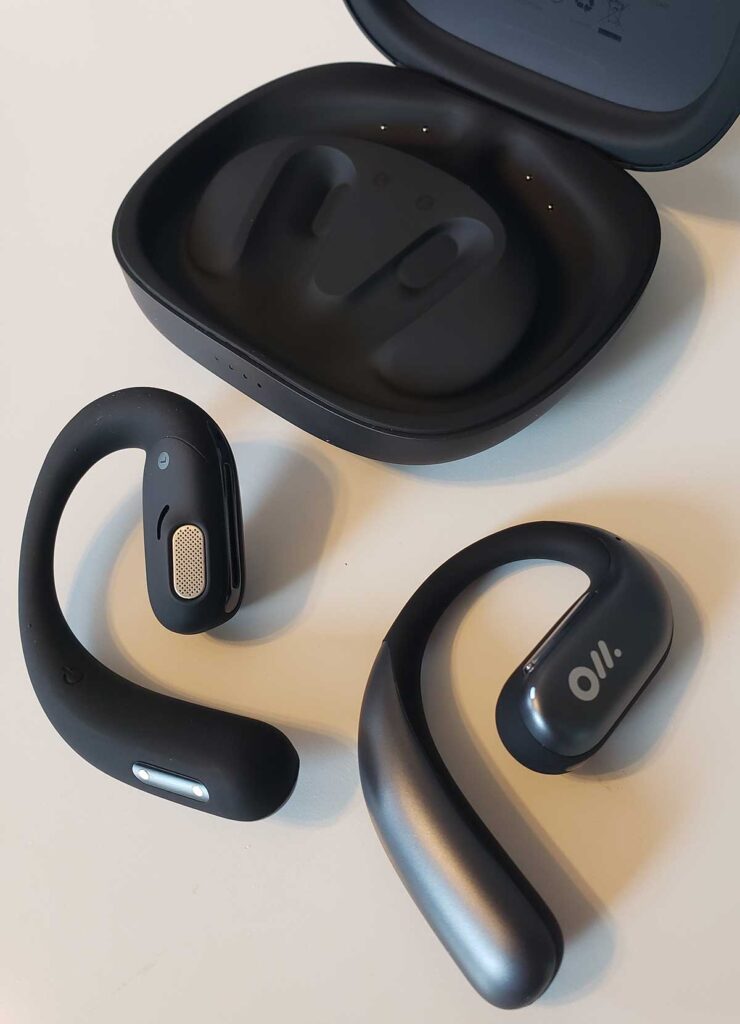 Mobius Design
The earbuds sport what Oladance calls a Mobius Design. While it adds a unique aesthetic touch, the impact of this design on sound quality or comfort isn't entirely clear from just looking at it.
It's more of a visual cue than a functional feature at face value. But don't worry; we will most certainly get into the auditory attributes momentarily. For most of you readers, that's going to be the deciding factor as to whether you buy them.
Materials and Aesthetics
Finished in standard black, these headphones won't win any awards for groundbreaking design choices. You've seen this style before, as it's the norm for most modern audio accessories. That's not to say they're boring or unattractive.
On the contrary, these present a sleek and stylish aesthetic, and we're just fine with that. But black isn't the only color option you have available to you. We like that you can choose from green, silver, and white, aside from black.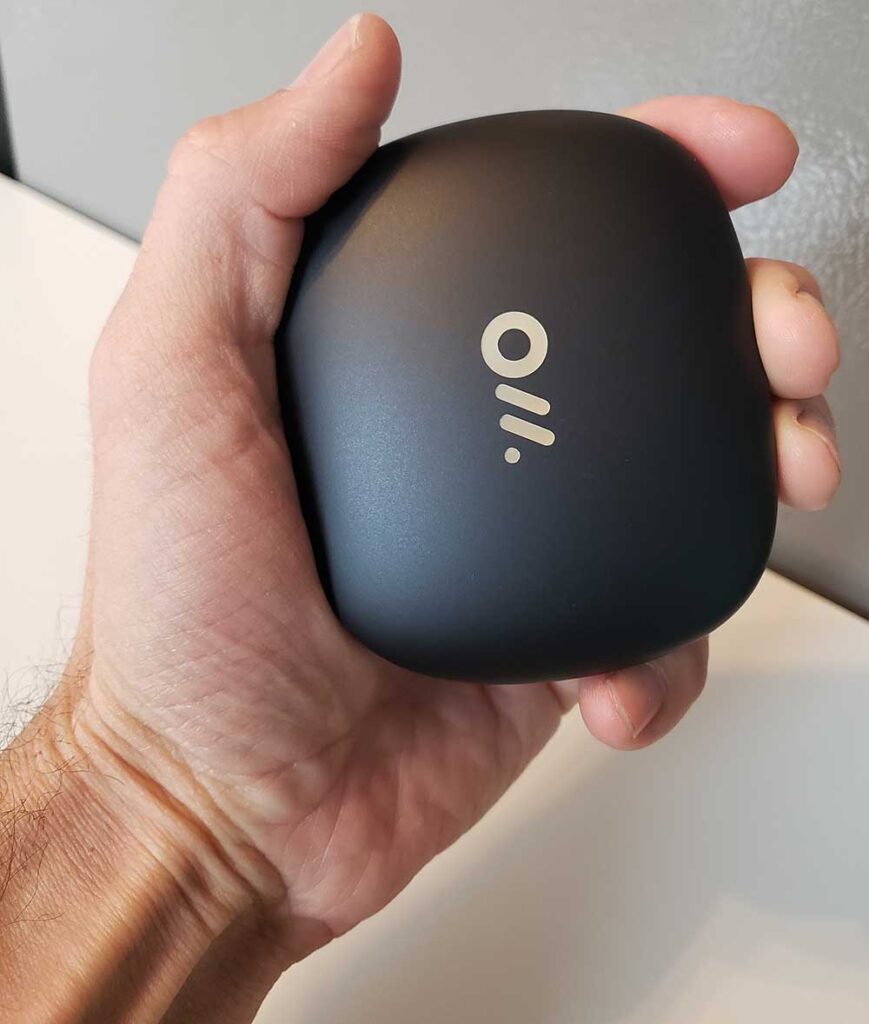 So you've got options, and that's always welcome. The materials seem durable, but only time will tell how they stand up to regular use.
As for its physical footprint, the charging case measures 5.35 x 4.61 x 1.93 inches and has a weight of 7 ounces, making it compact yet not feather-light. Yes, it's heavier than some other options out there, but not so much that it's bothersome.
Three-Point-One Ergonomic Support Structure
The "Three-Point-One" ergonomic support structure is Oladance's answer to comfort, claiming to distribute weight evenly across your ear.
It sounds promising, but for those who haven't experienced this kind of structure before, it's worth taking the time to see how it feels during prolonged use.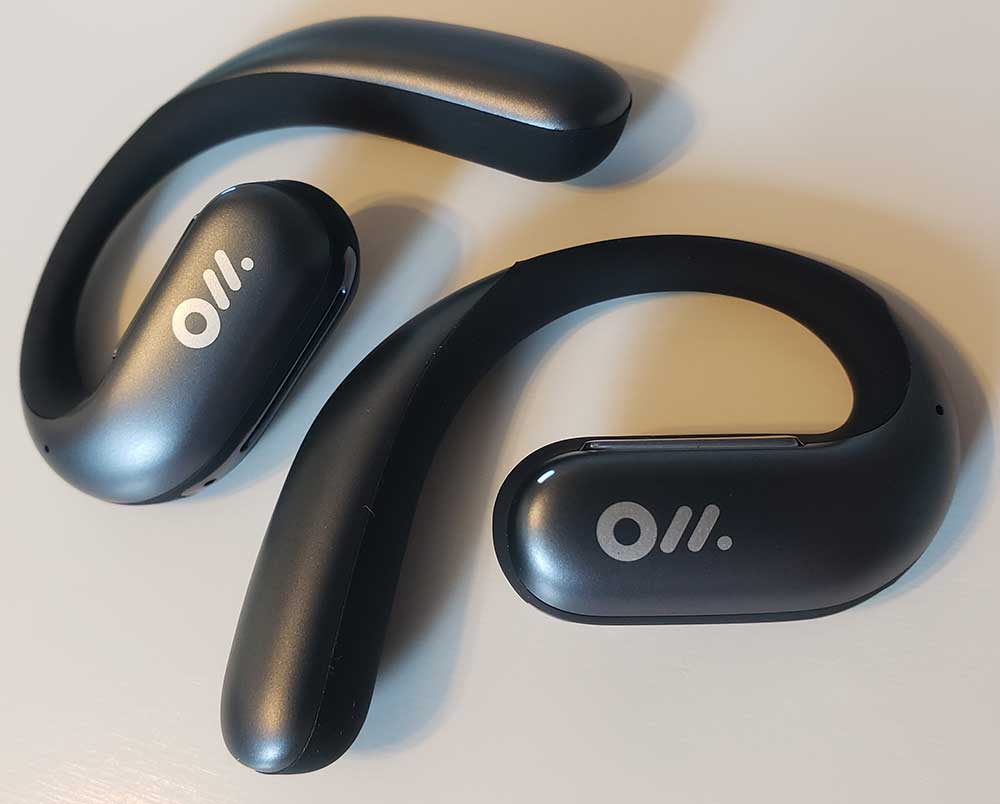 Sound Quality
Now for the most important factor of all: sound quality. In the world of earbuds, sound quality will make or break you. So, how does the OWS Pro deliver on this front? We thoroughly tested every aspect of these earbuds to determine just that. Here's what we discovered.
New Diaphragm Structure
When Oladance claims to have upgraded their diaphragm structure, we felt the need to see how much of that is marketing speak. After extensive testing in various settings like commutes, office spaces, and even a mildly noisy coffee shop, we can say the diaphragm does its job pretty well. The sound was consistently clear and crisp, suitable for both spoken word and music. While it's not aiming to replace your high-end audio equipment, it gives a run for the money to several pricier options out there.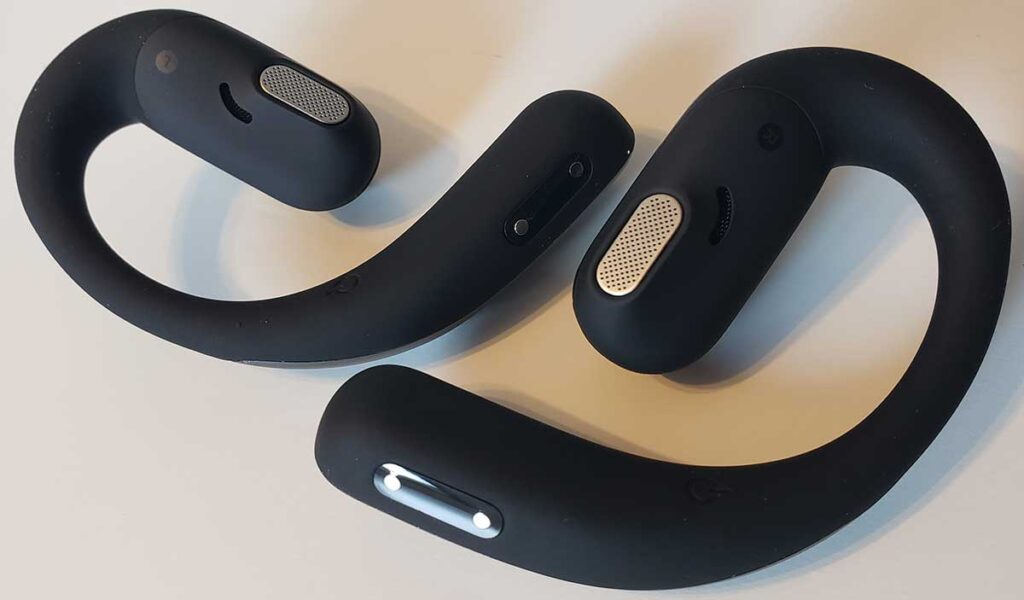 High Pitch and Bass Performance
We cranked up the treble and dipped into the bass to dissect the unit's highs and lows. High-frequency sounds like cymbals in a rock song or the S's in a podcast were sharp but not ear-piercing. On the other end of the spectrum, the bass offered a decent thump. While it might not satisfy those seeking an intense, bass-heavy experience, it struck a good balance that would please most listeners.
Dual 23*10mm Drivers
The unit employs dual 23*10mm drivers, a feature that intrigued us enough to explore its effects on the overall sound stage. Playing around with a variety of tracks, from classical symphonies to hip-hop, we found that the sound was not just about volume; it had depth and character.
The placement of instruments could be discerned, offering a near-concert experience. While it won't replace a home theater system, for an on-the-go option, it impressively holds its own.
Through this comprehensive testing regimen, we gained a detailed understanding of how this unit performs sonically, and it does more than just tick the boxes. The OWS Pro isn't about to revolutionize the audio industry, but it stakes a strong claim in the crowded field of Bluetooth headphones.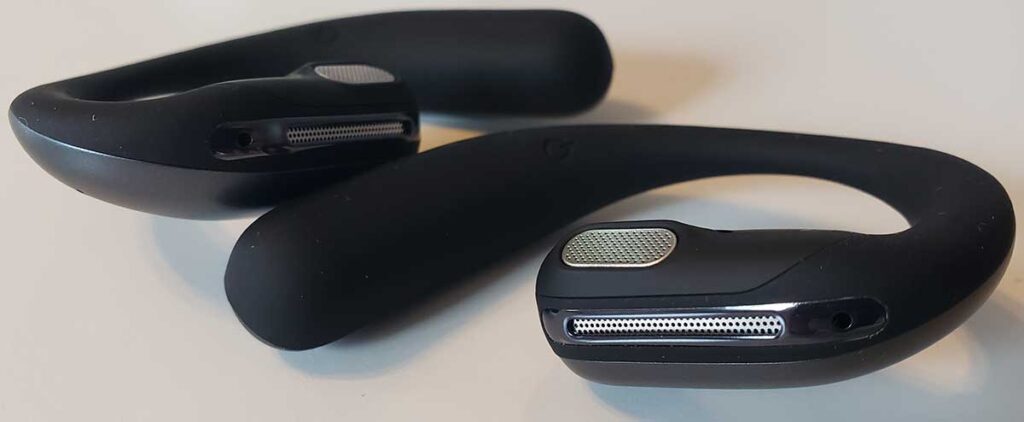 Battery Life
Battery life claims can often be lofty, so we threw everything we had at the OWS Pro to verify Oladance's 16-hour claim.
We began our test with the morning news, progressed to a series of podcasts throughout the workday, and finally capped it off with some evening YouTube TV. Thanks in large part to a 150mAh high-density steel battery, it lived up to its billing and then some, which certainly merits commendation.
Playtime Breakdown
The company promises 16 hours of use on a single charge. An indeed, in our rigorous testing, the earbuds delivered. What was pleasantly surprising was that under more moderate use – such as periodic listening through the day – the battery could indeed stretch a bit further.
As for the charging case, it's not just a convenient holder for your earbuds; it's also a lifeline. It extends the earbuds' playback by an additional 42 hours, and during our tests, it fully recharged the earbuds 2.5 times.
That means you're looking at about 58 hours of total playtime without reaching for a wall socket. If you travel often, whether by car, train, plane, or bus, you will most certainly have enough power to keep you going.
These 'buds hang with the best of them in this department. Which, given the price point, is exactly what we expect from earbuds of this caliber.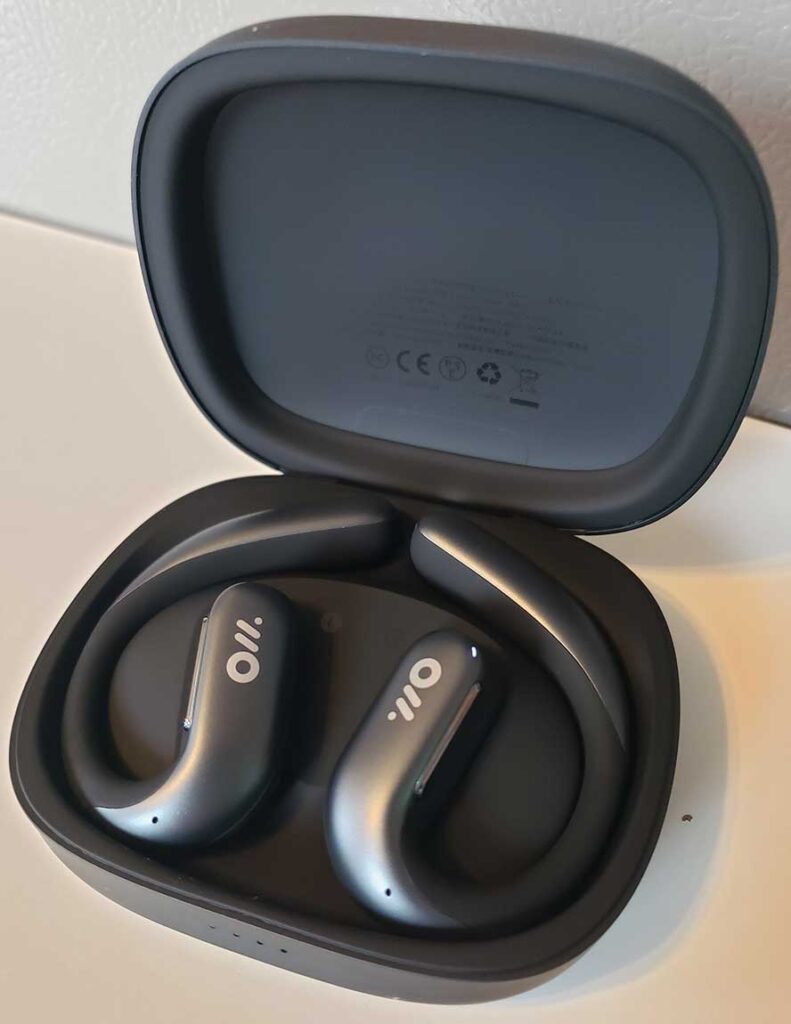 Fast-Charging Capabilities
We all know the panic of realizing your device is low on battery just when you need it. Oladance tries to allay such fears with fast-charging capabilities.
We put this to the test with a near-drained battery. A mere 15-minute charge yielded close to 6 hours of playback, aligning perfectly with Oladance's claims.
So, those moments when you're darting out the door and realize your headphones are dead? Consider that problem solved. The OWS Pro manages to deliver on its battery promises without leaving you tethered to a charging cable, making it a reliable option for those constantly on the move.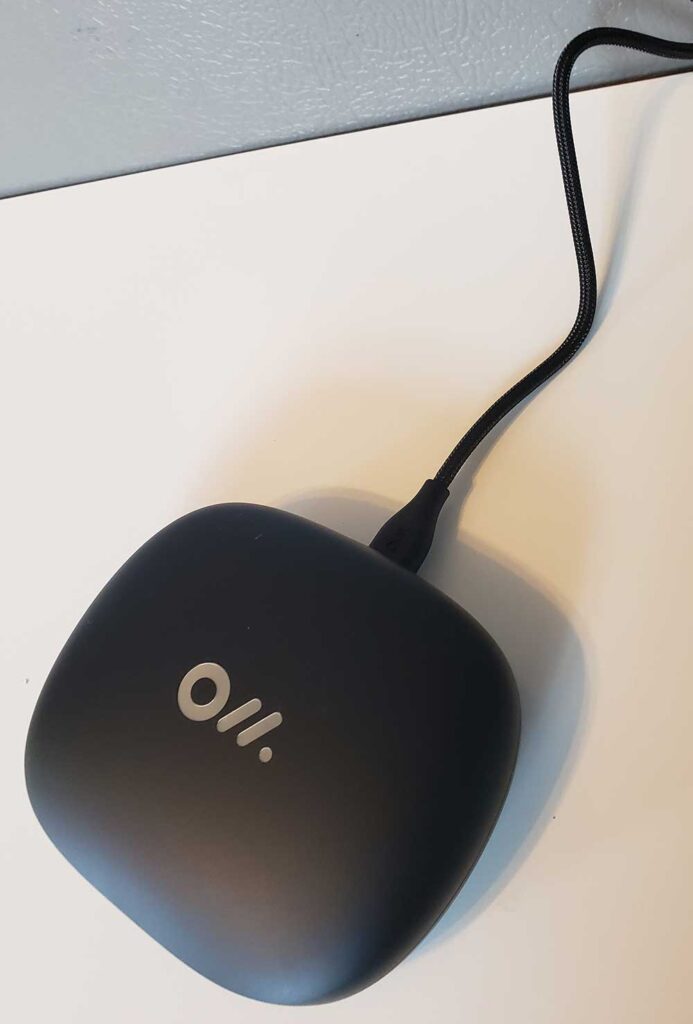 Connectivity
The OWS Pro is not stuck in the past; it's equipped with Bluetooth 5.3, ensuring a stable, fast, and efficient connection. In real-world testing, the connection was mostly seamless, with minimal dropouts, even in areas rife with competing signals.
But it doesn't stop at just a solid connection; these earbuds also offer multipoint connectivity. This means you can connect them to multiple devices without having to go through the laborious process of disconnecting and reconnecting.
Device Switching
Switching between your phone, tablet, and laptop is virtually frictionless. With a few taps, you're transitioned from taking a work call on your laptop to jamming out to your favorite playlist on your phone. We tested this feature across various devices and found it to be as straightforward as Oladance claims.
Comfort and Fit
When it comes to comfort, OWS Pro has cracked the code with its flexible memory titanium wire ear hook. Designed to adapt to the unique contours of your ear, this smart material remembers your ear shape.
During our long-haul testing, which involved multiple hours of continuous usage, this feature truly stood out. No ear fatigue, no constant need to readjust—just set it and forget it.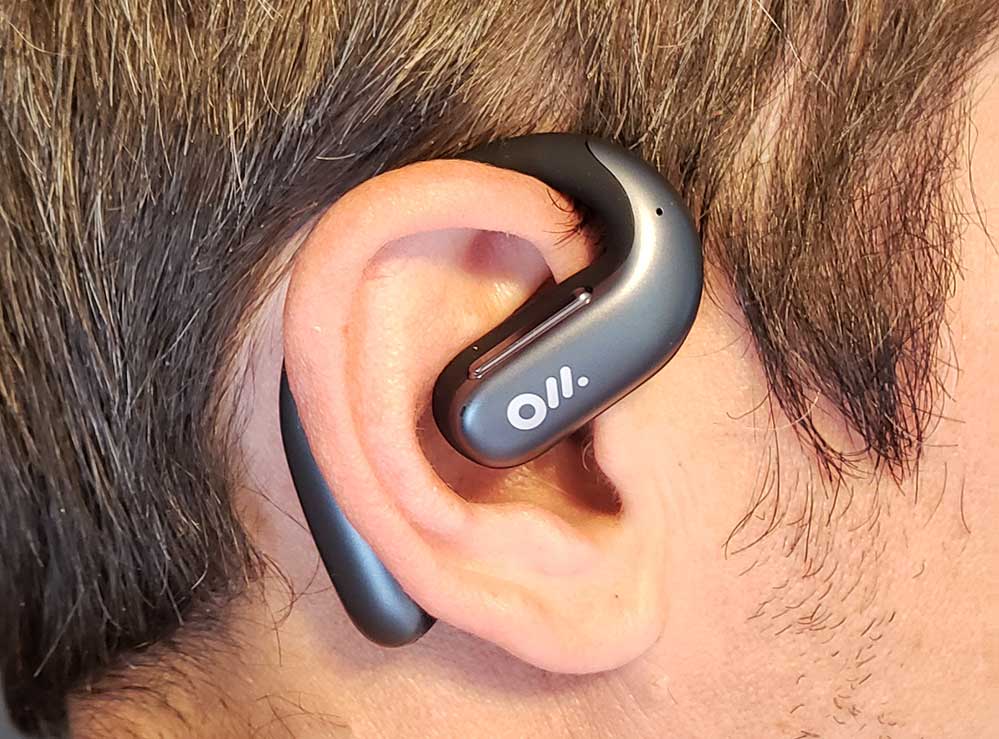 Wide Support Area
Don't underestimate the wide support area; it's a game-changer. This feature aims to distribute the minimal weight of these earbuds across a larger surface area, significantly reducing localized pressure.
In practical terms, this means you can binge that entire season of your favorite show or last through back-to-back meetings without feeling like your ears went through a wringer.
Secure Fit During Workouts
If you're someone who loves to mix a good tune with some sweat, the secure fit of the OWS Pro has got you covered. These earbuds underwent the workout Olympics in our test – everything from jumping jacks and sprints to body-contorting yoga poses.
Through it all, the earbuds stayed put. No falling out or awkward adjustments, which is something anyone who's ever had earbuds fall out mid-burpee can appreciate.
Noteworthy Additions
Nobody enjoys fumbling with tiny buttons on earbuds. Oladance understands that and offers pressure-sensitive touch controls for functions like play, pause, and volume adjustment.
During testing, the touch controls responded well, making interaction with the earbuds impressively fluid. If you're in Music Mode, one tap plays and pauses music, two taps go to the next track, and three taps turn on the Voice Assistant.
In Phone Mode, one tap answers incoming calls, while two taps rejects the call or hangs up. It's pretty straightforward, really, and we got the hang of it almost instantly.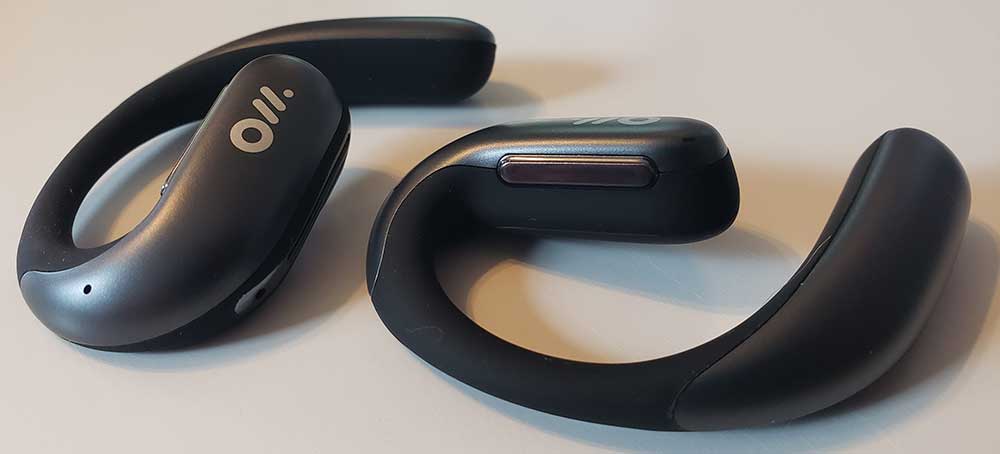 Sweatproof Design
While not entirely waterproof, the OWS Pro is sweatproof, which means it can easily endure your most sweaty workout sessions or a sudden downpour. However, you may want to think twice before jumping into a pool with them on.
Bottom line, the OWS Pro brings a well-rounded feature set to the table. It offers a reliable blend of tech sophistication, comfort, and added perks that elevate the user experience.
Final Verdict
After spending significant time with the Oladance OWS Pro Open Ear Bluetooth Headphones, we can confidently say they hold their own in a fiercely competitive market.
These earbuds offer a rare blend of quality sound, ergonomic design, and battery longevity that would please even the most discerning of tech enthusiasts.
They're a solid choice for anyone, from those looking for a daily driver for commutes and workouts to those who need reliable, long-lasting performance.
Meet Derek, "TechGuru," a 34-year-old technology enthusiast with a deep passion for tech innovations. With extensive experience, he specializes in gaming hardware and software, and has expertise in gadgets, custom PCs, and audio.
Besides writing about tech and reviewing new products, Derek enjoys traveling, hiking, and photography. Committed to keeping up with the latest industry trends, he aims to guide readers in making informed tech decisions.