Technology has changed the way we store and transmit documents. Suppose you wanted to transact a contract with someone on the other side of the country. A few years ago, one person would have to sign a paper copy. Then it would have to be transported across the country so the other person could sign it.
Then, the contract would have to be stored somewhere, again as a paper copy. If you wanted to share a document with a group of people, you either had to do it in person or via mail. All of this was very inefficient, and the storage space alone became a problem for many businesses.
With digital technology, companies are shifting to a paperless model. Why do business with pen and paper when a digital copy will do? For many businesses, this shift includes digitizing old paper records. Take healthcare, for example. When providers implement a digital system for patient records, those records need to be complete. So they have to scan in old paper copies, too.
That said, documents come in many shapes and sizes. When you think of a scanner, you probably think of one of two things. First, there are flat scanners, where you lay a sheet on the glass and close a cover over it.
Next, there are feed-through scanners like the one on a typical desktop printer. These are both great options for loose sheets of paper. But what if you're trying to scan a book or a large, oversized document? In that case, you'll need a scanner that was purpose-built for the task.
CZUR Shine Ultra Pro
Today, we're going to review the CZUR Shine Ultra Pro. This is a large scanner with an impressive 24-megapixel camera. It's designed for large-format documents, books, and magazines. It also comes with powerful software that helps fix your documents and make them searchable.
But how well does it actually perform? How easy is it to use, and what computers is it compatible with? What kinds of files does it save, and how crisp are the images? To find out, we'll have to take a deep dive into all of its features and functions. Once we've given it a thorough once-over, we'll have a better picture of what we're dealing with. Let's see what this scanner is made of!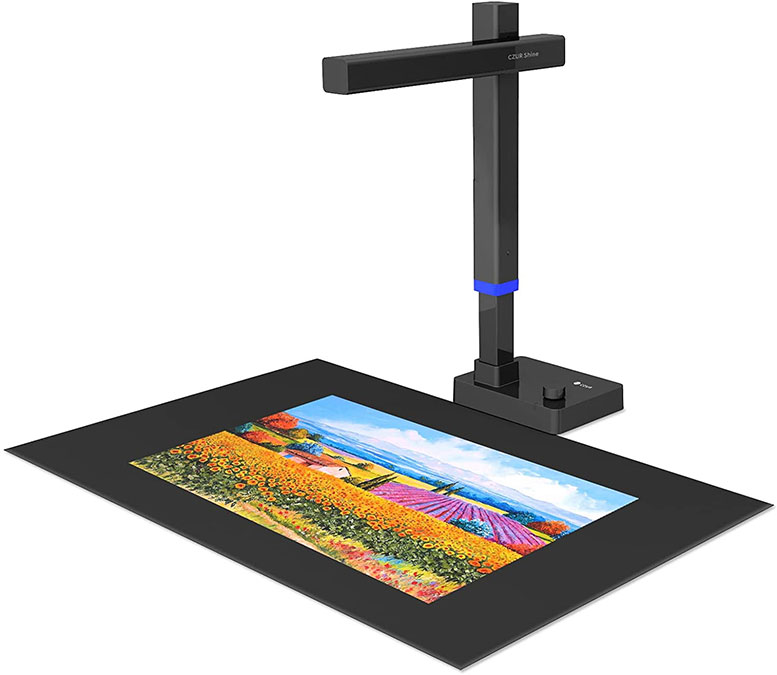 Overall Design
The CZUR Shine Ultra Pro has three main components: a mat, a scanner, and a foot pedal. The mat is large enough to open a magazine on, and it's soft and flexible. It's also matte black, so it will disappear into the background if some of it is in frame. It's easy to roll up and transport, so the scanner is portable.
This portable design extends to the scanning element itself. It consists of a rectangular black base, constructed from a matte black plastic. A square-profiled support arm sits vertically on the base. A second arm attaches to the top at a 90-degree angle. The lens is built into the bottom of this arm, and points down at the mat when it's in position.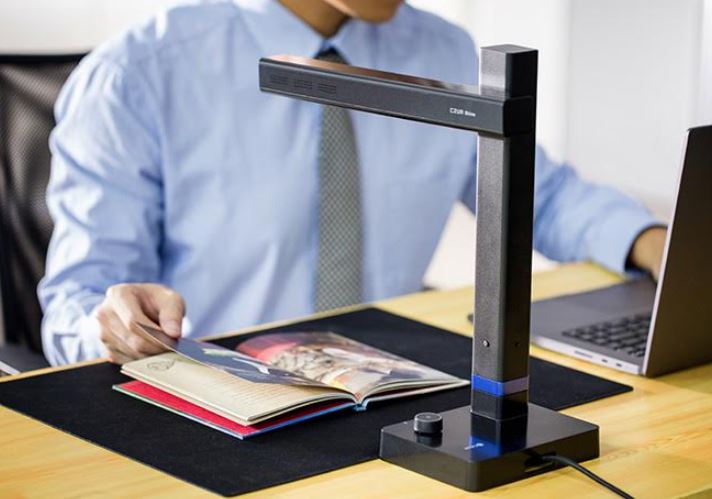 The vertical arm is height-adjustable to create a bigger or smaller scanning area. The horizontal arm, meanwhile, can be collapsed to lie parallel to the vertical one. When collapsed the whole thing measures 4.61 x 6.22 x 13.19 inches. Moreover, it weighs only 2 pounds. If you want to take it on the road with you, it's easy enough to carry.
The foot pedal is small and roughly hockey puck-shaped. It's indispensable if you're scanning a lot of documents. Instead of clicking "scan" over and over again in the software, you can hit the pedal to take your scans. Everything is covered by a 12-month manufacturer's warranty. If anything fails during that period, you'll be protected.
If you like the design but not the price, consider the CZUR Shine500 Pro; it made our list of the best document scanners for zoom calls. It has a similar design and build, and costs significantly less. That said, it has a much lower scan quality. It's fine for Zoom presentations and other basic applications. But if you want to take high-quality archival scans, it won't be up to the task.
Everyday Use
The Shine Ultra Pro is easy to set up. The mat is actually directional, with a little cutout on the back edge for the scanner base. With the scanner in place, you'll have enough room to snap a picture of size A3 paper. For those of you who aren't paper nerds, that's 16.5 x 11.69 inches.
Put the scanner into position and connect it to your PC or Mac via USB. The kit includes the cables you need. Be aware that there are actually two USB ports in the scanner's base. One of these is for your computer, while the other is for your foot pedal. Both are clearly marked, so you know which one to plug into.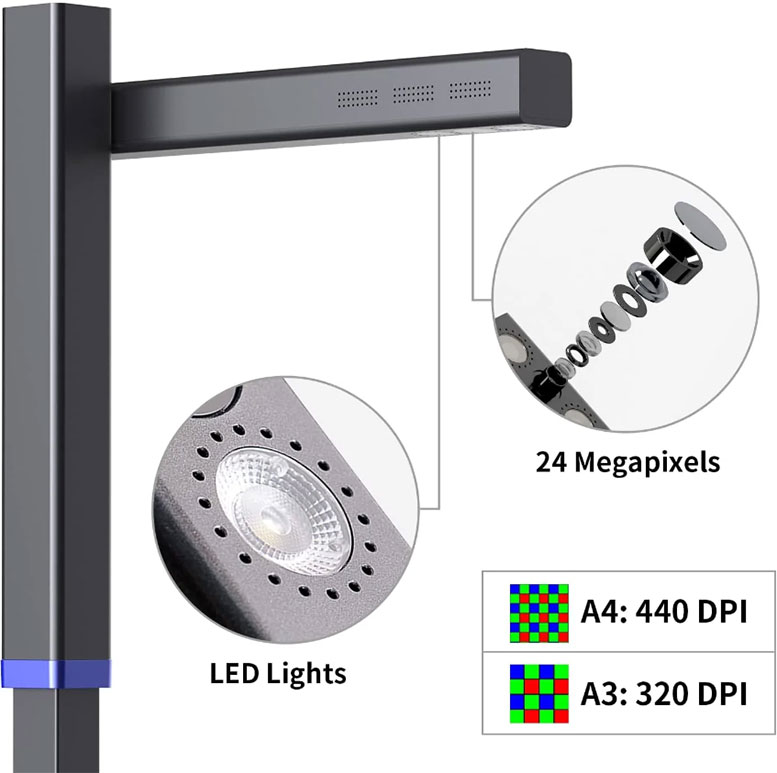 To use the Shine Ultra Pro, you'll need to install the companion software. The package includes an install CD for Windows and Mac. If your computer doesn't have a CD drive, don't worry. CZUR also makes it available for download on their website.
The last thing you get is a pair of plastic page flatteners. These are bright yellow, with special black-and-white dotted patterns printed on them. When the software sees these patterns, it will remove the clips from your scans. These are very helpful for holding down pages of books and magazines.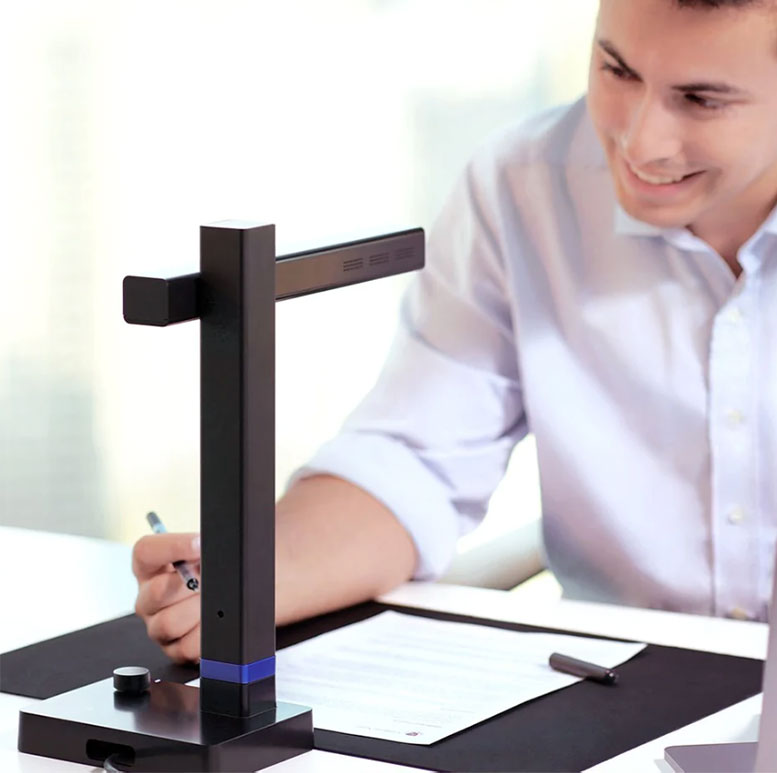 If you want something even more portable, take a look at the Ambir TravelScan Pro 300. It's a portable wand-style scanning device that stores your scans in an SD card for later use. The image quality is surprisingly good, but you get fewer smart features.
Image Quality
The scanner camera has a resolution of 24 megapixels. That's exceptionally high, and you get detailed images as a result. This translates to a resolution of 5,696 x 4,272 pixels. That's more than 11 times as many pixels as a standard 1080p image. With that kind of density, you can scan even the smallest fonts.
The scan quality will vary depending on the size of paper your scanning. That's because the lens will be closer to or further from the document. When scanning 8 ½ x 11 paper, you'll get 440 DPI. Scanning oversized A3 paper, you'll get a density of 320 DPI. You'll want a higher DPI if you're doing professional photo scanning. For anything else, this is more than enough.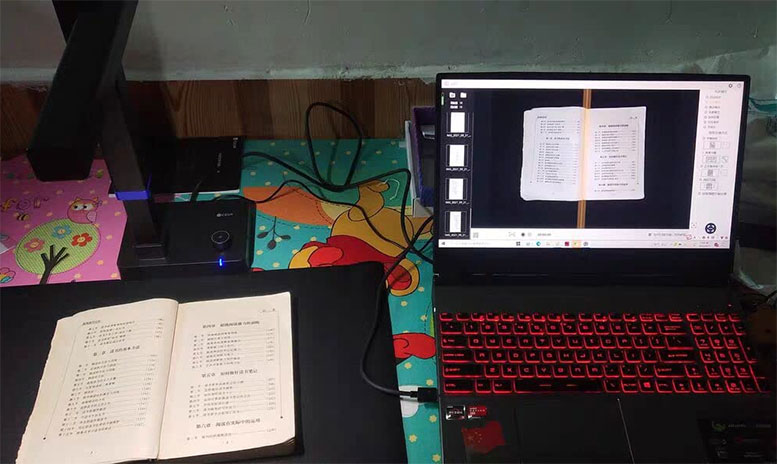 Despite this quality, it takes only a single second to scan a page. In fact, there's an automatic scanning mode that scans once every second. This is great if you're trying to quickly catalogue a large number of documents. You could scan 500 pages in only 8 minutes, 20 seconds.
In general, you'll get good scans of text-based documents and black-and-white photos. Color photos will also scan just fine depending on the format. Unfortunately, the camera struggles with glossy pages and tends to produce a lot of highlights. This can be problematic, depending on what you're scanning.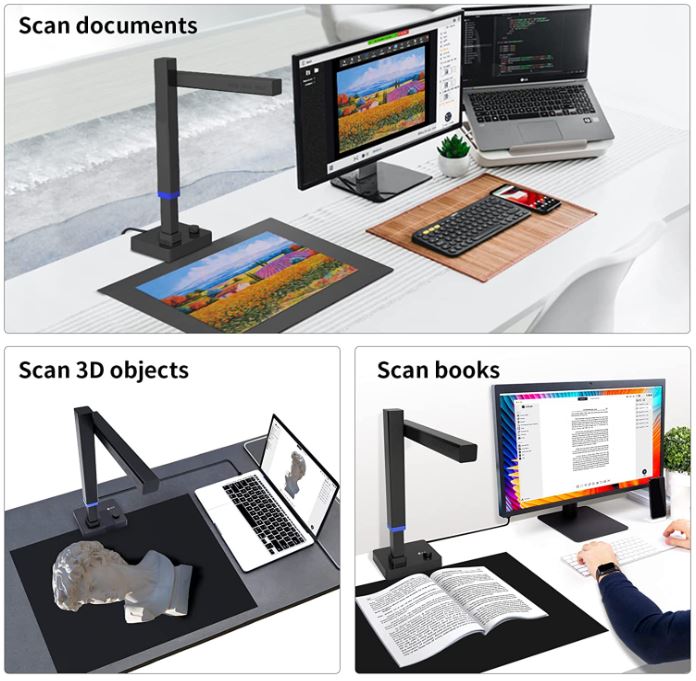 Software Features
CZUR's software allows you to store your scans in multiple formats. You can scan any type of page to JPG, PDF, or searchable PDF. In addition, the Shine Ultra Pro can use OCR text recognition to store your written documents as a Word doc. You can even save tables as Excel spreadsheets. The OCR software supports 185 different languages, which makes it incredibly versatile. You can scan text from all around the world just by tweaking the language setting.
The software also has built-in curve flattening technology. When you're scanning a book, for example, the pages will naturally be curved upwards. The technology compensates for this by flattening the image, which works surprisingly well.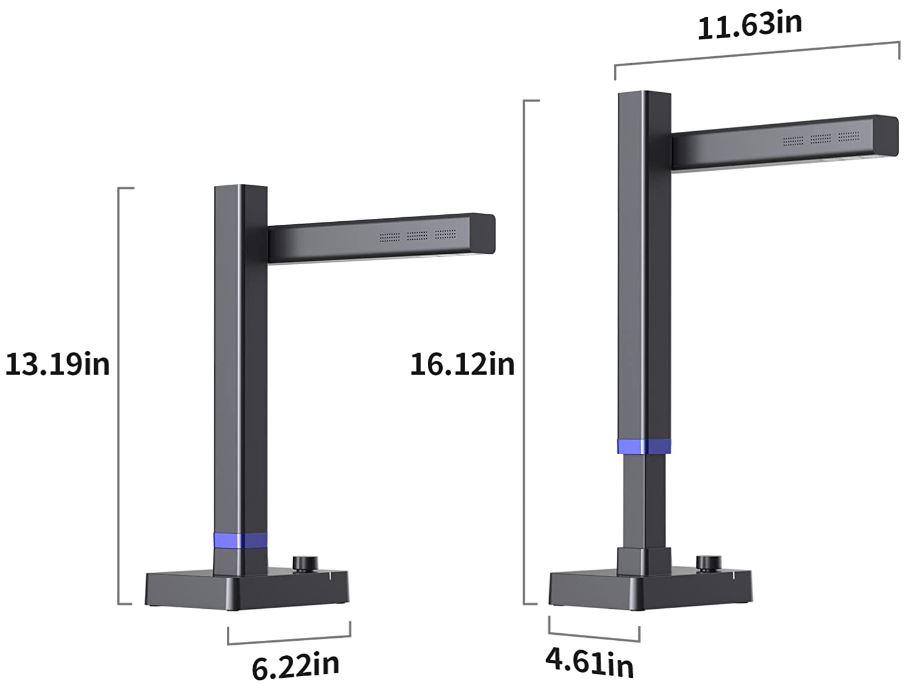 There are a few additional functions you should be aware of. These include:
Automatic deskewing – If the document isn't perfectly straight, the software will compensate and align it properly.
Automatic cropping – If your document has ragged edges, the scanned image will have straight edges.
Background purification – If the text background is stained or darkened, the software will brighten it.
Combining front and back sides – Two-sided documents can be scanned into a single image.
Compatibility
The Shine Ultra Pro is compatible with most modern computers. It's designed to work with Windows XP, Windows 7, Windows 8, and Windows 10. The software also runs on MacOS 10.11 and later, although it can be unstable on versions older than MacOS 10.13. We should also point out that there are some issues with the software on MacOS. Specifically, there's no share function. Windows users won't miss this, but Mac users will feel its absence. You won't be able to send files directly to other apps.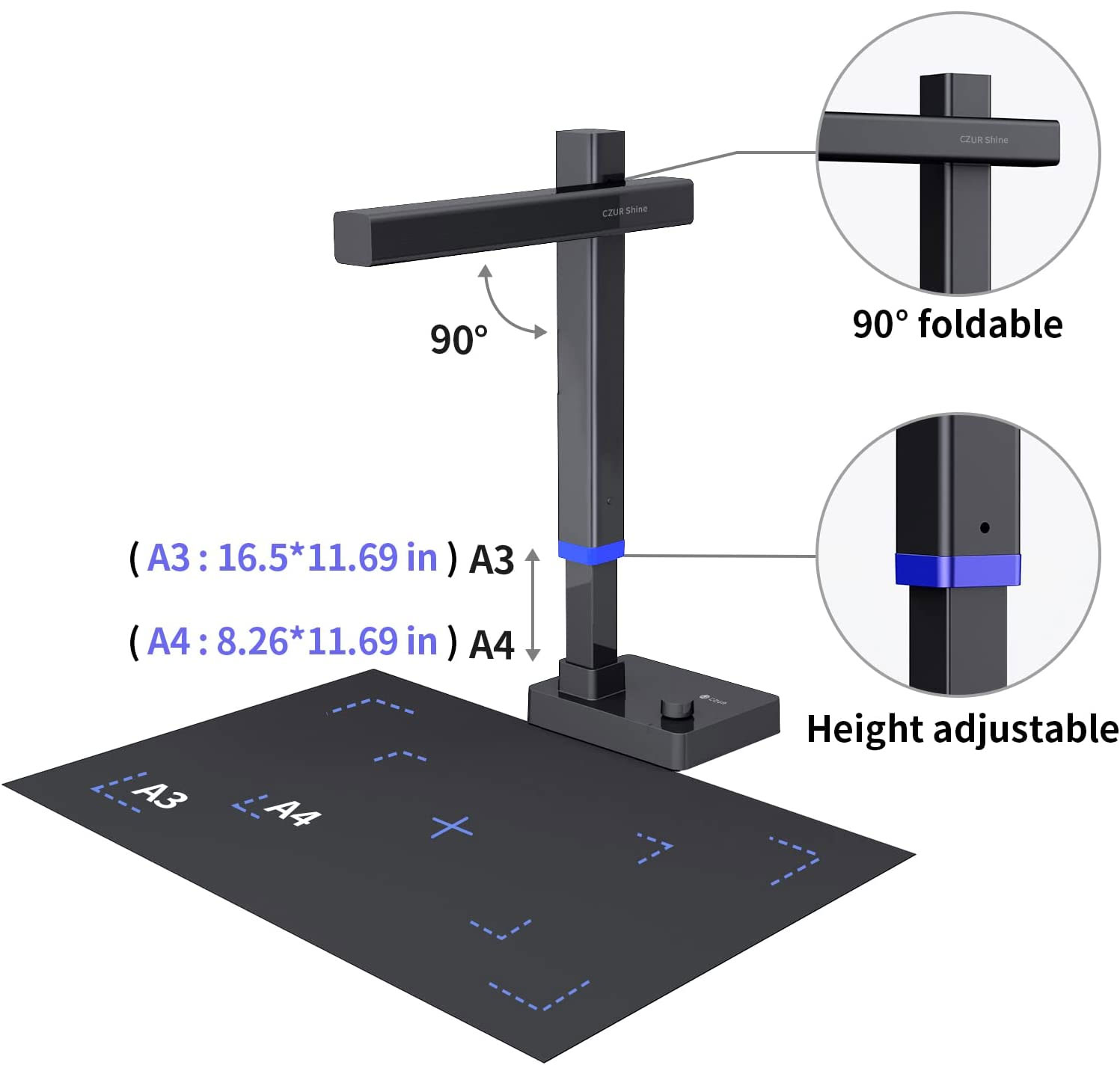 That said, you can also use the scanner as a webcam for making presentations. It works with most video sharing platforms, including Zoom, Skype, and Google Meet. There's even an LED light built into the frame near the lens, along with a dimmer knob. If you're using a digital projector in a dark room, the light will keep your documents nice and bright. We should note that there are cheaper options if all you want is a presentation camera. But we appreciated the added versatility.
If all you have to do is scan loose documents quickly, check out the Fujitsu fi-8170. It's a full-sized document scanner that's great for powering through stacks of single pages. On the downside, you can't scan books or other thick documents, and there's no OCR capability.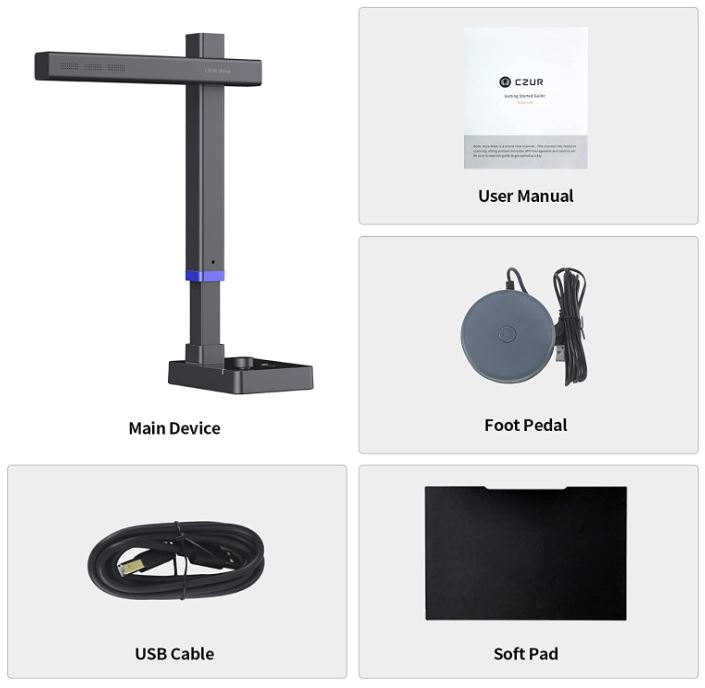 Final Verdict
The CZUR Shine Ultra Pro is a well-engineered scanner for thick and oversized documents. It comes with a full suite of accessories that make it easy to use.
Meanwhile, the included software is incredibly powerful, and a great value proposition in its own right. The 24-megapixel camera produces crisp, clear scans, so you can read even ultra-fine print. And despite all these capabilities, the whole thing is collapsible and portable. All things considered, this is an excellent scanner.
Meet Derek, "TechGuru," a 34-year-old technology enthusiast with a deep passion for tech innovations. With extensive experience, he specializes in gaming hardware and software, and has expertise in gadgets, custom PCs, and audio.
Besides writing about tech and reviewing new products, Derek enjoys traveling, hiking, and photography. Committed to keeping up with the latest industry trends, he aims to guide readers in making informed tech decisions.