Sharing documents online in real time can be tricky. Let's say you want to show someone a diagram, but it's printed on paper. If you have the person's phone number, you can snap a picture and send it to them. But what if you're on a Zoom call, or you're making an online presentation? You could always just hold the paper up to the camera. But lighting in these situations can be tricky, and it can be tough to hold the paper straight. And even the best 1080p webcams are usually not designed for focus at extreme close range. If you want to show documents like charts and books during a webcam presentation, you need a document camera.
Document cameras come in many shapes and sizes. Some are predominantly designed for videoconferencing, with more focus on the video aspect. Others are primarily made for quickly snapping still pictures of your documents. Still others are designed to work like scanners. So which one is going to be right for your needs? Simply put, it depends on what you're trying to do. That's why we'll be looking at a few different document cameras today.
We're about to review four of the best document cameras available on the market. We'll begin with the IPEVO V4K. This is a powerful 4K camera that looks great in any context, but is primarily designed for still images. Next, we'll examine the AVer M5 Document Camera. This is an impressive 8K camera with a rugged, collapsible design. After that, we'll look at the OKIOCAM S. This is a slimmer collapsible camera, with a lower resolution and a built-in document pad. Last, we'll review the CZUR Shine500 Pro. This camera doubles as an OCR scanner, and can convert text from any written document. We'll take a good, close look at each of these cameras and what they're capable of. Once we've done that, we'll sum up what we've learned.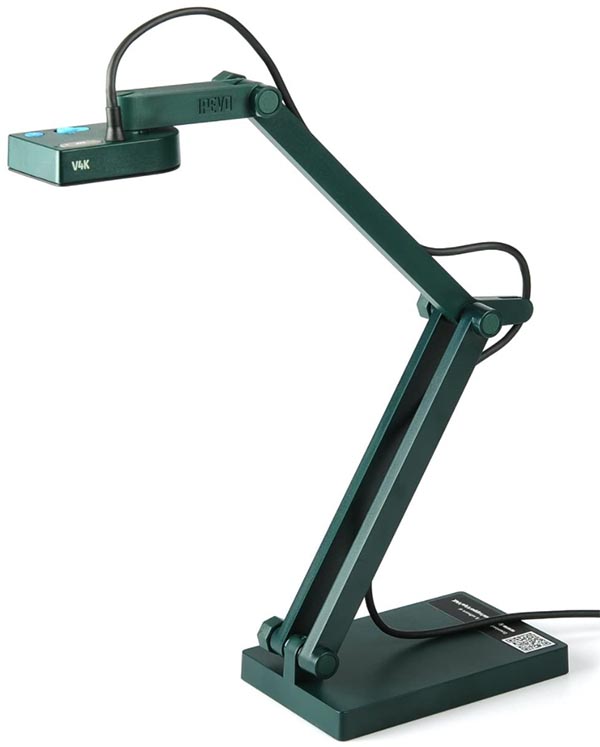 IPEVO V4K
The IPEVO V4K looks a lot like a desk lamp at first. It's olive green, and constructed from a durable polymer. The base is rectangular and stable, with a mount at the front where a vertical arm attaches. This arm is hinged at the base, with another hinge about halfway up. A third hinge at the top attaches to the camera assembly, which can pivot horizontally, but not swivel. For most purposes, this will be just fine, since the lens should be pointed straight down. The top of the camera housing hosts a few control buttons, as well as a switch. This switch changes the camera between scanning and video mode. There's an exposure button at the top for adjusting still photos, and a simple shutter button towards the front.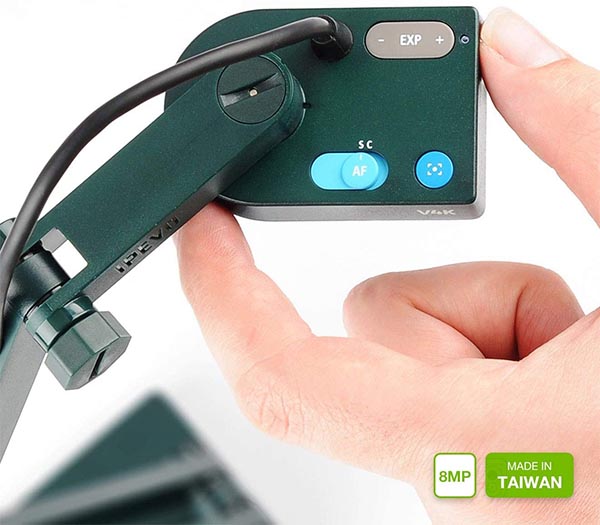 This camera is primarily designed for taking photos. As a result, any kind of moving video will be sub-par. But considering that the purpose of a document camera is to remain still, this shouldn't be an issue. You can easily place sheets of paper or entire books under the lens, and adjust the angle as needed. The package even includes document scanning software with a convenient preview window. You can even snap photos directly from the software. Use one hand to flip through a book, and click your mouse with the other one to quickly make an archive.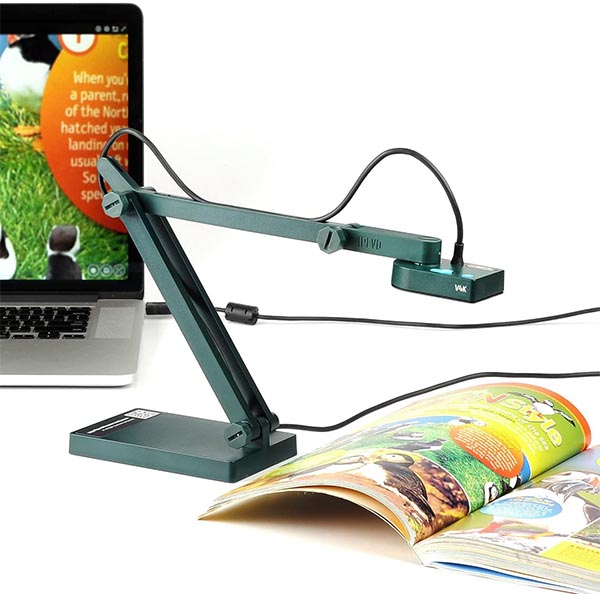 The image sensor has a resolution of 8 megapixels, with a resolution of 3,264 x 2,448 pixels. That's roughly equivalent to 4K, so you don't have to worry about small details and fine print. If you have OCR (optical character recognition) software, the resolution is going to be more than sharp enough. That way, you can convert printed documents into editable digital copies. In addition, the color clarity is quite good. If you're using a lot of colorful charts and graphs, your photos will look just as good as the originals. The same goes for art projects, or any other color photo applications.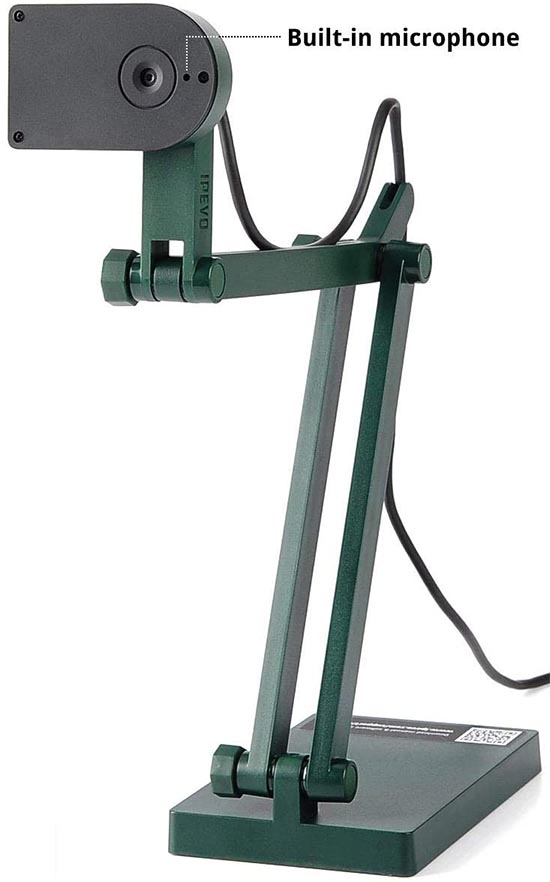 If you're dead-set on using your existing webcam as a document camera, there is a way. A flexible webcam mount can serve the same function, since you can point the camera wherever you want. On the other hand, you won't get any extra camera features. And if you want to switch back and forth between your face and a document, the process can get complicated.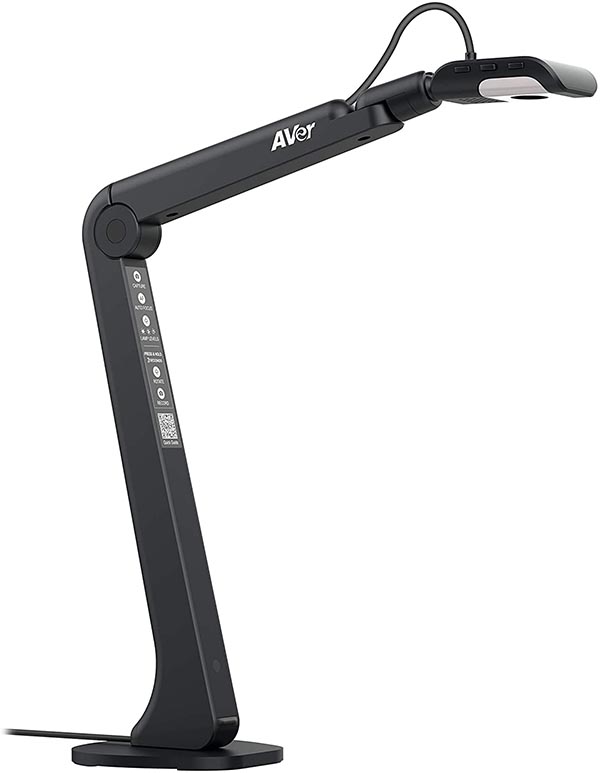 AVer M5 Document Camera
The AVer M5 Document Camera is similar to the IPEVO in that it's built like a desk lamp. But that's where the similarities end. This camera is made from rugged black polymer, with two hinges in the arm. The camera head itself will swivel and pivot, so you can even view documents at an odd angle. The USB cable is fully enclosed within the arm, instead of being tethered to the side like other document cameras. The arm and camera also fold up tightly when not in use, so it's easy to transport. To be fair, though, this sleeker build comes at a cost. The M5 is the priciest document camera on our list.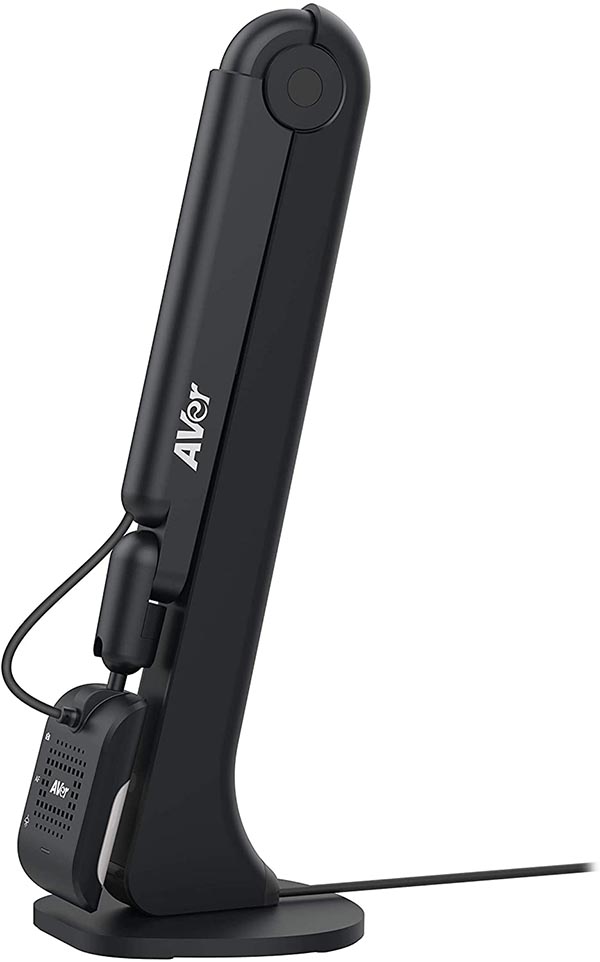 Then again, you're not just getting a well-engineered stand and arm; you're also getting a top-tier webcam. The M5 has a resolution of 4K, the same as the IPEVO. But it also has a framerate of 60 FPS, so it can smoothly record moving objects. If you're flipping through a book on live video, it's not going to make everyone else in the chat nauseous. Not only that, but you can also take advantage of a 16x digital zoom, with a minimum resolution of 1080p. This is a great feature if you're trying to photograph fine details. For example, say you want to show a single diagram or chart. You can simply zoom in to avoid capturing extraneous details.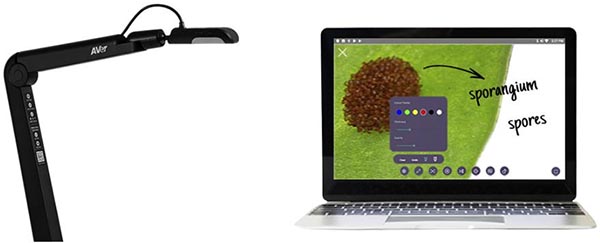 An alternative use for the M5 – or any well-engineered video document camera – is for use with a projector. Plug it into a good projector like the WiMiUs S25, and you don't need PowerPoint to make a great presentation. You can also use it to augment PowerPoints, or for examining paper documents as a group.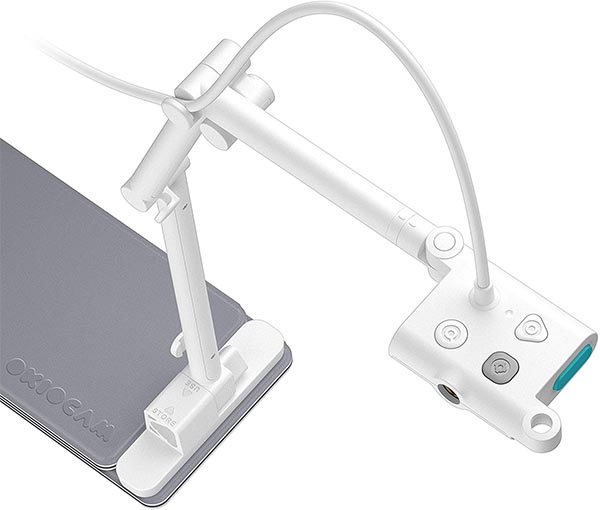 OKIOCAM S
The OKIOCAM S is designed to be not just a camera, but a portable document station. The base is very large and thin, and large enough for a full-sized sheet of paper to lay flat. When you're done with it, the base will fold into a smaller rectangle, not much larger than a smartphone. Along the same lines, the white, bar-shaped support is also collapsible. It's not as sturdy as the last two cameras we looked at, but it can be folded up and stowed in a laptop bag. The arm can even be detached from the base for easier transport.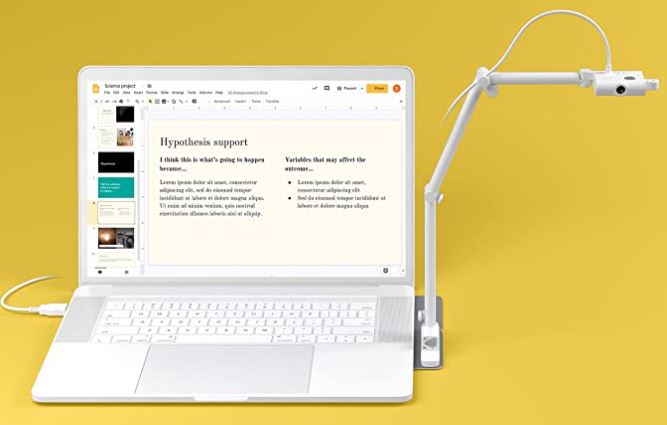 The camera head itself has a rotating, swiveling mount, so it can be pointed in any direction. On the back, there are basic controls including a shutter button. There's also a gray button you can push to automatically adjust the focus, white balance, and exposure length. And like every other aspect of the OKIOCAM, the camera head is detachable. You can use it as a handheld USB camera from getting quick snapshots. It even has a standard threaded tripod mounting socket. So if you want to use it as an ordinary webcam, you can.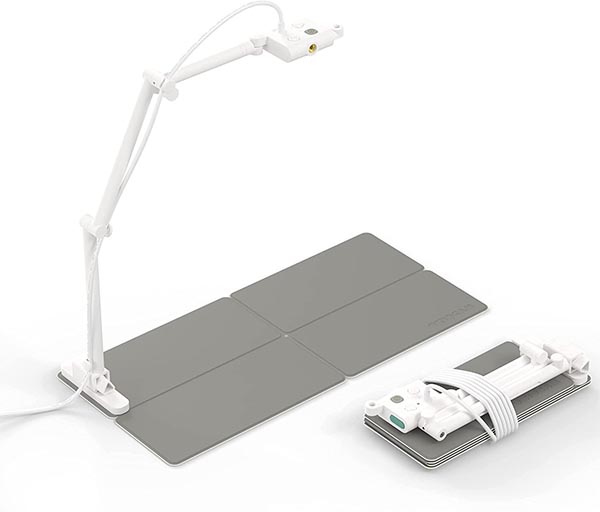 The resolution of this camera is 1,920 x 1,440 pixels, or 2K. However, the framerate can suffer at that resolution. If you want to get a reliable 30 frames per second, you need to keep the camera set to 1080p. This is fine for most documents, as well as most Zoom calls. However, you might find yourself disappointed if you need to photograph fine details.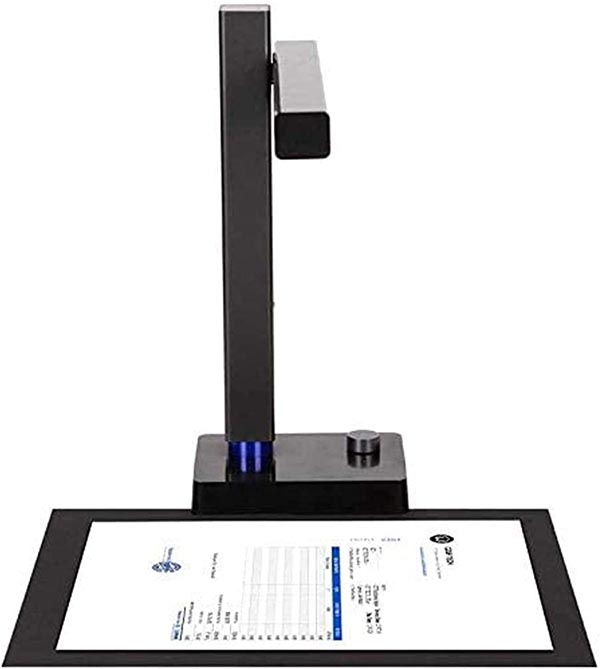 CZUR Shine500 Pro
The CZUR Shine500 Pro has the most unique design of all. It consists of a rigid black document platform, with a fixed vertical arm. Attached to the vertical arm is a camera arm, which can extend out at 90 degrees or fold down vertically. When the camera is in position, you can easily add a document to the platform, photograph it, and move on.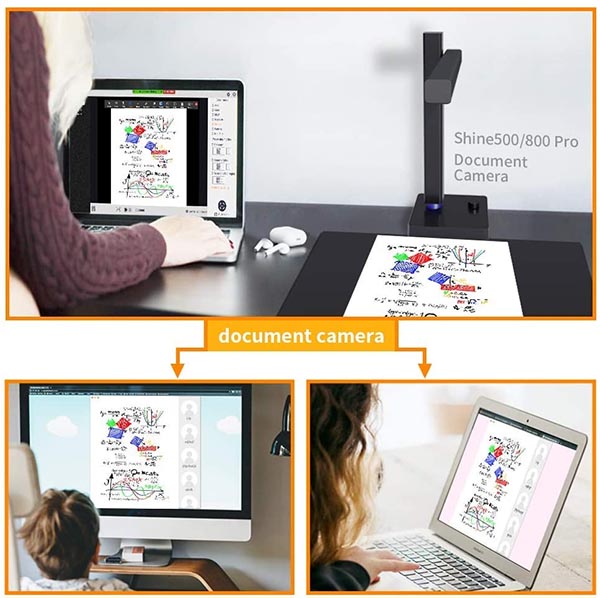 This camera is Zoom-compatible, and it's a perfectly-suitable tool for remote learning. It has a resolution of 2,593 x 1,944 pixels, or 5 megapixels, and a pixel density of 210 DPI. This isn't quite photography-grade, but it's more than good enough for reading fine print.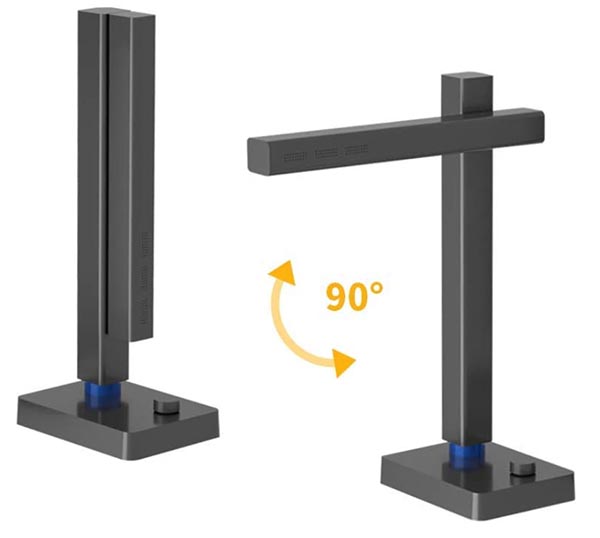 But the main attraction of the Shine500 Pro isn't the image quality; it's all the extra features. For one thing, it has built-in OCR technology in 100 languages. You can scan documents, and automatically convert them to searchable PDFs, Word documents, and more. And with letter-sized or smaller paper, you can scan a page in less than a second. If you're trying to archive a large quantity of printed documents, that's all you'll ever need.
Final Verdict
So, where does this leave us? Let's go over what we've learned about each camera, starting with the IPEVO V4K. This camera is a great tool for making quick, convenient archives. It's got great color clarity, so you can even use it to back up physical photos. That said, it's not ideal for moving video, so it doesn't perform as well on Zoom calls.
With its 60 FPS framerate, the AVer M5 Document Camera is the best pure video camera on our list. Combine that with 4K resolution, and it's perfect for Zoom calls and live presentations. It's also very well-engineered, with a rugged, collapsible design and a concealed USB cable. On the other hand, it doesn't offer any specialized photo capabilities.
The OKIOCAM S is a great choice if you need a solid general-purpose camera. It's collapsible and portable, and it has its own base. And by removing the camera head, it can be used as an ordinary webcam. Then again, it doesn't really offer any single, standout feature.
The CZUR Shine500 Pro is the most unique of the bunch, and the most full-featured. It combines excellent image quality with a powerful set of scanning capabilities. Not only that, but it's designed specifically to be compatible with Zoom. The only major downside is the large size. If you're not going to use it frequently, this might be more camera than you want.
Meet Derek, "TechGuru," a 34-year-old technology enthusiast with a deep passion for tech innovations. With extensive experience, he specializes in gaming hardware and software, and has expertise in gadgets, custom PCs, and audio.
Besides writing about tech and reviewing new products, Derek enjoys traveling, hiking, and photography. Committed to keeping up with the latest industry trends, he aims to guide readers in making informed tech decisions.