Even before everyone went into lockdown, a webcam was a valuable tool for many individuals. If you were a YouTuber or worked remotely, they were essential to your business. But recent events have made webcams important for everybody. Let's face it. Your appearance is important. And if you're showing up on Zoom meetings with a grainy, poorly-lit video, you're not doing yourself any favors. Now, it might be tempting to think that this is a short-term problem. Businesses are opening back up, and life is starting to return to normal.
But many businesses are extending remote work. For example, Facebook employees will be working remotely through the end of the year at a bare minimum. In fact, the worldwide pandemic has got business leaders wondering if remote work isn't a long-term solution. Office space isn't cheap. It's a major expense for many companies. And with people working remotely for months on end, companies are learning a major lesson. Rather than reduce productivity, working from home can also improve people's productivity. So why not ditch offices altogether and let people work remotely? In other words, a good webcam isn't just a short-term investment. It may be a tool that will serve you for years to come.
To help you put your best foot forward, we're reviewing three of today's top 1080p webcams. First off, we'll be looking at the Yeskamo 1080p Webcam. This is a heavy-duty webcam that's designed for even the worst lighting conditions. Next, we'll check out the AUKEY FHD Webcam. This webcam has a wide color space, but relies on good lighting for the best results. Finally, we'll review the eMeet C960. This is a great Zoom camera that comes from a company well-versed in creating quality audio equipment. We'll go over the benefits and features of each of these cameras, and render a final verdict. Let's take a closer look!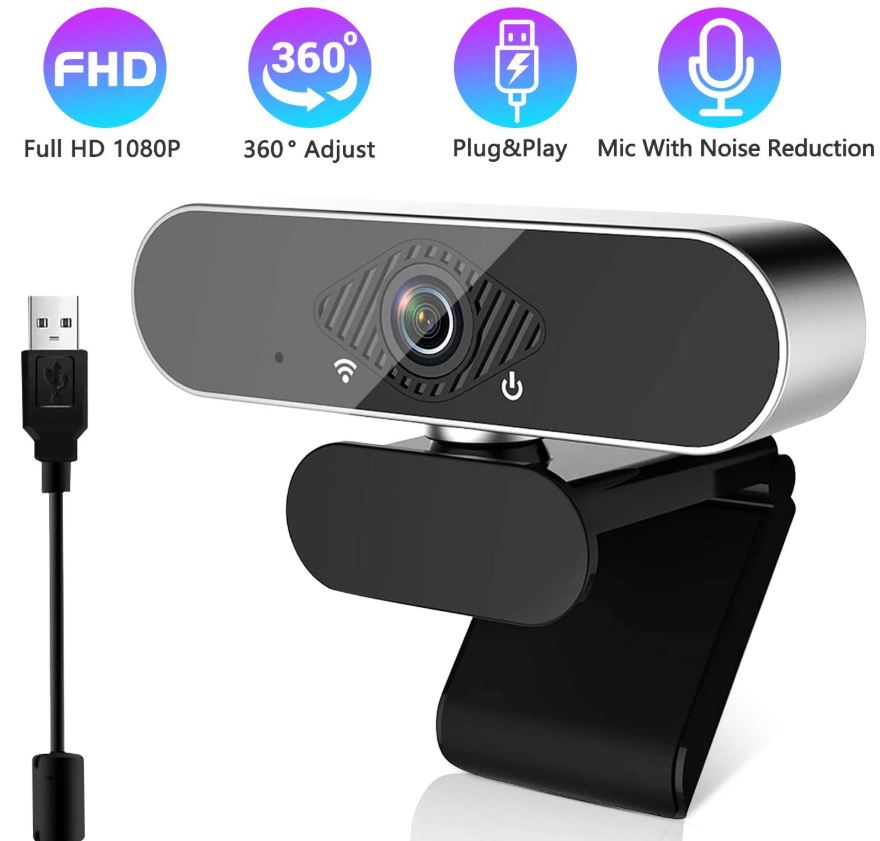 Yeskamo 1080p Webcam
Yeskamo is mostly known for cameras. These include an impressive line of solar security cameras. As a result, we had high expectations from the Yeskamo 1080p Webcam.
The unit itself is 5.4 inches wide, with a wide oval design. Speakers are arranged in a diamond pattern around the lens, with a single mic down and left of it. The rest of the front plate is flat ABS plastic, with no other adornments. The wide design is slick and attractive, but we were left wondering why the size was so large. If you're not going to use all that real estate, why not slim things down for portability? That said, the rest of the design is appropriately compact. The overall height is 3.24 inches at maximum, assuming the mounting hinge is fully extended. The depth is 3.12 inches, including the base. But at only about an inch, the camera itself is relatively slim.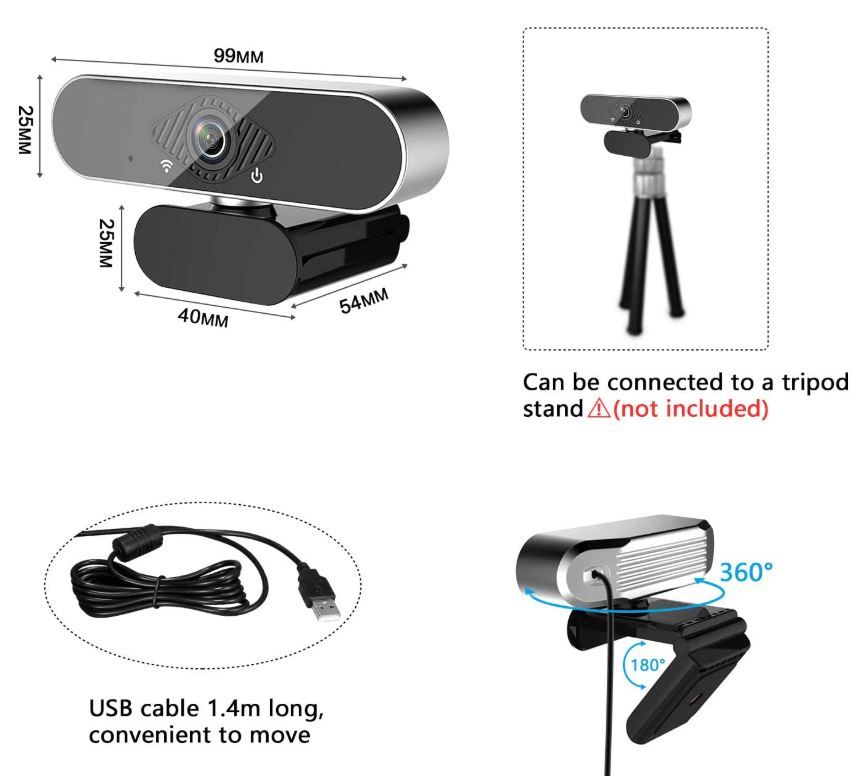 The camera will pivot 360 degrees on the mount. This allows for easy placement, regardless of your desk's setup. Moreover, the base can either be clamp-mounted or tripod-mounted. The clamp is spring-loaded, with enough force to keep it attached. But the force is not so much as to damage even the most sensitive display. And on a tripod, you can position the camera just about anywhere you want. This mobile design is further enhanced by the USB cable's 63-inch length. And if you need an even more unusual placement, you can connect your camera via WiFi. It utilizes WPS technology, so connection is as easy as touching a button.
The Yeskamo camera includes a privacy cover. This is a nice touch in today's age of ever-present malware. If you're worried about hackers, just keep your camera covered when it's not in use. This will also protect the lens from dust. Moreover, you get a one-year manufacturer's warranty to protect you from any defects. Not only that, but Yeskamo offers a 30-day no-questions-asked return window. Don't like your camera for any reason? Just send it back for a full refund.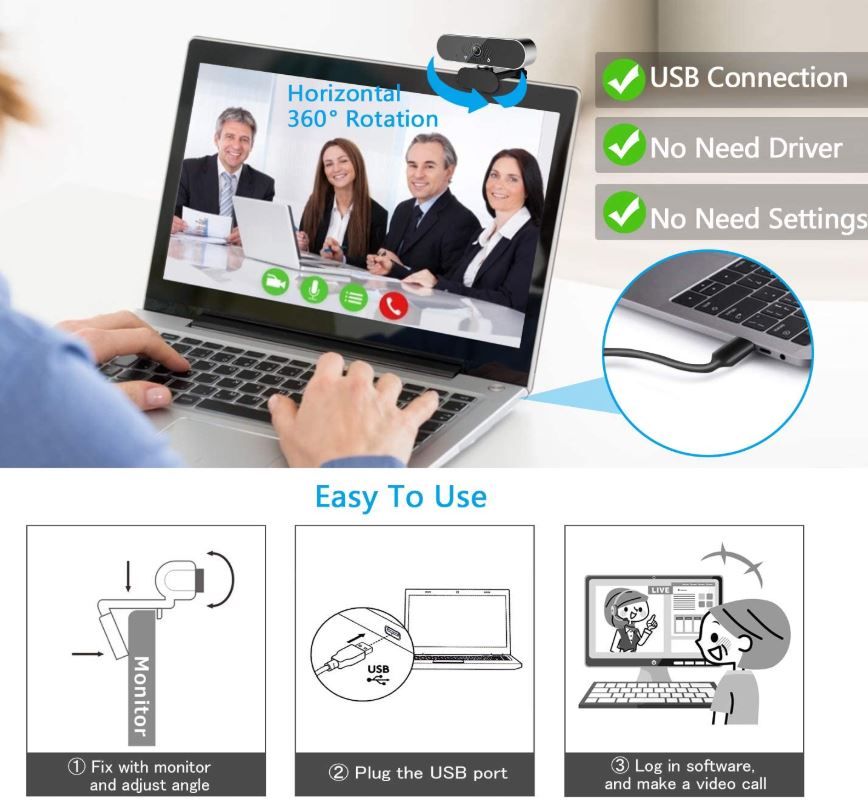 Video & Audio Quality
The Yeskamo 1080p Webcam has a resolution of 1932 x 1088 pixels. This is about half a percent better than 1080p, but it's effectively the same thing. A frame rate of 30 frames per second ensures smooth motion. Of course, this assumes that you and your coworkers both have a stable, fast internet connection. The camera has a 110-degree field of view, which is wider than most. But if you're recording with a friend, it's wide enough to capture both of you. All of this comes with low light correction. If your home office isn't as well-lit as you'd like, it's not going to be a problem.
The mic is not stereo. This can be a bummer for streamers. However, it does offer noise filtering. If you're trying to make a Zoom call with lots of background noise, the noise will be a non-issue.
Compatibility
The Yeskamo 1080p Webcam is completely plug and play. As soon as it's plugged in, it's going to start working. Not only is it compatible with PC and Mac, it's also compatible with game consoles like the Xbox and PlayStation. It will even work with Linux and Android machines if you have a more unorthodox webcam application.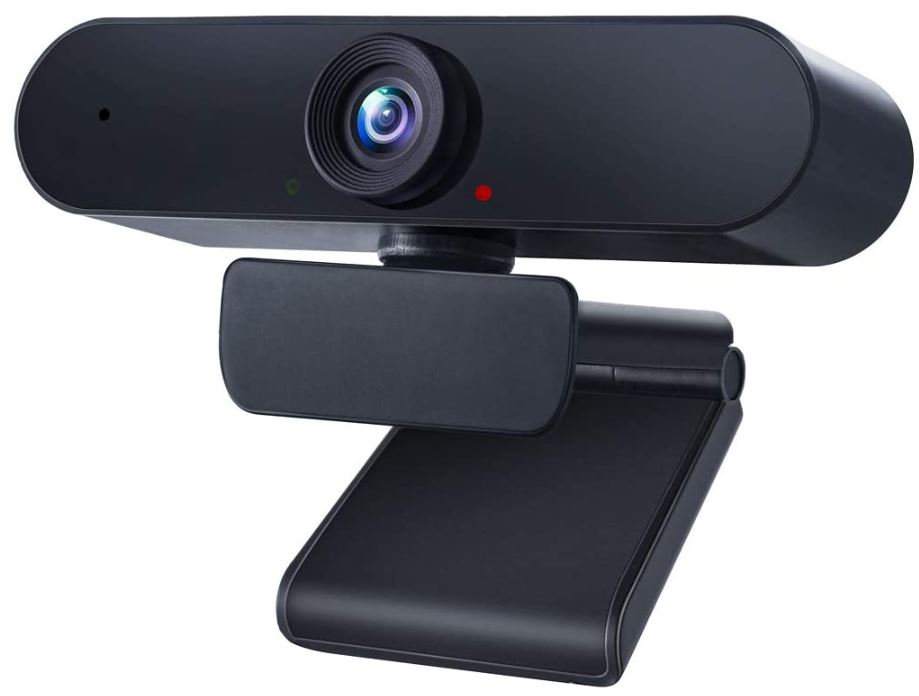 AUKEY FHD Webcam
If you're a fan of electronics, you may be surprised to see an AUKEY camera on our list. After all, they're best known for more basic devices, such as USB chargers and earbuds. But in fact, they also make some excellent camera equipment.
The AUKEY FHD Webcam is a bit smaller than the previous offerings on our list. At 4.2 inches wide, it's relatively compact. Most of the face is covered by tempered glass over a gloss black finish, but the edges sport dual mics. The overall height is 1.8 inches, including the base, which makes for a low profile. And at 1.18 inches thick, it's not much fatter than most other webcams. Moreover, at only 3 ounces, it's light enough to mount even on a small laptop or Chromebook display.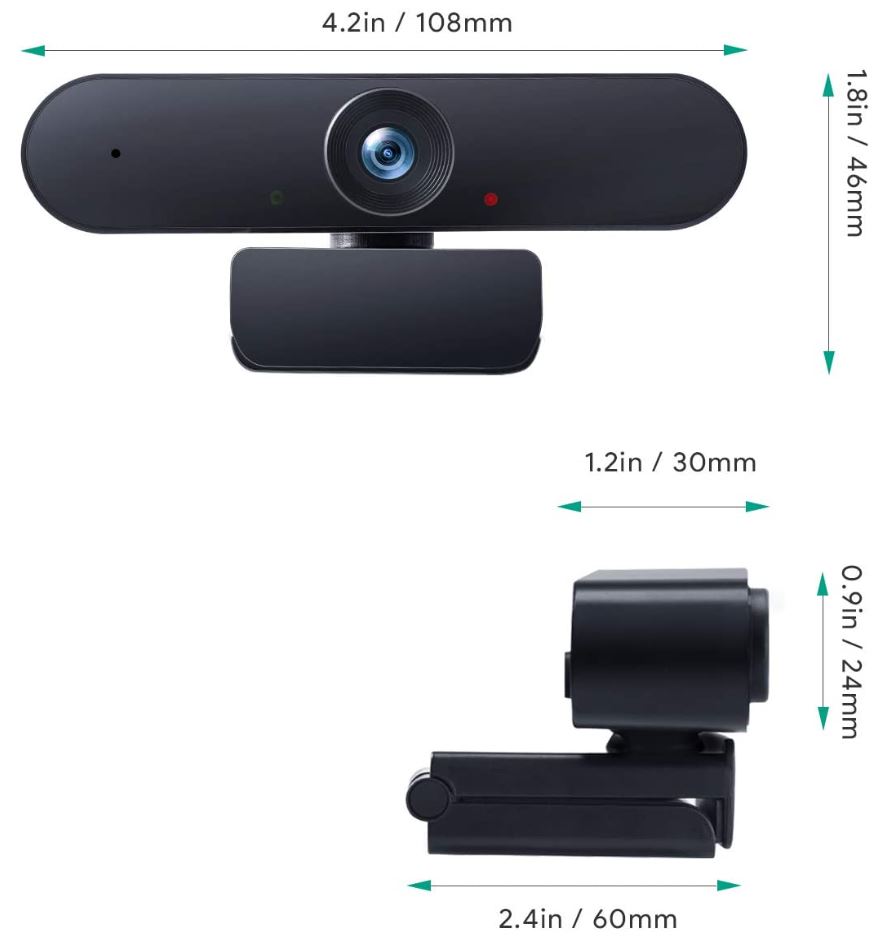 When it comes to mounting options, the AUKEY FHD Webcam is a bit limited. It won't mount on a tripod base, so you're limited to mounting it on your display. Moreover, the camera won't pivot on its base. It simply points in the direction your display is facing. That said, as long as your monitor is pointed at your face, it's not going to be an issue. Connectivity is also relatively simple. The camera sports a 6-foot USB cable for connecting to your PC or laptop. So even if you keep your tower under your desk, you won't have any problems.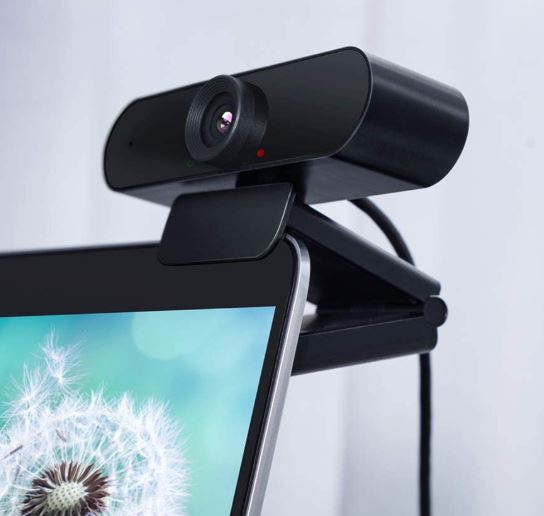 Video & Audio Quality
The AUKEY FHD Webcam records in full 1080p, with a frame rate of 30 frames per second. This provides smooth, high-definition video regardless of your circumstances. As long as your internet connection is good, you're all set. The focal length ranges from 30 centimeters (about 2 ½ feet) to 5 meters (about 16 feet). This is absolutely superb, and will have you covered with just about any setup. That said, there are no compensation options available for low light or color. You'll be limited to whatever software options are available in your video sharing app.
That said, AUKEY's webcam does offer a pair of stereo microphones. As a result, it's a solid choice for streamers, particularly those who already have good lighting.
Compatibility
Like our other camera options, the AUKEY FHD Webcam is plug and play. It works with all versions of Windows from XP forward, and all Mac OS builds from 10.6 forward. It's also compatible with all versions of Android from 5.0 forward, so you can use it with your Chromebook.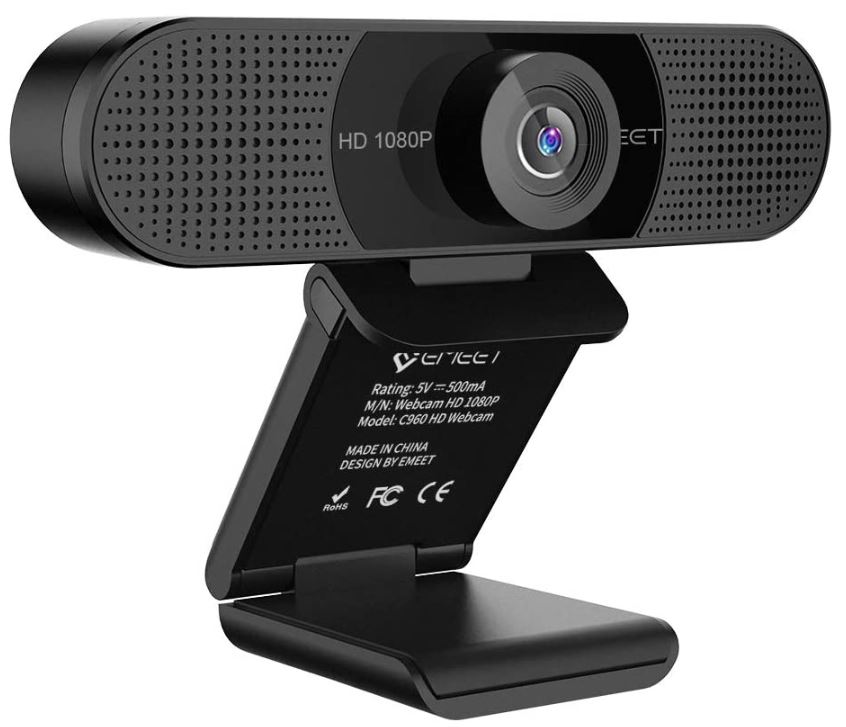 eMeet C960
eMeet is a manufacturer that's known primarily for conferencing equipment. In the past, this has generally been audio equipment, such as their M2 Bluetooth speakerphone. But with the recent changes in the market, they've now decided to try their hand at making webcams.
The eMeet C960 is constructed from matte black ABS plastic, and looks like a little robot. It measures 5 inches wide, with an oval design that sports speakers and mics on each side of the lens. It also measures 3.5 inches high, including the base, although that height is variable. It has a hinged mount that can adjust to different heights and angles. Moreover, it's only 0.85 inches thick. This is slimmer than most monitors on the market, so it can mount on just about any PC. Moreover, at 3.84 ounces, it's exceptionally light. Even if you want to mount it on your laptop, it's not going to cause any issues.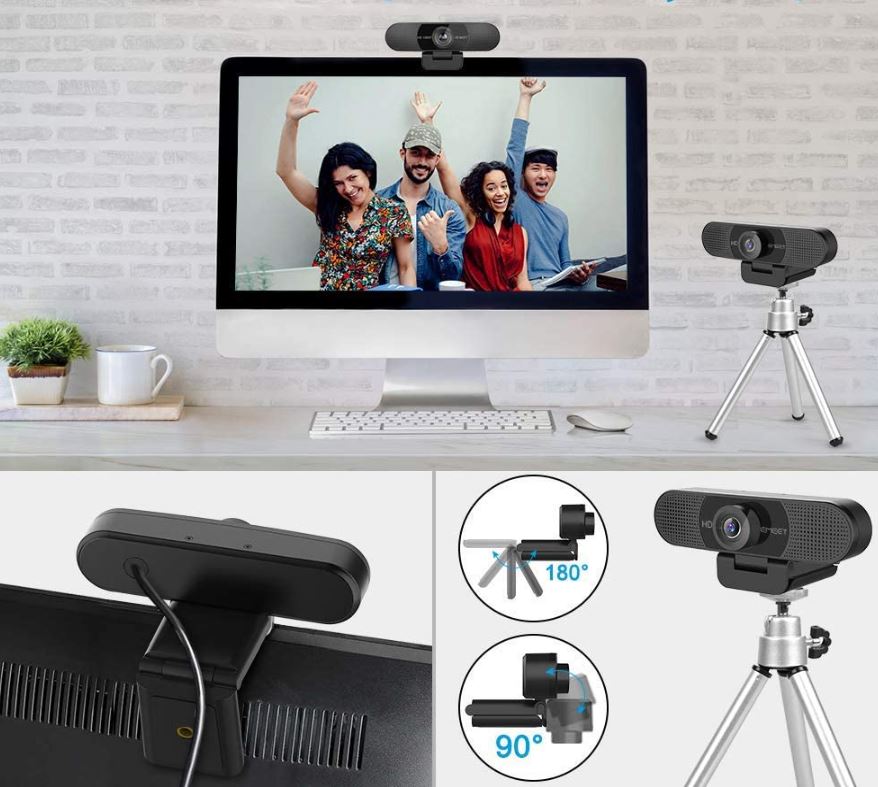 The C960 is designed primarily to mount on a monitor. It has a simple clamp base that's spring-loaded to gently latch onto the top of your display. However, you're not limited to that kind of position. If you prefer your webcam mounted off to the side, it's also capable of tripod mounting. The standard ¼-inch threaded hole will mount on almost any standard tripod without any adapters. Regardless of your mounting style, the camera will pivot 360 degrees. So if your monitor isn't staring you head-on, your camera will still see you just fine. Whatever mounting option you choose, distance to your PC will be no issue. The 6-foot USB cable provides plenty of length for just about any setup.
Video & Audio Quality
The eMeet C960 records in true 1080p, providing a good view of you and your space. It also records at 30 frames per second, for true-to-life motion. Provided you have a good internet connection, your coworkers will see you move smoothly and naturally. No janky jitters or framerate stutter here. Of course, this depends on their internet connection and the stability of your chat system. In practice, there's inevitably going to be some stutter. But the C960 will at least cut that to a minimum. The lens angle of 90 degrees provides enough visibility to see your face. But it's not overly-wide, and won't distort the image.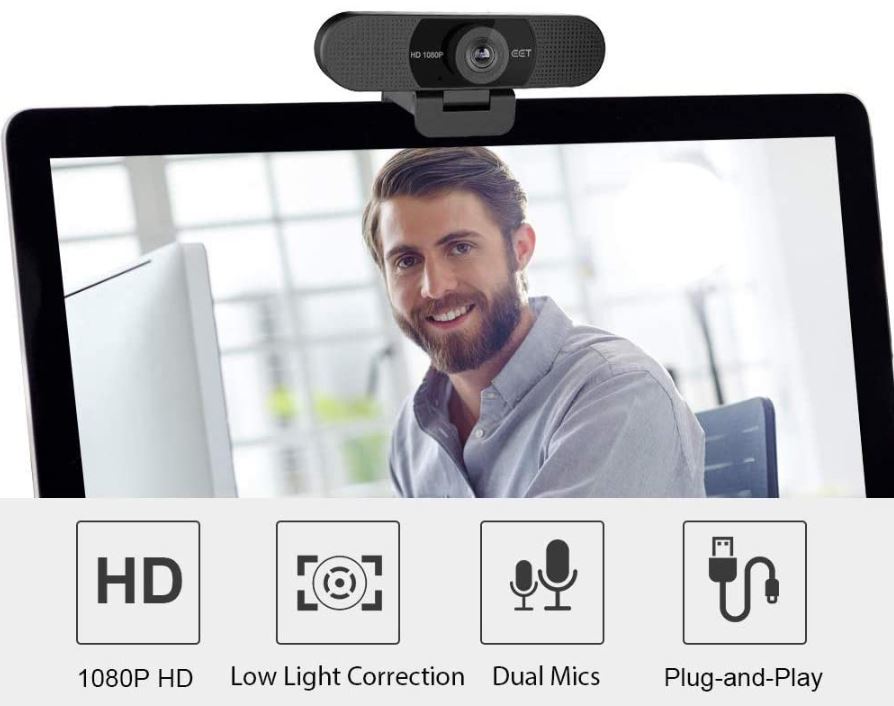 The C960 has a focal length of 50 centimeters (about 20 inches) to 3.6 meters (about 12 feet). As a result, just about any setup will work. You can use your webcam in bed, or set it across the room. Regardless, the focus will be crisp and clear. Moreover, the C960 features low light correction. If you don't have studio-quality lighting, it's not a concern. To compliment this, the C960 also features a color boost feature. This will enhance colors even in low-light environments where they might otherwise be faded.
As befits a company that specializes in conferencing equipment, eMeet has given the C960 excellent audio quality. A pair of microphones provide true stereo sound. Admittedly, this isn't needed for Zoom conferences. But if you're a YouTuber, it provides some atmosphere on a lower budget than a full mic set.
Compatibility
The eMeet C960 is plug and play. No extra software is required for operation. Just connect the USB cable to your PC or Mac, and you're ready to start streaming.
Final Verdict
Depending on what you need, any of these cameras might be your best choice. Let's start with the eMeet C960. This camera is an excellent choice for anyone with limited lighting. It also offers stereo sound, so it's a solid option for streamers.
The Yeskamo 1080p Webcam, on the other hand, only offers mono sound. That said, it provides low-light correction and color correction for virtually any circumstances. It also comes with full WiFi support. If you're looking for a WiFi-connectable camera, it's an excellent choice.
Finally, we reviewed the AUKEY FHD Webcam. It doesn't offer the same color and lighting options as our other choices. However, it does sport a pair of stereo mics. And with its compact design, it's ready to travel with you anywhere and everywhere.