These days, we use more connected devices than ever before. This is both a blessing and a curse. On the one hand, we have the ability to access our devices from anywhere. Do you have a security system at your home or business? You can just hop on your phone and see what's going on. Do you have a WiFi-connected baby monitor? You can keep an eye on your little one from anywhere and maintain peace of mind. On the other hand, these devices can stretch your router to its limits. By the time you have ten, twelve, or more devices connected, you can start running out of bandwidth.
One solution to this problem is to use an Ethernet connection instead of a wireless connection. This will provide you with many more options, without clogging up the airwaves. But what if your router is out of Ethernet ports? In that case, it can be advisable to use an Ethernet switch.
Today, we'll be reviewing the YuanLey 5-Port Gigabit PoE Switch. As its name implies, this is an Ethernet switch that also supplies Power over Ethernet (PoE). But how well does it perform? And can it be used for a variety of purposes? We'll start by talking about what PoE is, and what it can be used for. Next, we'll talk about the physical design of the unit. We'll also discuss the power and data capacity, as well as how you control the unit. Once that's done, we'll go over what we've learned, and render a final verdict. Let's get started!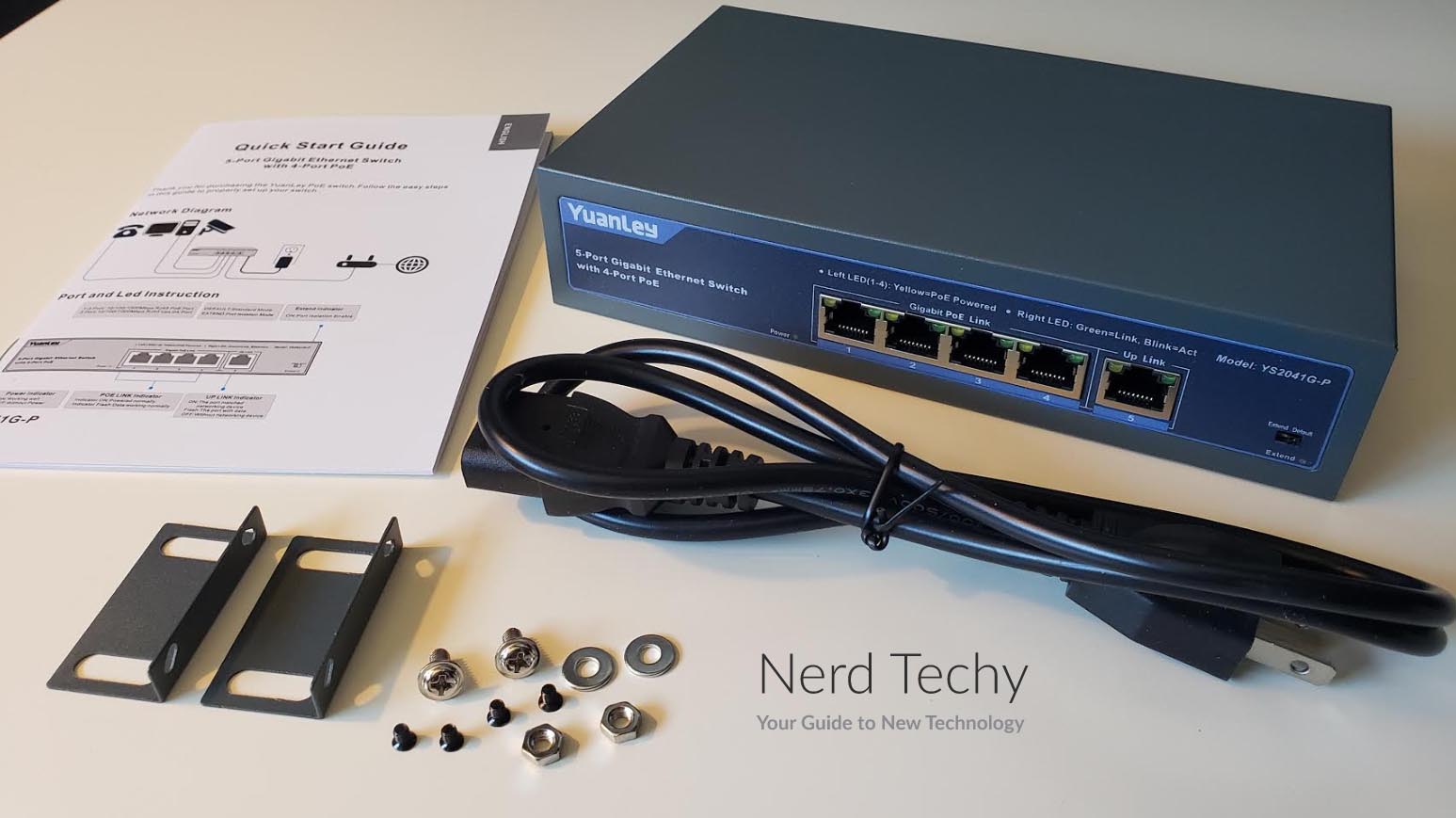 What is PoE?
Before we go any further, it's important to understand what PoE is, and what it's capable of. To put it succinctly, PoE is simply an Ethernet standard that allows for power delivery. A non-PoE device will require an additional power cord for operation. By contrast, a PoE device allows you to deliver power and receive data with a single cable. Primarily, this feature makes cable management easier, since you won't need as many cables. However, it also makes it easier to position your connected devices. If you don't have to worry about finding a power outlet nearby, you have more options.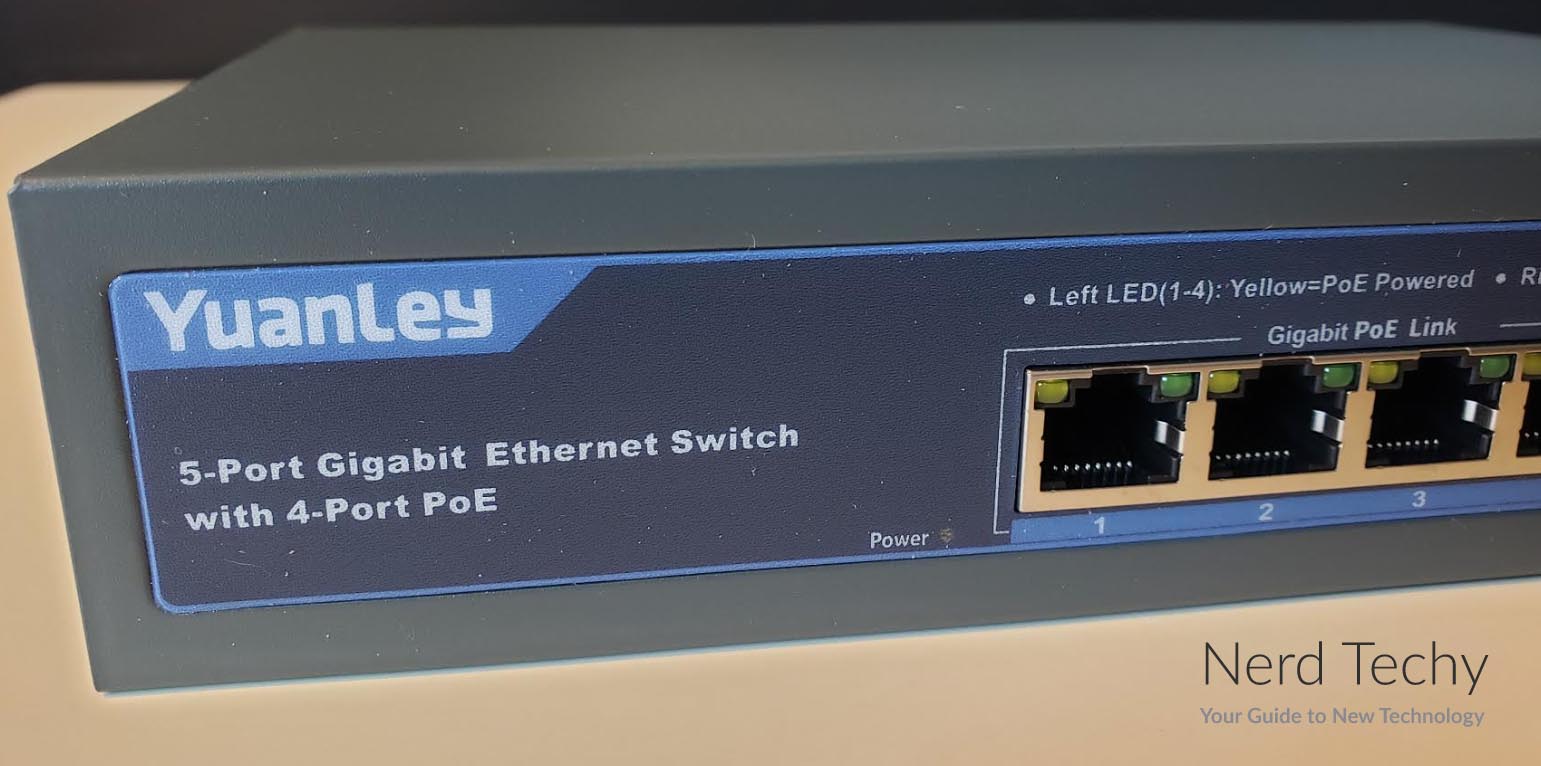 So, how does this work? It comes down to the way Ethernet cables work. Most Ethernet cables have four pairs of wires inside the outer insulation. The reason for this is that not all Ethernet operates at the same speed. For example, when your Ethernet operates at 500Mbps, only two pairs of wires are being used. The other two pairs are just sitting there, doing nothing. The one exception is when you have a Gigabit Ethernet connection, when all four pairs are in use. For other connection types, you have spare wiring capacity. PoE utilizes these extra wires to deliver power to your devices. This is true for any Ethernet cable from Cat 5 forward – so pretty much any cable on today's market.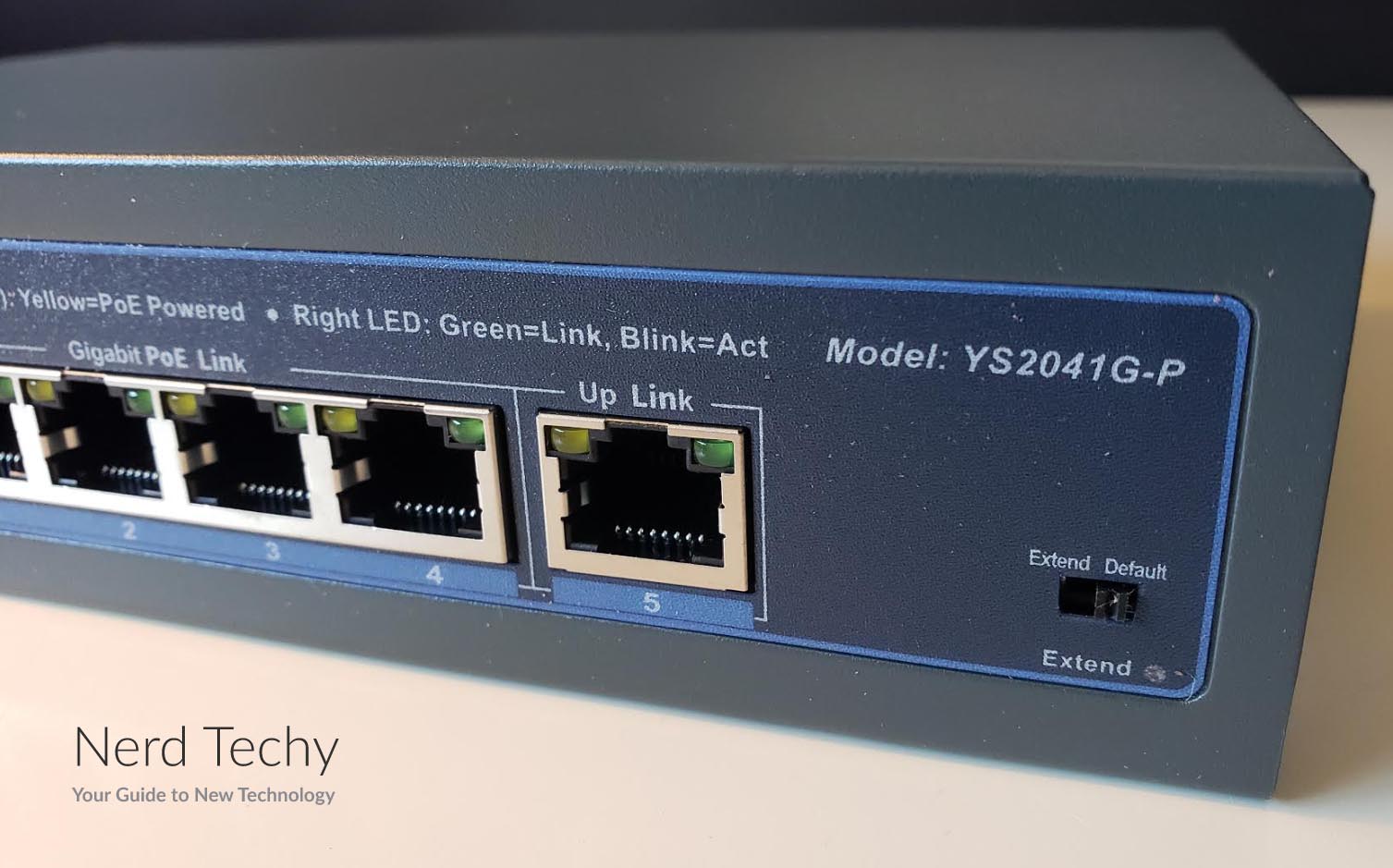 PoE is useful for delivering power to any number of devices, from security cameras to WiFi boosters. And because the separate pairs of wires are already isolated, you don't have to worry about interference between the two. In addition to requiring an appropriate Ethernet cable, PoE also requires a compatible router or a powered switch. But once you've got the right equipment, installation is quick and painless. Better yet, because there's only one cable, you have less risk of failure. Your equipment is safer than it would be with two separate cables.
Overall Design
The YuanLey 5-Port Gigabit PoE Switch is compact and lightweight, but it's no shrinking violet. Constructed from durable anodized aluminum, it's tougher than your run-of-the-mill plastic Ethernet switch. At 7.9 inches wide, 4.7 inches deep, and 1.7 inches thick, it's fairly small. And at 1.89 pounds in weight, it's easy to install above a hung ceiling or on top of other equipment. The finish is a slate grey, which is easy on the eyes. On both sides, you'll see a set of vents that allow for plenty of air flow. Because of this bilateral ventilation, you don't have to worry about overheating under most circumstances.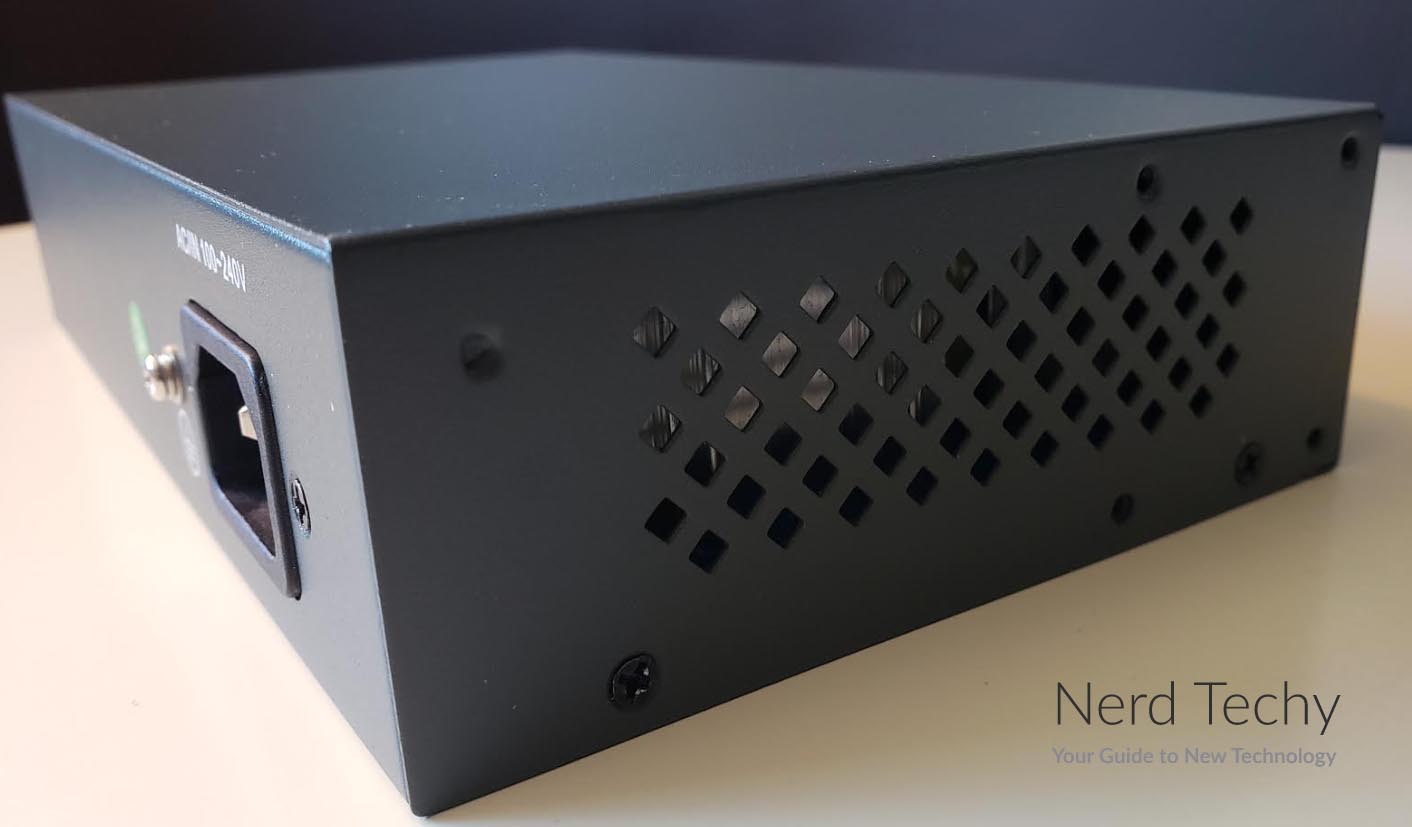 Also on the sides of the unit, you'll see four #2 Philips screws. These make maintenance easy, since you don't need any fancy screwdrivers to open the case. They also make it easy to attach mounting fins. Now, don't get too excited. The YuanLey switch is too small to mount on a standard, 19-inch server rack. That said, it does come with a set of fins that can be used for different types of mounting. You can mount it in a narrow, half-width server rack by the front. You can mount it to the wall from the back. You can even mount it to a ceiling from the top of the unit. Alternatively, you can simply use it as a desktop unit. Regardless of your mounting choice, positioning and cable management will be a non-issue.
All five Ethernet ports are located on the front of the YuanLey switch. This further serves to improve the ease of cable management. As you'd expect from a pro-grade switch, each port features a pair of LED indicators to indicate its status. The yellow LED will let you know your device is powered, while the green LED will indicate that it's connected. All of the ports are clearly labeled, which eliminates any confusion. On the same front panel, you'll also see a small "Extend" switch, which we'll explain later. Moreover, there's no need for an external power supply. The YuanLey switch gets all its power from your PoE router or modem.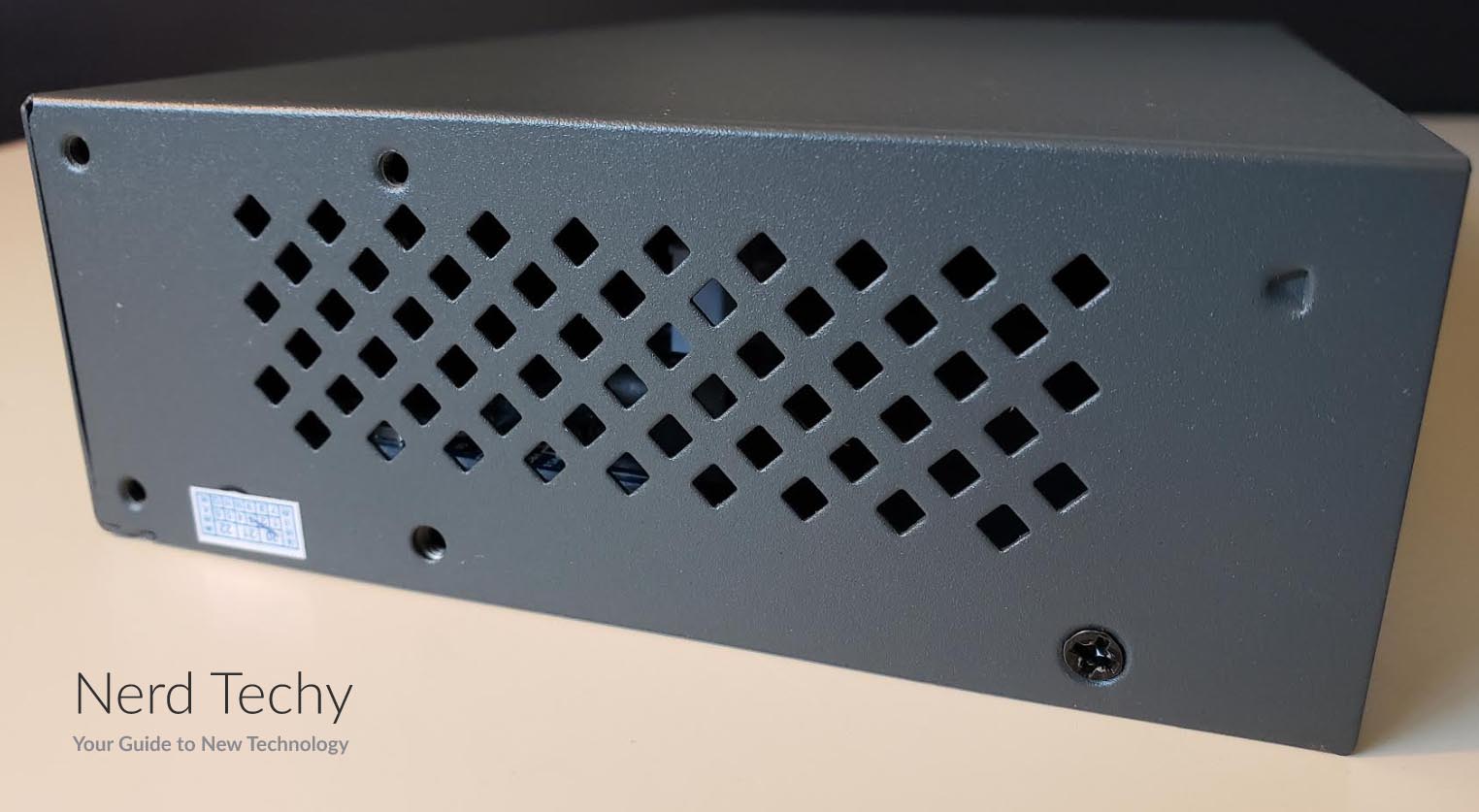 Power and Data Capacity
From its name, you might assume that the YuanLey 5-Port Gigabit PoE Switch offers five ports. This is technically true, but only technically. In fact, one of the ports is a Gigabit UpLink port that supplies power and data. As a result, you'll only be able to connect four devices, not five. This is still enough capacity for many purposes, but we would have liked more clarity in the name. Each port is capable of data transmission at up to 1,000Mbps. Keep in mind that this is limited by the bandwidth on the UpLink port. If one device is using up all 1,000Mbps, the others will end up getting queued. Nonetheless, you're looking at top-tier data delivery performance.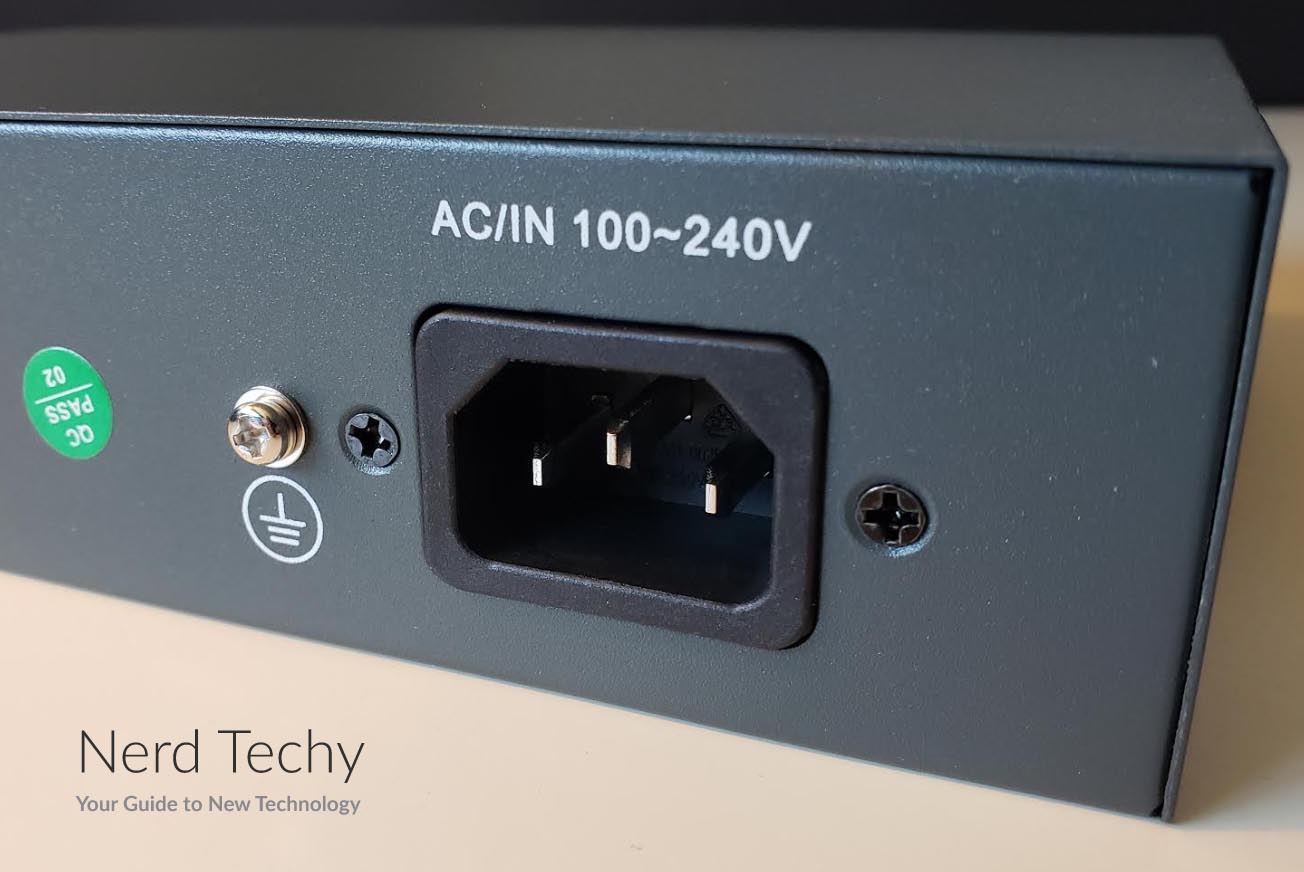 In terms of power delivery, the YuanLey switch can offer a total of 78 watts of power. Assuming you're connecting four identical devices, this works out to 19.5 watts per device. That said, any individual device can draw up to 30 watts. This gives you some versatility for connecting a variety of devices. For example, you could connect a 30-watt security camera, a pair of 24-watt speakers, and an unpowered WiFi range extender. You can mix and match as needed to get whatever results you like. Regardless, the power delivery here is pretty good for a four-port powered switch.
That said, you might want a PoE Ethernet switch with more connectivity. In that case, check out our review of the OvoLink 8 PoE Port Smart Managed Gigabit Switch. It's a bit pricier than the YuanLey switch, but it offers connectivity for eight devices. It also offers 120 watts of total power, with 30 watts maximum per port.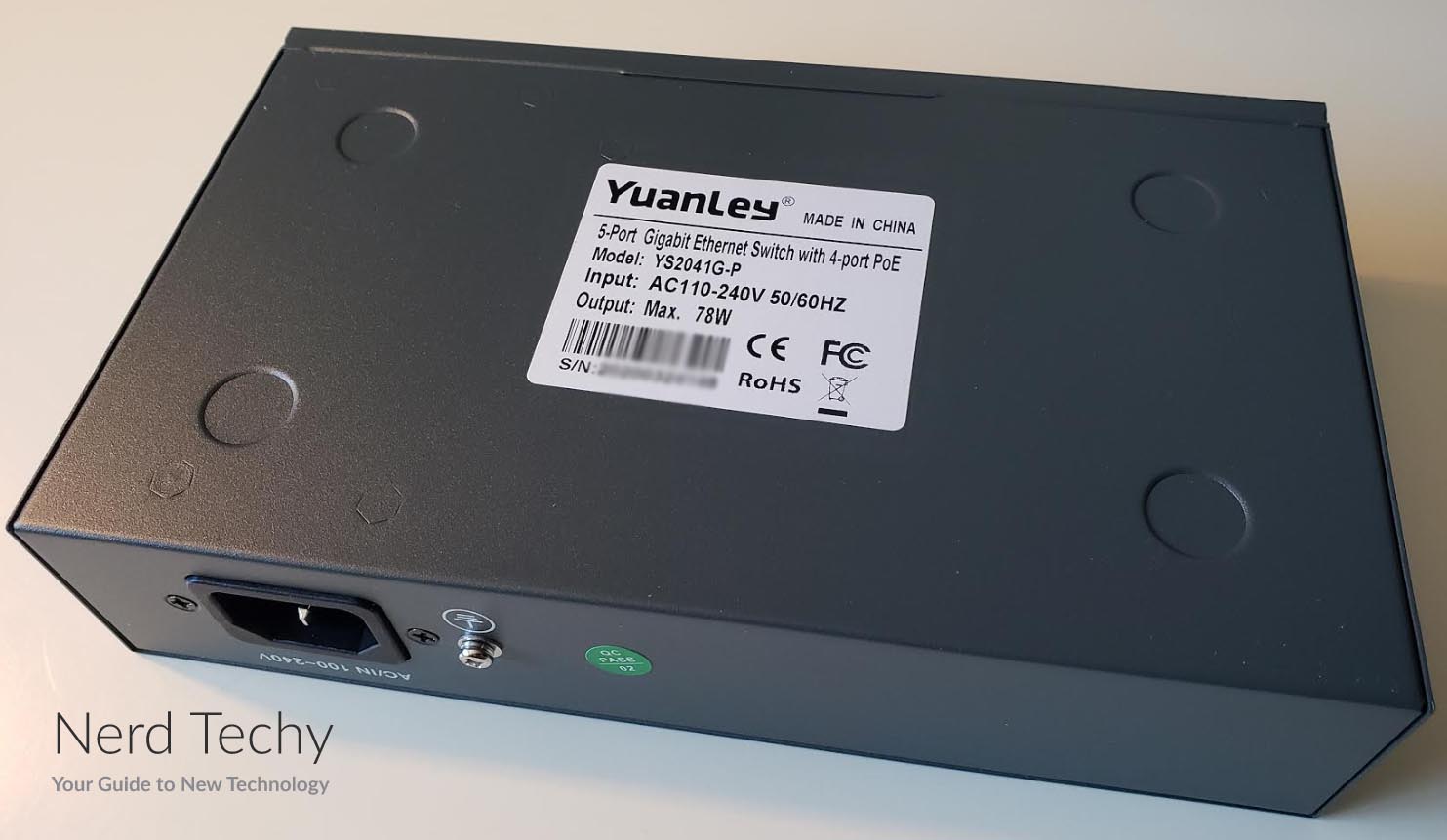 Controls and Bonus Features
When it comes to its control scheme, the YuanLey switch is a bit more basic than some other options. This is both a good thing and a bad thing. On the one hand, there's no configuration. You simply install the switch, and you're ready to go. The switch features automatic detection for different devices. Connect cameras, speakers, routers, and other devices and your switch will automatically recognize them. You can also connect to non-PoE devices without any issues. On the other hand, you don't get to manually configure any settings. As a result, if you want more customizability, you'll need a different option.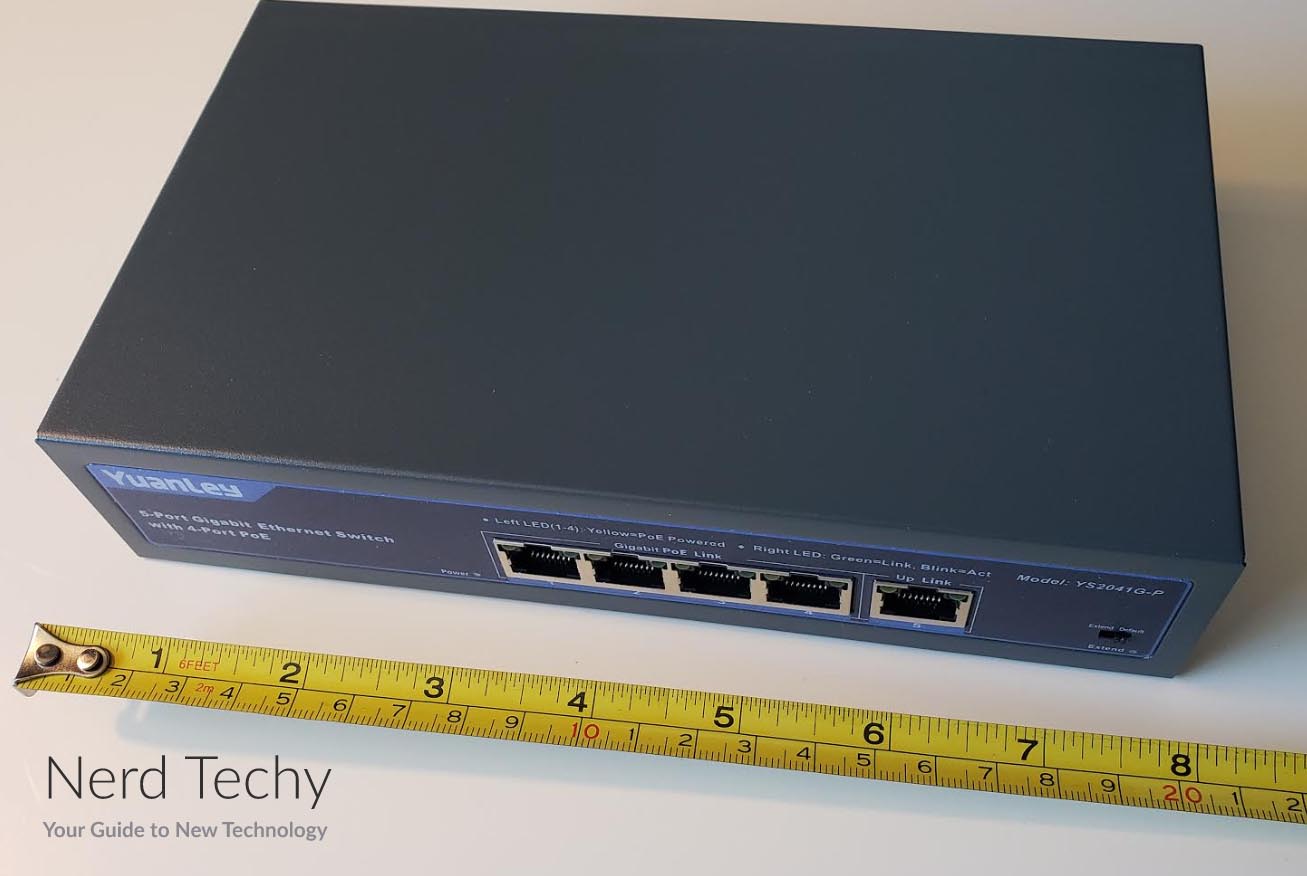 For more options, consider the EnGenius ECS1008P Cloud Managed 8-Port Gigabit 55W PoE Switch. You'll have to spend a few extra bucks. But for that extra money, you get eight ports, along with customizability. You even get a full analytics suite to see how your devices are performing, and how much power they're drawing.
That said, the YuanLey switch offers some helpful security features. Remember that switch on the front that toggles between "Extend" and "Default" mode? In Default mode, the switch will function as a basic switch. Your devices will be visible to any other machine on the network. However, in Extend mode, the switch creates a local VLAN. In effect, your devices will only be visible to a PC that's connected to the same switch. Most importantly, it will prevent a hacker from connecting to your LAN via WiFi and accessing your devices. This might not be ideal for everybody. However, it's a useful security feature for some businesses.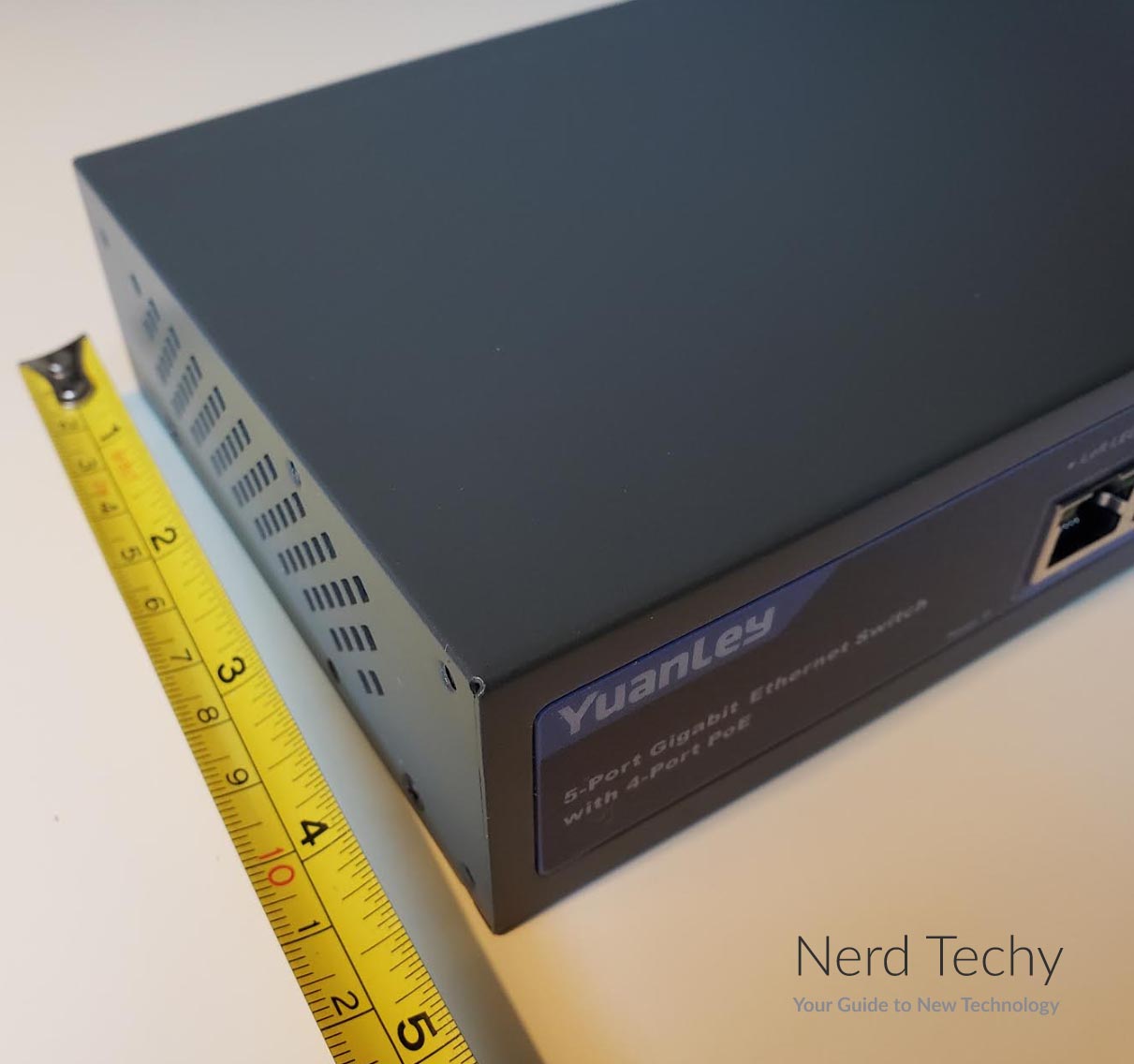 Final Verdict
So, should you invest in the YuanLey 5-Port Gigabit PoE Switch? As is often the case, it depends on what you need. To begin with, let's acknowledge the obvious limitations. First off, you only get four Ethernet ports. For more large-scale applications, this is a non-starter. Secondly, you don't get any customization options. If you're an advanced, user, this might be disappointing. On the other hand, this same lack of customization makes for easy plug-and-play operation.
The YuanLey switch provides plenty of power for most PoE devices. With 78 watts of total power and 30 watts per port, you're unlikely to have any issues. Moreover, the switch itself is compact and easy to install. For many people, this may not matter much. But if space is at a premium, you'll appreciate the small size. Not only that, but cable management is very easy. There's no external power supply, just a simple powered UpLink port. All the connections are on the front, so your cables are easy to keep neat and tidy.
Meet Derek, "TechGuru," a 34-year-old technology enthusiast with a deep passion for tech innovations. With extensive experience, he specializes in gaming hardware and software, and has expertise in gadgets, custom PCs, and audio.
Besides writing about tech and reviewing new products, Derek enjoys traveling, hiking, and photography. Committed to keeping up with the latest industry trends, he aims to guide readers in making informed tech decisions.