Quick Analysis
Pros
Compatible with almost any device.
Supports quick charge technology.
Allows charging from one phone to another.
Multiple discount packages available.
Cons
Basic version is very short.
Only available through IndieGoGo
Over the years, we've reviewed a large number of power banks and AC adapters. For anyone who's into technology, this only makes sense. After all, every one of your electronic devices needs juice. Whether you're just trying to use your cell phone, or whether you're rocking a wireless headset, you need power. By contrast, we haven't talked much about cables. After all, a cable is a cable, right? You have two ends, with some wire in the middle. Provided the cable is compatible with your device, you're good to go.
In general, yes. With a few exceptions, such as power delivery, a cable is a cable. But the inCharge 6 is a horse of a different color. Its modular design means it works with just about any device. You may never need another cable again. Well, at least not until they come out with another new USB standard. But is it worth your money?
Note: At no extra cost to you, we may earn a commission for purchases using our links. Learn more.
Let's start by talking about the manufacturer. The inCharge 6 is manufactured by Rolling Square, a Swiss company with a long track record. When you think of Swiss companies, you probably think of watches or chocolate. But Rolling Square has been a technology stalwart for the last five years. Back in 2015, they debuted the original inCharge charger. Since then, they've released five updates, including the inCharge Bolt, the inCharge Universal, and the Hyphen. In all, they've sold more than 200,000 units, all of them through Indiegogo. Now, they've just released the inCharge 6, their latest offering. Let's take a closer look, and see what it has to offer!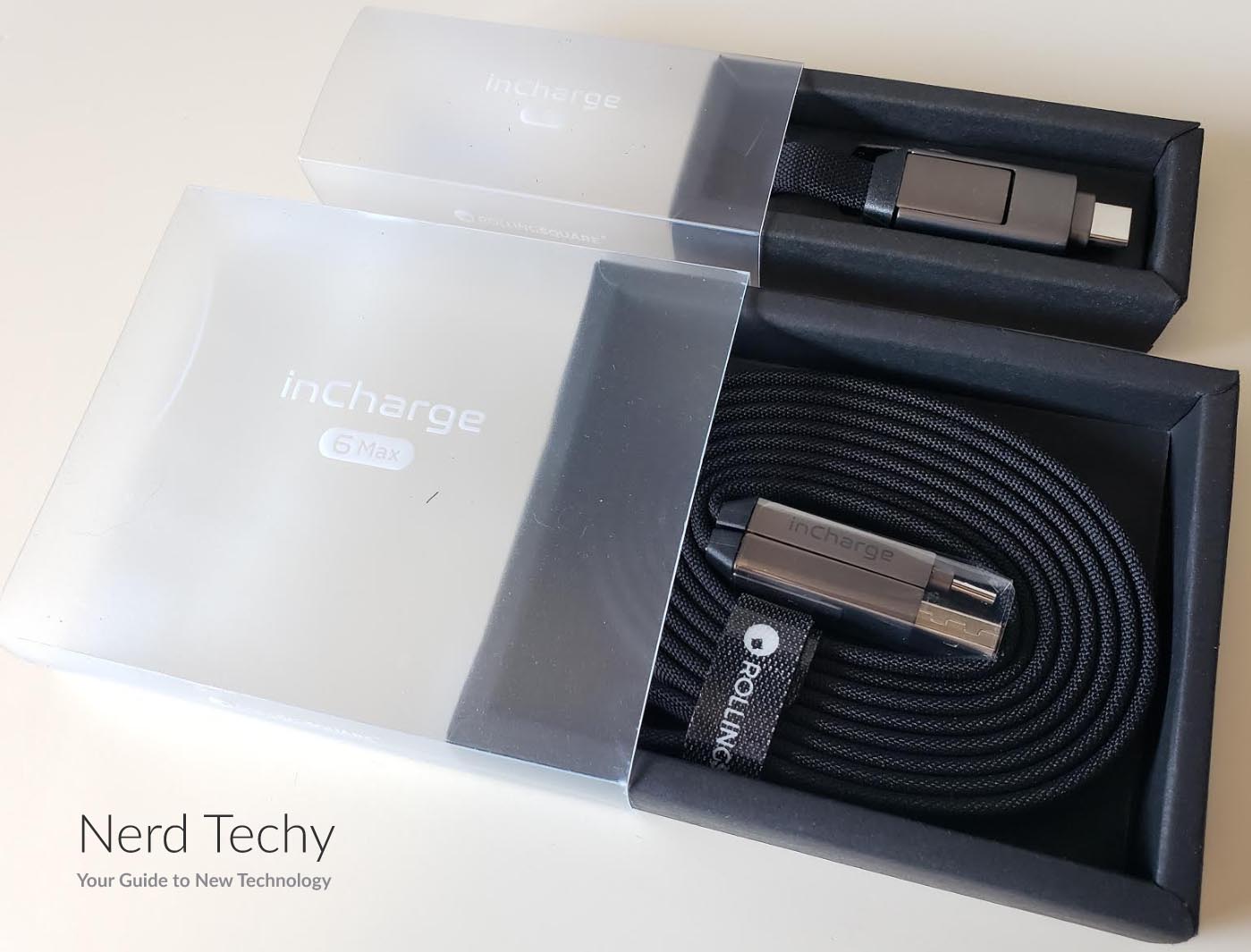 Overall Design
The inCharge 6 actually comes in two variants. The first is a short, four-inch cable, while the other is the inCharge 6 Max, which sports a five-foot cable. Other than that, they're more or less identical. Need a short, everyday carry cable to get the job done? Buy the regular inCharge 6. Need a longer cable? Buy the inCharge 6 Max. They both sport the same innovative, multi-function tips. They both also have the same quality, well-engineered cable.
That said, there's one important difference between the two cables. The regular inCharge 6 is meant to be portable. And when we say portable, we mean "carry it on your keyring" portable. The tips are magnetized, with an N52 magnet. This is a fancy way of saying that the magnets are neodymium, one of the most powerful magnet types available. Loop the cable through your keyring, snap the tips together, and you don't have to worry about it falling off.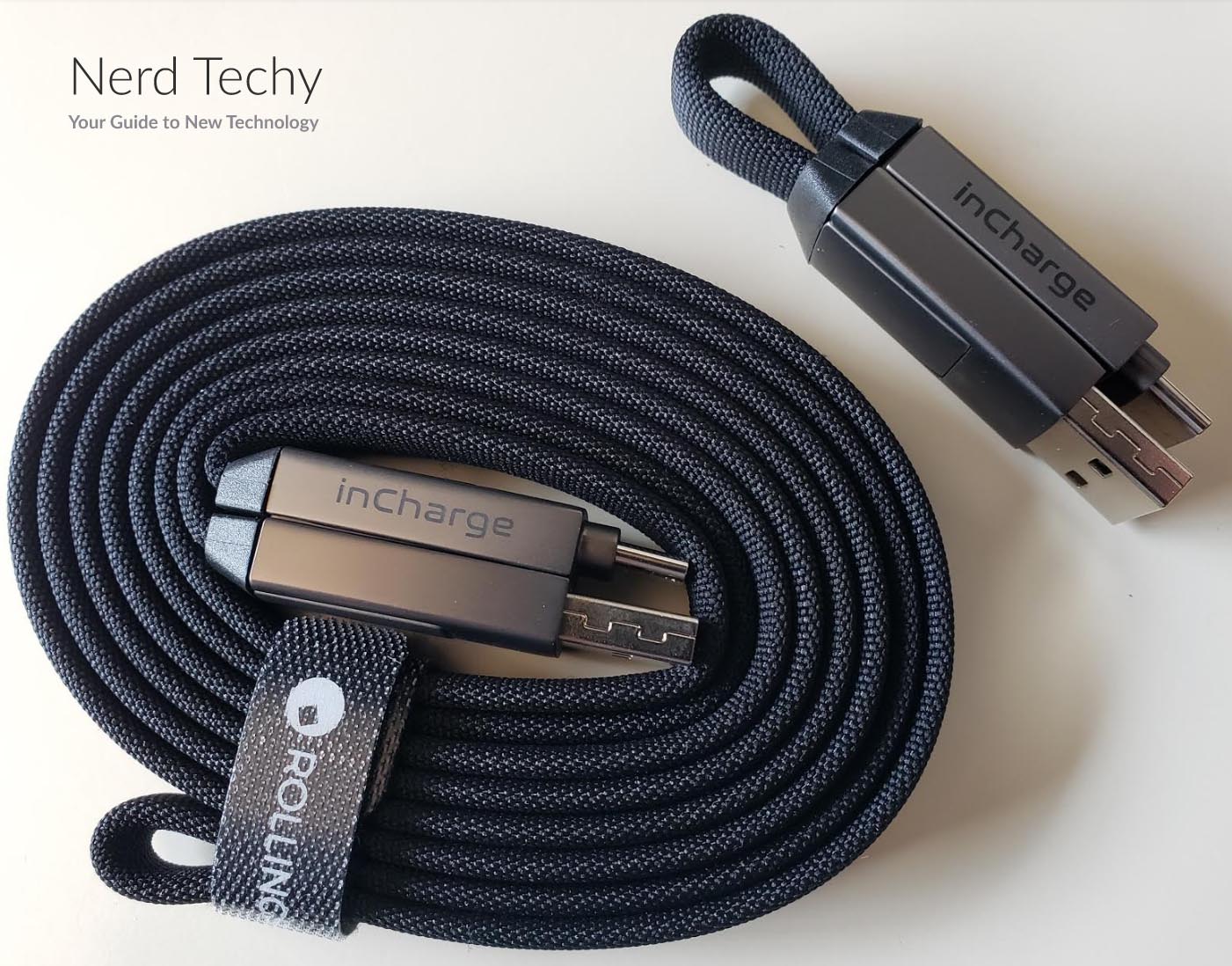 Now, you're probably thinking "What if the tips slip? Won't they come apart?" Thankfully, Rolling Square has built in an innovative system to avoid this. On one of the tips, the magnet protrudes slightly. It fits into a slot on the other tip, where the magnet is recessed. This ensures that the tips will not slide and separate. You won't find this feature on the inCharge 6 Max, because it's simply not necessary. From here on, when we talk about any feature, just assume it applies to both versions of the inCharge 6.
The tips themselves are exceptionally sturdy. Instead of plastic, they're constructed from a zinc-aluminum alloy. This alloy can stand up to just about any kind of abuse. Drop your cable on the ground? Step on it? Throw it up against a brick wall? It's not going to get damaged. In addition, the cable is very well constructed. The inner braided copper wires are each independently insulated to ensure signal isolation and prevent short circuits. All four are coated with a TPU shielding, which further prevents signal interference. All of this is wrapped in an outer nylon coating to prevent damage. You can twist the inCharge 6 around, bend it, flex it, and it's not going to get damaged. It will last for a very long time, even if it's repeatedly abused.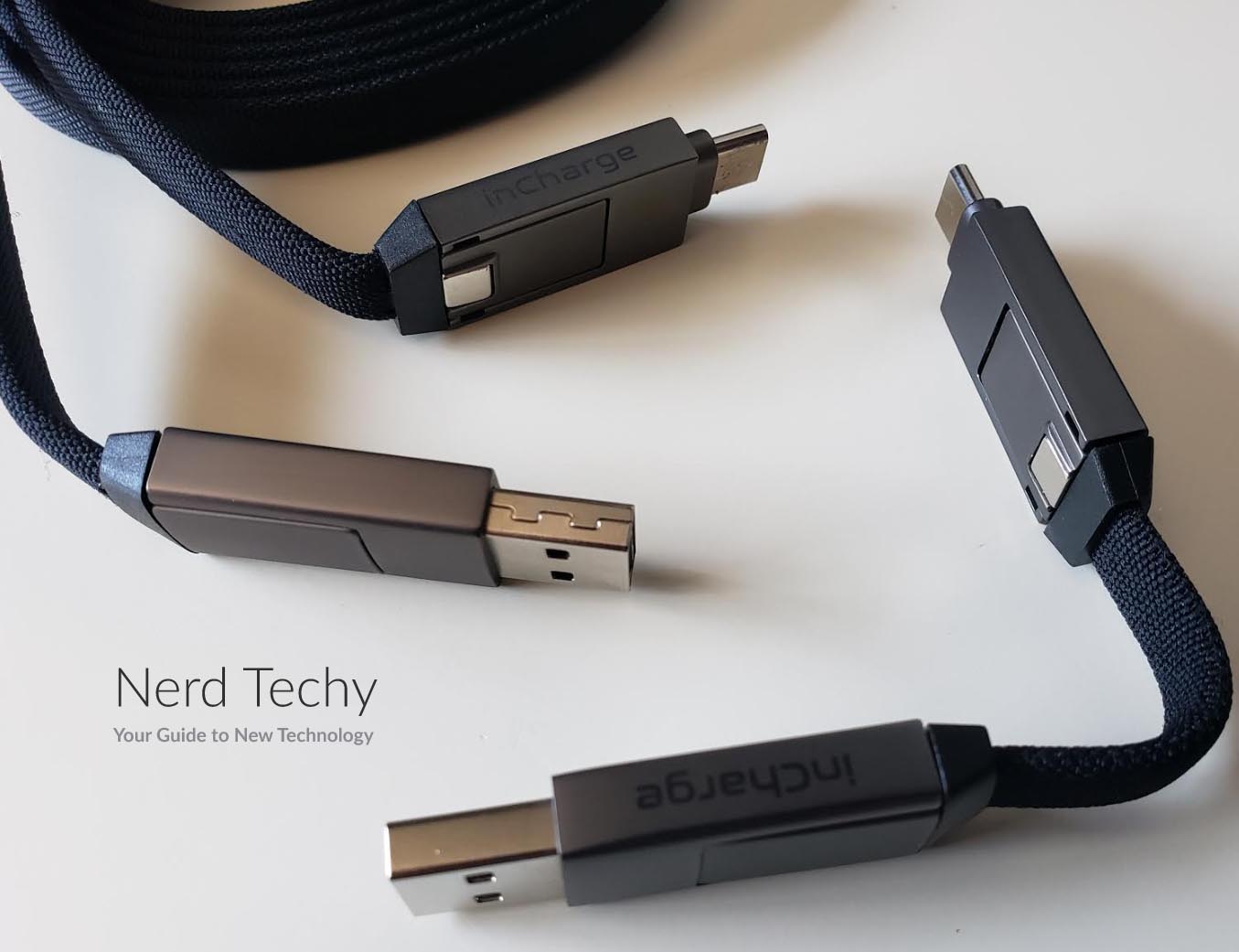 The design is sleek and stylish, reflecting the modern appearance you'd expect from an innovative, top-tier cable. The tips are available in three colors: Mercury Grey, Moon White, and Saturn Gold. The Mercury Grey is actually more like a charcoal than a grey, and the Moon White is actually silver. We're willing to overlook that, since Rolling Square has such a flair for style. The cables on all colors are black, with a stylish, flat profile.
So, how can a single cable work for all your devices? Simply put, there's more to the tips than meets the eye. Each tip has a sliding mechanism, where it can be pulled out and rotated down to reveal another tip. On the input side, the default tip is a standard USB Type-A. Flip that tip down, and it reveals a USB Type-C input. On the output side, the default tip is USB Type-C. However, it also flips open to reveal a dual Micro USB/lightning output. The hinges are nice and sturdy, and won't get easily damaged. All in all, you're looking at the most versatile charging cable on the market.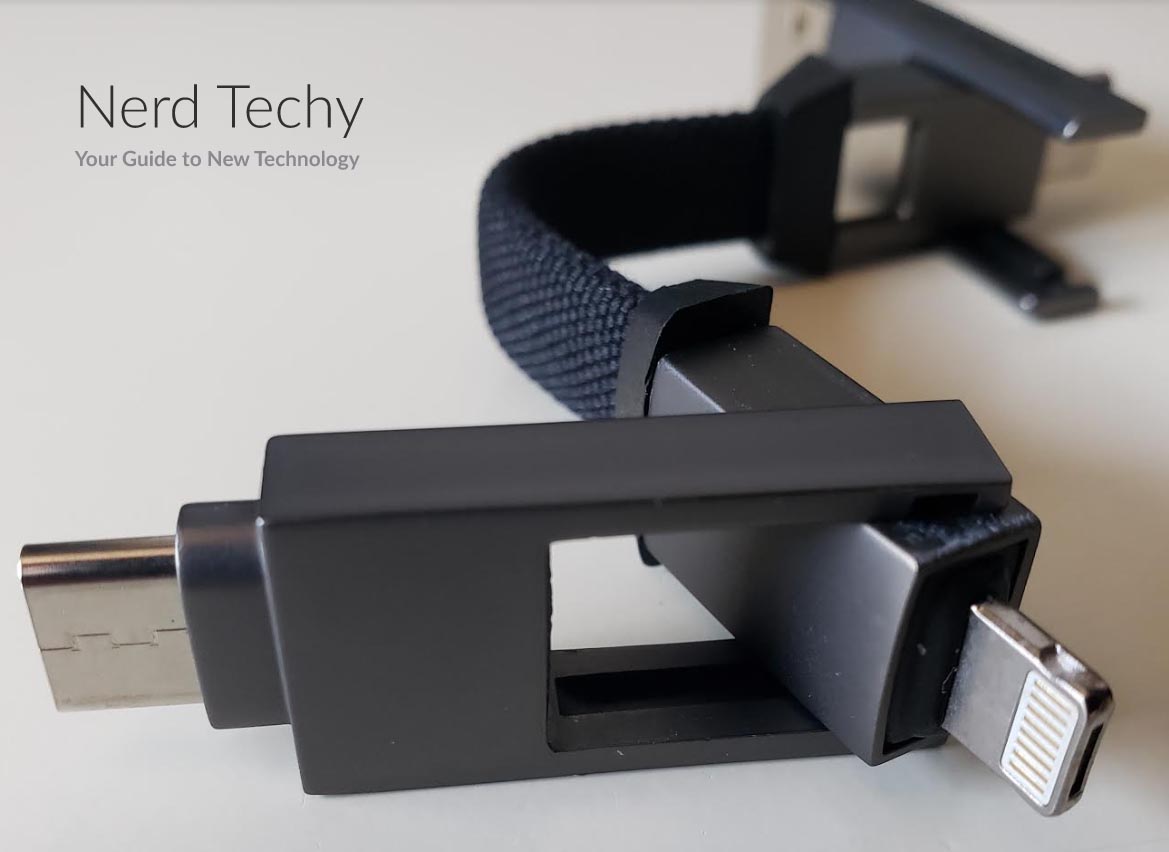 Compatibility
Realistically, the inCharge 6 is compatible with just about any device. Whether your phone charges via USB Type-C or Micro USB, you're going to have some options. You can also charge from either a USB Type-A or USB Type-C power port. That said, there's one thing we should point out before we move on. Most laptops require a charge of 70 to 100 watts in order to operate. By contrast, the inCharge 6 delivers only 15 watts maximum. So you can use it to charge your laptop, provided you're okay with slower charge speeds. But you won't actually be able to charge your laptop while it's in operation. At best, you'll just be slowing the battery's rate of drain, not charging it.
Of course, to actually use the inCharge 6, you're going to need some kind of power supply. If you're looking for an AC charger, the CHOETECH 61W USB-C (GaN & PD) Charger is an excellent choice. This is a powerful, 65-watt charger that features collapsible prongs. As a result, it's ideal for travel, just like the inCharge 6.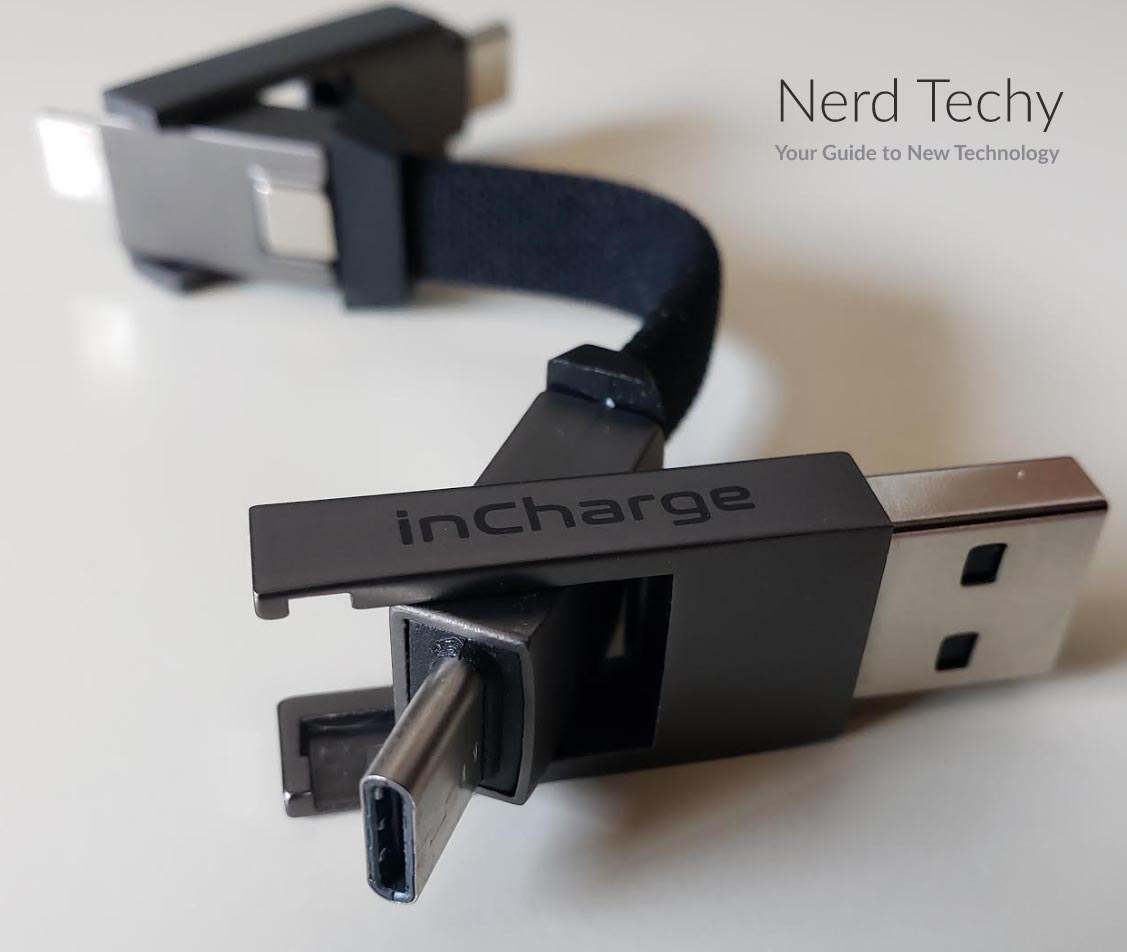 But what if there's no power outlet where you're going? In that case, you're going to need a portable power bank. Check out our review of the AUKEY PB-Y24 (26800 mAh) USB-C Power Bank for a solid option. It boasts an impressive, 26,800mAh battery that can fully charge most smartphones three times, or an average laptop once.
Bonus Features
As we mentioned, the iCharge 6 can support up to 15 watts of power delivery. This is sufficient for quick charging the vast majority of cell phones. Keep in mind, though, that this rate of power delivery depends entirely on your output. If your power port only outputs 12 watts, you're only going to get 12 watts. In addition, it also depends on your smartphone. If your smartphone isn't capable of quick charging, you won't be able to take advantage of this feature.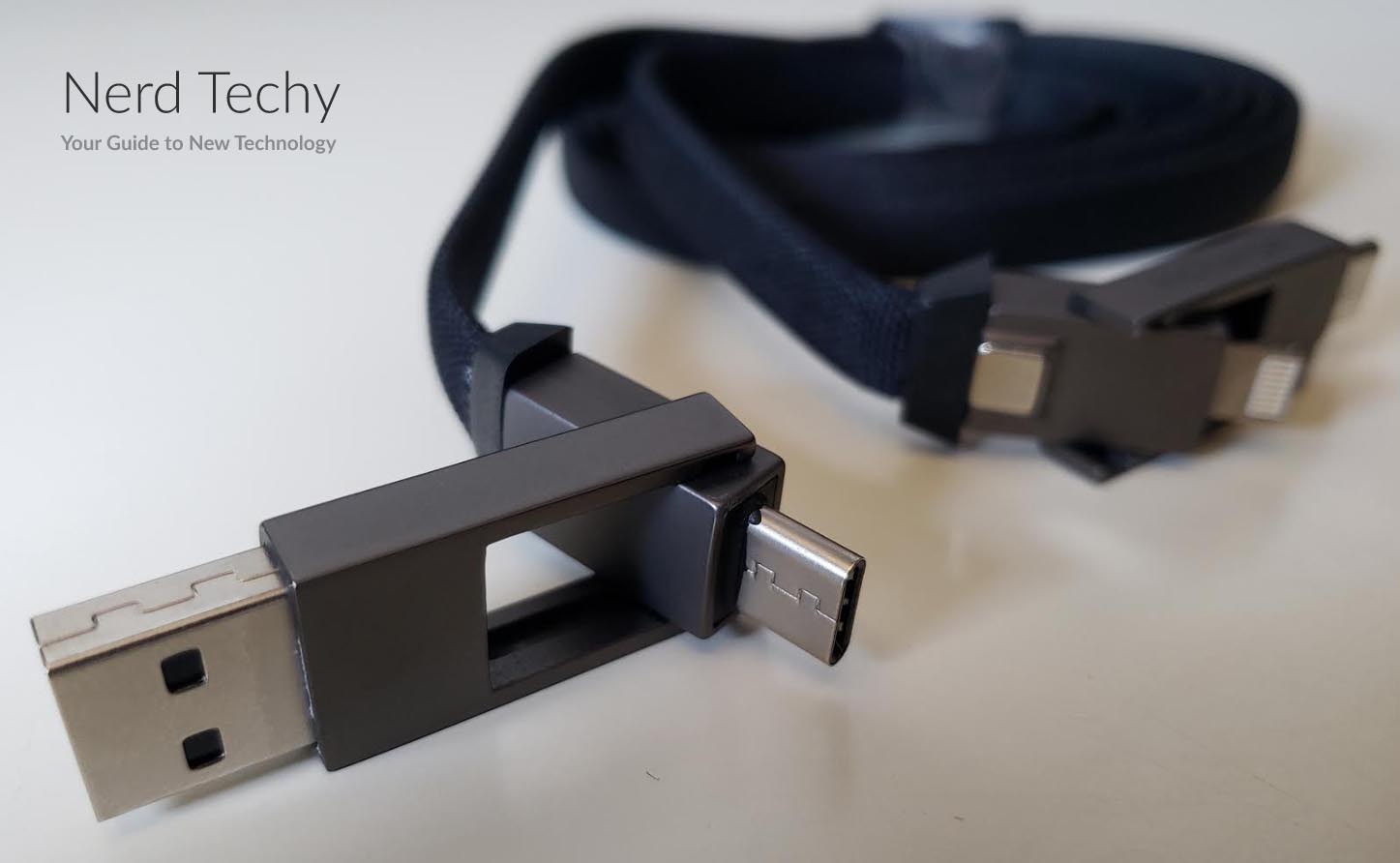 One truly unique feature of the iCharge 6 is the ability to charge one smartphone from another smartphone. Is this an ideal source of power? Absolutely not. But is it a useful feature if you're in a jam? Absolutely yes. If your friend is willing to bum you some battery life, you're good to go. Keep in mind that this is only going to work on certain devices. If the source phone isn't a USB Type-C phone, then it's a no-go. In addition, it will depend on your smartphone's software. That said, Android phones with a current operating system are good to go. This includes the latest version of the Samsung Galaxy, as well as other newer phones with USB Type-C power.
The iCharge 6 is now shipping, but it's still in the early phases of the release. As a result, you can get some significant discounts by selecting an Indiegogo "perk". These discounts are essentially package deals, where you order multiple cables at a reduced price. For example, you can get a discount on a bundle of three inCharge 6 and two inCharge 6 Max cables. To find these perks on your mobile phone, simply scroll up on the page. To find them on your desktop or laptop, just look at the right hand side of the Indiegogo page. Click on the package you want, select "Get This Perk", and you'll be directed to the payment page. These packages are only available in limited quantities, so we can't say for sure how long they'll remain available.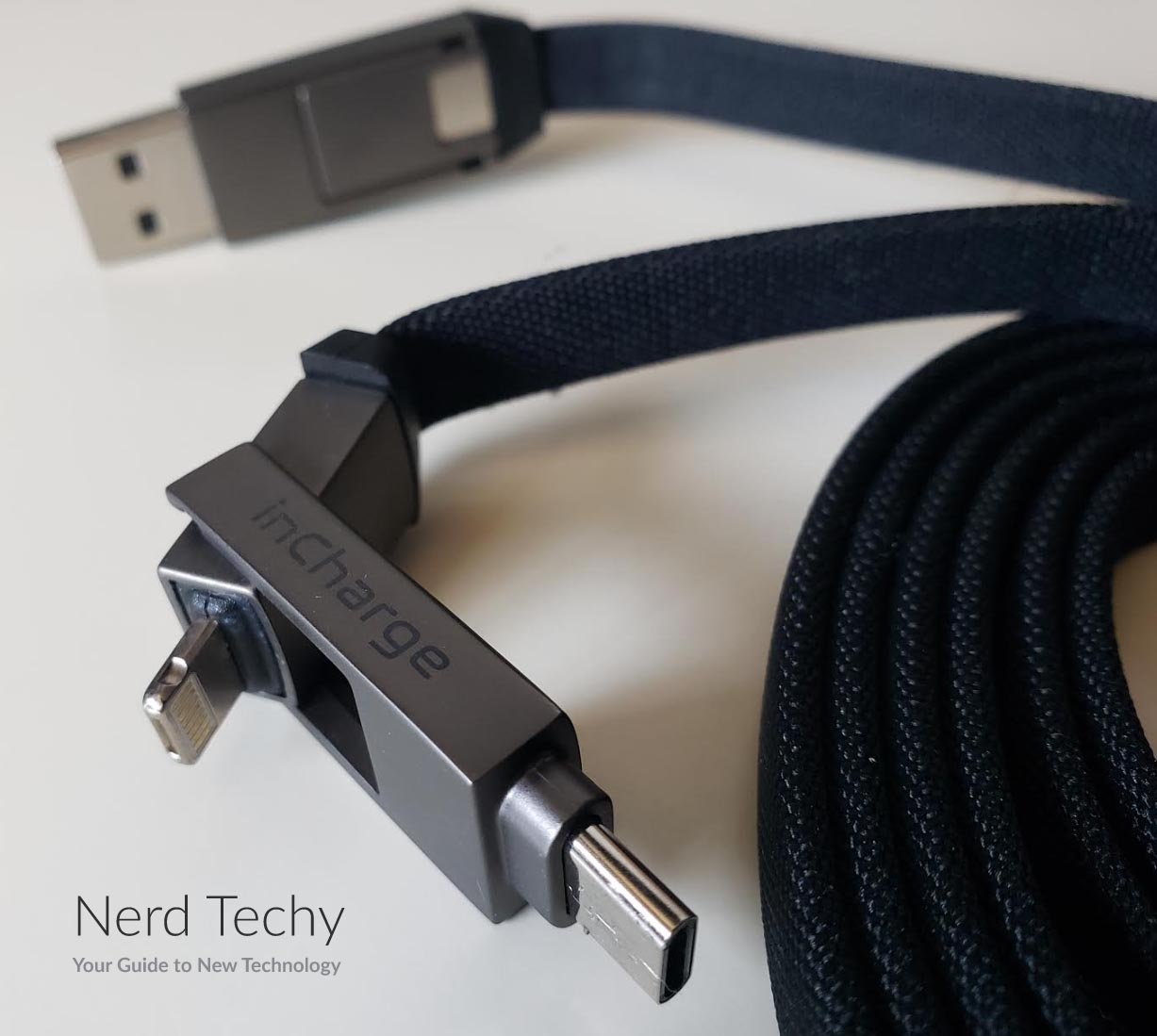 Regardless of what package you buy, Rolling Square provides excellent warranty coverage. To begin with, they offer a 30-day, no-questions-asked return window. If you don't like your inCharge 6 cable for any reason, just return it within this window for a full refund. After that, you're still covered by Rolling Square's two-year manufacturer's warranty. If anything goes wrong during this time period, you'll get a full refund or replacement.
Final Verdict
As you can see, the inCharge 6 is one beast of a cable. To begin with, let's talk about the quality of construction. Most USB cables have plastic tips, which are easy to damage. By contrast, the inCharge 6's tips are constructed from a zinc-aluminum alloy, which is very durable. The cable is equally durable. Not only is it virtually indestructible, it's also very well shielded. Not only can you charge your devices, you can also transfer data with virtually zero interference.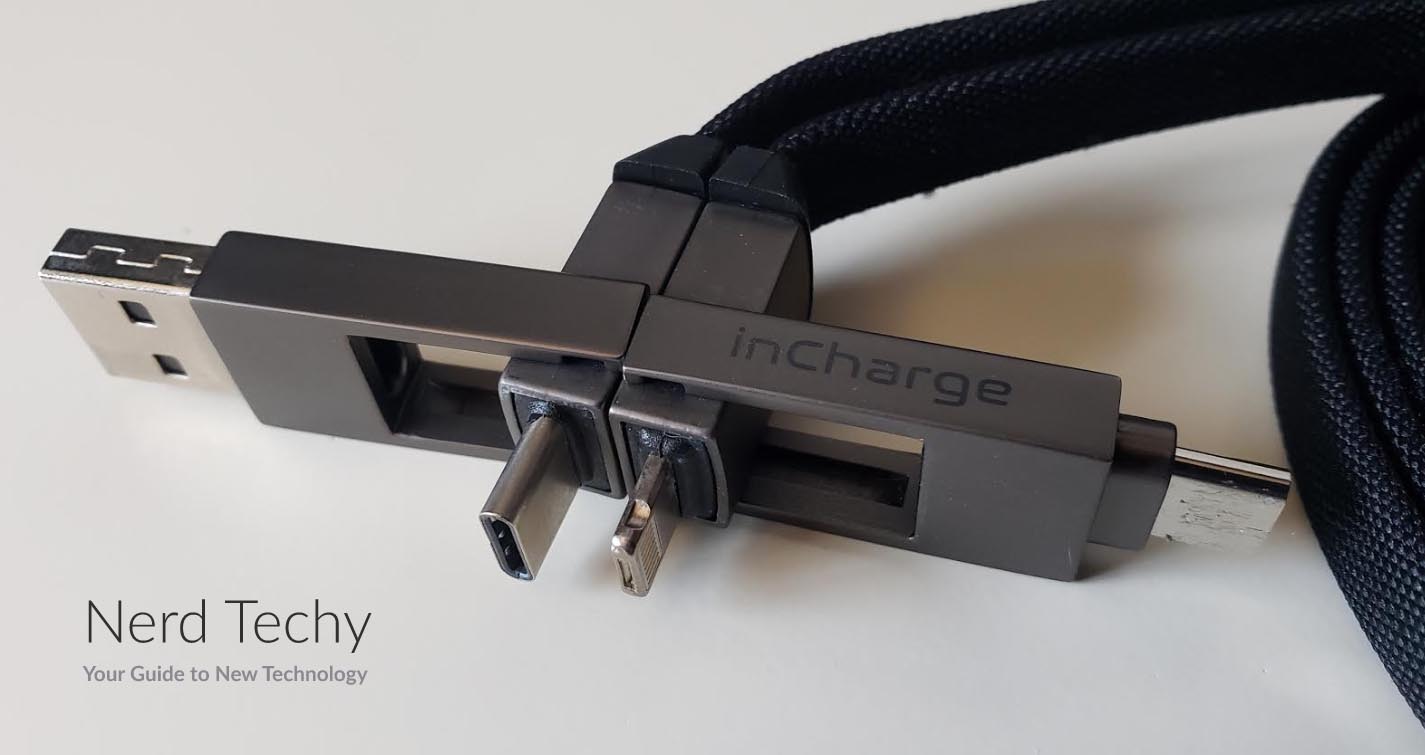 The tips are also highly versatile. You can charge from USB Type-C to Type-C, Type-C to Micro USB, Type-A to Type-C, or Type-A to Micro USB. So no matter what your power supply or what your device is, you've got plenty of options. When Rolling Square calls the inCharge 6 the "Swiss Army Knife of Cables", they're not exaggerating. Not only that, but you can choose a short, keyring variant, or a longer variant. Regardless of your charging needs, the inCharge 6 is an excellent choice.
Please consider sharing:
Note: At no extra cost to you, we may earn a commission for purchases using our links. Learn more.