Quick Analysis
Pros
Can be used easily in international locations.
Prongs retract into the case for protection.
Has an indicator light so you know when it's charging.
Has protective features to prevent overheating and short-circuiting.
Outer case is fire retardant.
Cons
Doesn't come with a cable of its own.
Prong orientation sometimes causes the body to cover another port.
Finding the right mobile device or laptop charger can be a huge struggle, especially since picking the wrong charger can lead to you not being able to use your gadgets while on a trip or on vacation. Even worse, some chargers aren't well suited for certain types of mobile devices or laptops. These can lead to burnouts, short-circuiting, or other mechanical problems. The last thing you want is a busted laptop when all you needed was a reliable charger in the first place!
However, many modern chargers are being designed to incorporate international travel, multidevice functionality, and ease-of-use. The CHOETECH 61W USB-C Charger (Model P38-PD61W) certainly seems to be one of those modern devices on the surface. The charger has a compact and minimalist aesthetic that'll go great with many popular mobile devices like tablets or laptops. It's also created with an indicator light right on the back so you always know if charging is taking place or if there's a mechanical problem.
Even better, it's designed with protective capabilities inside the box and out. For instance, it has several protective elements on the interior to prevent overheating or short-circuiting from occurring in the first place. The exterior is made of fire-retardant material so there's no chance of causing a small blaze in the event that an overheat does end up occurring. While all of these factors are great, it still doesn't tell us whether it's really worth your time and money. Let's dive deeper into this innovative and advanced charger and see how it measures up.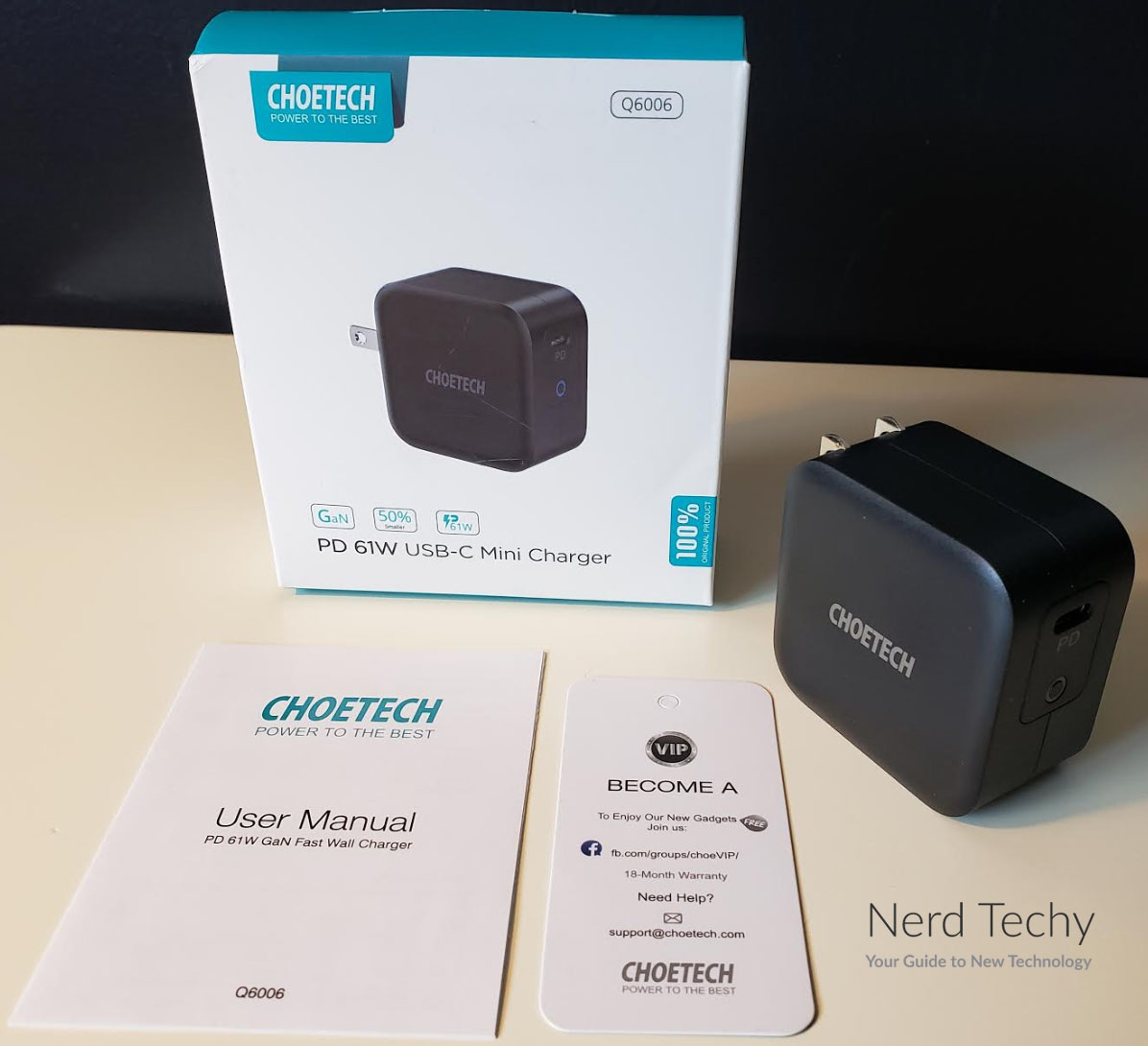 Charger Design
The CHOETECH 61W USB-C Charger is designed with compact functionality and travel readiness in mind. For starters, the charger is about 50% smaller than most classic MacBook chargers, but it still maintains excellent charging capacity despite its smaller size. This also keeps the overall weight of the charger down, which means you should be able to carry it with any size of laptop or in a laptop bag without things feeling too heavy.
The charger is also designed to be perfect for travel, as it has international voltage compatibility (also called AC 100-240V). You'll be able to use this charger in practically any charging port even if you venture outside the United States and shouldn't have to worry about incompatibility issues. This can potentially save you a lot of money by not forcing you to buy a dedicated international charter for your mobile device or laptop.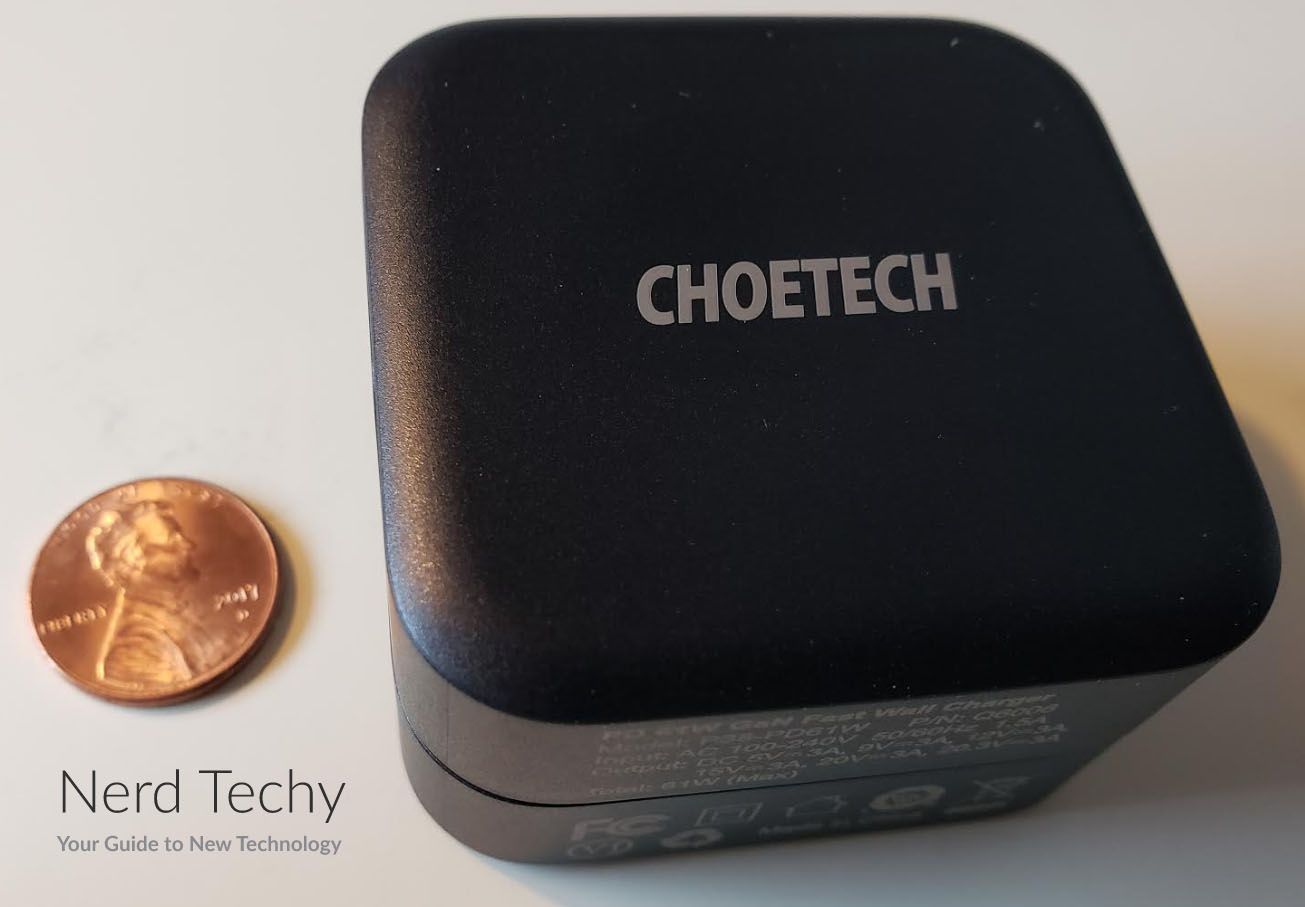 The charger features a foldable and convertible plug. The twin pins for the charger fold straight into the unit so that they don't scratch any other items in your traveling bag or become bent or broken over time. On the other side of the charger, there's a USB C connection port so you can use this charger with practically any modern mobile device or computer you can imagine. So long as they also use USB C, you'll be able to make it work. You also know immediately if charging is taking place thanks to the LED light right beneath the connector port; it lights up if everything is going smoothly.
The only real downside is that you don't get a cable to use with the charger. You'll need to supply your own based on the accessories that came with your computer or whatever other electrical device you want to use with the CHOETECH 61W USB-C Charger. This is a minor downside overall, as an added cable would have been an even bigger boost the value. That being said, the charger does come with an 18-month warranty. This covers any catastrophic defects or problems with workmanship, so you can easily get a replacement charger if the one out of the box doesn't suit your needs or isn't functional.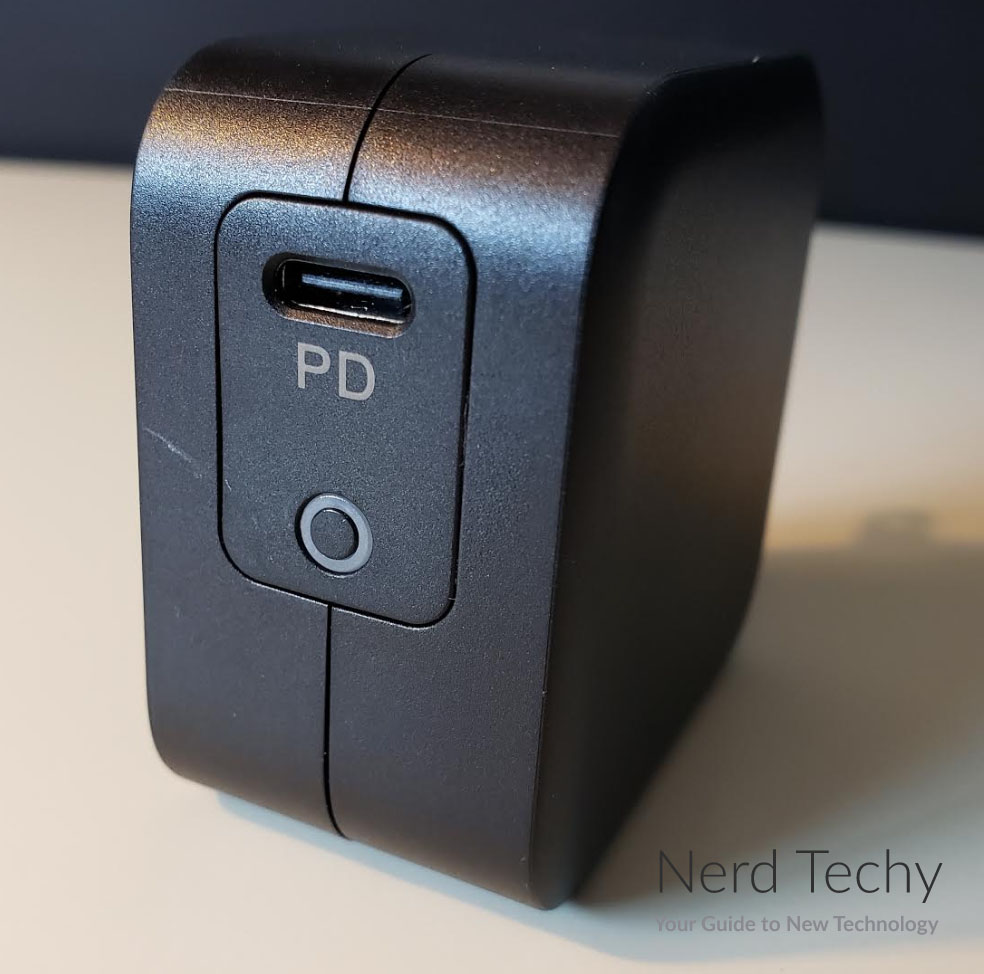 Charging and Features
Let's take a look at the charging capabilities of the CHOETECH 61W USB-C Charger.
It's powered by an upgraded processor that's far better from a standard silicone variety. It uses Gallium Nitride (also called GaN) technology, which provides a number of big benefits. For instance, this charger can recharge your devices and computers up to about 2.5 times faster than competing chargers on the market. The size and efficiency of this chip also means that the overall weight and size of the charger is down compared to other popular models. The charger will work with a wide variety of electronic devices without burning anything out, even if you've had trouble in the past with other chargers.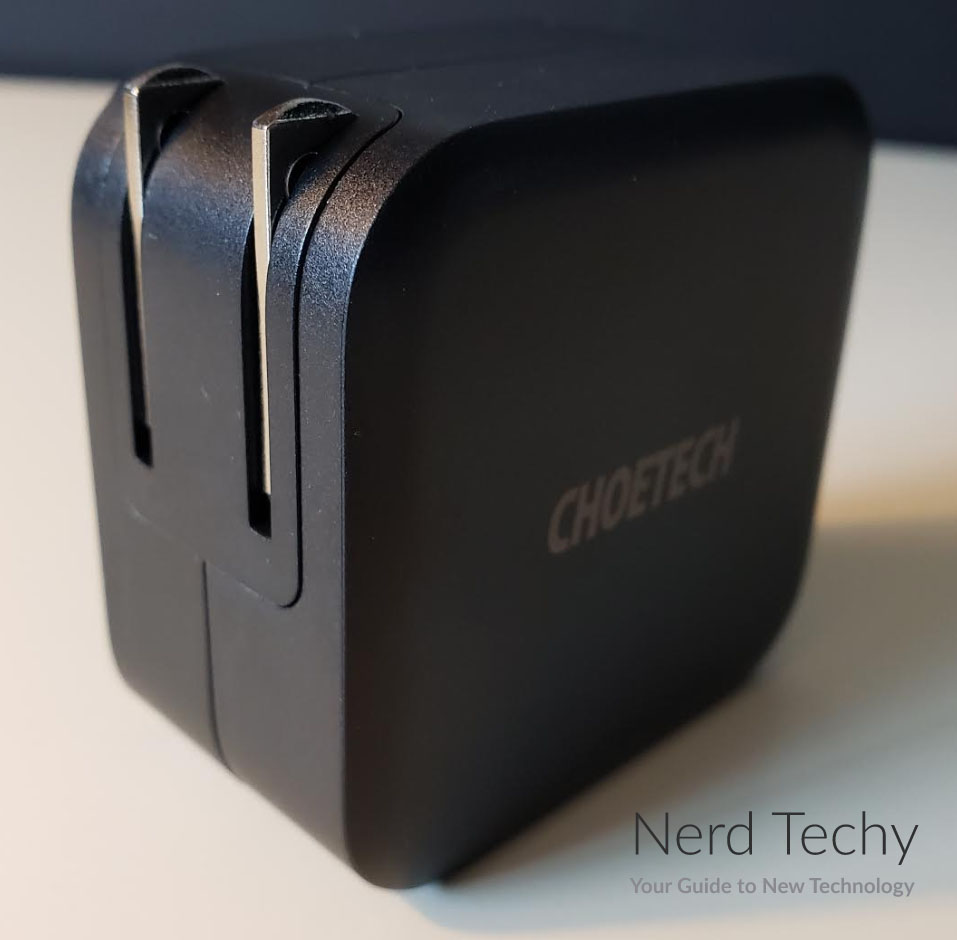 In addition, the CHOETECH 61W USB-C Charger (Model P38-PD61W) is packed with advanced charging features to make it worth your time. For instance, the charger comes with several forms of protection from over-current flow, overheating, over-voltage, and short-circuiting. There's no need to use dedicated protective accessories in conjunction with this charger to prevent your electronic device from experiencing a short circuit or suffering from overheating as a result of a long charging session. It's super easy to use this charger for all your needs, which prevents you from cluttering up your hotel room or your living arrangements with tons of cables and other charging devices.
Indeed, it's TUV certified, meaning that it's been subjected to rigorous testing to ensure that there aren't any hazardous issues with the charger or its internal components. The exterior is made of fire-retardant PC material, so even if the charger were to spark and become too hot, the small flames inside wouldn't be able to spread to the outside environment.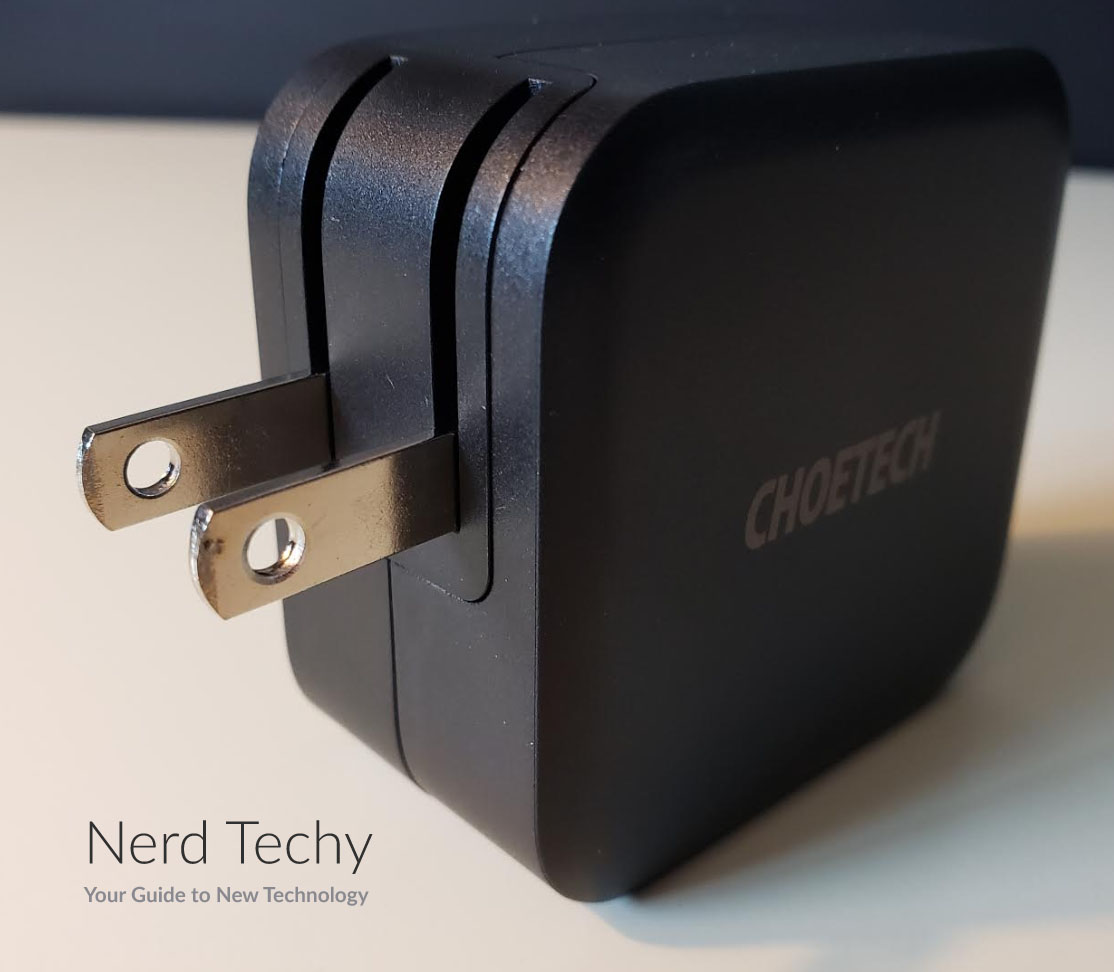 All in all, it can produce a maximum of 61 watts. This facilitates extremely fast charging speeds for most electronic devices, ranging from smartphones to tablets to laptops. Furthermore, you can use this charger with any other USB C device that also supports USB power delivery. Toys, remotes, and even small robots can all use this charger to great effect.
What about time? The exact charging length you should expect will, of course, vary based on the product in question. But you should be able to charge a full-sized Mac laptop in about two hours from no power whatsoever. You can charge smaller or lighter laptops like a MacBook Air in even less time. In general, even high power or larger computers didn't take more than a couple of hours to fully charge.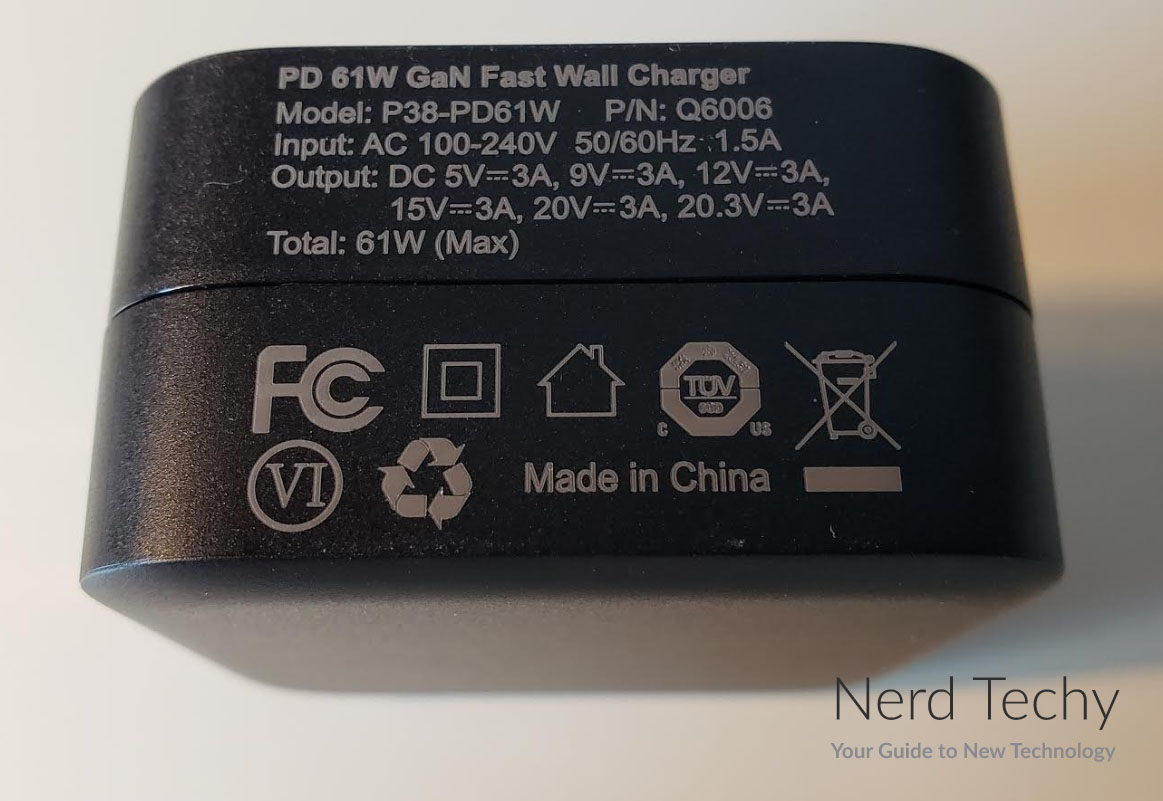 One other minor downside is that the orientation of this charger has the socket pins at the top, with the remaining body of the charger hanging down. This can often block the lower socket of a given power plug. You'll need to turn the charger upside down in order to make use of the bottom socket or else use the bottom port. We think the design could have been made such that the body was longer instead of taller, but it's ultimately a very minor quibble about the charger's shape.
Compatibility
Let's now take a look at how the CHOETECH 61W USB-C Charger fares in terms of compatibility. Long story short, it works with a great spread of potential devices.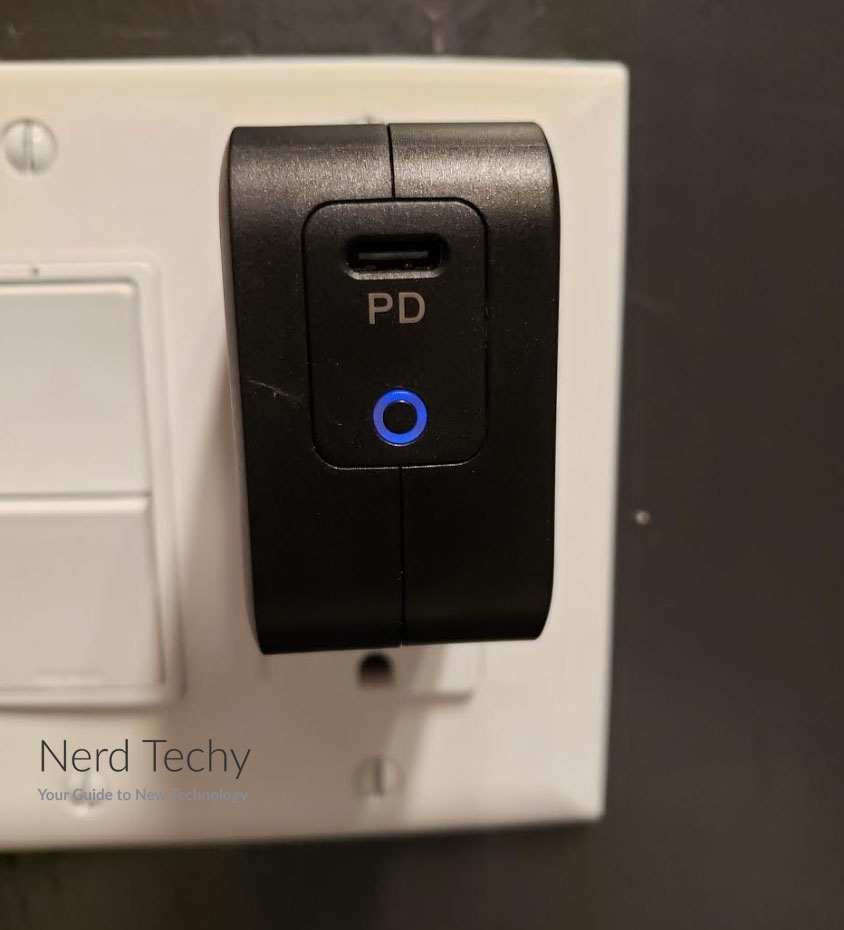 For instance, it's arguably the ideal laptop replacement charger. MacBooks of various sizes, ranging from 13 inches to 15 inches and above, are sure to work with this charger. But you can also use this charger for computers that use Windows instead, like Dell, HP, or other brands. Any type of laptop you can imagine should fit thanks to the universal compatibility afforded via the USC C port. Just remember that you need to supply your own cable since the CHOETECH 61W USB-C Charger doesn't come with one out of the box.
It can also be used to charge various tablets, so long as they have an acceptable port or you have a conversion cable. iPads are a great example, although earlier varieties may not be compatible because of a lack of USB C port. Phones like iPhones, Samsung Galaxies, and Google Pixels are all excellent mobile devices to charge using this accessory. iPhones and similarly sized mobile devices will only take an hour and a half to two hours to charge to full using this charger.
Final Verdict
So when all is said and done, is the CHOETECH 61W USB-C Charger a great purchase for most?
We'd have to say yes. By and large, it offers a ton of flexibility and practical benefits for next to no downsides. The only real flaws that we found during our analysis was a slight mishandling of pin or prong orientation and the fact that the charger doesn't come with a cable of its own. Provided that you have a cable for charging your own device, you're pretty much ready out of the box. Alternatively, you can always purchase an additional charging cable since the CHOETECH 61W USB-C Charger isn't all that expensive by itself.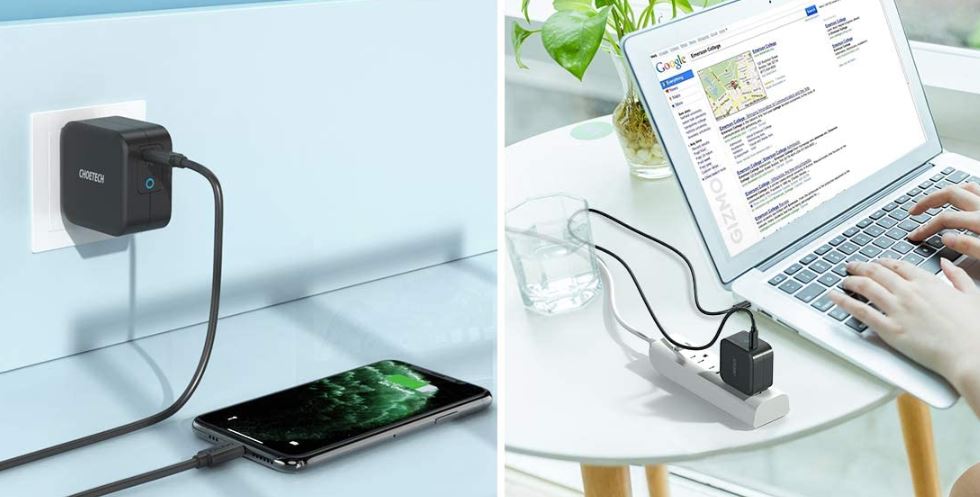 The rest of the benefits more than make up for these minor downsides. It comes with one of the best-designed cases we've seen for protection, and it's built to stop overheating or short-circuiting from affecting the charger or your devices. Furthermore, it can connect to a variety of popular mobile devices, laptops, and other electronic tools. So you can use the CHOETECH 61W USB-C Charger (Model P38-PD61W) with your gadgets more often than not.
More importantly, it's rated for international use and features retractable pins. This means you should be able to throw it into whatever travel case or bag you have on hand and not have to worry about it scratching the rest of your electronic gadgets or not working with a foreign power port. Simply put, the CHOETECH 61W USB-C Charger is reliable, easy to use, and convenient at all times. It's a great USB C charger we'd recommend for just about everybody.
Meet Derek, "TechGuru," a 34-year-old technology enthusiast with a deep passion for tech innovations. With extensive experience, he specializes in gaming hardware and software, and has expertise in gadgets, custom PCs, and audio.
Besides writing about tech and reviewing new products, Derek enjoys traveling, hiking, and photography. Committed to keeping up with the latest industry trends, he aims to guide readers in making informed tech decisions.