These days, Bluetooth earbuds are everywhere. There's good reason for this. While in years past, Bluetooth didn't offer good audio, modern Bluetooth earbuds utilize True Wireless Stereo (TWS). This technology replaced the low-bitrate, mono audio of older earbuds with crisp, clear stereo. Then Apple came along, and their AirPods revolutionized the earbud market. So, with all the earbuds on the market today, how do you know which ones are worth buying?
One way is to choose earbuds from a manufacturer you know and trust. For example, Mpow is one of the most well-known manufacturers on the market. They have a reputation for providing high-quality audio at a very reasonable price. In fact, we've reviewed and compared several of their earbuds in the past – the Flame Pro & M9, M20 & M30 and the Jaws Gen 5 & Focus.
Today, we'll be comparing two of Mpow's more affordably-priced offerings. First up is the Mpow Flame S. These are over-the-ear earbuds that are very secure, and won't easily get lost. Next, we'll look at the Mpow D9. These buds have a similar design, but the guts are different and they offer different features. At the end, we'll wrap up, and render a final verdict. Let's get started, and see what we find out!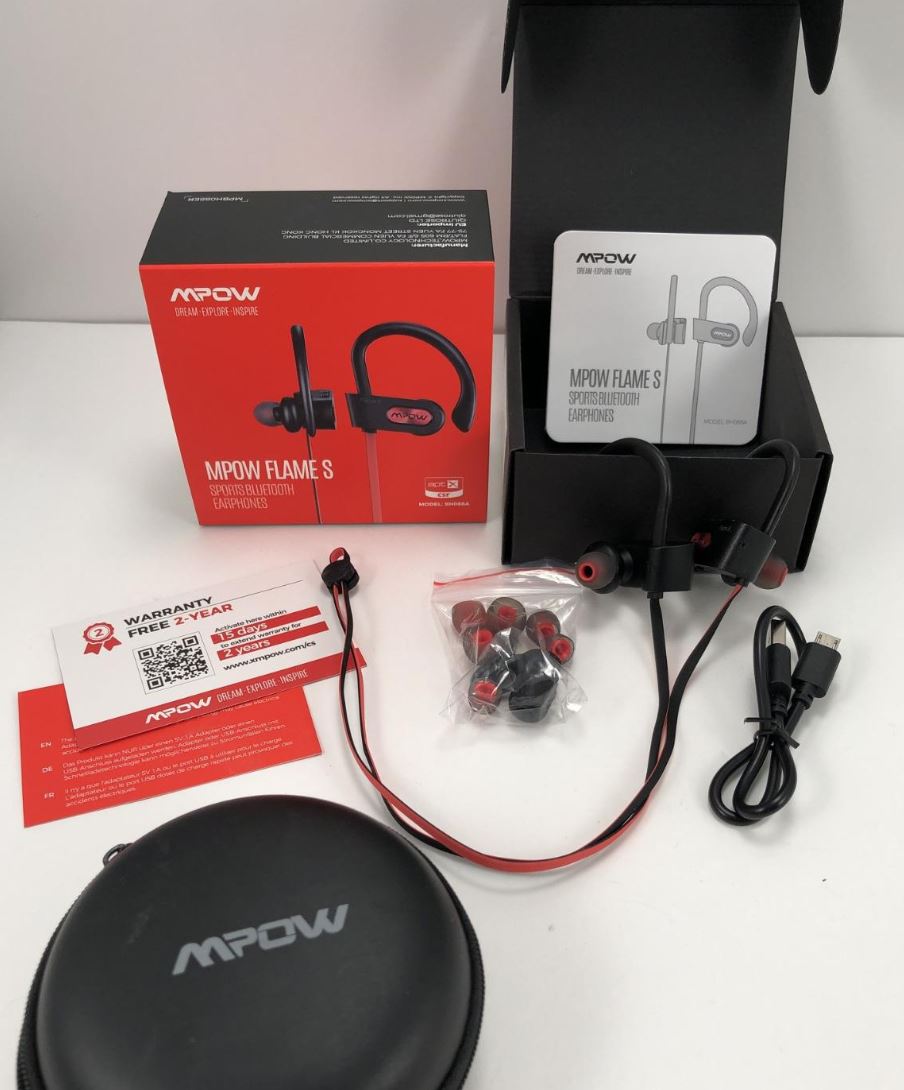 Mpow Flame S
The Mpow Flame S has an exceptionally sharp appearance. It's available in bright red for a flashy look, or in black for a more restrained look. They're constructed from ABS plastic, with rubbery ear hooks to keep them from falling off. And if they do fall off, they're connected by a cord that wraps around the back of your neck. This design makes them ideal for workouts. Even if you're running rock climbing, or doing CrossFit, you won't have to worry about losing your buds. Moreover, they're very comfortable to wear. The cord is manufactured from a light, skin-friendly material that won't create any unwanted friction.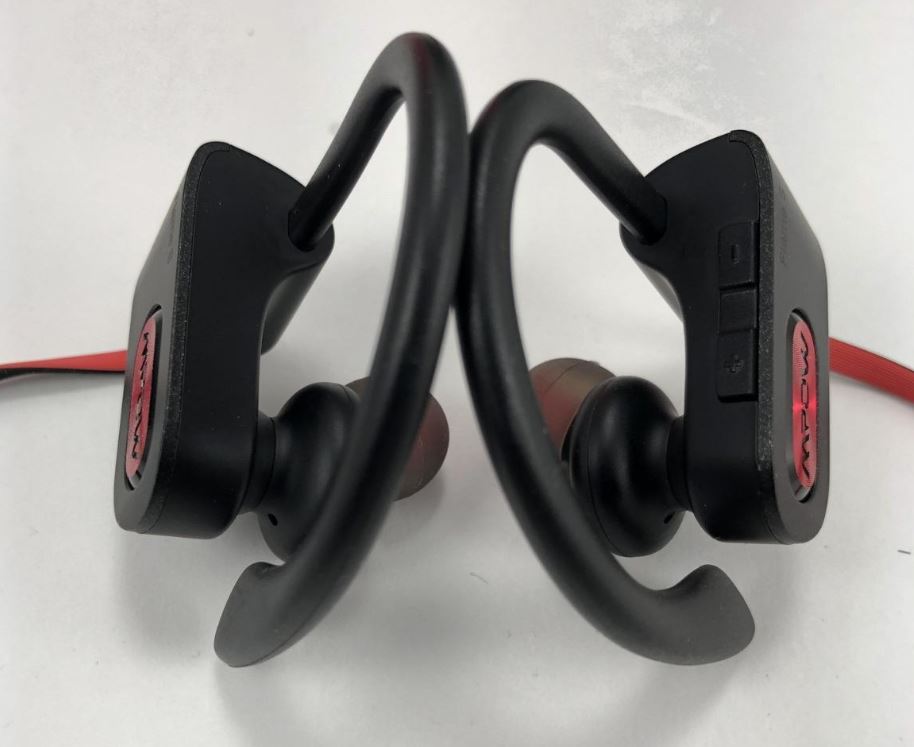 The buds themselves are also comfortable. In addition to the silicone earbuds that come pre-attached, you get four additional sets. Three of these sets are different sizes of silicone, so you can find a fit that's ideal for your ears. The fourth set is made of foam, like an old-school set of wired earbuds. The foam is ideal for sound isolation, since it's better at blocking outside noise. That said, they only come in one size, so they might not be an ideal fit for you.
The Flame S earbuds are IPX7 water-resistant. This means that they're rated for any type of water exposure short of full submersion. Wear them through a sweaty workout, or even wear them in the shower, and they'll be just fine.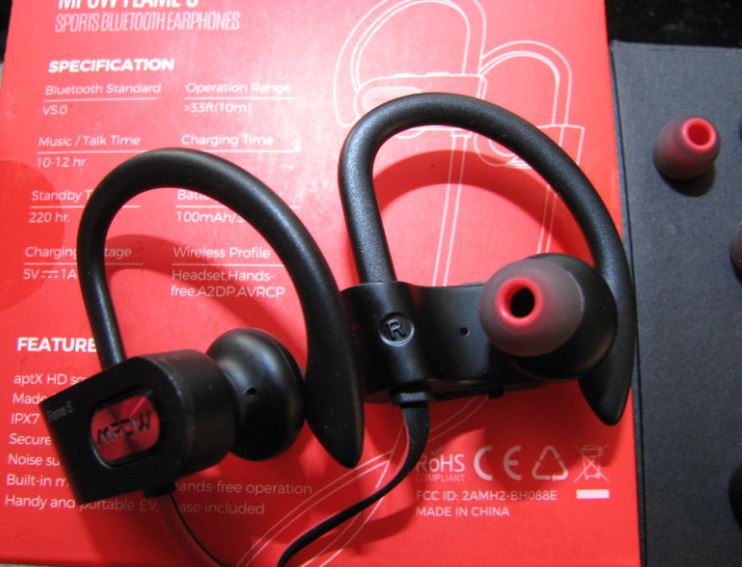 On the top of the earbud frames, there are a set of buttons that control all the functions. This placement ensures that you're not pressing the buds directly into your ears and causing discomfort. With the touch of a button, you can adjust the volume up or down or skip tracks. You can also play and pause music, answer or end calls, or even activate your phone's voice assistant.
Battery & Connectivity
The Mpow Flame S buds offer plenty of battery capacity to get you through your workout. When fully charged, they will provide up to 12 hours of playtime. As with any pair of earbuds, it's important to recognize that this is based on manufacturer testing. In practice, you'll get less battery life at high volumes or in cold weather. That said, you're still going to get through your day without any issues. And if you take a day off, you don't have to worry. The batteries will last for 300 hours on standby, almost two weeks. When they do run dry, you can recharge them in only two hours. Moreover, if you forgot to charge them, you can charge them for 10 minutes to get two hours of playtime.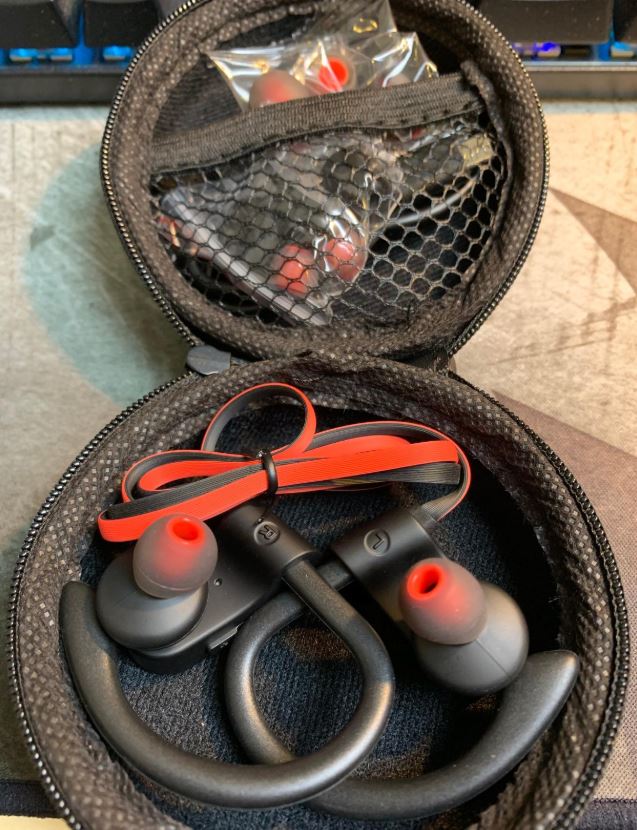 The Mpow Flame S connects to your phone or MP3 player with the latest Bluetooth 5.0 protocol. This protocol is a major improvement over the older Bluetooth 4.2 protocol. It offers faster transfer speeds, which allows for higher-bitrate audio. It also ensures a more stable connection, which means you don't need to worry about janky music or dropped calls. Finally, Bluetooth 5.0 offers a lag-free connection, so you can enjoy movies without any synchronization issues.
Sound Quality
The Mpow Flame S earbuds contain 11mm dynamic drivers, significantly larger than the 6 or 7mm average. This allows for significantly louder volumes and better sound quality than many other earbuds. To augment this, Mpow has also built in a QCC3034 Chip that supports the aptX and AAC audio codecs. The aptX codec is particularly useful, since it ensures virtually zero latency. The soundstage is nice and wide, with plenty of separation between instruments. You'll be able to hear each track clearly, and won't have to worry about a lot of crossover.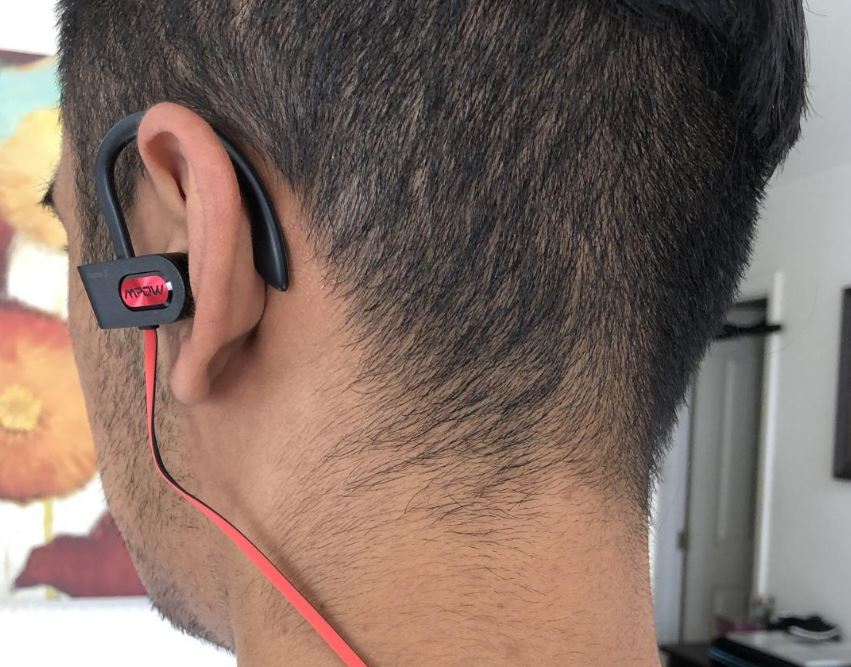 High frequencies are crisp and clean, with plenty of shimmer. This is particularly noticeable with genres like country music, which rely heavily on high strings. The mids come through with similar clarity. For vocals, this is very noticeable. There's no interference from muddy bass or fuzzy highs. For vocal-heavy genres from rap to opera, this is a great feature. Finally, the bass sounds very good. If you like dance music, you're going to be pleased. There's plenty of thump and power, more than you'd expect from most earbuds. It's also surprisingly clear, not muddy at all. Fans of metal will appreciate this, since the double bass will come across just fine. All in all, the sound quality is exceptional considering the price point.
For phone calls, you get to take advantage of CVC 8.0 noise cancellation. CVC 8.0 is designed to remove noise and clutter from your voice calls. To be clear, it works on your mic, not the other person's. They're going to be able to hear you just fine, almost as if you're not wearing earbuds. How well you hear them is going to depend on their mic and the connection quality.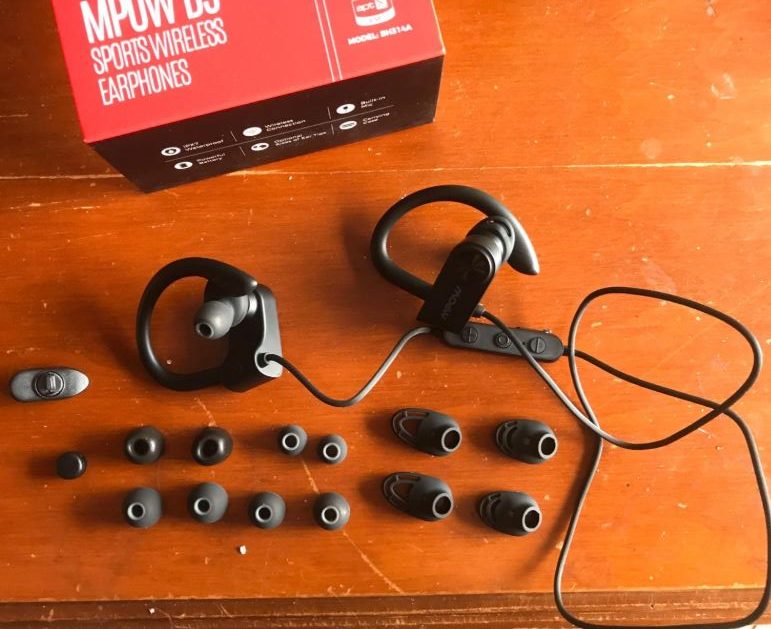 Mpow D9
The Mpow D9 has a similar design to the Flame S, complete with ear hooks. However, there are a few more adjustment options that make the design more attractive. To begin with, the neck strap is adjustable. Move the adjustment bead in or out, and there will be more or less slack as you desire. In addition to three sets of ear tips, you also get three different ear wings. So no matter what size or shape your ears are, you're going to be able to find a comfortable fit. Then again, you don't get the Flame S' fancy foam ear tips.
The D9's design is a bit more understated, with only a black finish available. Still, it's pretty slick, with a bold white MPOW log on the side. The controls are all located on a fob that dangles under the right bud. You can use these controls to adjust the volume, skip tracks, answer and end calls, or play and pause music. You can also activate your voice assistant or redial the last number. In addition to all their functionality, the Mpow D9 buds are very durable. They're IPX7-rated for water resistance, right in line with the Flame S. If you need buds that can withstand wet conditions, you're going to be just fine.
Battery & Connectivity
The Mpow D9's battery capacity is truly impressive. In total, you get 16 to 18 hours of playtime, enough for a full day. Even at the low end, you shouldn't have any significant problems with battery life. Moreover, you get 350 hours of standby time. This is over two weeks, so you don't have to worry about keeping your buds plugged in all the time. And in just two hours, you can fully charge the earbuds.
The D9 uses the same Bluetooth 5.0 technology as the Flame S. However, it can also be paired with two different devices simultaneously. So if you want to watch TV with your buds in, you won't have to disconnect from your phone.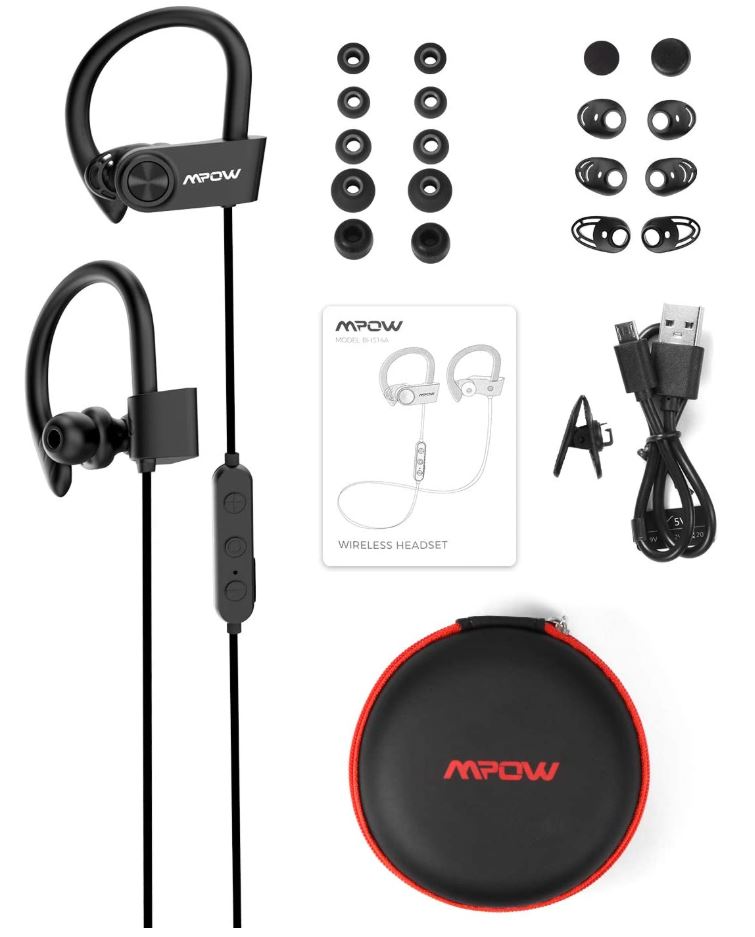 Sound Quality
The Mpow M9 comes with 10mm drivers, rather than the Flame S' larger 11mm drivers. That said, 10mm is still fairly large. You're looking at a wide soundstage, along with plenty of clarity at all frequencies. The bass isn't quite as powerful or punchy, but it's still noticeably better than on most wireless earbuds. The highs and mids are similar to the Flame S, with plenty of shimmer and texture. As a result, every genre of music is going to sound just fine. From country to hip-hop, you'll get excellent audio quality, especially considering the reasonable pricing.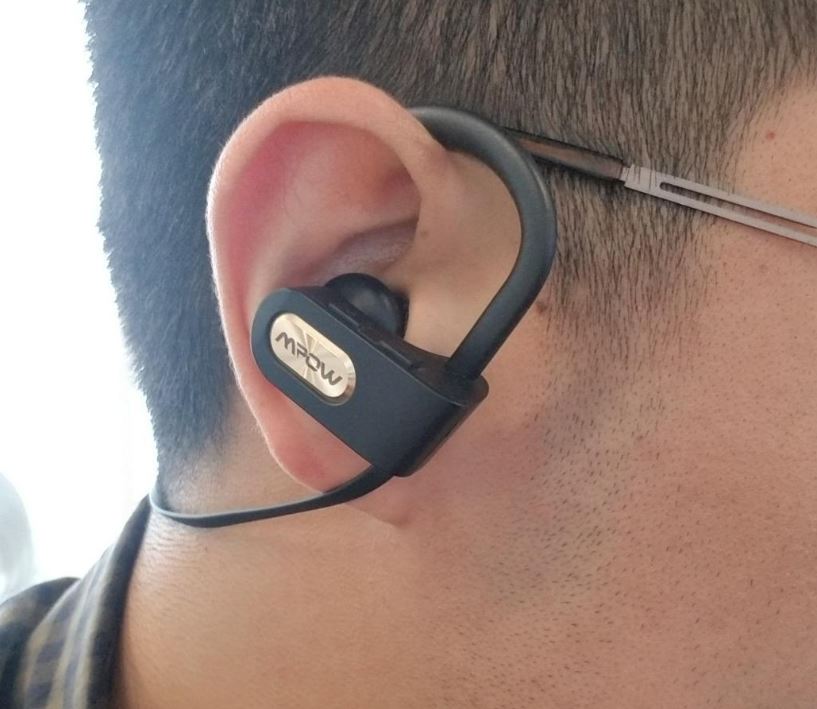 The M9 also supports the aptX protocol, which ensures minimal latency at high bitrates. If you want to watch movies as well as listen to music, this is a great feature. Not only that, but you can enjoy 256k MP3 tracks without any stuttering or loss in quality. Call quality is similarly good. Mpow has included CVC 6.0 noise cancellation in the M9. This is somewhat of a baffling decision. On the one hand, it's nice to have noise-cancelling mics. On the other hand, why use an older, outdated protocol? Regardless, clarity is much better than it would be on mics without noise cancellation.
Final Verdict
So, how do these two pairs of Mpow earbuds stack up to each other? Let's start with the Mpow Flame S. You get very high quality audio from the 11mm drivers, with plenty of bass response. You also get excellent call clarity, thanks to the CVC 8.0 noise cancellation. Not only that, but the foam ear tips are a particularly nice touch. They provide excellent noise isolation, provided they're the right size for your ears.
The Mpow D9 earbuds provide a strong contrast. While they share a similar, over-the-ear design, they offer superior ergonomics. The replaceable ear fins are an excellent feature, providing plenty of comfort. Not only that, but the 16-18 hour battery life will keep you rocking all day long. That said, the sound quality isn't as impressive as the Flame S. Even so, it's very good for the price. And considering the other features, you're looking at a great value.
Meet Derek, "TechGuru," a 34-year-old technology enthusiast with a deep passion for tech innovations. With extensive experience, he specializes in gaming hardware and software, and has expertise in gadgets, custom PCs, and audio.
Besides writing about tech and reviewing new products, Derek enjoys traveling, hiking, and photography. Committed to keeping up with the latest industry trends, he aims to guide readers in making informed tech decisions.