In the world of Bluetooth headphones, there are nearly endless options. But the vast majority of them fall into two categories. First, you have AirPod style buds that sit vertically in a charging case. Secondly, there are smaller, compact earbuds that sit horizontally in a charging case. What these varieties both have in common is that they charge in a case, and the buds are physically separate. This is a popular design choice, and there's certainly nothing wrong with it. That said, it's not ideal for intense physical activity. If an earbud falls out, it's going to hit the ground. And earbuds that fall out can easily be lost.
Today, we'll be looking at a pair of neck band earbuds that get around this issue. These earbuds bridge the gap between old-school wired earbuds and modern Bluetooth earbuds. To begin with, they connect via Bluetooth, and there's no long, dangling wire connecting them to your phone. That said, the earbuds themselves are wired to a battery-powered strap that sits around your neck. This makes them much harder to lose.
Both of these earbuds come from Mpow, a well-established manufacturer of quality audio equipment. Because of that, our expectations are high. First, we'll look at the Mpow Jaws Upgraded Gen5, a quirky set of earbuds with a unique look and feel. Next, we'll examine the Mpow Focus Bluetooth Headphones, a more traditional set of neck band earbuds.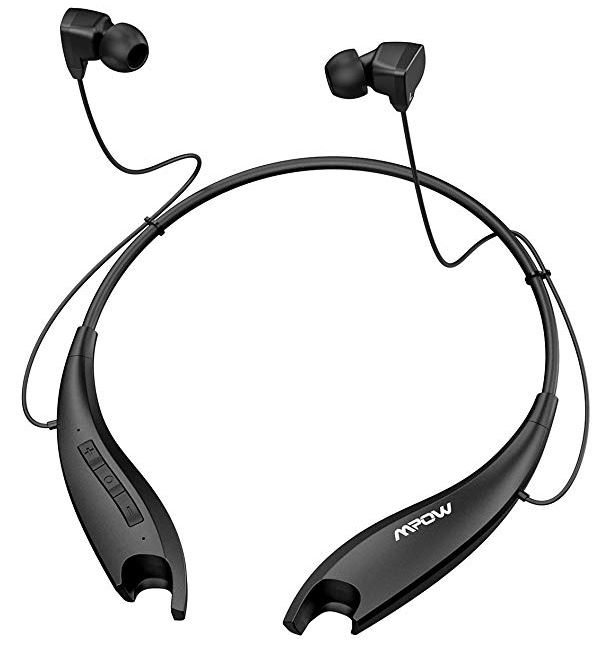 Mpow Jaws Upgraded Gen5
The Mpow Jaws Upgraded Gen5 are designed to seat in your ear canals, ensuring a tight, reliable seal. To facilitate a good fit, Mpow includes 4 sets of ear tips in a variety of sizes. If you're not comfortable with the fit, try swapping out the tips to get the right size for your ears. The earbuds are connected to the neck band by non-retractable wires. However, the wires run through a pair of rubber brackets, which allow them to be adjusted. Pull them in or out as needed, but the slack will hang off to the side.
The neck band itself has a unique look, with small "jaws" at either end. The jaws look like a shark mouth, and they're what gives the Jaws earbuds their name. They're magnetized, which allows you to store the ear buds in the jaws when they're not in use. As a result, when you take the buds out of your ears, they won't be dangling around your collar. They'll be securely mounted and easy to find again. The overall weight of the earbuds and neck band is 1.28 ounces, which is extraordinarily light. As a result, they're very comfortable to wear. That said, they don't have a water-resistance rating. Get them wet at your own risk.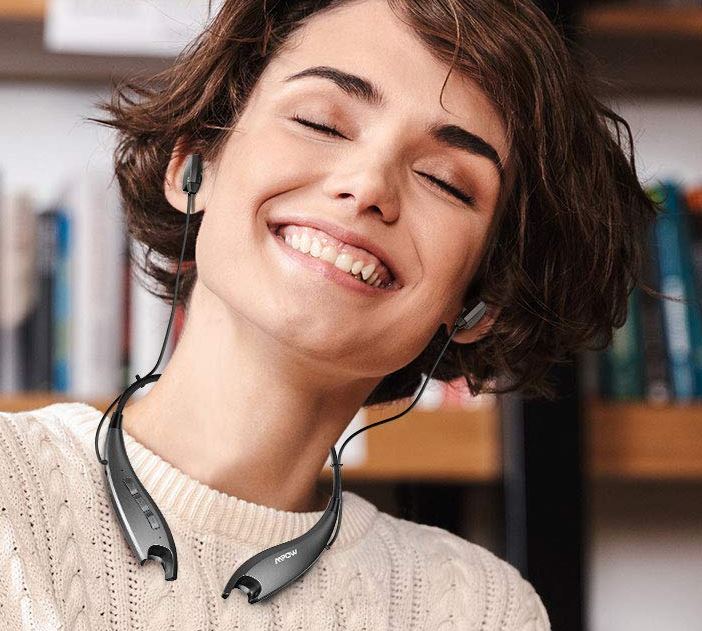 The controls are located on the right arm of the neck band. This makes them more comfortable to operate than the controls on traditional wireless earbuds. You won't have to press into your ears just to operate the controls. There are 3 buttons, and all of them provide plenty of tactile feedback. The controls can be used to play and pause your music, skip tracks, or answer and end phone calls.
The Jaws connect to your device via the latest Bluetooth 5.0 protocol. This protocol supports high-bitrate audio, and allows for stable, lag-free phone calls. It has an overall range of 33 feet, which is good enough to walk around the house a little. The Jaws also support a dual connection. If you have 2 phones, you'll be able to switch seamlessly between them both.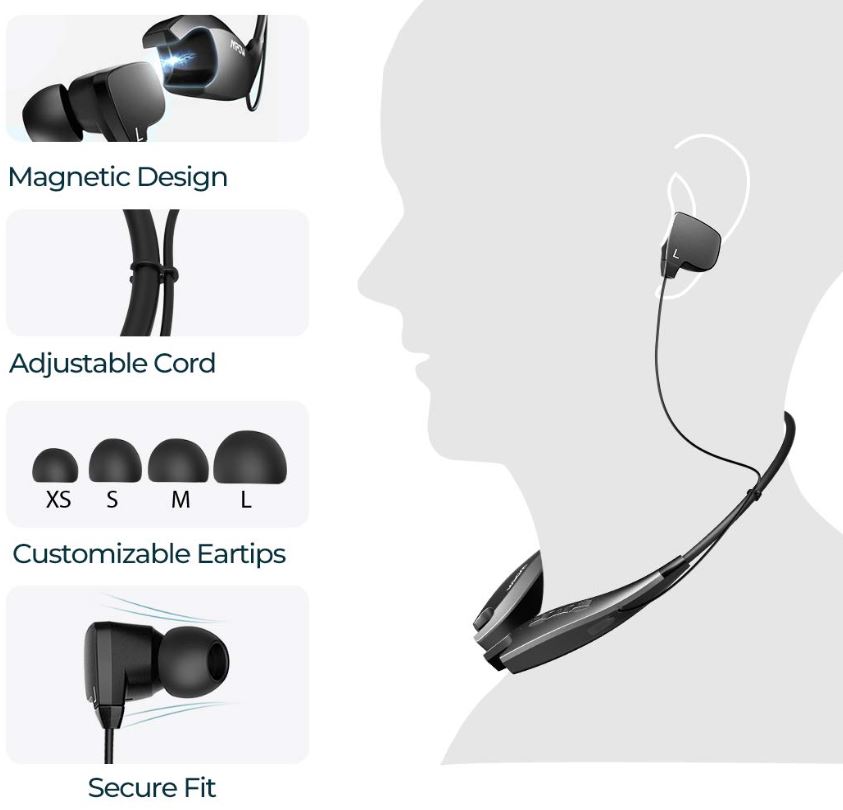 Battery & Sound Quality
The built-in 220mAh battery on the Mpow Jaws provides up to 18 hours of total playtime. Now, these ratings are notoriously squishy, and there's a reason for that. They're based on manufacturer ratings, and the manufacturers typically test at medium or medium-high volume, not full volume. There are also other variables to take into account, such as your audio bitrate and the ambient temperature. In other words, your real-world results may vary. The Jaws recharges via Micro USB, and a cable is included in a kit. The battery will fully recharge in about 3 hours, and will last for about 450 hours on standby.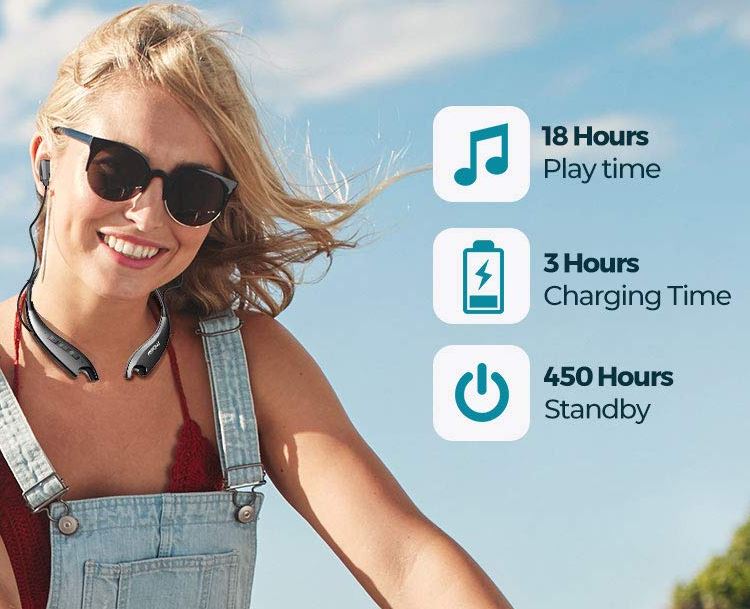 The Jaws earbuds utilize powerful, 8mm drivers that are larger than the drivers you'll find on most wireless buds. They also utilize Mpow's Bass Up technology, which improves the overall sense of space and power of the bass. All in all, there's plenty of separation between treble, mids, and bass. Instruments are crisp and clear across the spectrum, with no muddiness or fuzziness. Needless to say, this is all true when compared to other wireless earbuds. Studio headphones will still provide a better sound. There's also no active noise cancelling. Noise cancelling relies on a secure seal between the ear tips and your ear canal.
The Jaws earbuds do, however, offer CVC 6.0 noise cancelling on their microphones. This makes it easier for people to hear you while you're on a phone call. In addition, the neck band will vibrate when you receive a phone call. This way, you won't miss any phone calls while your earbuds are removed. They also support voice assistants such as Siri and Google Assistant for making and receiving calls.
If you want to do much better in regards to sound quality, you'll need a set of over-the-ear headphones. We recently reviewed the Mpow H17 Bluetooth Headphones. They sound fantastic, but they're significantly bulkier than the Jaws.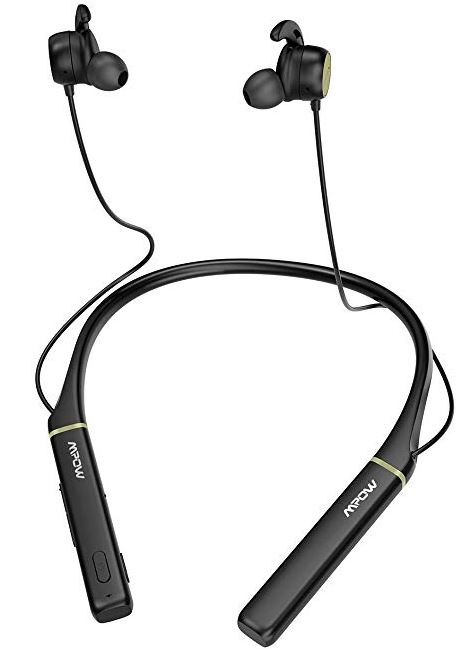 Mpow Focus Bluetooth Headphones
The Mpow Focus Bluetooth Headphones have a more traditional design than the Jaws. The ends of the neck band are blunt, with slightly rounded corners to prevent them from digging into your skin. The earbuds themselves also don't have a secondary connection or tether. When they're not in your ears, they will hang freely. However, they're very easy to adjust for a good fit. Not only are there 4 different sets of ear tips, there are also 3 sets of ear wings. Because of the ear wings, they don't press deeply into your ear canal. This makes them a worthwhile option if you have sensitive ears and struggle with traditional buds.
The neck band and earbuds together weigh 3.36 ounces, which makes them a wee bit heavier than the Jaws. This is still very light, though. It's not like an albatross around your neck; it's more like a hummingbird. Storage is also easy. The earbuds themselves are magnetized, and will stick together to help prevent them from getting tangled. Like the Jaws earbuds, however, they don't have any IP rating. This is disappointing, since it means you'll need to be careful about rain or sweat.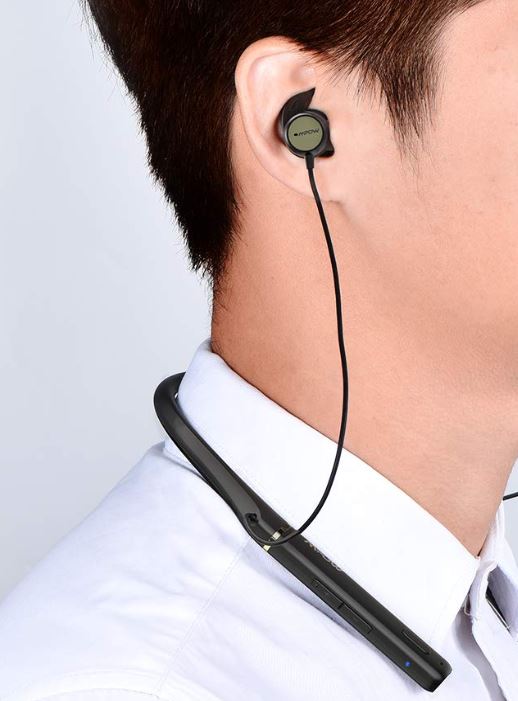 Like the Jaws earbuds, the Focus earbuds use the Bluetooth 5.0 protocol. When compared to the older Bluetooth 4.2 protocol, it has several advantages. First off, it has significantly better stability, which prevents dropped calls and choppy music. It also allows for more bandwidth, which means you can listen to music at higher bandwidths. That said, it does have a shorter range, limited to 33 feet instead of Bluetooth 4.2's 66-foot range. For some devices, this can cause problems. But for earbuds in particular, 33 feet should be more than enough range. The Focus earbuds can also connect simultaneously to 2 devices.
Battery & Sound Quality
The Mpow Focus earbuds provide 16 hours of playback on a single charge. As before, this is based on manufacturer ratings, so you might not get the same results. Where the Focus shines, though, is when it comes to recharge time. Instead of Micro USB, it uses a USB Type-C charger. This allows for a faster 2-hour charge time, as opposed to the Jaws' 3-hour charge time. It also allows for a quick charge option. If you find yourself out of juice, a 10-minute charge will provide 2 hours of listening time. This should be enough to get you through your workout or commute.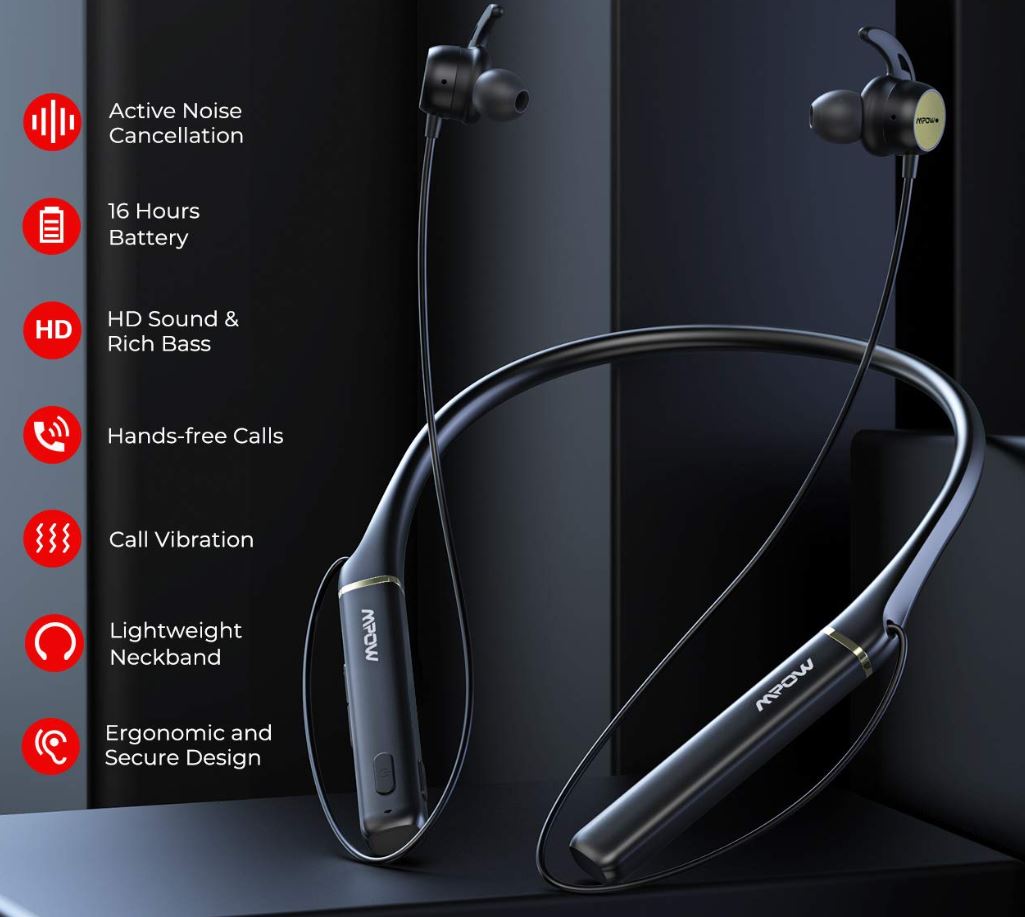 The sound quality is excellent, with enormous 10mm drivers. These allow for exceptional bass performance. If you like dance music, you'll love the Focus' performance. It also performs very well when it comes to the mids and the treble. There's a wide sound stage, which means plenty of separation between different instruments. The Focus also offers active noise cancelling (ANC), so it does an excellent job of blocking out ancillary noise. Keep in mind, though, that the ANC will reduce your battery life. You'll get a maximum of 14 hours when ANC is activated.
Much like the Jaws earbuds, the neck band on the Mpow Focus will vibrate when you receive a call. If you spend a lot of time with your earbuds out, you'll appreciate never missing a single phone call. For hands-free calls, you get excellent quality, with a pair of built-in microphones. Instead of CVC 6.0, they utilize Mpow's Acoustic Quality Enhancement (AQE) technology. It works more or less the same way, improving call clarity for the person on the other end of the line.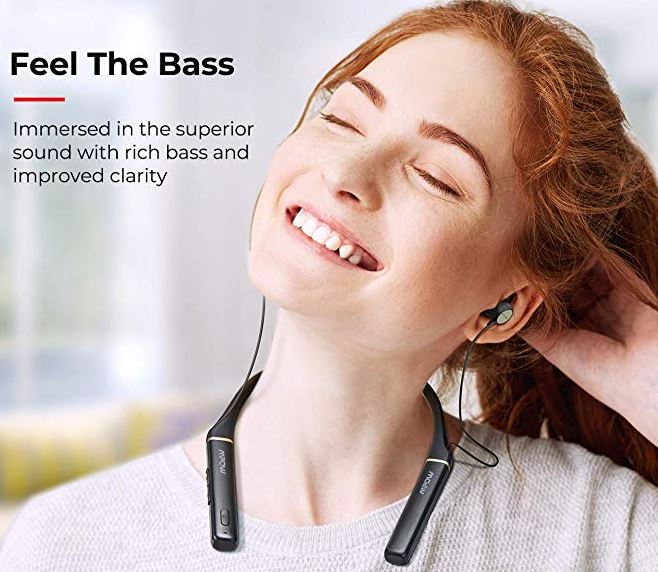 One thing both of these sets of earbuds have in common is that the battery life is relatively limited. This is because there's no charging case, and it's more or less universal for neck band earbuds. If you need more battery life, the Mpow T3 earbuds are a solid choice. That said, they don't offer the same sound richness as either of today's options.
Final Verdict
So, how do these two sets of earbuds compare with each-other? Let's start with the overall physical design. In this category, the Mpow Jaws is the clear winner. The design is incredibly innovative, making it easy to keep your earbuds out of the way. The controls are easy to operate, and the sound quality is pretty good. That said, there's no active noise cancelling, and the fit might not be comfortable for people with sensitive ears.
On the other hand, the Mpow Focus' more traditional design offers a fairly familiar package. But the sound quality is outstanding, thanks to the powerful 10mm drivers. The active noise cancelling also does a good job of blocking out background noise. And the ear wings allow for a more comfortable fit for sensitive ears.
Meet Derek, "TechGuru," a 34-year-old technology enthusiast with a deep passion for tech innovations. With extensive experience, he specializes in gaming hardware and software, and has expertise in gadgets, custom PCs, and audio.
Besides writing about tech and reviewing new products, Derek enjoys traveling, hiking, and photography. Committed to keeping up with the latest industry trends, he aims to guide readers in making informed tech decisions.