If you've ever been caught fumbling for your keys in the cold, you know how frustrating it can be. The same goes if you're coming home after dark and the porch light is off. But to paraphrase Doc Brown, "where we're going, we don't need keys". Nowadays, a biometric or combination lock can completely eliminate all the fumbling. It also allows you to let people into your home on a temporary basis. The days of copying keys for your plumber or plasterer are well behind us. That feature alone can save you several sleepless nights.
We're about to review the Lockly Secure Pro Biometric Smart Lock. This lock combines a biometric lock with a combination lock, with a keyed backup. It also looks pretty sharp. But how well does it work, and what other features does it offer? And where, if anywhere, does it fall short? We'll talk about all of those features and more. Let's start with the design and installation, and move forward from there.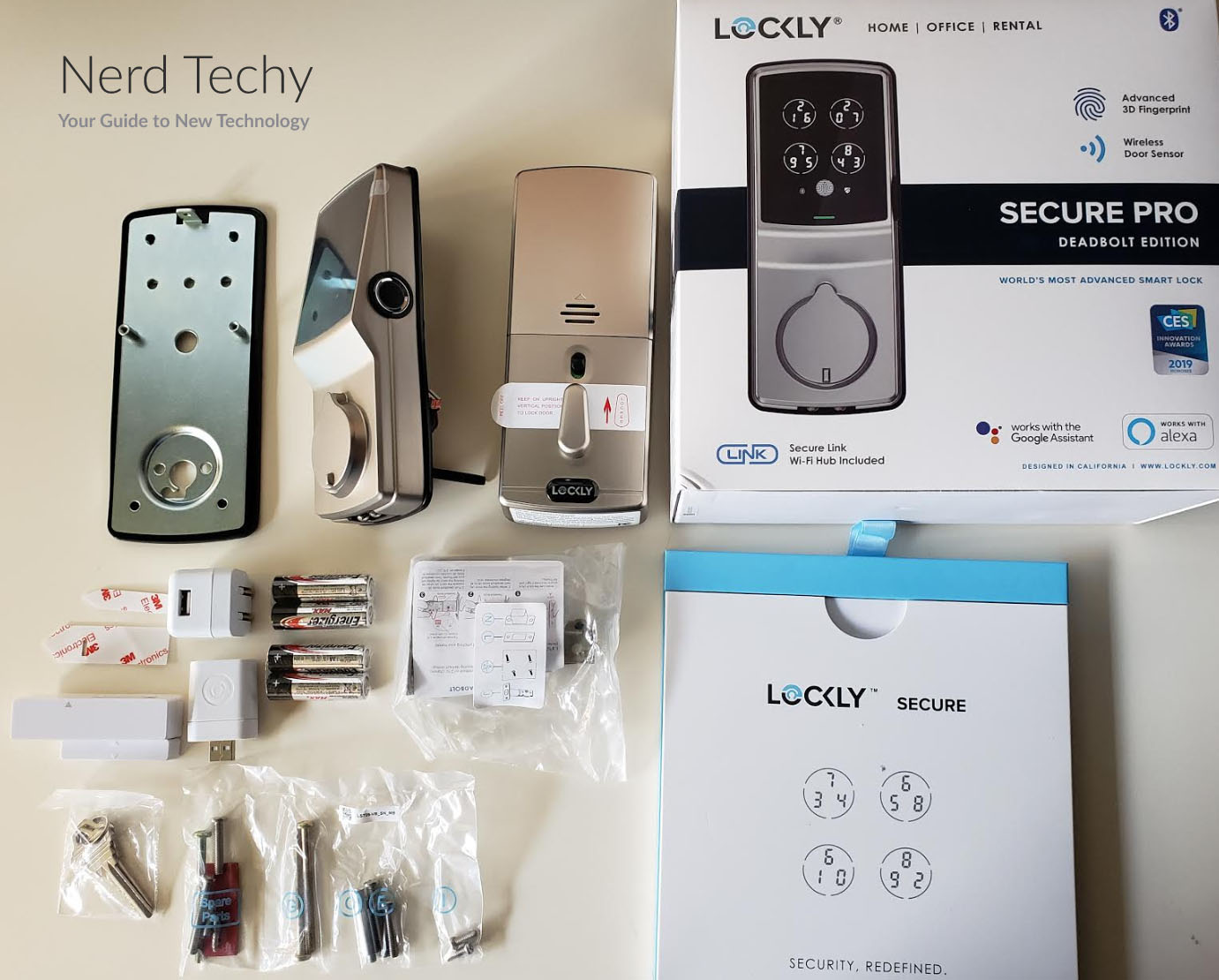 Design & Aesthetics
The Lockly Secure Pro Biometric Smart Lock is designed to replace a standard deadbolt. As a result, it has a standard two-part design that can replace your existing deadbolt in just a few minutes. The outer portion is 7 inches high, 4.4 inches wide, and 1.9 inches thick. The inner portion is slightly taller, at 7.4 inches high, but has the same width and depth. The inner components are designed to fit the three standard door thicknesses: 1 3/8-inch, 1 ¾-inch, and 2-inch. It also weighs in at 5 pounds. This is somewhat substantial, but it's still light enough to mount on any sturdy exterior door.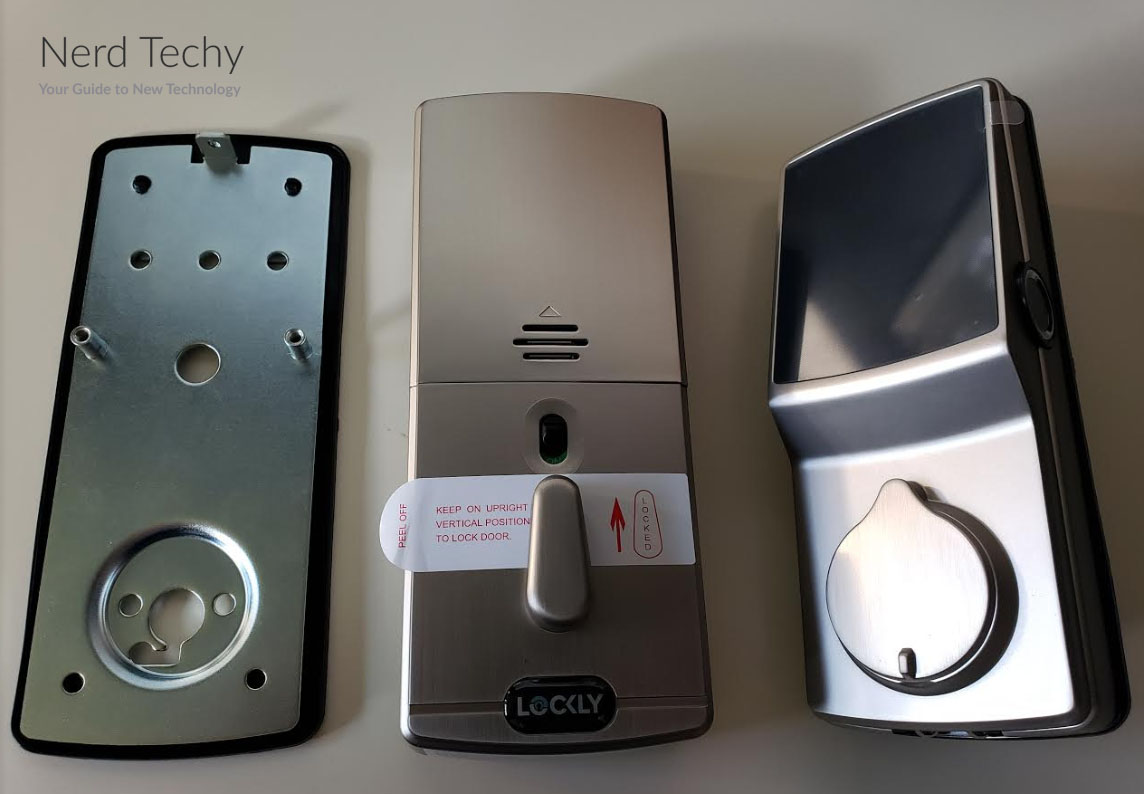 The overall design is attractive to look at. There are 4 different finishes available: matte black, glossy black, venetian bronze, and satin nickel. The inner portion has a standard deadbolt toggle at the bottom. Above the toggle is a green LED to let you know the lock is working. On top of the light is a small biometric reader for unlocking with your fingerprint. Other than that, you're looking at a bare metal plate, which can be removed to change the batteries.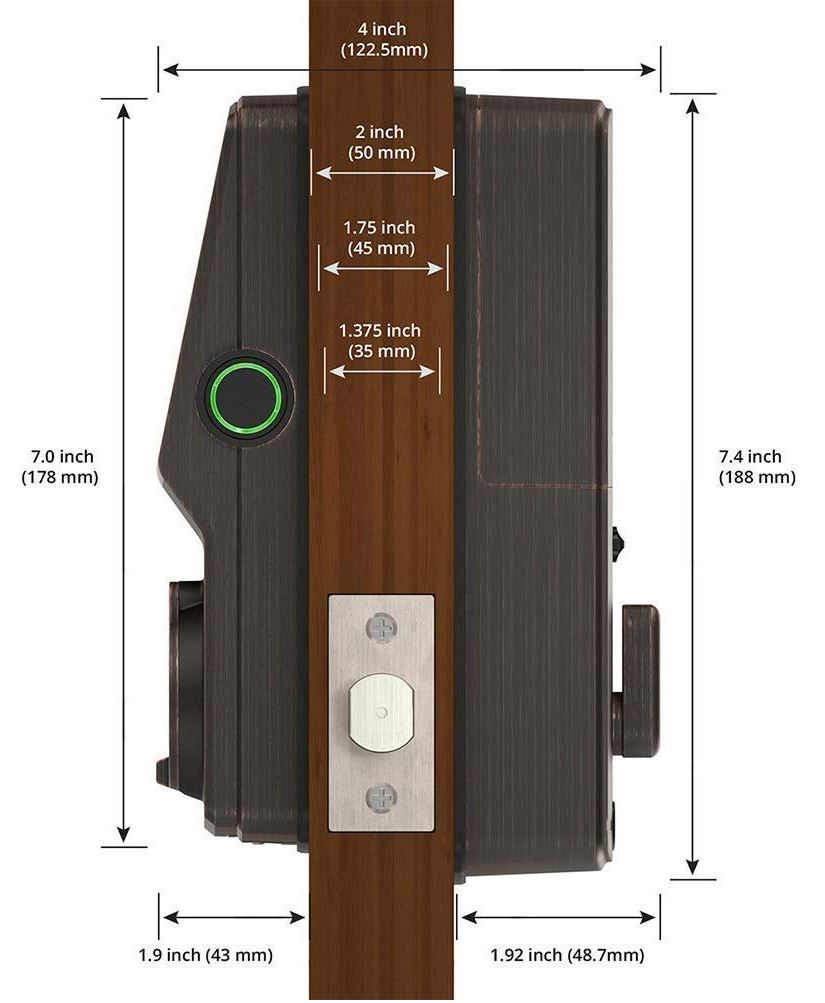 The outer portion of the lock has a 2-part design. The bottom portion features your backup keyed lock, with a hinged cover that keeps out rain and ice. The upper portion features a soft-touch pad with the combination and biometric readers. The biometric reader has WiFi and Bluetooth lights next to it to indicate an active connection. Inside the pad is an LED that indicates when the lock is powered. The keypad itself has a unique design, with three digits each inside a series of four circular buttons. Yes, this means that two of the digits are repeated twice. There's a reason for this unusual arrangement, which we'll get into the next section.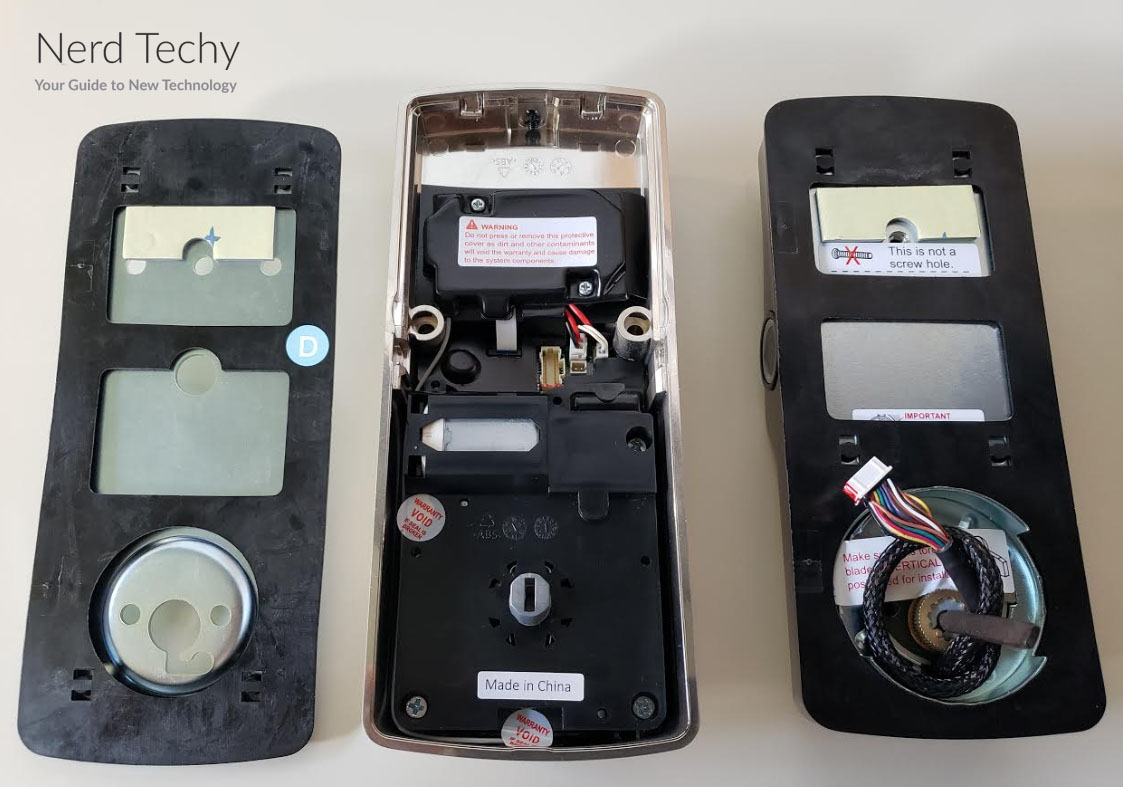 Installation should be very easy for most people. We already mentioned that Lockly will fit most door thicknesses. It will also fit both left and right-handed doors. For most doors, installation will only require a screwdriver and 15 minutes of your time. However, Lockly requires a 2 1/8-inch bore hole. This is standard. However, for older doors with smaller bore holes, you'll need to use a hole saw to widen out the hole. Like we said, this won't be an issue for most people. But it's something you should be aware of if you have an older, antique door.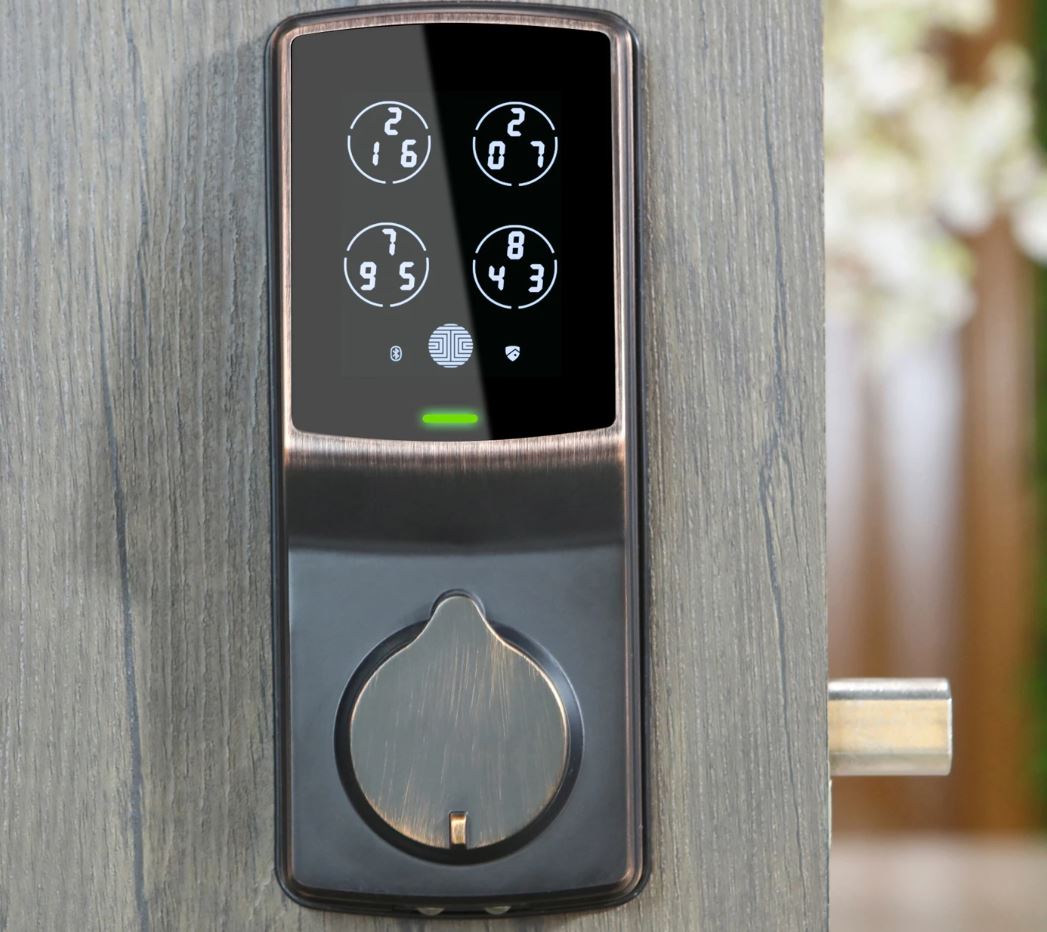 In addition to the lock itself, Lockly comes with a small WiFi hub. This is required to connect the lock to the internet. It's a small, white unit that plugs right into your wall outlet. You'll need to plug it into the top outlet, because there's a protrusion on top to boost the signal. This protrusion will block the top outlet if you plug the hub into the bottom.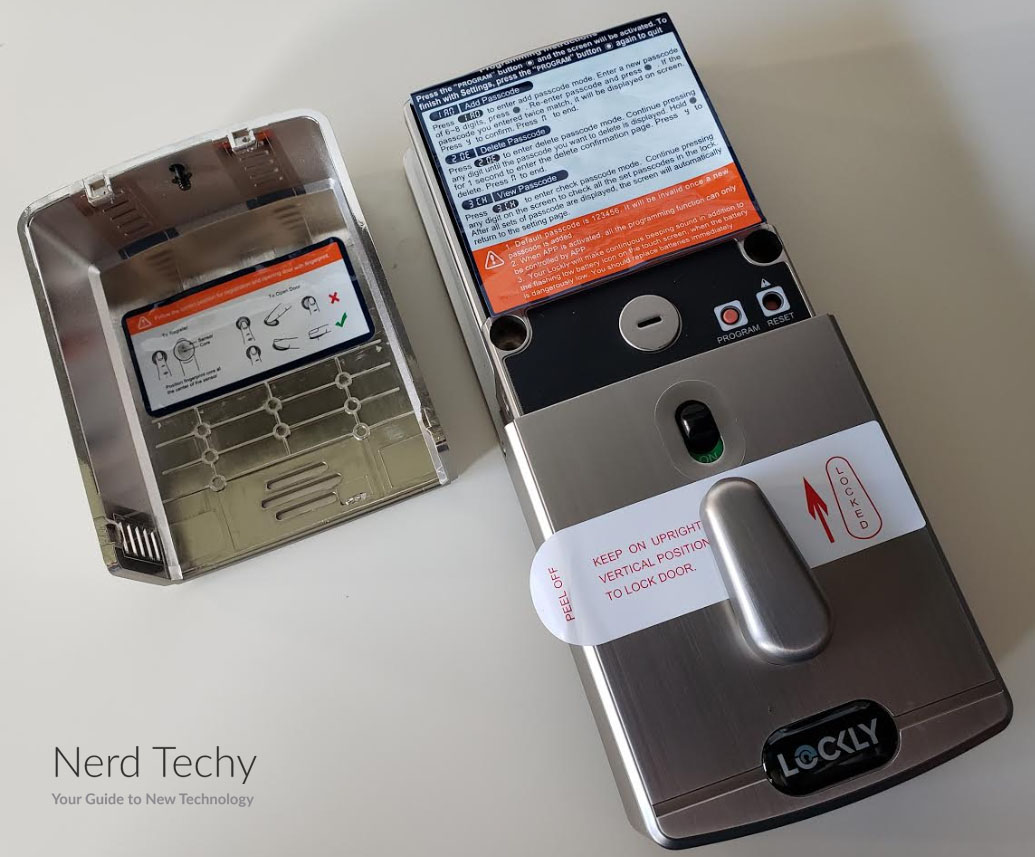 In fact, the design of the hub is our only real complaint about Lockly. It needs to be positioned no further than 10 feet from the lock. Assuming you have a power outlet in your foyer or coat room, this shouldn't be a major issue. However, it also has to be within 30 feet of your router. If you live in even a mid-sized house, your router is probably upstairs, or a couple of rooms away. In this case, you're going to need a WiFi range extender.
If you like the idea of a biometric lock, but don't need one for your front door, consider a biometric padlock. We've reviewed several options in the past. You can use them to secure your locker, fence, or bicycle with the same protection as your front door.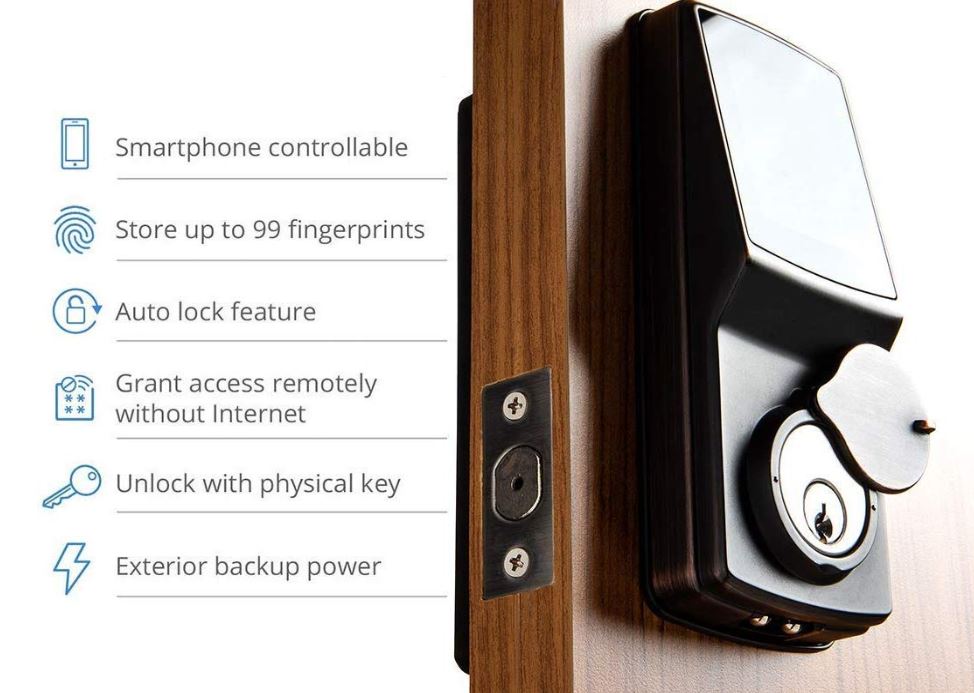 Lock Performance
Lockly lock uses a 3D fingerprint sensor that's based on capacitive technology. They make a big deal in their marketing material about how much more secure this is than an optical sensor. Here's the deal. An optical sensor is not likely to let an unauthorized person into your home. However, it's more likely to deliver a false negative, denying you entry and temporarily locking you out. So this is less of a security issue than it is a convenience issue. Still, it's a nice extra touch.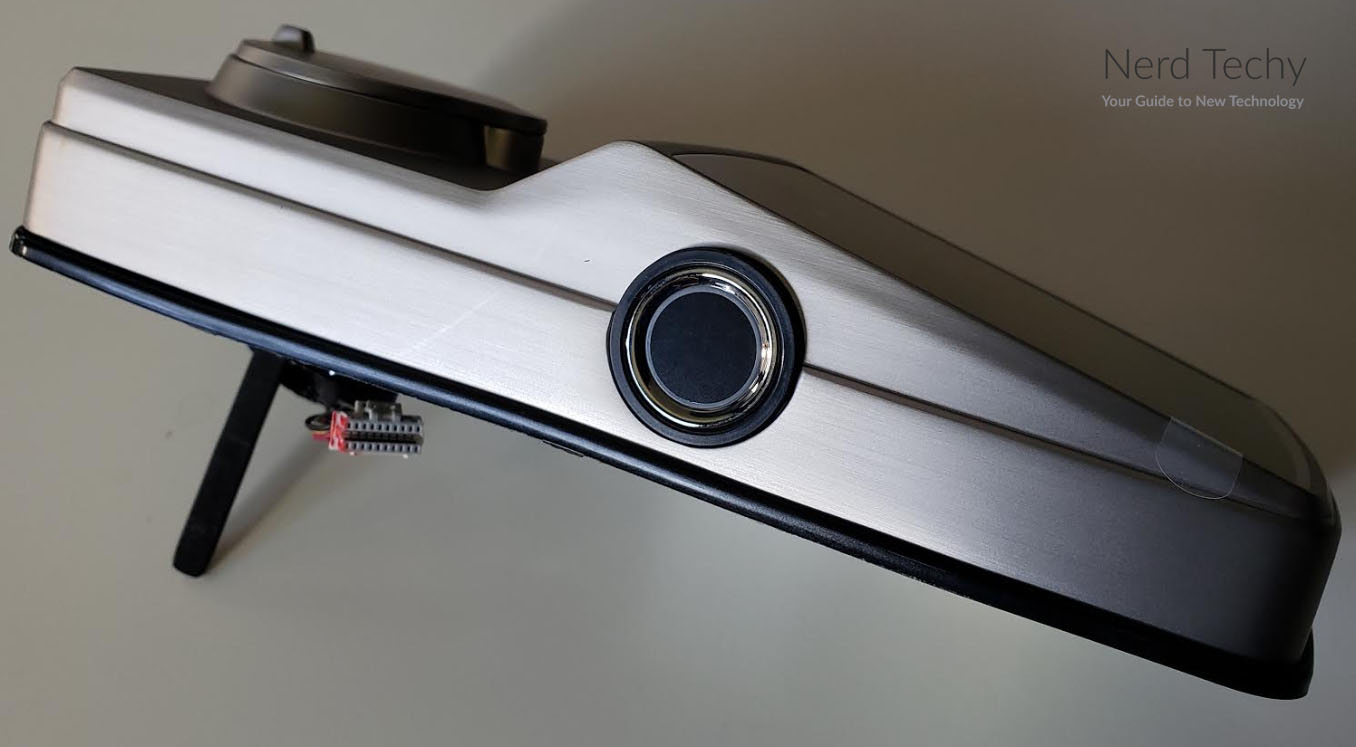 Lockly can store up to 99 unique fingerprints. In theory, this allows you to grant access to 99 individual people, which is a good feature for businesses. For your home, it means you can store all 10 fingerprints for 9 people, with 9 fingers left over. This is more than you're likely to need, but it's a great added convenience. Program all 10 fingers, and you won't have to worry about getting access when your hands are full.
In addition to the fingerprint reader, you can use the combination lock. The lock has a unique design called "PIN Genie". Essentially, the digits are grouped into four buttons, but they're placed randomly. This does make it a bit of a pain to use, since you can't just operate it by touch. You actually have to look at the numbers. However, it's designed for security, not convenience. The theory is that no-one can figure out your combination just by watching you, since the buttons change every time.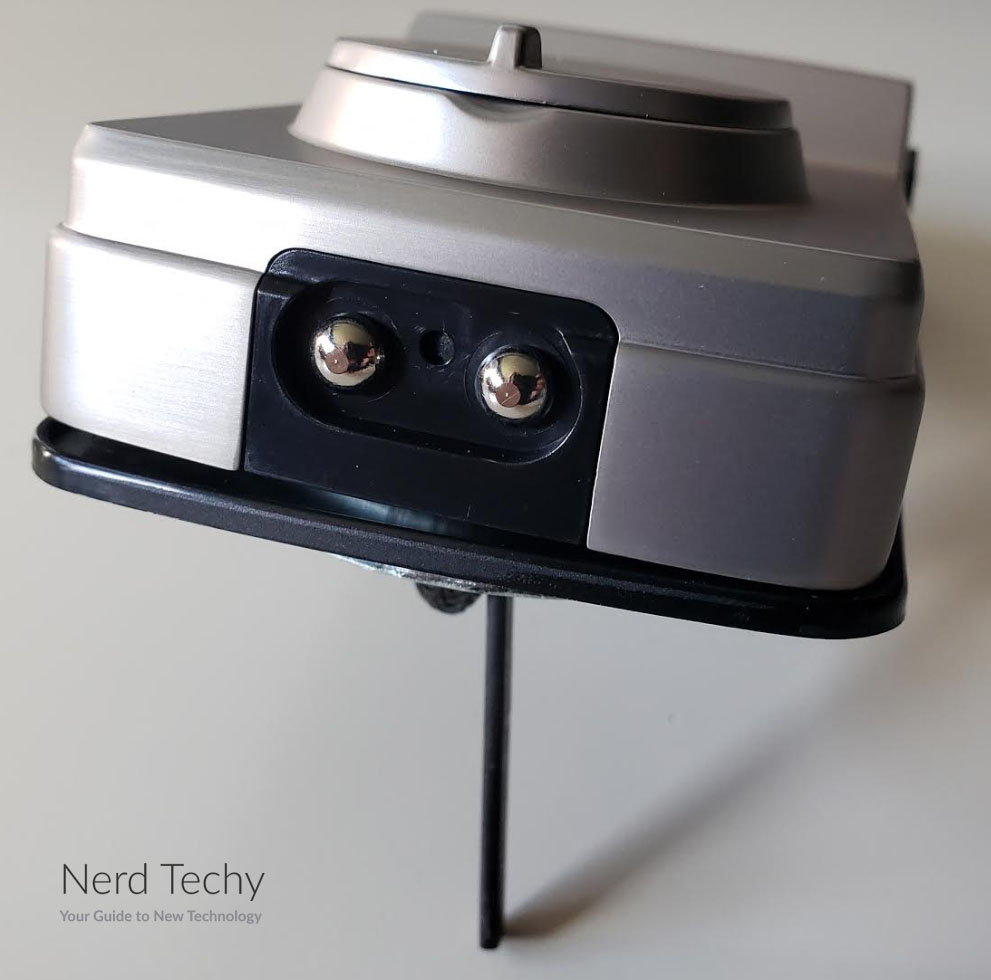 In addition, Lockly includes a pair of physical backup keys just in case of a failure. This isn't just a theoretical phenomenon; it's a very real possibility. Lockly is powered by 4 AA batteries, and they will eventually run out. Now, the LED lights on both sides of the lock will start blinking to let you know they're getting low. But if you happen to miss out on that cue, it's nice to know you won't get locked out of your home. Speaking of getting locked out, Lockly will automatically lock after a few minutes if you forgot to lock it. Since this only happens when the batteries are working, it won't leave you out in the cold. But it's a nice feature if you tend to forget to lock your door.
Connectivity
We've talked a lot about installation and security, but what about connectivity? After all, that's what that little WiFi hub is for. What does it actually do?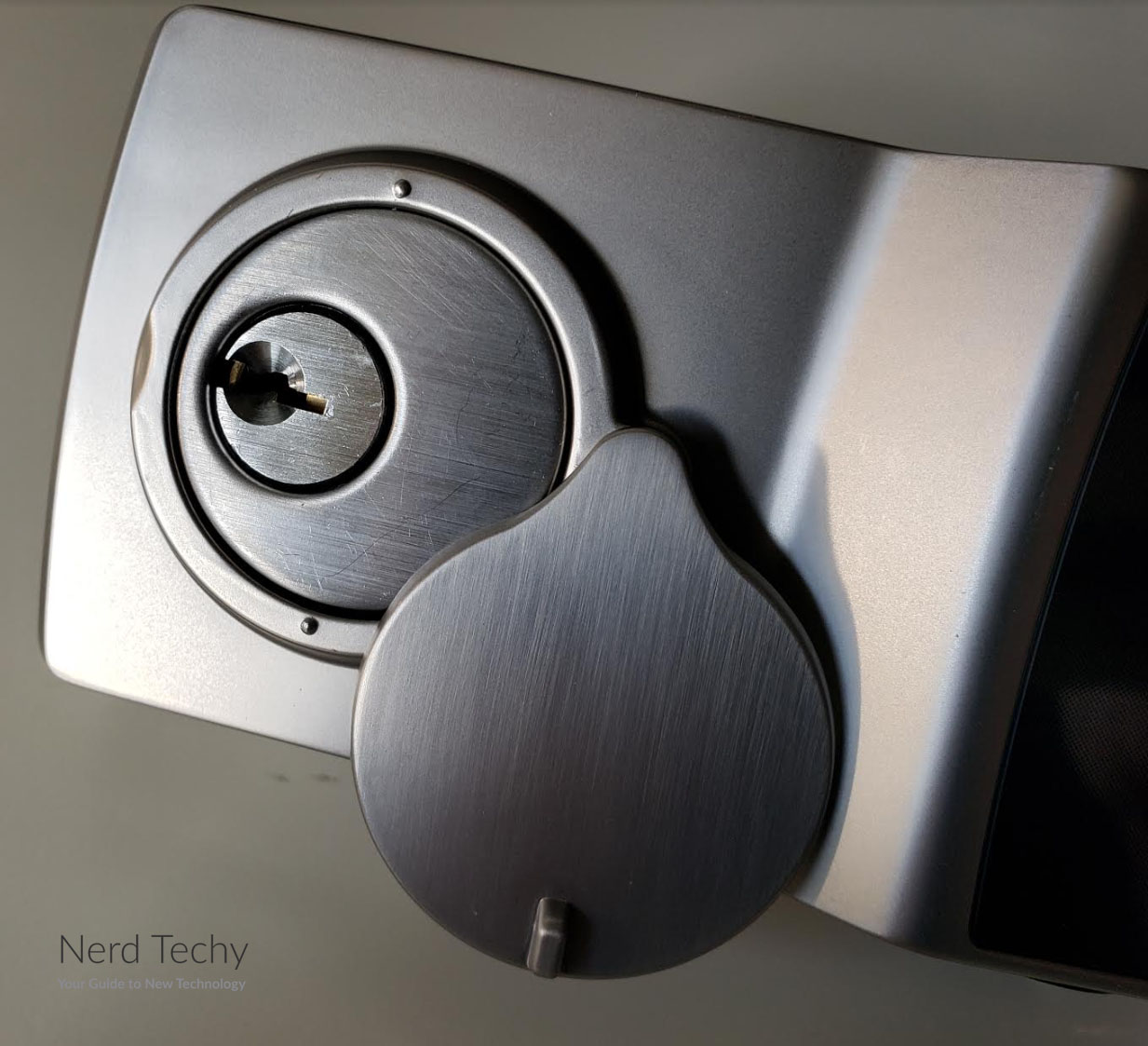 To begin with, you can lock and unlock your door remotely. Lockly offers a free iOS and Android app that you can use to control your door from anywhere in the world. As long as you have a WiFi or internet connection, you can let people in or out with ease. You can also operate the lock via Bluetooth, which sounds nice in theory. In practice, you have to be within 60 feet for this feature to work. At most, you can unlock your door from your car before you get out and start unloading groceries.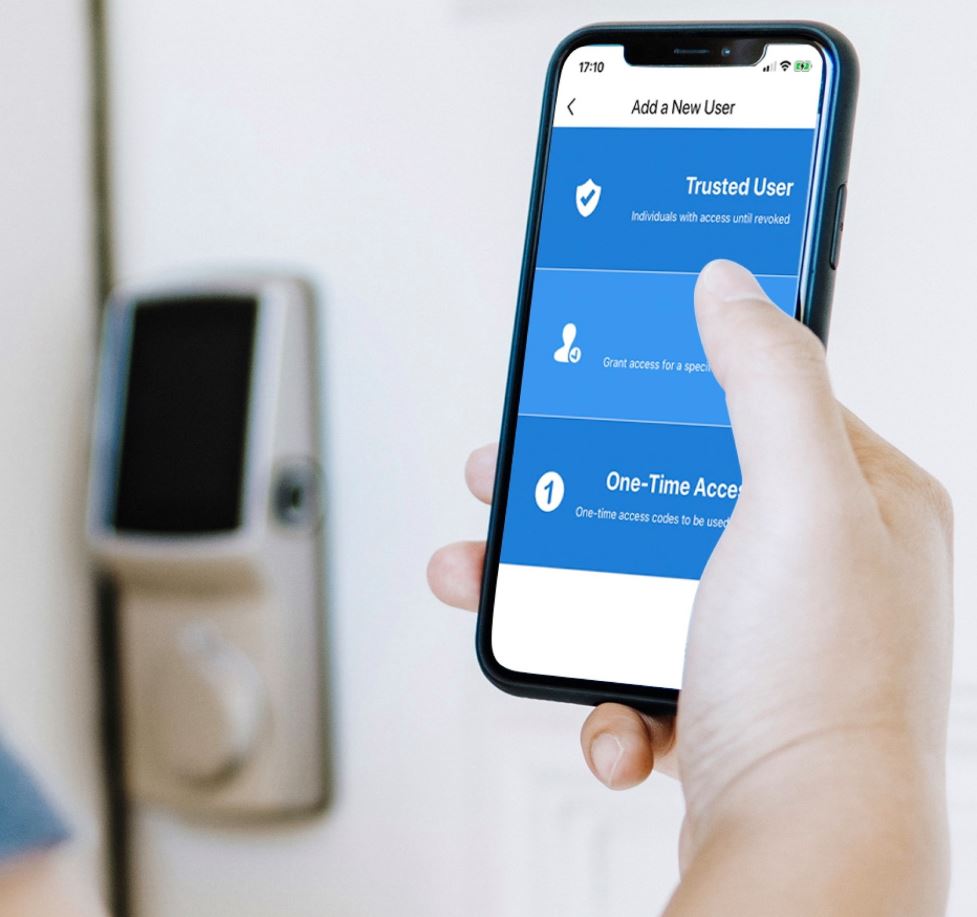 In addition, you can also control your Lockly lock via Alexa or Google Assistant. Suppose you're folding laundry upstairs and your friend comes knocking. Just tell your voice assistant to open the door, and you'll be good to go. You can also check your door's status by asking if your front door is locked. In theory, this shouldn't be necessary, since Lockly locks automatically. But it's still a cool feature to have.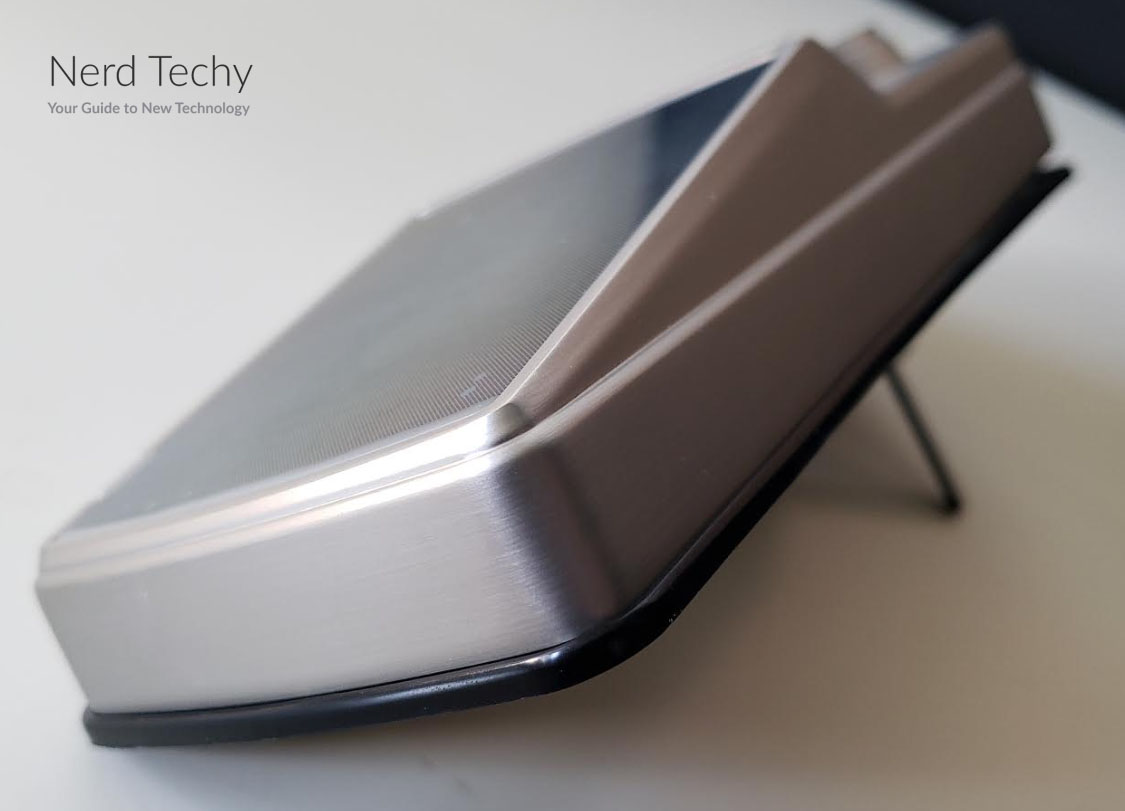 For one-time visitors like contractors, you can issue a one-time access code. Generate the code in your Lockly app, and it will send your contractor a text with the combination. They can make a delivery or give you an estimate, and you don't have to remember to clear the code. Alternatively, you can simply limit the code to a specific duration. For example, if your painter will be spending a week repainting several rooms, create a one-week code. This is a great added value that you won't find on most other smart locks.
Lockly also tracks your access history, and the history is viewable from your app. If you want to keep tabs on your family coming and going, just look in the app. Similarly, if you have a contractor, you can see when they're actually arriving to work, and also when they leave.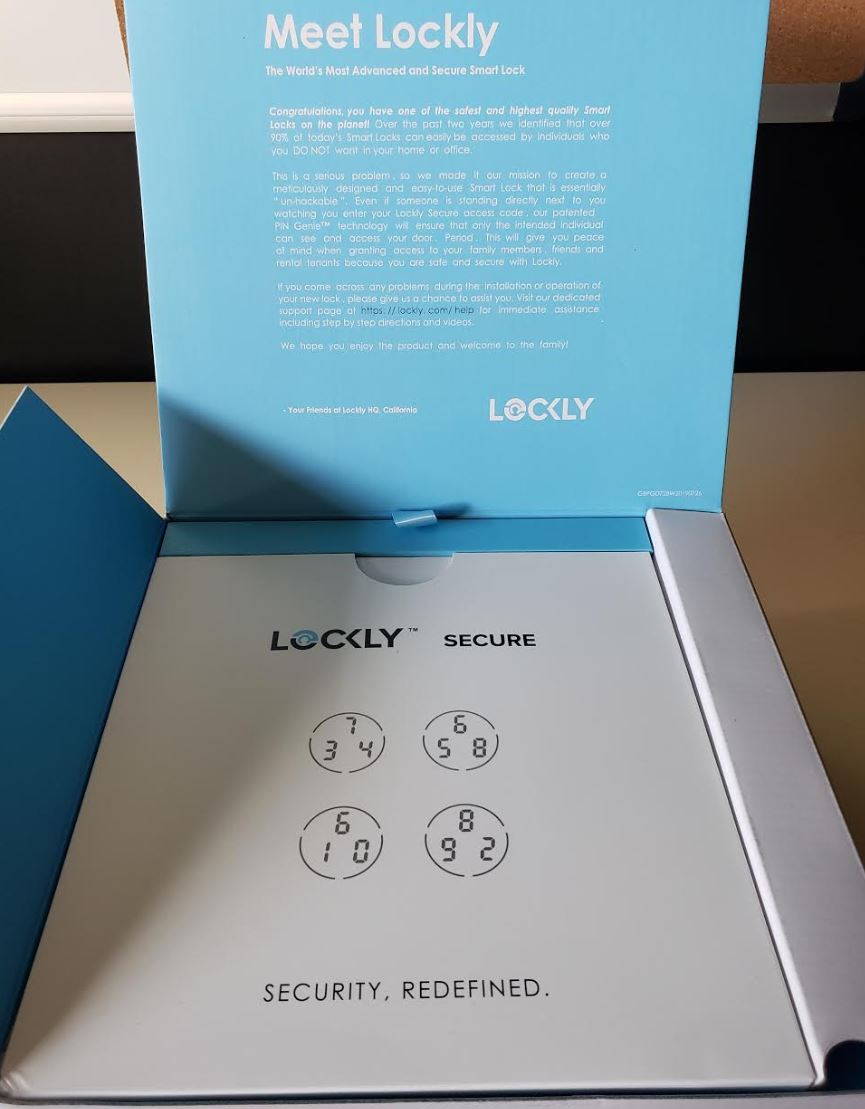 Final Verdict
At the end of the day, we can heartily recommend the Lockly Secure Pro for almost any home. To begin with, it has an attractive design, with several different finishes. There are also four different ways to open it – five, if you count the mobile app (physical key, voice assistant, fingerprint, keypad, and app). Installation is easy for the vast majority of people. Our only real complaint was the WiFi hub. It needs to be close to your router, which might be problematic for most people's homes.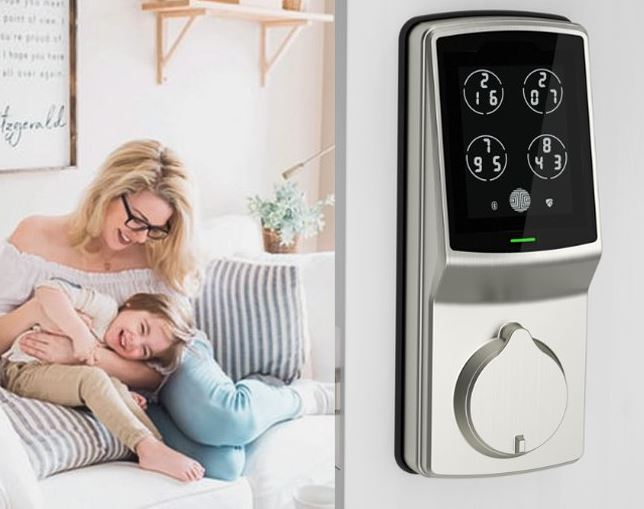 We also appreciated the multiple online options. The ability to unlock your door remotely was a great option for the occasional unexpected visitor. Ditto for the voice assistant support, which is a nice added convenience. In addition, the ability to set codes for a specific duration is very useful for giving people short-term access. The tracking history is also a nice touch. Keep track of when your family or contractor are coming and going. This was a much-appreciated feature.