In a modern home, a good WiFi signal is almost a necessity. Imagine you're on vacation, staying with a friend or family member. Within the first few hours, you're probably going to ask for their WiFi password. If they're visiting you, they'll expect the same courtesy. But WiFi isn't just a useful way to save money on your cell phone's data plan. It's also essential for many streaming and smart home devices. Unless you want to run Ethernet cables through your entire home, that is.
But your average wireless router is only sufficient to cover about 2,000 square feet of floor space. That's adequate for almost any apartment, as well as for many residential homes. But for a larger space, you're going to need to expand your WiFi network's range. There are a few options. You could buy a WiFi mesh router system, but that can involve significant effort. You could set up a mobile hotspot. But that requires an extra phone plan, and creates an entirely different network in part of your home. Alternatively, you could use a simple WiFi range extender. This allows you to expand your existing network quickly and easily, without much added expense.
We're about to take a close look at the Rock Space AC1200 WiFi Range Extender. We'll tell you about the design quality, the range, the compatibility, and all the other features. Let's dig in!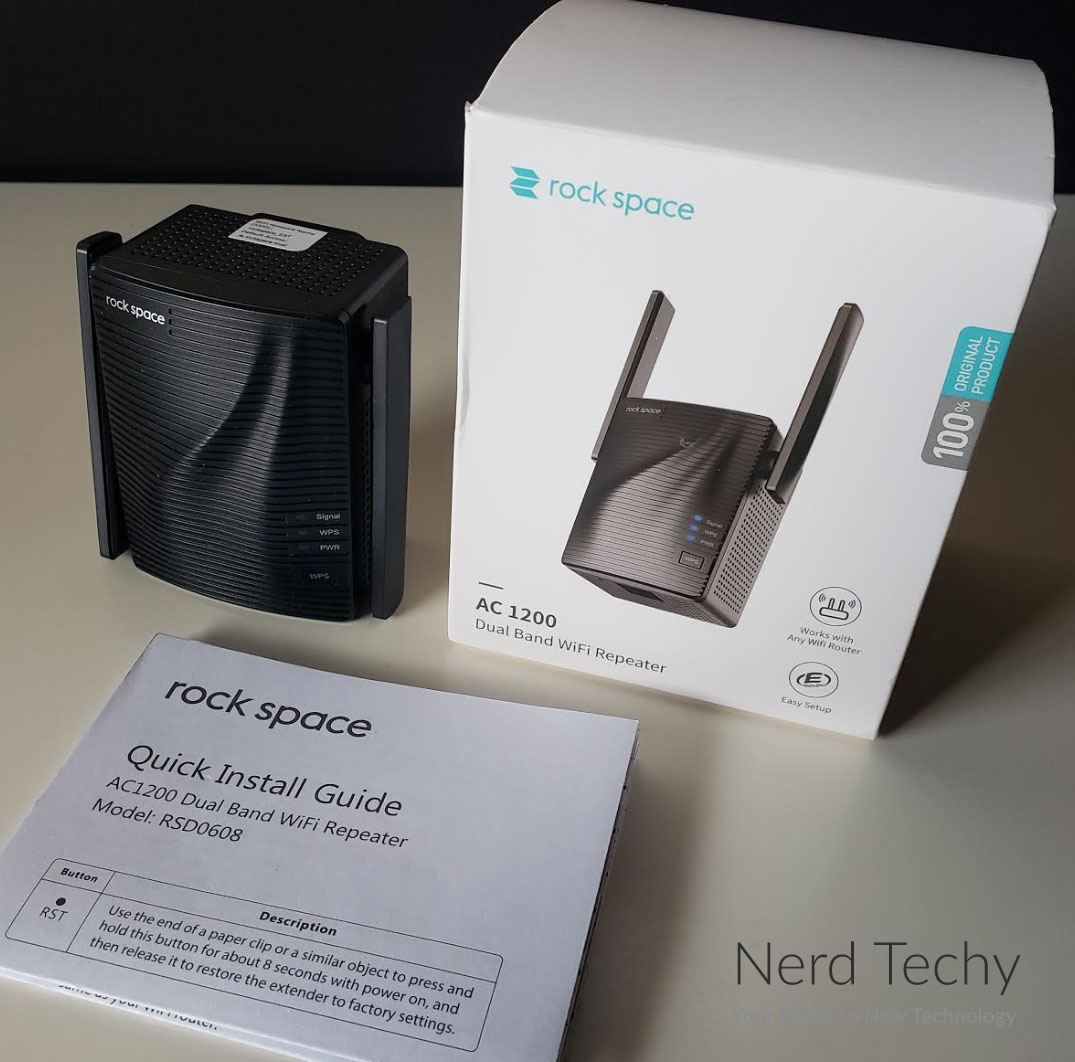 Physical Design
The first thing you'll notice upon opening the box is just how small the AC1200 is. The square base measures only 3 by 3 inches, and it's only 3.1 inches high, not counting the antennas. At 6.1 ounces, it's also fairly lightweight. This means you can basically use it anywhere you want. Set it in a small nook, on the corner of a desk, or unobtrusively on a bookshelf. The options are nearly endless, and you won't have to worry about a big black box taking up space.
The front and back of the AC1200 are covered with horizontal venting slots. The top and sides are also covered with a venting grill, which allows for plenty of airflow. The 360-degree cooling plays into the AC1200's greatest strength: its small size. You won't have to worry about one or two sides being obstructed, because there's so much ventilation.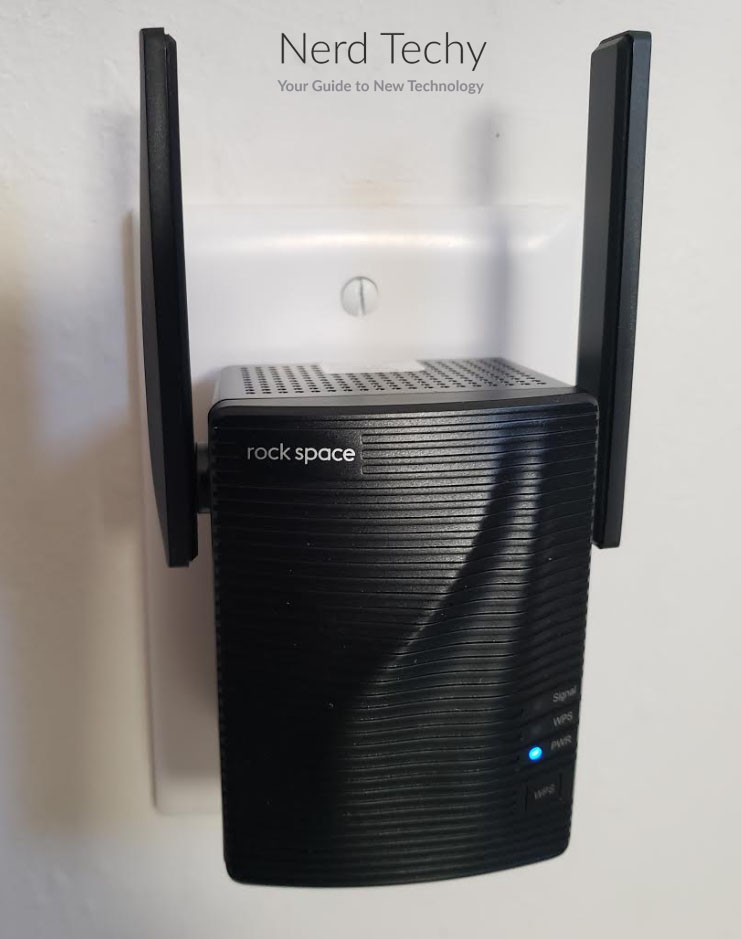 The case itself is constructed from ABS plastic, with an attractive, glossy black finish. On the front, you'll see a Rock Space logo in the upper left corner, and a set of indicator lights in the lower right. The top light indicates that there's an active WiFi connection. The middle button indicates that the WPS encryption is working properly. And the bottom light indicates that the unit is actively powered on. Beneath the lights, there's a rectangular button for activating the WPS pairing.
The back of the AC1200 is relatively Spartan, with only two ports. There's a small input for the AC power adapter, which is included in the package. Keep in mind that while you won't need clearance on all sides, you'll at least need enough clearance on the back for the power adapter. There's also a single Gigabit Ethernet port. We'll talk more about that port later on. On the sides of the AC1200, you'll find a pair of swiveling antennas. These can be pointed in any direction to improve your coverage. If you're having any issues with devices being just out of range, try adjusting these. They're not all-powerful, but they can make a big difference in a borderline situation.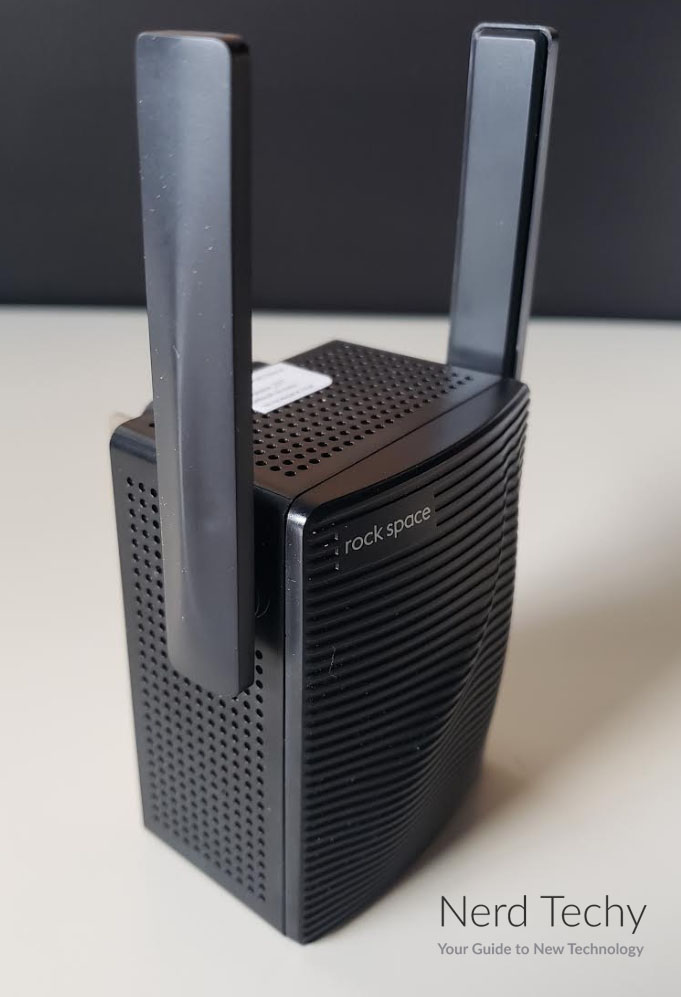 As we mentioned at the beginning, a WiFi range extender might not be the best choice for everybody. It can add some complications. If you're willing to spend some time on installation to avoid trouble later on, consider a WiFi mesh router. The Netgear Nighthawk Mk62 is an excellent choice. It's compact, it's powerful, and it has a large coverage area.
Range and Power
The first thing to keep in mind about WiFi range extenders is that they depend on your existing router. If the Rock Space AC1200 is outside the range of your current WiFi network, it won't have a signal to extend. Many times, this can cause frustration during the setup process.
Rock Space has made the process as painless as possible. The signal indicator light on the front isn't just a single, solid color. Instead, it changes color to indicate the strength of the connection. Blue indicates a good connection, while red indicates that the connection is poor – black indicates no signal at all. If the light is red, the AC1200 will still work. However, the signal will be slow, and you might struggle with high-bandwidth applications like video streaming. If at all possible, position it so that the light is blue. You'll get a much better connection. Remember, if you're on the borderline, adjusting the antennas can put you over the top.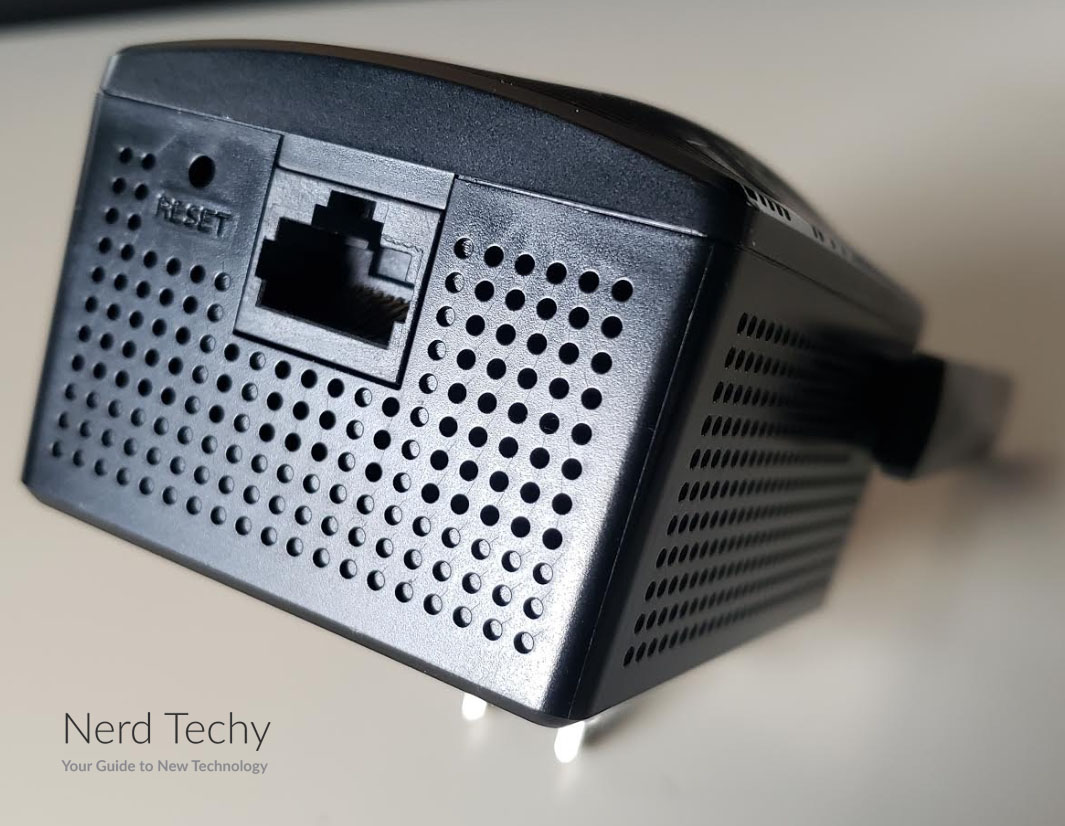 Rock Space advertises that setup takes only 8 seconds. This is one of those silly marketing claims that's technically true, but only technically. The "8 seconds" refers to how long it takes to pair with your router using the WPS link. To do this, you'll need to simultaneously press the WPS button on the AC1200 and your router. Since these devices are probably going to be in different rooms, you'll need help to do this. Ask a friend or family member to help out, and you'll be all set. You can also use the web-based configuration app to manually configure your new network. Because it's web-based, it's compatible with all devices, including Android and iOS.
When it comes to coverage, it's rated for 1,292 square feet, in all directions. The dual-band signal provides the best of both worlds to help you get this range. The 5 GHz channel offers faster bandwidth, but can be obstructed by solid objects. It will penetrate drywall walls just fine, but brick, stone, and other heavy construction will block it. But in these cases, the 2.4 GHz channel offers another option. It's a bit slower than the 5 GHz channel, but easily penetrates solid objects.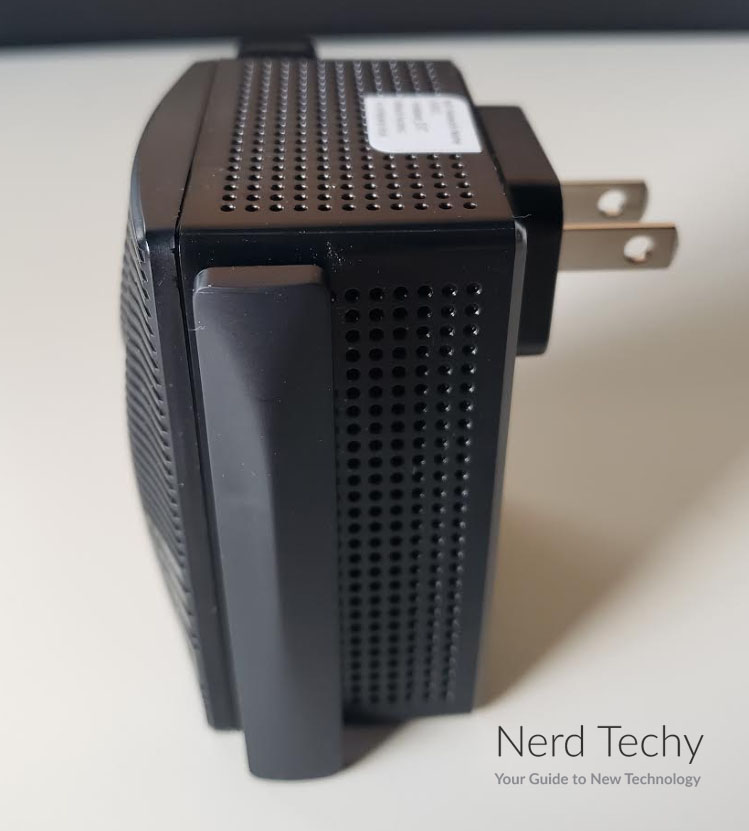 What's better than a dual-band extender? A tri-band extender. If you're willing to invest in a pricier, larger unit, read our review of the Netgear Nighthawk X6S. It has two 5 GHz bands, potentially doubling your maximum bandwidth.
Bandwidth and Connectivity
The exact bandwidth you'll get from the AC1200 will depend on the quality of your connection. The 2.4 GHz band is relatively slow, at only 300 Mbps. This is enough for basic streaming, albeit not full HD video. If you've got a reasonably unobstructed signal, you should be able to connect to the 5 GHz band as well. This band provides an additional 867 Mbps of bandwidth. If you've connected over both bands, you'll get a total of 1,167 Mbps, or slightly faster than gigabit speeds.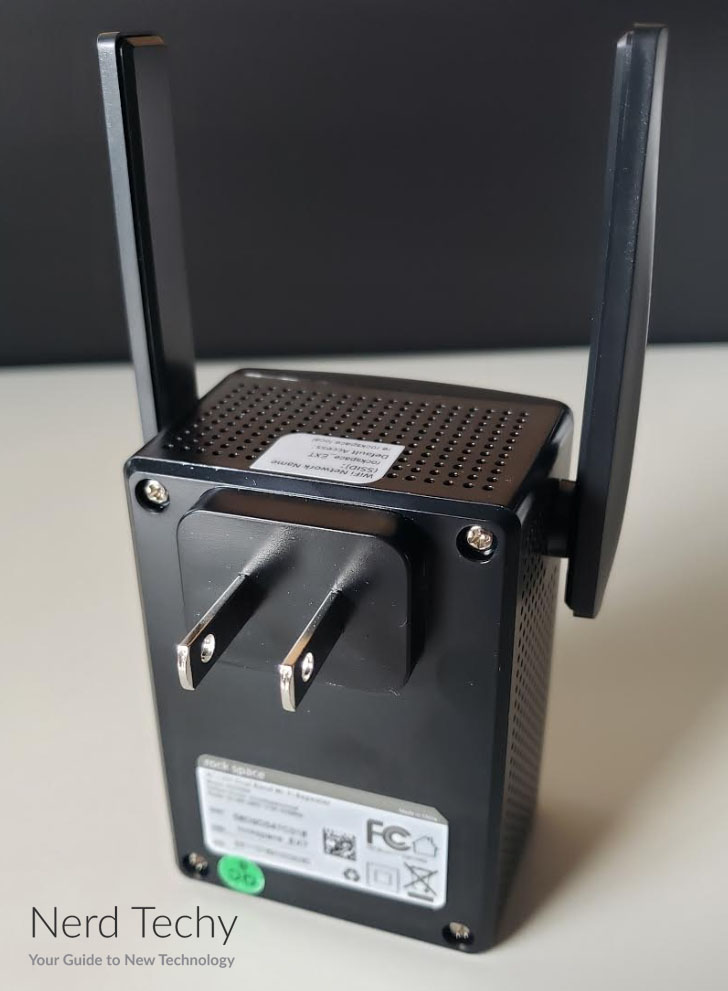 Speaking of gigabit, you do have one more dependable option. Remember the gigabit Ethernet port we talked about earlier? You can use it for connecting a single device of your choice. In most cases, there shouldn't be a need for this. After all, a major advantage of extending your WiFi network is that you don't need to rely on a wired connection. But for a handful of older devices, Ethernet is the only option. If that's what you need, the gigabit Ethernet port will serve you well.
When it comes to protocols, the AC1200 is compatible with 802.11a, b, g, and n protocols. It does not support the newer 802.11ac or WiFi 6 protocols. That said, the older protocols are more than fast enough to support the AC1200's speeds. They're also compatible with almost every router, game system, and smart home device on the market. It's going to be a long time before manufacturers stop supporting 802.11g or n. So you'll be well set up for many years of use.
All of that being said, you'll need a more powerful device if you intend on streaming 4K video. For the absolute latest and greatest, take a look at the Asus ZenWiFi AC (CT8). It's a WiFi mesh router that supports speeds of up to 3 GHz.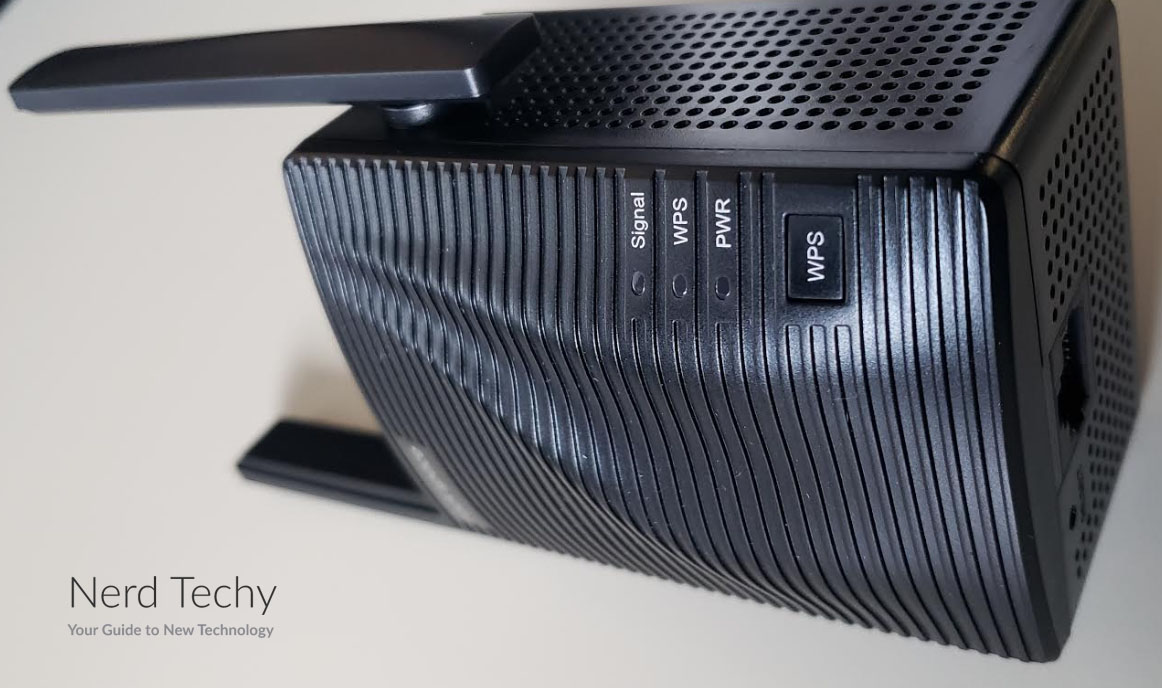 Final Verdict
The Rock Space AC1200 is a unique piece of work. To be sure, there are plenty of WiFi range extenders on the market. But few of them are as compact, or as versatile, as this one. It's small enough to fit virtually anywhere, so it won't obstruct your desk or shelf. It has a reasonably large range, although to be fair it's a bit underwhelming compared to other range extenders. And it's fast enough to stream all of your favorite shows. All in all, we call that a win.
Meet Derek, "TechGuru," a 34-year-old technology enthusiast with a deep passion for tech innovations. With extensive experience, he specializes in gaming hardware and software, and has expertise in gadgets, custom PCs, and audio.
Besides writing about tech and reviewing new products, Derek enjoys traveling, hiking, and photography. Committed to keeping up with the latest industry trends, he aims to guide readers in making informed tech decisions.