The world of podcasting and online streaming have evolved a lot over the past 15 years or so. Back in the mid-2000's, podcasting was a brand new thing. Some of the top shows were made by college kids in their basement with secondhand equipment. The same was true for video streaming sites like YouTube. Back then, you only needed a cheap SD camera with an external microphone. But times have changed, and if you want to be competitive, you need to put out top-quality content. At bare minimum, this means using a high-quality microphone to get the best possible audio quality.
This is relatively easy to do for a one-person, stationary setup. There are any number of USB mics that can get the job done. And if you really want to step things up, you can use a condenser microphone with a USB audio interface. But what if you're making video content, and don't want a giant mic blocking half of your face? Or what if you want a more portable system for making shows on the road? In those cases, you'll want something more understated, like a wireless lavalier mic. You can wear a lavalier on your lapel, and talk freely without it getting in the way. And with a wireless system, you can even move around while you're talking.
We're about to review the Maono WM820-A2 Dual Wireless Microphone System. This is an upgraded version of Maono's older, original WM820 dual-mic system. It's designed as a modular mic system, with a single receiver and two wearable transmitters. The transmitters have their own built-in mics, or you can use the lavalier attachments. And with a range of over 160 feet, you'll have plenty of freedom to move about. But those are just a few of the things we'll need to consider before we render our verdict. To truly understand this microphone system, we'll need to look under the hood and see how it performs. We'll need to discuss the audio quality, the mic setup, and how you connect it to your computer. Only then will we truly have an understanding of what we're dealing with. Let's get started!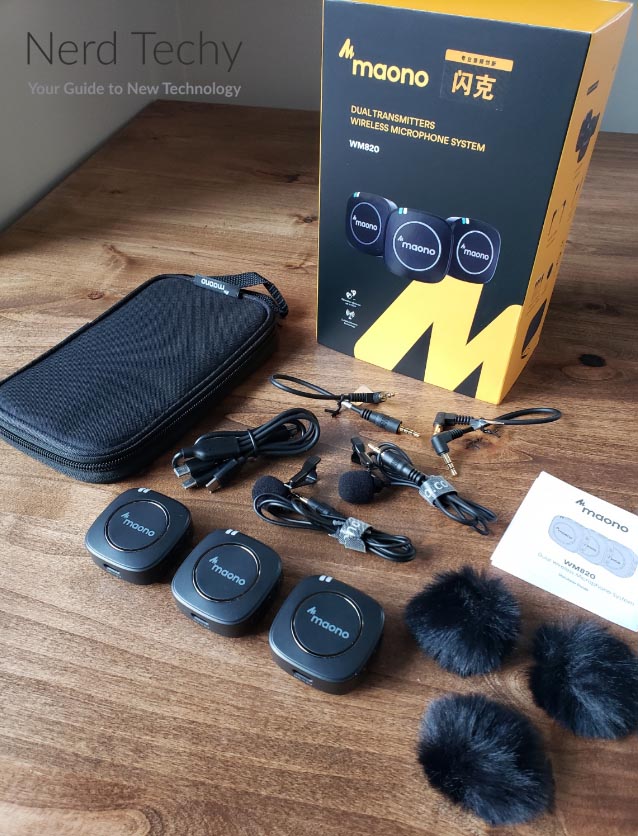 Overall Design
The Maono WM80-A2 Dual Wireless Microphone System has many components. The three primary components, however, are the two transmitters and the one receiver. All three look very similar at first glance, with a square black housing that's about the size of an AirPod case. They have clips on the backs, which allows you to attach them easily to your clothing. These are simple spring-loaded clastic clips, but they get the job done. And since the units weigh only one ounce apiece, they're light enough that they won't drag your clothes down. This makes them easy to use, without the need for any attachments or extraneous wires. They're great for solo or two-person podcasts, live streams, and many other recording applications.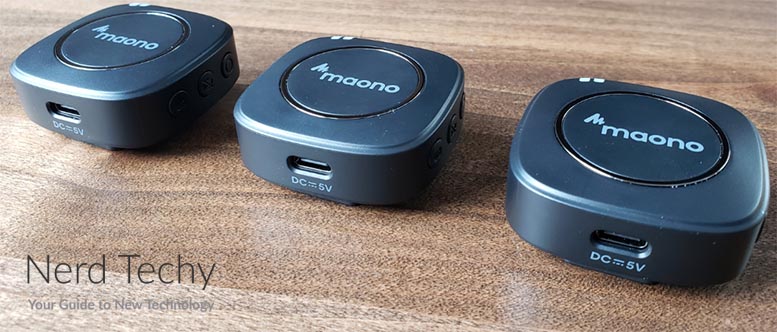 The faceplate of each unit has a grey Maono imprint, inside a white circle. We could have done with less branding on a wearable mic, but that's a relatively minor complaint. Towards the top, there are a pair of LEDs, which indicate their current status. A Blue LED indicates that a receiver is linked with the transmitter. The white LED illuminates when you're charging the batteries.
The first difference you'll notice between the transmitters and the receiver is the top of the housing. On the transmitters, there's a built-in microphone, with a 3.5mm aux port next to it. This aux port is labeled with a microphone icon, indicating that it's an audio in port. On the receiver, there are two 3.5mm aux ports, and no microphone. The port on the right has a headphone icon, indicating that it's an audio out port. The left port is unlabeled, but it also functions as an audio out port.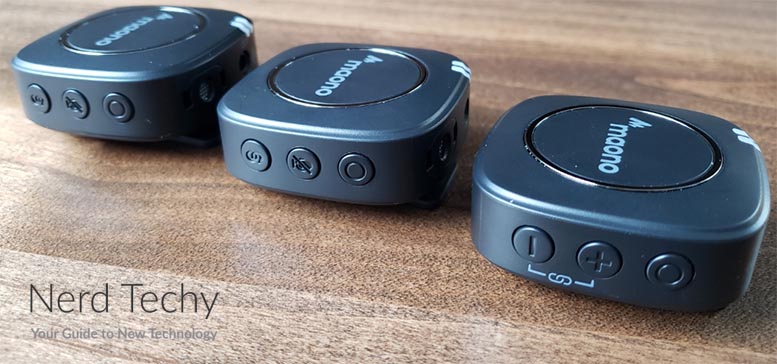 On the left side of the receiver and transmitters, you'll find a row of three round buttons. These are made of the same hard plastic as the housing, and have a nice tactile feel. Once again, though, there's a difference between the receiver and the transmitters. On all three, the button at the top is a power button. On the transmitters, the middle button is a mute button, and the bottom button is for pairing. As far as the receiver goes, the middle and bottom buttons are for volume up and down respectively. When you press them both simultaneously, it activates the pairing function.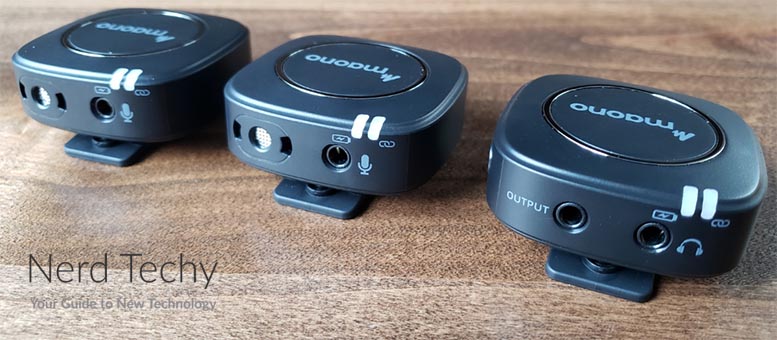 All three mic components have a USB Type-C port in the bottom for charging the battery. The charger is a three-way splitter, with a single USB Type-A plug on one end and three Type-C pigtails. You plug the USB Type-A plug into a USB power supply or charger. Then, you connect the receiver and transmitters to the Type-C tips. This way, you can charge the entire mic system simultaneously. When the batteries are completely drained, it takes about two hours to give them a full charge. Once they're at 100 percent, you can expect them to last for around six hours of continuous recording.
In addition to the bare devices, you also get some accessories that add to the WM820-A2's versatility. To begin with, you get a pair of clip-on lavalier mics. These deliver the same audio quality of the built-in mics, but they're more discreet. You can keep the transmitter in a pocket and run the microphone up to your lapel. We've actually reviewed a number of the best lavalier mics in the past, including several solid options. But these are also well put-together, and they even include a set of fluffy, wind-proof mic covers. If you do a lot of outdoor recording, you'll find that the covers are almost indispensable. The kit also comes with a pair of coiled 3.5mm aux cables. These are for connecting the receiver to a recording device, or to an external monitor. There's also a small faux leather zipper pouch for carrying everything around.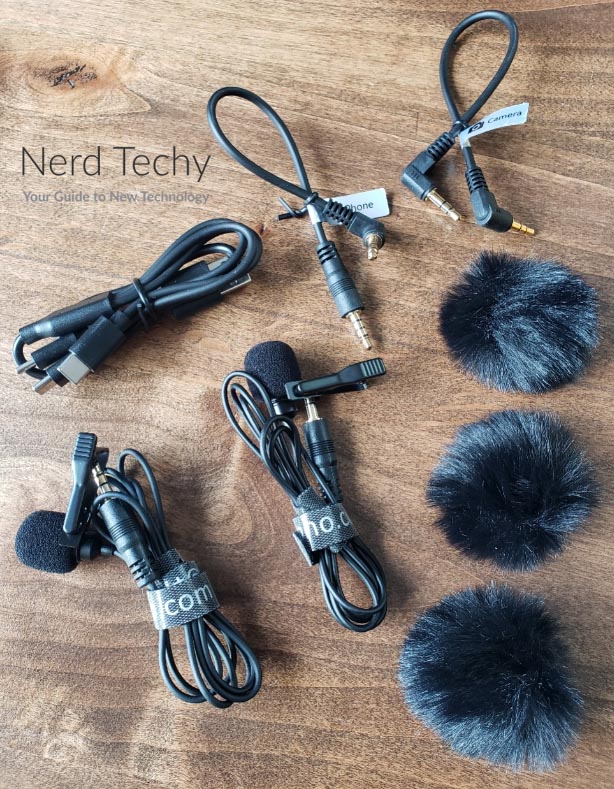 Audio Quality
When push comes to shove, the most important feature of any microphone is the audio quality. A mic can have all kinds of fancy, even useful, features. But if your recordings sound like they were made in the bottom of a barrel, you won't be pleased with the results. Thankfully, that isn't an issue with the WM820-A2.
The audio quality is top-tier, with a signal to noise ratio of 82dB. This means that your voice will be much louder than any incidental background noise that gets picked up. When you go into editing, you'll have a much easier time filtering out any hissing and other ambient noise. Meanwhile, your voice comes through nice and clear. The mics are also omnidirectional. This is a huge benefit, since you don't want to be talking down towards your lapel. You can speak freely and naturally, and move your head around as you normally would. The mics will pick up every word.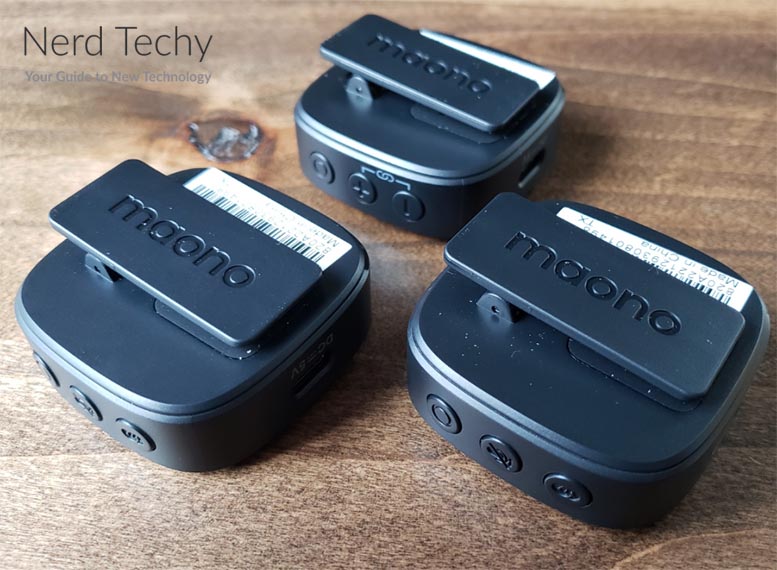 One thing we noticed with the built-in mics is that they can tend to pick up some clothing noise. This isn't always an issue, but it can be problematic if you're wearing "noisy" clothes that rub together. If you're picking up a lot of rustling, don't worry. Just switch to a lavalier mic, and use one of the wind protectors. As effective as they are against wind, they also do a great job of blocking out clothing noise.
Frequency response is good across the spectrum. Whether you tend to speak in a higher or lower register, you'll sound rich and clear. Keep in mind that this is a vocal mic, so performance will be hit-or-miss on musical instruments. But when it's used for the spoken word, it performs very well.
One major upgrade on the A2 is the 22-level gain adjustment. The original WM820 only had a six-level gain adjustment, which wasn't enough for some people. Without the ability to fine tune your gain, the editing process was unnecessarily challenging. On the A2, you won't have to worry about that problem. You can set exactly the gain level you need for your project. Another useful feature is the live monitoring function. You can plug a set of headphones into the receiver's audio jack, and hear your recording live. The gain adjustment also affects the monitor output, so you won't blow your eardrums out.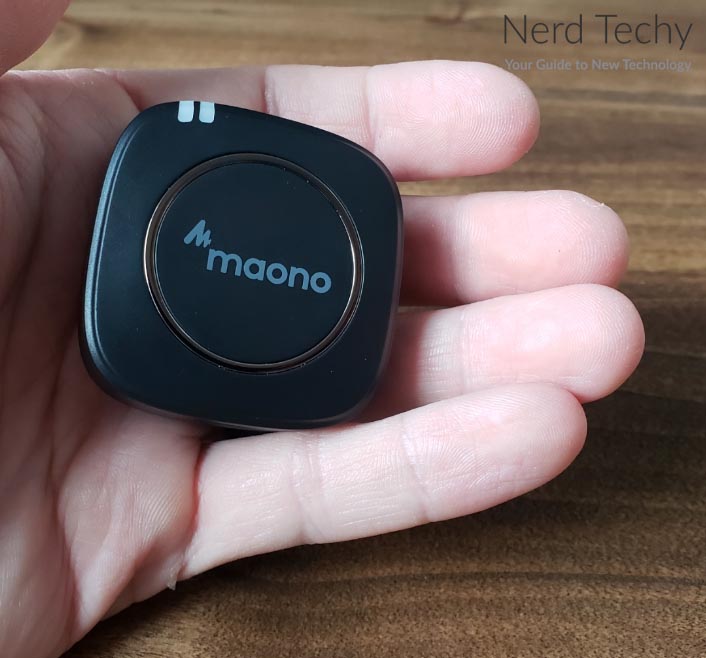 Connectivity and Compatibility
So, how do you set up and use this microphone system? To start with, turn on your receiver, and at least one of the transmitters. Connect any external mics you want to use, and you're ready to pair. To pair, simply press and hold the pairing buttons on the transmitter and receiver simultaneously. Within a couple of seconds, the two will be linked, and you'll be recording. If you want to temporarily stop recording, simply press the mute button on the side of the transmitter. Once connected, you'll maintain a connection out to a distance of 165 feet. This is a 2.4GHz connection, so line of sight is not required. But if there are major obstacles like brick walls, the range will be somewhat shortened.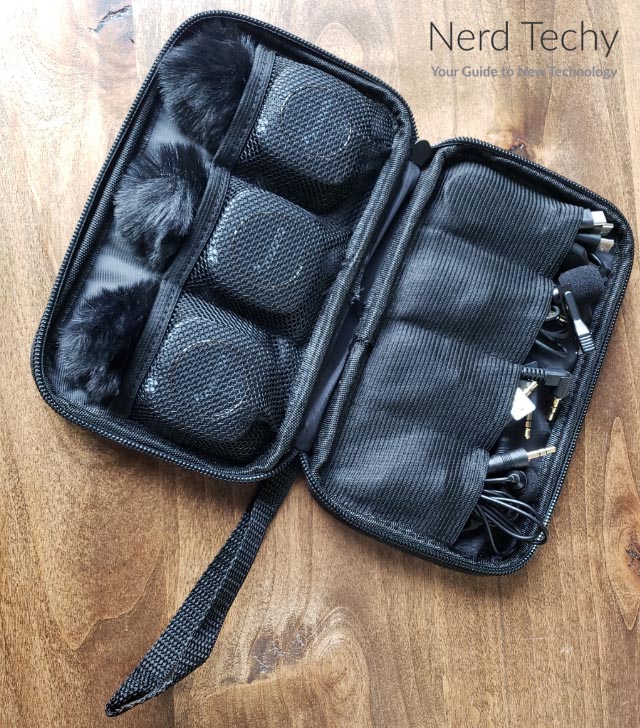 One thing we appreciated about the WM820-A2 is the signal stability. This is impressive on a system that has two different transmitters. Stable, single-transmitter systems like the original WM820 are fairly common. But the A2's upgraded circuitry makes it equally reliable, even with two transmitters connected.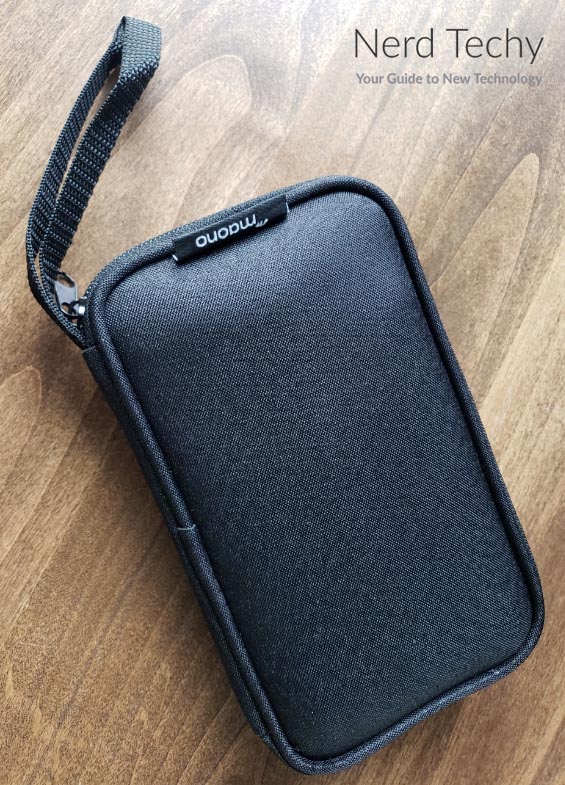 The receiver connects to your recording device via the 3.5mm aux port. It can be plugged into a computer, tablet, laptop, or a compatible smartphone. From there, just use your favorite recording software.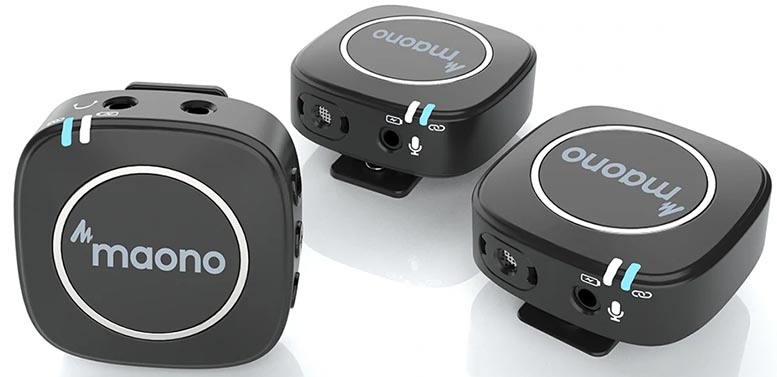 Final Verdict
The Maono WM820-A2 Dual Wireless Microphone System is a robust mic kit. With dual transmitters and high-quality lavalier mics, you can capture high-quality audio in almost any environment. And with a 22-step gain increase, you'll have an easy time with editing after the fact. If you're looking for a wireless microphone for recording YouTube or TikTok videos outdoors, the WM820-A2 is a great choice. All in all, we were quite pleased.
Meet Derek, "TechGuru," a 34-year-old technology enthusiast with a deep passion for tech innovations. With extensive experience, he specializes in gaming hardware and software, and has expertise in gadgets, custom PCs, and audio.
Besides writing about tech and reviewing new products, Derek enjoys traveling, hiking, and photography. Committed to keeping up with the latest industry trends, he aims to guide readers in making informed tech decisions.