Whether you're in television, public speaking, or theater, a lavalier microphone is essential. Also known as a lapel microphone, lavalier microphones are the easiest way to get your voice out to the masses.
These microphones include a clip that attaches to your collar, and a special wide range microphone that can pick up your voice accurately even when you are not speaking directly into it. Unfortunately, picking the right one out can be a little tricky.
Like many things, you get what you pay for with lavalier microphones. High quality units tend to be a little more pricey, and this ratio can increase exponentially the higher you go. If you're just a casual user who needs mild amplification for presentations, you can get away with a more inexpensive option. However, if you're going to be working in a loud or challenging environment, you'll need a high end lavalier microphone for its superior range and noise isolation properties.
Let's take a look at three of the best lavalier microphones and identify the best ones for each purpose.
Shure BLX14/CVL-H10 Wireless System with CVL Lavalier Microphone
Shure is a company that needs no introduction. Their products are so well known and respected that they almost have a monopoly on the high end microphone market. We have a pretty good idea of how this product is going to stack up the competition, but let's take a more in-depth look.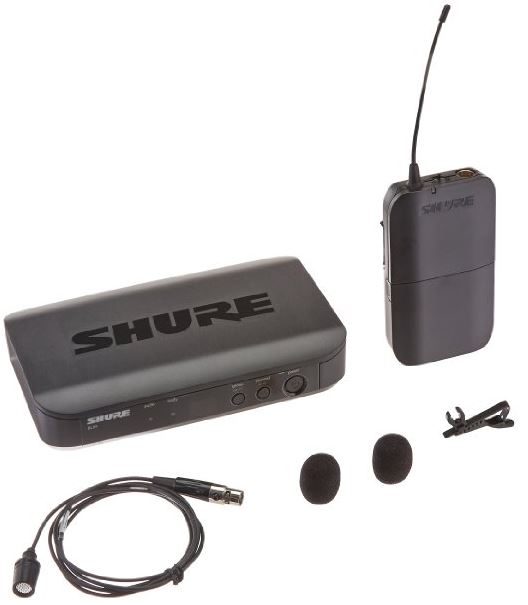 First Looks
The Shure BLX14/CVL-H10 Wireless System itself looks like a serious piece of kit. The receiver is about the size of a modern Blu-ray player, and can be rack mounted if being installed in a more serious kit. This particular model is only single channel, but it can be upgraded to a dual channel receiver if necessary. You've got three buttons on the front, one for power, and two to change the channel or group you are receiving from. Two indicator lights on the front show that the device is ready (capable of being linked to a microphone) and audio (connection with the body pack).
The Lavalier mic itself is very compact, and can easily be hidden on your person. You'll just need to run the long cable down to the body-pack and connect to it.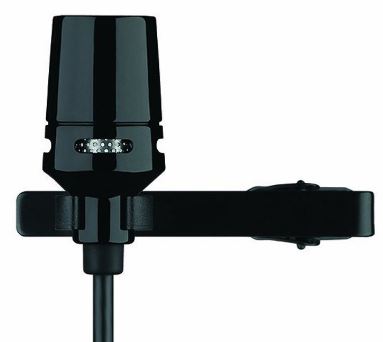 Operating Range
The Shure BLX14 wireless system has a very long range. It can reach a shocking 300 feet as long as there is a direct line of sight. Reliably, you can expect half this range in almost any environment. Even when going through several walls, we found that the BLX14 still had a strong, clear signal without any distortion or audio dropouts. Although the BLX14 can be purchased directly from Shure with a variety of frequency ranges, this particular kit is the H10 model and uses the 542 to 572 frequency range. The advantage of this is that the range is very common among professional audio devices, so if you wanted to add another mic to your system, it can be done easily with commonly available equipment.

Build Quality
The build quality in the Shure BLX14 and the CVL-H10 microphone is acceptable. It's certainly not going to fall apart, but you wouldn't want to expect it to be bomb proof.
The main failure points have all been reinforced. The cable is thick and durable, and won't jumble up or knot together. The connector is nice and thick, and had a large rubber support that will prevent the cable from bending or fraying. While the clip is quite lightweight, it is removable and rather bendy. This prevents it from snapping. However, if you are doing live performance where you expect to be quite active, we might recommend upgrading the clip to a more robust model. For general presentation where you are not moving around too aggressively, this current clip should work perfectly.
For the body pack, there is a nice solid spring-loaded clip on the back that appears to be quite reliable. It's nice and tight, so we wouldn't expect any unplanned drops or falls.

Sound Quality
Where the Shure BLX14/CVL-H10 really shines is the quality of audio that it produces. This is absolutely professional grade. This is a condenser microphone, commonly regarded as the best possible technology to use for voice. What makes it unique is its cardioid polar pattern. This refers to the way the diaphragm is designed, and indicates that the mic has a somewhat short range. This might sound like a bad thing at first, but remember you want the microphone to pick up your voice, and not the other sounds in your immediate environment.
We found the audio to be clear, defined, and very well presented with no discernable distortion or noise. We were pleasantly surprised at just how good the microphone sounded. Considering the somewhat economical build quality, our first impression was that Shure had cut a few corners. But after hearing the professional grade sound that this microphone puts out, it's clear that this is a professional quality product for consumers who demand the best.
Movo WMIC80 Wireless 48-Channel UHF Lavalier Microphone
Movo may not be the most well-known brand in audio equipment, but they create high quality devices and sell them at affordable prices. Movo has proven that they are well aware of individual client needs, and can create something that checks off all your boxes.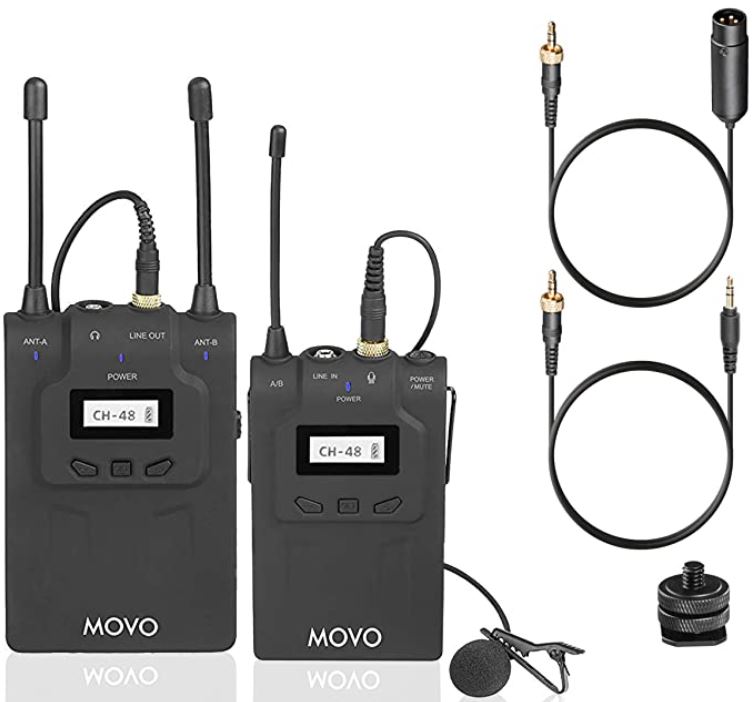 First Look
The Movo WMIC80 is a pretty beefy looking wireless lavalier microphone system. It's designed primarily to be used for film work and performances. What makes it different from other devices is that the receiver is the same size as the transmitter, so it is suitable for more applications. For example, if you were recording video with a DSLR camera, you could simply mount the receiver directly on the flash mount and transmit the audio to be compressed live into your video file. This design makes the microphone system portable and easy to set up in any environment.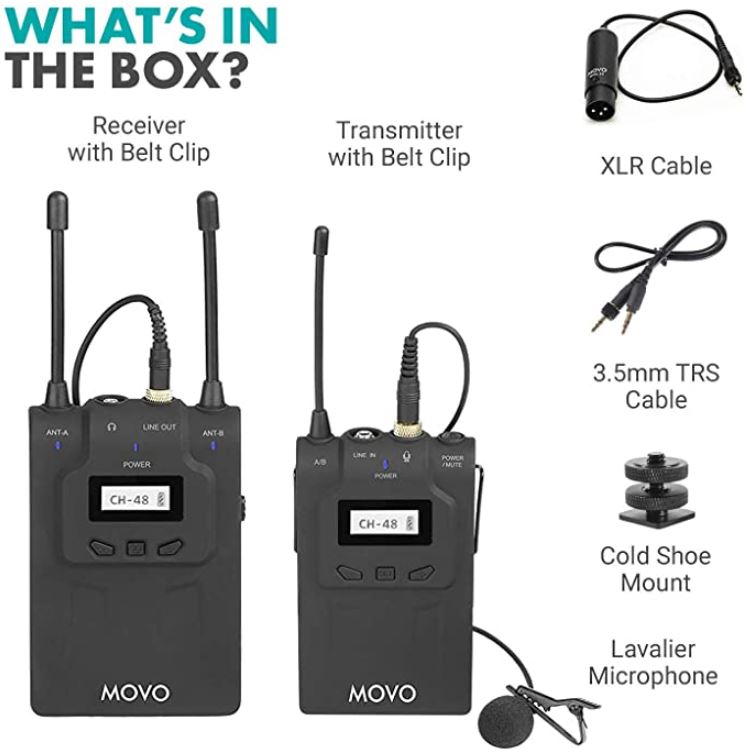 Operating Range
The transmitter has 48 selectable channels spread between the 584 MHZ frequency and 608 MHZ. This is a line of site transmitter, so you can get a maximum range of 300 feet provided that there is a clear path for the signal to travel. Small obstructions such as passing cars or people walking by will not make much of a difference, however it is not designed to go through walls.
Build Quality
The WMIC80 is designed to be a portable device, and it's built to withstand all of the abuse that you can throw at it. The casing is a thick, durable plastic that would be very difficult to damage. Its clips are solidly made and grip tight, so it's unlikely that you'd accidentally lose a transmitter no matter how active your performance is.
The microphone itself is just as durable, featuring a casing that is both thick and lightweight. Both the connector and the cable itself are well made, even a firm yank isn't likely to cause any damage.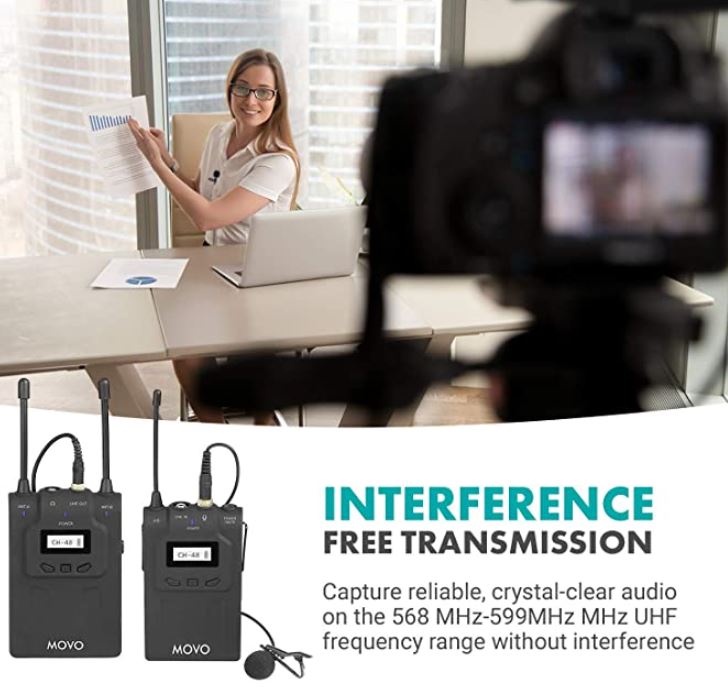 Audio Quality
The audio quality is sharp and defined, and captures everything in the environment around you. This can be good or bad depending on your purpose. If you're using the microphone in a noisy environment, you'll be able to hear everything. If you're in a quiet environment, however, the microphone isn't going to pick up light noises like the rustling of papers or general chatter in the background. This is only a problem if you're outdoors and want to isolate sounds like passing cars.
The main benefit of a sensitive microphone is that placement is not nearly as important as it is with noise cancelling microphones. You can hide it anywhere near your collar or on your shirt, and it will still pick up your voice easily and clearly.
PylePro PDWM3400 Premier Series UHF Microphone System
Pyle is one of the most economical manufacturers of professional audio gear. Their amplifiers and speaker systems have been very well received by consumers, so we expect big things from their microphones.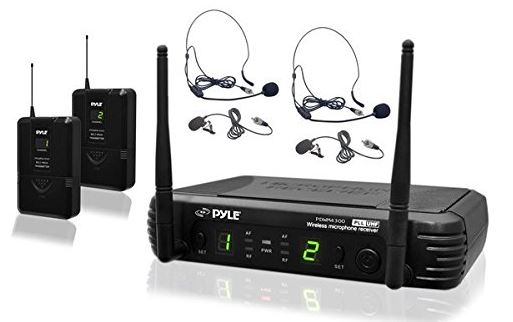 First Look
The PylePro PDWM3400 Premier Series is the only lavalier microphone system we've reviewed that comes with not one, but two separate microphones and a dual channel receiver. This is incredibly valuable if you have multiple performers or presenters who want to simplify their set up process. This system is geared towards presenters, as the headset microphone is not exactly discreet. However, this does cancel out many of the problems faced by lapel microphones.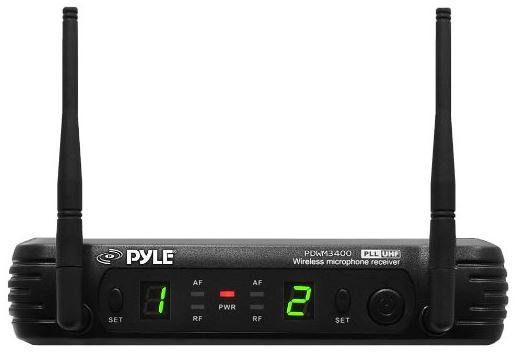 Operating Range
Although RF signal performs much better under difficult conditions, the range is not the highest we've seen. You can get about 50 to 60 feet of range with these transmitters. Fortunately, you are not constrained with a line of sight requirements. Even if the receiver is in a different room or behind a wall, you'll still a stable signal. This is thanks to its RF technology, as well as the 673 to 975 MHZ range.

Build Quality
The PylePro microphone system is a value product, and it feels that way. It's not particularly sturdy, and probably wouldn't sustain heavy abuse. However, this is really not a big deal for presentation use. Generally, the microphone stays on your head and the transmitter stays on your belt. We probably wouldn't recommend this microphone system for actors or performers, but it's totally adequate for general presentation work.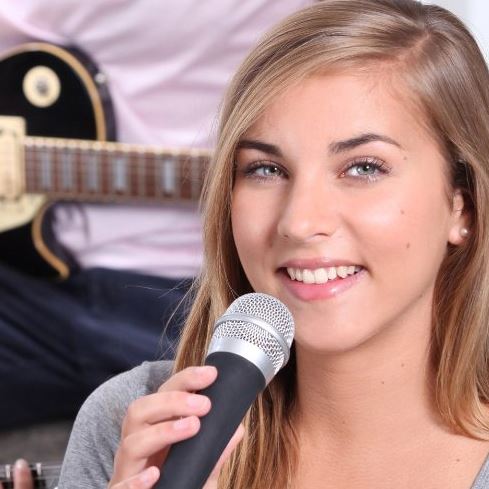 Audio Quality
The headset style microphone is actually a huge plus for the PylePro microphone system. Because it is such a short distance from your face, they can use a microphone that is much less sensitive. This means that it's not going to pick up any external noise sources while providing clear, easy to understand vocals. While the sound replication is accurate, it's not quite studio quality. This means that it's ideal for speech, but not for singing.
So, Which Wireless Lavalier Microphone Should I Go With?
Each of these microphone systems are designed for different purposes, so one person might be disappointed with one particular model while another may love it. The one that's right for you depends entirely on your intended use.
If you value sound quality above all else, the Shure BLX14/CVL-H10 Wireless System with CVL Lavalier Microphone is the way to go. There is a good reason why Shure is the top dog in the professional audio industry. Their products are simply fantastic. Crustal clear vocals with no interference from external noise sources is essential for professional use. The fact that it's compatible with many other professional audio systems is just the icing on the cake.
If you want something that will stand up to abuse, the Movo WMIC80 Wireless 48-Channel UHF Lavalier Microphone is the durable system you've been waiting for. The receivers could easily be dropped, kicked, or dragged across the ground without sustaining much damage. This makes them perfect for performance situations where there is always the risk of an accident.
If you just want a simple microphone system for your presentations, the PylePro PDWM3400 Premier Series UHF Microphone System has all the basics in an incredibly affordable package. Even though it's cheaper than every other system on this list, it includes an entire second channel. This means that if you need two microphones at once, you've just saved yourself 50% on a second system.