If you're someone who wants to create video content, you've probably thought a lot about what video recording equipment you should use. While that's an important aspect, something equally as important and often forgotten about is audio recording.
Using the stock microphones on your phone or camera simply isn't enough when creating content outdoors, recording from a distance, making a podcast, and many other types of creation. So what's the solution? A great choice is to use a wireless lavalier microphone system.
What is a Wireless Lavalier Microphone?
These are wireless microphones (transmitters) that send audio to a receiver which then saves it to itself or your devices. They're typically designed to be attached to your clothing or devices in order to give them up close audio recording.
How Many Microphones Come in a Lavalier Kit?
This will vary depending on which kit you choose. Typically, kits will come with one or two microphones. This gives you options whether you're a solo creator or someone with a couple of people in the shot. In addition, kits that come with multiple microphones can be great if you use them outdoors and think you may lose one.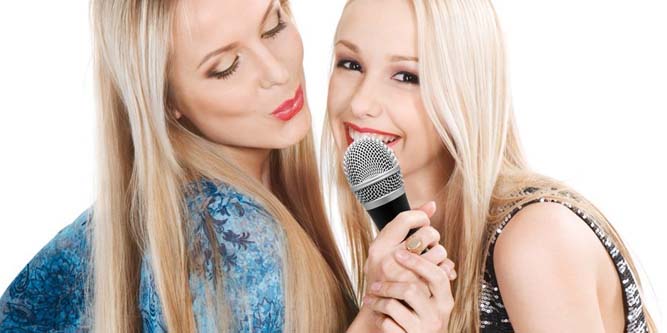 When it comes to the microphone itself, there are two main options that you will see. The first is just the microphone body with a built-in microphone. These are going to be more boxy looking and harder to disguise. The second is a smaller microphone head-on a cord. These cords plug into the body of the transmitter and then can be hidden on your clothing to record audio. Both are great choices.
Where Do I Have to Plug-in the Receiver?
While recording, you typically have a few options for where the receiver is going to be plugged in. The most common is directly into a recording camera. Some receivers come with cables that allow you to plug them into your smartphone, making it much easier for people new to content creation to get high-quality sound. When plugged into these devices, the audio will sync up with your video as well.
Best Overall: DJI Mic Wireless Lavalier Microphone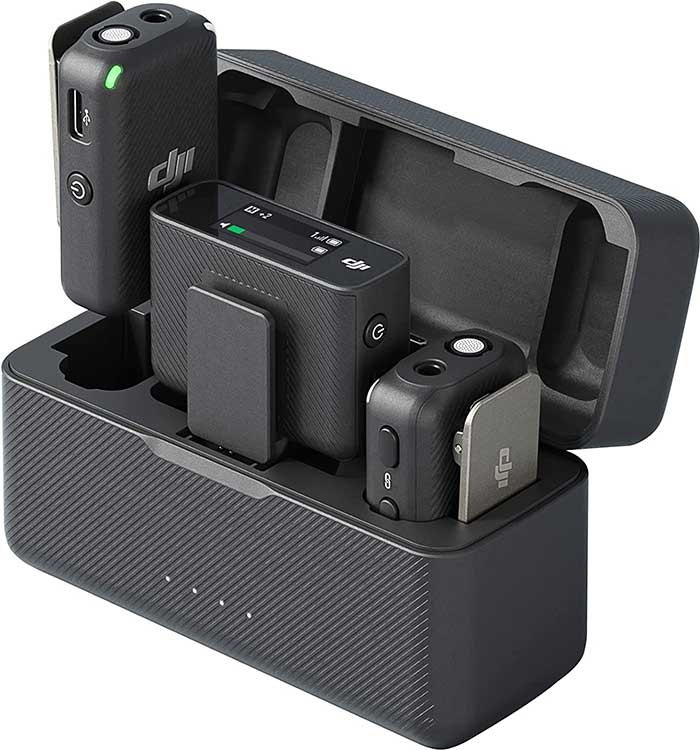 Key Features:
15-hour battery life
820 ft of transmission distance
Onboard recording to microphones
The DJI Wireless Lavalier Microphone is a quality piece of audio technology for experts and beginners alike. Included in this kit are two microphone transmitters, one receiver, a charging case, a port to connect to lightning, a port to connect to USB-C, 3.5mm cables, magnets, and two wind muffs. This gives you plenty of accessories to get started recording audio as soon as you open the package.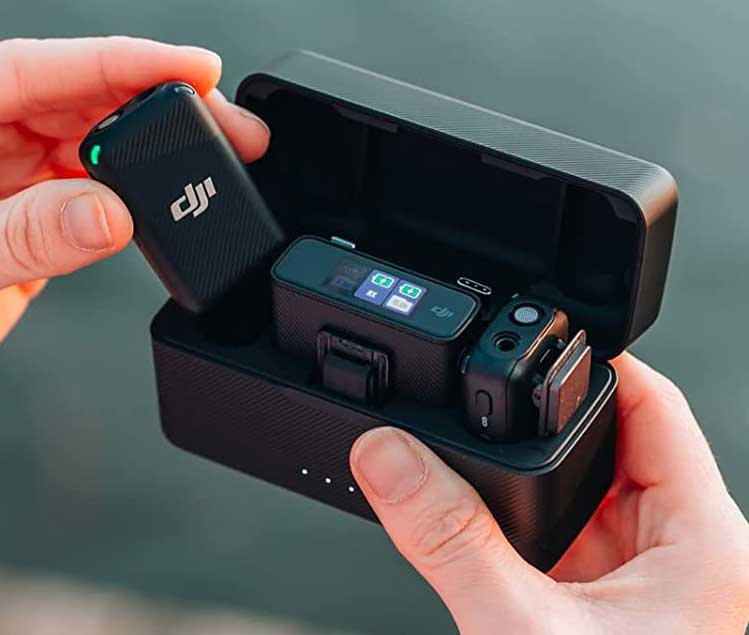 An important aspect of any wireless microphone is the battery life of the various devices. The microphones included can each last for 5.5 hours of continuous recording. The receiver can last for up to 5 hours. When used with the charging case, you can use these devices for 15 hours without ever having to plug them back into a wall or other power source.
As for the transmission distance, it's very impressive. These transmitters can send audio back to the receiver for up to 820 feet before the sound begins to break and sound distorted. This gives you plenty of range for the majority of use cases.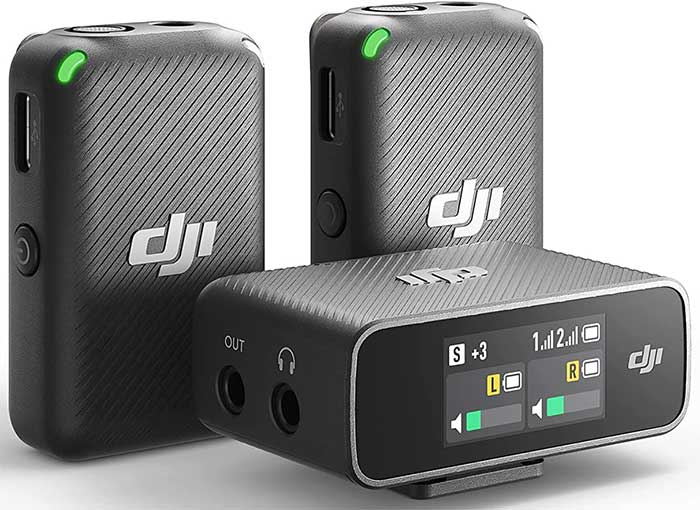 Also, if you have to go beyond the transmission range, you have another option. Each microphone comes with onboard memory. This allows you to record right on the transmitter and save up to 14 hours of audio files. This is also great for a backup option while transmitting in case the files get corrupted in transmission.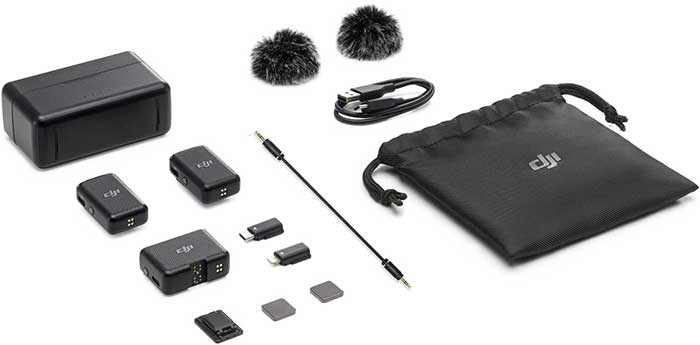 The transmitters are extremely small and easily hidden. They come with an attached clip to easily clip them onto your clothing, backpacks, or anything else. Additionally, they're magnetic and come with magnets to help attach them to metal or your clothing for additional hiding ability.
The receiver can connect to your camera, phone, or laptop via various connections right out of the box. Best of all, with the DJI, everything for the transmitters and receiver can be controlled on the receiver via a touch screen.
Pros:
Touch screen control
Two long-lasting transmitters
On-board recording in each transmitter
Cons:
No included corded microphones
Best Alternative: AnkerWork M650 Wireless Lavalier Microphone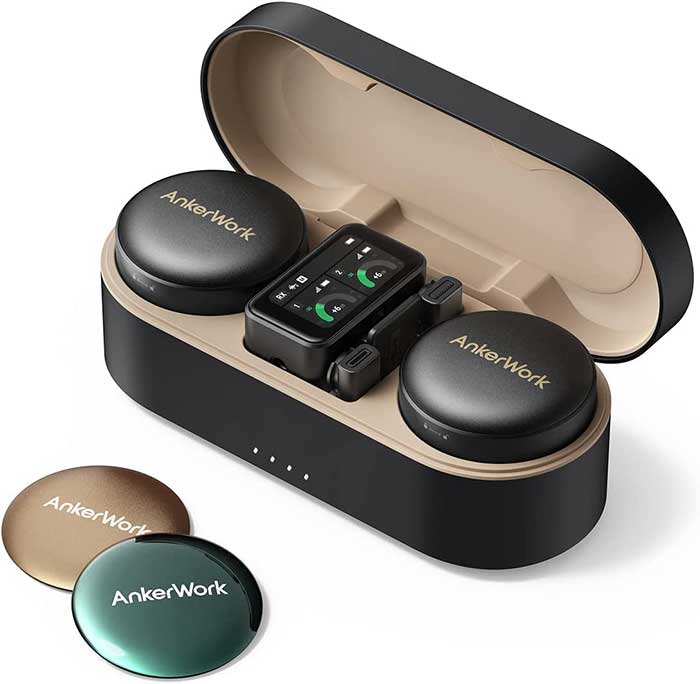 Key Features:
15 hours of battery life
656 ft of transmission distance
Color-changing mic covers
The AnkerWork M650 is a uniquely designed wireless microphone kit. Included in this kit are a charging case, touch screen receiver, two microphones, two wind muffs, a USB-C port, a lighting port, a 3.5mm cord, and two replaceable colored covers.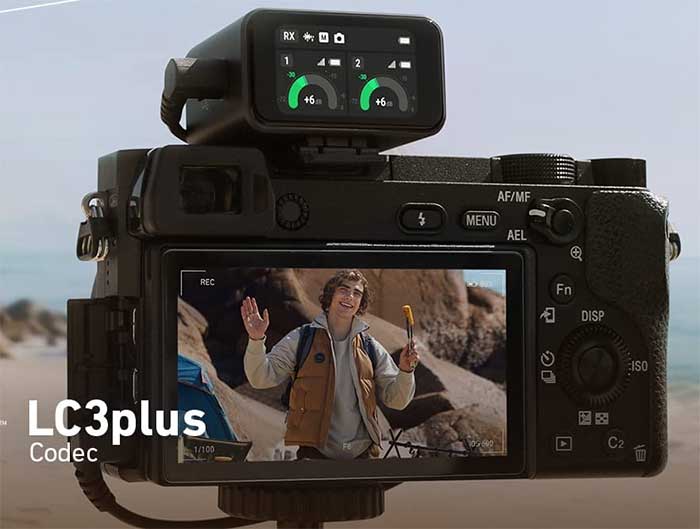 The battery life on the M650 is great. Each part of the kit can last for up to 6 hours on a single charge. When paired with a fully charged charging case, that number can increase to 15 hours of continual recording. This makes it very similar in comparison to the option from DJI.
As for transmission distance, this kit is very capable. It can reach a maximum distance of 656 feet. This audio is recorded with very low latency to help reduce the amount of syncing with a video done in editing. In addition, there's built-in VoiceShield noise canceling to help record crystal-clear audio regardless of surrounding conditions. Included in this kit is 7 hours' worth of audio storage built in.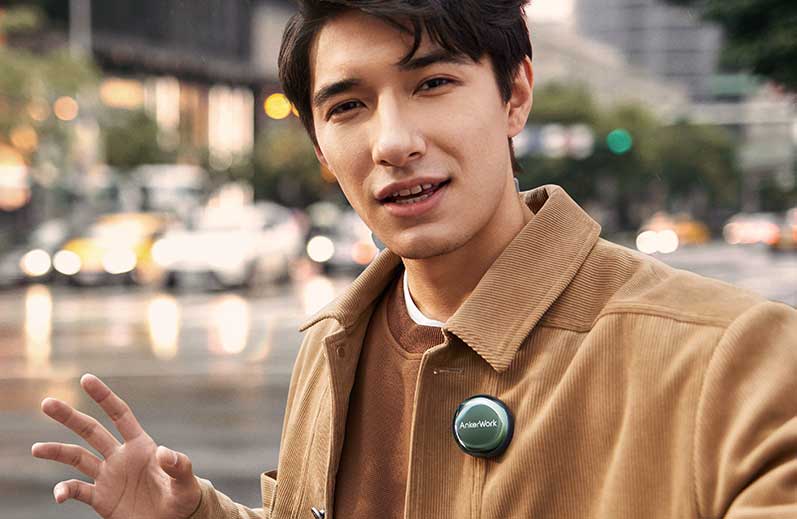 To attach the microphones to yourself or something else, simply use the included clip or magnets. The design of the microphone is unique, providing a circular body. This is a bit bulky and sticks out. However, the face plate of each microphone is removable and swappable with other color options. This lets you blend it in nicely with its surroundings. The transmitter can connect to computers, phones, or cameras. Best of all, the AnkerWork M650 has a touchscreen display to help you see audio levels and other information and control the devices.
Pros:
Swappable colored covers
VoiceShield noise reduction
6 hours of battery on each device
Cons:
Hard to hide in your clothing
Best For Live Events: Sennheiser EW 100-ME2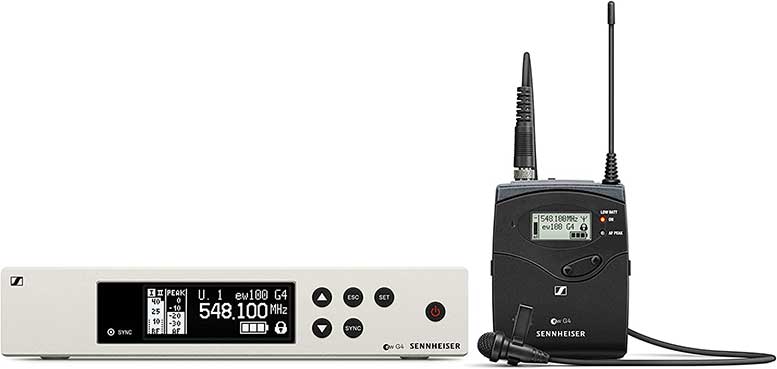 Key Features:
Robust receiver
300 ft transmission distance
Designed for live presentations
The Sennheiser EW 100-ME2 wireless microphone kit is designed with live presenters and moderators in mind. This kit comes with a large receiver, one transmitter, and a microphone. The transmitter and receiver both are larger than the DJI and Ankerwork options, but they also have different purposes so it's not a detriment.
The receiver is powered via a power cord that needs to be plugged into a power source. The transmitter is battery-powered. This battery level can be seen on a built-in screen on the transmitter as well as on the screen of the receiver. The battery life of each transmitter is 8 hours.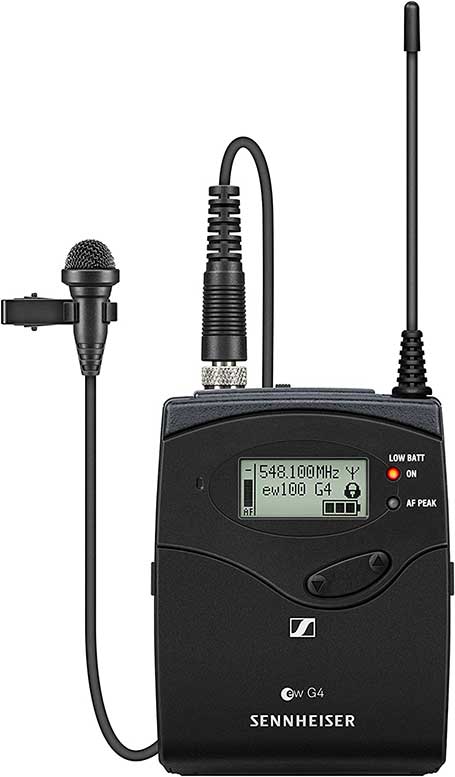 Since this microphone set is built primarily for live performances and events, the transmission distance isn't extremely far. The Sennheiser can transmit audio 328 feet away. While this is still a good distance, it isn't close to the option from DJI. Additionally, there's no onboard memory included with this kit.
The transmitter is easily connected to your body via a metal clip on the back side. It can then be covered by your clothing. The actual microphone piece is attached to a cord and can be clipped onto your shirt collar or wherever else it needs to be. This is the more standard way of getting audio with a lavalier mic.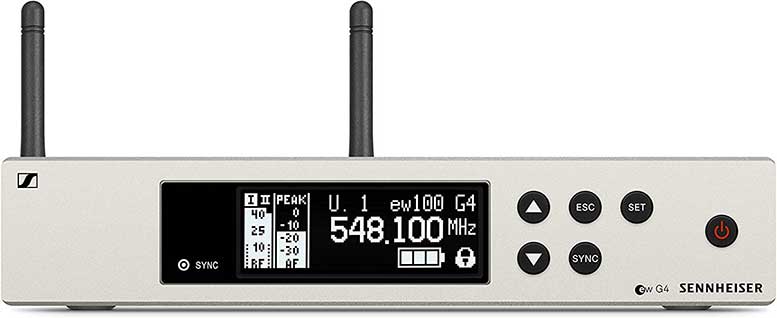 The Sennheiser EW 100-ME2 is more suited to professionals who know what they are doing with audio. It isn't nearly as straightforward to use right out of the box as some of the other choices and has a much narrower use case.
Pros:
High-quality audio
Great for live events
Corded microphone included
Cons:
Best Budget: Hollyland Lark M1 Wireless Lavalier Microphone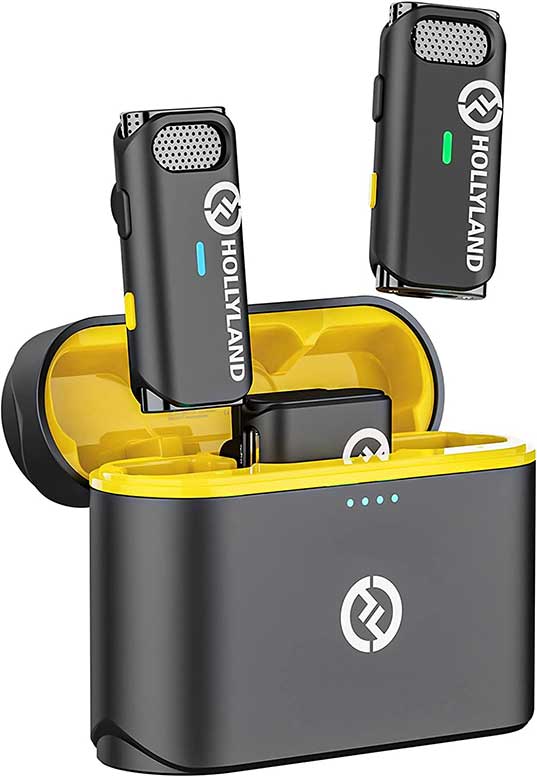 Key Features:
Up to 20 hours of battery life
656 feet of transmission distance
Multiple colors available
The Hollyland Lark M1 wireless microphone kit is a fantastic budget option for those looking to get started with professional audio. Included in this kit are the receiver, two transmitter microphones, a charging case, and two different 3.5mm connecting ports. Each microphone only weighs 11.8 grams making them very comfortable to wear. A cool feature of this option is the color options. The transmitters and receiver are available in black, green, pink, and purple.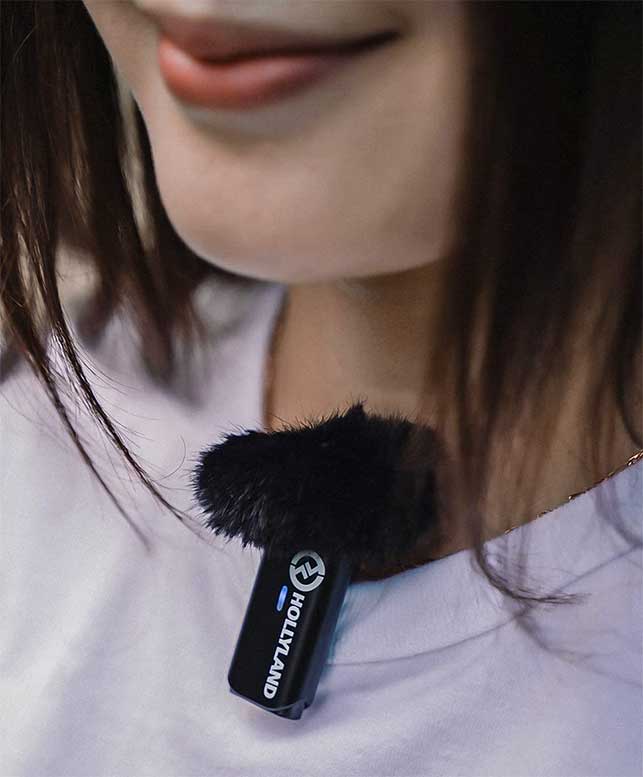 The battery life for this kit is phenomenal. Each device can be used continuously for up to 8 hours. When it's time to recharge, the charging case powers them for a maximum of 20 hours before needing to be plugged back into the wall. With the case, each device only takes 1.5 hours to hit full power again. This makes it perfect to use on day-long video shoots. the case is easily rechargeable via USB-C.
For a budget option, the transmission distance is impressive. Each microphone can transmit audio up to 656 feet away. However, if you need to go further than that there is no onboard storage, so you are limited to that distance with this kit. That said, 656 feet should be plenty for most people.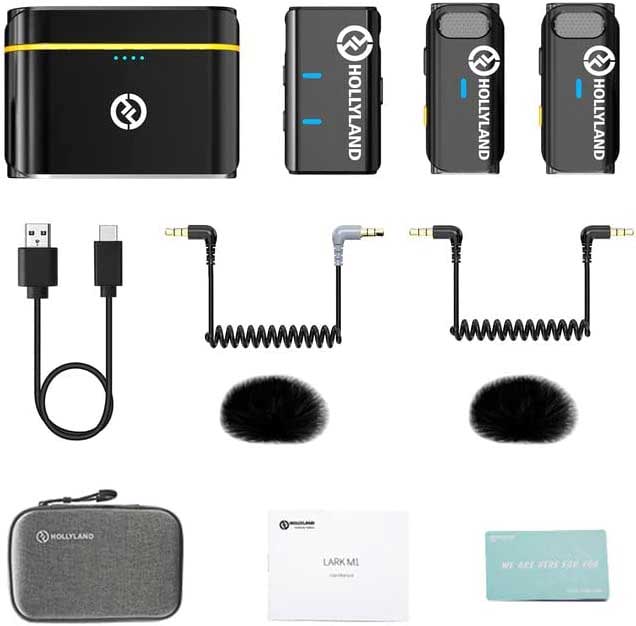 Each lightweight microphone is easily connected to you or anything you want it on via attached clips. The receiver can connect to cameras and other devices via one of the included 3.5mm cords. However, if you need to connect the Hollyland Lark M1 wireless microphone kit to something without a 3.5mm port, you'll have to buy one of their separate adapters. These adapters make this kit compatible with USB-C and lightning connector devices.
Pros:
Lowest price on the list
656-foot transmission distance is great at the price point
Up to 20 hours of battery life
Cons:
Need additional adapters to use with some devices
Best Budget Alternative: comica Wireless Lavalier Microphone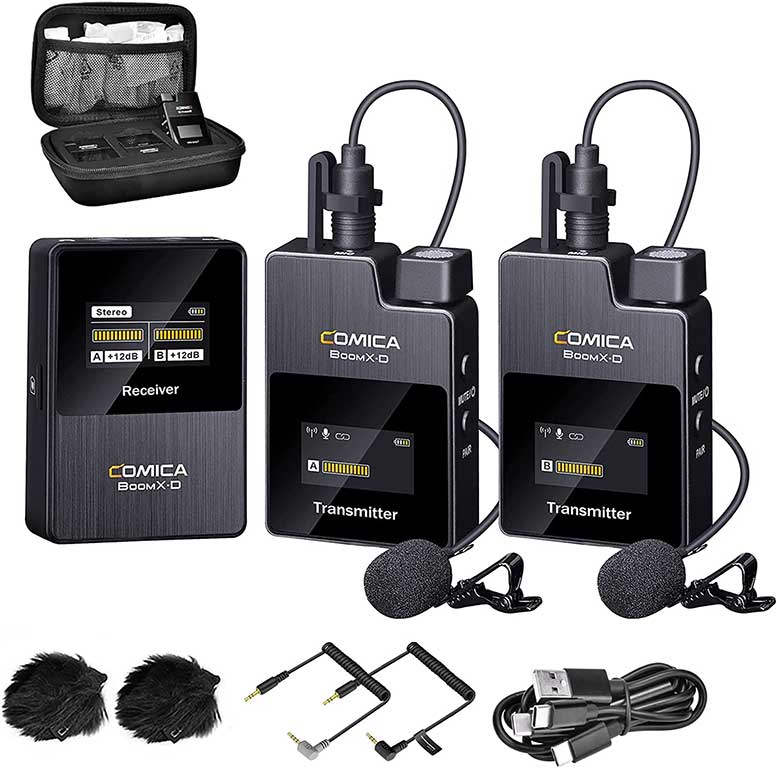 Key Features:
5 hours of battery life
150 feet of transmission distance
Included corded microphones
The comica wireless lavalier microphone kit comes with a lot to be happy about. Included in the box are a receiver with a display screen, two transmitters with display screens, a 3-in-1 USB-C charging cable, 2 corded microphones, two 3.5mm plugin cables, and a carrying case. This gives you lots of flexibility in how to use it straight out of the box.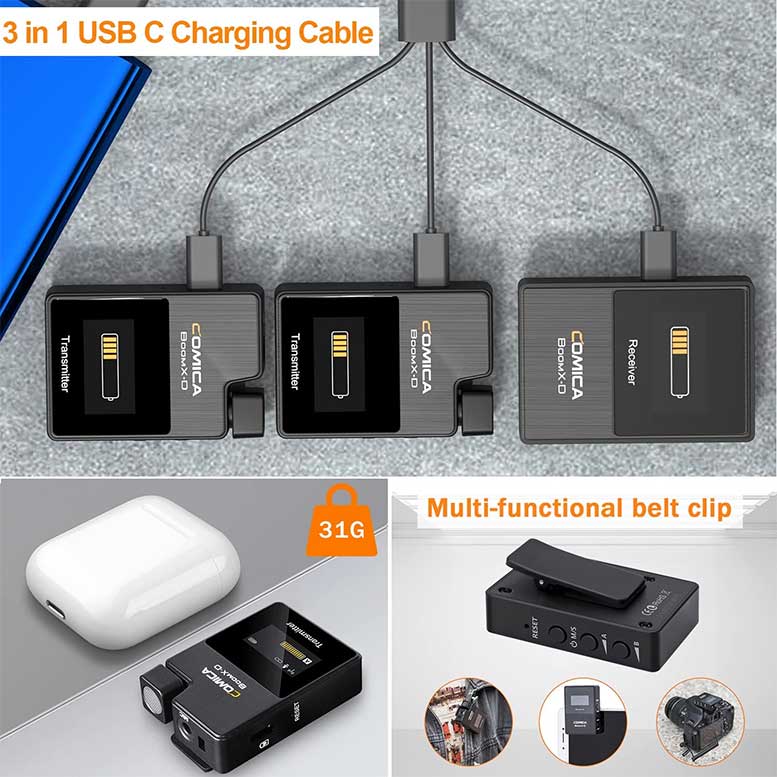 The battery life on the comica is a bit lower than some of the other options we've seen so far. When in use, each part of the kit can last for 5 hours. This kit does not come with a battery case, so you'll have to recharge manually in between uses. On the bright side, it comes with a 3-in-1 USB-C charging cable. This allows you to plug one cord into the wall and get power to all three pieces of tech in the kit.
The transmission distance on each transmitter is 150 feet. This is significantly shorter than other options like DJI. Additionally, there is no onboard storage for audio files. This means that you will have to stay in range in order to capture audio. On the bright side, you can monitor sound levels live on each screen so you should be able to tell when you're pushing the boundary too much.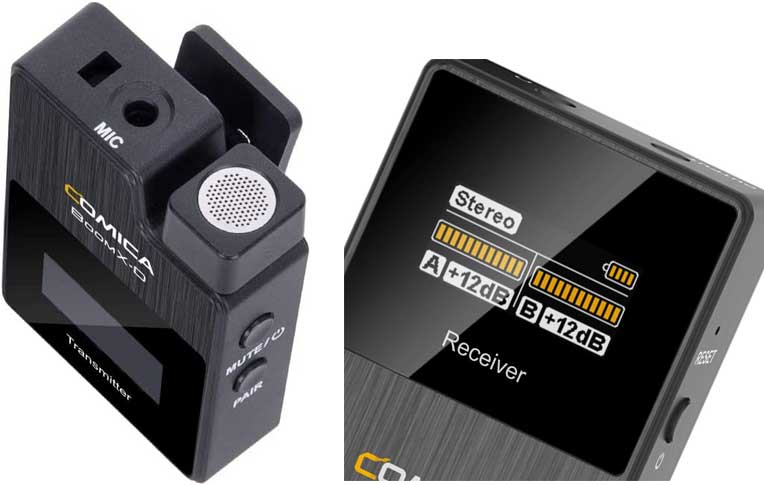 Each transmitter comes with its own 3.5mm corded microphone that attaches to your clothing via an alligator clip. These microphones each come with windscreens already attached as well. The receiver can be connected to devices like cameras and smartphones via 3.5mm plugins. If your desired device doesn't have a 3.5mm plugin, you'll have to get an adapter separately. One highlight of this system is its audio input modes. Thankfully, the comica wireless lavalier microphone kit can easily switch between mono and stereo inputs to give you flexibility in sound recording.
Pros:
Easy read displays
3-in-1 charging cable
Mono and stereo modes
Cons:
Low transmission distance