5GHz, versatile, all in one. The INKBIRD IBT-26S WiFi Grill and Meat Thermometer is a revolutionary new way to track the temperatures of your meat while cooking.
Utilizing 5GHz technology, this device will connect to your WiFi network and give extremely fast and low latency updates on meat temperatures. It's packed with awesome features and an amazing mobile app that make this a device worth learning more about.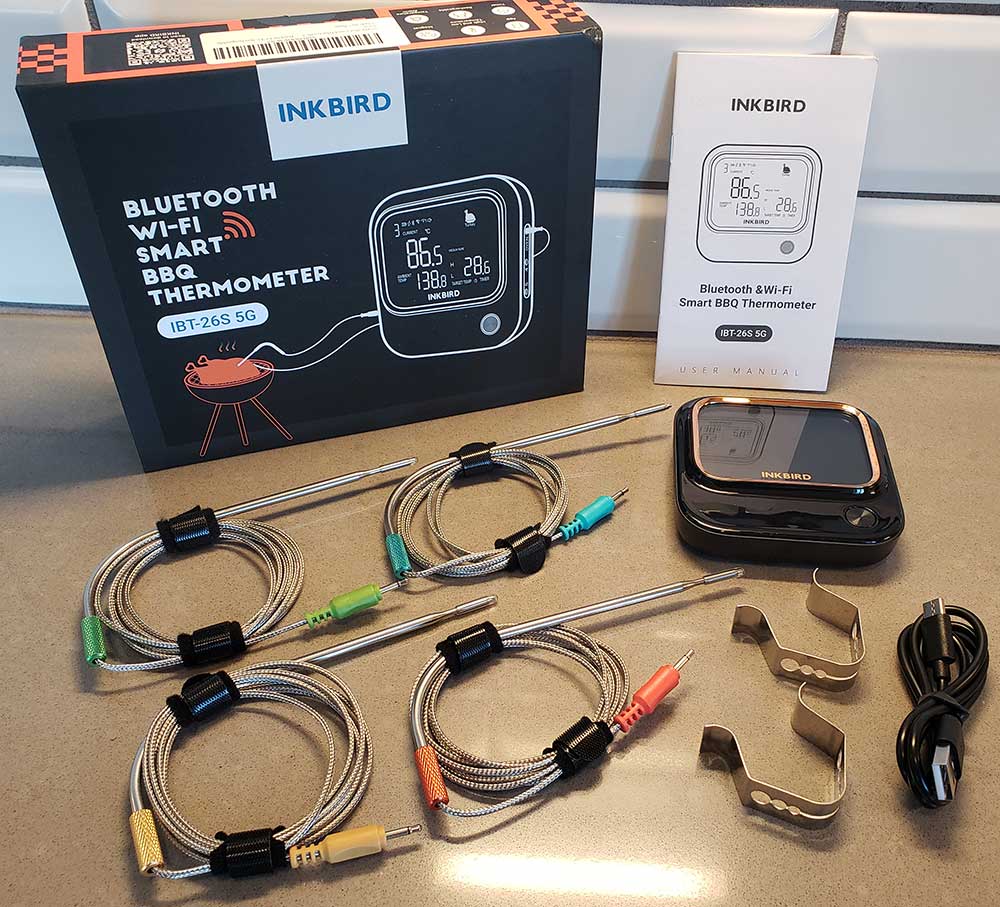 The First Food Thermometer with 5GHz
The INKBIRD IBT-26S is the first food thermometer to feature 5GHz technology. It utilizes a 5GHz chip to connect to your WiFi and devices over 5GHz networks. Why is that important? It provides some of the fastest speeds possible with modern tech.
Additionally, 5GHz provides low latency, especially over 2.4GHz standards. Lower latency is important because it further improves the speed at which the thermometer can provide data. This gives you the most up-to-date temperatures as quickly as possible. With 5GHz, you can be sure that you won't overcook or undercook your meat.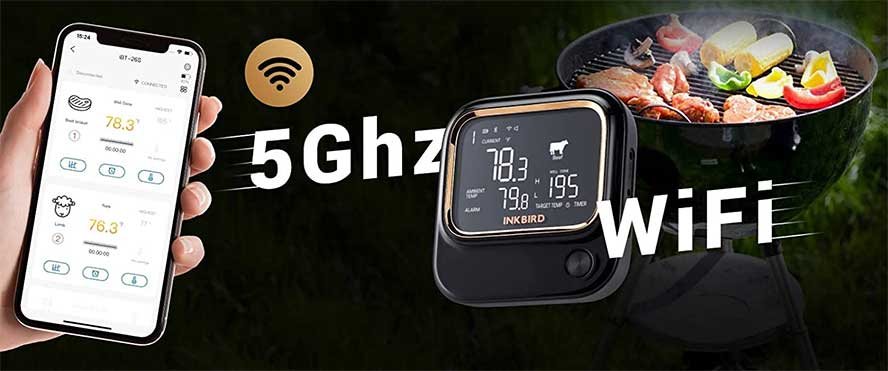 Combination of Technology and Art
Technology doesn't have to look bad, and INKBIRD kept that in mind with this device. The body of the thermometer is a solid black color to give a sleek look. To add some accent color, there's a champagne gold rectangle frame surrounding the screen.
This stadium-like frame indicates the combination of technology and art, giving you a fantastic device. With this thermometer having both great functionality and looks, you can release your cooking, barbecuing, and grilling passion in your hands, HEARTILY!
The device itself is powered by a rechargeable battery. This allows it to last for at least 40 hours on a full charge, giving you plenty of time for any meat you decide to cook. To fully recharge, simply connect the device to the USB-C charger for 3.5 hours.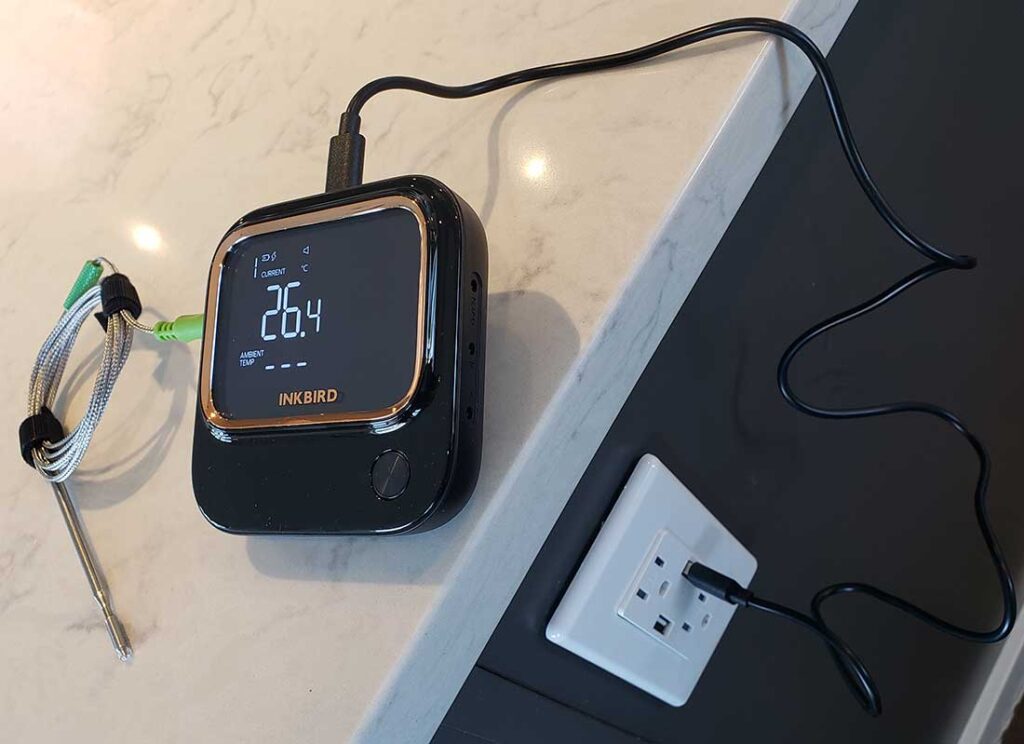 2-in-1 for Added Convenience and Stability
There are multiple aspects of this thermometer that give it 2-in-1 functionality. The first is connection types. As discussed, it can connect to your mobile device via 5GHz WiFi to give you lightning-fast data.
In addition, it can connect via Bluetooth 5.1. While it may be slightly slower than 5GHz, the option to have a Bluetooth connection is more than welcome. This provides versatility in case WiFi isn't readily available where you plan to cook. The Bluetooth connection works up to 250 feet away from your thermometer.
The second 2-in-1 function used is for the various ways to display the device. The device itself has the option of magnets or a foldable stand. This lets you easily position it wherever is most convenient for your cooking area.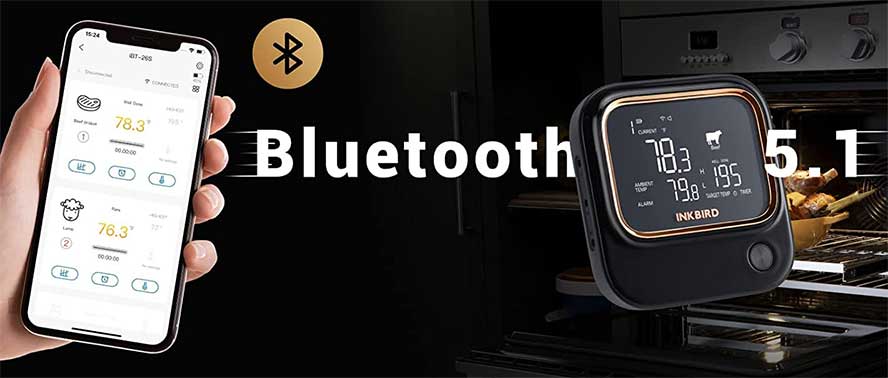 Up to 5 Meat Probes with High Accuracy
The INKBIRD IBT-26S also utilizes multiple meat probes to give you more versatility in temperature readings. It's compatible with up to 5 different meat probes and one oven probe. Whether you want multiple temperatures reads from one piece of meat, or a probe in multiple pieces, you can do it all.
These probes are also extremely accurate. They will read the temperature within .5 degrees Celsius or .9 degrees Fahrenheit. You can have peace of mind while cooking knowing these probes will make sure any meat is fully cooked to perfection.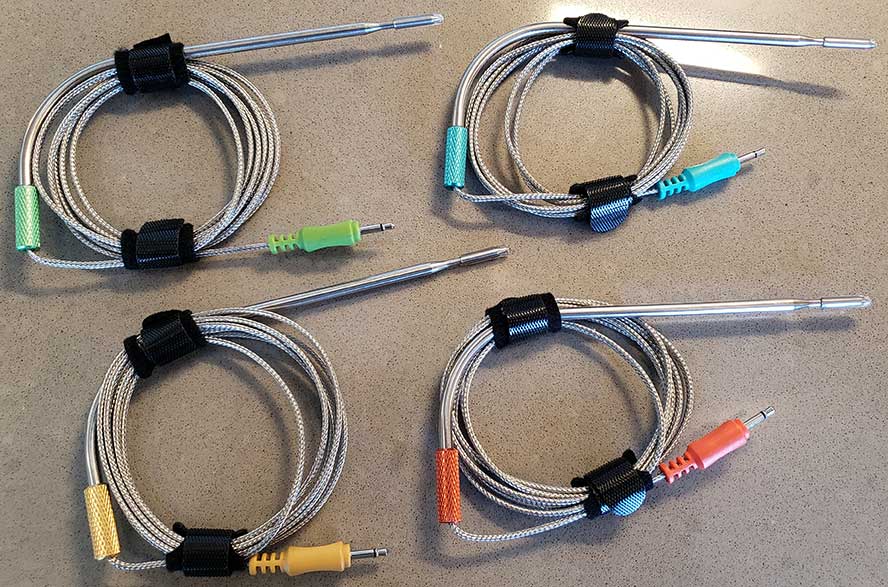 These probes are color-coordinated to help you tell the difference between them while in use. This lets you know exactly which probe is in which piece of meat. They can measure temperatures ranging from -22 degrees Fahrenheit to 572 degrees Fahrenheit, giving you a ton of flexibility.
Please note, the current version of this thermometer is equipped with 4 probes in the box, not the full 5 it's capable of using. Additional probes can be purchased separately.
Adjustable LCD Backlight Screen
When looking at the temperatures, you don't have to only look on your mobile device. You can also look at them via the included LCD screen. This screen is backlit so that you can see it whether you're cooking in low-light scenarios or on bright sunny days outside.
Even better, it can be adjusted to match whatever the surrounding brightness is, making it even easier to see. This adjustable feature is controlled via the INKBIRD app, so you won't have to memorize any annoying button combinations on the device. The text used on the screen is very legible, using a white font.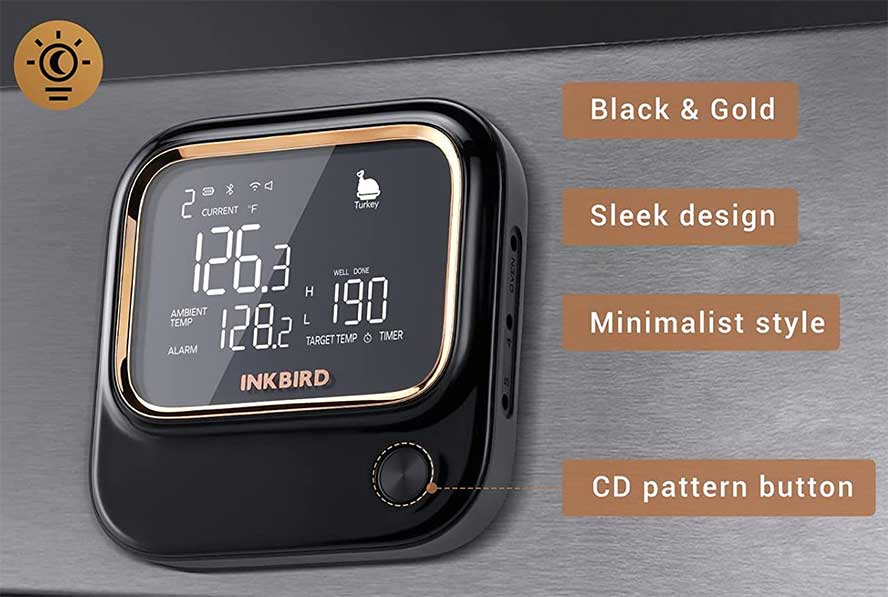 Visualized and Real-Time Monitoring Temperature Chart
The various temperatures recorded by this thermometer are all compiled in easy-to-read charts. This lets you visualize how each piece of meat changed temperatures and cooked as time went on. This data is stored on the cloud for up to one month after being recorded. Additionally, this data can all be exported into CSV files.
This is a great feature to help you become a better cook. Comparing how the meat turned out with how the temperatures changed gives you a great representation of how each different piece of meat goes from raw to perfection. We'd suggest taking all the recorded data and storing it somewhere so you can keep track of it for years to come.
All-in-One INKBIRD App
The thing that ties this all together is the amazing INKBIRD App. This app lets you take complete control of the thermometer and helps it become the revolutionary piece of technology it is.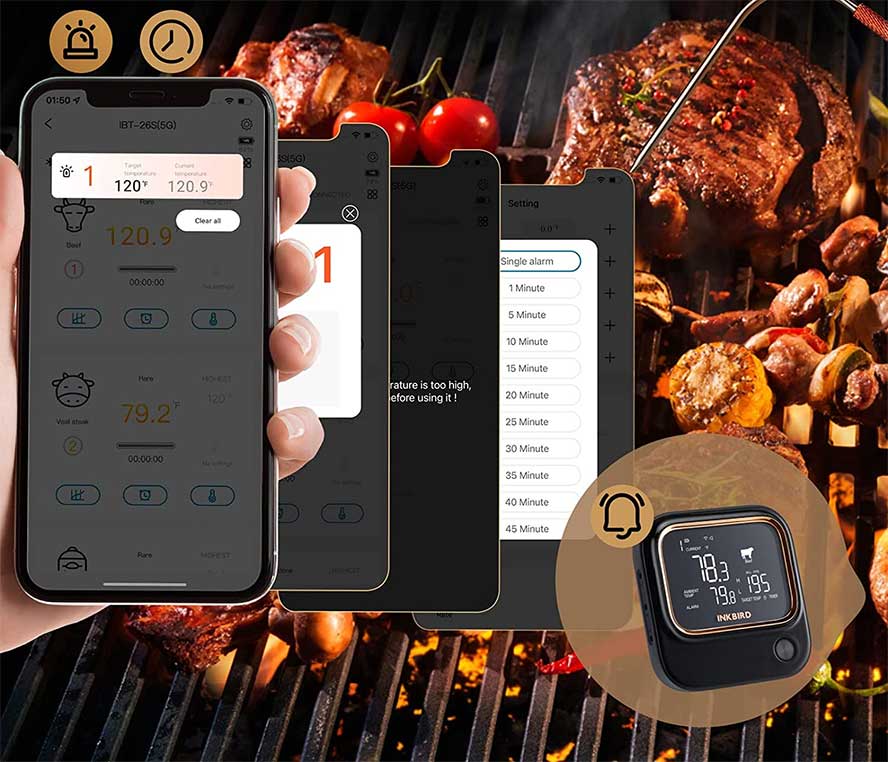 This app comes pre-loaded with 29 different types of meat and their associated cooked temperatures as determined by the USDA. This makes it simple to cook many different kinds of meat without having to be a professional chef. The app also lets you see what the temperatures are currently without being at your oven or grill. This is thanks to the connectivity of Bluetooth 5.1 or 5G WiFi.
Another great use for the app is the display customization of the thermometer screen, letting you change the brightness. You can also set temperature alarms for each probe. This will notify you when the meat hits your high or low-temperature settings to avoid issues with cooking.
These alarms are able to go off whether you're in the app or your device is locked using push notifications. The app also lets you set timers for each individual probe. This is great for different kinds of meat being cooked at the same time with different cook lengths.
Final Thoughts
The INKBIRD IBT-26S WiFi food thermometer is a great device to make sure your meat is cooked properly. Utilizing 5GHz to connect easily to your mobile device is something never before seen on a thermometer like this, and it truly sets it apart from the rest. Combine that with multiple probes, a sleek design, and a feature-packed app and you get a thermometer worth using all summer long.
Meet Derek, "TechGuru," a 34-year-old technology enthusiast with a deep passion for tech innovations. With extensive experience, he specializes in gaming hardware and software, and has expertise in gadgets, custom PCs, and audio.
Besides writing about tech and reviewing new products, Derek enjoys traveling, hiking, and photography. Committed to keeping up with the latest industry trends, he aims to guide readers in making informed tech decisions.