Overall Design -

8/10

Cooling & Heating Ability -

9/10

Energy Efficiency -

9/10

Value -

8/10
Summary
EcoFlow's Wave 2 is a definite upgrade among its predecessor. Not only does it quickly provide cold air in virtually any environment, it can also provide heat. Ideal for off-grid or mobile living, it's easy to use, configure and adjust. However, it may leak water if not carefully setup. While the add-on battery cannot be charged independently, the amount of efficiency the Wave 2 provides is exceptional in all regards.
Pros
Provides both cold or hot air.
Very quick startup time.
Smaller size than the original Wave One.
Draws a max of ~400 watts.
EcoFlow app offers remote control.
Includes foam window vent board.
Operating is relatively quiet.
Fully cordless operation is possible.
Cons
Can only charge the battery if it's plugged into the unit.
Leaks water, even with the drain hose attached (unless tilted).
Heating can take a long time to begin.
Exterior scuffs very easily.
Two out of three ducts included.
Very expensive price-point.
Keeping cool in the summer heat is a real task. If you're someone who spends time traveling in the great outdoors, you're no stranger to this. Whether you're spending time in a tent, RV, van or tiny house, you probably already know how luxurious air conditioning can be.
While you can stay in the shade, utilize fans to improve airflow, or wet a towel and wear it around your neck, there's nothing like a real, compressor-based air conditioner. Unfortunately, air conditioners are energy hogs. Simply put, they use A LOT of energy. So much so that they're typically out of the realm of possibility for most off-grid or tiny-living power systems.
This conundrum has many people interested in battery-powered air conditioners. While more of a rarity than a standard window mount or standalone air conditioner, they tend to draw much less energy but are often relatively expensive. Take the EcoFlow Wave 2, for example.
The Wave 2 from EcoFlow advances portable air conditioning to a palpable level for off-grid users. It adds a few new features from the original EcoFlow Wave including a heat function, improved cooling times, a new display screen interface and a slightly more compact/lighter build.
We were lucky enough to receive a sample in exchange for our testing and review of the new Wave 2. Over the past two weeks, we've put it to the test and we're here to share our findings. Let's get right into it.
What's in the box?
EcoFlow Wave 2 main unit
One 6-inch diameter, 4.5 ft. long exhaust duct
One 8-inch diameter, 4.5 ft long exhaust duct
Three exhaust/intake shrouds/adapters for attaching ducting
Foam window vent board
AC adapter power cord
Drainage hose
Add-on battery with a short XT150 to XT150 cable (optional)
Instructions, quick start guide and warranty card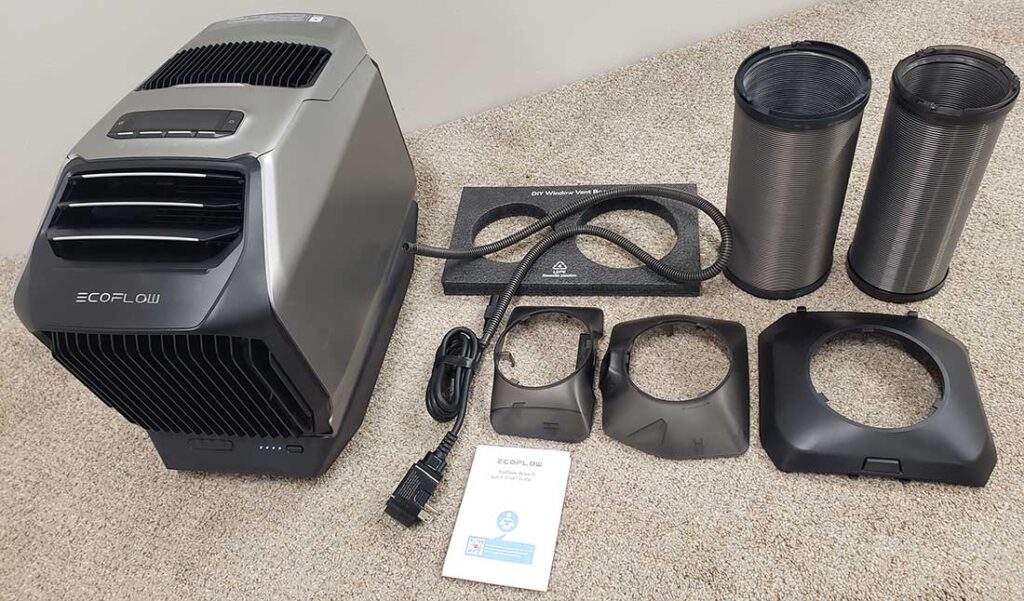 EcoFlow has included almost everything you need. However, there are only two ducts included, although it has the ability to accept one additional 6-inch duct. It would have been nice to have all three ducts included, but the third one may be seen as an optional accessory.
Design and Layout
Without the battery attached, the Wave 2 tips the scale at 32lbs. and measures 20.4 × 11.7 × 13.2 inches. That said, the original Wave is half an inch wider, about 3 inches taller, and 6 lbs. heavier. In addition, if you attach the optional battery to either, it adds another 17 lbs. and 3 inches to the height. We're happy to see that EcoFlow took the appropriate steps to minimize its size and footprint. When living the off-grid lifestyle, every inch and every pound truly matters.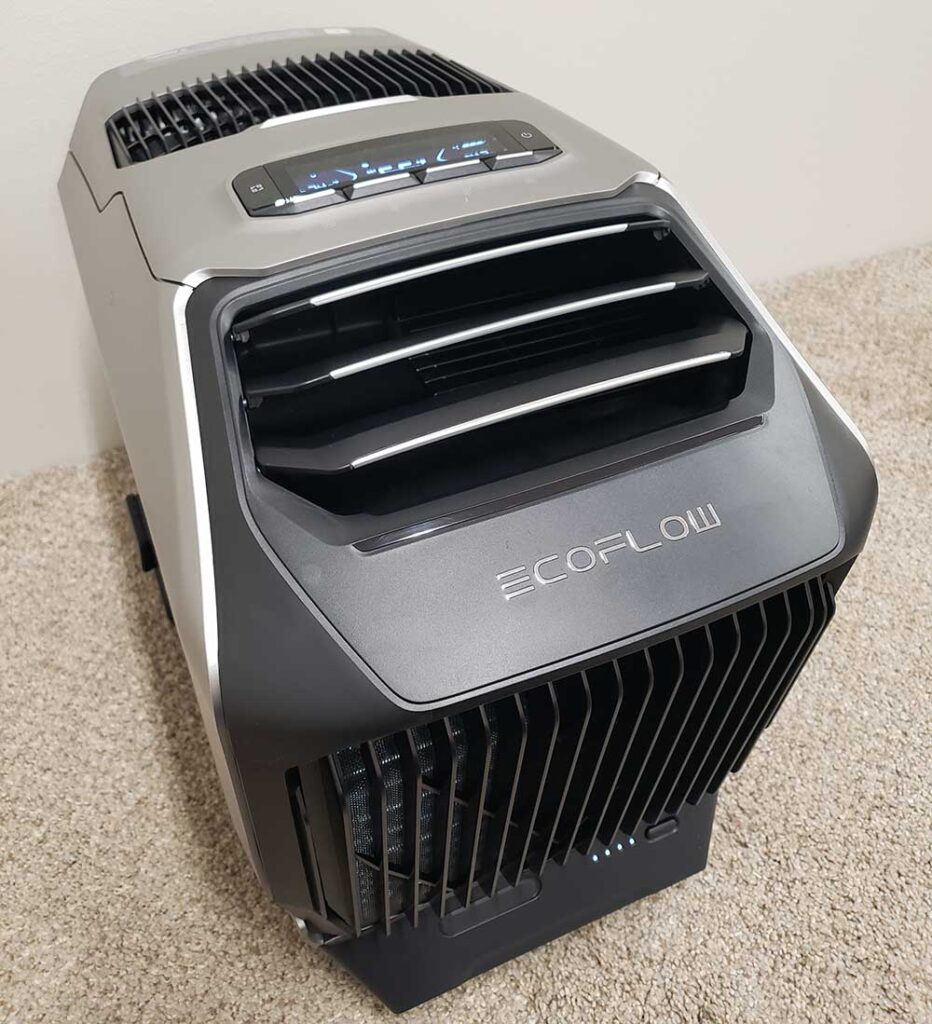 While the Wave 2 doesn't necessarily require ducting for basic operation, it's much more effective when utilized. There are four vents on the unit – an intake on both the front and back, an exhaust on the top rear, and the cool/hot air vent on the top front. We highly recommend that you take advantage of the included foam window vent board to duct and direct the rear intake and top rear exhaust out a window, whenever in use.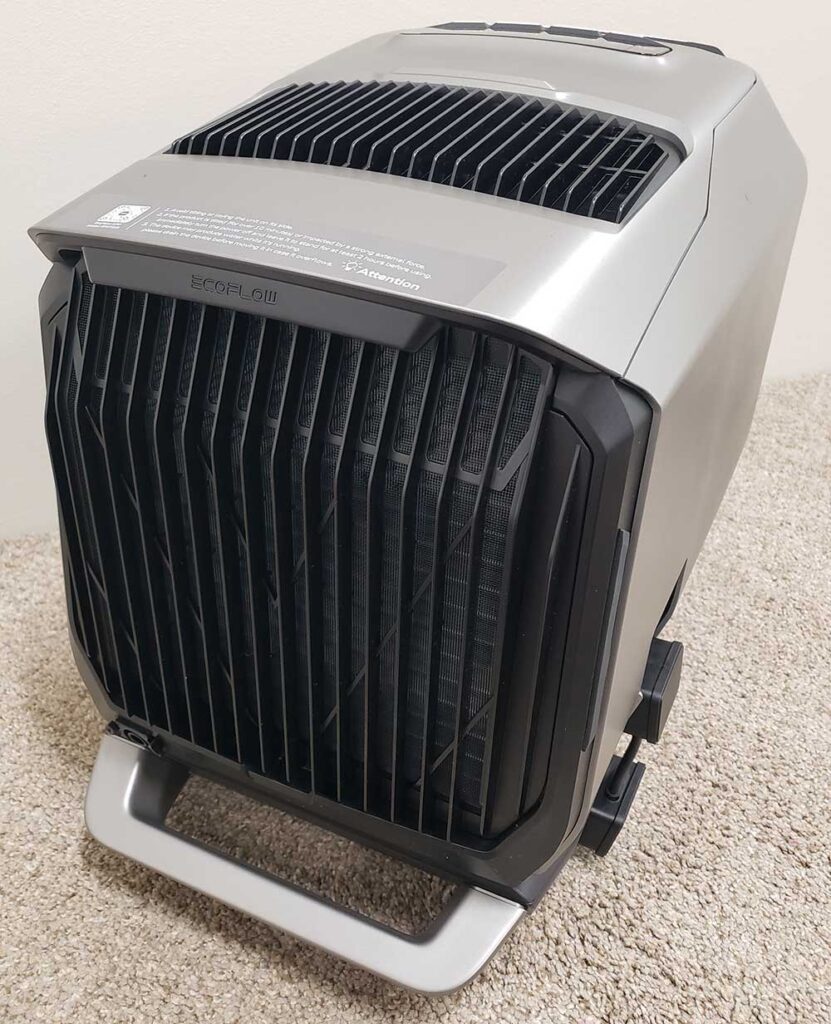 On the top center is a moderately large, brightly lit LCD screen with six functional buttons. There's a main power button on the right to the right of the screen, a heating/cooling/fan toggle button to the left, and four buttons below. These four buttons include a fan speed button, temperature up/down button and a mode button that adjusts between max, night, standard and eco mode.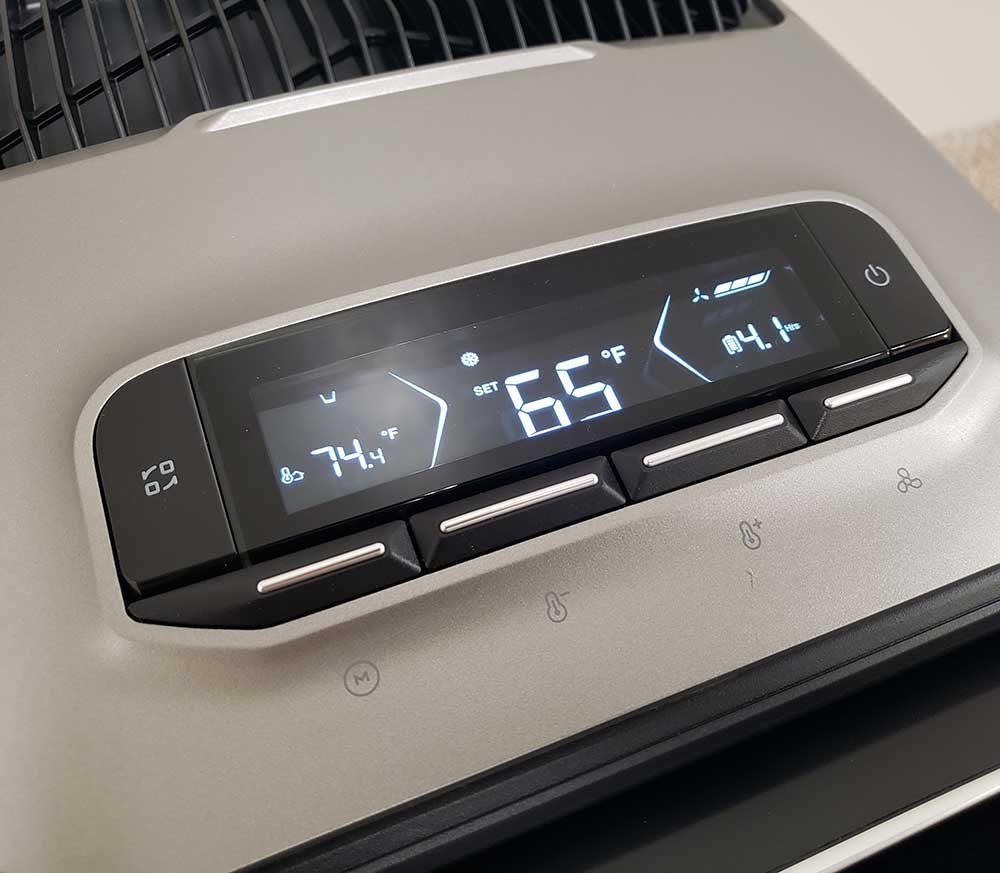 We appreciate the display and widely prefer it over the original Wave's dial and click interface. It's easy to learn, use and adjust on a whim.
The main vent that outputs cold/hot air is accompanied by a LED bar. It displays either blue, white or orange based on the current setting that the Wave 2 is operating in. Blue represents air conditioning, white indicates fan-only, while orange represents heat.
The sides of the unit are fairly non-descript with the only notable mention on the left side of the unit. Here, there's three options for power input; standard AC, XT60 solar, or XT150 for connecting the add-on battery.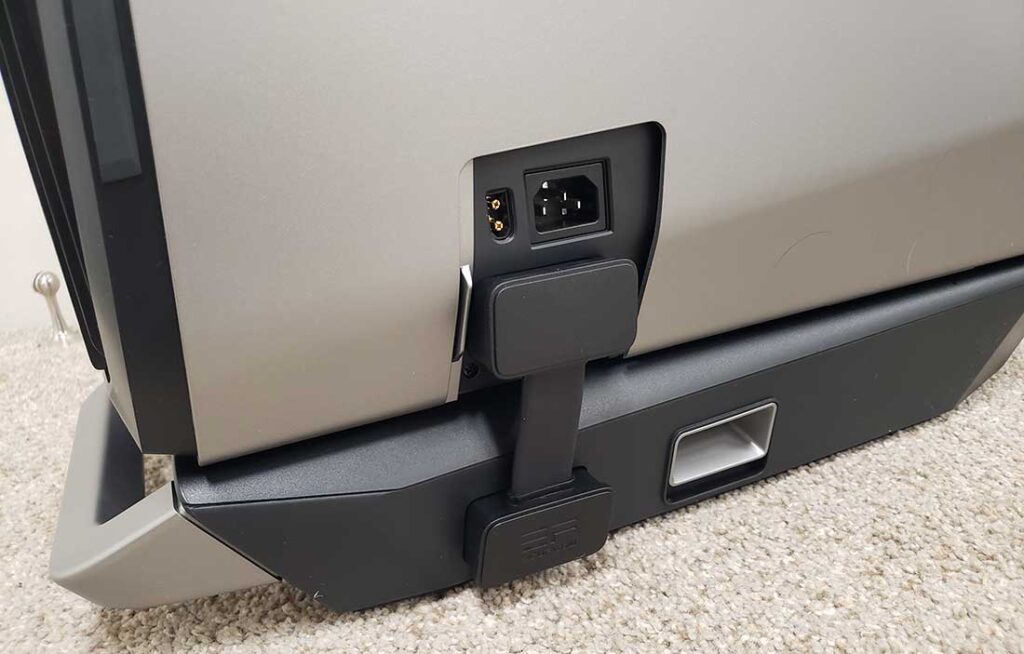 Speaking of, the add-on battery is a nice addition (if you can afford it). It slides right onto the base, latches into position and connects via the included XT150 cable. The battery has a built-in handle with a power button and LED battery-life indicators on the front. There's also a USB-C and USB-A charging port on the front corner of the battery – pretty cool.
However, there's one main caveat to the battery – it cannot be charged without being physically attached to the Wave 2 unit. That said, there's no inclusion of a power input on the battery itself; only on the Wave 2 unit. As a result, you must keep the battery attached via the XT150 cable if you would like to charge it.
In our opinion, this is a definite oversight. You're not going to be able to charge the add-on battery on its own. For certain scenarios, a bit of pre-planning may be necessary. In fact, this was the same case with the original Wave One. It's a bummer that EcoFlow didn't give this ability with the Wave 2, but it is what it is.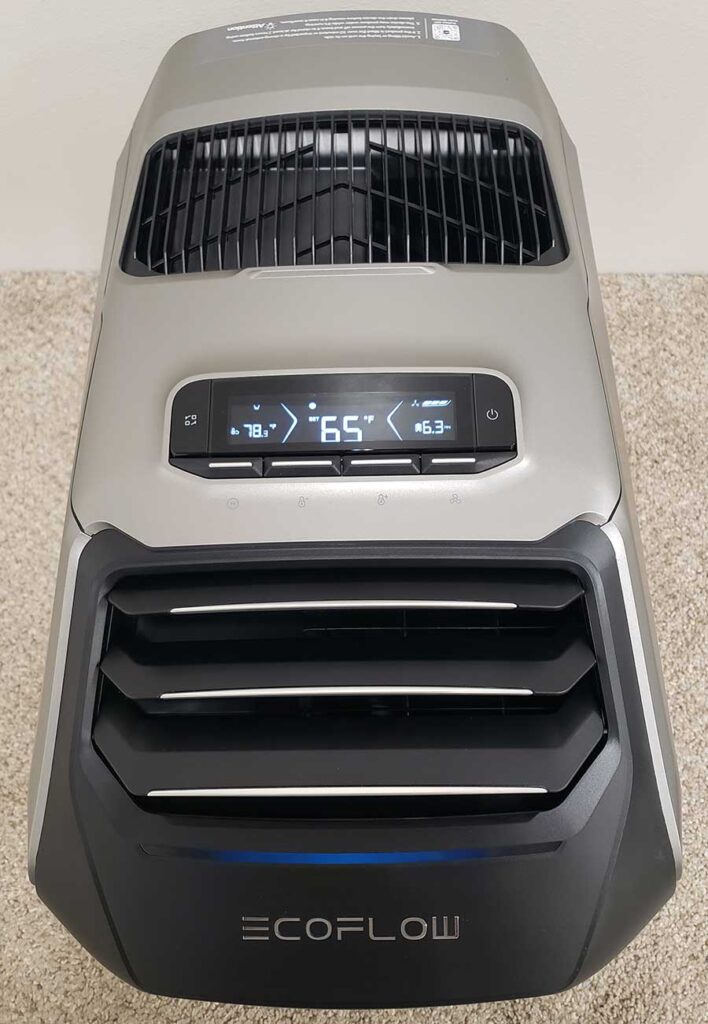 Using the EcoFlow Wave 2
Setting up and configuring the Wave 2 for first-time use is very simple and straightforward. Simply attach the shrouds, insert whichever ducts you'd like to utilize, vent it properly and power it up.
While the instructions are well-versed and easy to follow, basic operation is possible within just minutes from unboxing. However, using the EcoFlow app is a great way to interact with absolutely everything the Wave 2 has to offer.
EcoFlow Smart App
Available on iOS and Android, the EcoFlow app is a must and highly recommended. We highly reccomend taking a couple of minutes to install it and configure the Wave 2. First, make sure that your smartphone or tablet is connected to a 2.4GHz WiFi network. Next, open up the app and as long as the Wave 2 is powered on, it'll be discovered.
With the push of a single button, you'll then verify the network name/password and pair it with the app. Once paired, the app acts as a remote control and offers a wealth of adjustment and customization with a few taps. Settings such as screen timeout, timers, temperature unit, drain mode, ambient lighting, beep sounds and more can be configured on a whim. It even tells you the precise air outlet temperature, down to a tenth of a degree.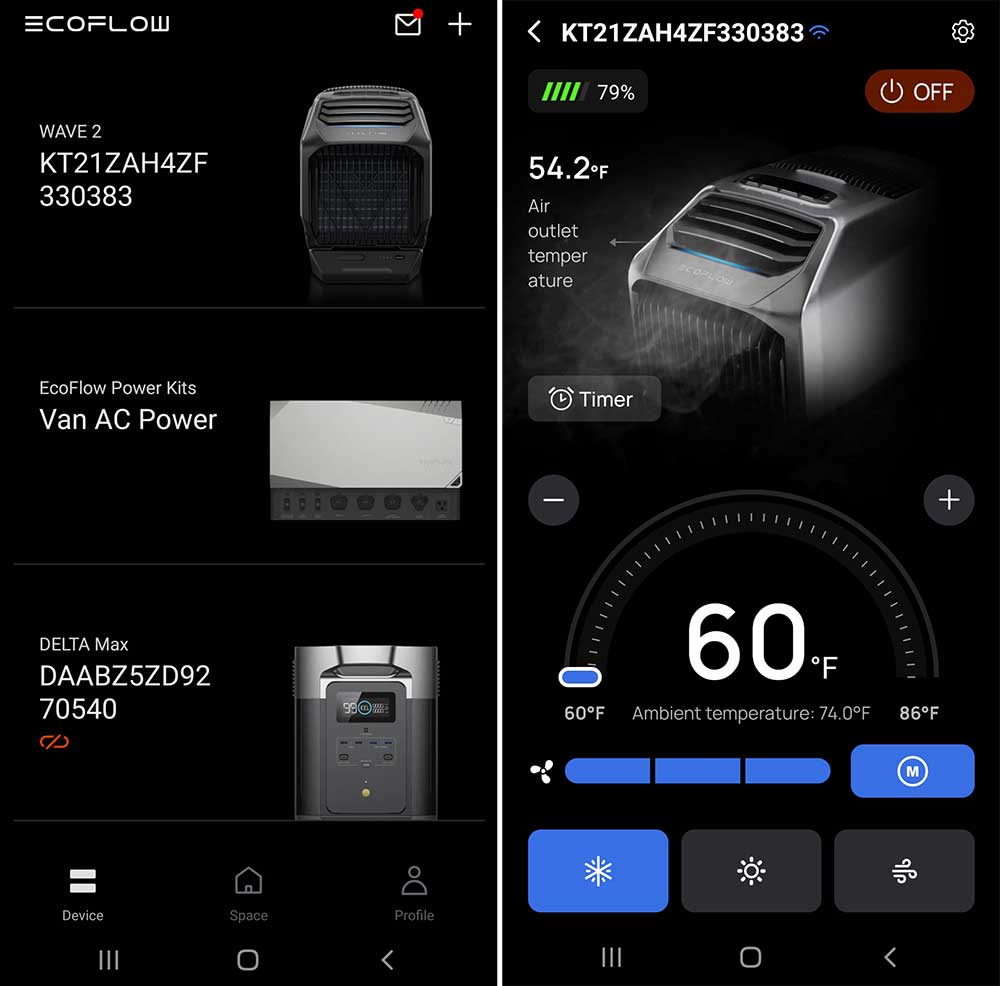 We must say – the EcoFlow app is one of the most impressive and smooth-operating apps we've had the pleasure of using. It never crashes, everything works as it should and it's regularly being updated with any bug fixes that users report. Pretty sweet!
Cooling (Air Conditioning) Mode
The first and main mode of the Wave 2 is the cooling or air conditioning mode. There's adjustments from 60 to 86 degrees Fahrenheit. Simply activate cool mode and select your desired temperature. The compressor will kick-on and start delivering cold air within a matter of minutes. In fact, within 3-4 minutes, the air outlet begins pumping out noticeably cool air. That said, the turn around time from activation to actual cooling is wonderful.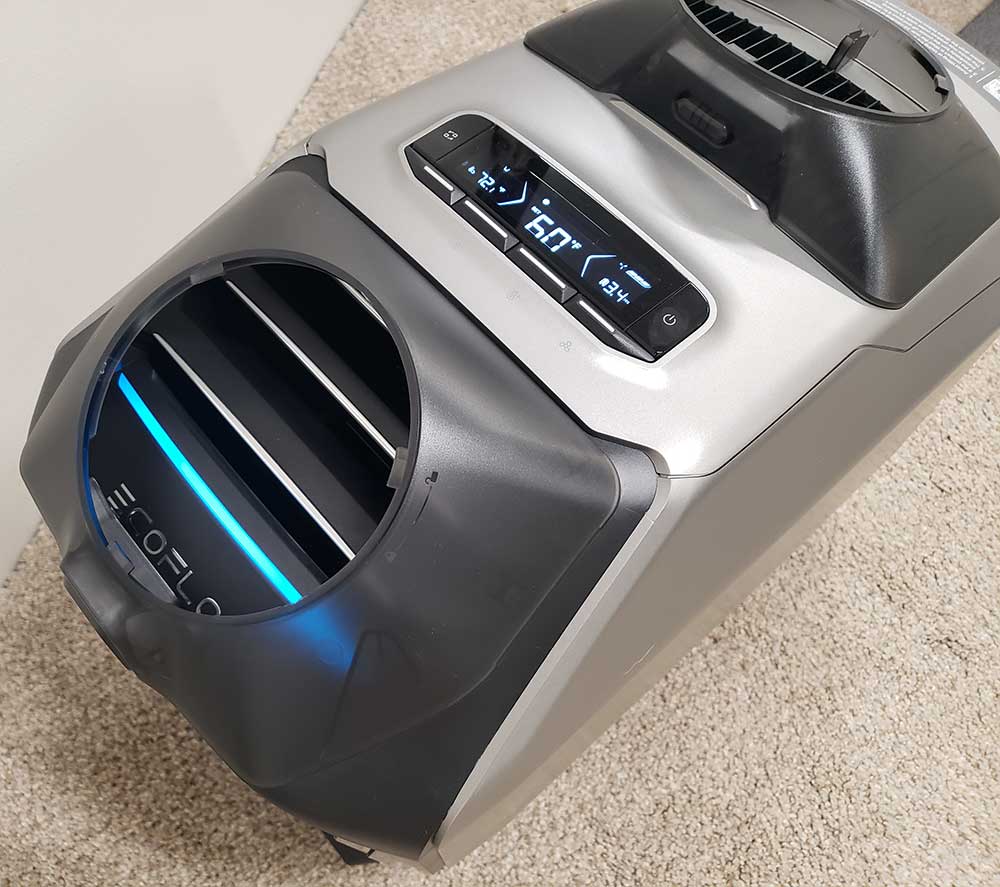 When cooling, be sure to attach the drainage hose to the backside of the unit and direct it into a bottle, sink or other appropriate basin. Using the Wave 2 in AC mode, especially in humid environments, it'll draw moisture out of the ambient air and drain it via this hose. We found that it drained it moderately well, but it does best if the unit is slightly tilted downhill, towards the drainage hole. If not, water will leak out of the base of the unit when you go to move it. Not exactly the best design, but with a bit of ingenuity, it's more of an annoyance than anything.
In terms of its actual cooling ability, we were definitely impressed. We tested it in an insulated camper van that was parked in direct 90 degree sunlight and found it to work quite well at providing noticeably cooler temps within mere minutes. That said, it's very effective as a spot cooler when sitting right in front of the cold air output. But it's definitely sufficient for small sealed spaces.
Actual Energy Use in Cooling Mode (~370 to 400 watts max)
In 90 degree weather, we booted up the Wave 2 in max cooling mode and set it to the lowest possible temperature of 60 degrees. Without anything else attached to our power system, we carefully watched the actual wattage on our EcoFlow Power Kit display monitor ramp up to a draw of 400 watts.
Within 10 minutes and beyond, it remained at a steady 370-400 watts for the duration of its operation, even with max mode activated with the fan speed turned up high. During this time, the air coming out of the Wave 2 dipped down to a low of 54.6 degrees and remain steady for over an hour. Operating it in eco or night mode will lower this by about 80-100 watts, resulting in a draw of 270-300 watts.
Heating Mode
As discussed earlier, one of the Wave 2's newest features above its predecessor is its ability to provide heat. We opted to thoroughly test out the heat mode on a very cold morning in the mountains. One thing we noticed is that the heat mode takes a bit longer to startup than both the AC and fan-only modes. In fact, sometimes it takes 5-10 minutes to begin pumping out warm air once selected. Regardless, once it gets going, the heat is wonderful.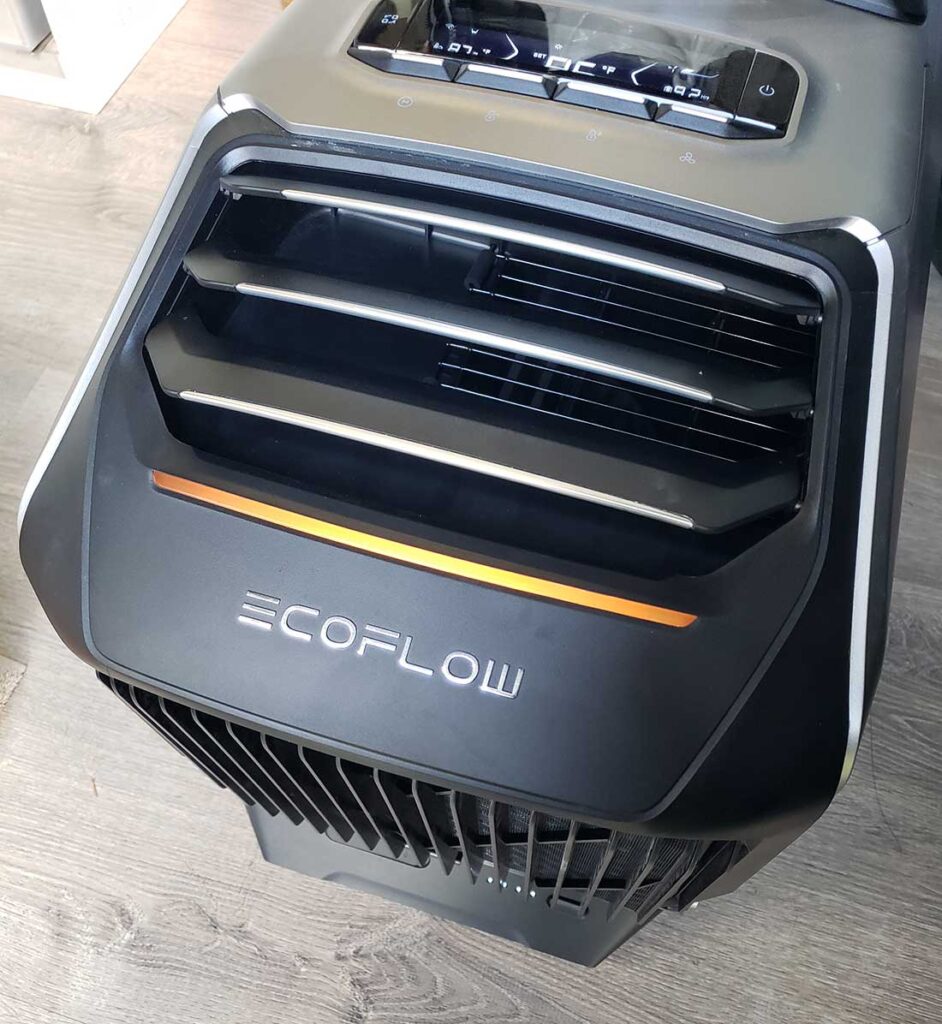 When heating, the Wave 2 will exhaust any cold air and replace it with warm air. Just like when in AC mode, proper ducting is especially helpful if you'd like to maximize efficiency and warm-up an area as quickly as possible.
While testing the heating mode, it provided noticeable results in our camper van. During a 45 degree night, we set it to 72 degrees and were pleased to find that it thoroughly provided heat for the entire area without any qualms.
Actual Energy Use in Heating Mode (~300 to 350 watts max)
As we stated, heating mode takes a bit more time to begin. We're not exactly sure why, but it may need extra time to prime the heating element. This seems to be especially true when transitioning from cool to heat mode, which probably won't happen too often in real world scenarios.
Either way, we found the energy draw to be quite similar to that of the AC cooling mode. It begins slow but soon ramps up to 300-350 watts. In max mode, once operating for an hour or more, we found it to draw a steady 325 watts at a maximum fan speed. Operating it in eco or night mode will lower this by about 80-100 watts, resulting in a draw of 200-260 watts.
Fan Mode
The third and final mode of operation with the EcoFlow Wave 2 is the fan-only mode. It's meant for those who want a steady stream of ambient air without any cooling or heating. Perfect for mild days where cold or hot air isn't a necessity. While you aren't able to specify a temperature, for obvious reasons, the fan-only operation is straightforward and simple.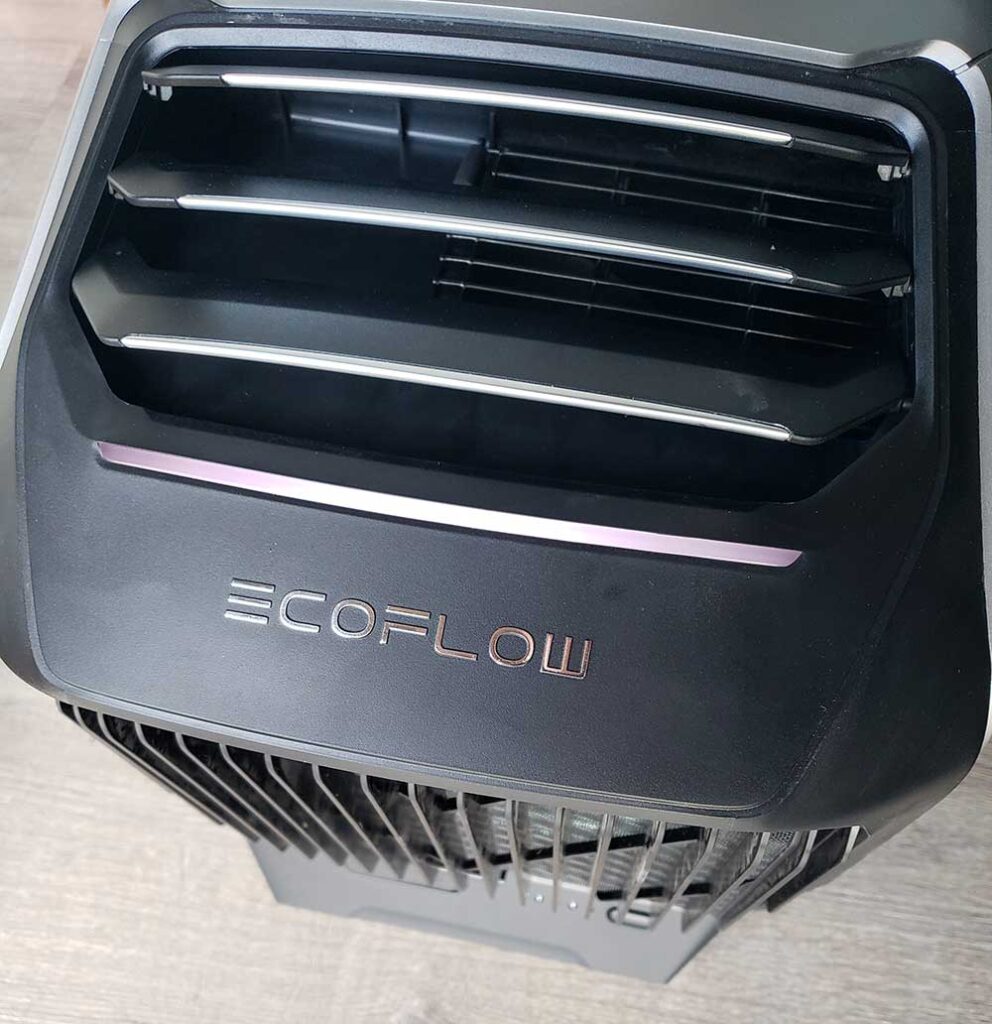 Once activated, the Wave 2 pulls air from the front intake and directly outputs it without utilizing the rear or top intake/exhaust. While testing, we found the fan-only mode to be sufficient for mid-day relaxation when all you need is a slight breeze with no added cooling or heating.
Actual Energy Use in Fan Mode (~20 to 40 watts max)
Since the fan mode simply moves air and doesn't activate any heating or cooling elements, it uses significantly less power than both the AC and heat modes. At the lowest fan speed, it draws around 20 watts or (sometimes) less. At the highest fan speed, it draws around 30-40 watts. Pretty economical if you ask us, and the perfect mode for simply moving ambient air without any extra effort.
Battery Powered Operation
As discussed earlier, the optional add-on battery lets you power the Wave 2 without the need for it to be plugged in. That said, we found that you can expect around 3-4 hours of cordless use when operating at the max mode within both cooling or heat mode. If you utilize eco or night mode, expect around 6-8 hours of battery life. Pretty impressive if you ask us!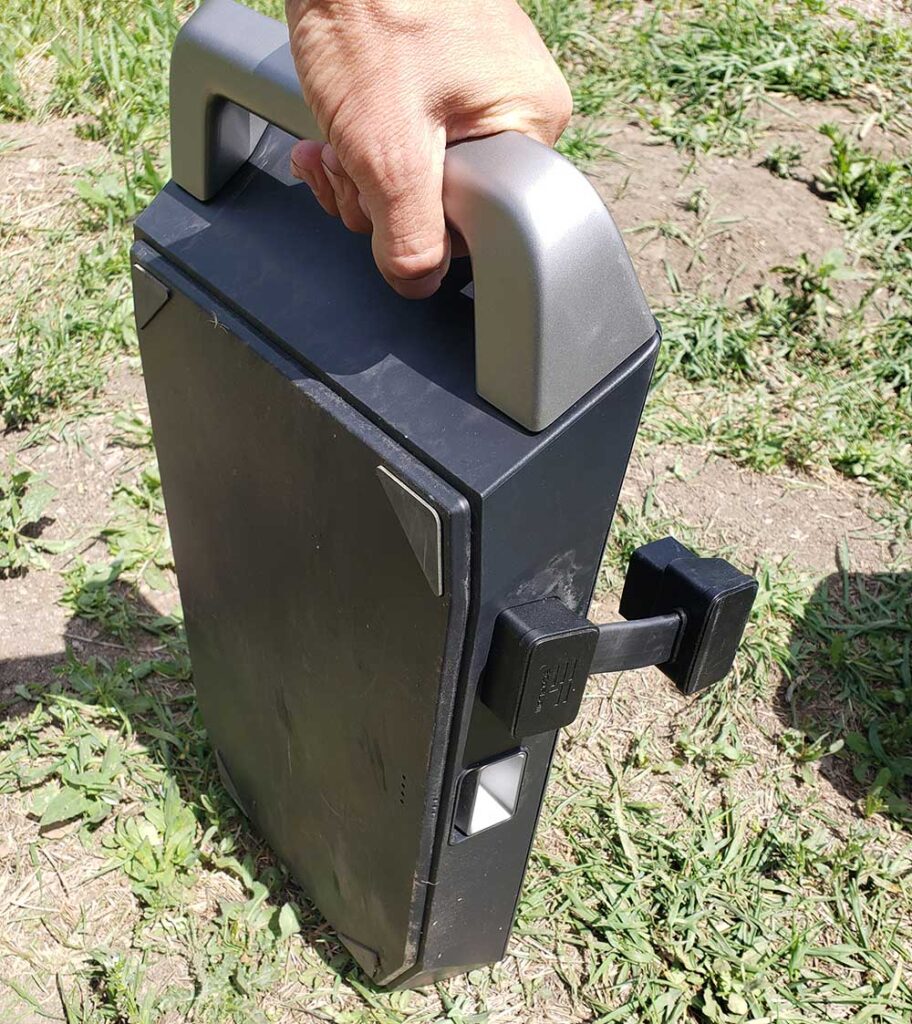 While the battery is definitely an expensive upgrade, it's a nice addition for those who are truly off-grid. If you need a reliable source of power during the night when the sun isn't shining, or if your power setup is lacking, the add-on battery upgrade may be a smart investment. While it does add a bit of weight and bulk to the unit, it's fairly efficient, especially when you utilize eco or night mode.
Actual Energy Use While Charging the Battery (~700 watts)
As we mentioned earlier, the Wave 2 add-on battery must be connected to the Wave 2 unit for charging. There is no way to standalone charge the battery due to the lack of a charging input on the battery itself. This definite downside is an oversight by EcoFlow and something that we think more consumers should be aware of.
Regardless, the amount of energy the battery takes to charge is right around 700 watts. However, this wattage doesn't seem to increase or decrease if you're actively using the Wave 2 while it's charging. In fact, the amount of watts it pulls remains the same even when using the cool or heat mode at its maximum setting.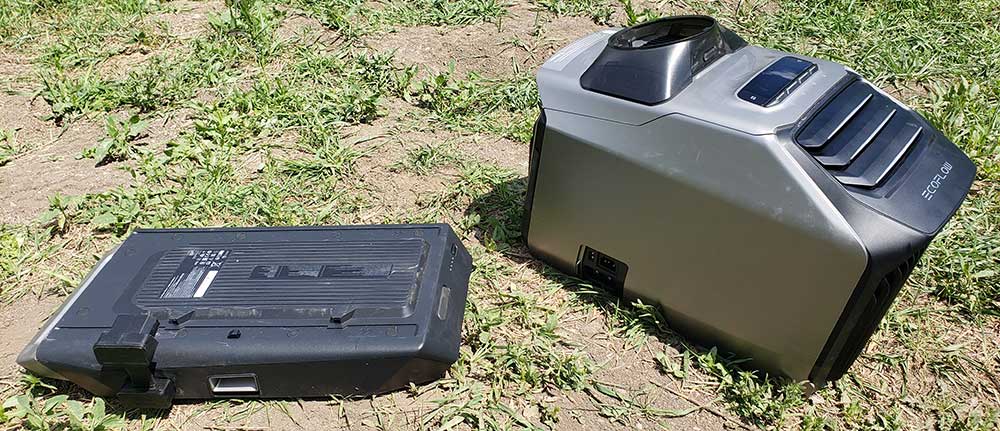 Simply put, it shares the draw with the operation of the unit while it charges. That said, it'll take a bit longer to achieve a full charge while the Wave 2 unit is in use rather than if you were to charge-up the battery without the Wave 2 being actively used.
Realistically, the add-on battery takes around 2-3 hours to achieve a full charge from completely empty to full. In our opinion, this is exceptionally quick and very commendable. This is one of the main reasons we love EcoFlow so much. With all of their products, they tend to put extra emphasis into fast re-charging times so you can spend less time waiting around and more time using the battery itself. The ideal situation for off-grid dwelling or an on-the-go, travel-oriented lifestyle.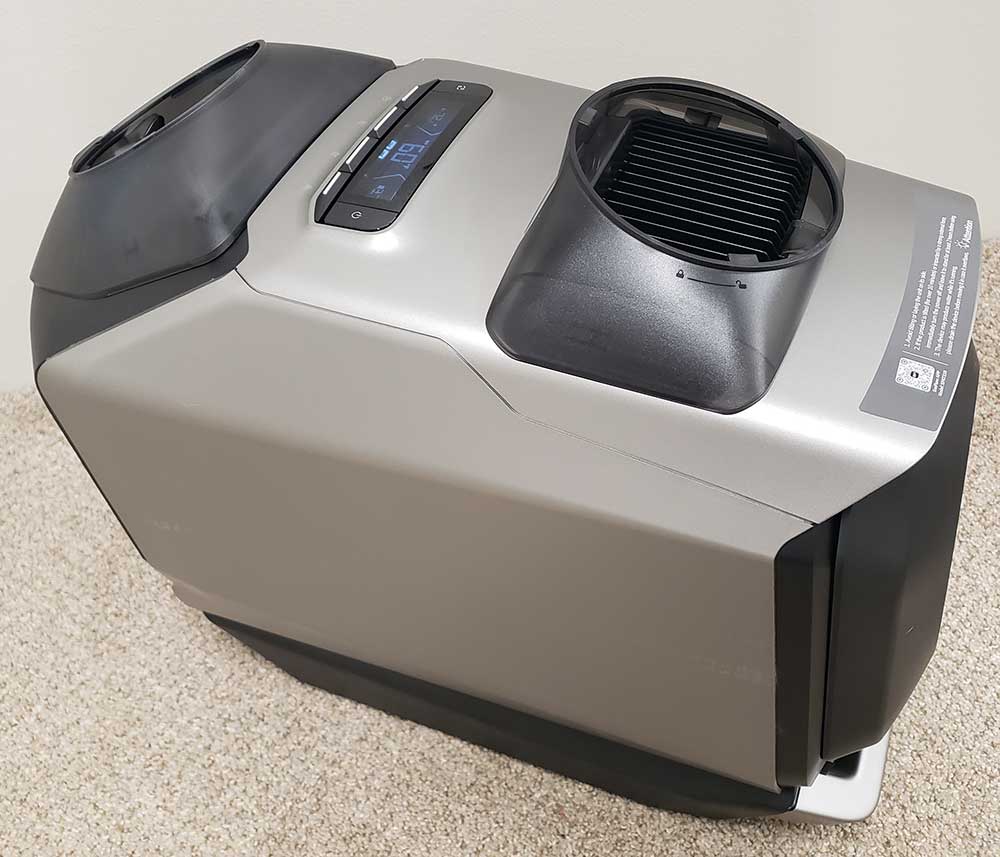 FAQ's on the EcoFlow Wave 2
Why does the EcoFlow Wave 2 cost so much more than a standard air conditioner?
Air conditioners are notorious energy hogs. They tend to require a high amount of amperage which results in incredibly high energy use over the long term. So much that typically, you cannot power a standard air conditioner with a typical off-grid or mobile power setup, unless you've already invested upwards of ten thousand dollars (or more) for a full-fledged, high-draw power system.
The Wave 2 sets itself apart by offering the ability to be powered via battery or plugged into a solar panel or standard 120V AC outlet. Inside, the compressor is small but mighty – powerful at cooling but simultaneously very energy efficient. Standard air conditioners aren't meant to be powered with this little of energy use.
Is the EcoFlow Wave 2 waterproof?
The EcoFlow Wave 2 and add-on battery are both IPX4 rated. Essentially, this means that they can withstand splashing water from any direction. While you definitely don't want to submerge it into a puddle or expose it to standing water, you can rest assured knowing that it'll handle rain or a small amount of moisture with ease.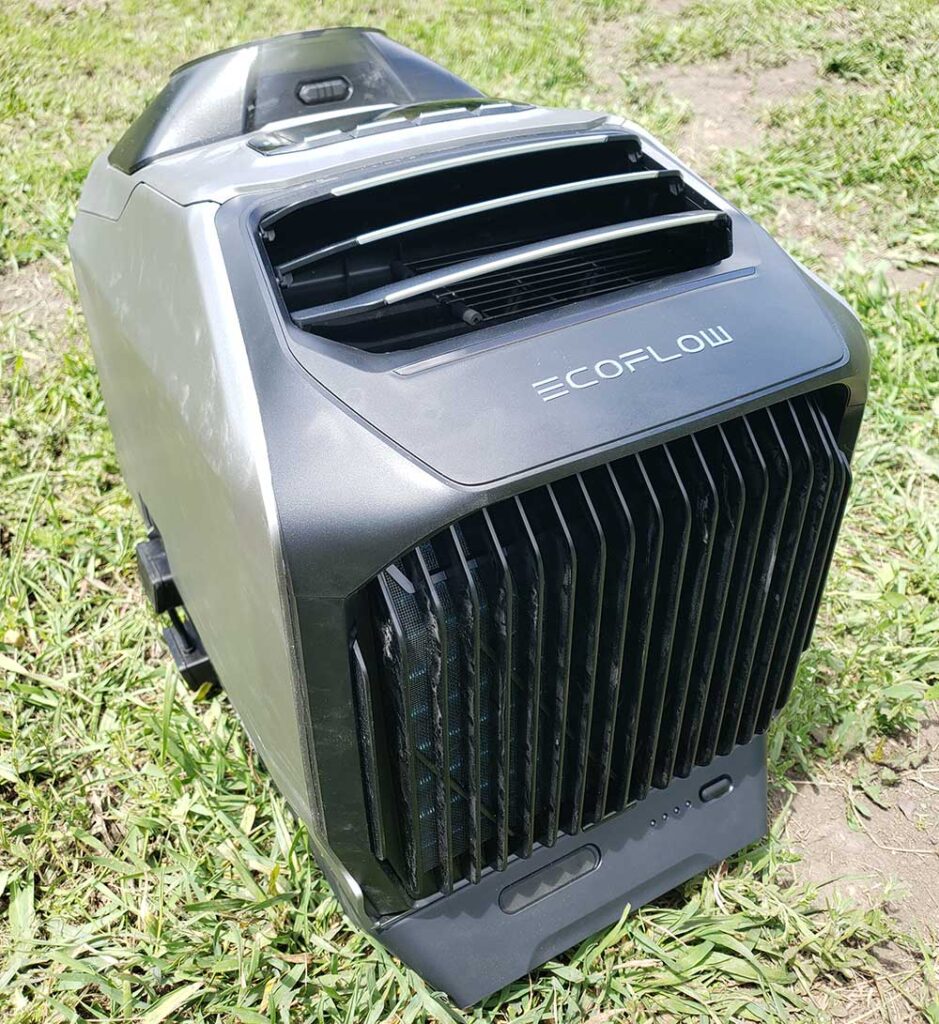 Can you power the EcoFlow Wave 2 with solar-only?
The side of the Wave 2 has an XT60 input for connecting any of EcoFlow's solar panels. However, we highly recommend using it in conjunction with the add-on battery for charging only. Often times, even with a 400w rated panel in ideal conditions, it won't be enough power to fully operate the unit without the add-on battery attached. That said, we highly recommend opting for the add-on battery if it's within your means.
Do you have to duct the top and rear exhaust?
While the air conditioner compressor is under operation, it works by diverting warm air out of the intake and exhausting it through the ducting. As a result, hot air will be pumping out of the unit as cold air is being delivered out the front.
Although it's not necessarily required, we highly recommend you spend some time to configure ventilation so that it can work as efficiently as possible. This holds true with the heating mode. It'll remove any cold air in the environment and exhaust it as it pumps out heat.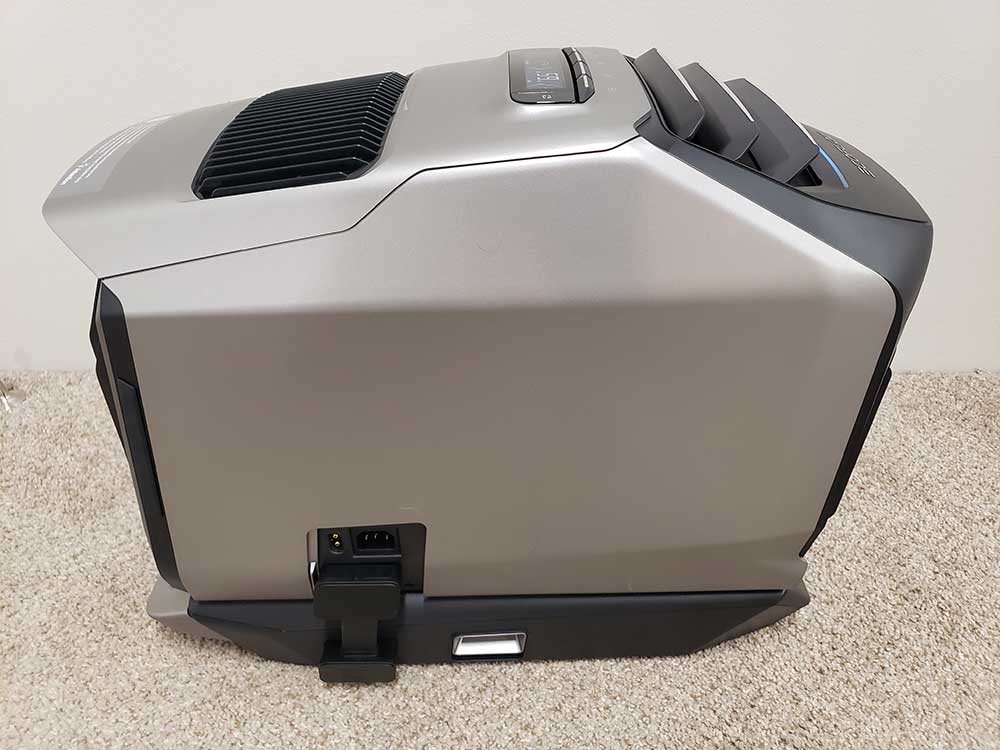 Final Thoughts
The EcoFlow Wave 2 is a game changer when it comes to efficient heating and cooling. While it's not perfect, it's likely the best portable air conditioner currently available on the market. And with its ability to act as a heater as well, there's truly nothing similar to compare it to, putting it in a class of its own. It's relatively quiet, portable and well designed.
Although it's only a few pounds lighter and has a slightly smaller footprint than the original Wave One, the Wave 2 improves upon its predecessor with quicker cool/heat times, an improved interface and better efficiency in almost every regard.
While the air conditioner may leak if not setup with a slight downward tilt, and it also requires some forethought in terms of ducting, it has a lot of positive traits going for it. Sure, it's incredibly expensive, but if you have the means and the need for a relatively portable, well-designed air conditioner that can also provide heat, look no further.
We really love using the Wave 2 with EcoFlow's smart app. It opens up a whole realm of customization with remote control for easy adjustment from a distance.
Meet Derek, "TechGuru," a 34-year-old technology enthusiast with a deep passion for tech innovations. With extensive experience, he specializes in gaming hardware and software, and has expertise in gadgets, custom PCs, and audio.
Besides writing about tech and reviewing new products, Derek enjoys traveling, hiking, and photography. Committed to keeping up with the latest industry trends, he aims to guide readers in making informed tech decisions.