EcoFlow Wave
Pros
Relatively compact, portable design.
Effective at cooling spaces under 100 sq. ft.
Can be powered multiple ways.
Add-on batteries re-charge quickly via AC.
Drainage hose doesn't always need to be connected.
Cons
Add-on batteries cannot be charged without being attached to the unit.
Expensive price tag for most consumers.
Ducting can be a bit cumbersome.
Weighs 60 lbs. with battery attached.
EcoFlow is one of the leading emergency backup and off-grid portable power product manufacturers on the market. In the past we were highly impressed with their DELTA Max; a cutting-edge power station with some very incredible features. Because of this, we knew when we heard about their new portable air conditioner, we had to give it a try.
Introducing the EcoFlow Wave. A relatively compact, portable air conditioner that's specifically designed for any small space. Ideal for use in an RV, camper van, tent or tiny house, it's one of the first of its kind.
Note: At no extra cost to you, we may earn a commission for purchases using our links. Learn more.
With 4,000 BTU of cooling power, it may not be quite as powerful as a standard household air conditioner, but it provides some major advantages. That said, it's highly efficient for off-grid use, where power consumption is of utmost importance. In addition, it's relatively small in size with a minimal footprint. Best of all, it can even be powered independently with a provided "add-on battery."
Today we're going to take an in-depth look at the EcoFlow Wave. We'll go over each of its features and see all that it has to offer. Ultimately, we'll determine if it's worth the steep price tag or if you should pass on it. Let's get right into it.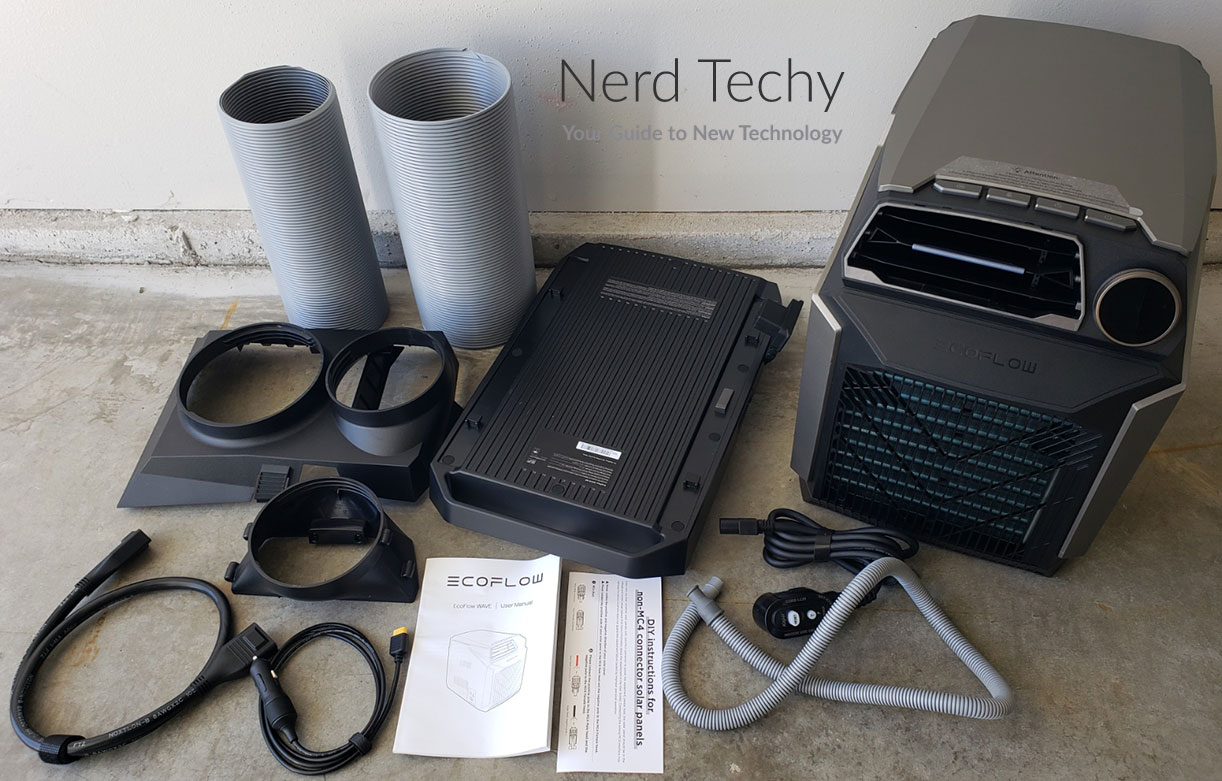 What's in the Box?
One EcoFlow Wave Portable Air Conditioner unit.
One Add-On Battery.
AC Cable for charging and powering.
12V cigarette lighter/vehicle charger.
Outlet shroud for rear exhaust/intake
Outlet shroud for front cold air output.
Two flexible air ducts
One flexible drainage tube
User manuals and warranty cards.
As you can see, you get everything you need to fully operate the EcoFlow Wave. The only thing one could say is missing is an additional air duct for the front or back of the unit as there are three places to duct air from. Not that big of deal, but worth pointing out.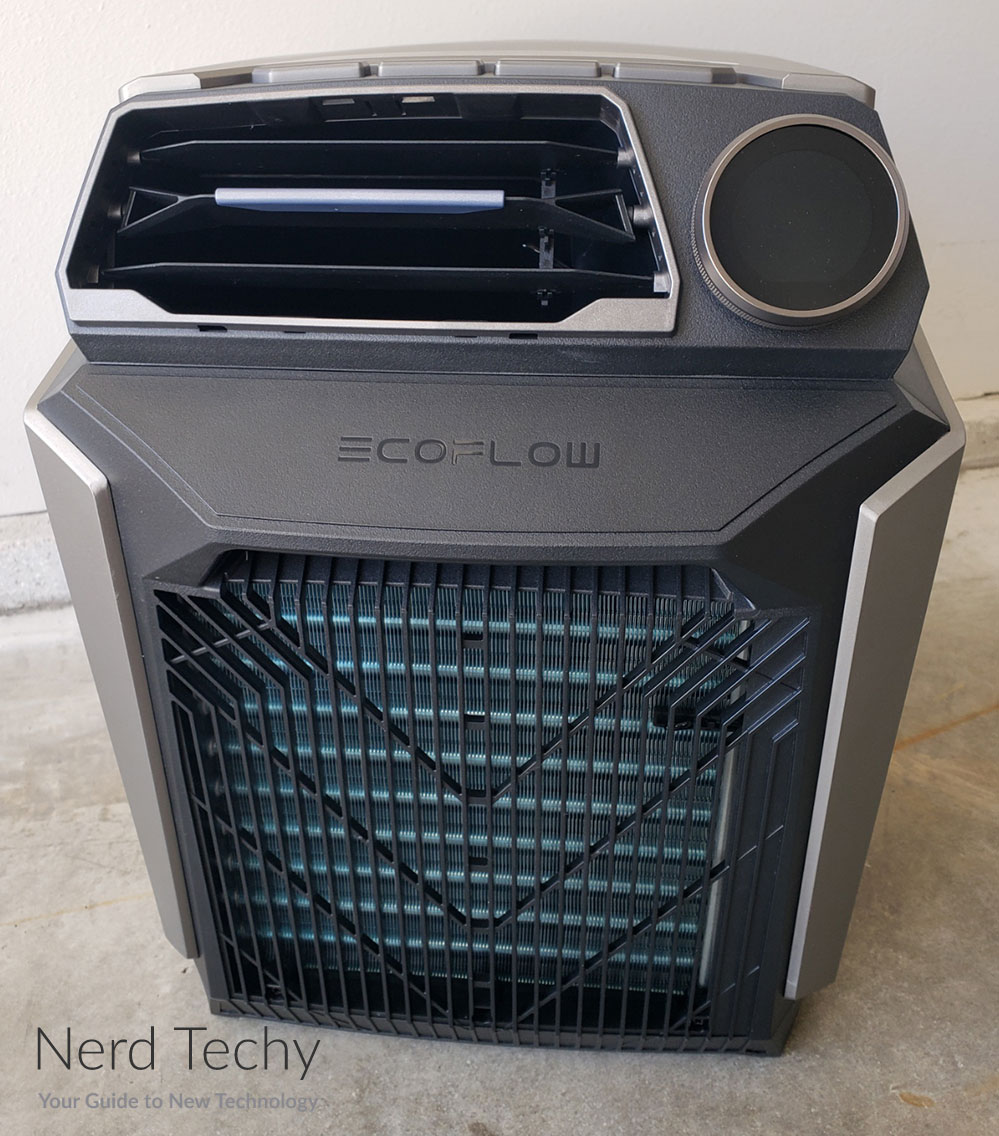 Size and Footprint
Although the EcoFlow Wave is touted as a portable air conditioner, it's somewhat heavy. Without the add-on battery attached, it tips the scale at 38.58 lbs. Since each battery weighs 17.4 lbs, you're looking at close to 60 lbs. when it's setup for off-grid use. While it can be used independently from the add-on battery and plug it directly into an AC outlet, many scenarios will warrant the use of it.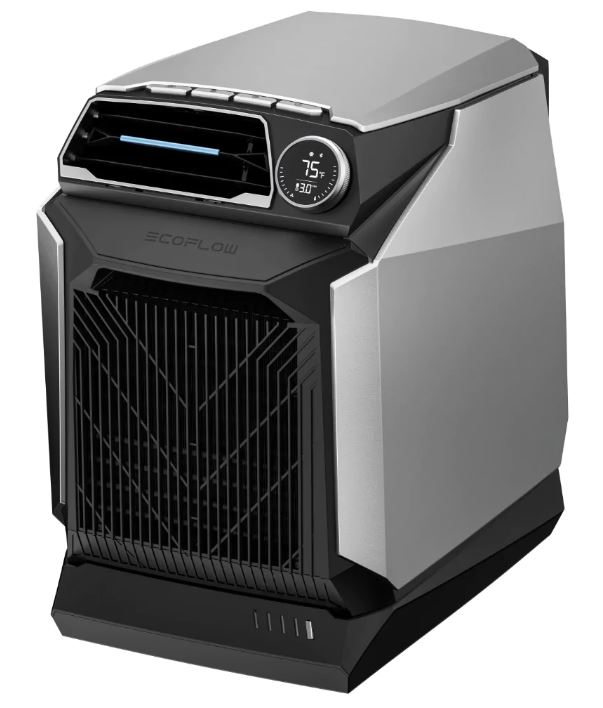 The Wave measures 20.39 high, 12.2 wide and 16.38 inches deep. With the add-on battery attached, it's only about 3 inches taller. It securely attaches to the base of the unit and plugs-in on the side. That said, it has a relatively small footprint. Although somewhat heavy, it's nowhere near as bulky as a standard air conditioner that you'd use in your home.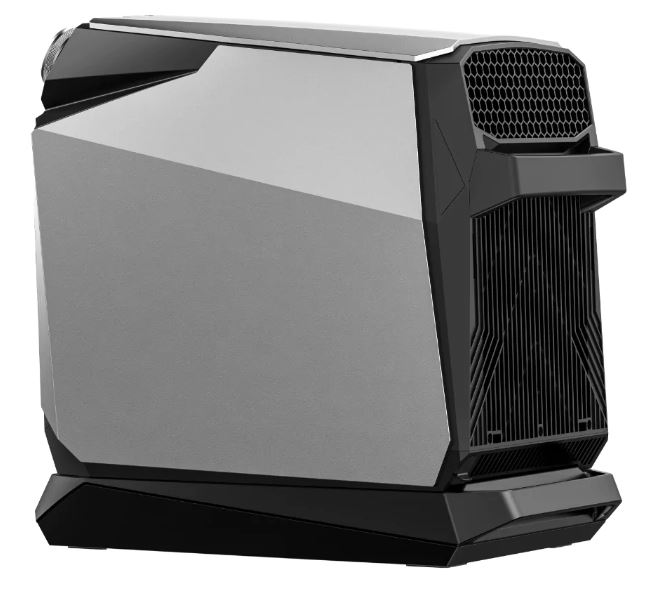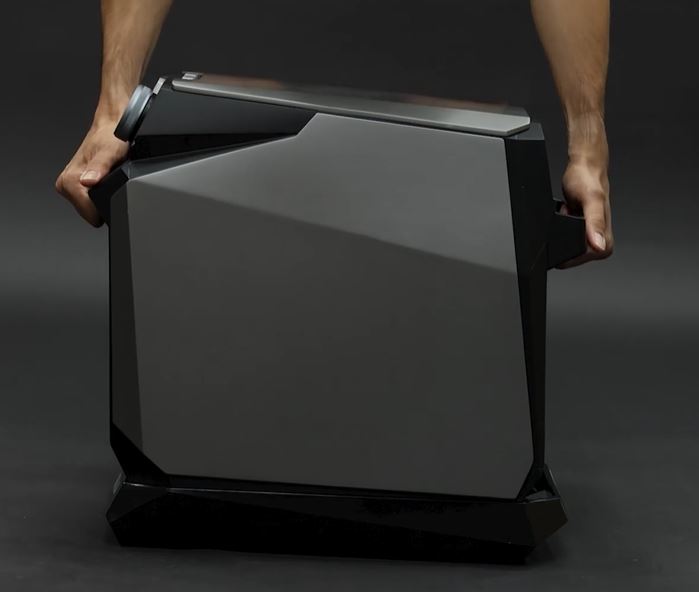 There are built-in handles located on the front and back. While they make it easier to move around, this likely isn't something you want to regularly do. In fact, the front handle is always accessible, but the back handle is hidden once the rear outlet shroud is installed. This can make it a bit difficult to maneuver unless you detach the rear shroud. In fact, it would have been nice to have optional caster wheels for easy maneuverability.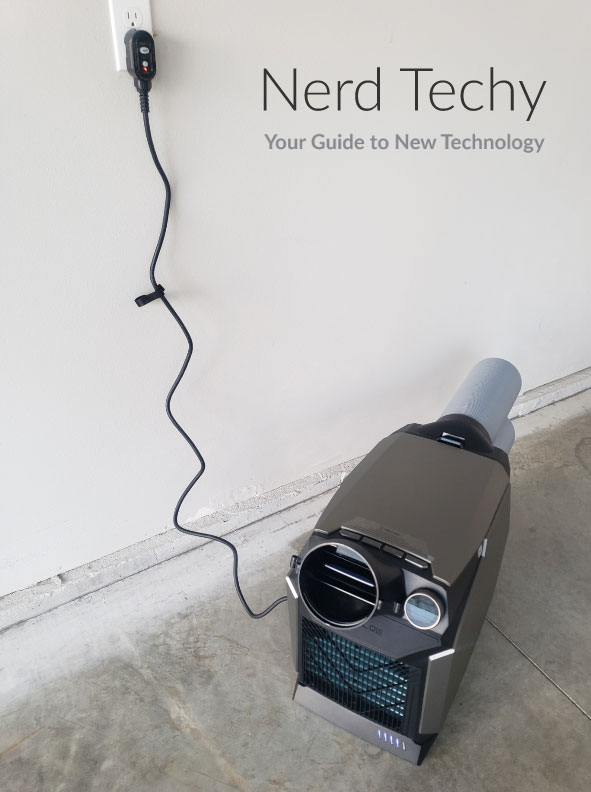 Construction and Durability
The EcoFlow Wave is mostly comprised of a high-quality matte plastic finish with metal in certain areas. With a sleek, black and dark gray appearance, it looks streamlined for performance. Overall, it boasts an angular physique with stylish edges that appear beautifully. All in all, we love the look and feel of it. That being said, nothing seems to be "cheap" or low-quality in our opinion.
It's not the kind of unit that you'll need to necessarily "baby" but there are a couple of things that are important to know. While the Wave is meant for off-grid use, nothing about it is waterproof or weather resistant. Ultimately, it should not be used outdoors and only in a dry environment that isn't exposed to direct moisture. There's not IP rating or water resistance given to the unit. With this in mind, you'll need to keep it inside your dwelling, regardless if you're in a tent, van or large RV.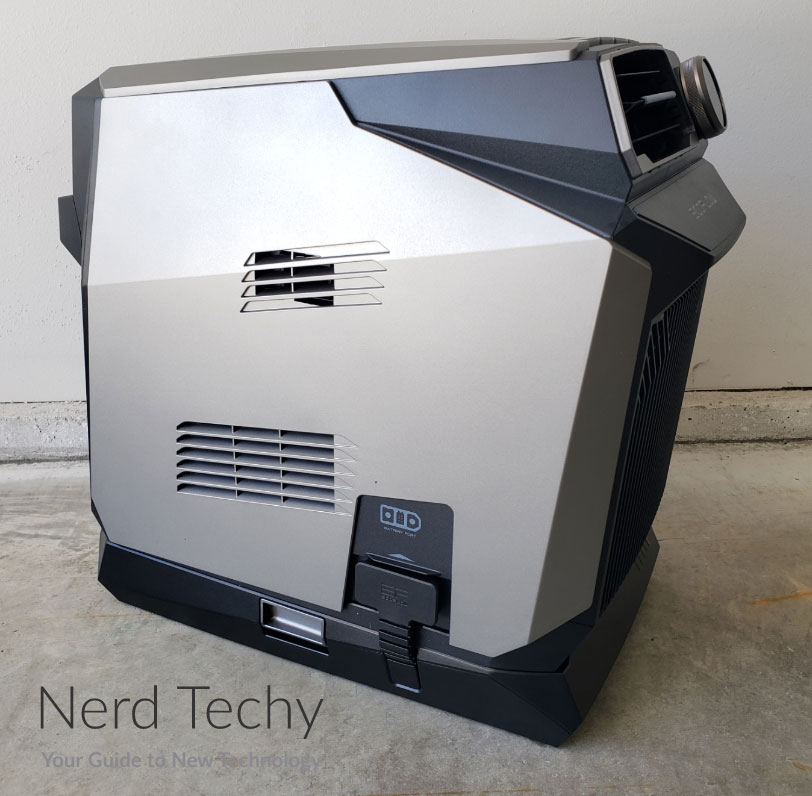 How Does it Work?
The EcoFlow Wave works by utilizing a specialized inverter and compressor built directly into the unit. It's much smaller and more-efficient than a typical AC compressor. Because of this, less energy is used, but can only output 4,000 BTU using its maximum settings. However, this is plenty of capability for the scenario it's designed for; small-size, portable use. Let's go over each side of the Wave to give a good overview of how it functions.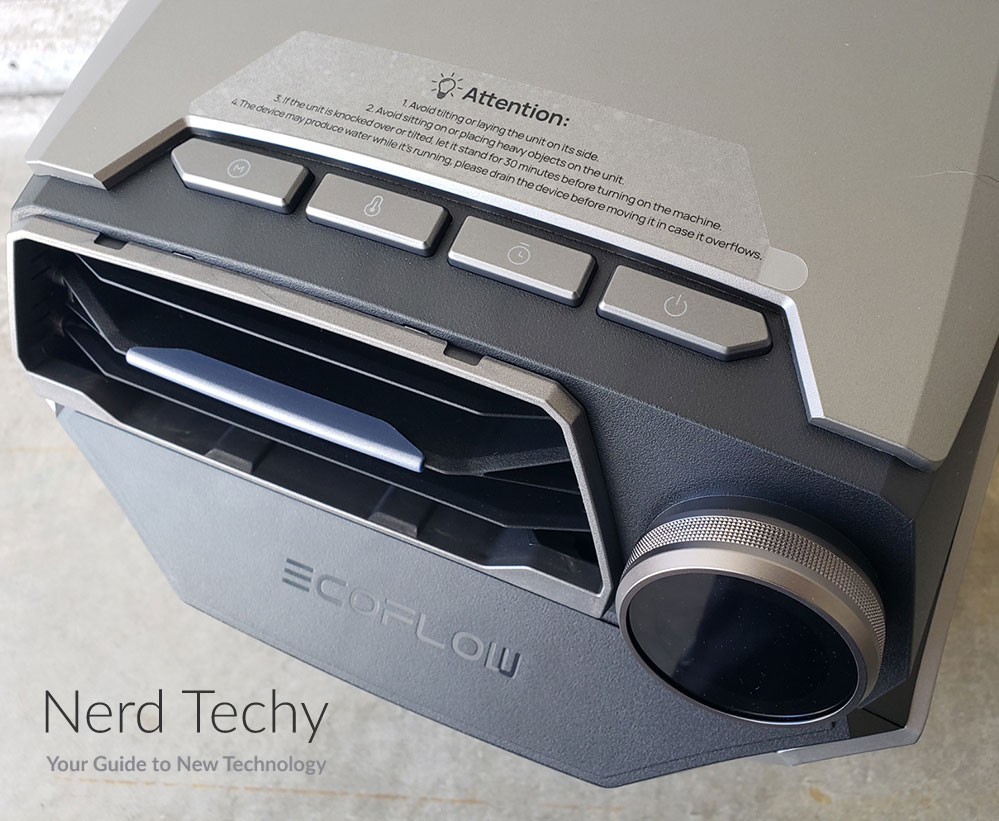 Front of the Unit
The front of the unit is equipped with a row of push-buttons along the top. Here, there's the mode, temperature, timer and power button. Below this is the rectangular cold air output that can be used as-is. Alternatively, you can choose to attach the included cold air shroud which lets you connect a flexible duct to direct the outputted cold air.
Although it's hard to notice, there's actually a built-in handle on the front. It's directly above the cold air inlet and recessed into the body of the unit. In fact, the handle is directly underneath where the EcoFlow logo is embedded.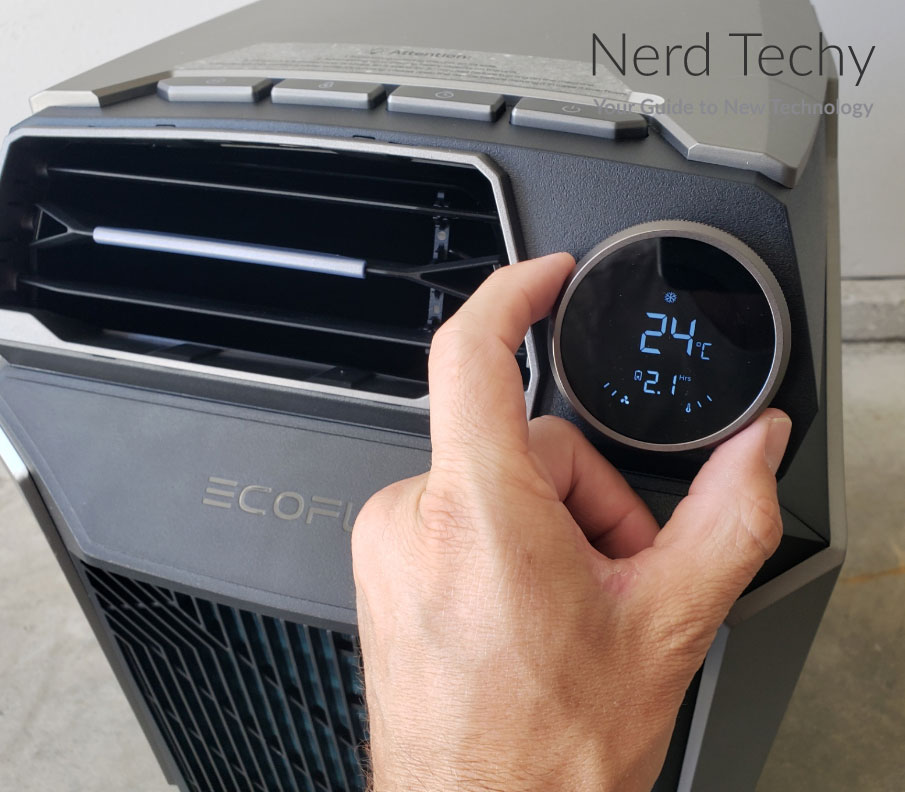 LCD Screen and Control Dial
Directly next to this is the circular LCD screen with a rotary-style dial. When powered on, the mini-screen will illuminate with and let you see and/or adjust almost every setting or status.
Around the circular screen are two sets of lines, indicating the fan speed on the left and the temperature setting on the right. The more visible line-dashes, the higher the setting. In the middle of the screen is the temperature, displayed in either Celsius or Fahrenheit. Users are able to easily choose which unit they prefer.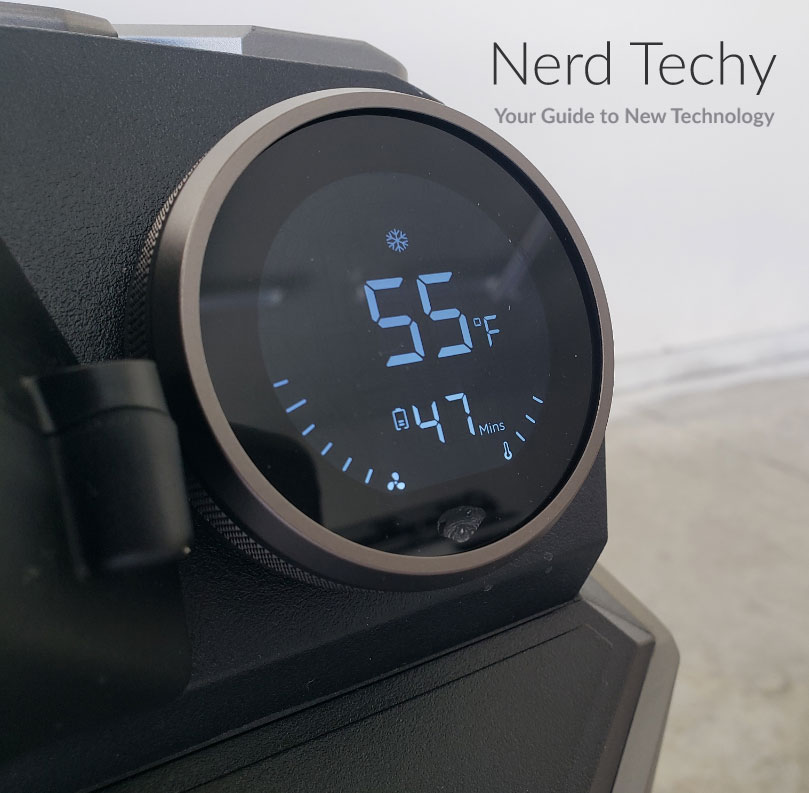 Above this is a set of small icons that indicate the current settings; fan mode, cooling mode and WiFi/Bluetooth connection status.
Lastly, towards the bottom of the screen is a battery level indicator, timer status and timer and charging time display. Ultimately, the screen will clearly define the remaining time until the battery is depleted based on the settings that are currently being used.
The outside of the LCD screen is equipped with a metal rotary dial. You can use it to manually adjust the fan speed and temperature setting. It feels nice and smooth to the touch and offers a quick and simple way to manually adjust the Wave to whichever settings you prefer.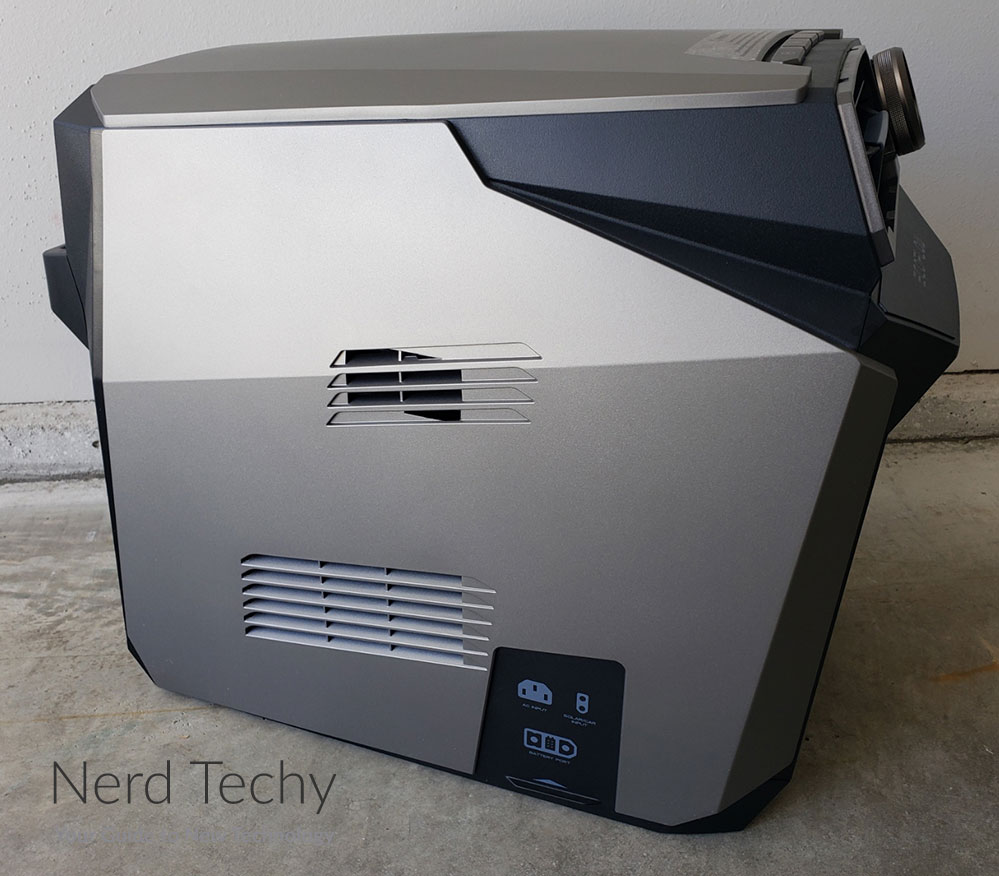 Sides of the Wave
One side of the EcoFlow Wave is non-descript and contains nothing worth mentioning. However, the opposite side is equipped with a few different features. Here, there's a small air outlet near the top-middle. Below this is a slightly larger air inlet. These are used to keep the inside components properly cooled and well-ventilated in order to assure it'll run for as long as needed without any malfunction or hiccups.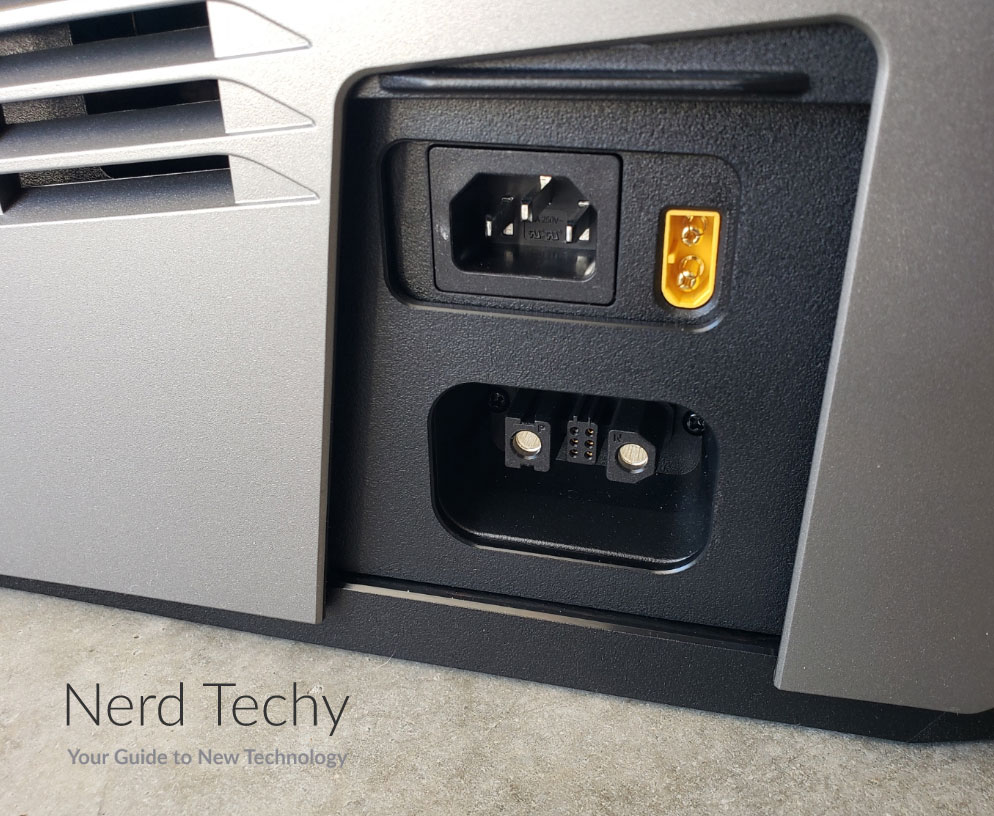 In the bottom right corner is a solar/car charging input and add-on battery port. These are behind a nifty little sliding door that keeps them somewhat protected from dirt/dust ingress while they aren't in use. Here, you can plug-in the Wave directly to AC power or connect/charge up the add-on battery via solar or car charging.
Back of the Wave
The back-side of the EcoFlow Wave is equipped with a large hot air outlet towards the top. Below this is another handle, but once the shroud is installed, it's a bit difficult to access. Beneath the handle is the hot air inlet. Towards the very bottom in the left corner is a drainage outlet.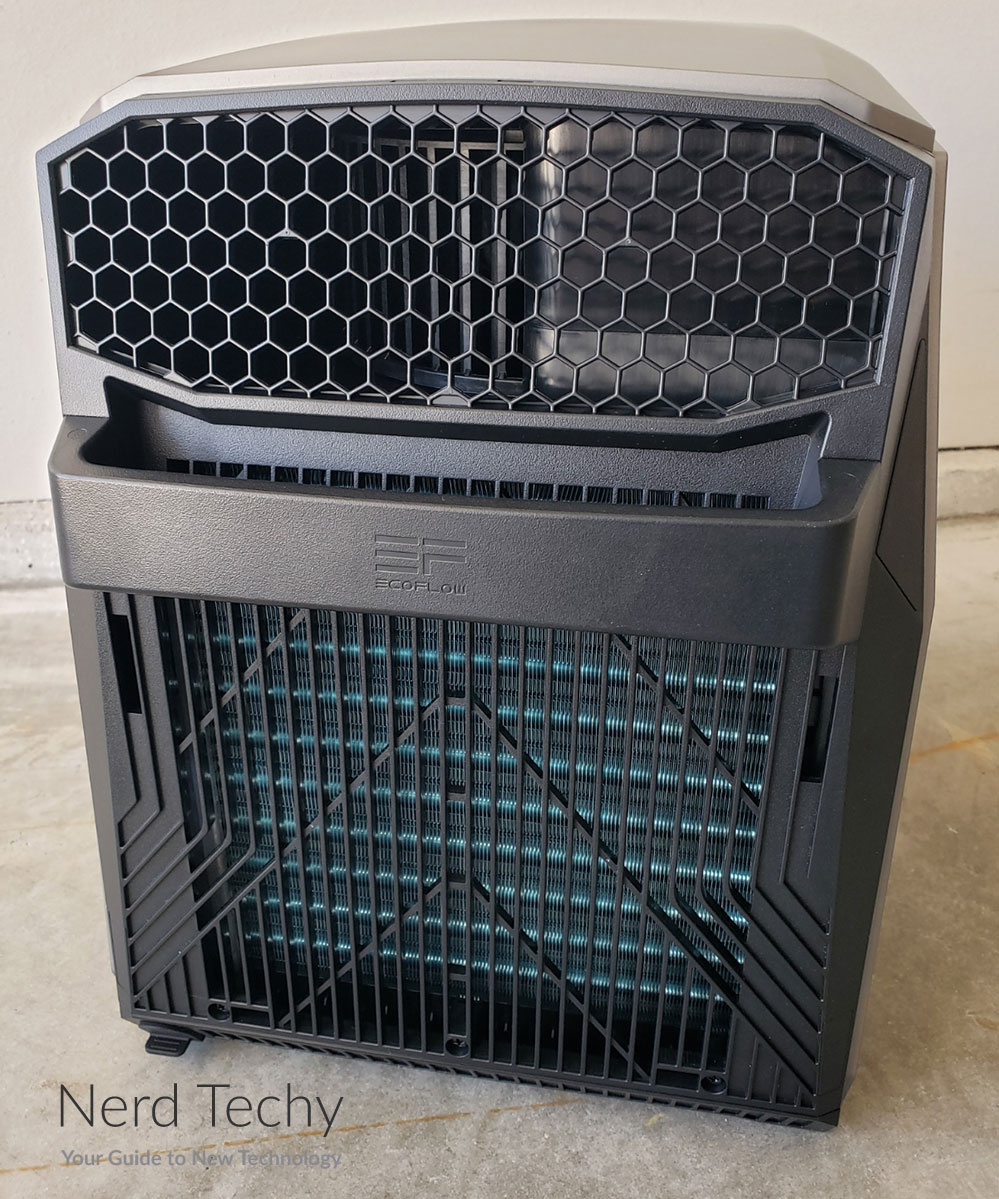 When in use, the Wave will suck ambient air into the inlet while simultaneously outputting hot air through the hot air outlet. The internal compressor will separate the ambient air to blow the coldest air out the front and the hottest air out the back. Using the shrouds and ducting, it'll let you ventilate the unit as needed. Although EcoFlow suggests that this isn't fully necessary, we believe that it's very important to route the air intake/outtakes if you want the most efficient usage and coldest cooling possible.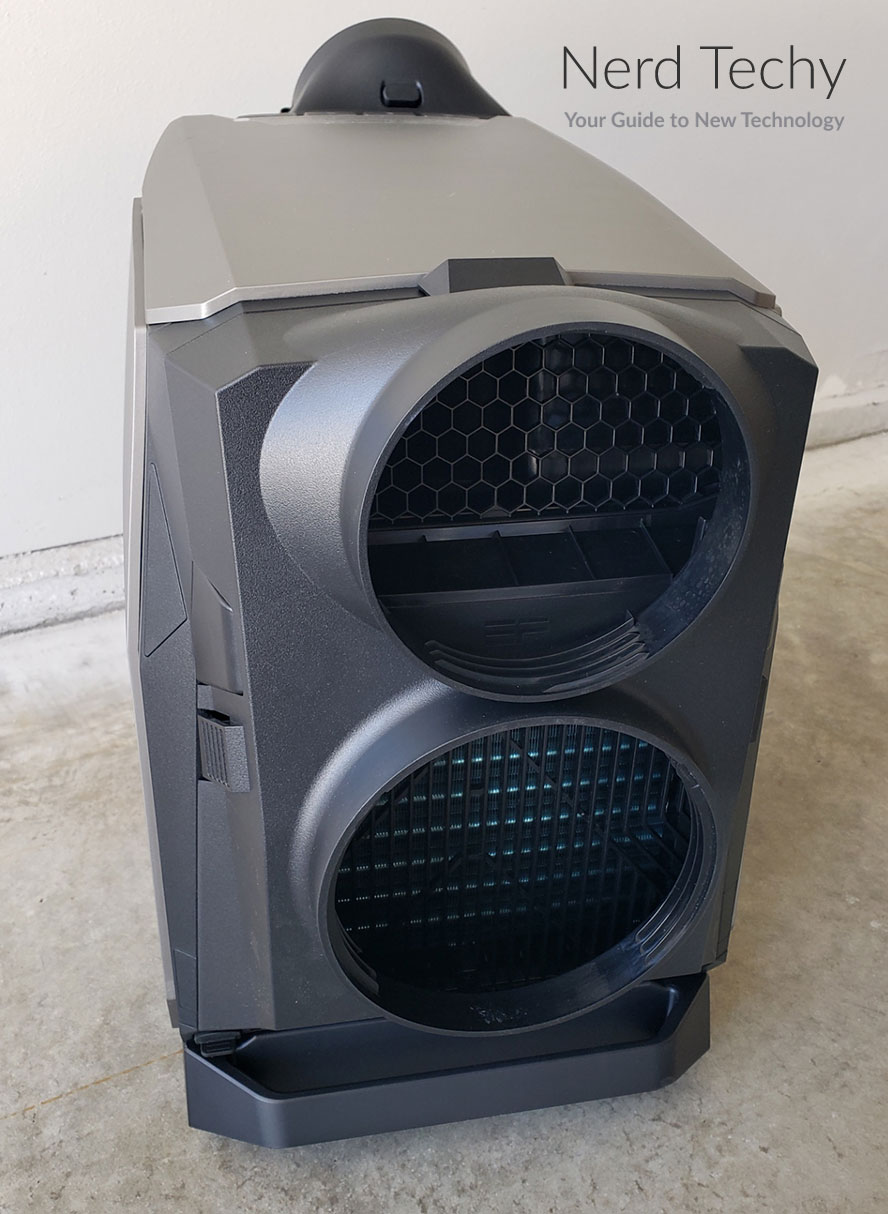 The drainage outlet should be connected to the supplied flexible hose. This way, the unit will collect and drain any moisture it accumulates. As a result, the cold air it outputs is as dry and cold as possible. If you opt to not attach the drainage hose, the Wave will still operate normally.
However, once the internal moisture tank is full, the unit will stop functioning until it's drained. The amount of moisture and the rate it accumulates is totally dependent on a wide variety of factors. In dry environments like the desert, you may not need to worry about draining it.
For those dealing with high humidity, draining the moisture is likely necessary for continuous use. Best of all, the Wave has an Automatic Drain feature. This automatically drains any collected moisture to the internal heating tube so it can quickly evaporate. In most environments under 70% relative humidity, the drainage hose may not be necessary.
Bottom of the Wave
The bottom-side is where the add-on battery attaches. Each battery contains a set of notched grooves that snap into position in a sliding manner. Once secured, simply plug-in the power cable into the add-on battery port on the side of the Wave. It's short, but the perfect length for a no-mess attachment without the tangle of wires.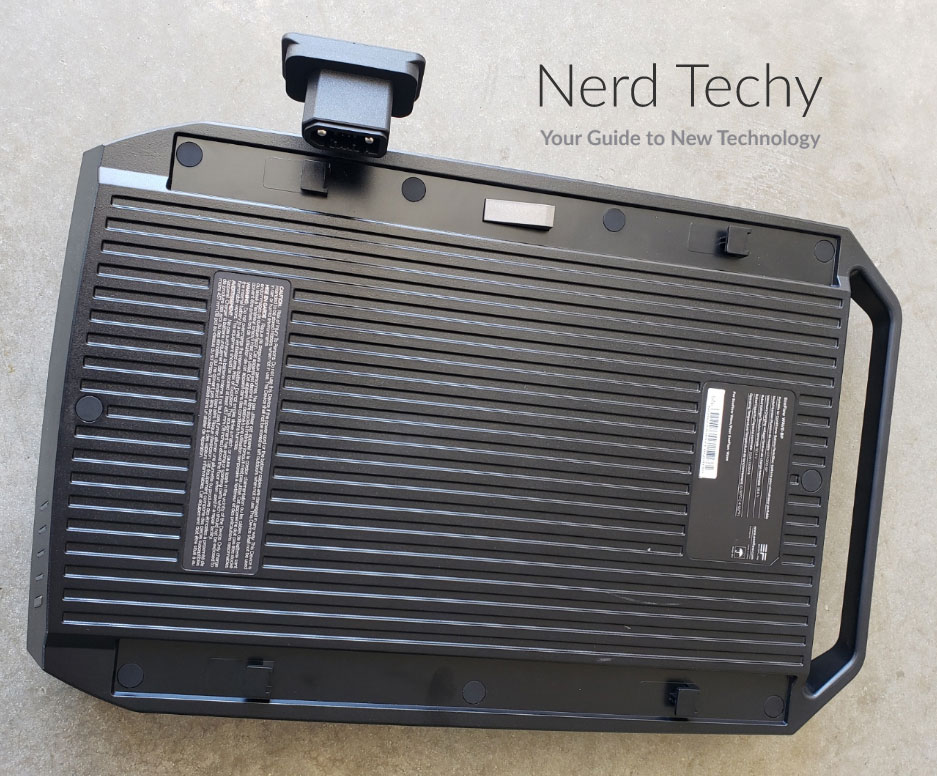 Power and Battery
Without an add-on battery installed, the EcoFlow Wave must be plugged into a power source. While many off-grid scenarios won't offer the luxury of plugging in, you can also use any of EcoFlow's portable power stations or even a generator with an AC port.
The beauty of this is that you can purchase additional add-on batteries for prolonged use. Although each one costs a staggering $899, users can opt to purchase as many additional batteries as they'd like. When each add-on battery is fully charged, you can expect up to a 3 hour lifespan when operating in cooling mode. This is the mode that most will utilize if they want the coolest air possible.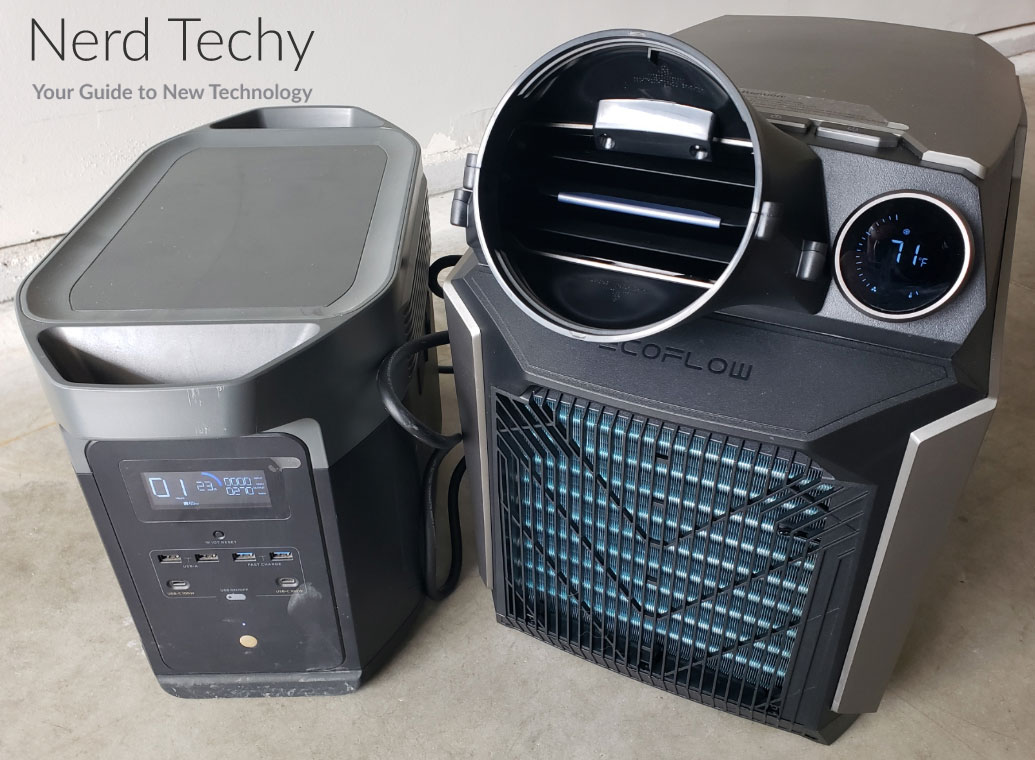 Keep in mind, however, that this is only an estimate. When dealing with very hot or humid environments, the projected battery life can diminish greatly. For example, one can expect 1.5 to 2.5 hours if the outside air is above near or above 90 degrees Fahrenheit with high humidity. In fact, it'll gradually pull nearly 600 watts when it's working the hardest to cool. While plugged in, however, this can climb to 700 watts.
Because of this, EcoFlow made sure to include an Eco Mode. When this mode is activated, the unit will intelligently combine cooling and fan modes to offer a balanced amount of power for as long as possible. Using Eco Mode, a run-time of up to eight hours can be achieved. Users are able to select between low, medium and high Eco Mode settings. With it, the air may not be as cool as it can get, but it'll offer a nice balance between efficiency and cooling effectiveness.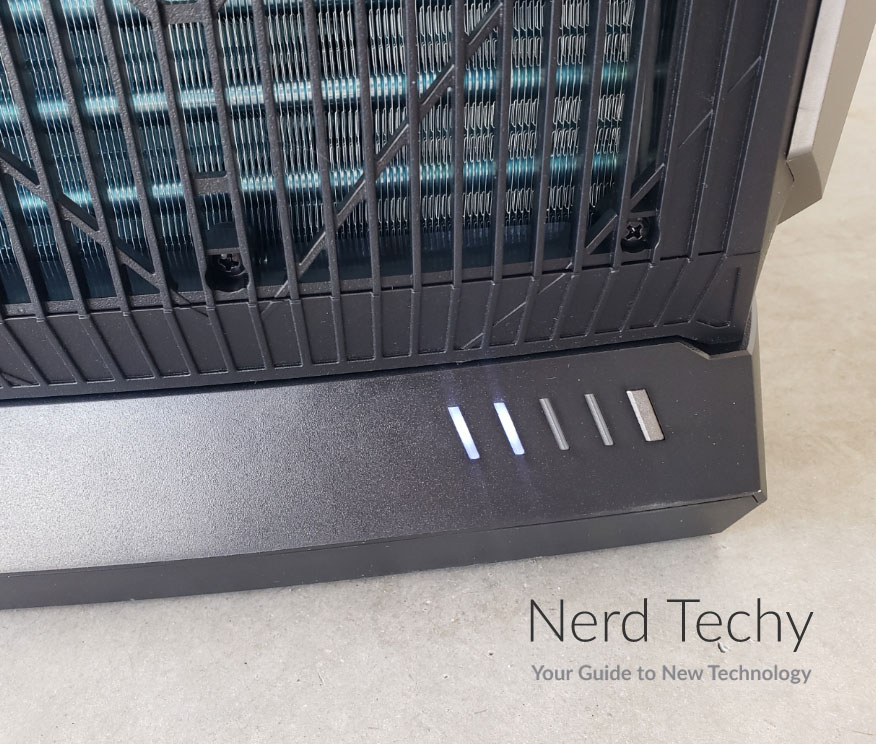 Best of all, the LCD screen will clearly indicate the remaining battery life that can be expected. In addition, each add-on battery is equipped with four tiny LEDs on the front right corner. These will illuminate when the battery is fully charged and go out in 25% increments once depleted.
Re-Charging Add-On Batteries
Charging the EcoFlow Wave add-on batteries is incredibly fast and efficient. By plugging in the AC power cord with an attached battery, it'll automatically charge the battery in a relatively short amount of time. This is what sets EcoFlow units apart from the competition. Simply put, the charge-times for AC power are downright impressive.
In fact, when plugged into an AC power source, each add-on battery only takes about 2 hours to go from 0 to 80% capacity. Unfortunately, the downside is that there's no other way to charge an additional add-on battery unless you actually have it attached to the Wave unit. It would have been nice to see an option to independently charge each add-on battery so you could cycle through multiple add-on batteries throughout the day.
Re-charging from a vehicle or solar panel is an option, but charge times are much slower. From a vehicle's 12V outlet, we found that it pulled around 110W. Using the 400W EcoFlow foldable solar panel, we could achieve nearly 350W of charging.
The App
Although not necessarily a requirement, the EcoFlow app offers a more in-depth experience with the Wave. Available for both iOS and Android devices, the EcoFlow app lets you see and interact with a dedicated user panel.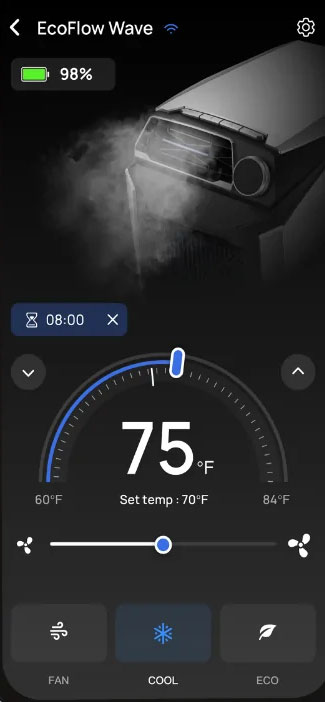 Downloading, setting it up and pairing your unit with the app only takes a few minutes. When you open it up, you'll see a stylish animation that shows the air conditioner blowing cold air. From here, you can visually see the remaining battery life, estimated run time, with live input and output wattages. There's even a timer that offers a way to schedule it to turn on or off at increments from 30 minutes to 8 hours.
In the upper right corner, there's a cog icon. This will open up the settings panel and lets you adjust a variety of options. You're able to rename the unit, turn on/off beeps or the automatic drain feature. You can also set the screen timeout or access the help center. It even lists important firmware updates and specifications.
We really liked using the app. It really seemed to open up the functions to their fullest extent. It's nice to see live readouts of the energy usage, directly on your smartphone.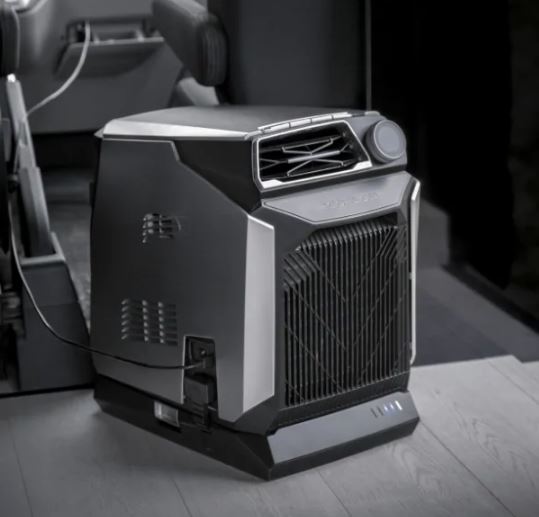 Effectiveness
Being that the Wave is rated for 4,000 BTU, it may not be quite as powerful as a standard window-insert air conditioner. However, it's specifically designed for small environments, under 100 sq. ft. That said, it's ideal for use in tiny homes, vans, RVs or small areas such as tents.
To make sure it works properly, you'll want to make sure the unit is properly ventilated with the ducting provided. We tested it in a camper van that is relatively well insulated and sealed-up with all of the doors and windows closed. Overall, there's about 70 sq. ft. of living space inside.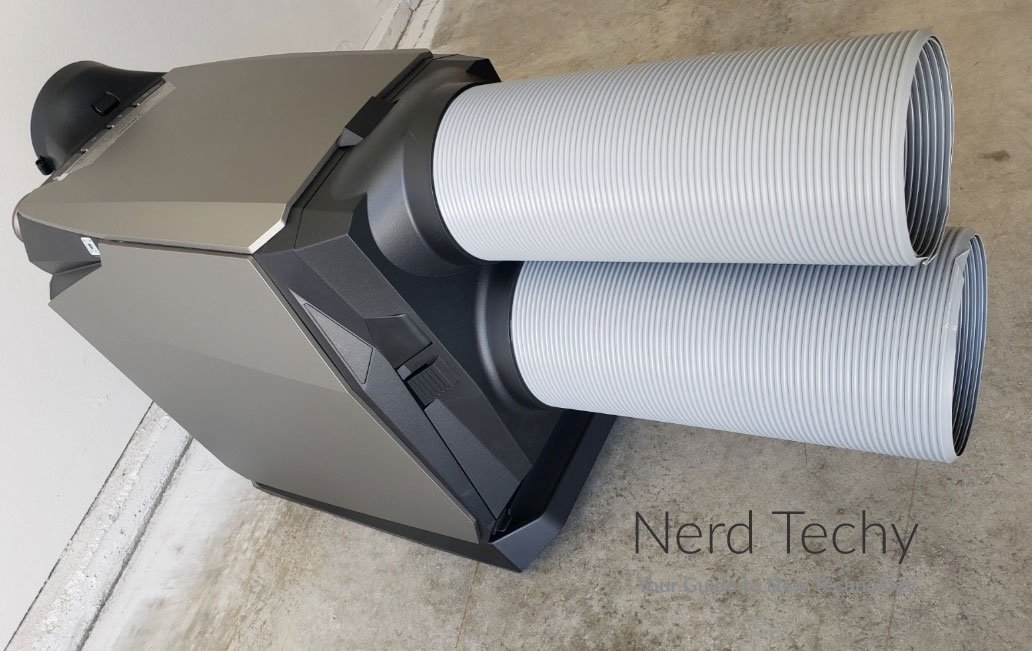 We began by placing the Wave on the floor and ducted the air intake/outputs outside toward a sliding window. To do this, we needed to make our own template out cardboard and fit it inside the window opening. Unfortunately, this was a bit cumbersome; it would have been nice if EcoFlow offered a template or pre-fabricated stencil for routing the ducting through a window.
Once setup to our liking, we turned the Wave on to a maximum fan and cool setting. At the start, the temperature inside was 89 degrees Fahrenheit. Within 20 minutes, the temperature dropped down to 77 degrees. By 30 minutes, the inside temperature was 70 degrees and feeling great. At this point, we placed it on Eco Mode and let it hold a steady 70 degrees as long as possible. By 2 hours and 46 minutes, the battery was depleted and the unit shut off.
All in all, the results were as expected. We were really pleased to see the Wave effectively lower the inside temperature. Keep in mind, however, we were parked in full sun. If we were to park in a shady spot, we'd assume the efficiency would only get better.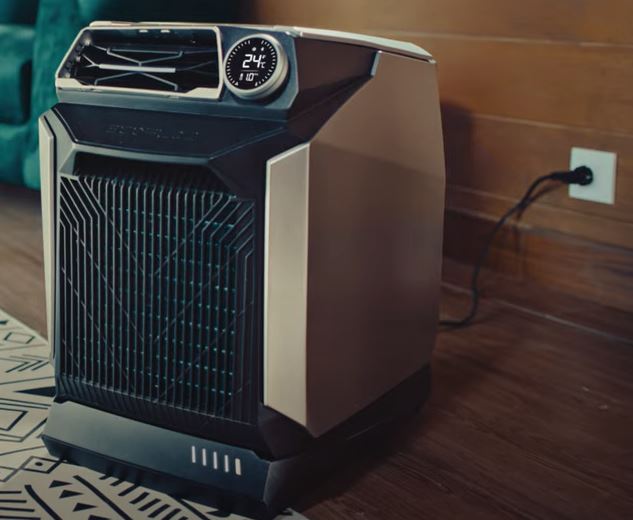 Final Thoughts
All in all, we feel that the EcoFlow Wave is an impressive portable air conditioner. Although it's much more expensive than anything in its class, there's good reason for this. The Wave uses much less energy than any standard air conditioner and it can be powered independently using its very own battery. It's visually pleasing, well-built and practical for off-grid or portable use. It brings real, true benefit to those who live in their RV, van or off-grid home.
The app opens up a whole wealth of options that let you control the air conditioner directly from your smartphone or tablet. Although it's not a requirement, we feel that it offers the best way to interact with the Wave.
Overall, the EcoFlow Wave is a nicely designed, efficient air conditioner that we highly recommend if it's within your budget.
Please consider sharing:
Note: At no extra cost to you, we may earn a commission for purchases using our links. Learn more.