No concert – or party – is complete without great lighting. Imagine going to see your favorite band. But instead of a great light show, they perform under boring, static white stage lights. You'd probably be disappointed.
And with modern technology, just about anybody can get their hands on a light controller. You don't have to be a lighting professional to create the same effect at your next party. And if you run a bar or other small venue, a lighting controller is a no-brainer. Dynamic, colorful lighting will bring your next open mic or karaoke night to the next level.
Note: At no extra cost to you, we may earn a commission for purchases using our links. Learn more.
But a controller is only part of the equation. You need a way to communicate between the controller and the individual lights. In the old days, this meant using a wired connection. It was a pain to set up, and for a large venue, all the wires could get expensive. XLR cable is not cheap!
Wired controllers can also be a headache when you want to set up temporary lighting. For example, maybe you're a DJ who does weddings, and you want awesome lighting. You're probably performing at a different venue every weekend. Running all those wires just won't be practical, since you'll never know what to expect.
A wireless transmitter/receiver is a much easier option. You have a transmitter, which attaches to your DMX controller via a 3-pin XLR connection. Then you have receivers, which attach to your individual lights.
Since you don't have to run any wires, the setup is much more straightforward. This is especially true when your venue has a dance floor. Keeping wires out of people's way can be a real headache. But with a wireless system, there's no tripping hazard.
Choosing the Best Wireless DMX 512 Transmitter/Receiver for Stage & Party Lights
Today, we're going to review two of the best wireless DMX 512 transmitter/receiver for stage and party lights. Both of these systems are intuitive and easy to set up, and both have multiple control groups. This makes them flexible enough to use for almost any small- to medium-sized venue.
Of course, there are a number of factors that go into making a good DMX 512 transmitter/receiver system. To make a fair evaluation, we'll have to dig deep down into all of their features and benefits. We'll talk about the physical design and how you set them out. We'll discuss how the wireless signal works, and how you control the receivers. After we've gone over all the relevant features, we'll be able to render our verdict. Let's begin!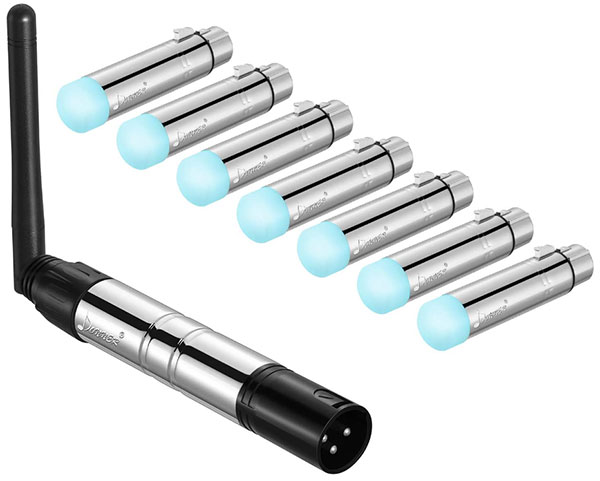 Donner DMX512 Wireless Controller
The Donner DMX512 Wireless Controller is a complete kit. There's a single transmitter unit, along with seven smaller receiver units. This is enough to control far more than seven lights, depending on your setup. Theoretically, you could control an almost unlimited number of individual lights.
The transmitter has a cylindrical housing, constructed from durable aluminum. It has a polished finish in the center, and a black anodized finish near the ends. At the front is a 3-pin female XLR socket that connects to your DMX controller. At the other end is a black antenna, which can pivot to get a better signal. The main housing is 4.7 inches in length, and the antenna adds an additional 3.5 inches.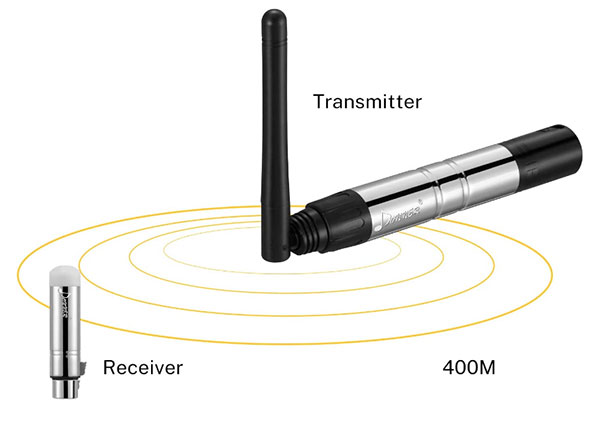 The receivers are a tad shorter, at only 3.1 inches in length. They're constructed from a similar aluminum, with a polished finish. At one end is a 3-pin male XLR cable, which can connect to your lights. At the other is an LED tip that looks a bit like a pencil eraser. This is important for the pairing process, which we'll discuss momentarily.
On the side of all receivers, as well as the transmitter, you'll see a round power port. There's a set of eight power cords in the package, with 2-prong plugs on the end. They're easy to plug into any standard power strip, extension cord, or outlet.
Of course, stage lighting is just one way to kick your party up a notch. If you want a memorable addition for your next party, check out some LED balloons. Balloons and LEDs are both festive, so combining the two is a no-brainer.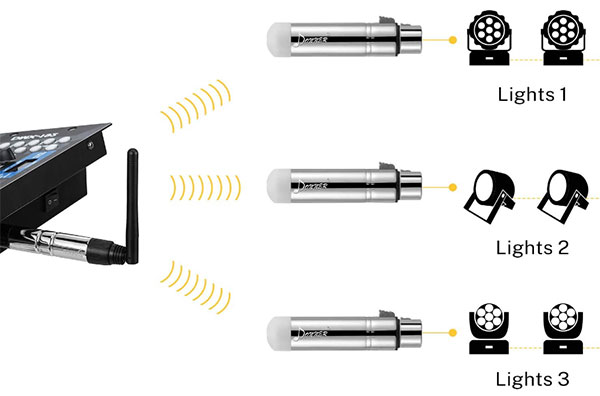 Channels and Capabilities
The signal quality on the Donner system is exceptional. It's listed as a "2.4GHz" system, but that's really underselling it. In total, it can jump between 126 different channels, all in the vicinity of 2.4GHz.
This is a crucial feature, since 2.4GHz is a popular bandwidth. If there's interference, the system will automatically jump to an open frequency. Crucially, this process has no delay. It switches simultaneously on all eight parts of the system, so it won't interrupt your music.
In total, the transmitter has a 500-meter range (about 1,650 feet), assuming a clear line of sight. Even indoors with lots of obstructions, you should have plenty of signal. It even has an anti-jamming function that prevents interference from more powerful nearby transmitters.
As we mentioned, you can control up to seven different groups with this system. Press the power button on your receiver, and you'll see a light in the little window. This indicates that it's active.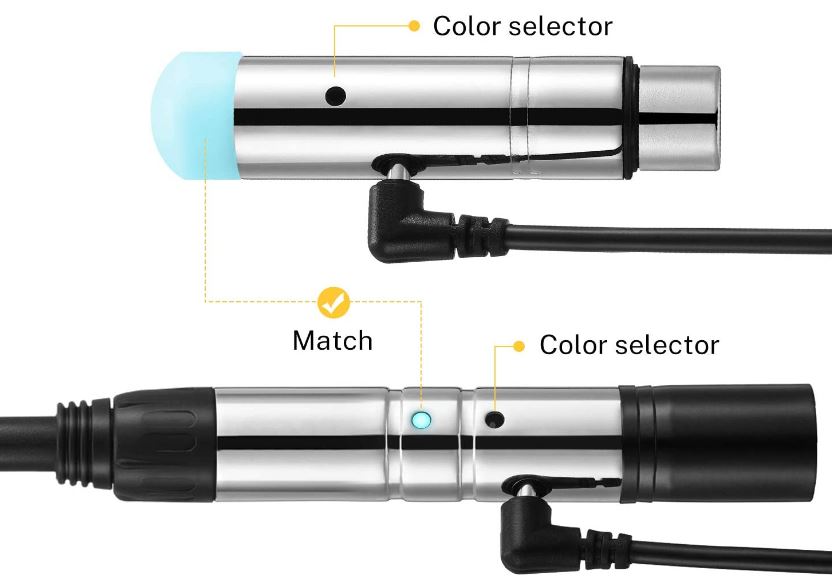 To group your receivers, simply press the small button on the sides of the housing. The tip will change colors each time you press it. In total, you can switch between seven different colors. Each color indicates a different control group. When you do this, check the window on the transmitter. If the receiver is successfully paired, the transmitter light will be the same color.
You can mix and match lights pretty much at will. A single receiver can be connected to multiple lights to control them simultaneously. At the same time, you can put multiple receivers into the same control group. For example, you could put the first through third receivers all in one group.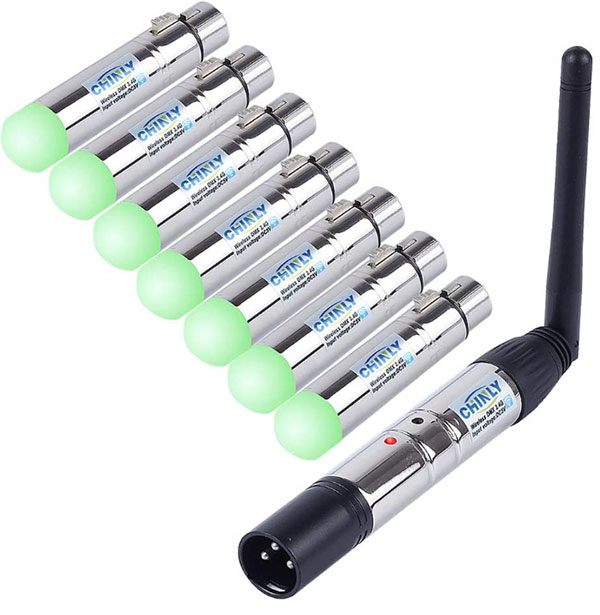 CHINLY DMX Wireless Transmitter/Receiver
The CHINLY DMX Wireless Transmitter/Receiver is another kit with seven receivers. The transmitter is longer than the receivers, with a polished aluminum housing. At the front end is an anodized aluminum section with a 3-pin female XLR socket. At the front is a plastic antenna, with a pivoting attachment joint.
Being 3.1 inches in length, the receivers are a little bit shorter than the transmitter. They connect with a 3-pin XLR male plug, and have a tough aluminum housing. Just like the CHINLY receivers, there's an LED indicator nub at the tip. Eight two-prong power cords are included, so you have everything you need to get set up.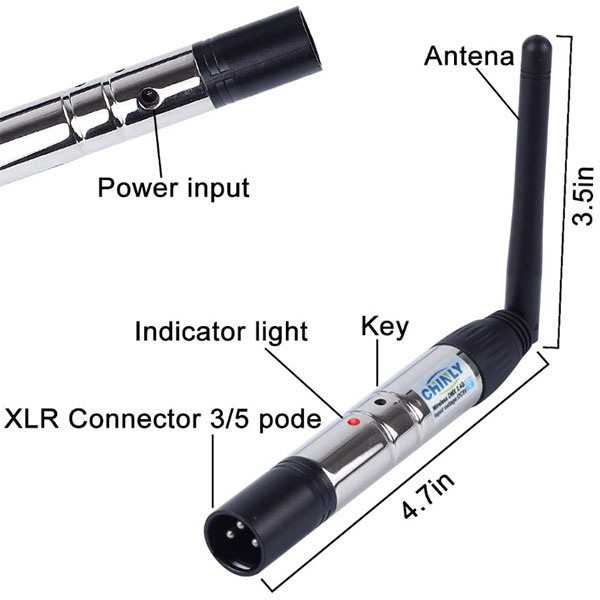 LED lighting is just part of throwing a great party. But before you think about lighting, it's essential to have a great speaker. If you need a good backyard speaker, consider the Tronsmart BANG. It's an outdoor party speaker with plenty of bass and a molded carrying handle. It's also battery-powered, so you're not tethered to a power outlet.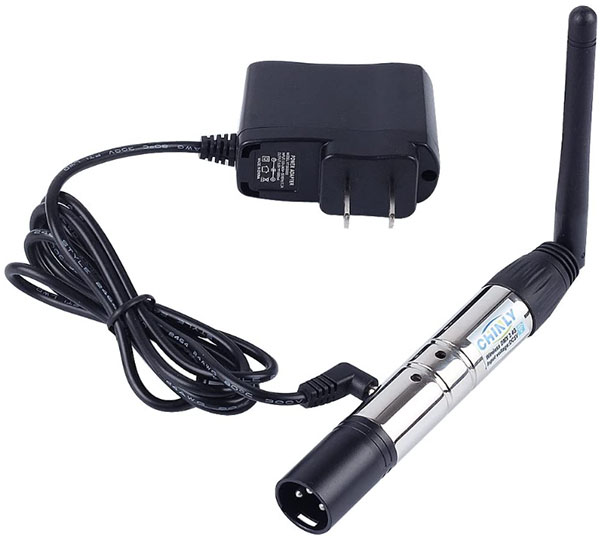 Channels and Capabilities
Similar to the first controller, the CHINLY system is capable of controlling up to seven lighting groups. These groups will automatically use different channels, so they won't interfere with each other. And with 126 channels and automatic channel-hopping, you'll get a very clear signal under most conditions. You also get anti-jamming technology. As for range, the signal can reach out to 400 meters (a little over 1,300 feet) with line of sight.
Changing channels is easy. When you press the channel button on the receivers, the tip will change color. If the corresponding light on the transmitter is the same color, you've paired. As before, you can use a single receiver for many lights, or put multiple receivers into one group. It's a versatile system, and we had no complaints.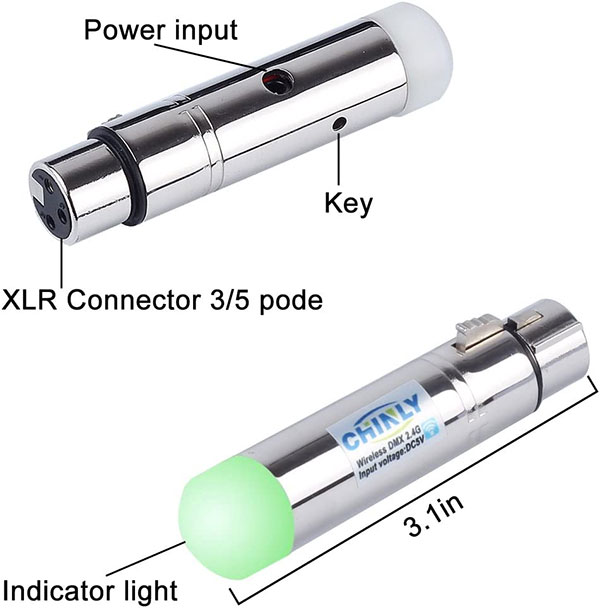 If you want to crank up the volume along with your lighting upgrade, take a look at the Sony MHC-V90W. It's a jumbo-sized PA system with multiple speakers and a slick user interface. And it's equally well-suited for DJs and karaoke nights.
What Is a DMX Controller and How Does it Work?
DMX is short for "Digital Multiplex." It's an industry-standard protocol that's used for lighting, fog machines, and similar gear. This is a unidirectional protocol, which means it travels in one direction.
The signal goes from the controller to a receiver, and then to the first light. If multiple lights are wired in sequence, the signal will continue to travel from light to light. As a result, one receiver can be used to control an entire series of lights.

Each light or sequence of lights attached to a receiver is called a "fixture." Multiple fixtures, in turn, can be combined into one channel. Each channel, in turn, can be controlled by a single switch, dial, or slider on your controller.
Keep in mind that different controllers have different capabilities. For example, some are sound-activated, while others are not. Along the same lines, different controllers support different numbers of channels. If your controller supports four channels, your seven-channel wireless system will be limited to four as well.
Some controllers allow you to save DMX scenes and chases. These are powerful tools that allow you to pre-program complex lighting sequences. These are then stored in memory, and can be recalled later.
For example, let's say you want to turn off one control group, turn off another, and activate a fog machine. That would be difficult for one person to execute simultaneously. By saving a scene or a chase, you get around this issue, and only have to activate a single control.
Final Verdict
As you can see, the Donner DMX512 Wireless Controller and CHINLY DMX Wireless Transmitter/Receiver are very similar. They both have seven control groups, with LED indicators for easy grouping. Both connect via 3-pin XLR, as you'd expect from a DMX 512 transmitter/receiver. And both have powerful 2.4GHz signals with 126 channels and anti-jamming technology.
That said, there's one important tradeoff between the two. The Donner system's 500-meter maximum range is 25% longer than the CHINLY system's. On the other hand, the Donner system is also a tad more spendy. So it really comes down to whether or not you need that extra range.
Please consider sharing:
Note: At no extra cost to you, we may earn a commission for purchases using our links. Learn more.