Tronsmart Bang
Pros
Powerful bass with great sound quality.
Incredible volume without any noticeable distortion.
LED light show is great for parties.
Excellent build quality; seems sturdy.
Doubles as a power bank for portable charging.
Cons
A bit oversized and bulky for some occasions.
Battery life is a bit below average.
Multi-point connectivity isn't available.
Wireless speakers have come a long way over the past decade. Constantly improving technology has allowed manufacturers to slim down on their size while simultaneously improving battery life and audio quality. However, small size doesn't necessarily mean better audio. In fact, quite the contrary. Typically with speakers, the smaller you go, the worse they sound. There's less space for drivers, battery capacity and all of the fine components that make a speaker sound good. Most would agree, there's just something about a big speaker that has more oomph and power. Because of this, it's nice to see that not all brands want to go small.
Take Tronsmart for instance. They're a relatively popular company with a wealth of offerings. Here at NerdTechy, we've always been happy with what they have to offer. From their Onyx Battle and Prime earbuds to their portable Studio speaker, they always seem to deliver a perfect balance of quality and affordability. Most notably, they don't charge an arm and a leg for their products. Seen as more of a budget-friendly option, Tronsmart is at it again. This time, with their largest and most powerful outdoor wireless speaker; the Tronsmart Bang.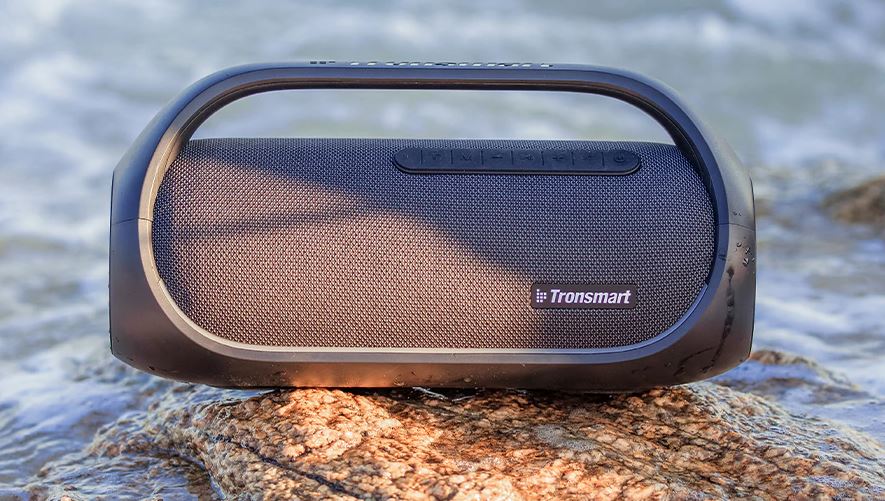 The "Bang" is a speaker that's ideal for parties. On paper, it looks to be quite impressive. Equipped with LEDs, app-connectivity and SoundPulse audio, among other great features; there seems to be a lot going for it. But how exactly does it sound? Does it perform as well as expected? Is this a speaker that you'd want for yourself, or is it worth passing-up? Today we'll find out. We're going to take a deep-dive to see what it has to offer, how it performs and if it's worthy of a purchase or a pass. Let's get right into it!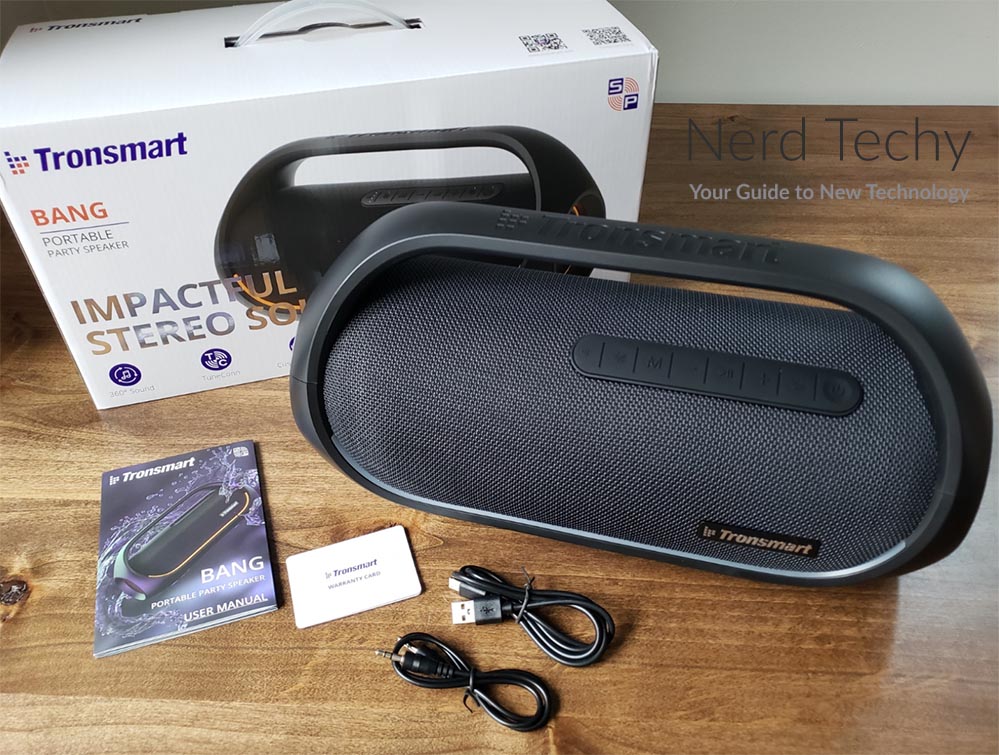 First Impressions
Taking one glance at the Tronsmart Bang, you'll notice it has a much larger shape than most other wireless speakers we've tested. Measuring 14.2 inches wide, 7.2 inches tall and 5.9 inches deep, it's relatively large and not quite as compact as you may think. Weighing in at about 6.7 lbs, the Bang feels like a solid piece of equipment. With a large built-in handle on top, it's meant to be carried along with ease. The use of a hard ABS plastic is throughout, with a fabric mesh-woven layer encasing the majority of the exterior. On each end is a large passive radiator, each with its own LED going around the circumference. In addition, there's an LED bar located near the base, along the length, that meets up with the woven fabric.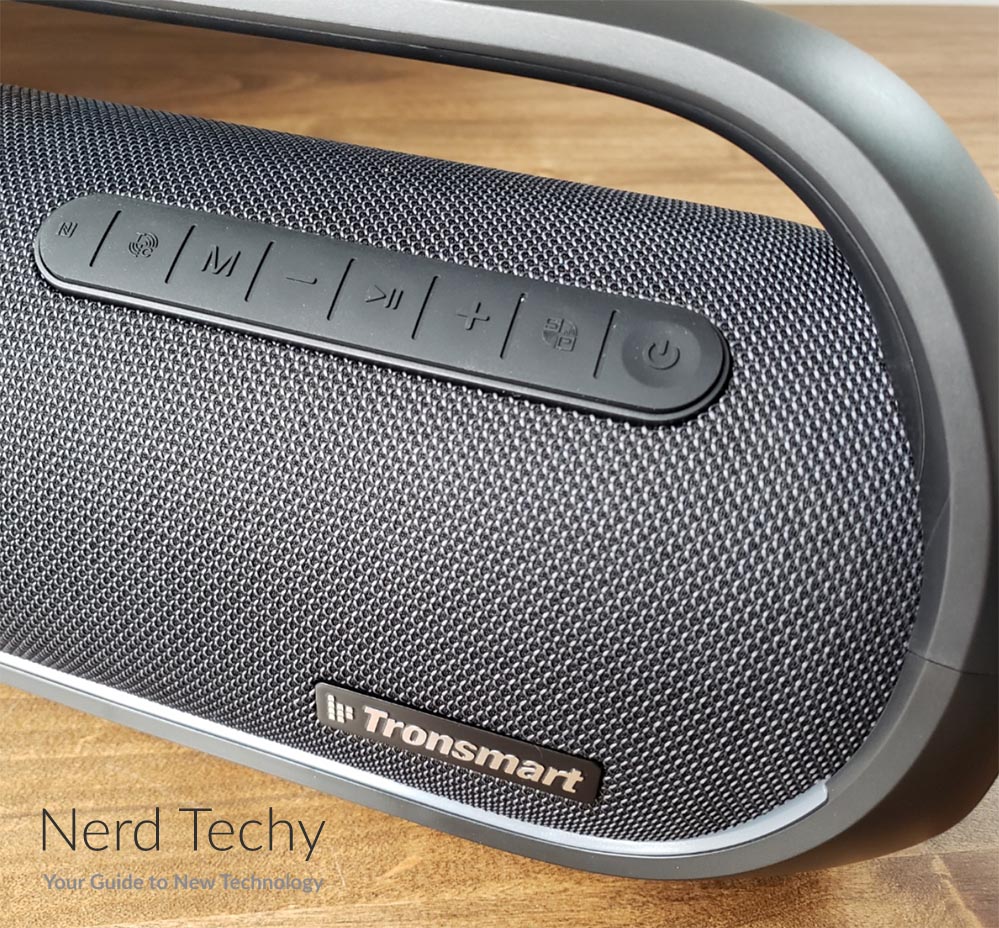 All of the controls are displayed near the top, beneath the handle. There's 8 individual buttons here, giving users a simple way to control it. There's a power button, volume +/-, play/pause, NFC button and a SoundPulse and TrueConn button.
Located on the backside is a small rubber flap that's tightly sealed. Open it up to expose all of the charging options with a variety of inputs/outputs. There's a TF card slot, auxiliary input, USB-C charging port (DC-in), USB-A out (5V, 1A) and a small pinhole for resetting the speaker.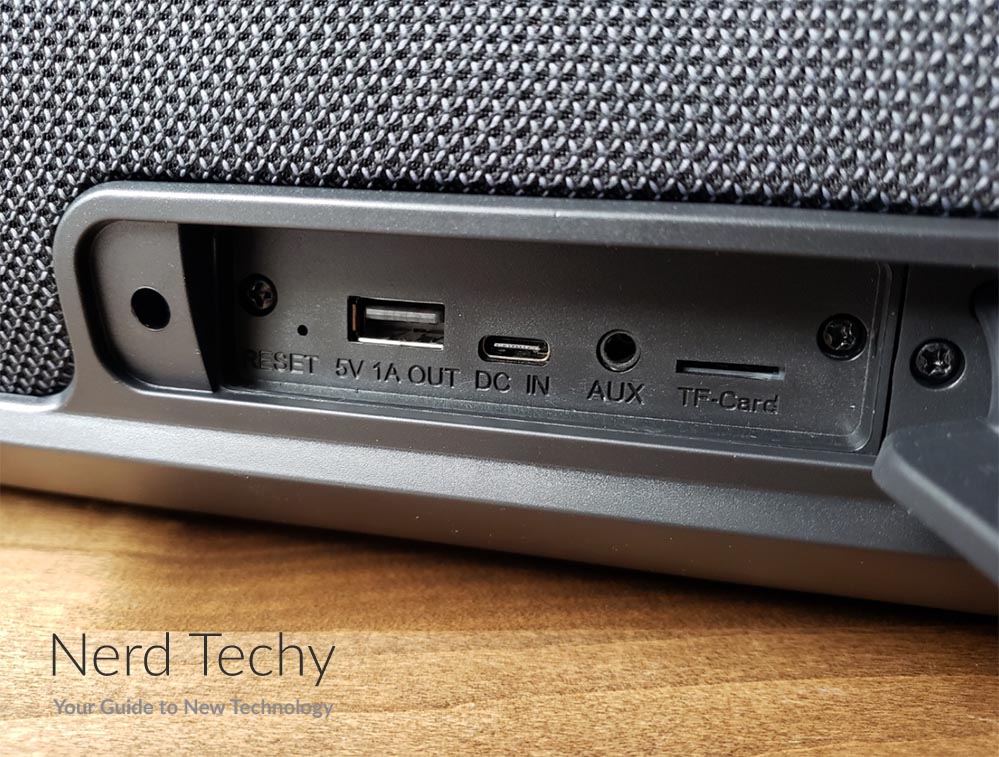 Sound Quality
By pressing and holding the power button for a couple of seconds, it'll power-on the speaker. Immediately, it'll go into a Bluetooth pairing mode. This is indicated by the intermitedly blinking blue LED on the power button itself. When you see this blinking LED, open up your smartphone's connection settings to select the "Tronsmart BANG" speaker on the list of nearby connections. Within seconds, it'll pair and you'll be ready to play music through the speaker. Best of all, this pairing process is only needs to be completed once per phone. Simply put, it'll remember the device it paired with so next time you turn on the speaker, you'll be able to immediately start listening.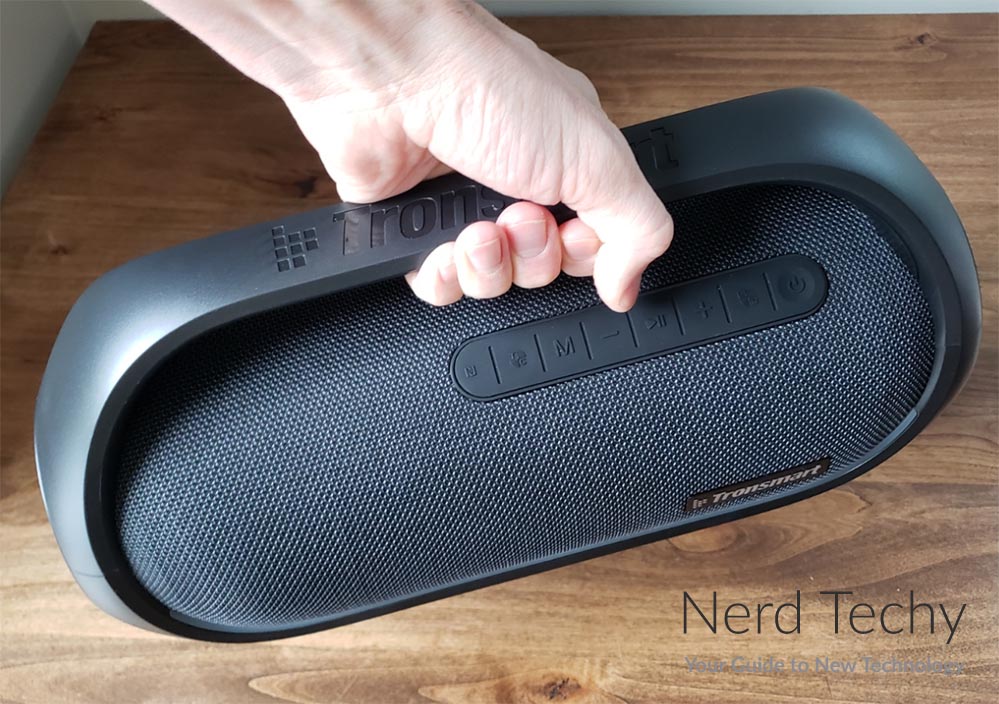 Right from the start, it's obvious that Tronsmart put a lot of BANG into this speaker. As corny as that may sound, it's true. The amount of power and volume this thing is capable of is enormous, as it should be. This is a larger than average speaker, so we fully expected the sound to match. Regardless, we'd categorize it as a bass-heavy speaker. The 60w power, dual subwoofers and passive radiators give it an added "oomph" that we're big fans of. In addition, there's dual tweeters that keep the audio quality vivid and rich. This keeps the audio hi-res with wonderful acoustic tuning. That said, vocals, mids and high tones come across as accurate and realistic.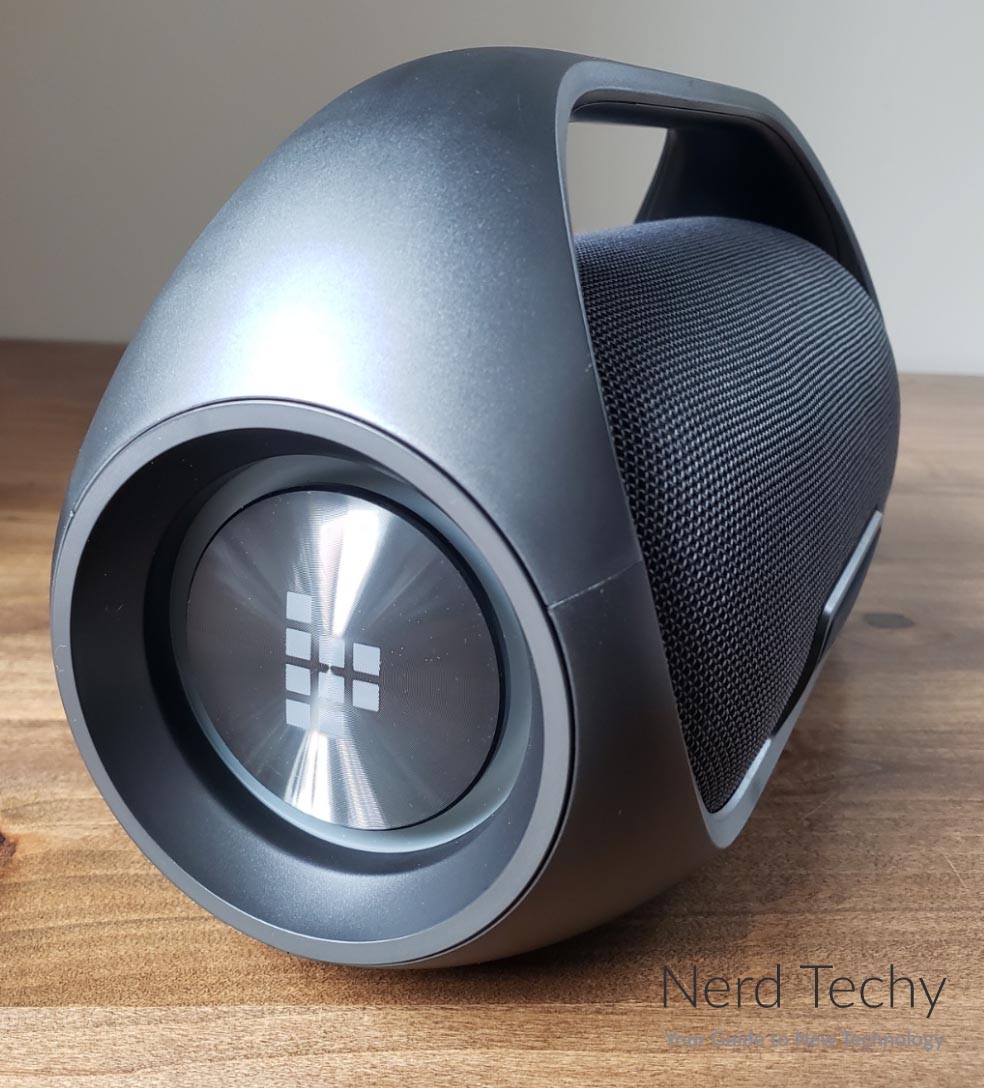 What really stands out to us about the Bang speaker is the volume. This think CRANKS and gets extremely loud. Best of all, even at the highest volume, it doesn't seem to have trouble with the audio quality. Music still sounds vivid and powerful without any noticeable distortion. The incredible volume could be essential for parties or outdoor use; just what it was specifically designed for.
Audio Profiles
Our favorite feature that really seems to make the sound "pop" is the integrated SoundPulse feature. This patented feature is activated by pressing the "SP" button. With it on, the bass is even deeper and the sound is even more vivid. It really seems to make the low-end shine without mudding-up the audio profile in an unfavorable way. In fact, all genres of music that we tested SoundPulse with seemed to benefit from it. Although it's said to drain a bit more battery-life, we think it's worth keeping on indefinitely.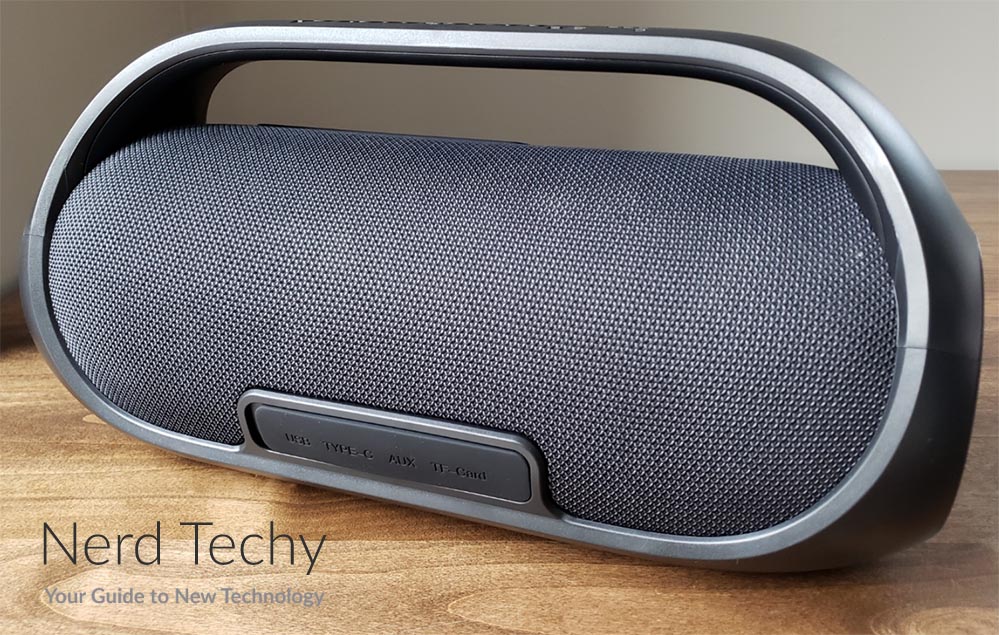 Another sound-related feature that's enticing is the TrueConn feature. This integrates Dual DSP Audio Processing and lets you sync the music with up to 100 individual Tronsmart Bang speakers. It means you can literally pair up to 100 of these speakers together without a delay between each of them. While we didn't have an additional Bang speaker to pair it with, we've read very good things about it. On the downside, you'll need to invest in additional units in order to utilize TrueConn.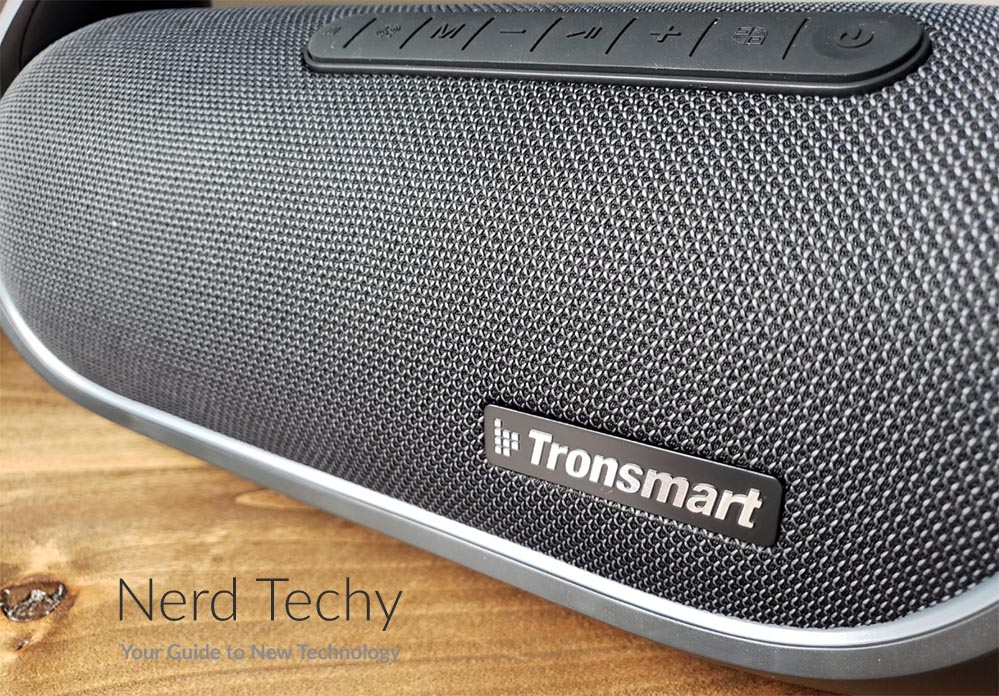 Another exciting feature that we don't see everyday is the app-connected ability. With the Tronsmart app, you can use your Apple or Android device to fully customize the EQ and light modes. There's a large variety of multiple presets that are actually pretty fun to mess around with. You can choose between the default sound mode or spice things up with different audio profiles. SoundPulse, Deep Bass, 3D, HiFi, Classical, Vocal or Rock are the options built into the app. However, the possibilities are endless with the ability to tweak and save your own custom EQ.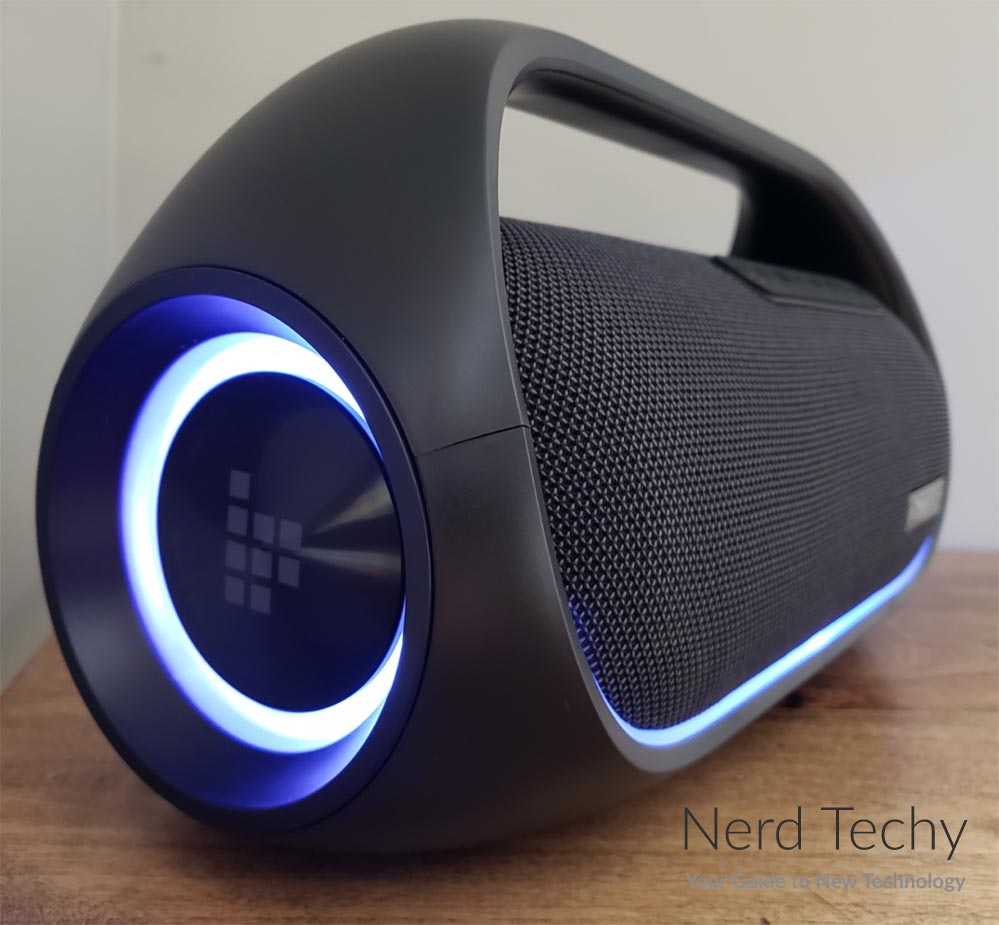 LED Lights
One of the most notable features of the Tronsmart Bang are the built-in LEDs. Capable of producing an endless variety of colors and patterns, it offers a very cool effect. Perfect for parties, the light show is driven by the beats. What we mean by that is that the pulsating effects are directly related to the sound emitting from the speaker. The light bar goes across the entire length of the front side. In addition, each passive radiator has an LED around it. Pretty awesome!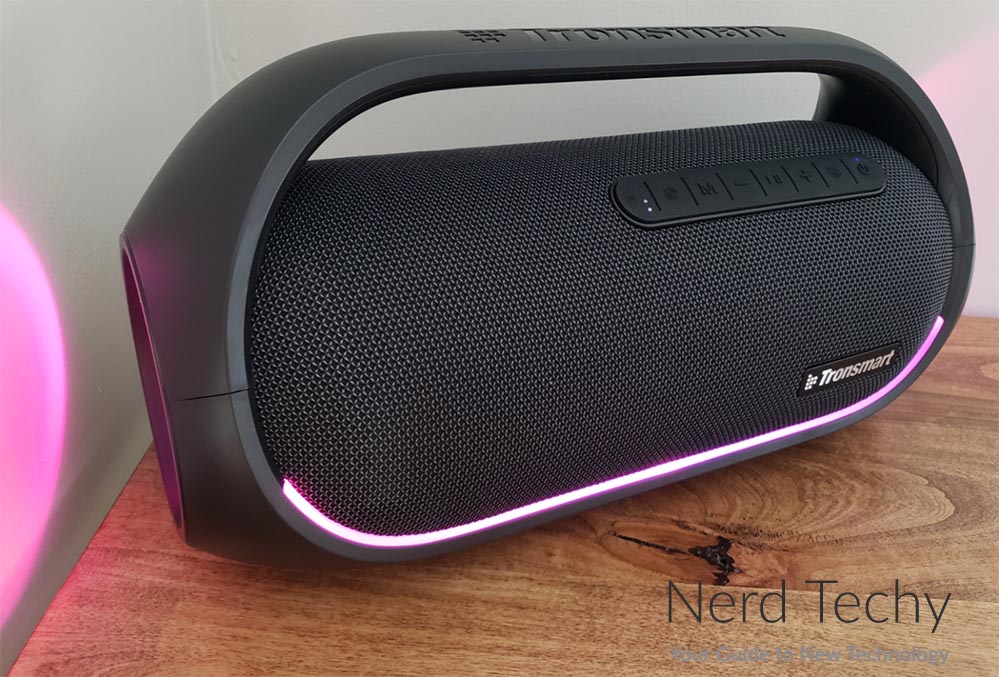 Although the LED lights give off a cool party-vibe, it may not be for everyone. Thankfully, you're able to easily turn them off with a single push of a button. With them off, you'll conserve more battery life, which is a nice side effect. Let's be honest, the LEDs don't truly need to be activated if you're listening by yourself. Although you can do whatever you please, most people will only use the LED light show in a group setting.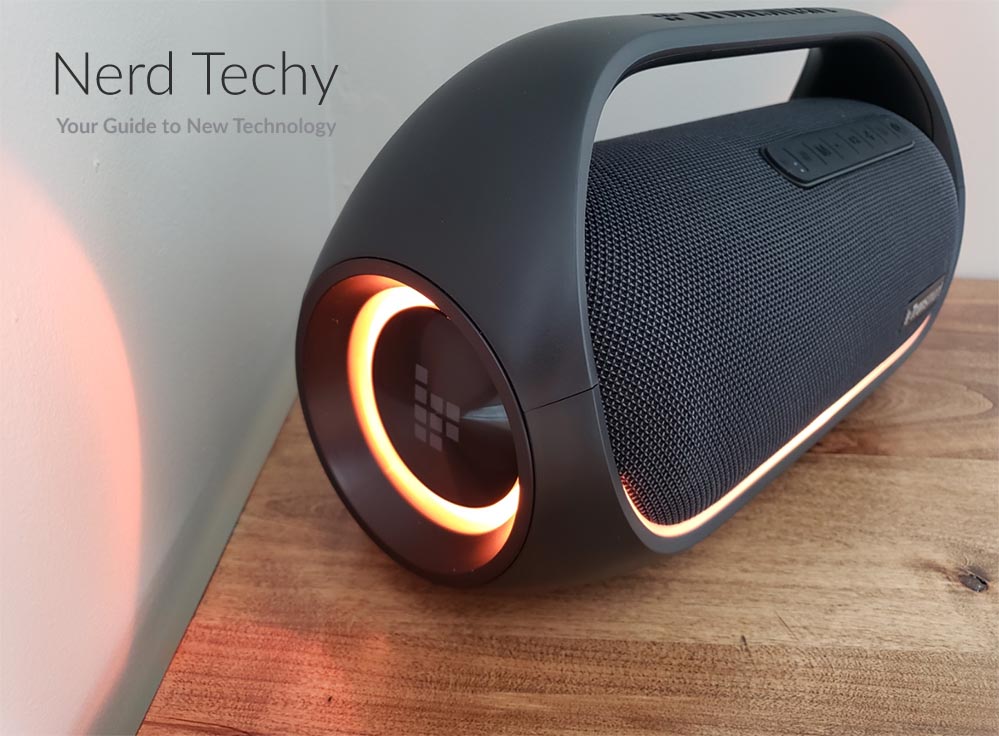 Durability & Battery Life
Holding the Tronsmart Bang speaker in your hand, it's nice that there are no loose or moving parts. Overall, it feels solid, well-made and built to last. The plastic it's made from is an ultra thick, heavy duty ABS that seems to hold up well to scuffs and bangs. Although it isn't necesarily rated for any kind of drop-protection, it is in-fact IPX6 waterproof. This waterproof rating is given to electronic devices that can't truly be submerged in water, but can withstand high-pressured water jets, splashes and other moisture without any qualms. In fact, it's fully sealed for dust and water ingress, so environmental hazards don't pose much of a problem.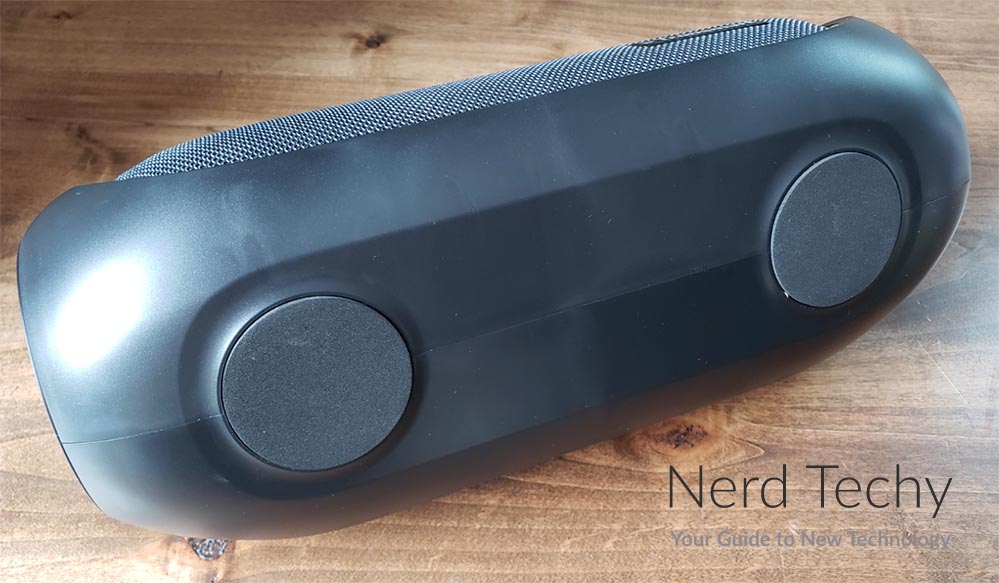 The internal battery is a lithium-ion rechargeable that has a capacity of 10,800 mAh. This is said to give around 15 hours of maximum battery life. However, this estimate is with the volume set to 50% and the LEDs turned off. Once you turn up the volume a bit more or utilize the LEDs, it won't last quite as long. Even cold temperatures and specific genres can have different effects on the longevity of the internal battery charge. In fact, we tested it multiple days with a hefty amount of volume (probably around 80%) and the LEDs activated. Ultimately, we found the speaker to last around 8-10 hours. Realistically, this is a little below average, in our opinion. Needless to say, there's plenty of power for long parties or events that go well into the night, but after each event, expect the need to charge it.
On the back where the charging ports are, there's a USB-A port. This port isn't for charging the speaker, it's actually for using the speaker as a power bank. With it, you can plug in a USB cable and charge-up virtually any device. Smartphones, tablets, smart watches and other small electronics are easy to charge here. Even if you don't utilize it too often, we think it's nice to have an emergency charger built right into your party speaker.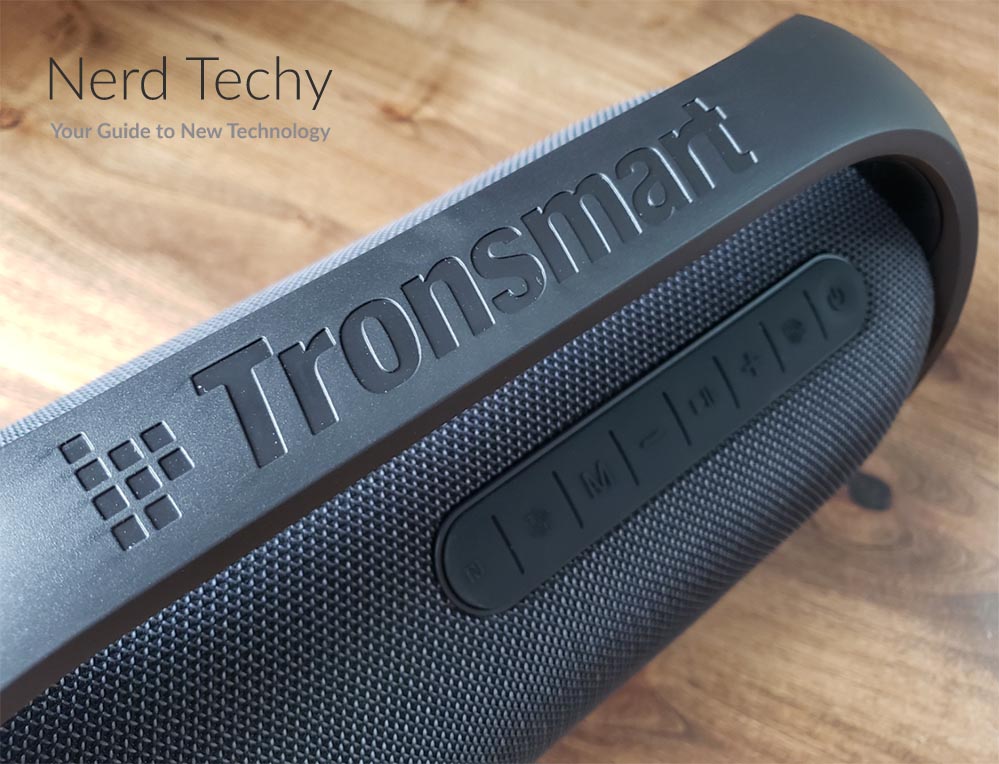 Controls
Although we already quickly went over the controls along the front-side, the functionality of them are something to be learned. At first, you may need to refer to the user manual to master all of them, but we'll quickly go over each one.
Power on/off: Press and hold the power button for 2 seconds.
Switch LED Mode: Quickly press the power button one time.
Disconnect from Bluetooth: Press and hold the play/pause button for 3 seconds.
Reject a Phone Call: Press and hold the play/pause button for 2 seconds.
Answer/End a Phone Call: Press the play/pause button one time.
Redial: Double tap the play/pause button.
Play/Pause Music: Press the play/pause button one time.
Reset Speaker:Press the play/pause button for 8 seconds.
Switch Music Mode: Press the "M" button one time.
Activate/Exit Voice Assist: Press the "M" button for 2 seconds.
Volume:Press the + or – button one time.
Previous/Next Track: Press the + or – button for 2 seconds.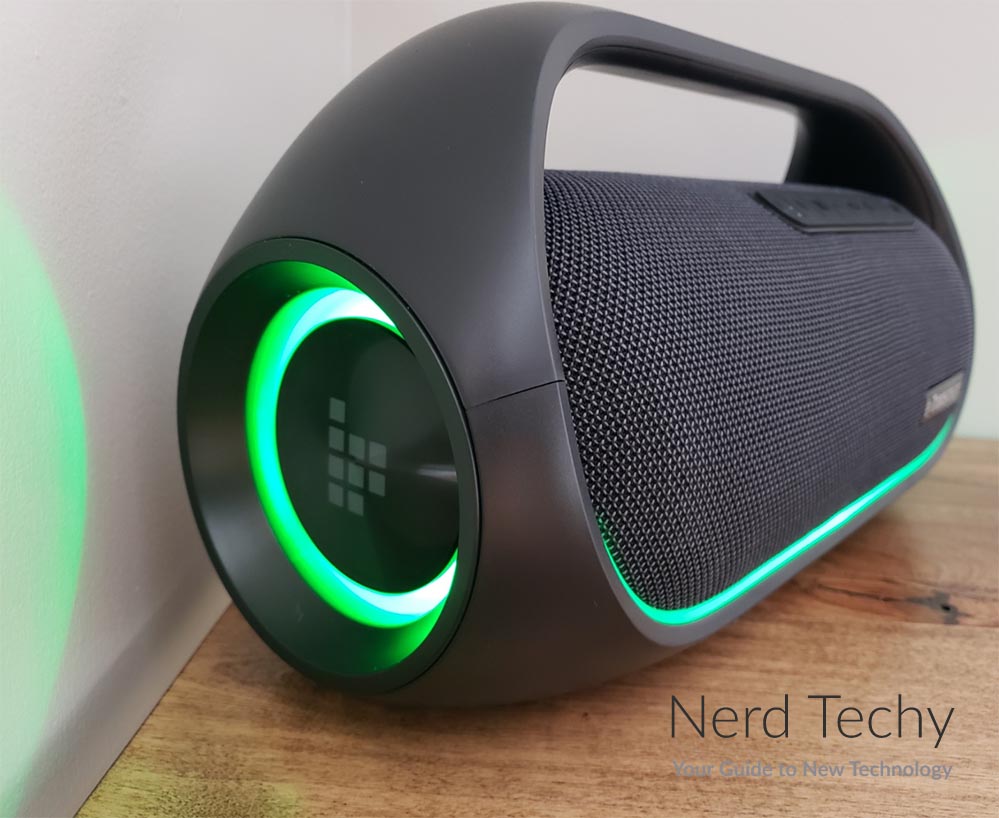 Final Thoughts
Overall, the Tronsmart Bang Wireless Speaker is a well-built, impressive sounding speaker. At a price just over $100, this is a relatively affordable "BIG" speaker. That said, it's larger than most, but capable of incredible volume, oomph and quality sound. The built-in handle makes it easy to carry around, perfect for get-togethers. While the LED feature is pretty awesome, it may not be for everyone. Yes, it will use up a bit more battery life, but turning it on is completely optional.
About the only real thing we would have really liked to see is multi-point connectivity. Since this is a party speaker, it would be a nice feature to be able to pair multiple devices (smartphones) to the speaker simultaneously. This way, multiple people could control the music, rather than relying on one person.
Comprised mostly of thick plastic and encased with a relatively durable woven-mesh fabric, we feel that it'll hold up well over the years. The IPX6 water-resistance rating is great to have and ensures extra ruggedness for plenty of enjoyment to come. Best of all, it comes packed with a warranty for 18-months; that's longer than most manufacturers give their products. Come to think of it, every Tronsmart product that we've tested over the past 3 years is still alive and working well today. That says a lot about the overall quality of their speakers.