When you're choosing a new speaker, you'll have to make a number of decisions. But the first one you'll need to make is whether to go wired or wireless. Not long ago, wireless audio wasn't much of an option. Early Bluetooth couldn't handle a stereo signal, nor could it handle higher-bitrate audio. The result was that older wireless speakers, when they existed, were novelty items at best. But over the past five years or so, Bluetooth speakers have come into their own. Now, you can buy a Bluetooth speaker that sounds just as good as your old wired soundbox. But just because you can, should you?
The answer is yes, usually. Why wouldn't you? With a wired speaker, moving from place to place is a pain. You have to disconnect the wires, position the speakers, and then re-run the wires. This isn't too much of a pain in theory, but now imagine you're fishing around behind your entertainment center. Do you really want to have to untangle a bunch of wires every time you want to move your speakers? With Bluetooth, you only have to move the speaker itself, which is far simpler. That said, you don't want to buy just any Bluetooth speaker. You also want to make sure you have a wired option for connecting non-Bluetooth devices.
We're about to review the Tronsmart Studio Portable Wireless Speaker. This is a compact, rugged Bluetooth speaker that's designed for outdoor use. You can take it camping if you want, which is something you definitely can't do with a wired speaker. That's all well and good, but there's a lot more you'll want to know before you buy a new speaker. How good is the audio? How long do the batteries last? How good is the wireless connection? Those are just a few of the things you need to take into account before you click the "buy" button. So, how well does this speaker compare to others on today's market? We're about to take a closer look, and find out. Let's begin!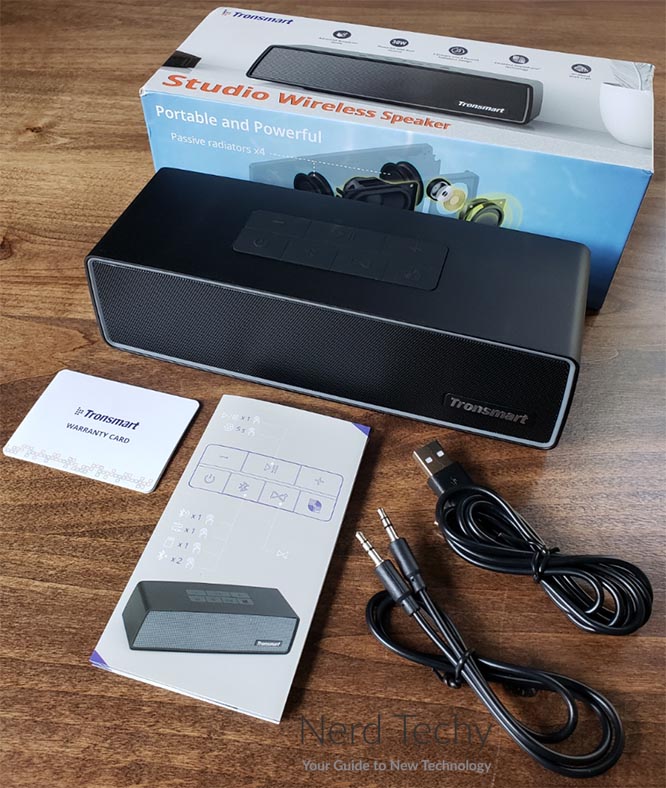 Overall Design
The Tronsmart Studio Portable Wireless Speaker is a wide, rectangular speaker that's shaped like a mini soundbar. It measures 8.21 inches wide, 2.76 inches deep, and only 2.46 inches thick. It's also surprisingly lightweight for the size, at only 2.31 pounds. Because it's so lightweight and compact, it's fairly easy to transport. You can drop it in a backpack or even carry it in a laptop bag without excessively increasing the weight. The corners are rounded, which is a good design feature, since it prevents jabbing. With this design, your speaker isn't likely to damage anything else in your bag.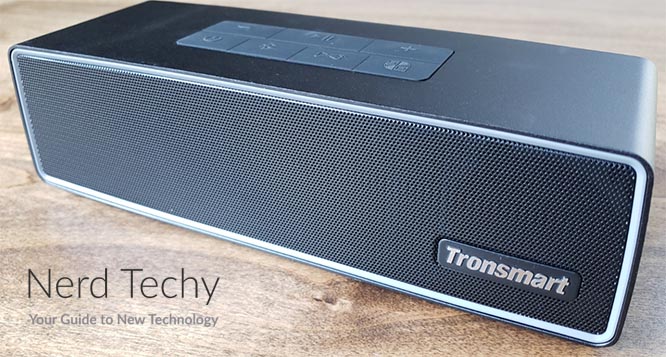 The speaker itself is also not likely to get damaged. It's constructed from rugged aluminum, which is considerably tougher than your typical plastic housing. The material has a satin finish, so it's easy to keep clean. You don't have to worry about it collecting a lot of fingerprints, and you can wipe it off with a damp cloth. The front and back of the housing both consist of a metal grille, with round holes in a grid pattern. These grilles are charcoal grey, providing a slight contrast to the main housing. There's also a bright silver Tronsmart logo in the lower right corner.
The controls are located in the top of the housing, and consist of two rows of buttons. These buttons are black, to match the case, and they're constructed of a rubbery material that's difficult to damage. We liked that they're physical buttons, not soft touch controls. This makes them difficult to activate by accident. You don't have to worry about pausing your music just because you brushed the housing. In the middle of the top row, there's the main button: the play/pause button. To either side, you'll find "+" and "-" buttons, which are used to adjust the volume. The bottom row of buttons houses the power button, Bluetooth button, and other functions. For example, there's a pairing button for connecting multiple speakers.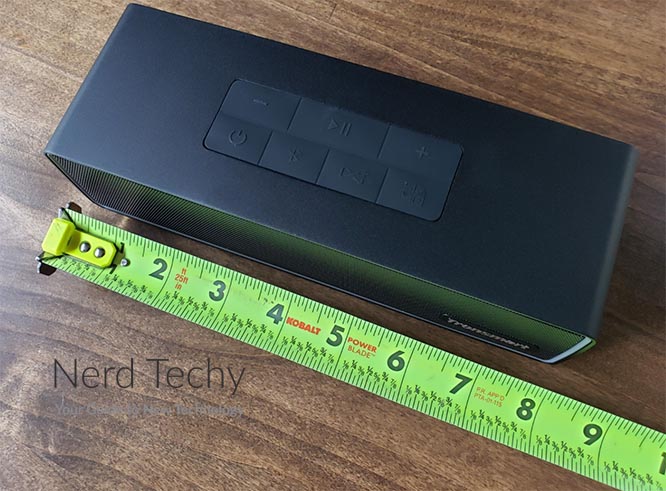 While this is a wireless speaker, there are still a few relevant plugs to talk about. On the back of the housing, you'll find a USB Type-C port. This is used for charging the battery, and a cable is included in the kit. In the same area, you'll find a 3.5mm aux port for making a wired connection. Similarly, there's an aux cable in the box so you can plug in right away. Finally, there's a Micro SD slot. You might never use this. But if you use an SD card for your music, you'll appreciate having the option.
One thing we really liked about the Studio speaker is that it's IPX4-rated for water-resistance. This means it can withstand light splashing and rain. It's not the highest level of water-resistance, but it's better than most Bluetooth speakers. You can use it while you're camping and not have to worry about it getting rained on. You can also wipe it with a damp cloth without the moisture damaging any of the components. Just make sure to keep it away from the poolside. If it falls in and sinks to the bottom, it's going to be toast.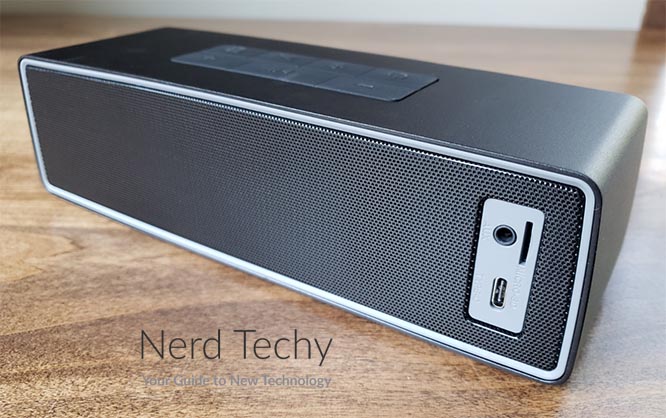 That said, there are submersion-proof speakers available if you need a poolside option, such as the Tronsmart Force 2. Not only is this speaker submersion-proof, but it has a much more balanced EQ than the Studio. On the downside, the bass is not nearly as possible, which might be disappointing for some people.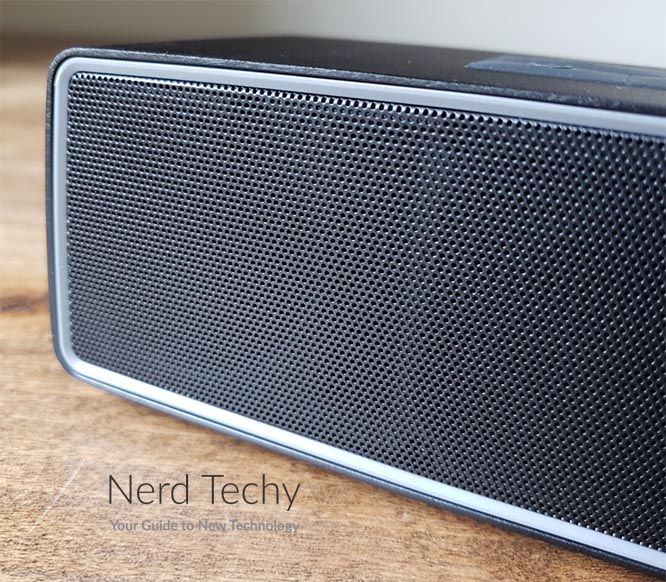 Battery & Connectivity
No matter how good your Bluetooth speaker sounds, it needs a long enough battery for your requirements. Thankfully, the Tronsmart Studio performs very well. It's rated for 15 hours of playtime, which is excellent. But this is a manufacturer's rating, so it's not a hard and fast number. It's based on testing at half-volume playback, which may or may not match your actual conditions. If you're pumping out top-volume audio for a party, expect more in the range of 11 to 12 hours. Even so, that's more than enough power for most people.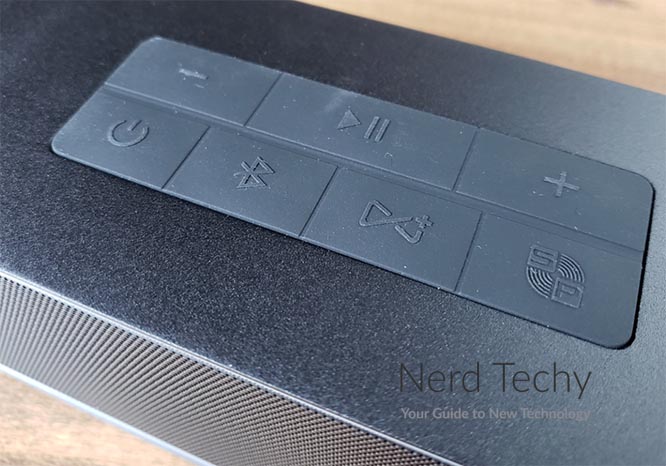 When the battery is fully drained, it will take about three to four hours to recharge. When it's plugged in, a row of four small green LEDs will show up in the middle of the control panel. When all four lights are glowing solid, the battery is fully charged. If you're near a power source, you can also leave the speaker plugged in. It's capable of playing and charging simultaneously.
But what if you want to use your speaker's battery as a power bank? In that case, consider the Tronsmart T6 Plus (Upgraded Edition). It provides 360-degree sound, and you can use it to charge your smartphone.
This speaker utilizes the current Bluetooth standard, Bluetooth 5.0. This is an upgrade from the earlier Bluetooth 4.2 protocol in three respects. First, it has a more stable signal, so you won't get randomly disconnected as often. Second, it has lower latency. This means the video and audio are in sync, so the Studio is suitable for watching videos and playing games. Finally, it supports higher bitrates, so you can listen to HD audio. In addition to that, you can use the TuneConn app to connect up to 100 speakers simultaneously. This takes some doing, since you also need to use the link buttons on the speakers themselves. But when all is said and done, you can cover a large area like a retail store.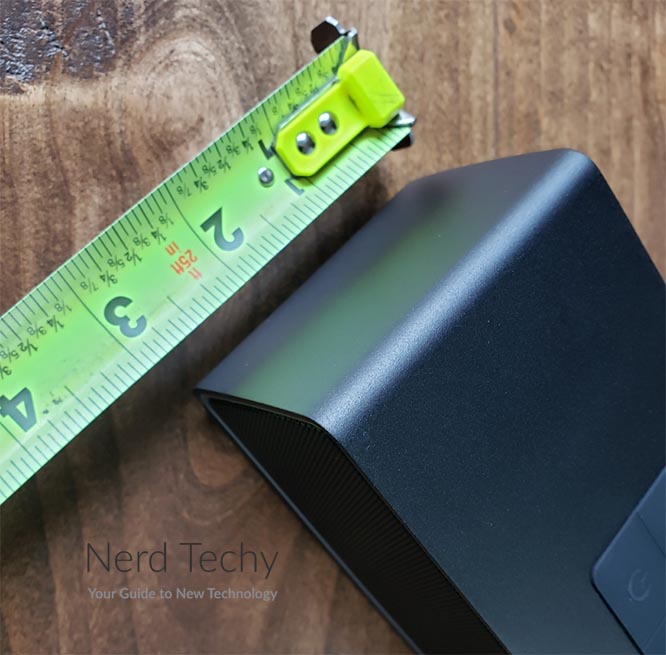 As an alternative to Bluetooth, you could use a 3.5mm aux connection. This has its own benefits and drawbacks. On the plus side, you can connect to older devices. For example, you can play music from an old-school tape deck or turntable. You can also listen when your speaker is out of batteries, although the volume will be limited. On the downside, none of the control buttons work when you're using an aux cable. Your only way to adjust the volume will be at the source.
Audio Quality
Now we come to the most important feature of any speaker: the audio quality. The total speaker package draws 30 watts, although that's split between three internal components. 20 watts are drawn by the subwoofer, which is located in the center of the housing. The other 10 watts are split between a pair of tweeters, which are positioned to either side. This sets the Studio apart from most other Bluetooth speakers, because it's a standalone stereo speaker. Usually, to get true stereo sound, you have to link two speakers together.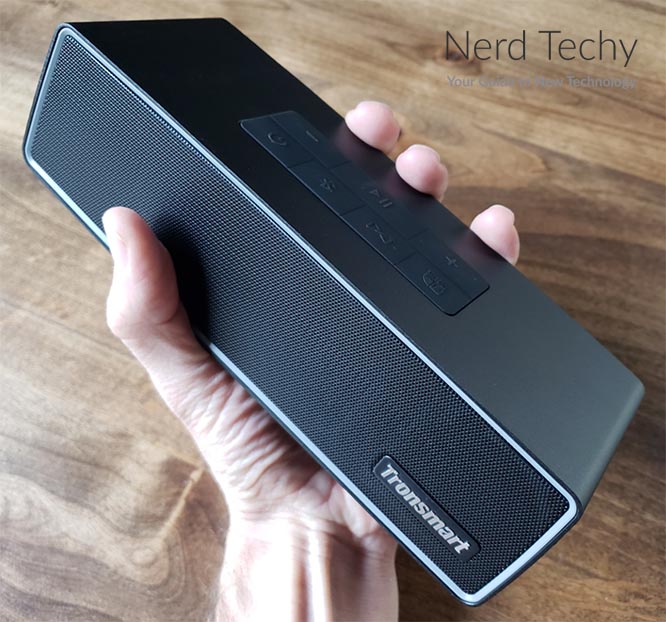 In addition to the powered speakers, there are four passive bass radiators built into the housing. These are membranes that vibrate in resonance with the subwoofer. They're designed to further amplify the bass, and they're fairly effective. This leads to an audio profile that's very heavy on the bass. Whether or not this is desirable depends on what you want. And just because it's bass heavy doesn't mean you can't hear the other tones. The mids and highs sound great, and have plenty of space in the mix.
But suppose you want a speaker with a more balanced EQ? If that's what you want, the Tronsmart Mega Pro is an excellent choice. It has three different EQ modes, so you can set your own profile. It's also IPX5 water-resistant, albeit with a shorter battery life.
Final Verdict
So, where does this leave us? Is the Tronsmart Studio worth your hard-earned money? In most respects, it's one of the better Bluetooth speakers we've seen. It has a rugged design, and can stand up to scratches, bumps, and even rain. It provides long-lasting battery performance, along with powerful bass and rich audio. To be fair, the sound is a bit bass-heavy for some applications. But for many people, more bass is preferable. Not only that, but you can sync up to 100 Studio speakers at once, which makes it great for institutions.