If you're in the market for a new vacuum, it can be easy to get overwhelmed by the number of choices. There are any number of upright, stick, and robot vacuums. Some are powerful, while others are smaller and quieter. Some come with a lot of attachments, while others come with only a couple. Some rely on battery power, while others run on wall power. Point being, you've got plenty of options, and it can be difficult to decide. How do you narrow things down to a more manageable selection?
One way is to look at a particular type of vacuum, and that's what we're about to do. We'll compare two popular stick vacuums, and see how they compare. Stick vacuums are a good all-around choice because they're small and affordable compared to canister vacs. At the same time, they're more powerful than robot vacuums, and can handle tougher messes. Regardless of any other vacuums you might use, a stick vac is a solid investment for most people.
Note: At no extra cost to you, we may earn a commission for purchases using our links. Learn more.
We're going to start by looking at the RedKey F10 Handheld Cordless Vacuum Cleaner. This is an ultra-powerful vacuum with five attachments, suitable for many household tasks. Next, we'll examine the Bissell PowerGlide Pet 3080. This is a lower-powered vacuum designed primarily for pet hair. But those short descriptions just scratch the surface of two very different vacuums. Which one is going to be ideal for you? To find out, we'll have to look below the surface at all the features. Once we've given each vacuum a thorough evaluation, we'll be able to give a fair judgement. Let's see how these two vacuums perform!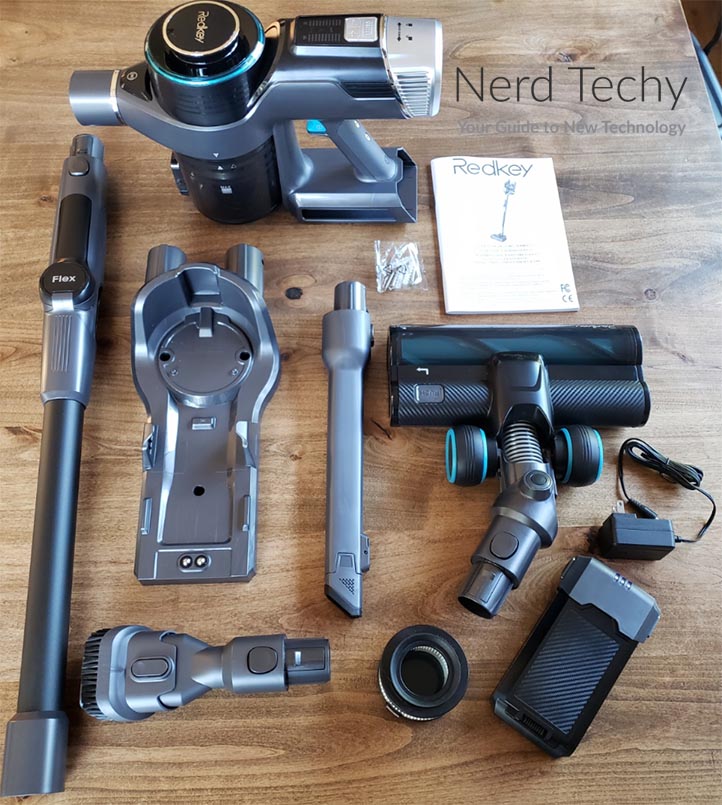 RedKey F10 Handheld Cordless Vacuum Cleaner
The RedKey F10 Handheld Cordless Vacuum Cleaner is a slick, modern vacuum with a versatile design. The main vacuum housing is built like a power drill, with a pistol grip and a battery at the base. This battery helps keep the vacuum both back- and bottom-heavy, providing good balance. Even when you're cleaning overhead, it's very easy to manage, and won't try to tip over on you. The bulk of the housing is built from silver-grey ABS plastic, which is easy on the eyes. That said, there is a splash of color.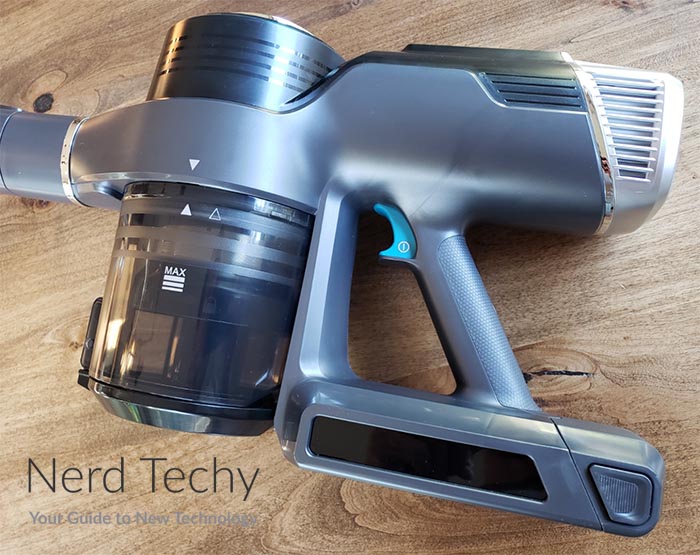 The dust canister itself is very large, with a capacity of 600ml. That's 20 percent larger than your typical stick vac dust canister, so you don't have to empty as often. To empty it, you just hold it over your trash and flip the switch. The bottom of the canister pops open, and your dust drops out into the trash. Snap the lid shut, and you're ready to get back to vacuuming.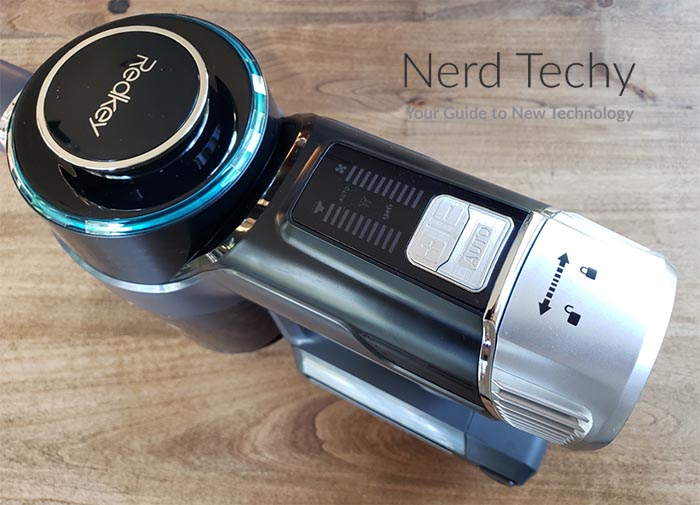 The main control is a trigger, which you'll find on the top of the pistol grip. You squeeze it to run the vacuum, and release it to stop cleaning. That much is pretty straightforward. There's also a power button located on the back of the housing. When this is turned off, the display will be deactivated, and the trigger won't work. Yes, there is a display, just above the power button. This display will show you the current motor speed and battery level. It will also show you any warning messages. You can switch between motor speeds at will, which gives you more control than many stick vacuums.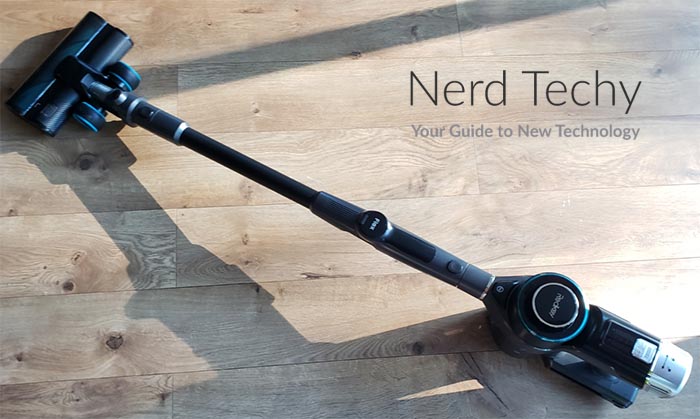 The main brush mounts at the end of an articulated extension rod, with a joint near the middle. This joint can be flexed 90 degrees, or locked straight to function like an ordinary stick vac. The back of the roller brush also attaches via a 360-degree joint, so you get a ton of flexibility. The roller itself is actually a dual brush, with both solid floor and carpet brushes in the assembly. So no matter what surface you're rolling over, you'll get good cleaning performance.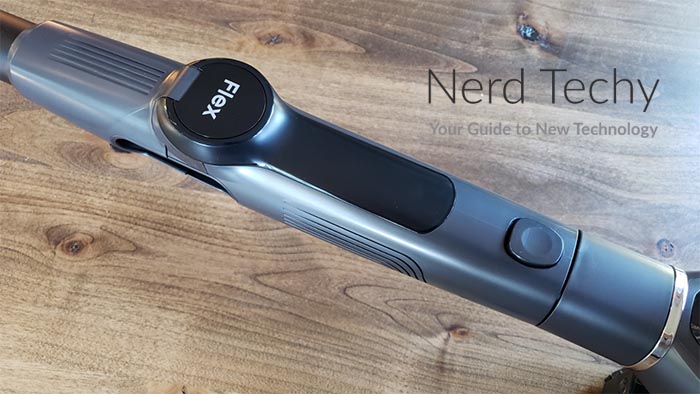 The F10 comes with a mounting bracket that includes mounting points for all your accessories. This is a marked improvement from many stick vacs, where you need to store your attachments separately. This bracket doubles as a charger, so make sure to position it reasonably close to a power outlet.
Looking for a more freewheeling vacuum? The Moosoo XL-618A has a massive 1.3-liter dust canister for extended operation. It's also made to charge without a wall mount; just plug it in wherever you need it. That said, it's not as powerful as the F10.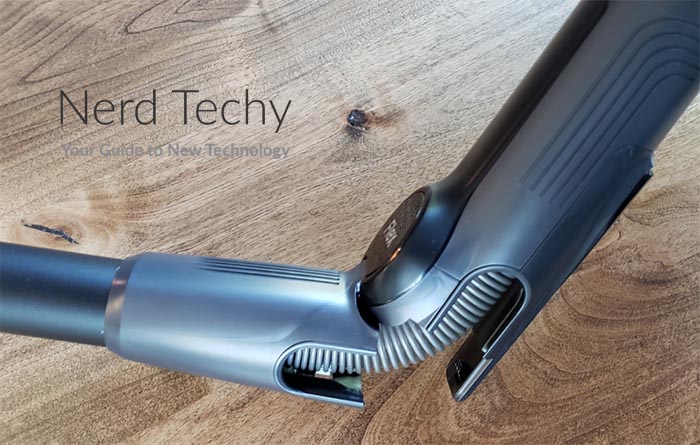 Cleaning Performance
The RedKey F10's battery has enough juice to run for about 60 minutes on a charge. Keep in mind that this is variable. When you run at high speeds, against more resistance, you'll get less time. The roller brush will also use more batteries than the other attachments, because of its motor. The battery will charge in about 3 ½ hours, which isn't half bad. It's also removable, with a second battery slot in the wall mount. So if you want to buy a second battery and keep it as a spare, you can double your battery life.
This vacuum has a maximum suction power of 23,000 Pascals (Pa). That's almost double the suction of the average stick vacuum, and it's more than you'll usually need. Under the vast majority of circumstances, you'll never need to exceed the medium setting. That said, there are times where you might want to turn the motor on high. For example, you may need to clean deep pile carpets, or a bad mess like spilled kitty litter.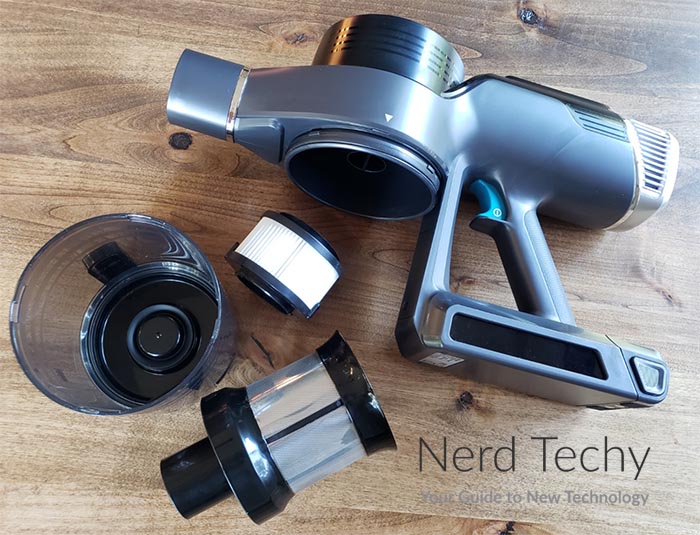 In addition to the main roller brush, there are four additional attachments to help you out. To begin with, there's a mini roller for cars and other tight spaces. Second, there's a crevice tool, which is a standard shape, but has a nifty, transparent-purple aesthetic. Finally, there's not one, but two brush attachments. The vertical attachment is for overhead use, while the horizontal attachment is for keyboards and similar applications.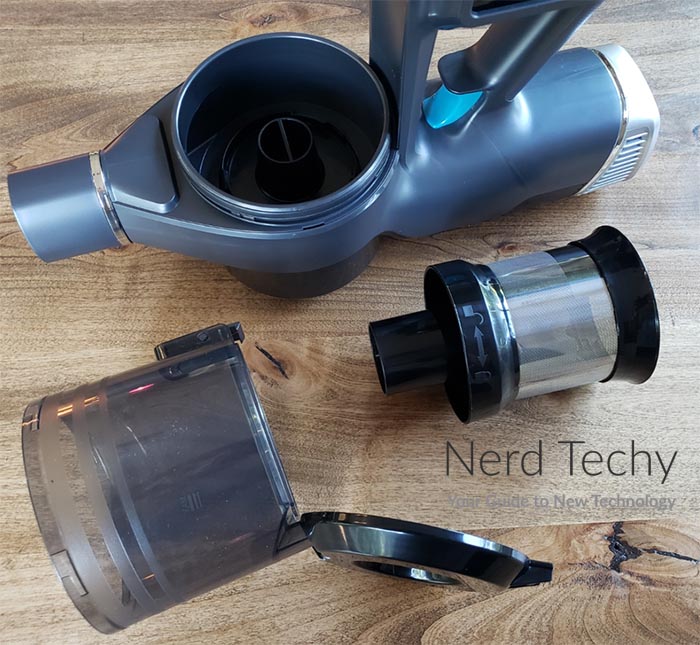 When the air gets sucked into the F10, it passes through a multi-layer filtration system. First, it passes through a basic metal mesh, which filters out large debris like dust bunnies. Next, the air is sucked through a set of metal tubes. These don't so much filter it as improve the cyclone effect inside the canister. The canister is the next stage, where most debris spins to the outside and drops out. The fourth stage is a HEPA filter, which removes microscopic allergens and irritants. Finally, there's an additional filter to purify any remaining contaminants.
About the only thing this vacuum won't do is clean your floor by itself. If that's what you want, consider the Roidmi Eve Plus. It's a self-emptying robot vacuum that only needs to be touched once a month. Then again, it's nowhere near as powerful as the F10.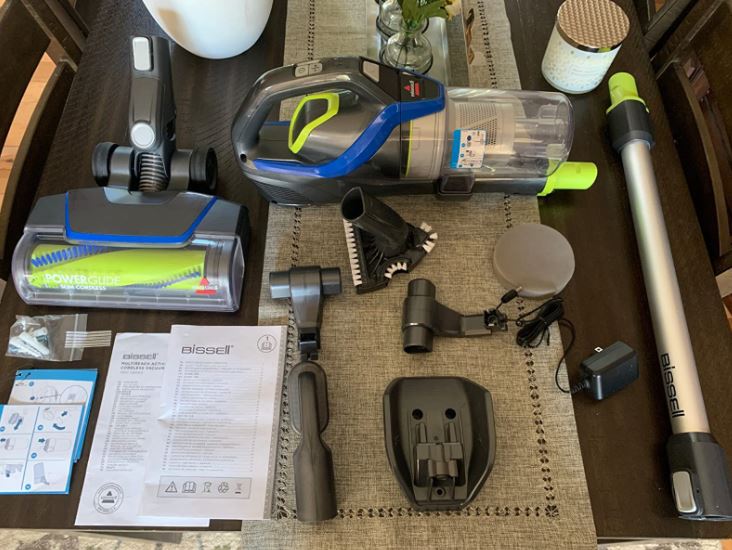 Bissell PowerGlide Pet 3080
The Bissell PowerGlide Pet 3080 has a slimmer, more forward-facing design than the RedKey. The canister mounts horizontally in front of the motor, and the handle has a more traditional vacuum shape. Instead of a pistol grip, it slopes forward, and there control switch is located on the back. Using your thumb, you can easily switch between three different power levels. That said, cleaning overhead can be a bit more awkward. Because the design isn't as back-heavy, it can feel like the vacuum wants to tip back over. In addition, the 500ml dust bin is noticeably smaller than the RedKey's, and there's no visual display.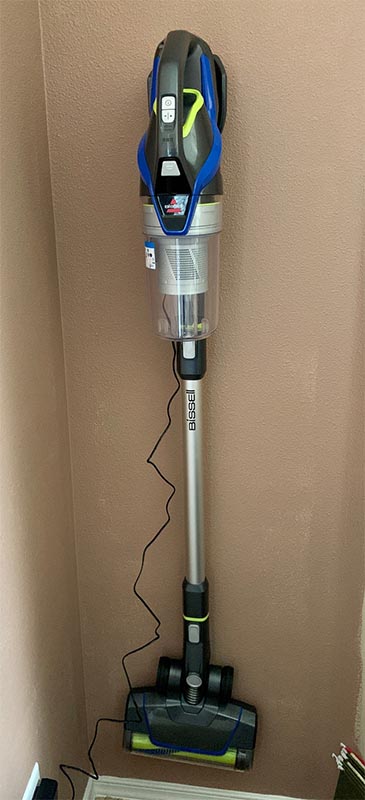 The main attraction of the Pet 3080 is its main roller brush. This brush rotates 360 degrees, much like the RedKey's, so it's easy to manage. You can effortlessly maneuver it under furniture and around corners, without missing a spot. What's really neat about it, though, is that it's specifically-engineered for pet hair. It does a great job of getting fur out of carpets, which is a great feature for pet owners. It also claims to be tangle-free, which is less accurate; no roller brush is tangle-free. And to be fair, it's easier to detangle than most.
Like the RedKey vacuum, the Pet 3080 charges on its wall mount. The mount also holds the accessories, as well as the main vacuum, which is a convenient feature to have.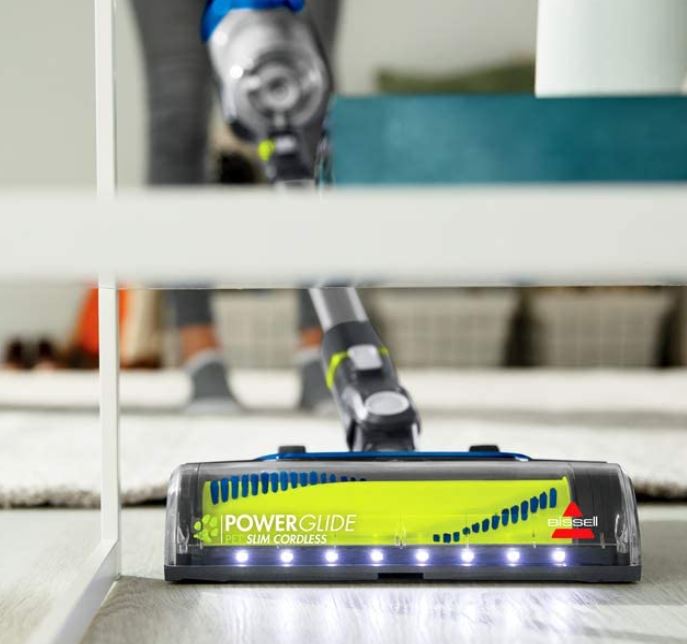 Cleaning Performance
When it comes to battery life, we were somewhat disappointed by the Pet 3080. It only lasts for about 30 minutes, although this can vary based on motor speed. You can get better performance by running on low all the time, and vice-versa. That said, you'll probably spend a significant amount of time on the higher setting. Bissell doesn't actually provide a number for how many Pascals of suction their vacuum provides. This is disappointing, and we would have expected more from such an established brand. What we can say is that the Pet 3080 is nowhere near as powerful as the RedKey.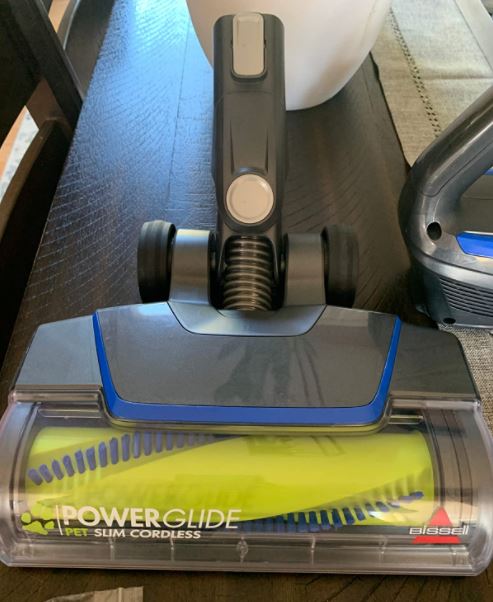 If you're looking for something better in this price range, take a look at the Moosoo K17. It's just as affordable, but it provides an impressive 23,000Pa of maximum suction. The only major downside is its small dust bin, which requires frequent emptying.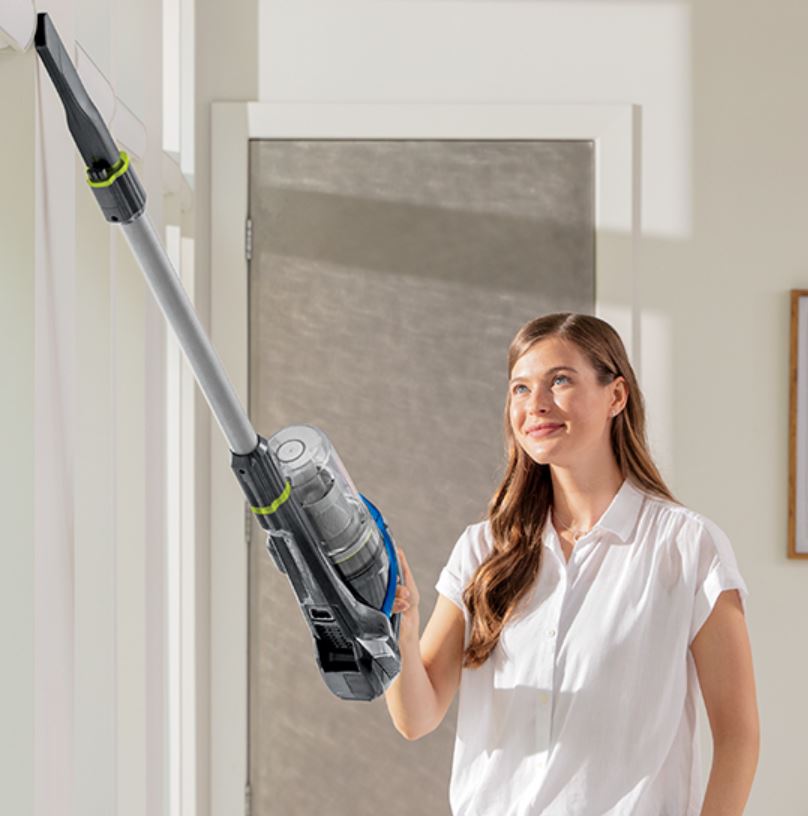 The Pet 3080 comes with two attachments besides the main roller: a crevice tool and a brush tool. These are fairly vanilla, but they get the job done just fine. One thing we did appreciate was the washable fabric filter. It doesn't remove as many particles as the RedKey's. However, it's almost infinitely-reusable, so you don't have to keep buying filters.
Final Verdict
As you can see, the RedKey F10 Handheld Cordless Vacuum Cleaner is the superior vacuum in most respects. It's more powerful, it lasts longer, and the dust bin has more capacity. It also comes with more attachments, and a more effective filter system. That said, the Bissell PowerGlide Pet 3080 has two distinct advantages of its own. For one thing, its roller is specifically designed for pet hair. It also doesn't need replacement filters very often. But for most people, the F10 is going to have more to offer.
Please consider sharing:
Note: At no extra cost to you, we may earn a commission for purchases using our links. Learn more.