Moosoo K17
Pros
Plenty of suction power.
Lightweight and easy to handle.
Charging wall mount also holds accessories.
Effective, washable filter.
Very affordable for most budgets.
Cons
Small dust bin.
Maximum of 30 minutes battery life.
In recent years, technology has changed a lot about the way we live our lives. Think of your smartphone. Nowadays, it's more or less an extension of the person who owns it. We use them for keeping in touch with friends and family, as well as for doing business. We use them for banking and ordering pizza, and even for getting directions. On a larger level, we've seen advances in electric cars and other major infrastructure. These have marked major changes in how we live our lives, and promise to change more in the future. But all of these big changes have overshadowed some smaller technologies that still affect our lives.
For example, the main reason electric cars are becoming popular is because of more powerful batteries. Until a few years ago, electric vehicles were only good for city driving. If you wanted to go more than a few miles, you either had to plug in or rely on a gas motor. Along the same lines, electric motors have also gotten smaller. Both of these technologies are also applicable to vacuums.
Until recently, cordless vacuums were only useful for light-duty work. If you wanted to do serious cleaning, you needed to plug in. But with smaller, more powerful motors and batteries, they're becoming as capable as traditional uprights. So if you're in the market for a new vacuum, it can make sense to go cordless.
We're about to review the MOOSOO K17 Cordless Vacuum. MOOSOO is mostly known for their well-engineered robot vacuums, like the MT-720, but they're also starting to break into the manual vacuum market. The K17 is an entry-level model, affordably priced and modestly packaged. Even so, it includes a full set of accessories for you to get started with. To find out whether it's worth buying, we took a close look at the physical construction and the cleaning power. We also looked at the battery performance, the air filter, and the longevity of the battery. After that, we'll sum up what we've learned and give an overall verdict. Let's get started!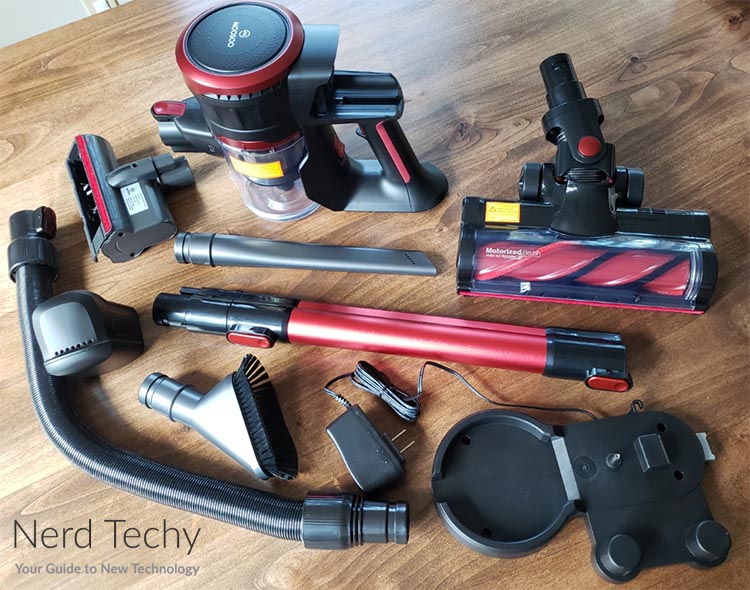 Design & Construction
The MOOSOO K17 is engineered to be lightweight and easy to handle. The main body is only 2.84 pounds, including the motor and the battery. It's built a lot like a drill or other handheld power tool, with a pistol grip at the back. The grip as well as the rest of the housing are constructed from matte black plastic. This material is easy to keep clean, and it sports red highlights down the side and around the top. The trigger is also red, and provides an easy way to operate the vacuum. You squeeze it when you want the motor to run, and release it when you're done. Again, the similarities to a power drill are pretty clear.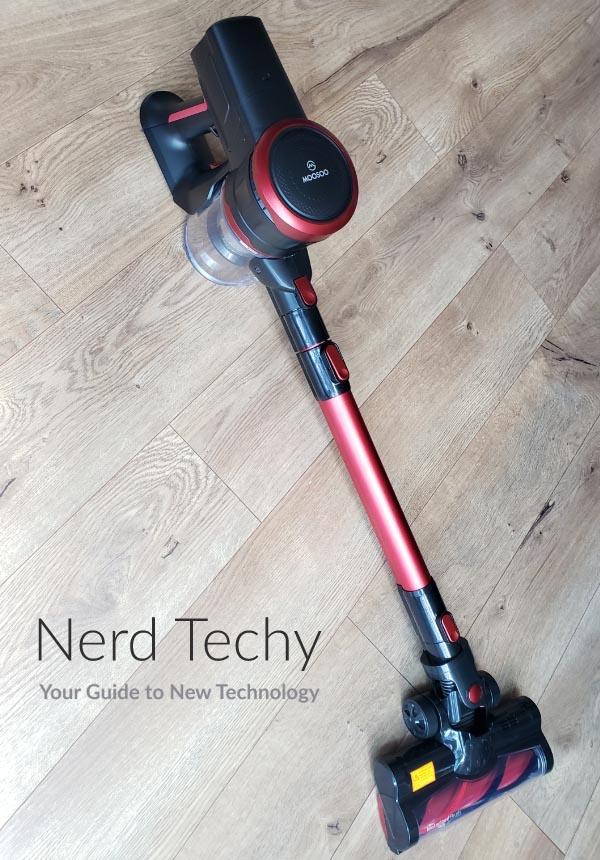 The part of the housing above the grip has a rectangular profile. There, you'll find the battery, which slides inside and can be freely removed. This makes it possible to replace a battery that has aged out. It also makes it possible to keep two batteries, and swap them out as needed. Keep in mind that the battery must be inserted in the vacuum to charge. There's no independent charging station available. So if you wanted to use two batteries, you'd have to swap them out for charging as well as for use.
Just forward of the battery, you'll find the motor. It's housed in a vertical cylinder, with vents on the sides to provide air flow. Beneath the motor is the dust bin, which collects any debris you vacuum up. It's transparent, so you can easily keep track of how much dust you've collected inside. This is just as well, since the bin doesn't have as much capacity as most. Normally, we expect vacuum hoppers to have a capacity of 500ml to 600ml. The K17, on the other hand, only has a capacity of 400ml. This means more frequent emptying, which is a bit disappointing. On the other hand, the bin is easy to empty. You push a button, the bottom flips open, and your debris falls into the trash.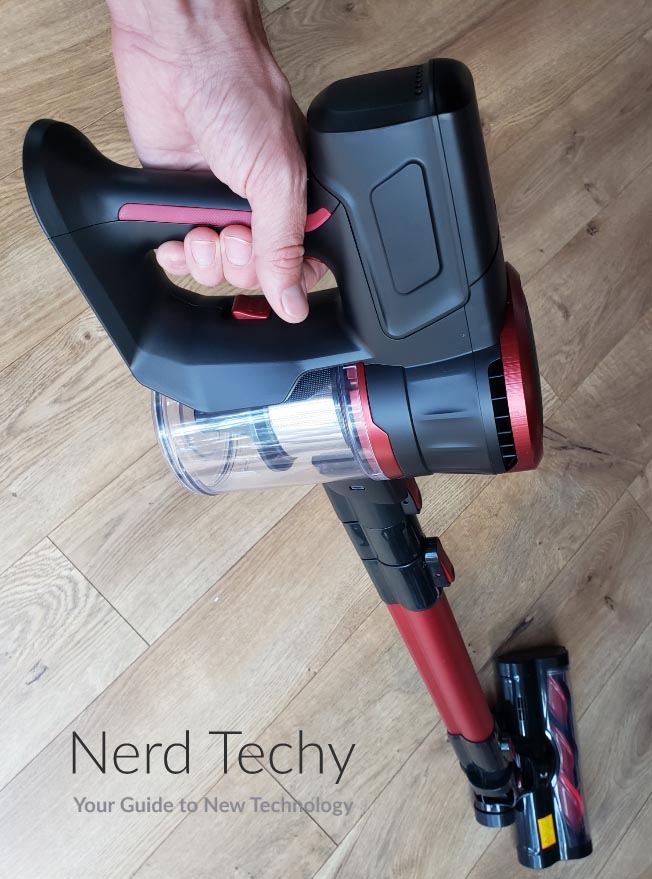 Another alternative to consider is the Redkey F10. This vacuum is similar to the K17 in many respects, but sports a larger dust bin with more capacity. On the downside, it doesn't include a mini roller for cars and upholstery.
Along with the vacuum and accessories, you get a wall mount for easy storage. It screws into your wall, and the vacuum clips into it. You plug the bracket into a power outlet, and it also provides power to your battery. That way, your battery is always fully charged when you retrieve your vacuum. Not only that, but the mount holds all the accessories, too. All of this is covered by a 12-month manufacturer's warranty. If anything fails during that first year, you'll get a full refund or replacement.
Cleaning & Accessories
The K17's motor can operate at two different power levels. The standard power setting is 11 kilopascals (KPa), which isn't half bad. It's great for bare floors and low pile carpets. That said, the average upright vac provides 14KPa of suction. On medium or heavier carpeting, you're definitely going to want more than 11KPa. Thankfully, the K17 has a "MAX" mode that provides 23KPa of suction. That's more than sufficient for cleaning heavier carpets.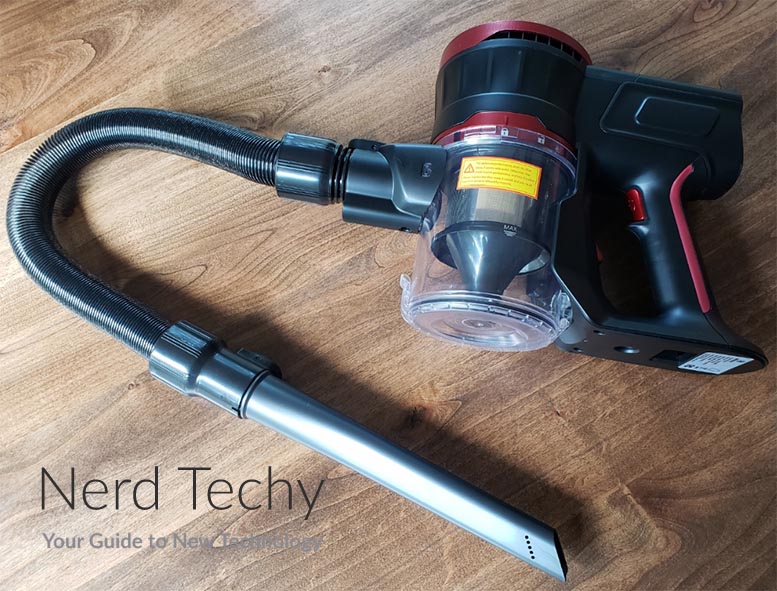 The main attachment is a carpet roller, with a flexible neck that's easy to maneuver under furniture. It sports a row of four bright LEDs on the front, which provide visibility in tight spaces. The brush itself has a standard double-helix design, and is really nothing fancy. It works well enough for its purpose, and it's reasonably easy to untangle. All in all, we were pleased with the performance, particularly with the fact that it's lit. You don't see that often on budget-priced vacuums.
Along with the main roller, you also get a mini roller. It's about half the width, and is designed for working in smaller spaces. It's great for upholstery, as well as for automotive use. Because it's smaller, you also get a bit more suction than you do with the main roller. That said, the housing around the brush makes it a bit harder to clean than the larger roller.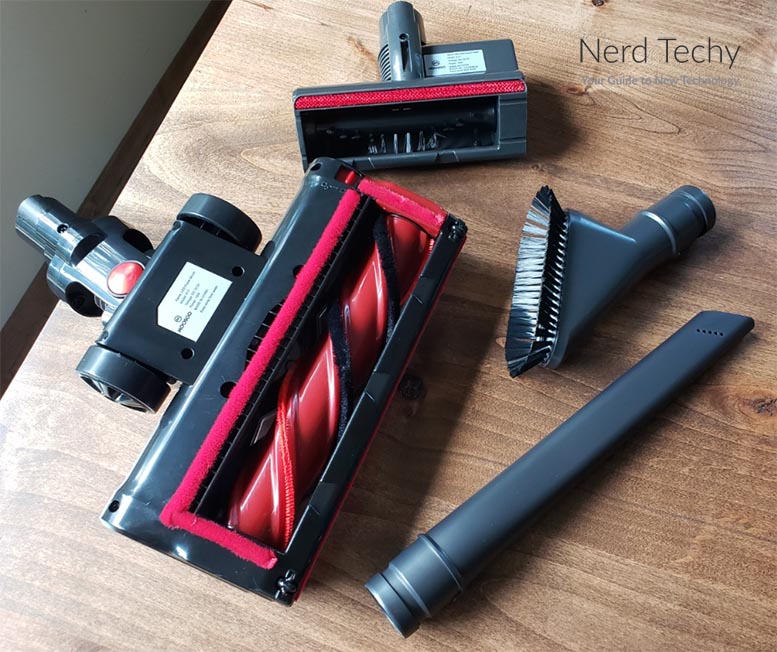 In addition to the rollers, there are another pair of tools included in the kit. The first is a brush attachment. It's slightly elongated, but not as wide as most. That said, it works the same way. It's ideal for delicate surfaces like electronics and curtains. The last accessory is a slim crevice tool. It's made for getting between couch cushions and around baseboards, and other tight locations.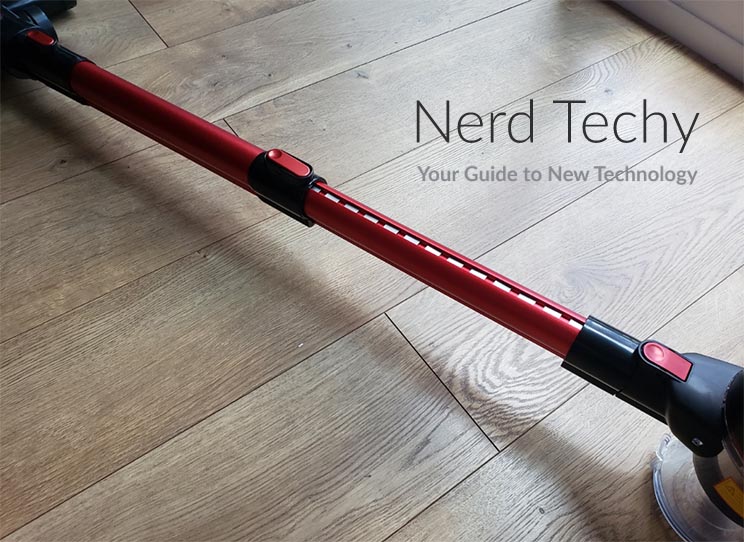 One thing we appreciated is that there are multiple ways to attach all of these tools. The first is a rigid aluminum rod, which has a telescoping design. It can be adjusted between 3.7 and 4.65 feet, so you can get the most comfortable length for your needs. If you want a more flexible attachment, you can use the hose instead. This makes it easier to work inside vehicles and other awkward locations. Finally, you can clip the attachments directly into the main housing and use it like a dust buster.
If you want even more features, consider the Dreametech T30. It has a built-in air quality sensor, a lighted crevice tool, and other bells and whistles. On the other hand, it's expensive.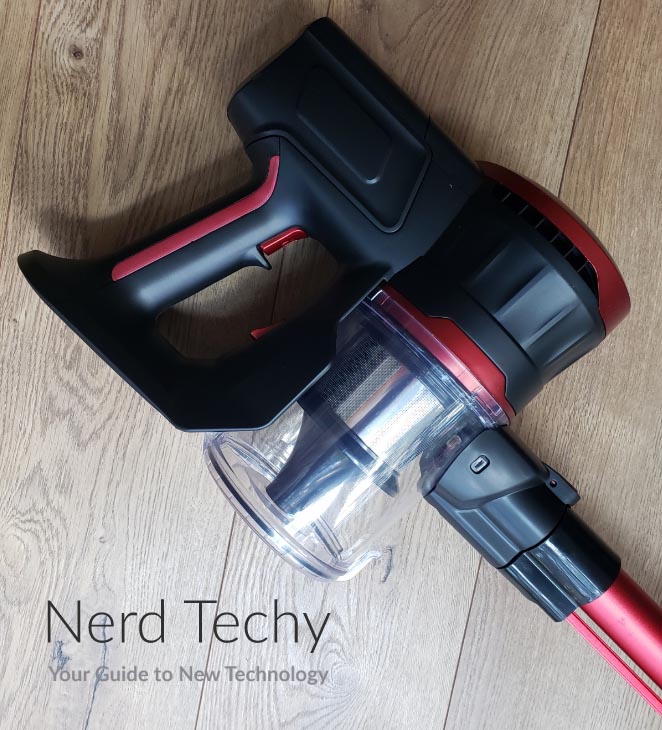 Battery & Filter
The MOOSOO K17's battery carries enough charge to operate for about 30 minutes. This can vary slightly based on how much resistance the motor is getting, but it's a pretty accurate estimate. That said, the battery will run out faster in MAX mode. On that setting, it will only last for about 15 minutes. For this reason, you'll want to avoid using MAX mode unless you actually have to. On the upside, the battery charges faster than most cordless vacuums, in about four hours. If you need to vacuum twice in one day, you'll be able to.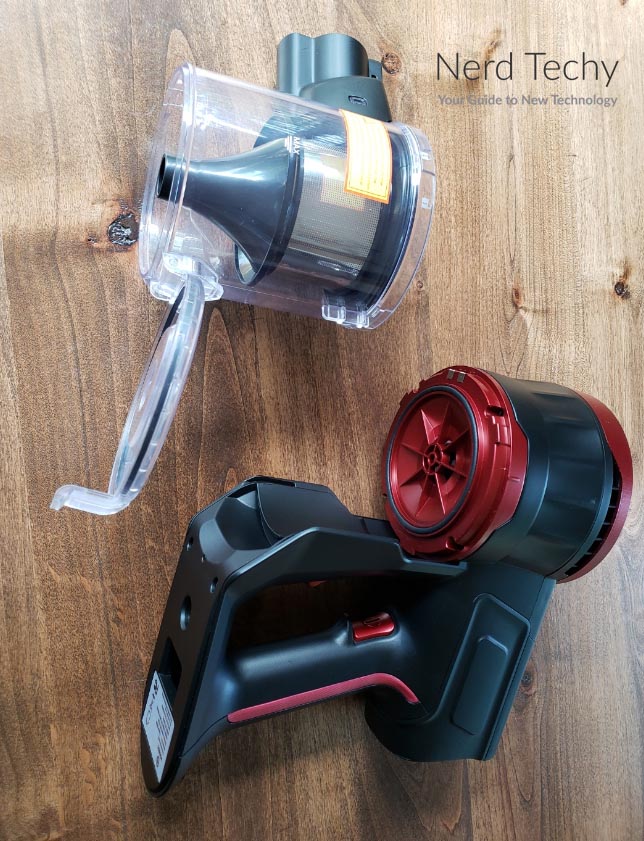 The filtration system consists of a few different stages. The first is the dust bin itself, which acts as a centrifuge. Larger pieces of debris simply drop to the bottom of the cylinder without any difficulty. Smaller particles, meanwhile, are filtered out by a metallic mesh screen. This screen can be removed when the dust bin has been opened. Just run water through it backwards, wait for it to dry, and reinsert it.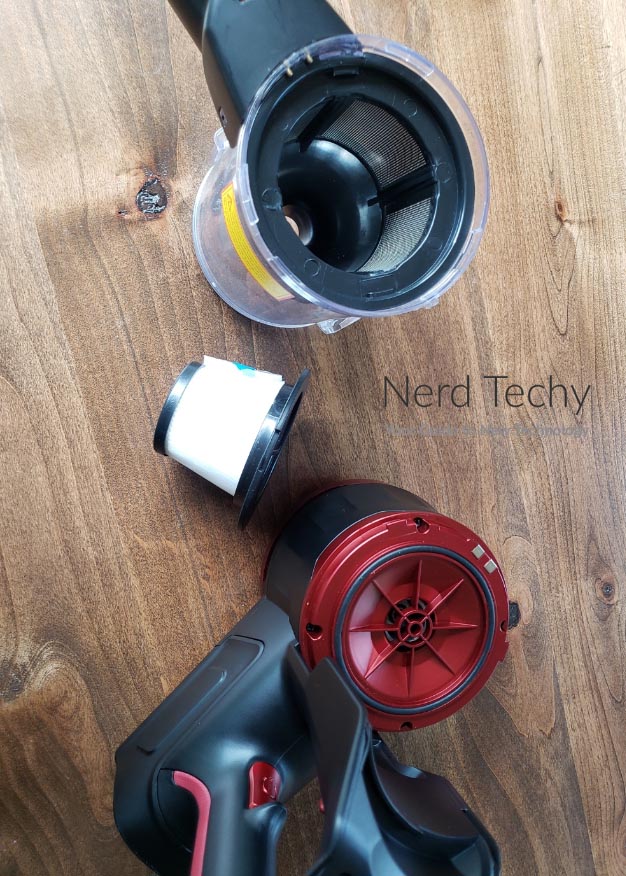 Beneath the mesh, you'll find a HEPA filtration system. Moosoo advertises 99.99% effectiveness, but this isn't quite right. It's a standard H13 filter, which removes 99.97% of particles as small as 0.3 microns. Either way, it's a pretty good filter, and the vacuum won't blow allergens all over your room. Moreover, the HEPA filter is washable. It will eventually need to be replaced, but you can wash it several times before you get to that point. When you do wash it, make sure to give it a full 24 hours to dry before you use the vacuum again. Too much moisture can damage the motor.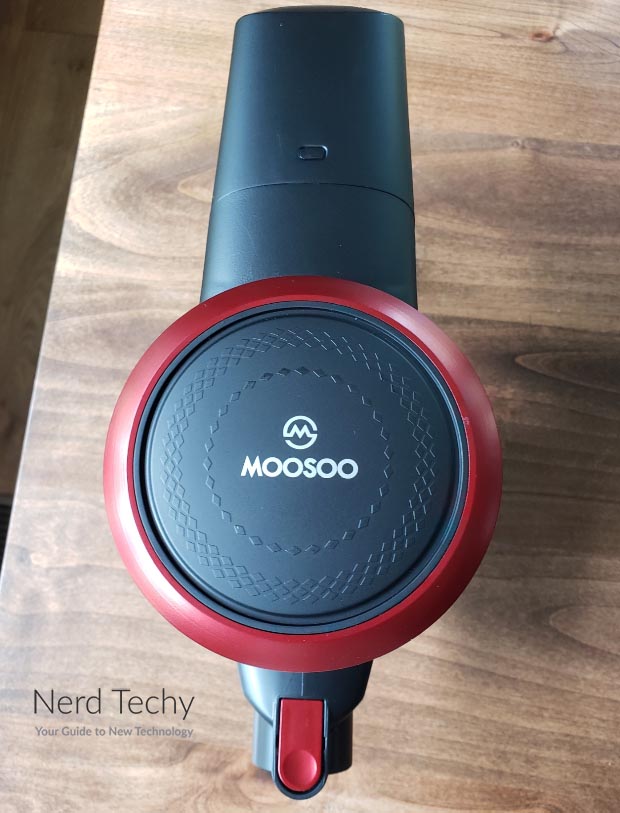 Final Verdict
The MOOSOO K17 Cordless Vacuum is one of the more powerful entry-level vacuums on the market. The base speed of 11KPa is respectable enough. But the MAX speed of 23KPa is exceptional. It's impressive that MOOSOO has managed to provide that much money at such a reasonable price.
But the benefits of the K17 don't stop with just raw power. You also get a full set of accessories to meet all of your cleaning needs. The mounting station, too, is well-designed, and supports all of your accessories. To be fair, we would have liked a little more battery life. The small dust bin was also a disappointment. On the other hand, its small size is part of what keeps the housing so compact and lightweight. If you want a powerful vacuum in a small package, the K17 is a solid choice.