If there's one home appliance that everyone should have it's a vacuum cleaner. But working a vacuum cleaner can be annoying and not very fun. After all, who wants to spend the time dragging it around the house, moving furniture to get under it, and worrying about whether the power cord will reach the wall as you are moving it around?
Thankfully, you can let the robots do the hard work for you. Robot vacuum cleaners like the Roomba have become insanely popular in recent years thanks to advances in technology and the utility of having a robot do the cleaning for you. These robotic vacuum cleaners can create a map of your home and be left alone to their own devices to clean while you go out to run errands. The best part of these kinds of vacuum cleaners is that you can set them up to automatically go off at certain times so you never hard to specifically manage it.
Today we're going to take a thorough look at the Moosoo MT-720 Robot Vacuum Cleaner. This self-charging vacuum cleaner has a powerful, slim design that makes it super easy to use in the home. We'll cover the MT-720's features, functions, pros, and cons. Then, we'll give our verdict on whether the MT-720 is worth considering.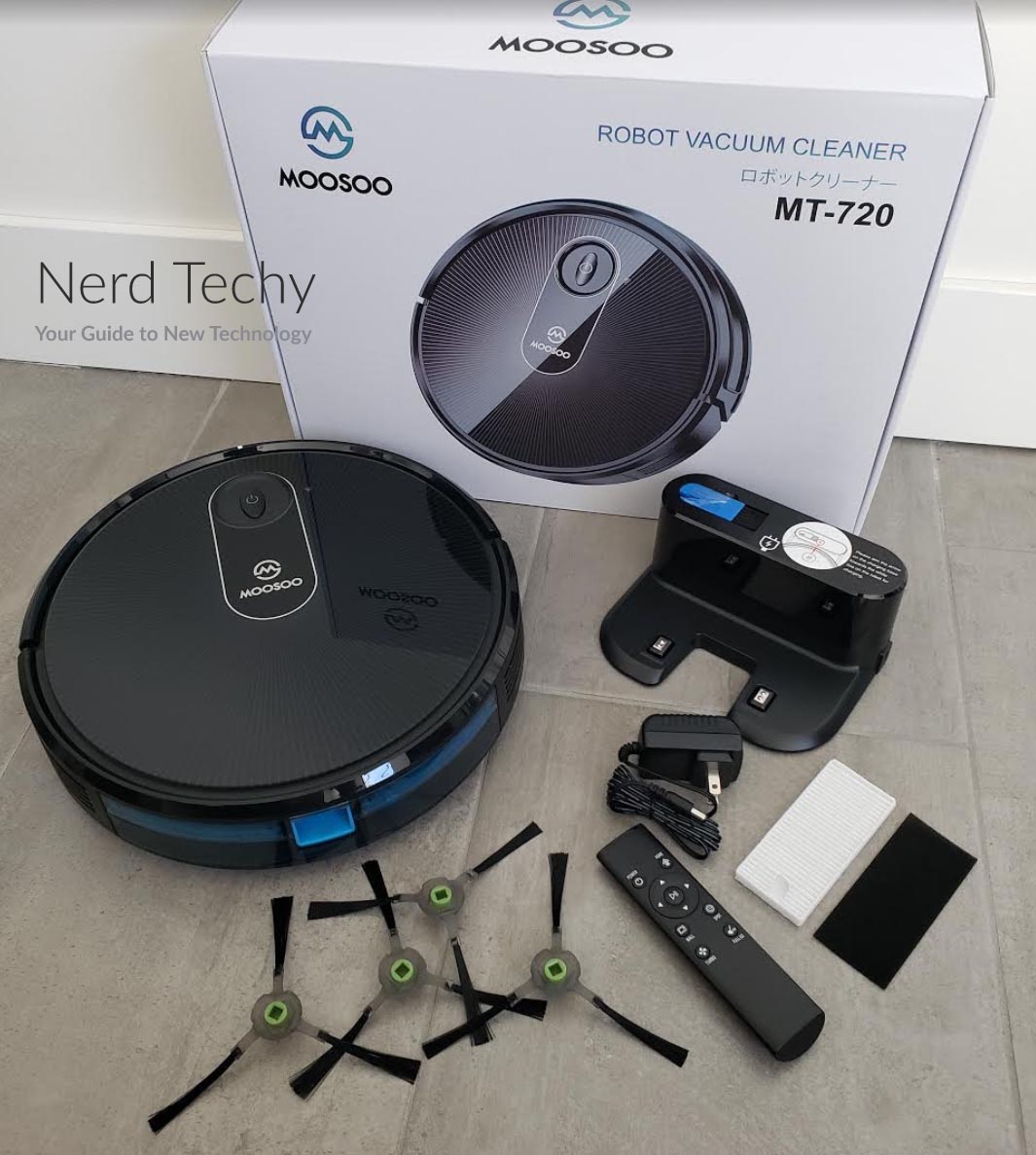 Design and Power
Like most robotic vacuum cleaners, the MT-720 has a flat circular design with the brush and vacuum apparatus on the bottom. The slim design stands just under 4 inches tall so it is thin enough to fit under most furniture to get those hard to reach places. It has a sleek black finish that is fairly inconspicuous so you can run it without drawing too much attention. The diameter is just over 14 inches, which is slightly smaller than the average diameter of these kinds of robotic vacuum cleaners.
One the top is the main power button that you simply press to turn on and start any programmed routine. Next to the main power button is a blue LED that indicates the current state of the WiFi connection. Branching out from the bottom of the disk are rotating brush arms that work to gather dirt and dust and put it in the way of the main suction mechanism.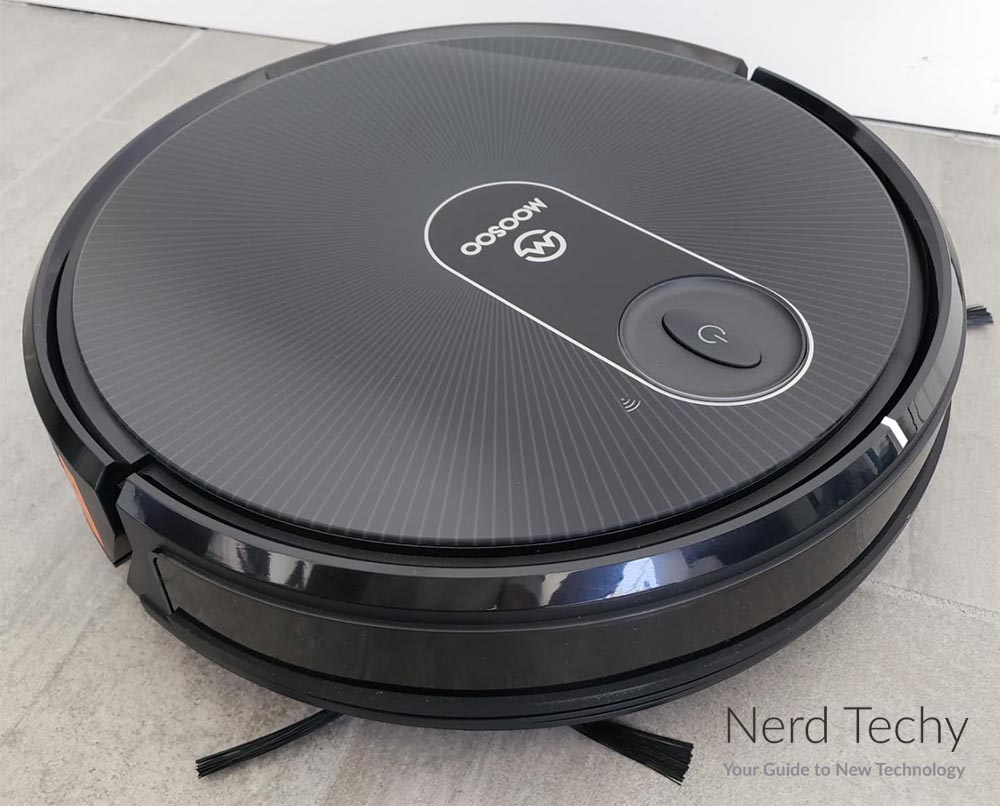 The MT-720 has a powerful suction motor that can generate up to 1800 pascals of force. It be used for most small to medium messes from things like dust, dirt, crumbs, hair, and pet dander. All of this is powered by a 2500mAh lithium-ion battery that can run continuously for 120 minutes before needing to recharge. On the top is an LED indicator that tells the current state of battery power. When it drops below 15%, then the vacuum cleaner will automatically return to its charging base.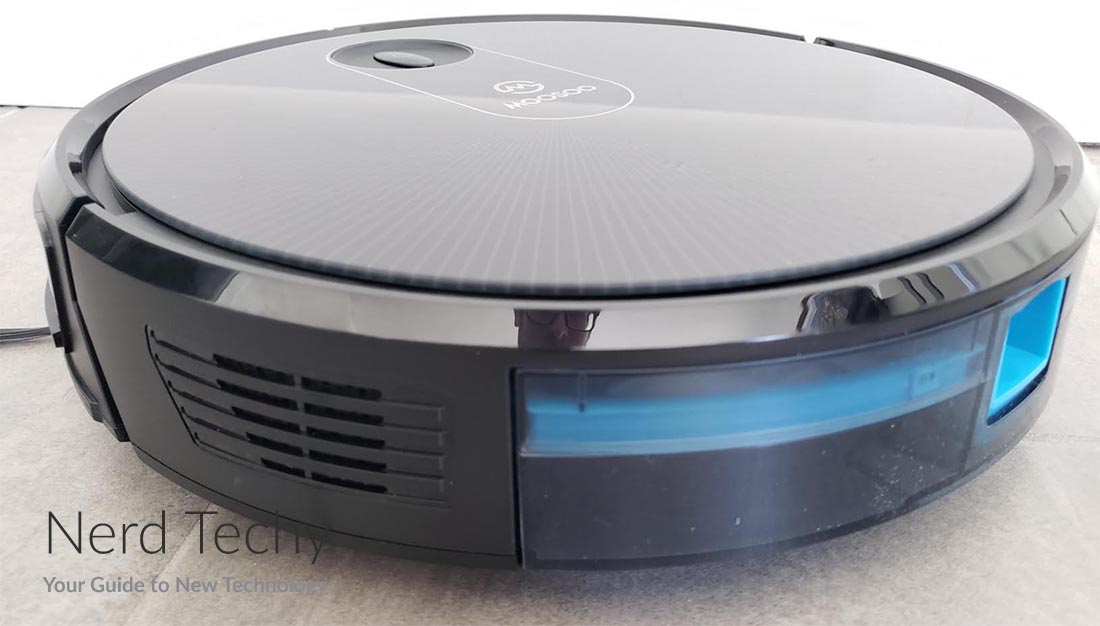 It also has 6 distinct cleaning modes: an auto cleaning mode, spot cleaning, edge cleaning, max vacuum, plan cleaning, and manual cleaning. You can switch between the modes on the fly so you can make sure it hits all relevant areas when cleaning. The MT-720 also uses an industrial quality HEPA filter to capture particles and debris. HEPA filters are slightly ionized so they attract debris via electromagnetism. They are particularly useful for removing dander, hair, and other things that can cause allergic reactions. This is one reason why HEPA filters are commonly used in air purifiers, such as the Air Choice HEPA Air Purifier.
The MT-720 is designed to work on both carpets and hard floors. When it goes onto the carpet, it'll automatically increase the suction power to consistently clean. This is a great feature as it means that you can rely on it to clean both carpet and floors and you don't have to treat them separately. It also has side-oriented brush arms that take care of most corners and edges. These brushes are a nice addition, but they're a bit lacking. Specifically, we noticed that the MT-720 has some trouble getting right up next to walls and corners, even though these brushes are designed for that. That's why we recommend sweeping with a broom first to remove and large and hard to reach debris before running the vacuum cleaner.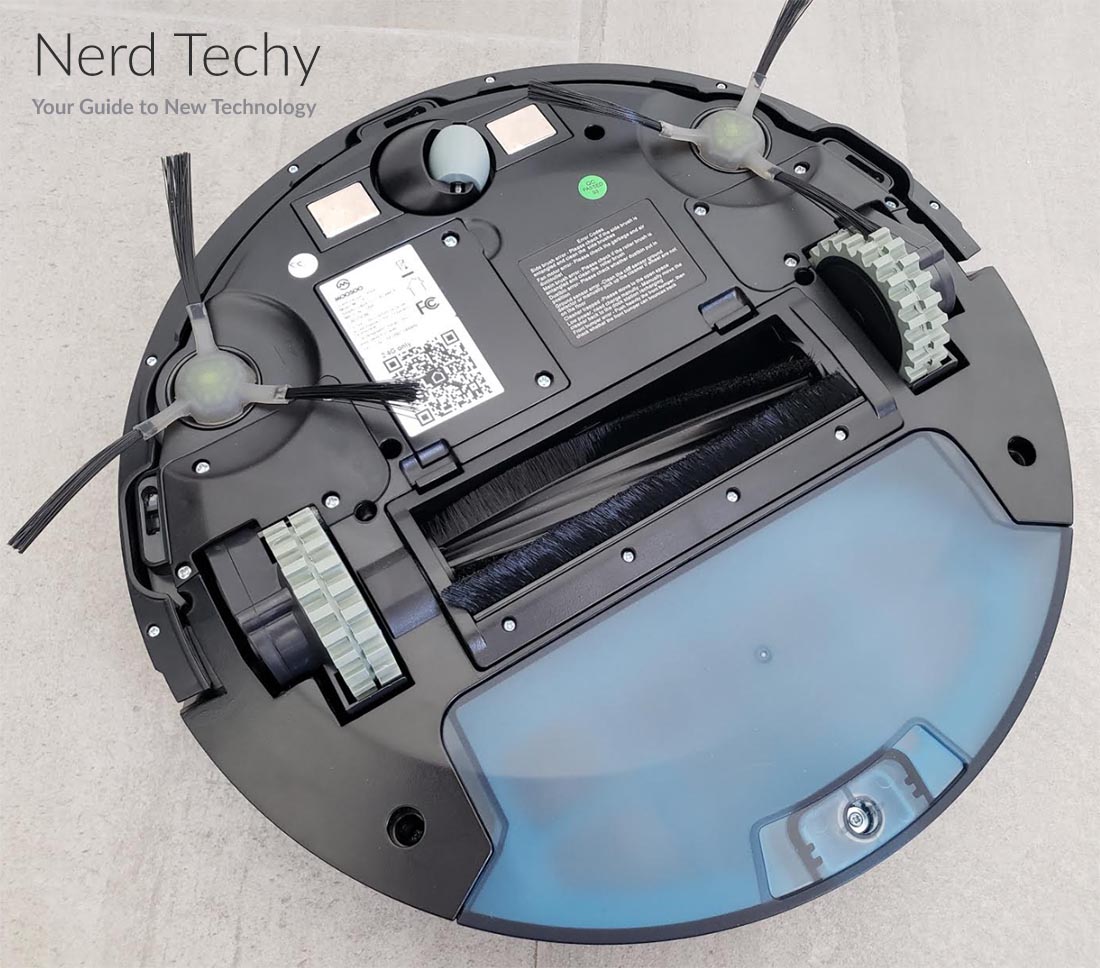 It also comes with a simple charging dock/storage dock. The charging base connects to any standard house outlet and can charge the vacuum cleaner in as little as an hour. Like most newer model robotic vacuum cleaners, the MT-720 will automatically return the charging base when the battery gets too low to operate efficiently.
One last point on the design: it's designed to run very quietly. Depending on the suction level, it runs between 30-50 decibels, which is about the sound of a normal conversation at the loudest. You can run the MT-720 without much noise and without the worry of disturbing other people in your home.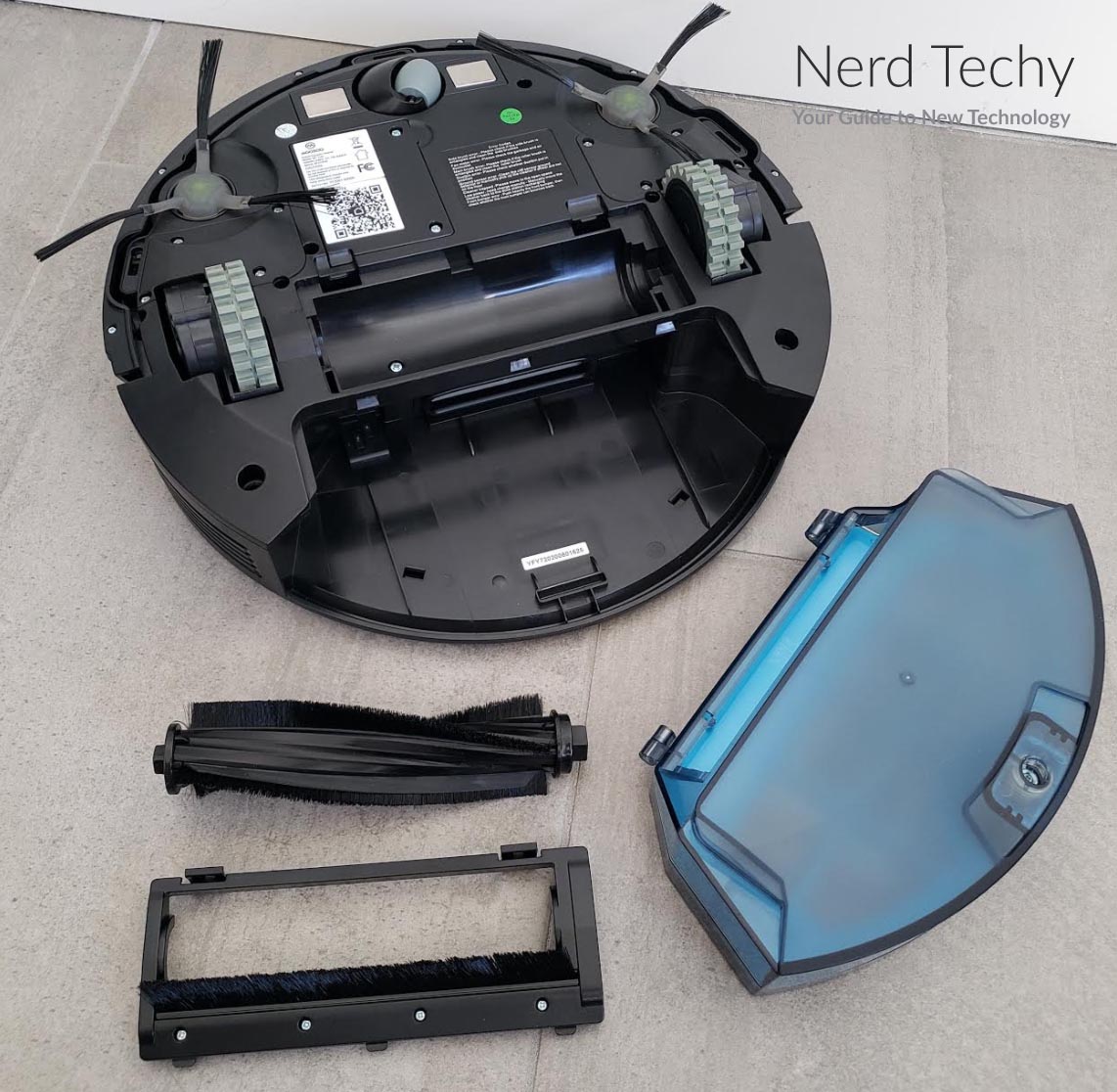 Connectivity Options
The MT-720 wouldn't be a robot vacuum cleaner if it didn't have some smart features. Like most modern robot vacuums, the MT-720 can interface with WiFi so you can remotely access it. The vacuum comes with a companion app from which you can create a cleaning schedule and remotely activate the devices. It has 2.4GHz WiFi compatibility but no support for 5GHz channels.
The app itself is pretty simple to use. You can check the connection and click on the scheduling tab to determine when you want the machine to turn on. You can also switch between the cleaning modes and give directions where you want it to go. The vacuum will also let you know if it accidentally gets knocked over or is otherwise interrupted during its routine. The MT-720 also comes with a handy remote controller in the packaging so you can use that instead of the app. You can't set cleaning routes using the remote though; you can only turn it on/off and switch between the suction levels.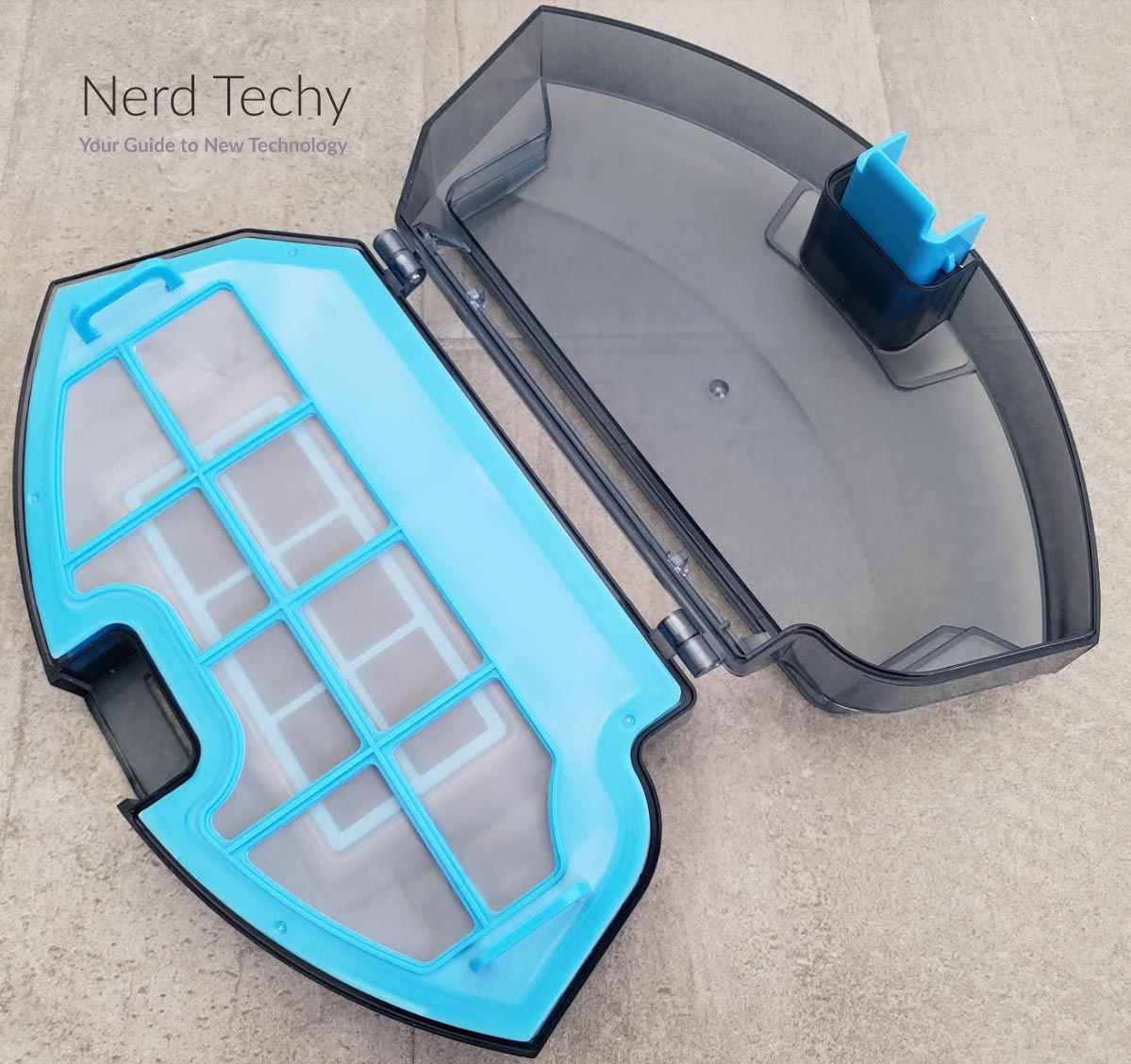 In addition to the companion app, you can connect the MT-720 to your Alexa or Google Assistant. This means you can program voice commands so you don't even have to open the app. These kinds of voice connectivity features are not unique to the MT-720; in fact, most smart devices nowadays have these kinds of voice-compatibility options so it is pretty standard, even if it's extremely useful.
Like most modern robot vacuums, the MT-720 will construct a map of the floor layout of your house after multiple cleaning sessions. The more it builds this map, the better able it will be to complete its routines and avoid things getting in its way. Keep in mind that if you change the floor layout of your home significantly it will have to build itself a new map which may take some time.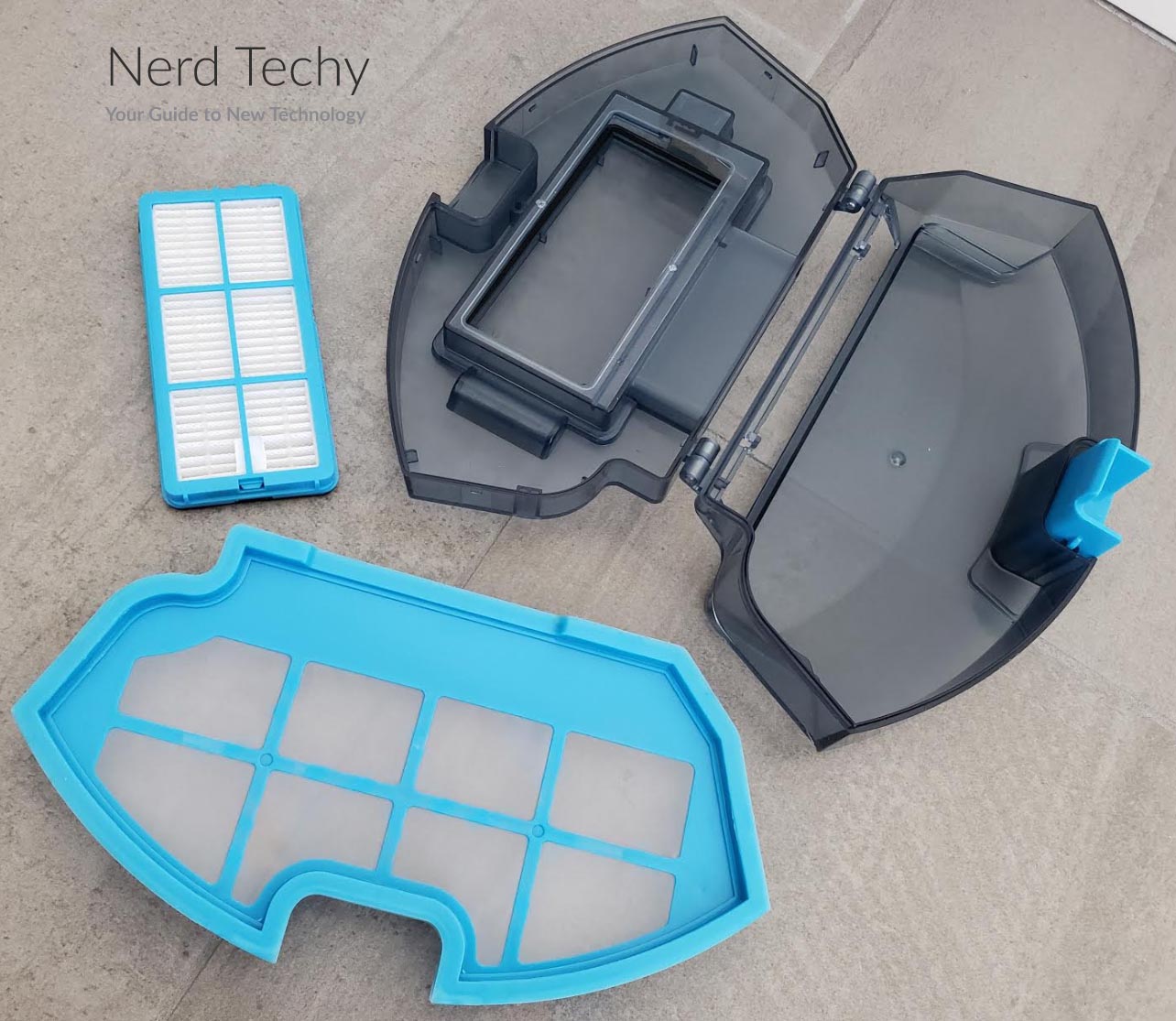 For the most part, the Moosoo MT-720 holds a connection well. You might notice some loss of connectivity if it goes into a back room far away from your WiFi router but it can still operate autonomously until it reconnects. As long as you have a decent WiFi connection through your home, it shouldn't drop the connection too much. If you do have WiFi problems, you can expand your WiFi reach using something like the Meshforce Whole Home Mesh WiFi System. This kind of system will extend WiFi signals to every corner of your house so your vacuum won't ever be lost.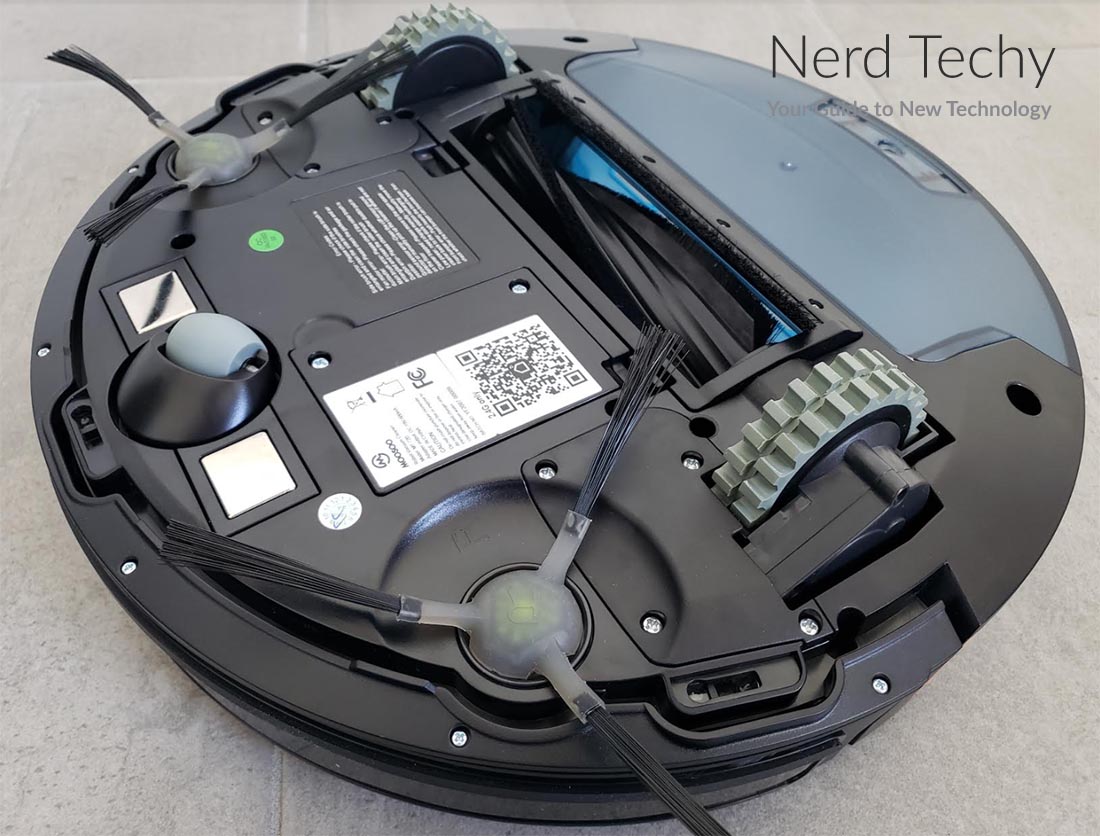 Cleaning and Maintenance
Like any vacuum, you'll have to do regular cleaning and maintenance. Unfortunately, no manufacturer has created an affordable robot vacuum that can empty itself, meaning you'll have to periodically empty the dustbin. Removing the bin is very easy, though. You just flip the machine over and the dustbin slides out to be emptied directly. It doesn't require any linings or bags so you can remove, dump, put it back in, and the vacuum can be used again. We recommend emptying the dustbin after every 1-2 uses as it will be much less efficient if it tries to run on a full dustbin. In fact, running a vacuum when the dustbin is full can cause overheating and damage the machine.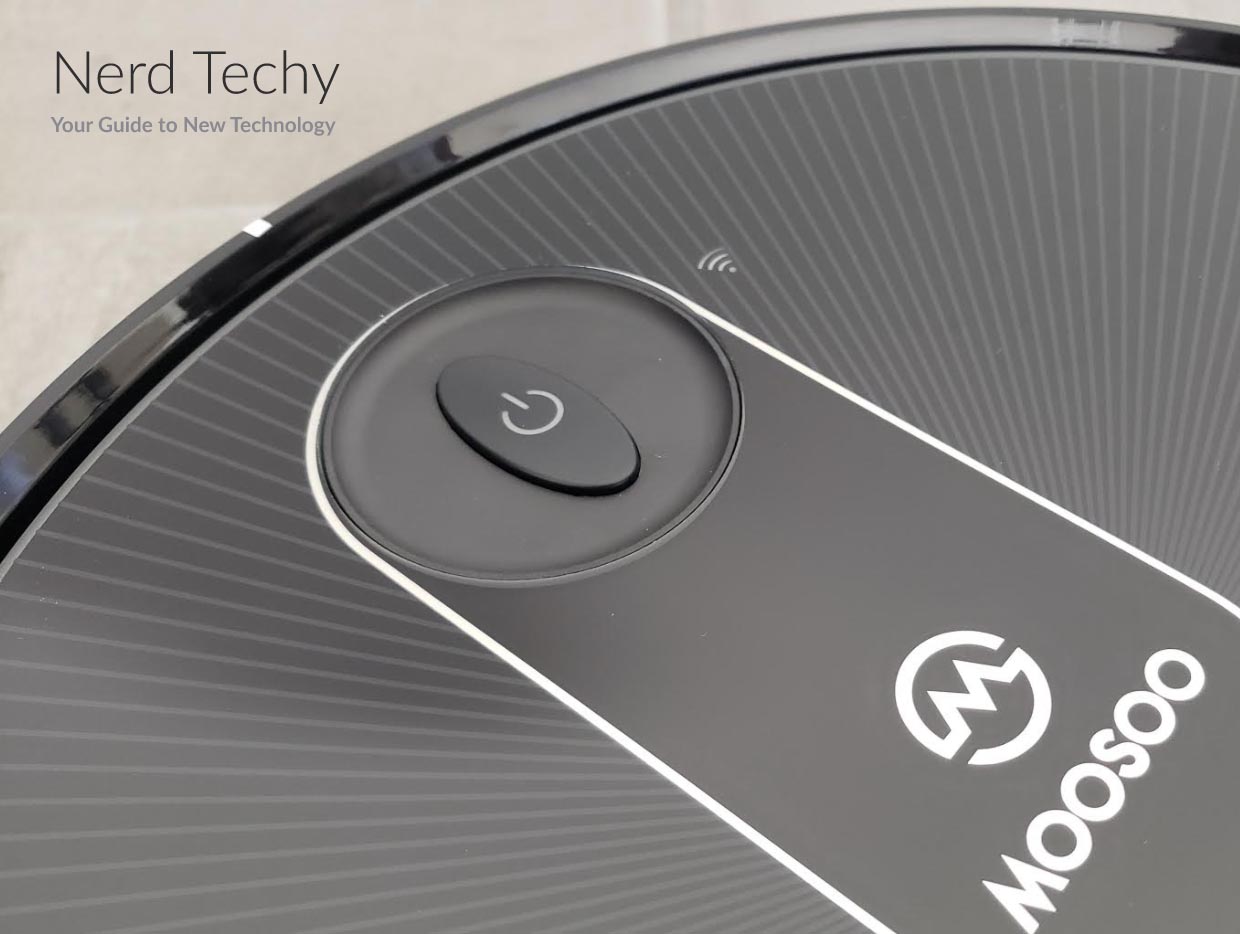 You can also remove the cleaning roller on the bottom if you need to untangle hair or anything else that gets trapped in there. You'll need to press the tiny latch near the brush to remove the bottom plate so you can take out the roller. Keep in mind, that the MT-720 isn't designed for heavy-duty cleaning, only smaller jobs. You shouldn't really have to worry about untangling the rollers from anything large caught in there.
Otherwise, you can just wipe down the exterior with a cloth and some light cleaning solution periodically. Since it'll be going all over your house and under furniture, it'll get dusty and grimy if you don't wipe it down regularly. Also, make sure to use an organic cleaning solution that does not contain harsh chemicals like bleach or ammonia, which can damage the plastic finish.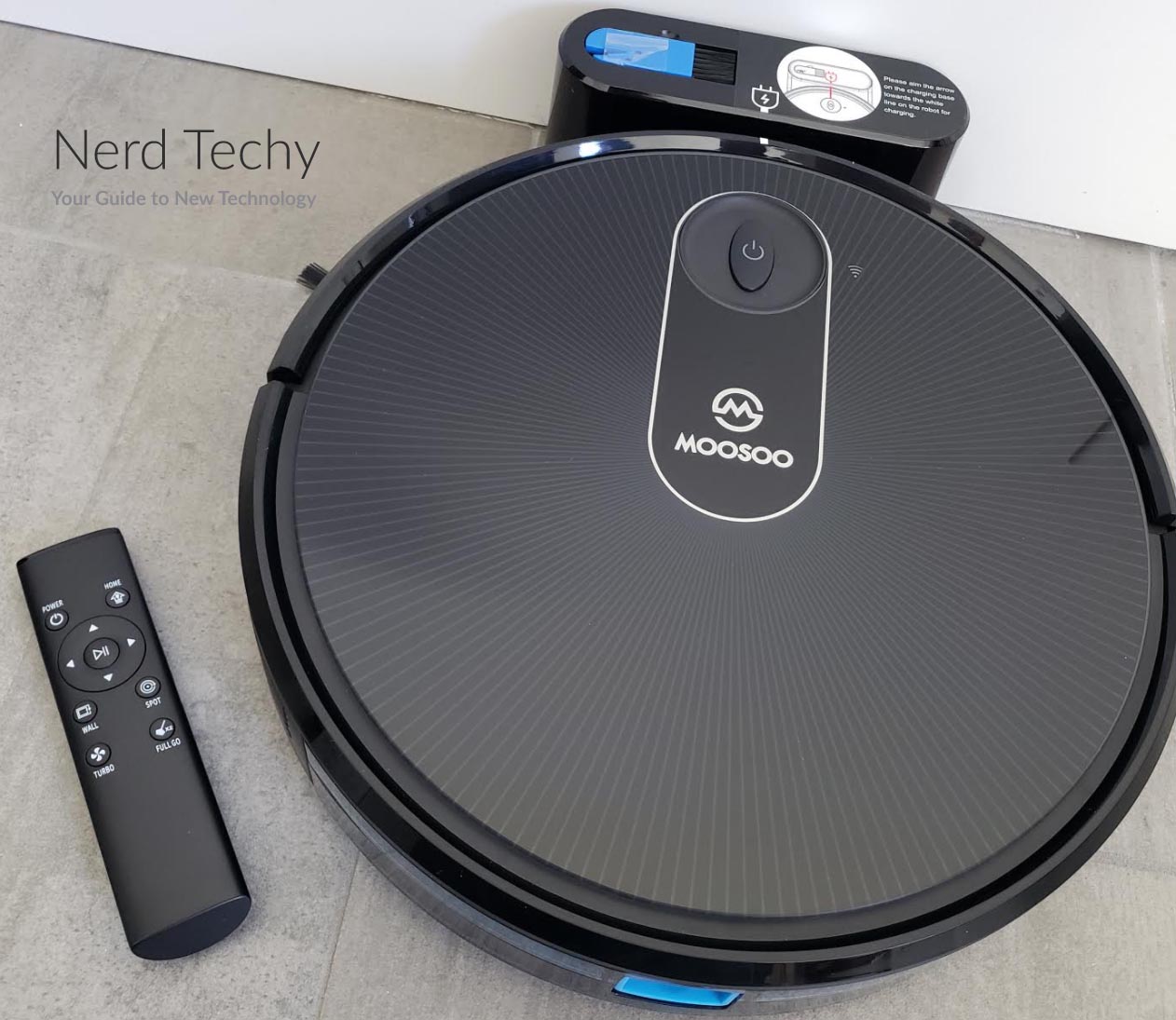 Final Words
So, do we recommend using the Moosoo MT-720? Yes, we do. Out of the robot vacuum cleaners at a comparable price point, the MT-720 is an excellent product for the price. It has 6 different cleaning modes, WiFi compatibility, a companion app for changing settings and cleaning schedules. Additionally, extra side brushes that make it more effective in cleaning corners and other hard to reach places. It's super simple to use and takes most of the stress out of you having to keep up with periodic sweeping/cleaning. Best of all, you can program it to go off while you're at work and come home to a clean house. What's not to love about that?