If you use a lot of battery-powered devices, it makes sense to use rechargeables. Not only will they save you money in the long run, but they're also better for the environment. But most rechargeable batteries are in the AA or AAA size, or maybe a 9-volt. This makes sense, since these are the most commonly-used types of battery. Remote controls, game controllers, fire extinguishers, and many flashlights use these kinds of bulbs.
But larger C and D-cell rechargeables can be tough to find. They're less common these days, since most larger devices use their own internal batteries, not a standard. Gone are the days when every household had a boom box powered by eight massive D-cells. There are still times you want to use them, though. For instance, many flashlights, lanterns, and emergency radios use these larger batteries. And, of course, just about every children's toy requires a battery or two.
Today, we'll be reviewing three of the best rechargeable C and D batteries, along with their chargers. We'll talk about the battery technology, capacity, and overall ease of use. Then we'll look at each charger in detail, so you know how everything works. We'll start by reviewing the Energizer Rechargeable Battery Charger. This is a powerful charger from one of the biggest names in the business. Next, we'll look at the Tenergy Smart Battery Charger. This is a modern charger with a cover to keep the dust out. Finally, we'll examine the EBL Smart Battery Charger. This device can be used to discharge batteries as well as charge them. Let's dig a little deeper, and see how these three options stack up!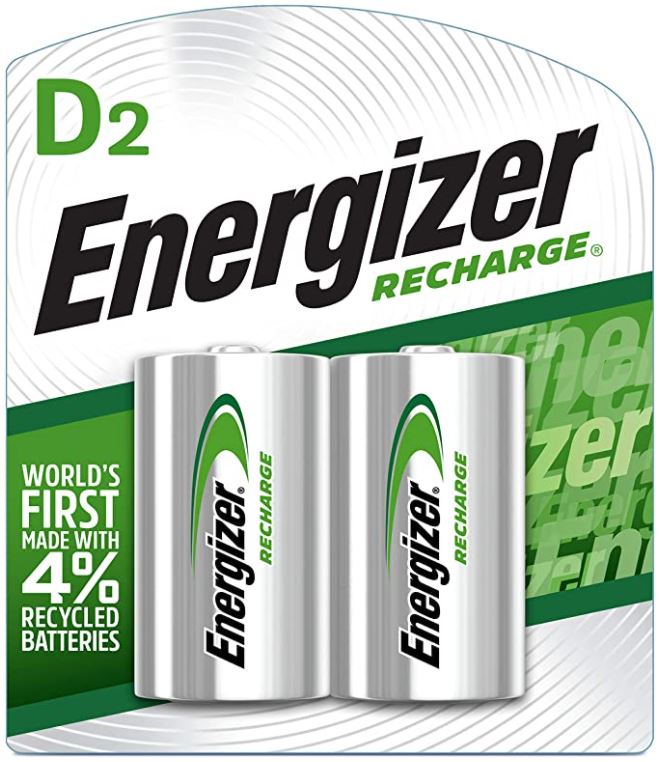 Energizer Rechargeable Battery Charger
Energizer is one of the most famous brands in the world. Unless you've lived under a rock your whole life, you're already familiar with their bunny. We've reviewed their rechargeable AAA batteries in the past, and we liked what we saw. So now we're eager to review their D-cell batteries.
The Energizer Rechargeable D Batteries come in a two-pack. They each have a capacity of 10,000mAh, which is standard for D batteries. How long this will last will depend entirely on the device. 10,000mAh can be a lot of power at low voltages, or can run out quickly at higher voltages. There's no official cycle rating, but they're Energizers. You can count on them to last for a long long time. These batteries are environmentally-friendly, made with four percent recycled batteries.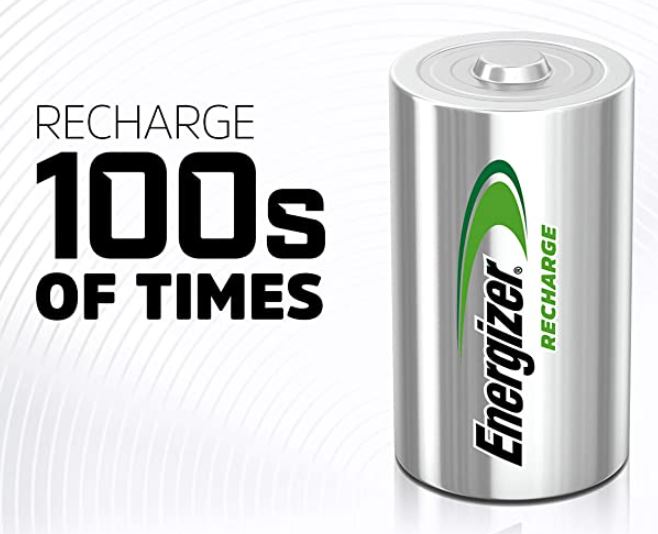 These are NiMH (Nickel-Metal Hydride) batteries. NiMH cells are a specific kind of battery that's designed for devices with a high drain. Alkaline and lead-acid batteries will lose voltage as the battery drains. So when you hit 50 percent battery, you'll be getting lower voltage. This is problematic for high drain devices like cameras, which depend on getting the maximum amount of current. NiMH batteries also have an advantage over Lithium-ion batteries. Lithium-ion cells have higher specific energy, but their higher voltage makes them unsuitable for many devices.
The only time an NiMH cell is liable to give you trouble is when your device has a battery meter. Most battery meters rely on dropping voltage to estimate the battery status. Since NiMH batteries maintain peak voltage longer, battery meters will overestimate the charge. Expect these batteries to stay at a higher percentage than you might expect, before dropping quickly.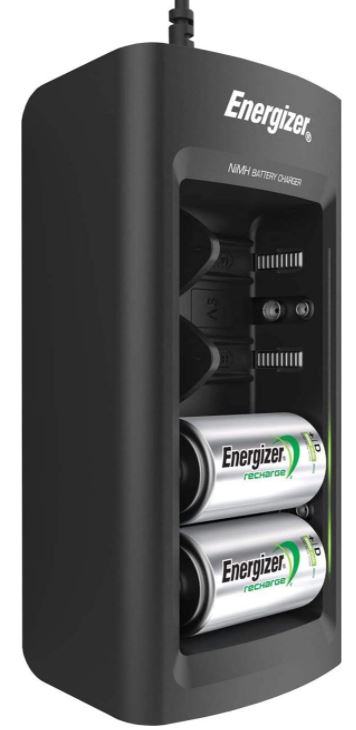 Charger Form and Function
The Energizer Rechargeable Battery Charger is a universal charger designed for most household batteries. In addition to the energizer D cells we just looked at, it will also charge AA, AAA, C, and 9V batteries. That said, it's only compatible with NiMH batteries. It won't work with Alkaline or Lithium-ion cells.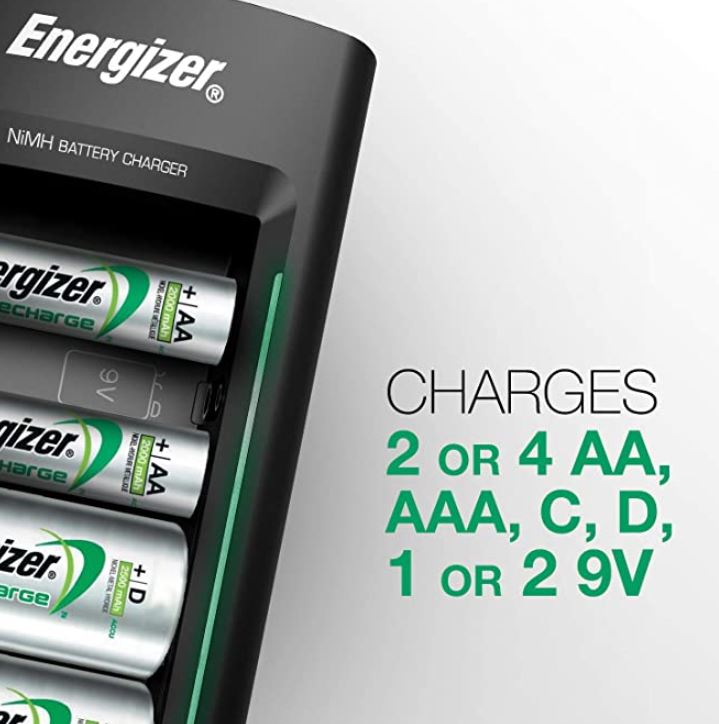 You can charge two or four of any type except for 9V, where you can charge either one or two. The charging time varies based on battery type and capacity. AA batteries will charge in about five hours, while D batteries can take as long as 16. There's an LED light bar built into the top, so you can keep track of the charging status. The blue bar will slowly fill up, right along with the batteries.
The power cord is detachable, so storage and transport are easy. In addition, the Energizer charger comes with an automatic-shutoff feature. This is designed to keep your batteries from overcharging, which can shorten their life. Instead, when the batteries are full, the charger will deactivate itself. This can also save you energy, since the charger won't be drawing power when it's not in use.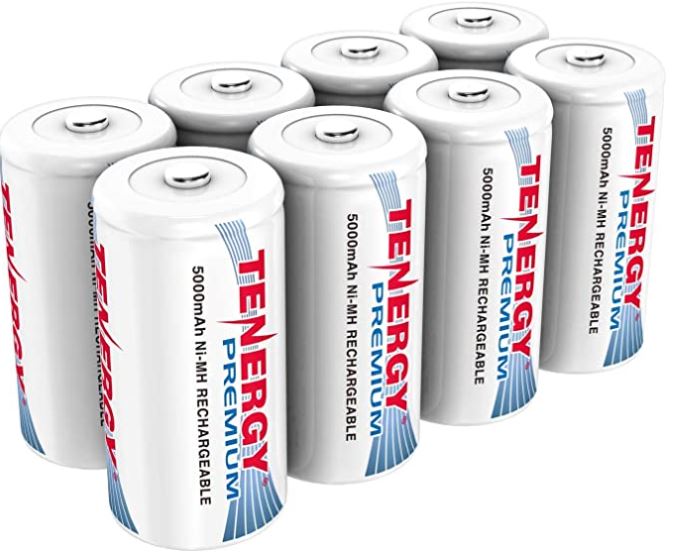 Tenergy Smart Battery Charger
Tenergy might not have the same brand recognition as Energizer, but they still make some solid batteries. In the past, we reviewed their 9-volt batteries and chargers, and we enjoyed the experience. Before we look at their charger, let's talk about their batteries. The Tenergy Premium Rechargeable C Batteries have a capacity of 5,000mAh apiece and come in an 8-pack. Their D Size Rechargeable Batteries have double the capacity, at 10,000mAh, and come in a four pack.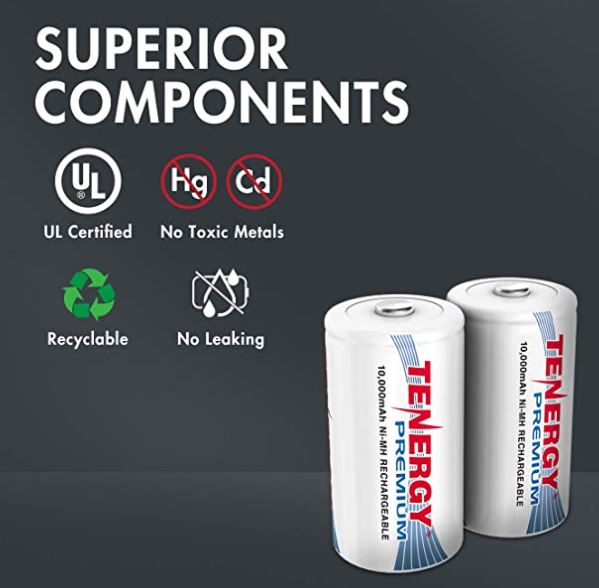 Like the Energizer rechargeables we just looked at, these are NiMH batteries. This means they maintain higher voltage for longer than Alkaline or lead acid batteries. However, they can also cause battery meters to behave oddly. Still, they're ideal for most electronics, especially devices that have a high drain. They're rated for up to 1,200 cycles, which is an impressive amount of life. Even if you run them dry every day, they'll work for a few years. Best of all, they're covered by a 12-month warranty. If they lose potency prematurely, you can get your money back.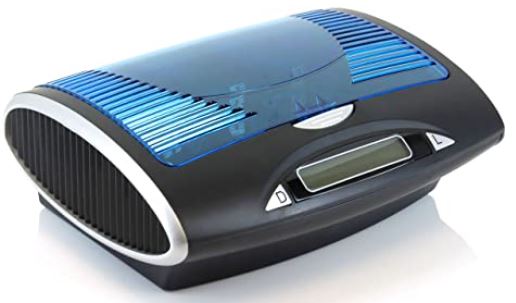 Charger Form and Function
In terms of charging capacity, the Tenergy Smart Battery Charger is the same as the Energizer. It can accept up to four AA, AAA, C, or D batteries, or up to two 9V batteries. However, it's capable of charging both NiMH and Nickel-Cadmium batteries. This gives it enough versatility to top off most older rechargeables, as well as most newer ones. For different types of batteries, it will automatically adjust the current as needed. As a result, your batteries will always charge as fast as possible. In addition, there is a USB charging port in the side of the unit. This way, you can plug in a smartphone, tablet, or any other USB charging device.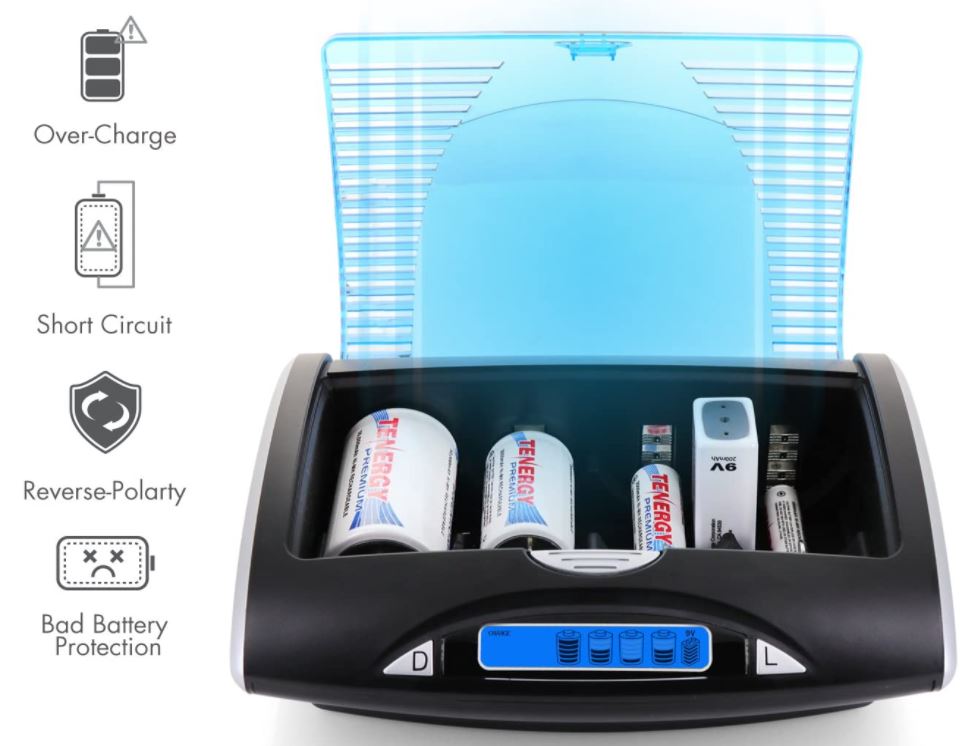 On the flip side, the Tenergy charger also has a discharge function to rapidly drain your batteries. This can be used for testing batteries, or to fully drain them before charging. It's a great feature to have, and it's easier than running a device until the batteries die. There are several safety features included, as well. There's overcharge protection, short circuit protection, and bad cell detection. If one of your batteries fails, you'll know immediately. Not only that, but the charger is covered by a 12-month manufacturer's warranty.
The top of the Tenergy charger can be closed to keep dust out. This is a major benefit if you don't use your charger all that often. When it's time to use it, you don't have to worry about dusting everything off. The lid is tall enough to close even when the charger is in use, so you can also use it while charging. There's also a smart LCD screen on top of the unit. This shows the current battery charge level. It also tells you about any errors that have occurred in the charging process. For example, if there's a bad cell, you'll see that information here.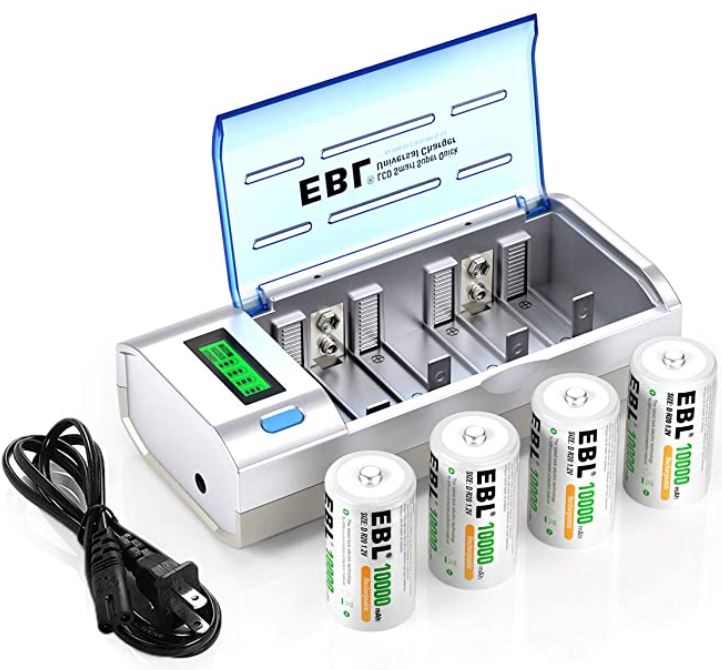 EBL Smart Battery Charger
The EBL Smart Battery Charger comes in two different combo packs. Both include batteries, but one comes with four D batteries, and the other with four C batteries. The batteries are the NiMH variety, with the advantages and drawbacks that entails. They also have a standard capacity. The D-cells hold 10,000mAh each, and the C-cells hold 5,000mAh.
Along with the batteries and the charger, you also get a small battery carrying case. It's just a little molded plastic case, like a film canister. However, it keeps your batteries dry under most circumstances. It also keeps pairs of batteries together. It's not much, but it's a nice touch, especially if you have to travel frequently with your batteries.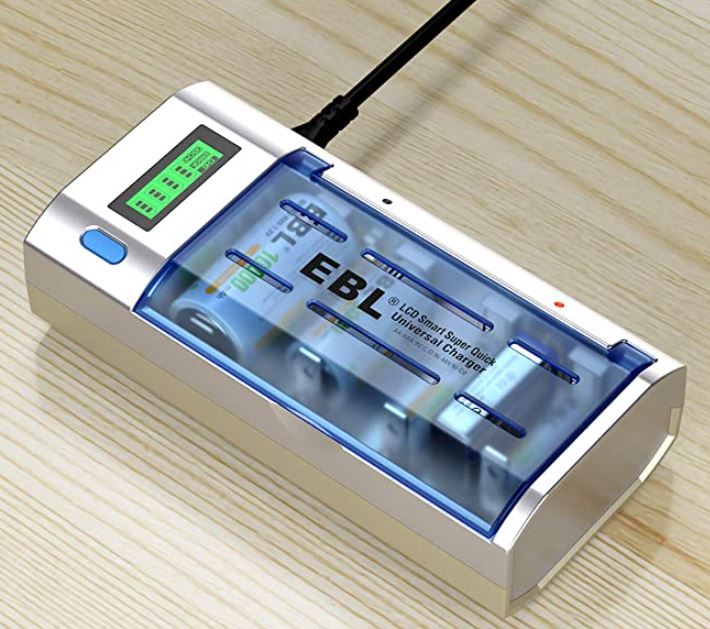 Charger Form and Function
The EBL Smart Battery Charger has the same physical capacity as the others on our list. However, it doesn't require you to charge batteries as a pair. So if you need to charge a single AAA battery, you can go right ahead. It also sports a removable power cord, which makes for easier storage and transport.
Alongside the battery compartment, you'll see an LCD display. This display will show you the current battery status, from four different options: charge, discharge, full, or bad. Keep in mind that "bad" doesn't necessarily mean a bad battery. It also shows up when you insert a battery in the wrong direction. So before you panic or throw out a battery, double check to make sure everything's inserted right.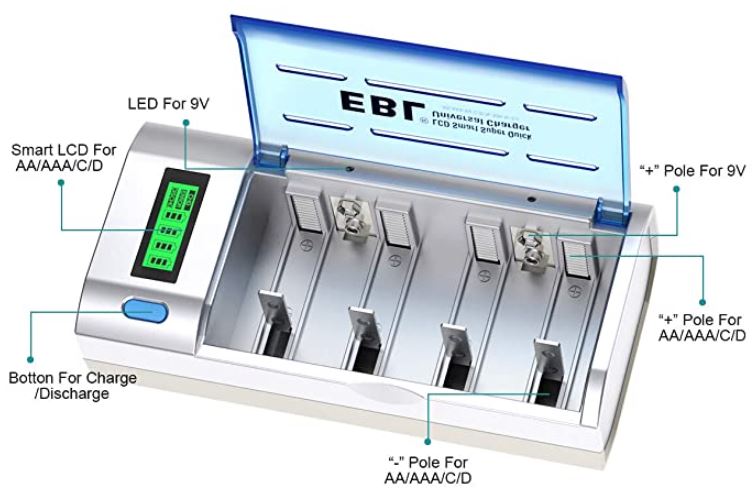 Below the LCD display you'll see a blue button. This button activates the discharge function, so you can rapidly drain the batteries. The neat thing about this function is that drained batteries will start charging automatically. So you're not just running a discharge cycle when you press the button. You're running a complete discharge and charge cycle. This is a great way to revive dead batteries. Sometimes, a full discharge and recharge can bring an old C or D-cell back to life. This only works sometimes, but it's always worth trying before you throw anything in the trash.
Like our other choices, the EBL Smart Battery Charger has a variety of safety features. Some of these, like overcharge and short-circuit protection, keep your batteries from getting damaged. Others, like bad cell detection, help keep you and the charger safe. The overcharge protection feature will also shut off the charger when the charging cycle is complete. So not only will it protect you and your batteries, it will also save you money.
Final Verdict
Each of these batteries and chargers has its own benefits. Let's quickly summarize what we've learned about each of them. We started out by reviewing the Energizer Rechargeable Battery Charger. This charger is capable of powering four round batteries or two 9V batteries simultaneously. It also sports a built-in charging meter, and a removable power cord. The downside is that it works only with NiMH batteries. It won't recharge your alkaline or Lithium-ion batteries. That said, the Energizer Rechargeable D Batteries have NiMH cells, and they're among the most reliable batteries there are. They're especially ideal for high drain devices, like cameras.
The Tenergy Smart Battery Charger is a bit more versatile than the Energizer charger. Instead of being limited to NiMH batteries, you can also recharge Nickel-Cadmium cells. This means you can use it for old rechargeables as well as new. In terms of safety features, you get plenty of protection, both for the chargers and for your batteries. For even more protection, the lid will keep out dust, even while the charger is in use. The smart display is easy to read, and tells you everything you need to know at a glance. Not only that, but Tenergy's C and D-cell rechargeable batteries are excellent performers.
The EBL Smart Battery Charger comes as a package deal, with either D or C-cell batteries. This makes it easy to get started, since both packages include everything you need. Regardless of which package you choose, you're getting some very reliable batteries. You're also getting one of the safer chargers on the market, with several protection features. Not only that, but this charger can also run a discharge cycle if you so desire. Combine that with a sleek design and removable power cord, and you're looking at a solid choice.