In the electronic modern world, 9 V batteries are everywhere. In fact, these are some of the most common batteries in the entire world, especially since they were originally introduced for the earliest transistor radios. Even if you don't know the voltage, you can probably tell a 9 V battery apart from the others due to its iconic shape: all of them look like a rectangular prism and have a polarized snap connector at the top. Because of their early design and versatility, 9 V batteries are typically used in electronics that require consistent power, like smoke detectors or clocks.
While the original 9 V batteries were first made with mercury-oxide, they've evolved along with the battery manufacturing market and are now primarily made with nickel-metal hydride, nickel-cadmium, and lithium-ion. These newer materials have allowed 9 V batteries to remain relevant by preventing them from losing their ultimate charge capacity over time and helping them remain a consistent power choice for portable electronics across the world.
Rechargeable 9 V batteries are actually quite common, and they're a great choice for the devices we mentioned above and others. As a result, 9 V battery chargers have also become more common over time, especially as people have become more environmentally aware. While it was once much more common for people to buy packs of 9 V batteries and toss them when they were done, the damage this does the environment has caused many to start looking into more renewable or longer-lasting batteries.
This leads to 9 V battery chargers. Chargers can come in a variety of shapes, sizes, and types, with the only real commonality between them being that they provide power to rectangular prism 9 V batteries. Due to all this variety, we wanted to find the best rechargeable 9 V batteries with a charger in the purchase. Grabbing both the batteries themselves and the charger in the same instant is great for convenience and ease of use. We'll look at three excellent 9 V battery packs that include chargers for them to see which is best overall or if they're each better for unique circumstances.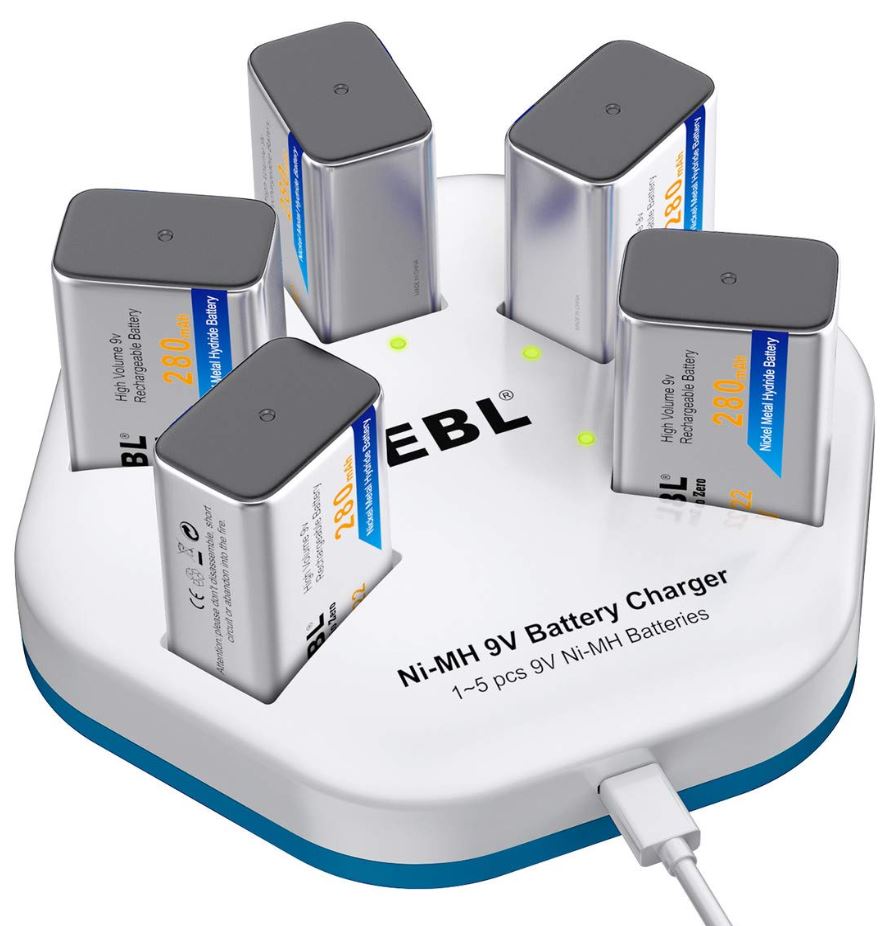 EBL 9v 5-Pack Batteries with Charger
This package comes with five 9 V batteries, and a charging station specifically designed to support this number, although you don't need to have all five plugged in to get some charging done. The manufacturer, EBL, has been designing batteries and their charters for more than 20 years and has perfected their techniques. As a result, these batteries are an excellent choice for smoke detectors, toys, clocks, and even medical devices due to their reliability and consistency.
These batteries are nickel-metal hydride, or NiMH. These aren't quite as energy-dense as lithium-ion batteries, but they have a great capacity compared to cheaper batteries you can buy at most stores.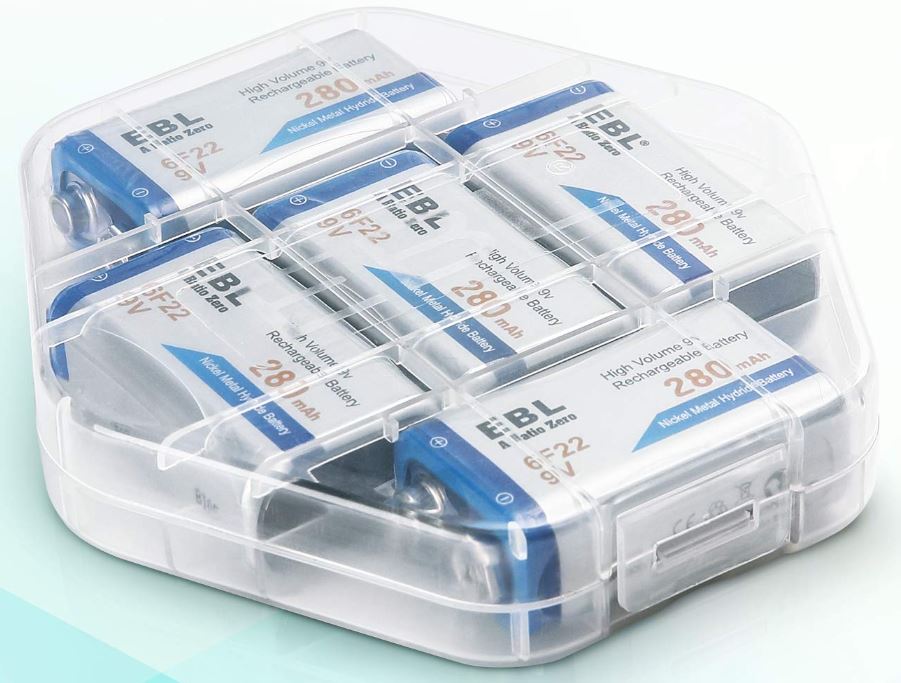 The batteries have an excellent low self-discharge function. This essentially means that they don't easily lose battery life or capacity even if they aren't regularly filled up and drained. In fact, they can retain up to 75% of their capacity after three years of nonuse. That's a huge deal compared to other 9 V batteries on the market.
The batteries also come pre-charged right out of the box, so you don't need to spend time charging them if you require their power right away.
Charger Form and Function
The included charger with this kit is another high-quality piece of equipment. As we stated, it has special slots for all five of the included batteries, as well as a storage case in which you can keep the charger and any extra batteries you're not currently using for organization purposes.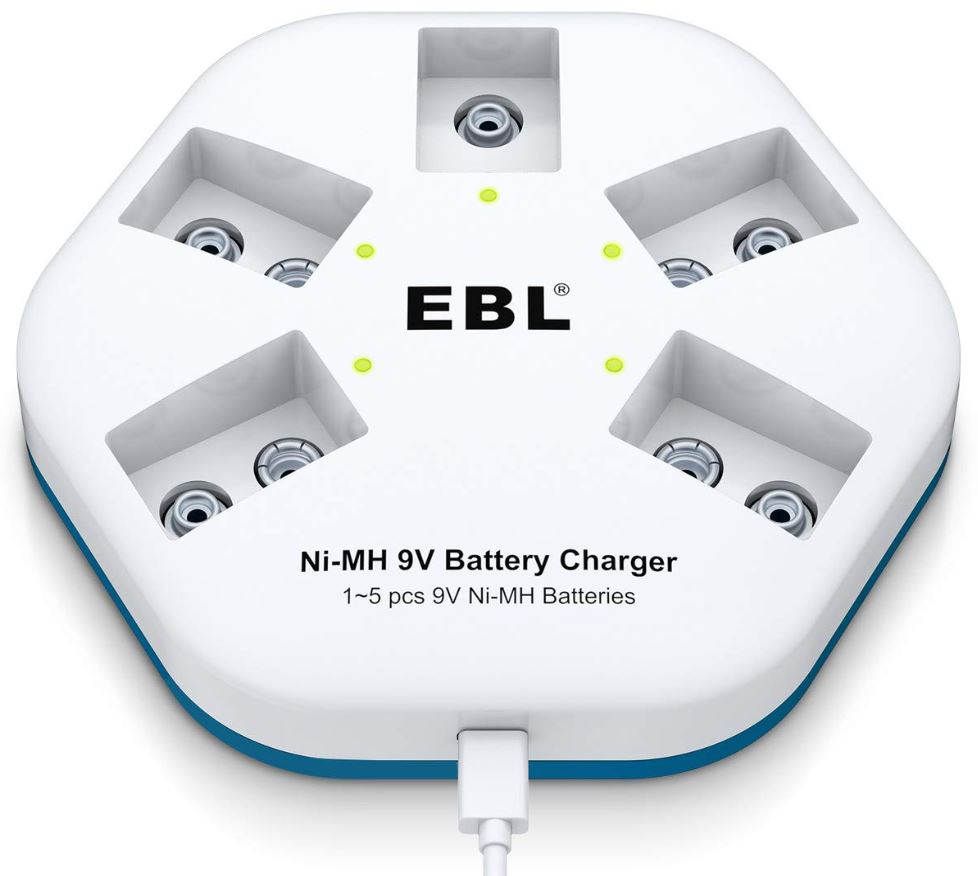 The charger is safe and reliable, using technical MCU controls to charge the batteries quickly and consistently without compromising battery integrity or getting too hot. That's a big plus side in our eyes, as many cheaper battery chargers make their batteries too hot for comfort as they reach peak charging rate.
The case comes with the cable you need to begin charging immediately, as well as a wall plug. You can just as easily plug this into a computer or tablet and charge the batteries that way, too.
You'll also be able to use the charger in a variety of places because the USB cable can be used with a standard wall outlet (which does come with the purchase), a USB-port device, a car charger, or even a power bank. Using it with a car charger obviously lets you recharge your batteries on the go, while the power bank can be pre-charged anywhere you have a standard outlet. You can then take this power bank wherever you need and recharge the batteries included in this kit thanks to the stored power of the bank. We think this is a great feature in case you ever want to take this kit camping or anywhere else a power outlet isn't easily found.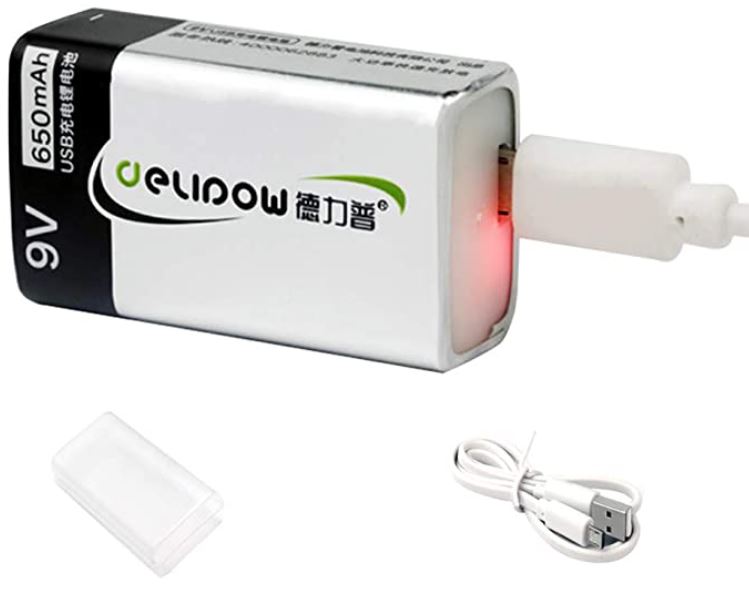 Delipow 9V Rechargeable Battery Pack with Micro USB Charging Port
This battery/charger combo is another excellent pick, and it's a little more affordable than the EBL charger. It comes with a two-pack of 9 V rechargeable lithium-ion batteries. Lithium-ion batteries are an excellent choice for most rechargeable power needs and are most often used for portable electronics. They, along with the two-pack contained in this kit, provide high-density energy and excellent power efficiency. They usually have a low self-discharge rate of about 2% per month.
The Delipow 9 V lithium-ion batteries are ideal for lots of portable electronics like walkie-talkies, microphones, toys, flashlights, musical instruments, and medical devices. They have an excellent low self-discharge rate that guarantees that they'll still have 75% of their capacity after three years, just like the EBL batteries. Because they last a long, they're a great choice if you want to reduce your carbon footprint and be environmentally conscious.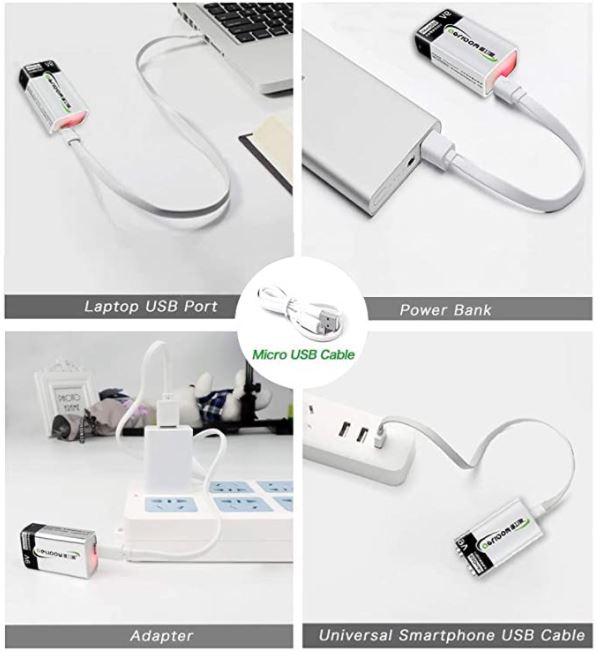 Each of the batteries has a few unique features that make them stand above the rest on the market. For starters, they feature short circuit protection and overheat protection combined. Basically, these safeguards will prevent the batteries from overheating or short-circuiting if they're placed into a high-voltage device.
They also have over-charge protection to defend their integrity and capacity if you leave them to charge for too long. To make things even better, the batteries come with a 30-day free refund deal and a one-year free replacement lifetime warranty as soon as you purchase this kit. It's phenomenal in terms of value for money, and we think it's a great choice for those who need 9 V batteries and a charger on a budget.
Charger Form and Function
These batteries circumvent the need for a dedicated charging port, instead relying on a micro USB cable that plugs right into the batteries themselves and into a wall outlet. Because of the micro USB cable, you can also charge these individual batteries anywhere you can fit the USB end; devices like laptops or tablets work just as well, as do car chargers that have USB functionality.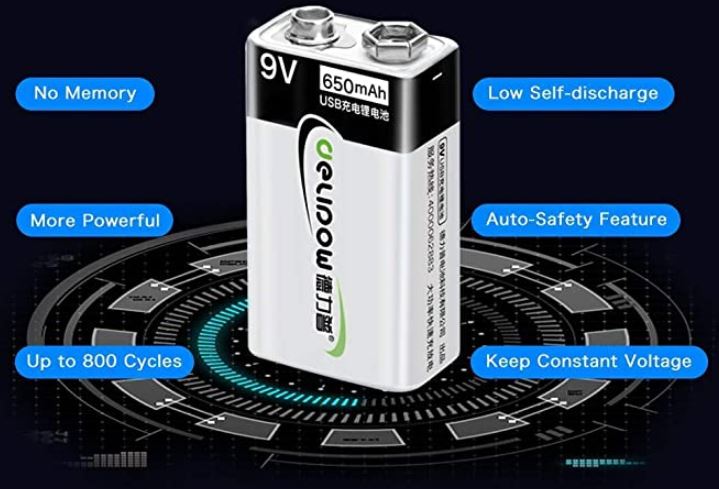 It's excellent if you want a mobile battery charging solution that doesn't require you to pack up a bulky charging station every time you need to go. The downside is that you can only use this charging cable with 9V lithium-ion batteries just like these, which have dedicated ports for micro USB connectivity. This charging scheme is specific to these Delipow batteries, rather than a general solution that'll work for all 9 V power needs.
The batteries do come with a storage kit for the batteries themselves and the charger. This is nice, as the micro USB cable is pretty short and liable to get lost if you don't have a dedicated spot for it in mind.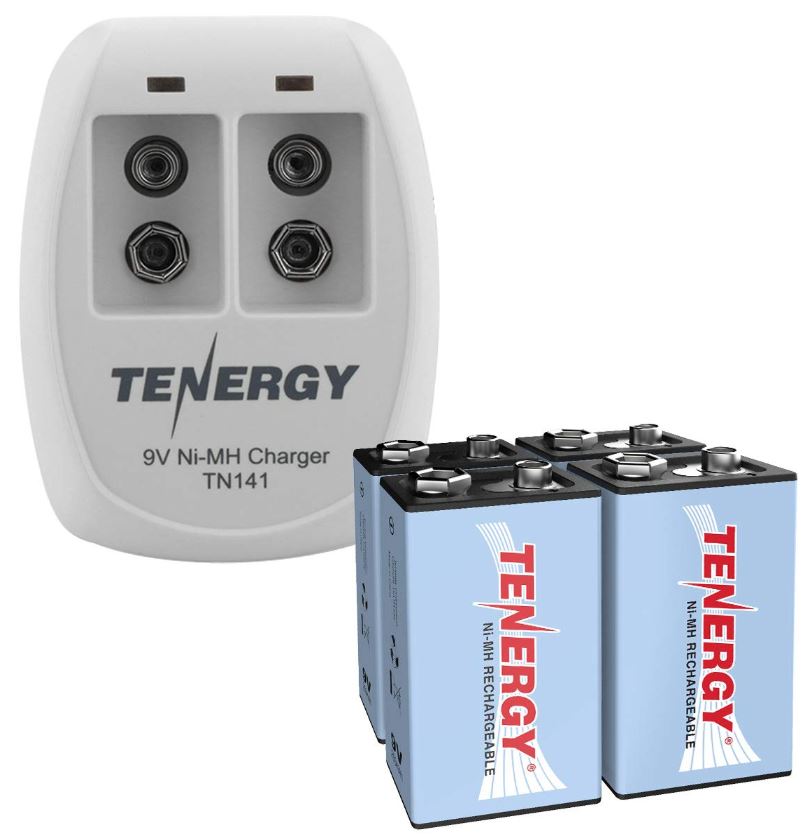 Tenergy 9V Rechargeable Battery with 2 Bay 9V Charger
The Tenergy batteries are nickel-metal hydride as well. This kit comes with 49 V batteries, each of which is ideal for a variety of uses like smoke alarms, walkie-talkies, and any hydrant medical device. The dimensions are about 48 mm x 26 mm x 16 mm. They'll recharge up to 1000 times, in part because of their very high capacity. This limits the damage caused by overcharging or letting them sit for too long.
These batteries can be charged from several charger models from the same manufacturer, which has been producing batteries and electronic gear for many years. They also only take an hour or two to fully charge from empty, making them a great choice if you like batteries you can get placed back into your devices in no time at all.
Charger Form and Function
The charger of this kit is the main attraction. It's incredibly compact and plugs right into any typical wall outlet rated for 100 V to 240 V AC. It's perfect for use throughout the entire world without needing a converter, although you might need a plug adapter based on outlet shape. This high-performance charger can even be folded so you can store in a variety of places or allow it to charge your batteries in peace while being discreet, even if you place it in a main living area.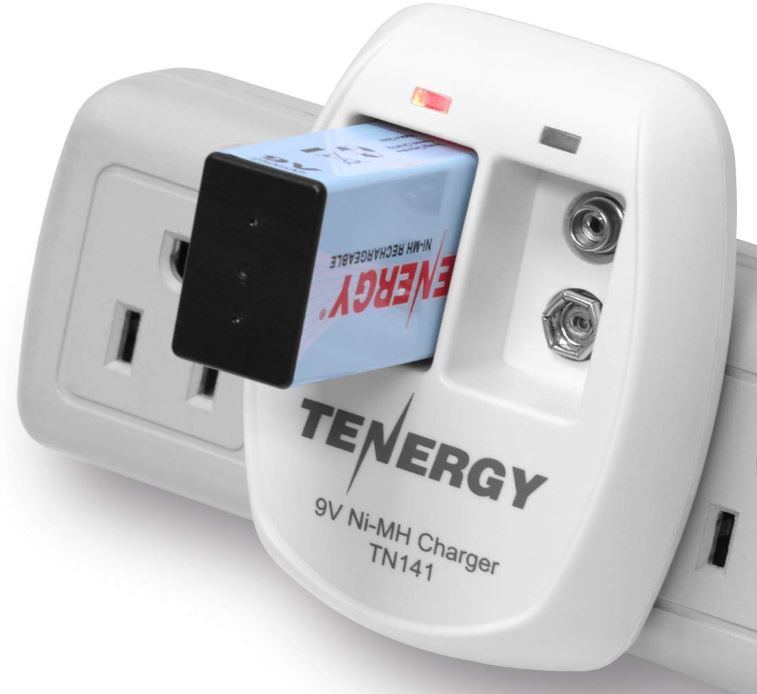 This charger has lots of smart functions that demonstrate its advanced design. We thought that the built-in safety timer was an excellent bonus. This automatically kicks in after five hours and shuts the charger off to prevent it from overcharging the batteries and potentially causing a fire hazard. It's a great feature, particularly for busy households or for parents who have a lot to think about at any given moment.
We also really like the microprocessor control unit integrated into the charger design. This microprocessor checks the polarity and charge status of every battery plugged into the charger itself to monitor for potential problems. It's built with two independent charging channels, each of which has an independent LED light. This light winks on when a particular battery is currently charging or if it's all done. We really like this aspect since it means you won't have to guess about whether your battery is fully charged or just partly.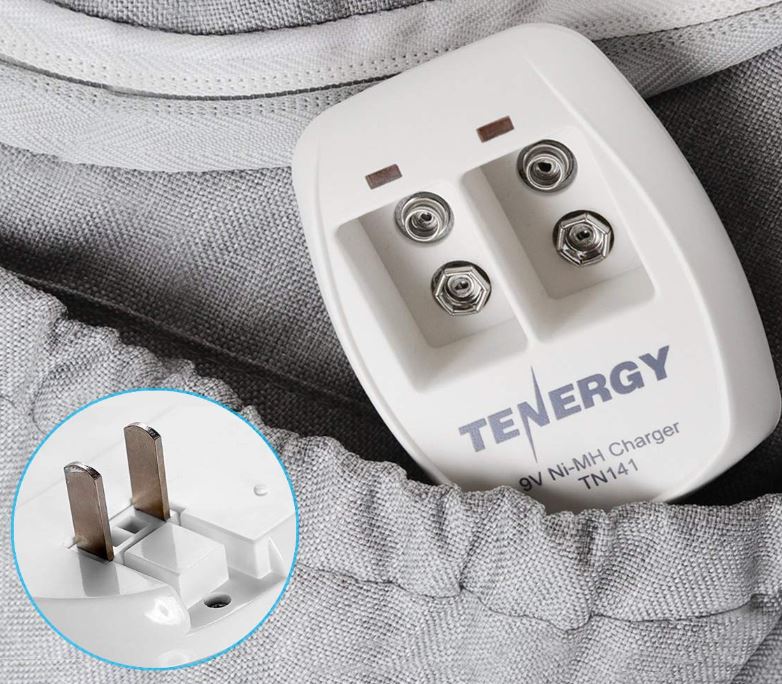 All in all, it's just a phenomenal piece of tech that does a great job of safely charging included batteries and any 9 V cells that fit into the ports. It never goes above 40°C, either, so you shouldn't easily burn your hand on its surface even after quickly charging both batteries at once. The only downside is that the kit comes with four batteries in the purchase, but it only has room to charge two at a time. Still, this minor issue isn't enough to overcome all the huge positives.
Final Verdict
Overall, each of these 9 V battery packs with their chargers are great choices. However, we have to say that the Delipow 9V Rechargeable Battery Pack with Micro USB Charging Port will probably be the best choice for most for a few reasons. For starters, the batteries themselves are lithium-ion, while the other two choices are nickel-metal hydride. This means that the batteries last a little longer than their competitors and their capacity will diminish at a slightly slower rate.
In addition, their charger is the simplest and easiest to use. It's literally just a USB cable that plugs into the rechargeable batteries themselves, but you can't fault the manufacturer for sticking with what works. The charger cable can be taken just about anywhere, and it works so long as you have a USB port with which you can draw power. It certainly takes up way less space than the EBL charger.
However, both of the other options are great if you want to charge multiple batteries at the same time. The Delipow pack only lets you charge a single battery at once, which can be inconvenient if you need multiple to power a device. So go with the first or third options if you want the ability to charge multiple 9 V batteries simultaneously.