Quick Analysis
Pros
Compact design and easy setup.
Good enough speeds for smaller offices.
Dual antennas allow for minimal interference.
Easy-to-use desktop and mobile app.
Cons
Doesn't offer as much bandwidth as some others.
Not suitable for gaming.
A few years ago, configuring the internet for your home or small business was easy. You installed a modem and connected it to your one PC. If you wanted to get really fancy, you could use a router to connect more than one computer or POS system. But then, wireless internet became a necessity. For home users, you needed to connect laptops and mobile devices around the house. Then came smart devices, and the need for even more connectivity. This has also affected small businesses, with the need for WiFi connections throughout the entire office. And if your business is open to the public, they probably expect WiFi access as well.
But even the best routers only have so much range. Unless you want to install a mesh system, you need some other way to extend your WiFi coverage. A wireless access point is a great way to do that. An access point will extend the range of your existing network, without any complicated setup. It's an easy process that doesn't require any special expertise.
Today, we're going to review the Zyxel True WiFi 6 Wireless Access Point (model NWA110AX). Zyxel is a reliable manufacturer of networking equipment. In the past, we've reviewed their powerline network adapters. These work similarly to wireless access points, in that they extend an existing network without a lot of hassle. So we were excited to see how well the NWA110AX extender performs in the real world. To find out, we had to take a deep dive into all of its features. We'll talk about the physical construction, and the function of the wireless technology itself. We'll also look at some of the management and security features. Let's dig in!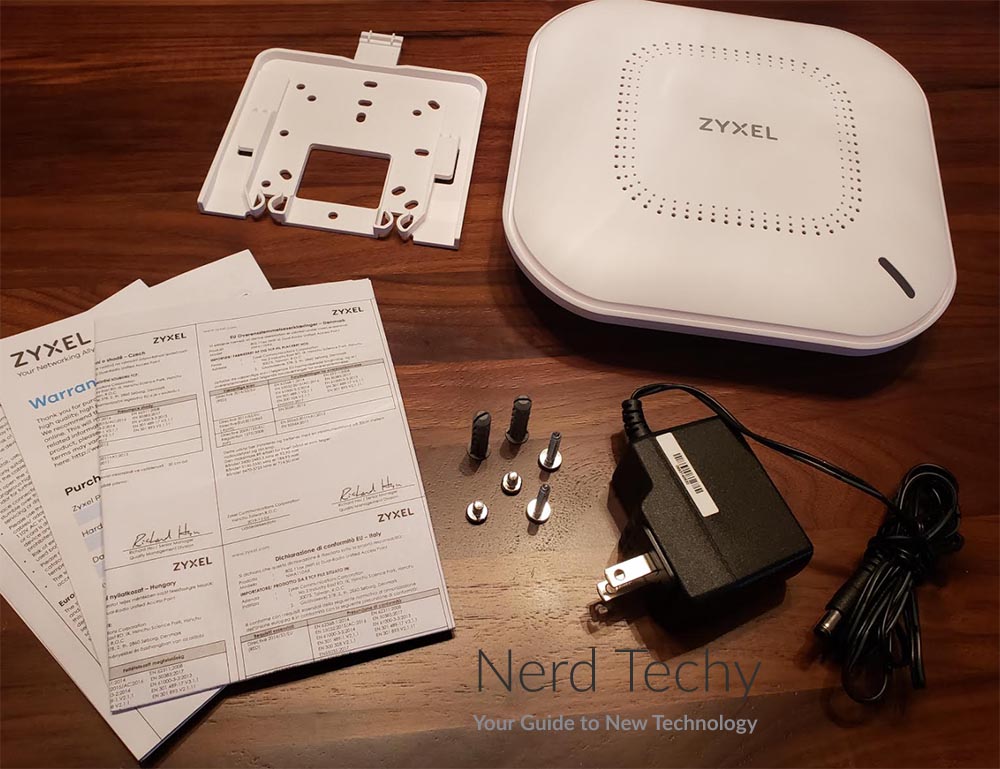 Overall Design
The Zyxel True WiFi 6 Wireless Access Point is a compact device that measures only a few inches on each side, and just over an inch thick. This small size is possible because the NWA110AX is an access point, not a router. It doesn't need all the same advanced circuitry that a router requires, so it can be smaller. This makes it small and unobtrusive, no matter where you mount it. You can easily mount one above a ceiling fan, behind a sofa, and in other out of sight places.
The housing is constructed from white ABS plastic, and has an attractive satin finish. On top, there's a series of vent holes arranged in a square, with a grey Zyxel logo in the middle. A single LED is located in one corner, which indicates when the unit is powered on. Other than that, the top is plain, without any flashy elements. The corners are rounded, which gives the unit an attractive, modern appearance. The sides slope towards the bottom, which leaves a little shelf where dust can potentially collect. That said, it's not really any harder to clean than anything else on your wall or ceiling.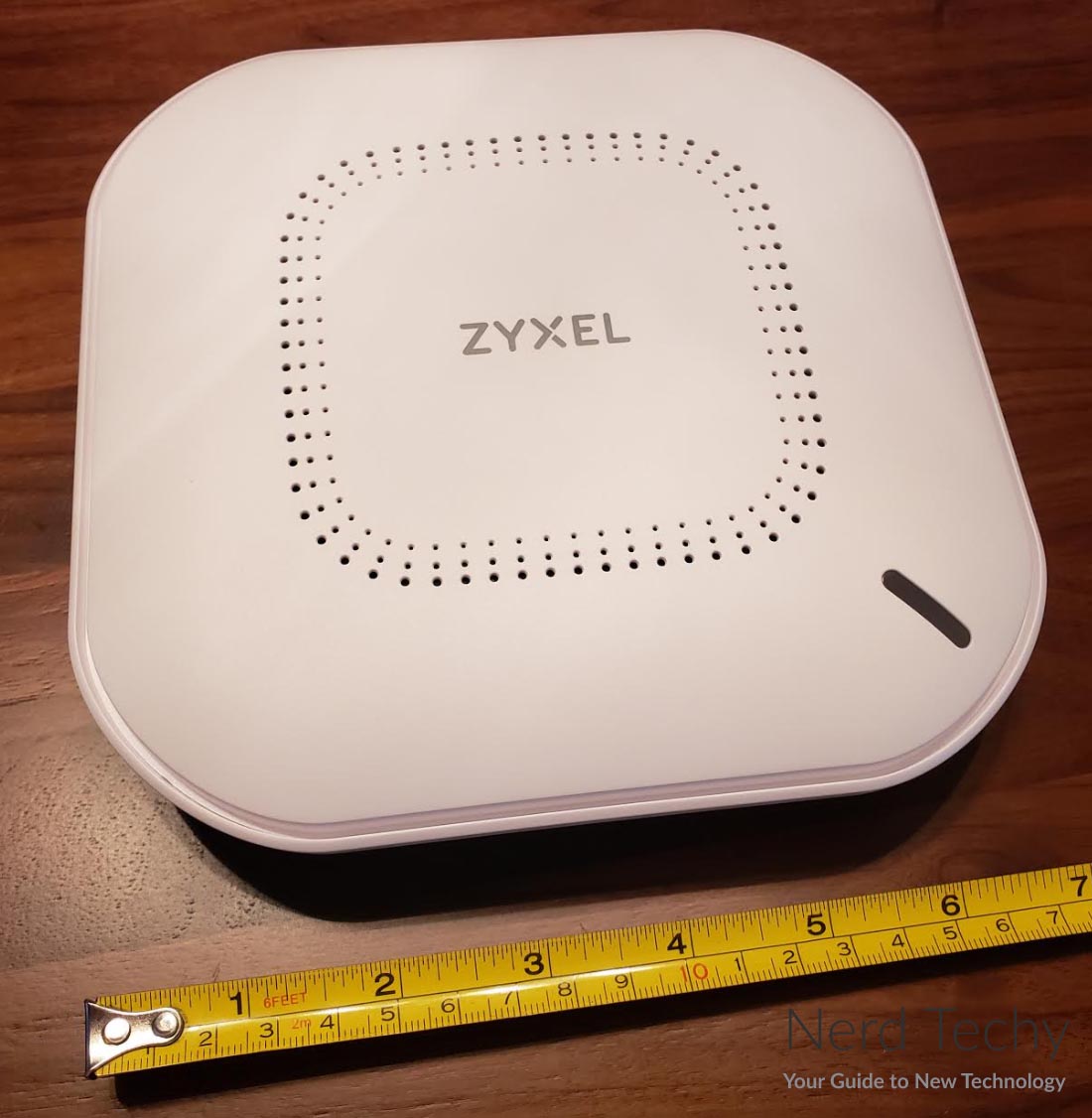 The bottom of the NWA110AX has a built-in set of rails, which lock on to a mounting bracket. The nice thing about this bracket is that it can be mounted on either a wall or a ceiling. Just make sure to use a drywall anchor if you don't want it to come loose over time. In the back, you'll see an Ethernet port, along with a round port for the barrel-style DC power supply. A power supply is included in the kit, so you have everything you need to get started.
Alternatively, the NWA110AX can be powered by Power Over Ethernet (PoE). PoE frees you from the constraints of a DC power supply, since you don't have to be near an outlet. On the other hand, you'll need a router or switch that's capable of supplying PoE. Otherwise, a PoE input isn't going to do you much good.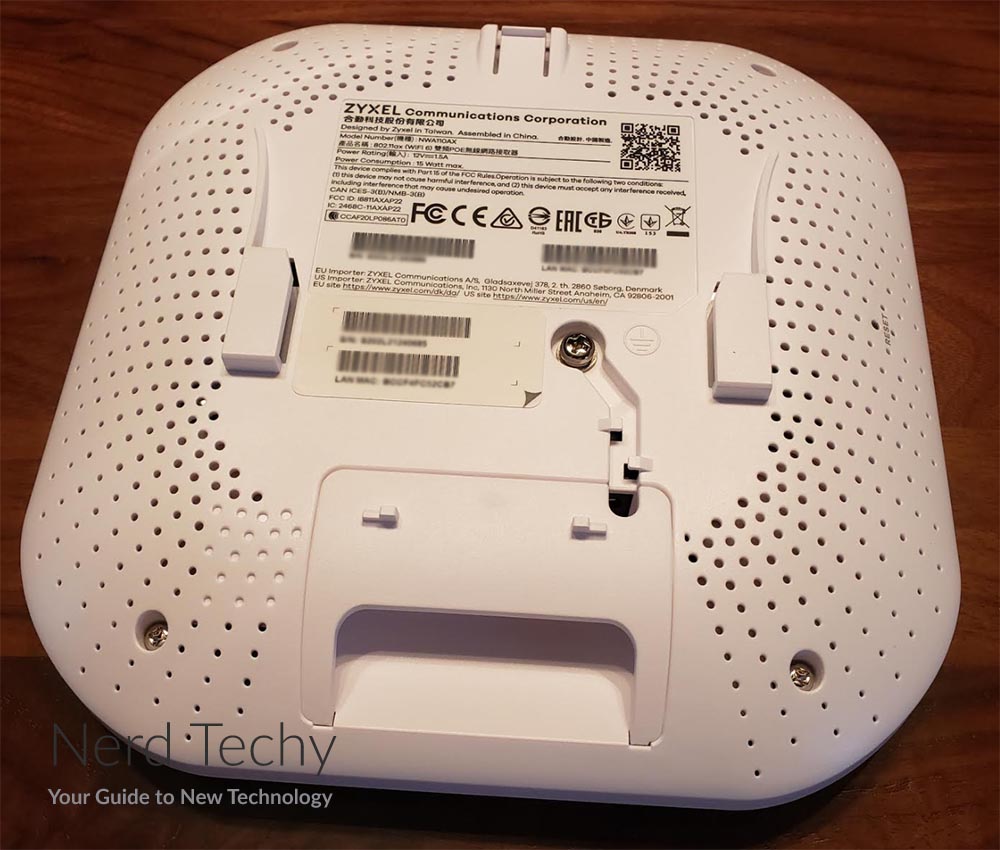 Everything is covered by Zyxel's limited lifetime warranty. This protects you against any defects in materials or workmanship, indefinitely. Not only that, but they provide free firmware upgrade support. That way, you'll always have the latest firmware.
Wireless Signal Strength and Speed
The Zyxel True WiFi 6 Wireless Access Point (NWA110AX) is capable of supporting the latest devices. It supports 802.11ax technology, often known as WiFi 6. WiFi 6 allows for a full duplex connection, so data flows in both directions at once. This makes it more efficient at signal-switching, so you can connect more devices simultaneously. To complement this, Zyxel has included 2X2 MU-MIMO technology. MU-MIMO is short for "multi-user, multiple input, multiple output." It's a fancy way of saying that the NWA110AX can handle multiple simultaneous connections. In this case, it can communicate between two upstream and two downstream devices simultaneously. This doesn't mean it's limited to only two connections. It means that you'll get lower latency as devices have to wait for a connection.
Needless to say, all this multi-device capability requires a little bit of processing power. To that end, the NWA110AX has a quad-core CPU. This allows it to handle the MU-MIMO technology, the full duplex connection, and the configuration options. You won't have to worry about getting lag because your access point's CPU hung up.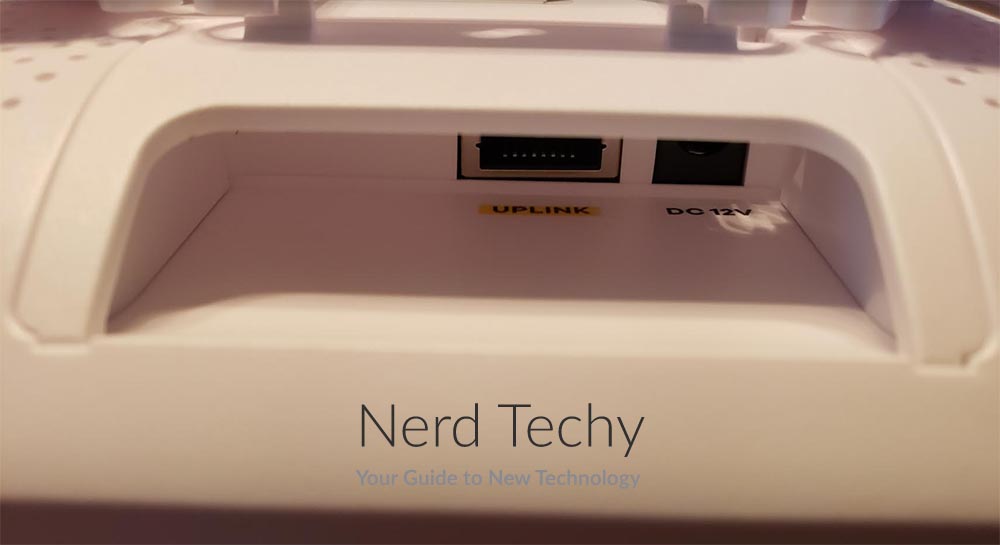 Like most modern routers and access points, the NWA110AX uses dual band technology. There's a fast 5GHz band for short-range connections, and a slower, 2.4GHz range for longer connections. Assuming you're connected on both bands, the maximum overall bandwidth is 1.77Gbps. However, Zyxel does not give separate ratings for each channel. This makes it tough to state with certainty what the rating of the 5GHz or 2.4GHz bands are. Suffice it to say that the closer to the access point you are, the better your signal will be.
The range itself will depend on a variety of factors, but mostly with how many obstacles there are. Under perfect conditions with a clear line of sight, the range is easily 100 feet or more. However, there's rarely a clear line of sight in an indoor environment. In a normal office with a few sheetrock walls and some metal studs, 50 feet of range is more reasonable. If you're in a concrete or brick building, you can expect less range for each heavy wall the signal must penetrate.
The NWA110AX has enough signal strength and range for most everyday applications. However, the bandwidth is a bit low for online gaming. Moreover, if you want low latency for gaming, you really should be using 4X4 MU-MIMO, not 2X2. If you need lower latency and even more bandwidth, consider the EnGenius Neutron EWS377AP Managed Indoor Wireless Access Point. It's a bit pricey, but it has an impressive 1.77 Gbps of bandwidth.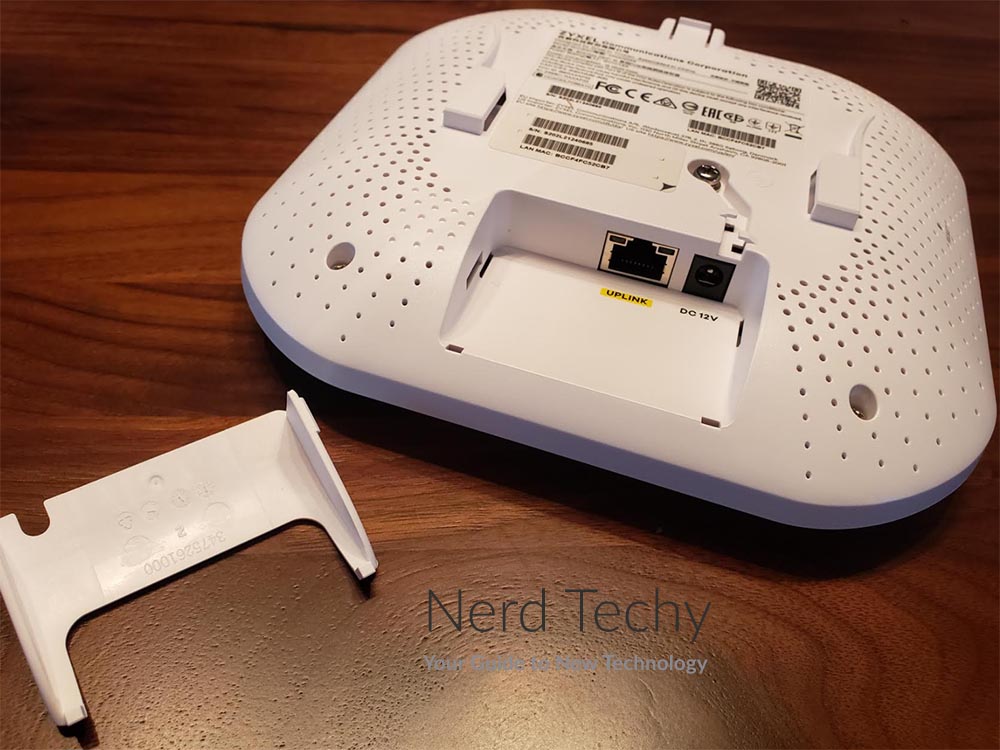 One other feature we should talk about is the access point's dual internal antennas. Typically, wireless access points are deployed on ceilings, particularly for commercial use. This keeps them out of the way, and makes them less likely to get damaged. Because the access points are rarely used on walls, their antennas are designed to distribute the signal horizontally. With a ceiling-mounted design, this makes sense. The signal will disperse as far as possible throughout the building. But if you mount the same access point on a wall, the antenna will be oriented vertically. It won't spread the signal around where you need it. Meanwhile, the vertical spread of the signal can interfere with other devices on other floors.
To avoid this, the NWA110AX has dual antennas: one for wall mounting, and one for ceiling mounting. Using the app, you can switch between them as needed. And if you have multiple access points on the same LAN, you can configure the antennas independently. This further increases the NWA110AX's versatility.
Security and Management Features
There are two ways to manage the Zyxel NWA110AX. The first is to use their smartphone app. Install the NebulaFlex app, which is free, and you'll be ready to manage your switch. You can register online, and the access point will automatically pair. You have to be on the same network as the access point for this to work. Once it's been paired, you can then use the app to manage your network from anywhere in the world.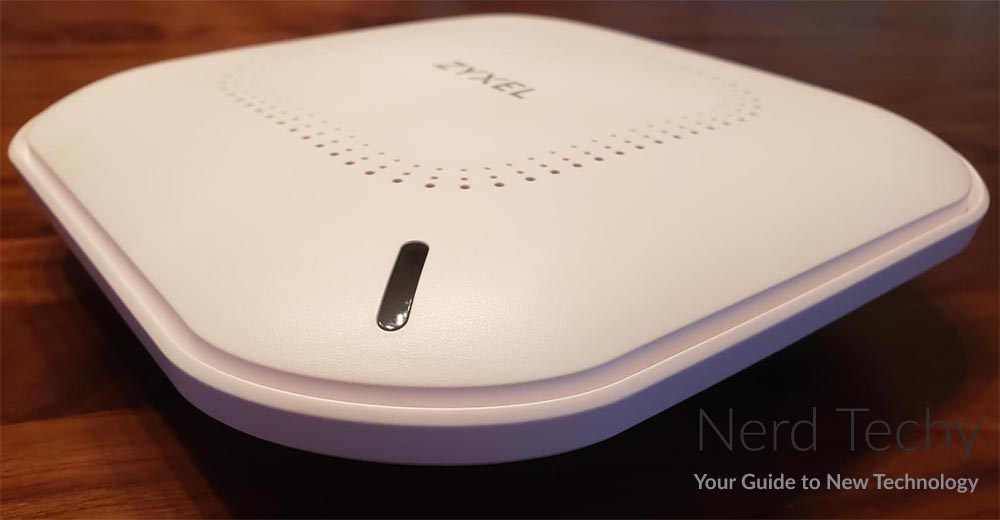 If you prefer to use a desktop interface, no worries. There's a web portal that offers all the same features as the app. Once your account is set up, it will work on any device, anywhere. The setup wizard is the same on both the web portal and the app. It takes just a few minutes, so you can get started in no time flat.
The NWA110AX supports WPA3 security. This is the latest security protocol, and is compatible with any modern router. There are no other special securities, and that's to be expected. After all, this is a switch, not a router. Any additional security functions will need to be on the router end of the connection.
If you want even better network management, the EnGenius EnTurbo EAP1250 is a solid choice. It's a bit pricey, but the management software is professional-grade. For instance, you can grant different permissions to different devices on the same network.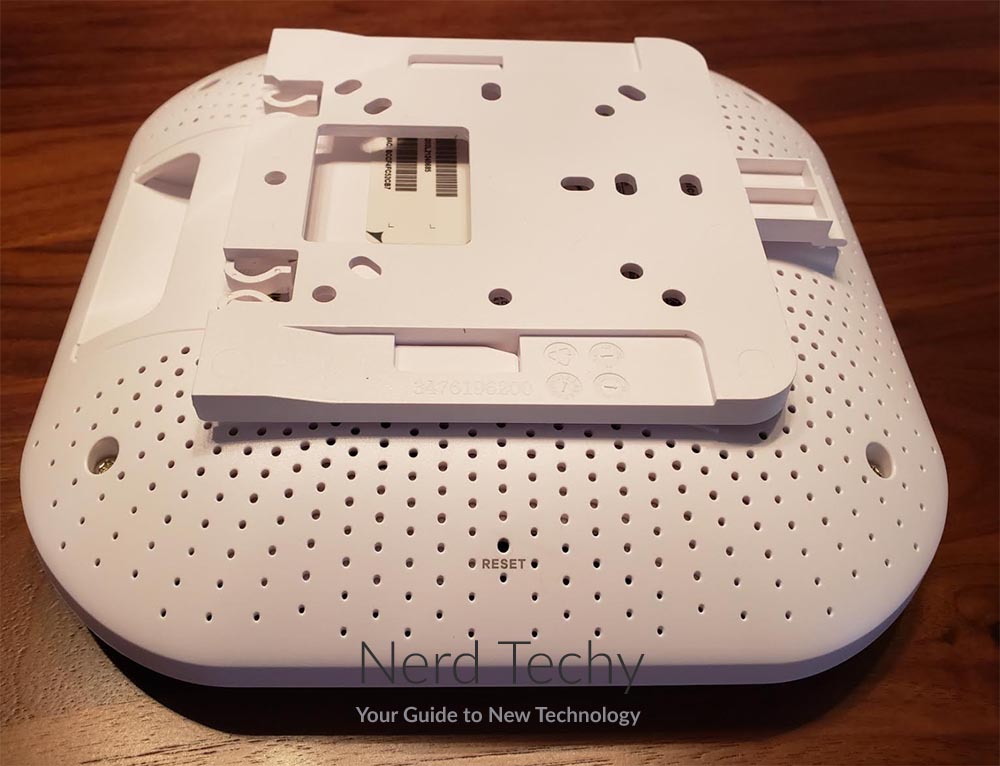 Final Verdict
So, is the Zyxel True WiFi 6 Wireless Acess Point (NWA110AX) a good buy? As with much networking equipment, it depends what you're looking for. For most applications, the 1.77Gbps bandwidth will be plenty. It may not seem like much, but remember, this is an access point, not a router. It's only supposed to be part of your home's WiFi network. For that purpose, the bandwidth is more than enough.
Setup is as easy as it gets, with a simple wizard that guides you through the process. Along the same lines, it's easy to install, with good performance on both ceilings and walls. About the only time you won't want to use it is for very latency-sensitive applications, like gaming. For everyday home or small business use, it's a good choice.