A powerline network adapter is designed to extend your home's Ethernet connectivity to multiple rooms around the house. These adapters plug into a power outlet, and use your home's electrical wiring to send and receive data. It's a neat trick, and it saves you the need to run Ethernet to multiple rooms. It was developed in 2001 as an alternative to running wires throughout your entire home, and it quickly became popular. However, manufacturers couldn't agree on a single standard, and early releases were often slow, buggy, and difficult to use. As a result, powerline network adapters nearly went the way of the Zip Drive — an interesting novelty that came and went.
However, for some people, running Ethernet cable can be prohibitively expensive. And brick walls and other solid obstructions can severely reduce the range of a WiFi signal. As a result, powerline adapters have remained in production, although they haven't been as popular. Meanwhile, the technology has advanced over the years. Connections that used to be slow and unreliable are now fast and stable.
We should point out here that powerline adapters aren't wireless. You won't be able to set up a WiFi network using them. They simply provide you with Ethernet ports where you otherwise might not have any. That said, there's no reason you can't connect a wireless access point to your powerline adapter. This can be a useful solution if you're having trouble getting a wireless signal at a distance. Just set up a powerline connector at the far end of your home or office, and you're ready to go. Alternatively, you can use a more powerful WiFi router. The Netgear Nighthawk AX4 is a solid choice, built for the largest homes. It's even powerful enough for spacious corporate offices.
We've searched for the best powerline network adapters on the market, and come up with three of the best. And now, we'll provide a thorough review of their functions and features.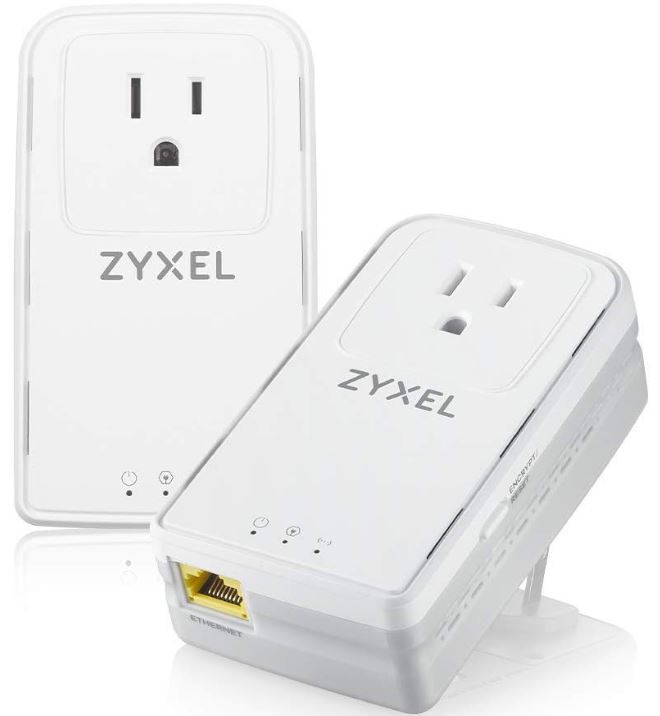 Zyxel Wave 2 Powerline Kit
The Zyxel Wave 2 Powerline Kit consists of a pair of Ethernet adapters that plug into your electrical outlet. They're big, they're chunky, and even when they're plugged into the bottom half of a duplex outlet, they still block the top outlet. Thankfully, they have a pass-through design. As a result, you'll still have the ability to plug in another device. If you're truly pressed for time and space, you can plug a power strip into the adapter instead. This will allow you to use up to six outlets and still enjoy the Zyxel's connectivity. One thing to keep in mind is that you should not plug the Zyxel — or any powerline network adapter — into a power strip. The shared cable from the strip to the outlet can cause significant signal degradation.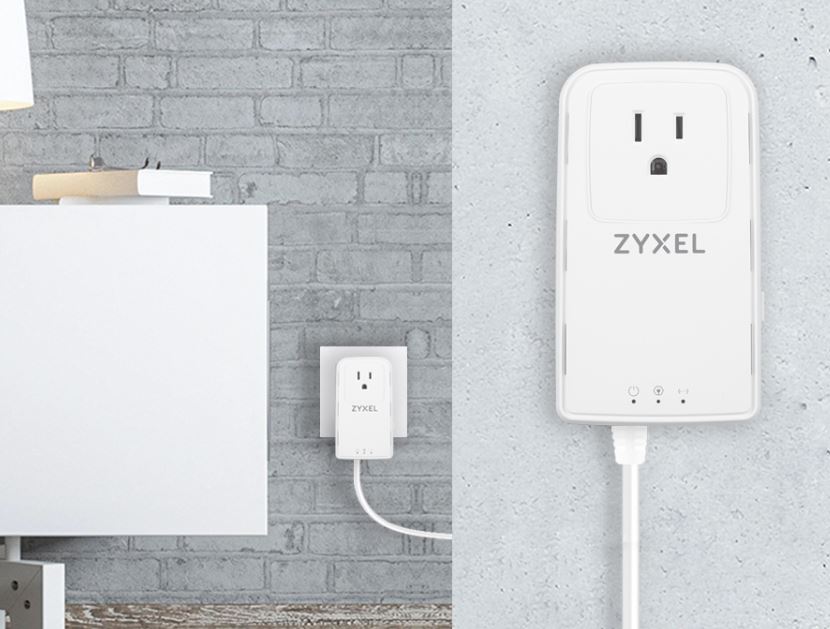 When properly configured, the Zyxel is capable of delivering speeds up to 2,400 Mb/s. This is more than double gigabit speed, which is the current benchmark for a "good" internet connection. Keep in mind, though, that signal quality depends a lot on range. And range doesn't necessarily equate to the distance between two powerline adapters. For example, suppose you have a home office with a router, and an adjacent bedroom with a brick wall between. Putting powerline adapters in both rooms, you'd think they were just a few feet apart. However, if the two rooms are on separate circuits, the adapters may be far apart. The reason is that the signal will have to run all the way to your circuit breaker and back up the other circuit. Depending on your home's electrical system layout, that could easily be over 100 feet. In offices, the distance could be even further.
That said, even at ranges of 100 feet, the Zyxel will still serve up gigabit speeds or better. That's more than good enough for gaming, high-definition streaming, and other bandwidth-intensive applications. At 2,400 Mb/s, you'll have enough bandwidth for streaming video in 8K. There aren't a lot of services offering 8K video, and fewer TVs and monitors that support it. But it's good to be future-proof. And the Zyxel is designed to ensure that you'll have plenty of bandwidth for years to come. The Zyxel also utilizes the latest G.hn powerline technology. As we've already noted, it's blazing fast. But G.hn technology also reduces noise. This is a huge improvement over older protocols, where the signal was often unreliable. If you're connecting two very distant rooms, the Zyxel might slow down, but it won't be any less reliable.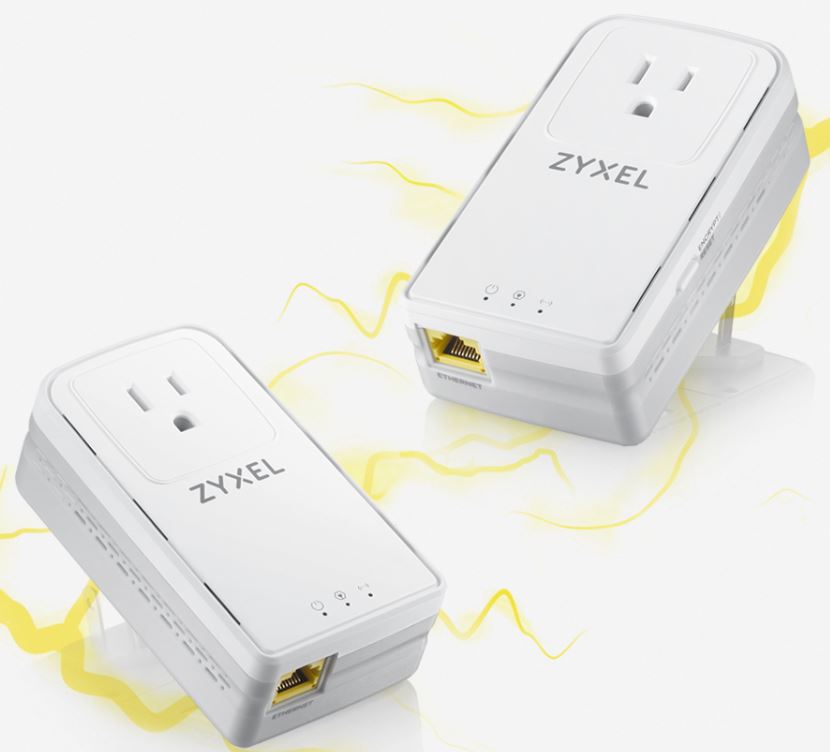 Connecting more than two rooms is also easy. As long as one Zyxel unit is connected to your router or modem, it will act as a hub. You can purchase more devices, and any number of them can act as receivers. For most home users, this feature is unnecessary. However, if you're setting up an office network, the ability to connect multiple Zyxel devices can be handy. Finally, the Zyxel is one of the most environmentally-friendly networking devices you'll find. It has an automatic sleep mode. When no data is being transmitted, the units will go to sleep. This saves 90 percent of electricity as opposed to a unit that's always on.
One feature that's hard to come by is a powerline network adapter that also extends your wireless network. If you don't want to be tied to an Ethernet port, there are still a few powerline options out there. One of those is the TRENDnet WiFi Everywhere Powerline 1200 AV2 Wireless Kit. We reviewed this kit last month, and it's definitely worth a look. Besides which, it's one of the few powerline network adapters that has WiFi connectivity built in.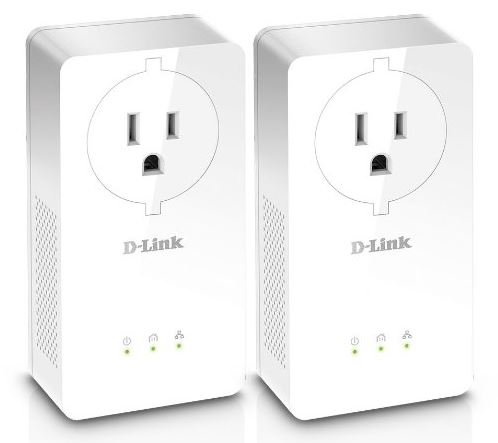 D-Link Powerline 2000
The D-Link Powerline 2000 gets its name from its rated speed. It's rated for speeds of up to 2,000 Mb/s, or roughly 2 gigabits. Much like the Zyxel, this only holds true under ideal conditions, when both powerline adapters are on the same circuit. At longer ranges, you can expect a drop in speed. Users have reported speeds as low as 400 Mb/s, but this is most likely a result of old wiring. On homes with relatively new wiring, speeds of 1,000 Mb/s are realistic even on relatively distant connections. This isn't absurdly fast, but it meets the threshold for gigabit internet. As a result, it's more than good enough for streaming, gaming, and lightning-fast data backups.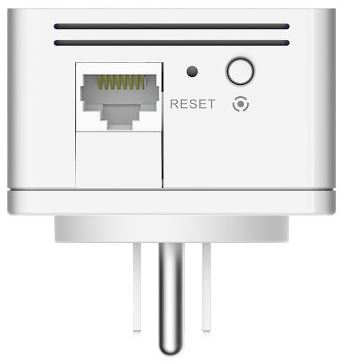 The power blocks themselves are large. No matter which outlet you plug into, both of them are going to be blocked. Thankfully, D-Link was well aware of this. They've only been making powerline network adapters since 2001. In that time, they've learned a thing or two. One of those vital lessons is that a powerline adapter needs a pass-through outlet, which the Powerline 2000 offers. Not only can you still use a single outlet, you can even plug a power strip or splitter into the outlet.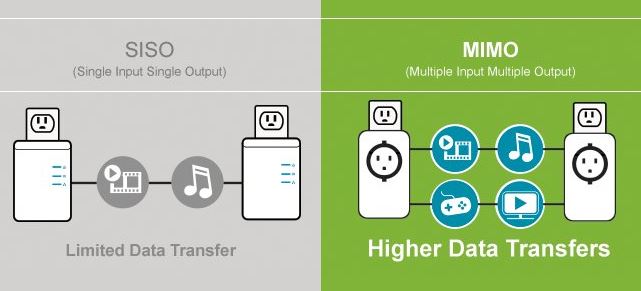 The Powerline 2000 comes as a pair. There's no designated "hub" unit, which makes the kit more versatile. Simply connect either adapter to your router or modem, plug it into a power outlet, and you'll be ready to connect other devices. The base kit comes with two units, allowing you to extend your connectivity to a single device. However, the Powerline 2000 supports up to 16 simultaneous connections. This makes it versatile enough for small offices, apartment buildings, and other applications. Keep in mind, though, that this works better in theory than it does in practice. The "hub" unit can still only handle a maximum transfer rate of 2,000 Mb/s. As a result, if you're trying to stream on multiple devices, you're going to be disappointed.

The Powerline 2000 has a user-friendly interface that's easy to understand. Three LED lights on the front of the device indicate its status. They tell you when there's power delivered, when they're connected to your home network, and when other Powerline 2000 devices are connected. There's also a power saving mode. When there's no activity, the Powerline 2000 will automatically go into sleep mode. This can save 85 percent of power when you're not using your internet connection. Not bad!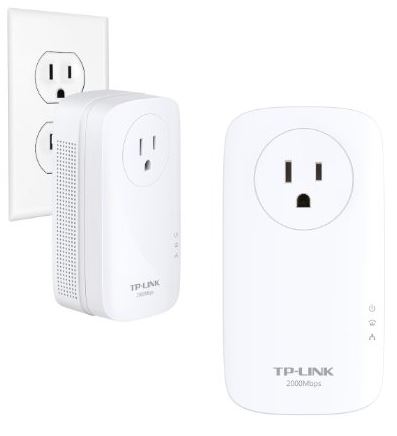 TP-Link AV2000
The TP-Link AV2000 is a powerline network adapter that puts security first and foremost. These devices are equipped with AES 128-bit encryption. That's a huge improvement over most powerline devices, which are generally unencrypted. Simply press the pairing button on both plug devices, and they will be paired. You can add additional AV2000 adapters in this same fashion, up to 16 total adapters. To be sure, there aren't many hackers out there tapping into people's power lines. But if you're running a business or dealing with sensitive data, the extra protection is a great plus. When pairing your adapters, you'll want to have them both plugged into the same circuit. Two outlets in the same room will work best. This ensures that they'll be able to "see" each other during pairing.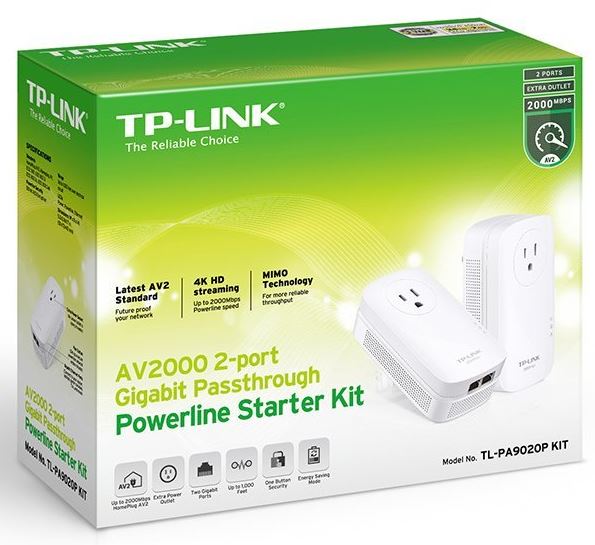 Like the other powerline network adapters we've looked at, the AV2000 will cover the top plug in a duplex outlet. Also like the other adapters, it features a pass-through plug. This feature was not common back when powerline adapters were first introduced. However, it's become more and more standard as the industry has matured. What's not standard is a device with not one but two gigabit Ethernet ports. Each AV2000 has a pair of ethernet ports. This serves a couple of functions. On whichever unit you set up as the "hub", the second plug will function as an Ethernet pass-through. On all the secondary units, you'll be able to connect two devices instead of one. Keep in mind, though, that both devices will be sharing the same connection. If you're trying to stream on more than one device at the same time, you're going to experience lag.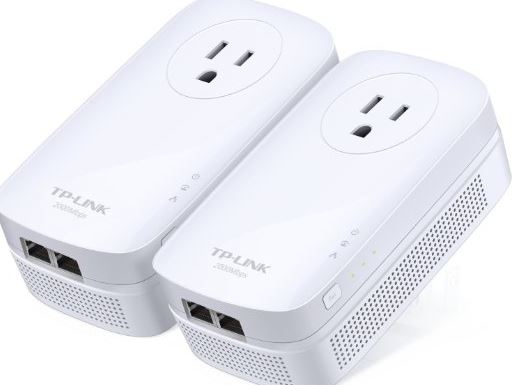 The AV2000 also works with TP-Link's mobile app. While this isn't strictly necessary, it's a nice extra feature. With the app, you can monitor your network status, and view the connection speed on each adapter. This is a useful feature if you live in an older house. Old wiring sometimes degrades, and the wiring to adjacent outlets can be in different conditions. As a result, two outlets in the same room can have vastly different speeds. With the app, you can quickly determine which outlets offer the best speed. This can save you a lot of time as opposed to using the old trial-and-error method.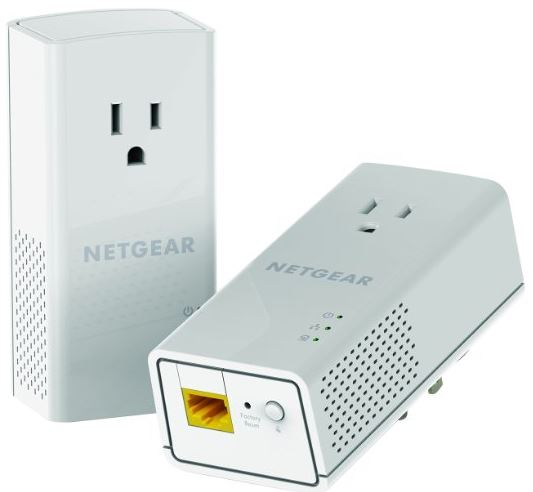 Netgear Powerline 1200
Netgear is another company that has been providing affordable, reliable networking hardware to consumers for many years. The Netgear Powerline 1200 Adapter is the perfect example of an affordable product that doesn't skimp on essential features.
Although this is priced as a budget product, it certainly isn't built like one. The plastic casing is thick, solid, and attractive to the eye. The LED indicators are clearly labelled and easy to see. It is reasonably compact, only taking up a single plug on your outlet.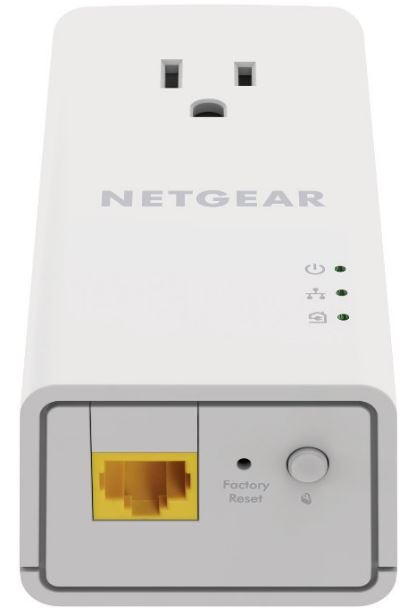 This particular adapter is advertised of having speeds of up to 1200 Mbps. We already know that these speeds are unlikely to achieve in real life, but the lower rating indicates that this adapter may not perform as well as competing products.
One handy feature we liked is the "Pick a Plug" indicator. On the top of the adapter there is an LED light. First you plug in one adapter to your router, then you go around testing out different outlets with the second adapter. The light on the top will indicate green if the signal quality is good, meaning you can expect speeds above 100Mbps. Amber means that the maximum connection speed will be between 50 to 80Mbps. Red indicates speeds below 50Mbps. This feature is handy if you have control over where you install the adapter, but if you need the adapter in a specific location then this feature is not as helpful.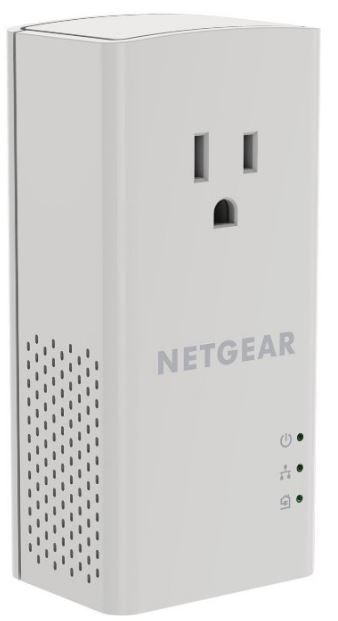 We found the setup procedure to be a simple matter. The Netgear Powerline 1200 took a little longer to get a stable connection, but within 90 seconds our network was ready to go. When attempting the data transfer test in the same room, we were surprised at the results. The peak throughput of this device seems to be around 200Mpbs, much lower than the other two. Fortunately, the long range test was much better. With a speed of 90Mbps, this adapter still provides all the bandwidth you need for file transfers, video streaming or web browsing.
This affordable powerline network adapter still manages to offer reasonable real world performance. The attractive, durable case will look great in any room, and the ease of setting up your network means that even a non-technical person can have a network up and running in as little as a minute.
Final Verdict
As you can tell, modern powerline adapters are remarkably similar. This isn't a bad thing. It's a result of years of turmoil in the industry, as manufacturers have figured out what works and what doesn't. Pass-through outlets, for example, were once a coveted bonus feature. Now, they're more or less standard.
The same goes for high speeds. Not too long ago, powerline connections were barely fast enough for low-resolution YouTube videos. Forget about watching Netflix. You'd be hard-pressed to stream the latest Taylor Swift single. Now, gigabit speeds are the norm. Once again, we feel the need to stress that speed depends on your home's electrical wiring. The older and more degraded your home's wiring, the slower your connection is going to be.
With that said, the TP-Link AV2000 is our top choice. The security options are an excellent bonus, but they're just icing on the cake. The main attraction, for us, is the dual gigabit Ethernet ports. They allow you to connect more devices more easily, and that's always a good thing. That said, the Zyxel Wave 2's higher speed has a lot to recommend it. And the TP-Link AV2000 is a reliable adapter in its own right. No matter what choice you make, you'll be in good hands.