Modern wireless routers provide good coverage over most homes. A good mesh system can even cover most office buildings. But there are situations where that isn't practical. For instance, many older homes have interior brick or stone walls that are death to wireless signals. Similarly, offices can have metal construction and brick walls that can obstruct your signal. This can pose challenges for businesses and families who want to cover an entire building. To be fair, you could always run an Ethernet cable to these trouble spots. But this can be expensive, and may not always be practical. For instance, your landlord may flat-out refuse to let you drill through masonry to run a cable. A powerline network adapter can oftentimes be a more elegant solution.
Powerline adapters will extend your local network to any room with a power outlet. They work by using your home's electrical wiring to transmit an internet signal. You simply plug them into a pair of outlets, connect Ethernet cables on both ends, and you're ready to go. This technology was first developed in 2001, and caught on quickly. Unfortunately, there were several standards, and manufacturers couldn't agree on any one of them. Some worked very well, while others were buggy, or offered only very slow connections. For a few years, powerline adapters fell out of favor, and it seemed like they might disappear altogether. But over time, the technology has advanced. Modern powerline adapters are as fast and reliable as WiFi routers or ordinary Ethernet connections.
Before we go on, we should note that powerline network adapters aren't themselves wireless. To connect through one, you need to plug into the Ethernet port. That said, there are ways around this. For instance, you can simply plug a wireless access point into your powerline adapter. Suddenly, you've extended your wireless signal as far as you need it to go. You can circumvent a brick wall, or just reach a distant part of the property with your wireless signal. Another option is simply to use a WiFi router with a more powerful signal. For instance, the Netgear Nighthawk AX4 provides an exceptionally powerful signal for very large homes. In fact, it's so powerful that it's even used in some large office buildings.
For now, we're going to review the three best powerline Ethernet network adapters available. We'll kick things off with the TP-Link AV2000 Powerline Adapter. This adapter boasts a secure setup feature for business use. We'll follow up with the Zyxel G.hn 2400 Wave 2. The Wave 2 offers blazing-fast speeds and an environmentally-friendly sleep mode. Finally, we'll look at the NexusLink G.hn Powerline Ethernet Adapter. This has similar fast speeds, and offers Power over Ethernet (PoE) as well as data. Which one is the best choice for your home or office? To find out, we'll need to dig a little deeper, and see how they perform. Let's get started!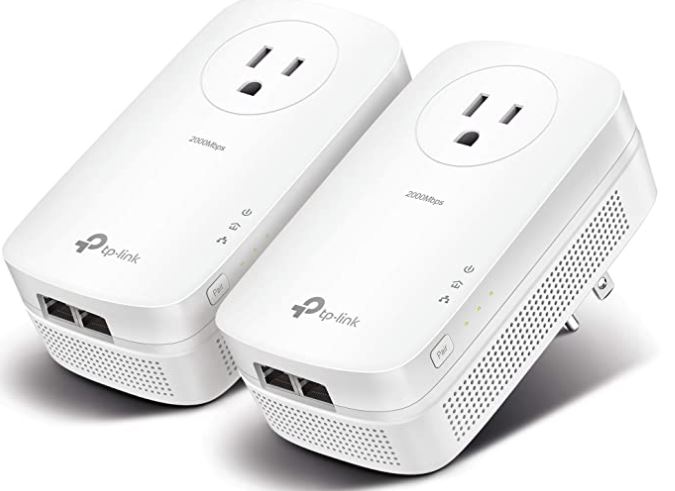 TP-Link AV2000 Powerline Adapter
TP-Link is one of the oldest names in wireless connectivity. Among other offerings, they make some of the better WiFi routers available on today's market. Now, we'll be reviewing the TP-Link AV2000 Powerline Adapter, which was designed first and foremost for security. Instead of an ordinary signal, these adapters utilize AES 128-bit encryption. This means that someone can't simply plug in their own powerline adapter and have access to your network. The devices will first need to be paired, which means pressing the pairing button on both simultaneously. Pairing requires the two units to be on the same circuit, so plug them into adjacent outlets. Once they're paired, you can move them around your home or office as needed. These adapters come as a pair, but you can add up to 16 of them in total in the same fashion.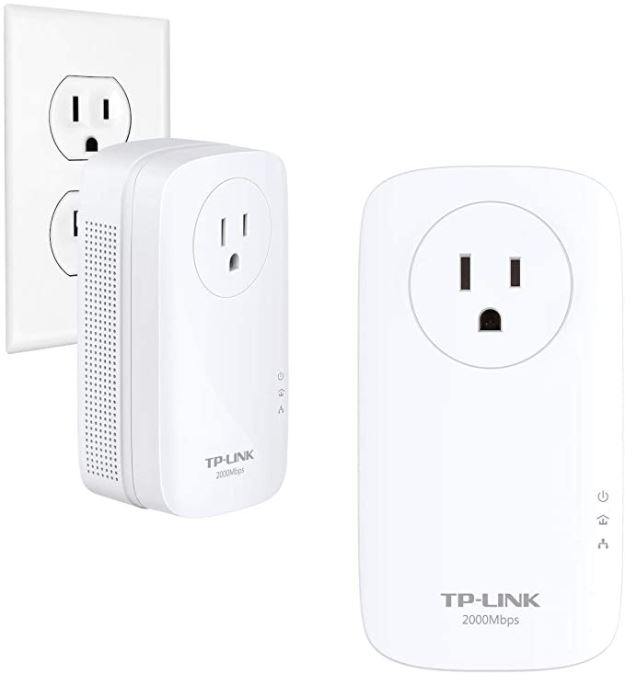 One thing to be aware of about powerline network adapters is that they're fairly blocky. This is equally true for the AV2000, so it will block both halves of a duplex outlet. That said, there's a three-prong outlet on the front that delivers a full 120 volts when it's plugged in. It functions as a pass-through outlet, so you'll still be able to plug in another device. This used to be an unusual feature, but more and more powerline adapters have been offering it lately.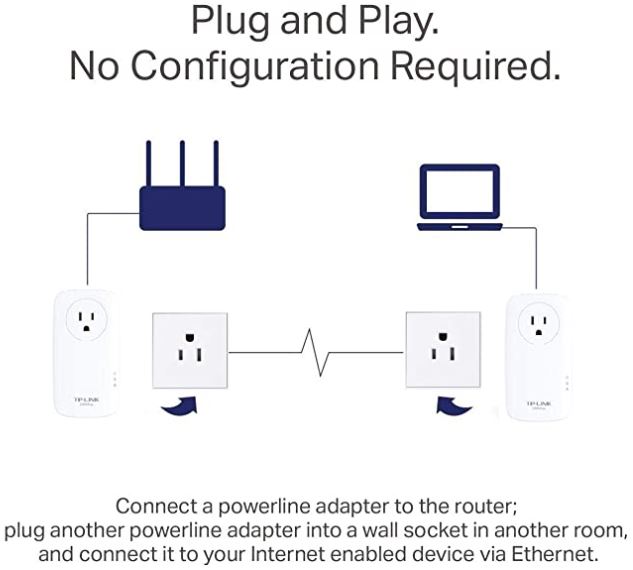 A more unusual feature is the pair of gigabit Ethernet ports. These can be used for two purposes. First, on the main unit that's connected to your router, the second port works as a pass-through. On any other AV2000 unit on your network, you can connect two devices instead of one. This is a major advantage over standard adapters, which only have a single port. The total speed of the connection is 2,000 Mbps, or just a hair under two gigabits. Keep in mind that this connection will be shared between both devices if there are two plugged in. If you're trying to stream 4K video, stick to a single device. Otherwise, you might have some issues.

In addition to its encryption features, the AV2000 also works with the TP-Link mobile app. This isn't required for setup, and you can completely ignore it if you want to. But it offers some neat perks for power users. Through the app, you can monitor traffic throughout your network, and view the speed of every adapter. This can help you see if there are any choke points on your network. For example, you might have some old, worn-out wiring on a particular circuit. You won't be getting optimal speeds. Thanks to the app, you'll be able to know which outlets are the fastest, and which to avoid.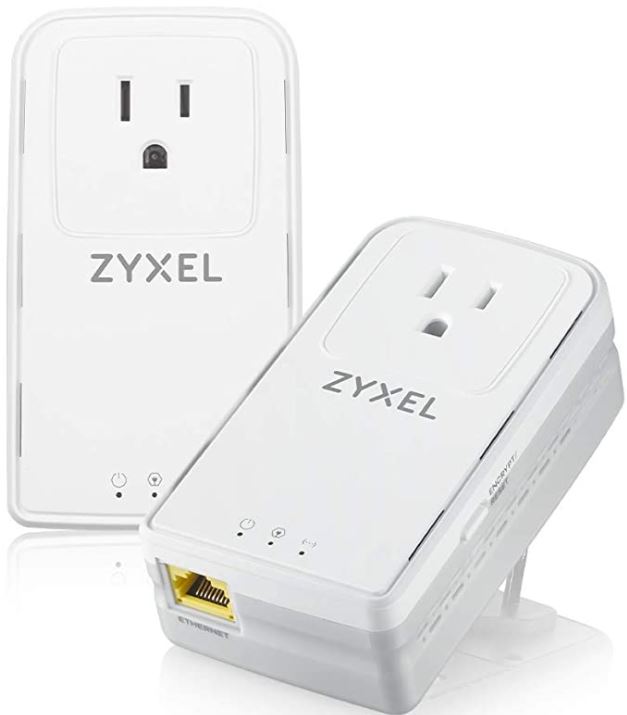 Zyxel G.hn 2400 Wave 2
Zyxel is another respected manufacturer of wireless products. They make the True WiFi 6 Wireless Access Point, one of the fastest money can buy. Today's offering, the Zyxel G.hn 2400 Wave 2, is another blazing-fast option. Under ideal circumstances, it can transfer data at speeds of up to 2,400 Mbps. That's twice as fast as Gigabit speeds, which is the standard for modern home internet.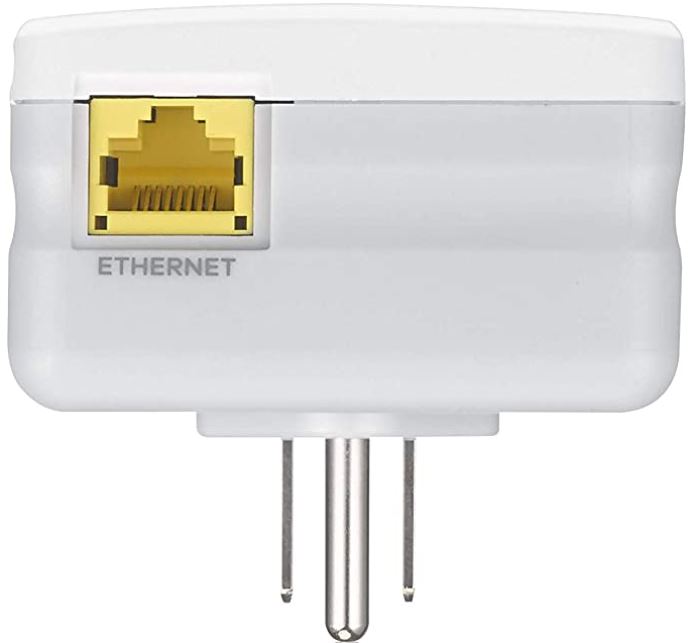 That said, a lot of this depends on range. With powerline adapters, "range" has nothing to do with the physical distance between the two units. It refers to the amount of electrical wire between the two. Imagine two powerline adapters on opposite sides of the same wall. In ordinary terms, you'd say they were only a few inches apart. But if the outlets are on different circuits, the signal will have to run to the breaker box and back. That distance could easily be as far as 100 feet.
Thankfully, the Wave 2 can handle Gigabit speeds even at the end of a 100-foot run. This means it can be used for high-definition streaming and online gaming. On a shorter run, speeds of 2,400 Mbps will allow for 8K streaming. This means you'll be well set up for VR rigs, or for business applications that require a lot of bandwidth. The term "G.hn" refers to the latest development in powerline technology. In addition to ultra-fast speeds, G.hn signals also reduce noise. This is a major upgrade, since electrical systems aren't designed for internet signals. They're inherently noisy, so noise reduction makes a huge difference, particularly over longer runs. You may lose speed as the distance increases, but you won't lose reliability.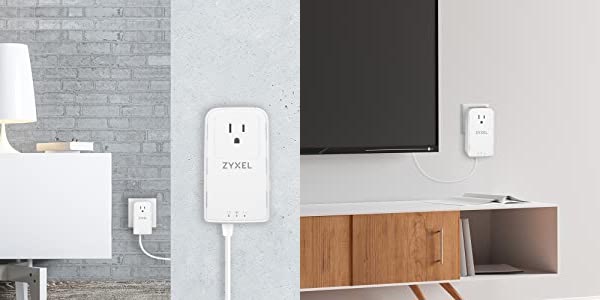 Much like the AV2000, the Wave 2 will allow you to connect multiple individual units. The first connects to your router, and forms the bridge to the rest of them. You can then install an unlimited number of others as needed around your house. Keep in mind, though, that all of them will have to go through the main "hub" unit to connect to the web. If you've got a dozen powerline adapters all hooked up, don't expect to stream on all of them at once. This shouldn't really be a concern for home users, who will generally be fine with the two starter adapters. But if you run a business, you may want to add more of them to cover more area.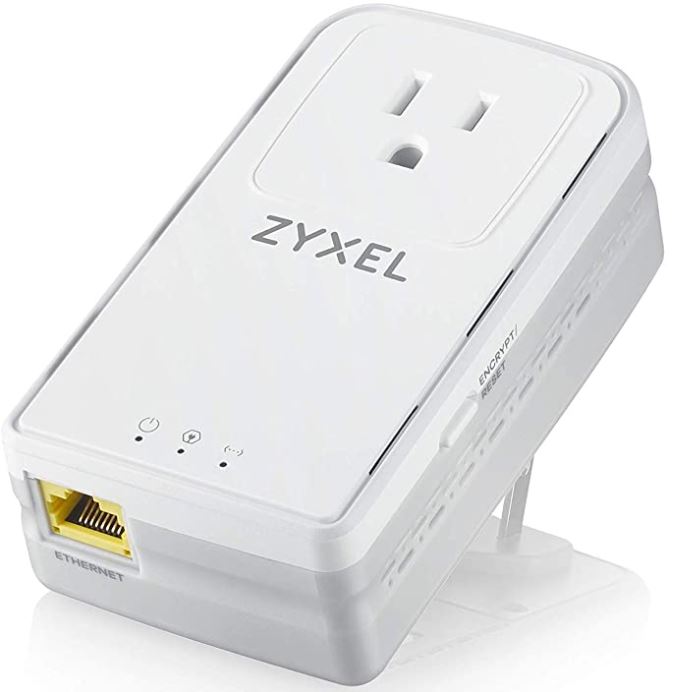 Moreover, the Wave 2 features an automatic sleep mode for saving power. When an adapter is not receiving or sending a signal, it simply goes into sleep mode. When it receives a signal again, it wakes up and resumes operating. In sleep mode, an adapter only draws 10 percent of the normal power. This can save a fair bit of juice if you're using several adapters.
Like any other powerline adapters, these are big and chunky. They'll block both outlets, regardless of which one you plug into. But like the others on our list, they include pass-through outlets so you can still plug in another device. You can also plug a power strip into the Wave 2's outlet to expand your capacity even further. On the other hand, you should never connect any powerline adapter into a power strip. The combination of multiple outlets and a single power cable causes far too much noise.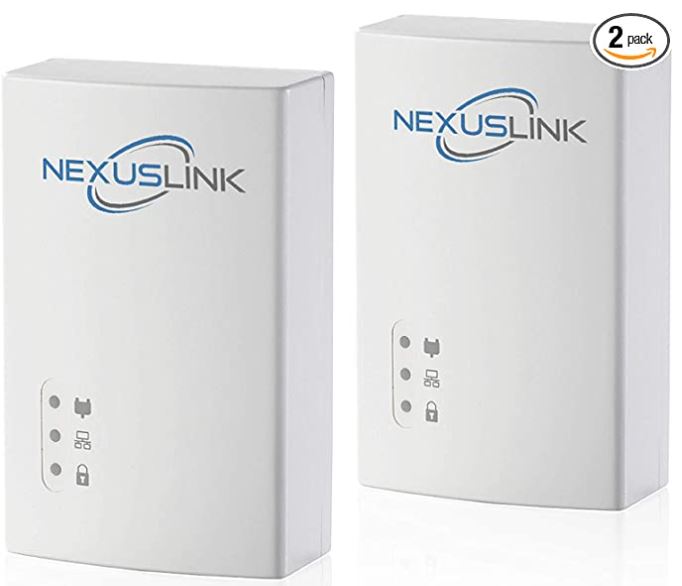 NexusLink G.hn Powerline Ethernet Adapter
The NexusLink G.hn Powerline Ethernet Adapter is similar in many ways to the others on our list. It comes in a pair, and the units are big and bulky. Unfortunately, there's no pass-through port on this one. If you plug it into a duplex outlet, you won't be able to plug in anything else. That said, the NexusLink has one thing the other adapters don't: Power over Ethernet (PoE). PoE is a power delivery technology for feeding devices like security cameras. It saves you the trouble of using a secondary power supply, and smooths the installation process. You can connect up to 16 NexusLink adapters on the same network, which is excellent for security systems.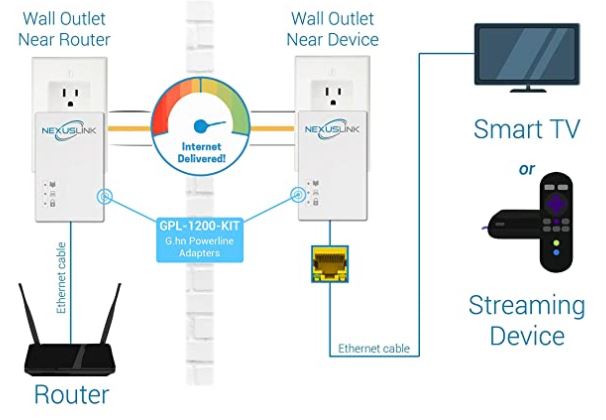 Each unit sports a single Ethernet port, along with a pairing button. As with the AV2000, you'll want to pair the devices with them plugged into the same circuit. Once connected, you'll get 2,400 Mbps speeds, along with G.hn noise-reduction technology. You'll also get 2×2 MU-MIMO support. This technology allows for faster switching between devices, and is perfect for busy networks.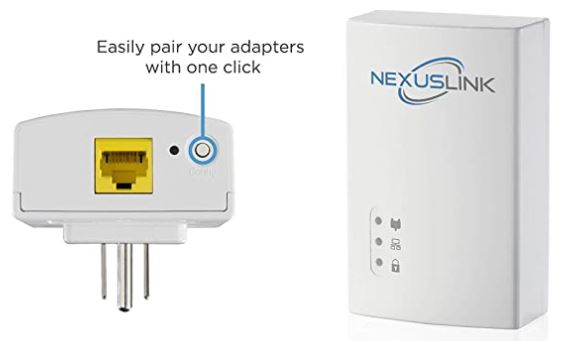 Finally, the NexusLink adapter uses forward error correction (FEC) technology. FEC is designed to reduce errors by sending redundant data packets. This allows the receiving device to reconstruct lost data without having to request re-transmission. In many networks, FEC is simply not necessary. But powerline networks rely on electrical cables, which weren't designed for data. They're inherently unreliable, and FEC goes a long way to making your signal more stable. This results in lower latency and reduced buffering, and is particularly useful for streaming and gaming.
Final Verdict
So, where does all of this leave us? We have three different powerline adapters, each with their own strengths and weaknesses. Let's sum up what we've learned. We started out by reviewing the TP-Link AV2000 Powerline Adapter. This is the best choice for most businesses. With its secure setup and the TP-Link app, there are plenty of features for advanced users. Moreover, the dual Ethernet ports allow you to connect two devices. If one of these is a wireless access point, you'll have a wireless and wired connection simultaneously. That said, the speeds aren't quite as fast as the other options. If you want a blazing-fast streaming setup, you'll want to use one of those.
Next, we looked at the Zyxel G.hn 2400 Wave 2. This powerline adapter offers faster, 2,400 Mbps speeds, along with G.hn technology. It's ideal for streaming, gaming, and other applications that require lots of bandwidth. That said, it doesn't have the advanced management features of the AV2000.
The NexusLink G.hn Powerline Ethernet Adapter is the only choice if you want to connect PoE devices. However, this comes at the expense of a pass-through power port. But with fast speeds and forward error correction, this adapter more than makes up for the missing plug. All in all, it's a solid choice for streaming, gaming, and anyone with PoE accessories to plug in.