In recent years, wireless internet has gone from being a luxury to being a necessity. When modern friends visit each-other, one of the most common questions is "what's your WiFi password?" And the issue is even more pronounced for businesses. Want to open a coffee shop? You'd better be offering free WiFi, or customers are going to look elsewhere. And, of course, a professional office, such as a data center or a law firm, virtually requires the use of a WiFi network.
If you're running any of these businesses, you can't always get coverage where you need it with a router alone. This is where a wireless access point can come in handy. Today, we'll be reviewing the EnGenius EAP1250, one of the most powerful, compact access points on the market. We'll take a good look at all of its features, and explain what it can do for you and your business. Let's get started!
Design & Construction
The EnGenius EnTurbo EAP1250 has a compact frame that's constructed from ABS plastic. It measures 5.2 inches in diameter, and it's just under an inch and a half in thickness. At first glance, it looks like a smoke detector, albeit without any sort of reset button. It weighs 9.88 ounces, enough that you know you're holding it, but not enough to be a problem. The EAP1250 comes with a small bracket for mounting to the ceiling, another similarity to a smoke detector. Of course, it can also be mounted under a raised floor or above a hung ceiling. It can even just sit on a desk, although that's not best for most enterprise applications.
On one side of the unit, there's a cutout for the Ethernet port. Alongside the Ethernet port, you'll also find a power port. The EAP1250 ships with a 9-watt AC/DC power adapter, so it can be plugged into a standard outlet. It's also compatible with Power Over Ethernet (POE). However, it does not ship with a POE adapter. To take advantage of this feature, you'll need to purchase an aftermarket adapter. There's also a recessed reset button next to the Ethernet port. To reset the unit, you'll need to press the button with a paperclip or similar small object.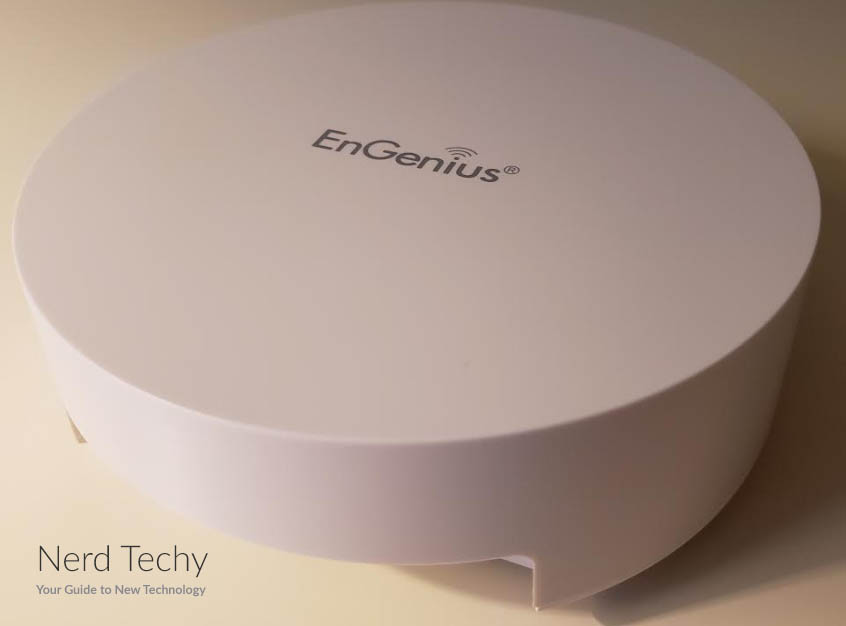 If you want a wireless range extender that's pre-configured for POE, there are plenty of options on the market. Typically, this shouldn't be a make-or-break problem. After all, an aftermarket POE adapter is fairly cheap. But let's say you want to keep things as simple as possible. In that case, the TRENDnet TEW-821DAP might be ideal for your business. It's primarily designed for home use, but it has plenty of range and power for a mid-sized office.
Other than that, the EAP1250 has a plain, discreet appearance. There's a small EnGenius logo engraved on the surface. There's also a small green LED light on the side. It illuminates when the EAP1250 is on, but it's not irritatingly bright. In an office or business, it's not going to stand out. This is especially true if it's surrounded by other electronics with LED lights. EnGenius offers a 1-year limited warranty on the EAP1250. It covers defects in material and workmanship.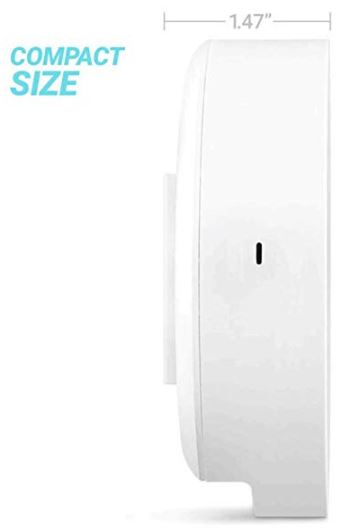 What's Inside?
The EnGenius EAP1250 isn't just a "dumb" access point. It offers several configuration options through their cloud-based service, which we'll be discussing shortly. To that end, it actually has a small mini-computer built inside. This computer has a Quad-Core ARM Cortex A7 Processor, which operates at 717 MHz. In today's world of multiple-gigahertz processors, this may not sound terribly impressive. But it's a lot of processing power for an access point. This assists with smarter routing of packets, and also allows you to track which devices are using the most data.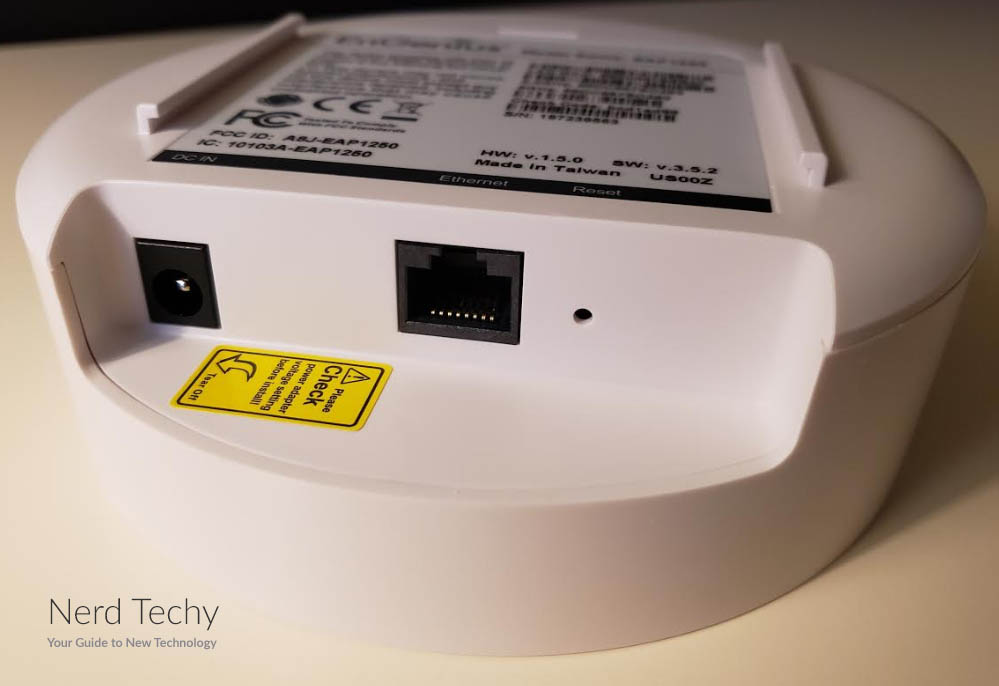 Connection Options
The EAP1250 is compatible with all standard wireless protocol. This includes 802.11a, b, g, n, and the current, lightning-fast 802.11ac. The overall speed depends on which channel you're connecting over. On the 5 GHz channel, it provides 867 Mbps of speed. On the 2.4 GHz channel, you'll get an additional 400 Mbps of data, for a total of 1,300 Mbps. This isn't the fastest connection possible. However, the EAP1250 is very smart. It automatically routes data through the most efficient channel. As a result, it's significantly more efficient and speedier than some "faster" wireless access points.
The signal is also very powerful. While many access points have adjustable antennas, they're generally fixed. As a result, you need to orient them the correct way to ensure maximum coverage throughout your business. But this method isn't always ideal. It doesn't account for devices that are in motion, or in unusual locations. Suppose you have a client or intern who's sitting at a desk that isn't normally occupied. With a standard access point, you might suddenly find that there's a dead spot in your coverage. The EAP1250 utilizes beamforming technology, which can automatically adjust the signal as needed. It ensures a quality connection, even when people are walking around on a cell phone.
The EAP1250 also supports Multi-User, Multiple-Input and Multiple Output (MU-MIMO) data transfer. This allows for more advanced network configurations than a standard, "dumb" access point. It supports multiple wireless connections, not just for download, but also for upload. This helps speed up intra-office traffic. With an ordinary network, a wireless signal would go through the wireless access point and back to the router. The data would then travel back through the access point to the receiving device. This causes a lot of clutter on the network, and also puts unnecessary strain on your router. With MU-MIMO, the EAP1250 can work like a router, sending traffic from one wireless device directly to the other.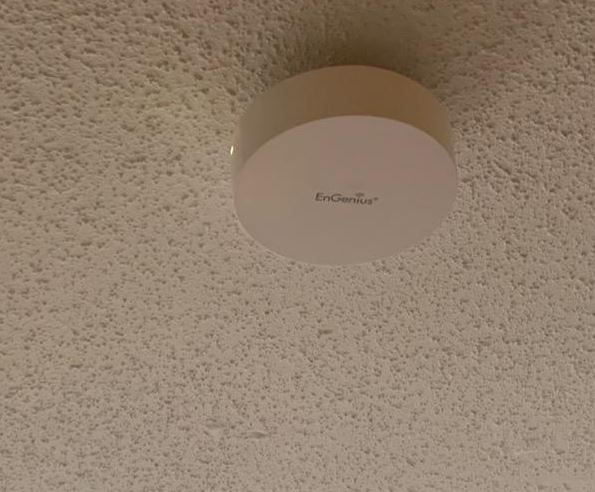 For offices that require a lot of high-speed data transfer, even the EAP1250's 1,300 Mbps connection might be too slow. If blazing-fast connections are what you need, EnGenius has even more powerful options. For example, the EnGenius Neutron EWS377AP offers speeds up to 2,400 Mbps. It also supports WPA3 security, with individual secure connections for each device on your network.
ezMaster Network Management Software
To control the EAP1250, you'll need to use the ezMaster Network Management Software. This an enterprise-level software, and it's priced accordingly. As a result, small businesses with a small budget might want to choose a different wireless access point. That said, ezMaster software is exceptionally powerful, and allows you to adjust many of your own settings.
If your business already uses EnGenius routers or other networking devices, you're probably already familiar with ezMaster. Better yet, you probably already own a subscription. If not, here's what you need to know.
ezMaster is a cloud-based configuration service that's hosted on Amazon Web Services (AWS). It functions as a central hub for monitoring not just your EAP1250, but your entire network. You can view the status of switches and routers, including the ability to see if any are currently offline. You can set custom IP addresses for your devices if you so wish. And you can view network traffic across different devices.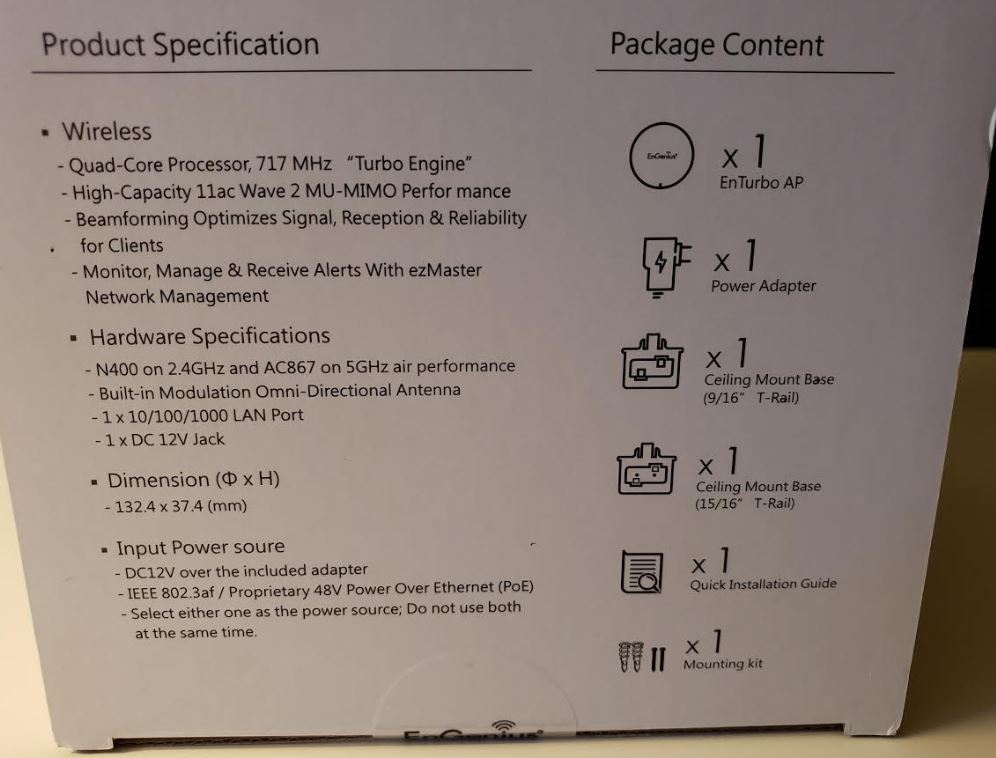 This can help you identify if there are any bottlenecks that need to be addressed. You can even remotely monitor and control devices across different locations from a single, centralized command center. This can save you a lot of money and headache if your business has multiple locations. ezMaster also allows you to set up your own virtual machine, although that's not necessary for our purposes today.
As we hope we've made abundantly clear, the EAP1250 is an enterprise solution, not as a home range extender. For home use, you're going to want something a little simpler, without an expensive configurator. For this purpose, it's hard to go wrong with the Netgear WAC124. It's slick, it's powerful, and it's perfect for extending almost any home wireless network.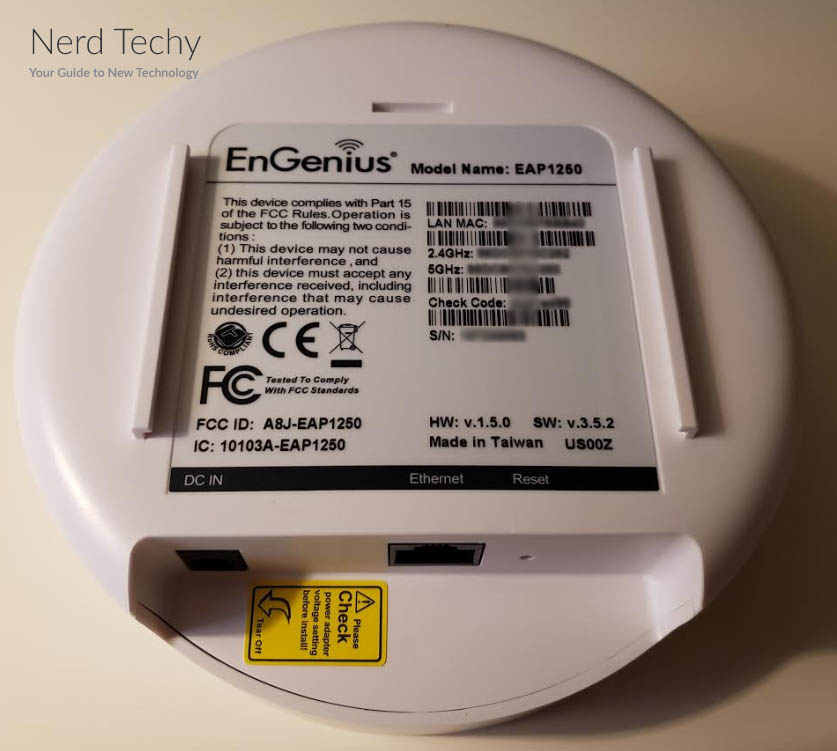 Final Verdict
The EnGenius EnTurbo EAP1250 is a very well-engineered piece of equipment. Physically, it's well-constructed, with an attractive, durable case. It can be mounted just about anywhere. And while the lack of a POE adapter was mildly concerning, they're cheap enough to buy if you need one. Besides which, it works just fine when powered by the ordinary 9-volt adapter.
The most impressive feature, from an enterprise standpoint, is the beamforming technology. This makes it easier than ever for customers and clients to move throughout the area without losing their signal. The MU-MIMO technology also impressed us. It won't be noticeable in a smaller office. In a larger office, though, it can take a lot of stress off of your primary router. That's a significant benefit, both for your employees and your IT team.
The ezMaster Network Management software is a bit of a mixed bag. On the one hand, it's required for configuration, and it's fairly expensive. On the other hand, it's exceptionally powerful, and allows you to perform tasks that wouldn't be possible with consumer software. At the end of the day, the EAP1250 is designed for businesses. And for enterprise-scale applications, it's just about unbeatable.
Meet Derek, "TechGuru," a 34-year-old technology enthusiast with a deep passion for tech innovations. With extensive experience, he specializes in gaming hardware and software, and has expertise in gadgets, custom PCs, and audio.
Besides writing about tech and reviewing new products, Derek enjoys traveling, hiking, and photography. Committed to keeping up with the latest industry trends, he aims to guide readers in making informed tech decisions.