Photocopying is a surprisingly old technology. An inventor named Chester Carlson patented the first machine in 1938. And shockingly, it took him over 2 years to find a buyer. No-one could see the value! After working with several investors, Carlson perfected the technology, and released the first Xerox machine in 1949.
So when was the first scanner invented? Surely well after the photocopier, right? 1970? 1980? Try again. In fact, scanners have been available in one form or another since the 1860s. Yes. The first scanners were being used during the Civil War. But it took a long time before scanner technology would be available in a desktop-sized machine. And it's only in the last decade that handheld scanners have come into common use.
Suppose you're on an airplane and there's a magazine article you want to save for later. Or suppose you're a student, and you want to scan a few pages of a textbook rather than purchase it. A desktop scanner isn't going to do you much good. But a handheld scanner will get the job done in just a few seconds. Today, we'll be looking at one of the most powerful handheld scanners on the market, the TravelScan Pro 300. We put it to the test, and found out what it's really capable of.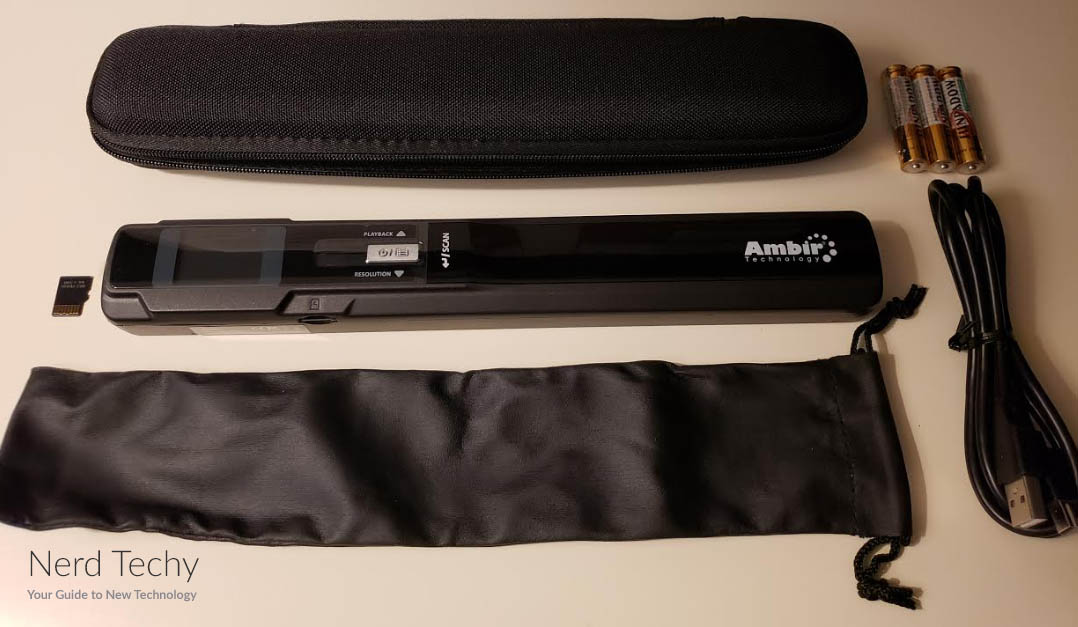 Design & Build
Before we talk about what the TravelScan Pro 300 can do, let's talk about portability. It measures 10.1 inches in length, and 1.4 x 1 inches in thickness. It weighs only 5 ounces, which is impressively light for a tool of this size. The 10.1 inches of length are sufficient to scan a standard 8 ½ x 11 page, assuming reasonable margins. If there are very small margins, you'll have other options, which we'll discuss in more detail shortly. Regardless, the TravelScan Pro 300 is small and light enough to fit in your briefcase, backpack, or purse. You could even sneak it into your college bookstore, although we would never condone such behavior. More legitimate purposes are everywhere. Whether you need to capture important business documents or just want to save a magazine article for later, you're covered.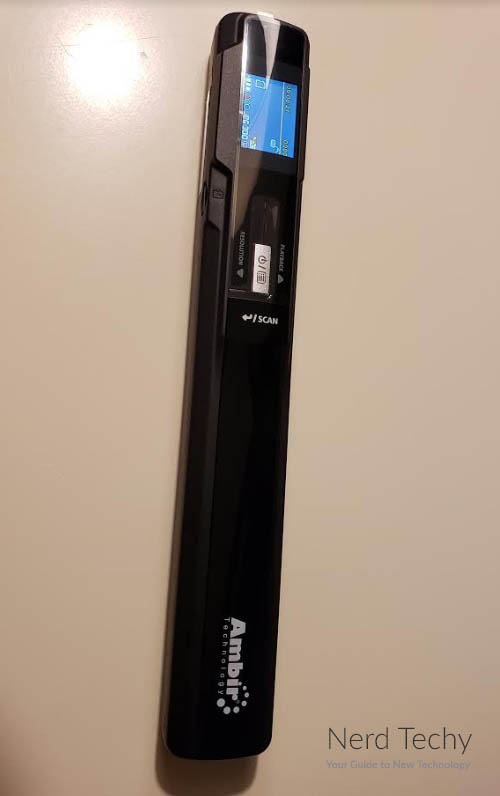 The shell is a slick black ABS plastic, with a glossy finish that screams "quality". The handle is ridged for better ergonomics, and is surprisingly comfortable to hold. The controls are at the top, and are located on a sharp LCD touchscreen. From there, you can adjust color settings, resolution, and even the file format. The unit ships with a 32GB Micro SD card. However, it supports up to 128GB if you want to upgrade. But in practice, 32GB should be more than sufficient for most purposes.
The internal battery supplies enough energy for several days of standby power. Actual performance is hard to judge. It depends on how much you're scanning, what your resolution is, and what type of format you're using. Recharging the battery is easy. A Micro USB charging port is located at the top right of the unit, and a charge cord is included. If you have any trouble, you're going to be covered. Ambir includes a 2-year manufacturer's warranty on any defects.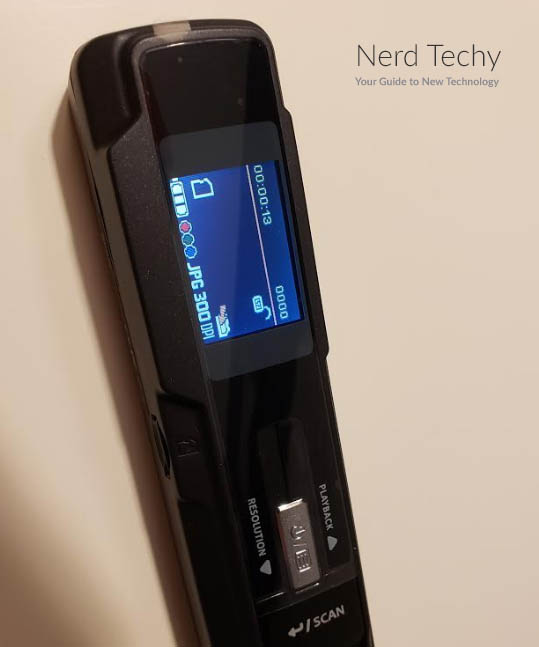 But what if you don't need to scan entire pages? What if you're just looking for an easy way to save business cards? In that case, a business card scanner is probably your best bet. We recently reviewed the best business card scanners that money can buy. Check them out to find some great options!
Ease of Use
The TravelScan Pro 300 is very easy to use. There's a slider by your thumb that activates the scanner. Simply pull down on the slider, and it's active. Drag the TravelScan across the page, and it will automatically save the image just as you've captured it. One thing we very much enjoyed were the glide wheels on either side of the scanner. This prevents you from pushing too hard or too softly. Simply apply medium pressure, and the TravelScan will glide effortlessly over the page. Once you've captured a single swipe, a few taps of the touchscreen will have you set up for your next scan. As a result, it takes only a few minutes to scan dozens of pages.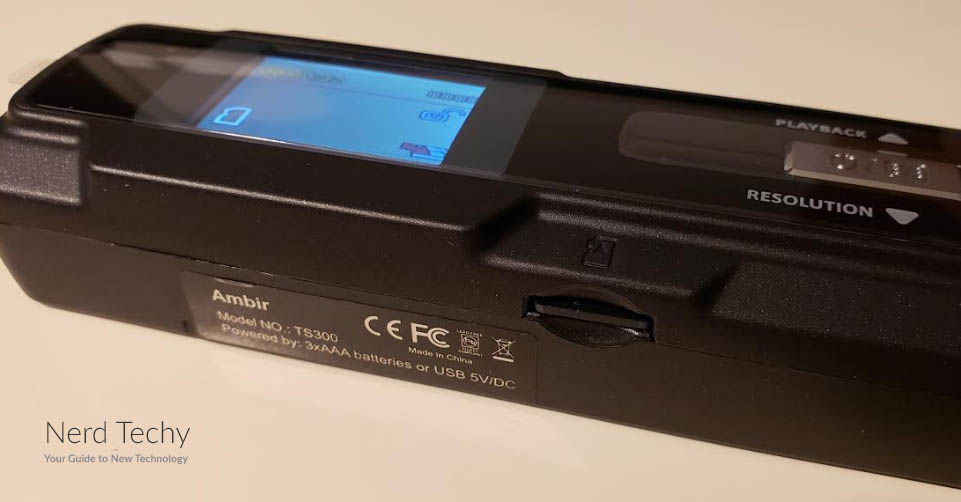 In terms of quality, you have three different options: 300, 600, or 900 DPI. 300 DPI is suitable for large text, but can get a bit fuzzy if the print is very small. At 600 DPI, you'll be well-equipped to handle most of your scanning needs. And if you need ultra-fine detail, 900 DPI provides the option to capture even the smallest letters and image details. Now, even 900 DPI isn't going to get you an image that's "print shop quality", but it's more than good enough for reading.
You also get your choice of formats. On the TravelScan Pro 300 itself, you can choose to save scans either as JPEG or PDF. You can also switch between color, grayscale, and black & white. Black & white is best for saving disc space while scanning blocks of text. Color is best for just about anything else. Greyscale has limited uses; for example, scanning a weekday newspaper article with some greyscale photos.
If you want a portable scanner, but you're not a fan of the TravelScan's wand-style design, there are other options. There are several portable scanners on the market, and we recently reviewed the best. These options all have a pass-through design, and we'd highly recommend any of them.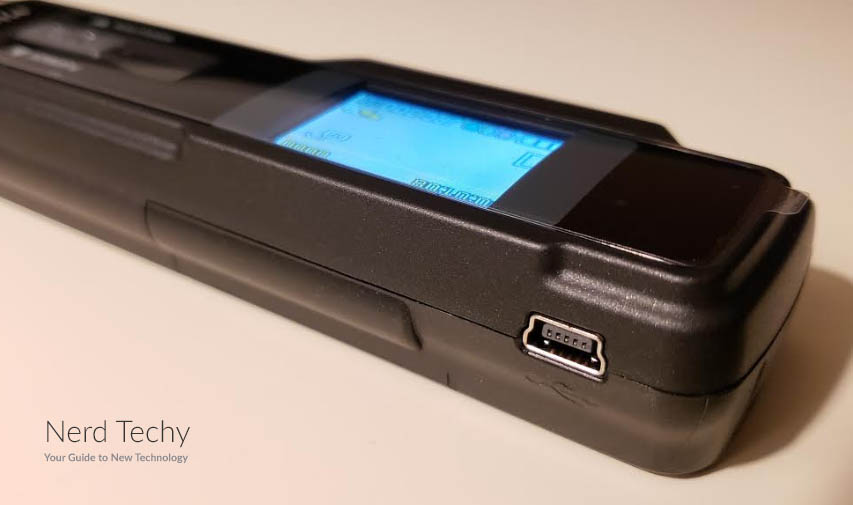 Connectivity & Formatting
There are two ways to transfer files to your computer for editing. The first is simply to use a Micro USB cable, which is included in the kit. Alternatively, you can pop out the 32GB SD card and insert it in your card reader. This is useful if you need to carry files to a third location. You won't to mess around with transporting the entire TravelScan unit.
We've already talked about the fact that you can scan to either JPEG or PDF format. But what other options do you have when you plug the TravelScan into your PC?

To begin with, Ambir's AmbirScan Stitching software lets you put together a series of scans into a single image. Suppose you had to scan a large page, and had to make 2 passes. No problem. You're taken care of. But AmbirScan Stitching offers a lot more than that. You can stitch together up to 10 scans. As a result, you're not limited to scanning book-sized images. Posters, blueprints, and other large documents are easy to piece together after the fact. This can come in handy for a wide variety of purposes. We're excited that Ambir has managed to pack so much power into such an unassuming package.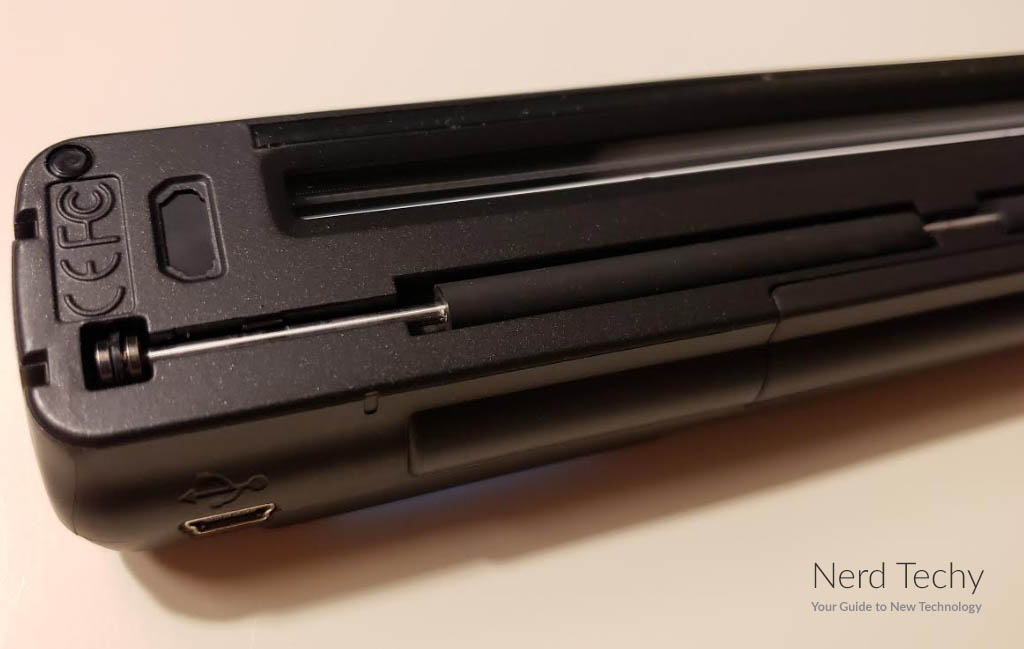 Once your scans have been stored, you have even more options. The AmbirScan software is capable of converting your files into a variety of formats. In addition to the obvious PDF and JPEG formats, you can also save your scans as Word or Excel files. Obviously, Word is going to work best for raw text, while Excel should be reserved for tables. But what really makes the AmbirScan software shine is its ability to make your files searchable. It has built-in number and letter recognition, so your files will be truly searchable. No more saving images in a Word doc simply for readability. The TravelScan delivers the real thing.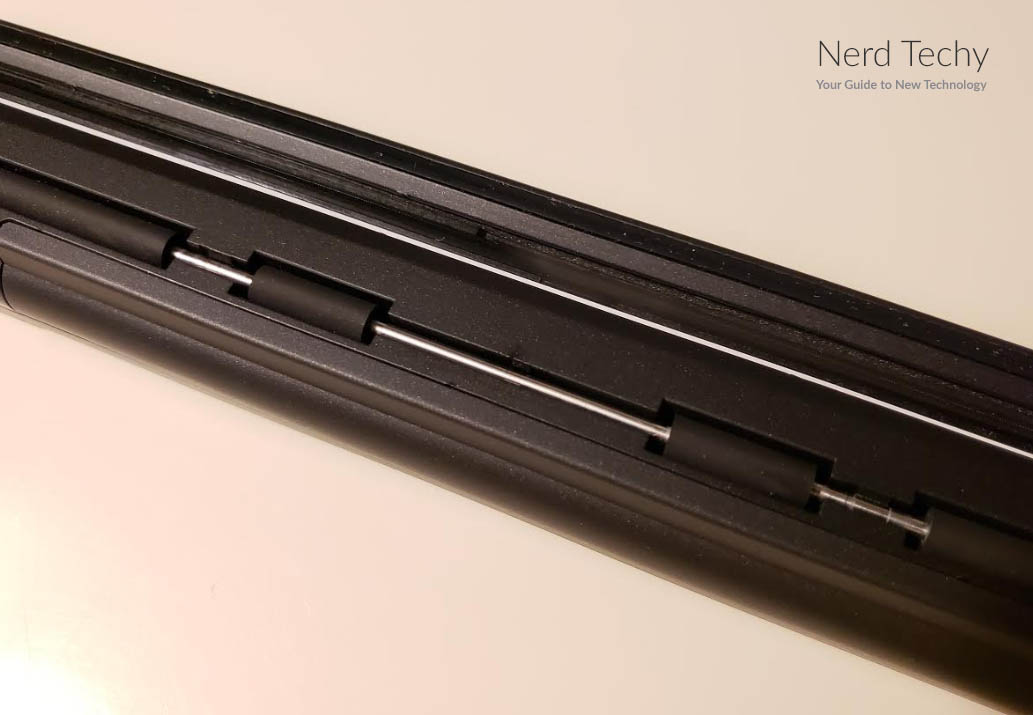 About the only thing the TravelScan can't do is capture 3D images. Admittedly, this is a niche market, but it's growing every day. If you need one, we've listed the best 3D scanners available. Any of those options would be an excellent choice.
Final Verdict
So, how well does the Ambir TravelScan Pro 300 compare to the competition? To be honest, it performs quite well. But let's first look at the negatives, so we can draw a fair comparison.
There are two elephants in the room here. The first is that 900 DPI isn't actually that good. There are much more powerful scanners on the market. The second is that you can oftentimes get the same result by snapping a picture with your smartphone. So why would you want a scanner?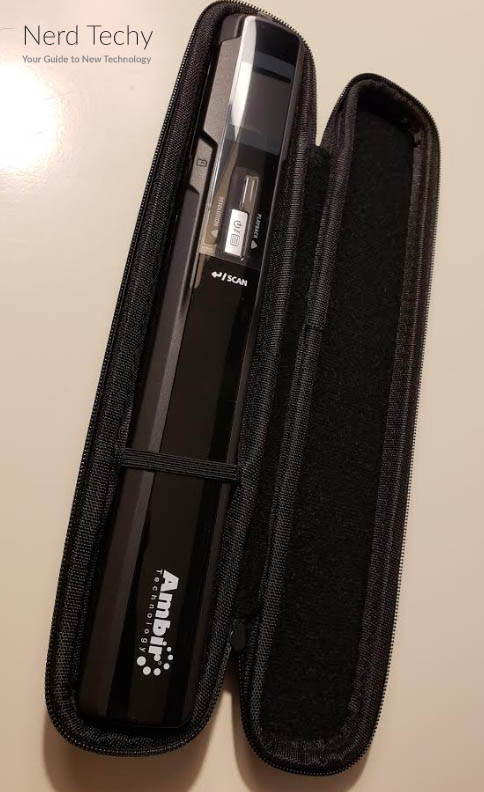 To address the first point, let's compare apples to apples. Sure, there are desktop scanners that offer well north of 1,000 DPI. But they're much larger than the TravelScan. They have plenty of space inside for advanced optics and image processing. Considering its compact size, the TravelScan's image quality is top notch.
The second is the smartphone question. And yes, if you just need a JPEG image of a page of text, all you need is a smartphone. But the TravelScan brings a lot more to the table. To begin with, it allows you to save in a variety of formats. It also offers text recognition, so you can save in editable Word and Excel documents. Finally, smartphones have their limits. If you want to take a picture of a giant blueprint, you're not going to have all the fine details you need. Conversely, with AmbirScan software, you can produce an enormous, finely-detailed image. That alone is worth the price of admission.