These days, many people don't even own a camera. Why would you need one? Unless you're engaging in GoPro-worthy adventure sports, modern smartphones are generally more than good enough. But there are still some things your smartphone can't do. While some smartphones have a panorama mode, they rely on a steady hand. And your 360-degree image will be limited to still photos only. There's still no way to take a panoramic video with your smartphone. So what do you do?
The obvious solution is to buy a 360-degree camera. Enter the RICOH Theta SC2. This is an upgraded version of the popular Theta 360, which is an impressive camera in its own right. We put the new Theta to the test, to find out what it's capable of. And now, we're going to spill the beans on everything we learned. Let's begin!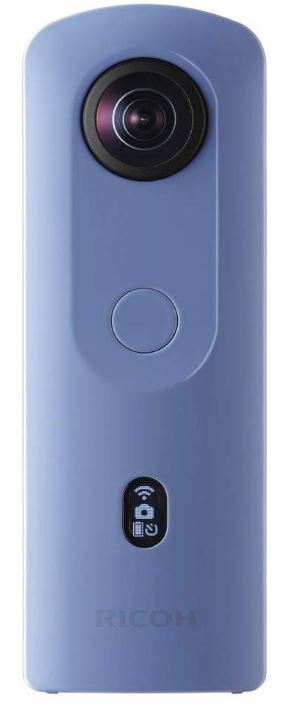 Design & Construction
The RICOH Theta SC2 is a stick-style camera. It measures 5.1 inches long, 1.8 inches wide, and just under an inch thick. At 4 ounces, it's about the same weight as an iPhone, and it feels just right for the size. In your hand, it feels like a TV remote. The shutter control is a large button on the front of the case, and is operated with your thumb.
Along the side, you'll find a set of buttons that switch between different camera modes. On the bottom of the unit, there's a Micro USB port, which is used both for charging and for data transfer. There's also a threaded hole that's compatible with standard monopods. Be careful. A lot of the marketing photos show people holding the Theta SC2 with a monopod. And while that's a great idea, you should be aware that there isn't actually a monopod included in the kit.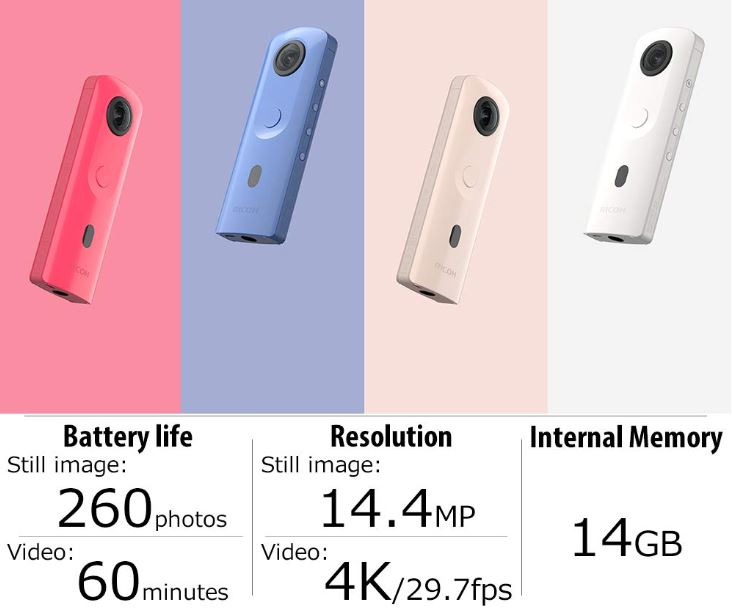 The case itself is constructed from ABS plastic, which is double-molded for extra strength. This makes it as tough as your average cell phone case, without the delicate smart glass screen. It's available in four attractive colors: beige, blue, pink, and white. If you're looking for a camera that matches your favorite accessories, you'll have plenty of options. Near the top of the case, there's pair of 180-degree fisheye lenses positioned on opposite sides.
As a result, the Theta SC2 provides full 360-degree coverage. The rechargeable battery holds enough charge for 260 photos or 60 minutes of video. Provided you leave the camera off when it's not in use, standby time is excellent, good for a few weeks. Recharging is easy, and only takes about 90 minutes. So even if you run the battery dry taking vacation photos, you'll be back up and running in a hurry.
Of course, if you're not looking for a 360-degree camera, there are far more affordable options on the market. This includes durable outdoor cameras that can handle conditions your smartphone can't. If all you need to do is take pictures in the great outdoors, one of these may be a better choice. We recently reviewed the Canon Ivy Rec. This is a rugged outdoor camera that has a built-in carabineer, and is also small, fun, and lightweight.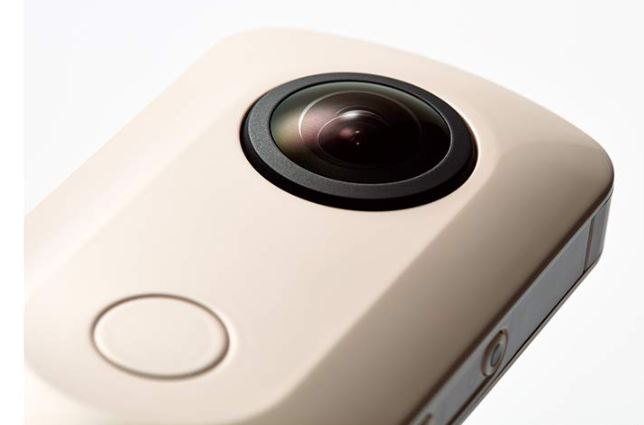 Image & Video Quality
Each of the Theta SC2's fisheye cameras has a resolution of 12 megapixels. We appreciate that megapixels are an important measure of quality. But most people are more concerned about resolution, so we did the research. It works out to 5376 x 2688 pixels, which is equivalent to 4K. If you're looking for exceptionally crisp pictures with tons of detail, there's a lot to like about the Theta SC2.
You'll also be pleased with the quality when recording video. The SC2 is capable of recording 4K video at 30 frames per second, excellent performance for a mid-priced camera. You even get a built-in microphone for recording audio. Actual audio quality is only so-so, which is to be expected for a built-in mic. It's not going to give you studio quality sound. But it's more than good enough for recording vacation videos or your kid's graduation party.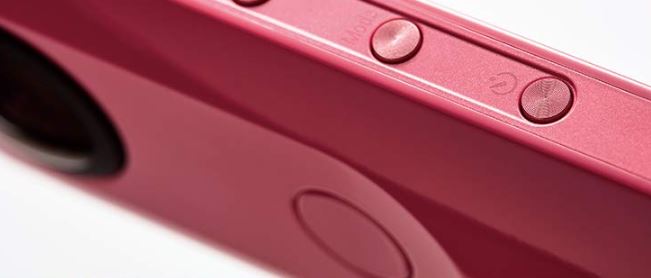 The Theta SC2 has three special intelligent shooting modes. These aren't necessary for regular operation, but they're great options if you want to get the best possible pictures.
To begin with, there's a "Face" mode. This mode automatically detects human faces. If you're snapping a picture with a couple friends, Face mode will automatically position you at the center of the image. This will be the case no matter how the camera is oriented, and it's a great touch for a 360 camera. However, it's only marginally effective if there are many people spaced out throughout the photo. That said, you might want to use this mode even for large group photos. In addition to recognizing faces, the SC2 uses noise reduction technology. This smooths out skin in pictures, so you'll look even better than you do in real life.
There's also a "Night View" mode. Now, we need to be clear about what we're talking about. This isn't the same as night vision. So if you were hoping to snap pictures in total darkness, you're going to be disappointed. Night View mode is designed for low-light situations, not no-light situations. It increases the camera's dynamic range, which brings out some darker colors that might not otherwise be visible. It also uses noise compensation, which reduces the fuzziness you'll see in a lot of low-light digital shots.
Finally, there's also a "Lens-by-Lens Exposure" mode. This mode allows the SC2 to adjust settings independently on the two different lenses. If it's darker on one side than the other, this can improve your overall image quality. This is a great choice for photos where lighting isn't consistent from one side to the other.
The SC2 has 14GB of memory. Your recordings and photos are stored on an internal SSD. While 14GB isn't incredibly large, you'll have plenty of opportunities to free up space while you're on the go. We'll talk about those more in a little bit.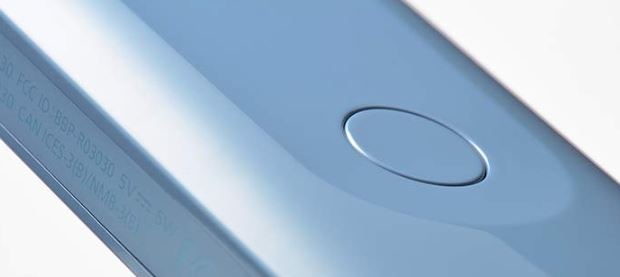 One thing the RICOH Theta SC2 doesn't do is security. If you want to secure your home, you're going to want a dedicated security camera. Preferably, you'll want one with motion detection and night vision. If that's what you need, consider the Blurams Outdoor Pro. It's a powerful 1080p wired camera that offers plenty of nifty home security features.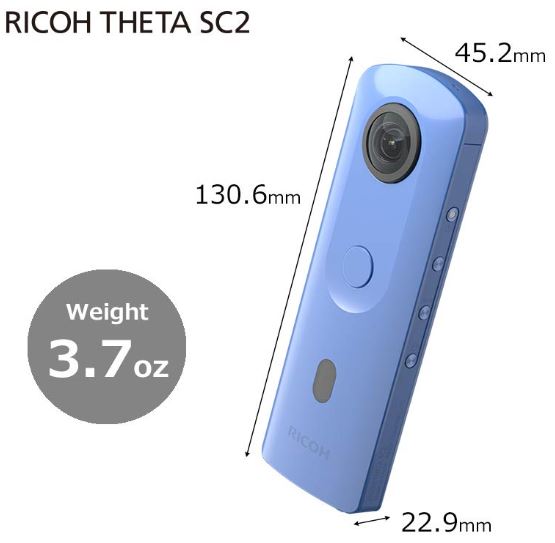 Extra Features
When you want to retrieve your photos and videos, RICOH gives you plenty of options. The most obvious choice is to transfer your data to a PC with a Micro USB cable. This is easy to do, since your Windows machine will recognize the Theta SC2 as an external drive. That said, you can also use the Theta+ app, which is available for free on iOS and Android.
The app gives you several different options. You can use it to upload your photos to the cloud. They'll be available on the Theta website, and you can download them to your PC or smartphone later on. In addition, you can upload your 360-degree videos to YouTube. You can also upload both photos and videos to Facebook once you've configured your app. These options require a WiFi connection to your smartphone. You'll either need to be on a WiFi network, or use your phone as a mobile hotspot.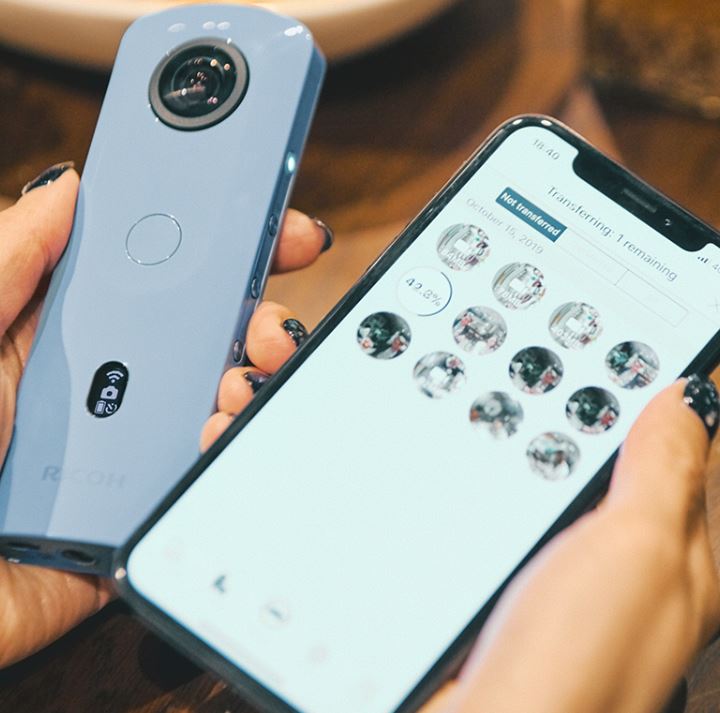 The Theta+ app also allows you to perform some basic photo and video editing. You can zoom in to get a better look at your primary subject. You can also crop the images and videos. Although this defeats the purpose of a 360-degree camera, we can see how this would be useful. Finally, you can adjust the brightness and color saturation to improve image quality. Obviously, it's not as good as Photoshop, but it's a great option to have when you're on the go.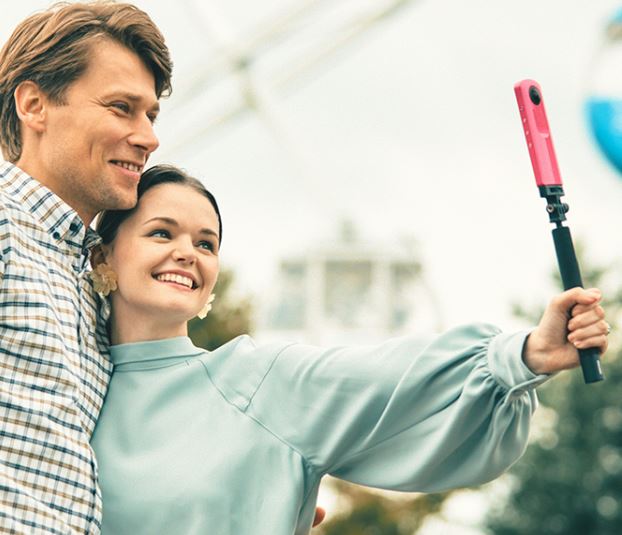 If you need a discreet camera, the Theta SC2 won't be your best choice. With its fisheye lenses and large, colorful profile, it's fairly conspicuous. For quality images and a discreet camera, the Taococo Full HD Mini Spy Camera is an excellent choice. Not only is it portable, you can also use it to keep tabs on a babysitter, house cleaner, or contractor.
Final Verdict
The RICOH Theta SC2 is one of the more impressive cameras we've reviewed lately. To begin with, the main attraction is the ability to capture 360-degree images without using your smartphone's panoramic mode. But there's a lot more to love.
The image quality is some of the best you'll see on today's camera market. 4K is quickly becoming the new standard, much like 1080p was the best choice for the past decade. The ability to capture 4K images is by no means unique. But the 360-degree capture makes it even more important. The larger your field of view, the more area your photo is covering. As a result, we were very impressed with the resolution. The app is also a nice touch, and provides plenty of options for editing and sharing. For vacation photos, this is an excellent added bonus.