Not too long ago, a "smart" home security camera meant a camera with a person watching the feed. But thanks to advances in facial recognition and artificial intelligence, that's no longer the case. A well-engineered modern smart camera can recognize friends and family, and even alert you when strangers are present. But there's a lot more to a good camera than just the extra features. You've also got to consider basic features like video quality, waterproofing, and data storage. Otherwise, you're looking at a novelty item, not a serious camera.
We're about to take a long, close look at the blurams Outdoor Pro Smart Outdoor Security Camera. This little camera is designed to mount outside your house, although it can also be used indoors. It has a wired design, and can store your video both on an SD card and in the cloud. But there's a lot more to look at. Stick with us, and we'll tell you everything you need to know about this slick new camera.
One thing we should point out is that the Outdoor Pro is a single camera, not a set. It's ideal for positioning near your front door, or near a back entrance that's frequently used. If you're looking for a complete kit, the TP-LINK Kasa Spot is a great choice. It's a set of three WiFi cameras, and offers a lot of value.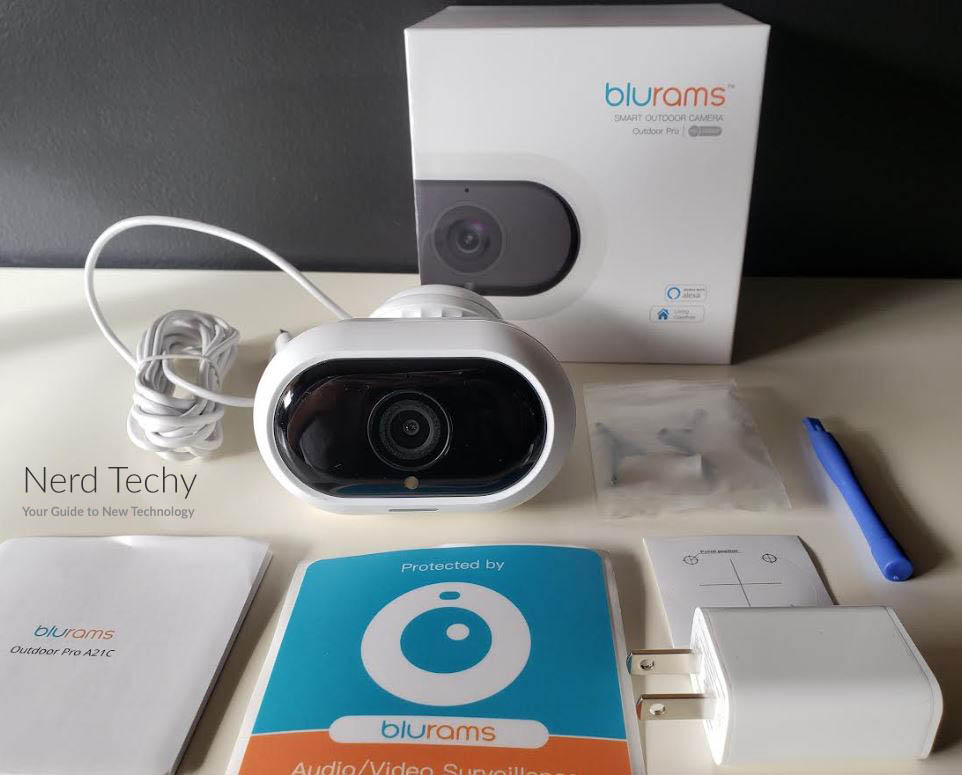 Look and Feel
The Outdoor Pro is a compact camera that measures almost 4 inches wide and 4 inches deep, and just under 3 inches high. Its wide, flat profile is designed to accommodate infrared LED lights. These are invisible to the naked eye, concealed behind the Outdoor Pro's black face plate. The lens is located in between. On the bottom of the camera, a green LED indicates when the Outdoor Pro is powered on. Besides the black face, the rest of the frame is constructed from white ABS plastic. It has a beveled front edge and the sides are slightly curved. All in all, it has a contemporary appearance that's easy on the eyes.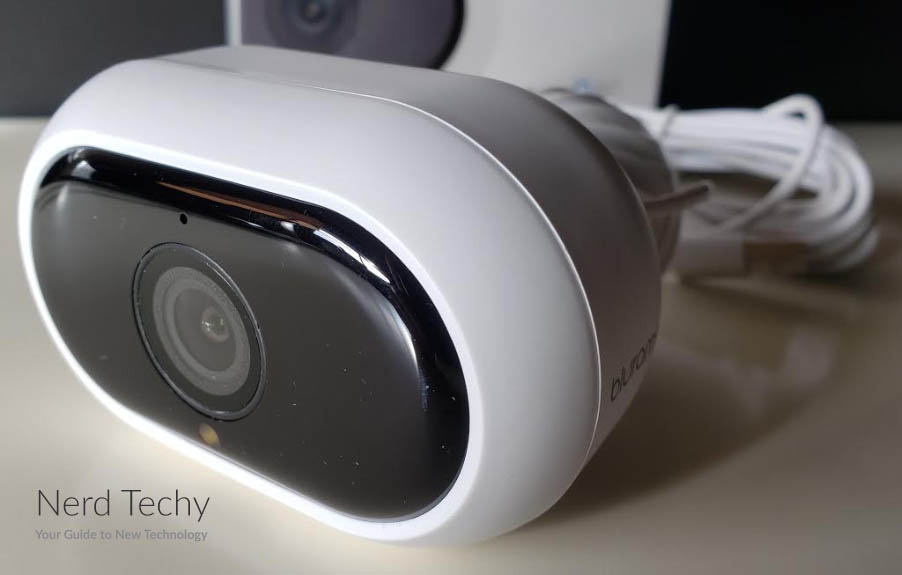 Setup and Installation
The Outdoor Pro is built for outdoor use. It has an IP65 water resistance rating, so you don't have to worry about getting it wet. It will easily stand up to driving rain and powerful winds. In addition, it's also tough enough to withstand a wide range of temperatures. From -4 degrees all the way up to 122 degrees Fahrenheit, the Pro Spot will continue operating without a hitch.
All the mounting accessories you need are included in the package. Simply screw the bracket into your exterior wall, and follow the instructions to attach the camera to the bracket. The Micro USB cable comes complete with an AC adapter, making it easy to supply power. However, it's only 6 feet long. So unless you have a power outlet right next to the camera, you'll need to invest in a USB extension cord. If you need a truly wireless camera, the Litmor Battery Powered Security Cam is a good choice. It's even rated for outdoor use.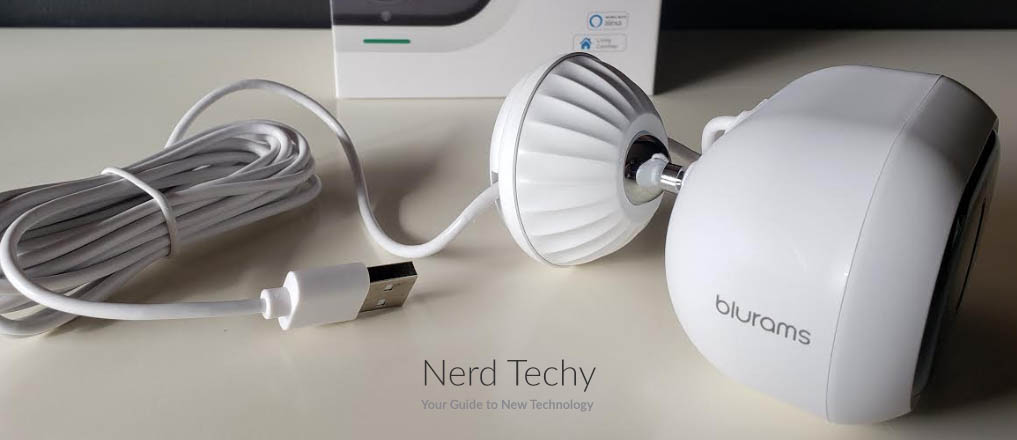 Next, you'll need to download the blurams app, which is available for free for iOS and Android. Power on your camera, and follow the instructions to pair your camera with your app. That's all it takes to get up and running. We'll talk more about the app and it's features in a little bit.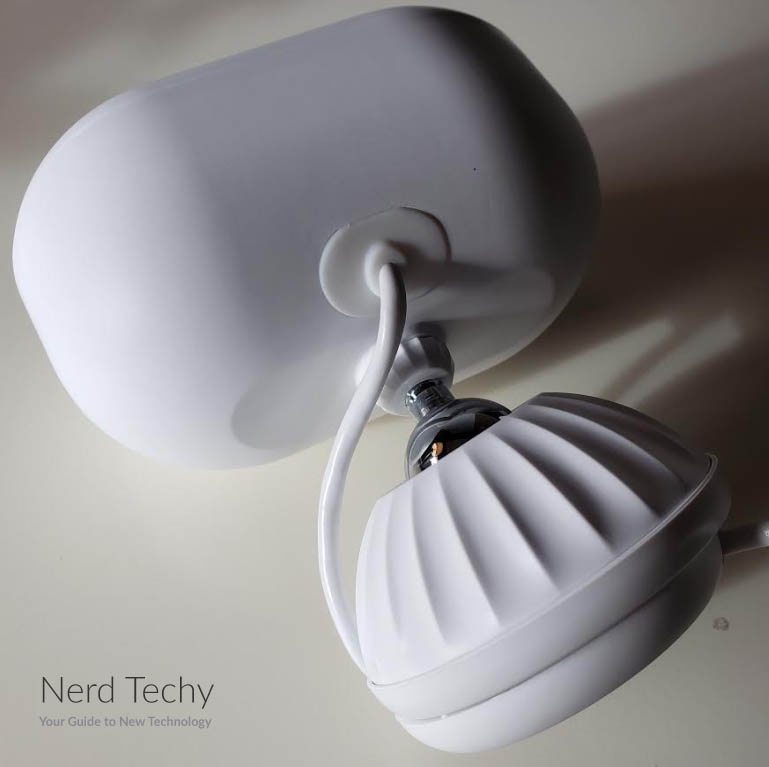 Video and Audio
The Outdoor Pro records video in full 1080p, providing plenty of clarity for most purposes. But resolution is only part of the story. It's equally important to consider the overall image quality, including color vibrancy. There, you'll have no problems. The Outdoor Pro utilizes a Sony CMOS Sensor, which is as good a light sensor as you're going to find in this price range. For night vision, you get built-in infrared LEDs. An infrared cut filter will automatically switch to night vision mode when it starts to get dark. The night vision quality is impressive, with excellent clarity, although you obviously won't get color video.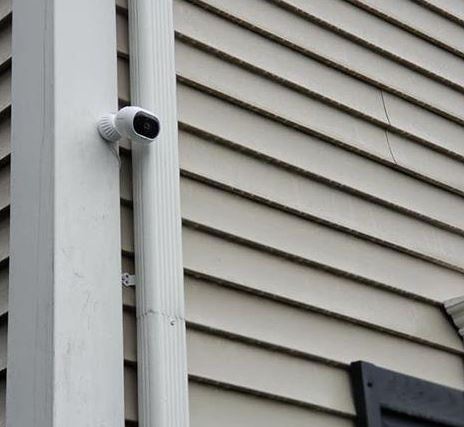 By default, the Outdoor Pro does not record audio, although you can turn that setting on in your options. The audio quality would best be described as reasonable. You're not going to be recording the next Mariah Carey album with it, but it's just fine for conversation. Considering that this is a security camera, not an entertainment camera, we were more than satisfied.
File Storage
For storage, you'll have two different options. The first is to record video directly to an SD card. The Outdoor Pro will accept SD cards anywhere from 8GB to 128GB in capacity. It will automatically loop the recording, which means it will constantly overwrite the oldest video on the card. The second option is to use blurams' cloud service. Cloud data is stored on a secure server, and is saved for a rolling 7-day period. It's free for the first month, but there's a fee afterwards. That said, it's reasonably-priced, and it's a great value if you want 24/7 offsite access to your recordings.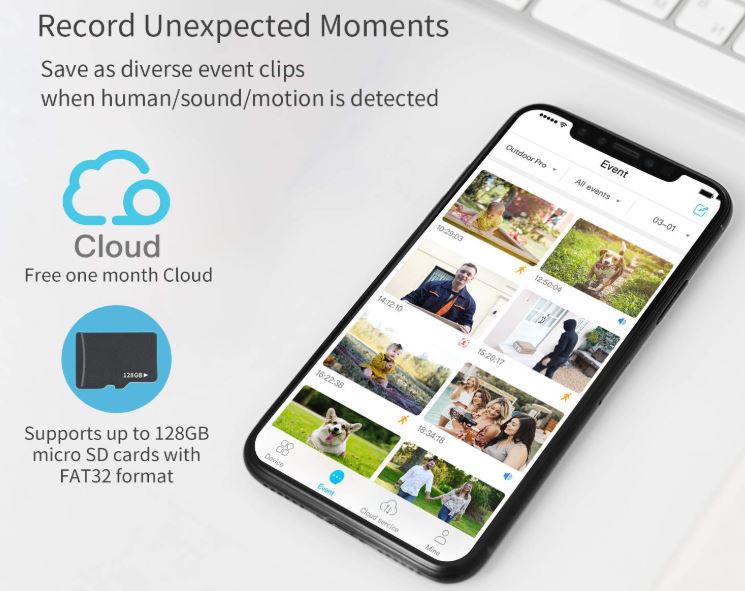 The only thing the Outdoor Pro doesn't offer is 4K video. And there are legitimate reasons to consider a 4K camera. For example, you might want to read a license plate from 50 feet away. Or maybe you want to be able to identify people from a long distance. Either way, the Defender 4K is a good way to go. It comes in a set of 4, and includes a base station for control.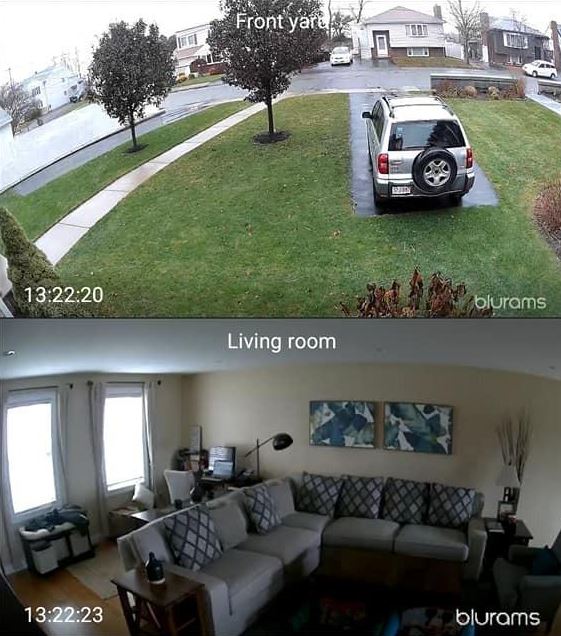 Smart Features
The main attraction of the Outdoor Pro is its smart, advanced AI features. These are what set it apart from most other WiFi cameras, most of which aren't quite as capable. The AI is designed with facial recognition technology, so it can be programmed to respond to individual people. It will remember up to 16 different individuals, more than enough for friends, family, and regular visitors like contractors. Using the mobile app, you can set the camera to send alerts to your phone, letting you know who's there.
It can also be programmed to send alerts to your phone if a stranger shows up on your porch. Whether or not you get any value out of this feature is a personal decision. If you don't often get visitors, it can be extremely useful. However, it can also get annoying, particularly if you receive frequent deliveries, or if your mail is delivered to your porch. Either way, it's a nice option to have, and you can always turn it off if it's annoying you.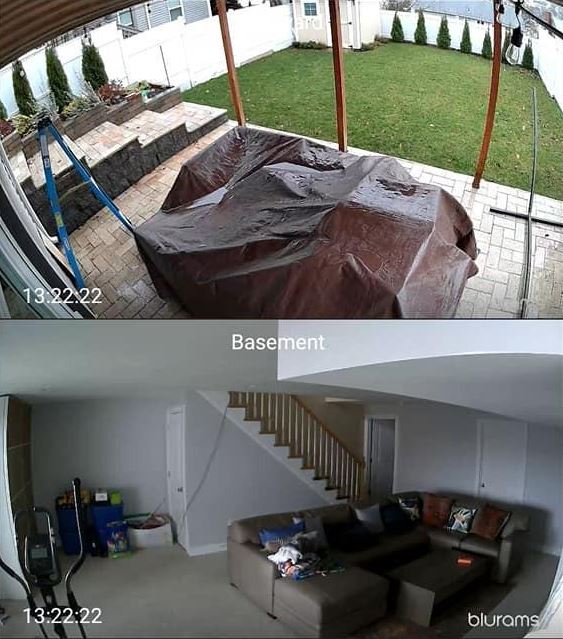 You can also turn off push notifications altogether if you prefer. This is useful if people are frequently coming and going and you're tired of your phone going off. Notifications work not just on iOS and Android phones, but also on the Apple Watch. Obviously, the value of watching video on a tiny watch screen is useful. But it's still an easy way to keep track of when your kids are getting home from school.
Advanced Home Security
In addition to watching video on your phone or smart watch, you can also view video on Alexa-enabled displays. Because cloud storage is saved on Amazon Web Services servers, the connection is seamless and secure. You can use this method both for watching recorded clips and for viewing a live stream.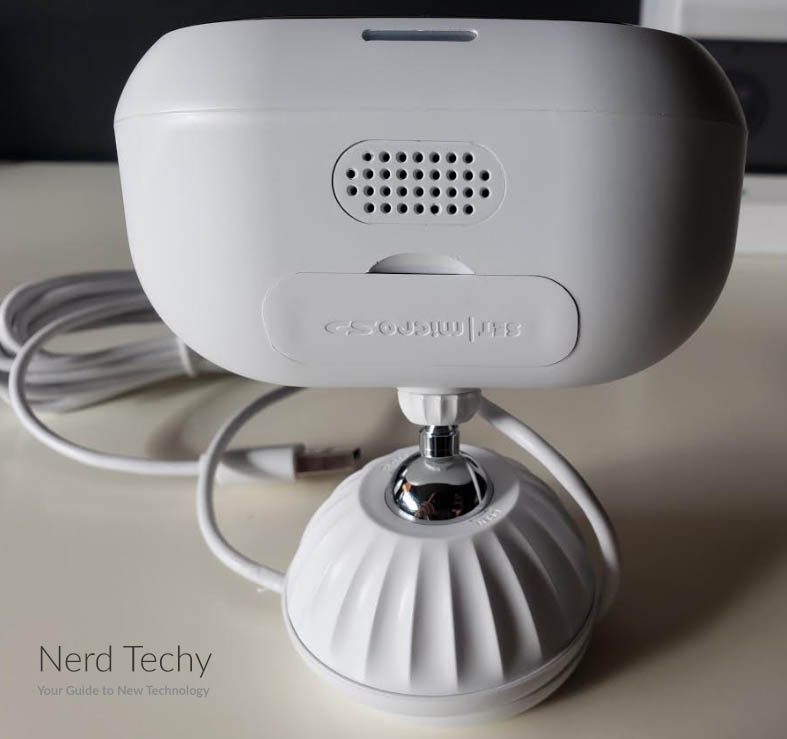 Another smart feature is the built-in motion detector. With motion detection activated, you can receive a push alert every time something moves in front of the camera. If you're going to use this feature, we recommend keeping the sensitivity as low as possible. Otherwise, squirrels and other wildlife will constantly set your phone off, defeating the purpose of the alerts.
Along with the facial recognition, you get an optional siren and strobe light. These can be programmed to go off when someone approaches that the camera doesn't recognize. They won't actually call the police, but they'll scare a criminal and let them know someone is watching. We repeat, this is optional. If you frequently get deliveries, you'll probably want to turn the alarm off. Otherwise, you'll just be scaring your UPS and GrubHub drivers.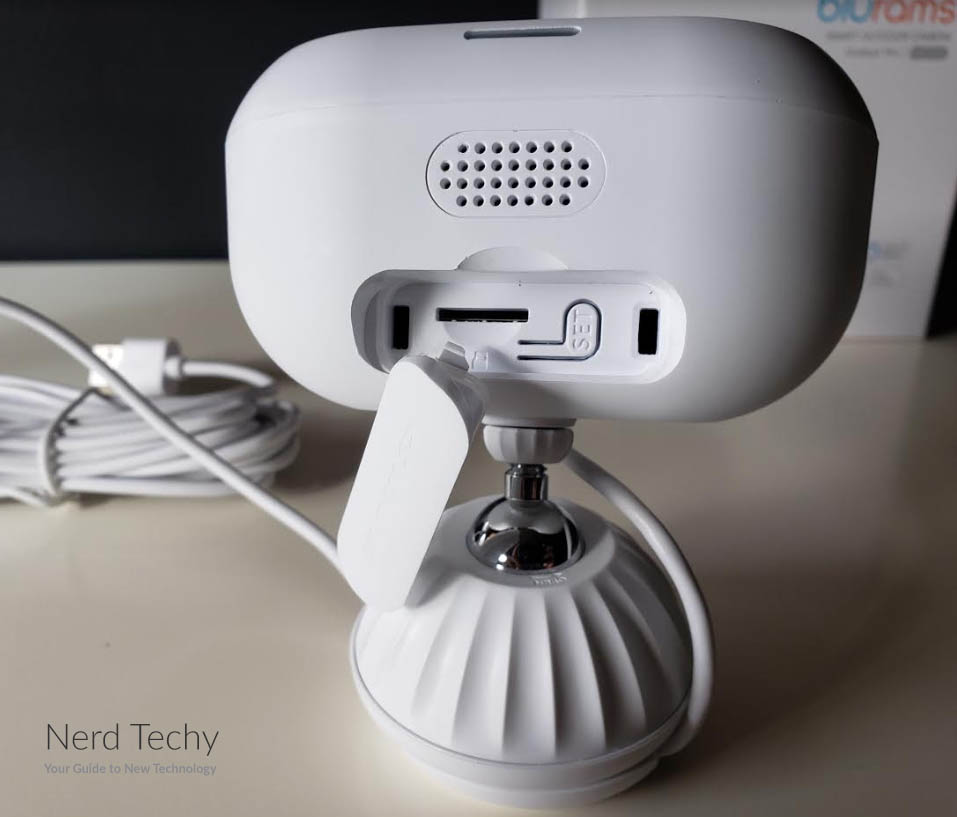 Two Way Audio
Another, more reasonable option is the two-way audio. This allows you to talk with friends, family, drivers, and anyone else on your porch. Because this feature works through the app, you can greet people remotely, even if they've stopped by while you're at work. The audio quality is about what you'd expect from a speaker phone. So it's not incredibly impressive, but it's more than good enough for saying hello. It's especially useful for talking to delivery drivers. For example, you can tell the FedEx driver to leave your package around the side of the house.
Finally, the Outdoor Pro comes with a special privacy option. Using the app, you can mark off parts of the screen that are considered "private". Those parts of the screen will be blurred in the recording, preserving your privacy. This is especially useful if your camera's angle causes it to point towards a neighbor's property. Some neighbors don't like being recorded. With this feature, you can assure them that you're only recording your own property, not theirs.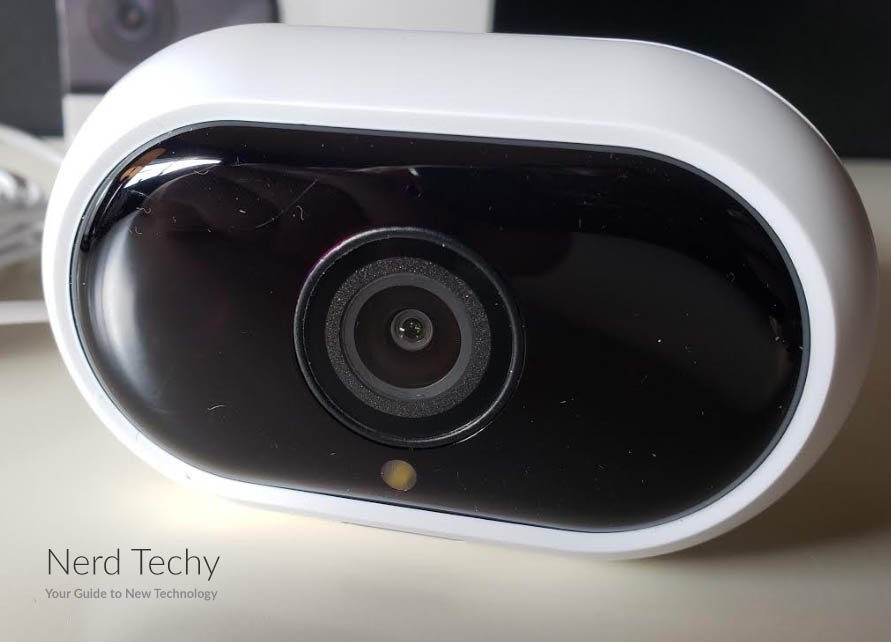 Final Verdict
At the end of the day, the blurams Outdoor Pro is one of the better cameras we've looked at. The image quality isn't exactly impressive, but it's good enough to do the job. And the night vision mode is very clear, providing plenty of detail in low-light conditions. Catching a nighttime prowler is more than realistic with this camera.
However, there are plenty of good security cameras on the market. Some of them even offer better picture. What makes the Outdoor Pro stand out are all the smart and AI features, which are truly some of the best available. We're particularly pleased with the facial recognition, since this allows the camera to do a lot of work for you. With most smart cameras, you either get alerts or you don't. But with the Outdoor Pro, you only get alerts when you want them. Want to be notified when a stranger shows up? You can do it. Only want notifications for certain people? You can do that too. This can save you a lot of annoyance and frustration.
Meet Derek, "TechGuru," a 34-year-old technology enthusiast with a deep passion for tech innovations. With extensive experience, he specializes in gaming hardware and software, and has expertise in gadgets, custom PCs, and audio.
Besides writing about tech and reviewing new products, Derek enjoys traveling, hiking, and photography. Committed to keeping up with the latest industry trends, he aims to guide readers in making informed tech decisions.