In recent years, smart plugs have become some of the most popular energy-saving devices on the market. They allow you to run your appliances on a set schedule or simply prevent waste due to "vampire power". Even better, they give you the ability to turn power on and off remotely, using your smartphone.
But not all of our power needs are indoors. With more and more outdoor devices relying on electricity instead of gas, there's increasing demand for outdoor power options. Today, we'll be looking at three of the most popular outdoor smart plugs available online.
Before we continue, though, it's important to understand what we're talking about. We're talking about smart plugs, not mere timers. These plugs come with apps, and you can control them from your smartphone. If you're just looking for a simple timer, there are better options. We recently reviewed the best automated light switch timers, and they're a much better option for indoor use. There's no reason to overspend on a smart plug when a simple timer will do.
And while you're looking at outdoor power supplies, why not extend your wireless range? Take advantage of your new outdoor smart plug, and install an outdoor WiFi range extender to match. Not only will you be able to connect more devices, but you'll save on data costs.
But there are more benefits to a smart plug than just cost savings. Want to control your sprinkler system from the other side of the country? An outdoor smart plug can do it. Want to operate outdoor lights without needing to flip a switch? An outdoor smart plug will get the job done. Now let's dig in, and see what these plugs have to offer.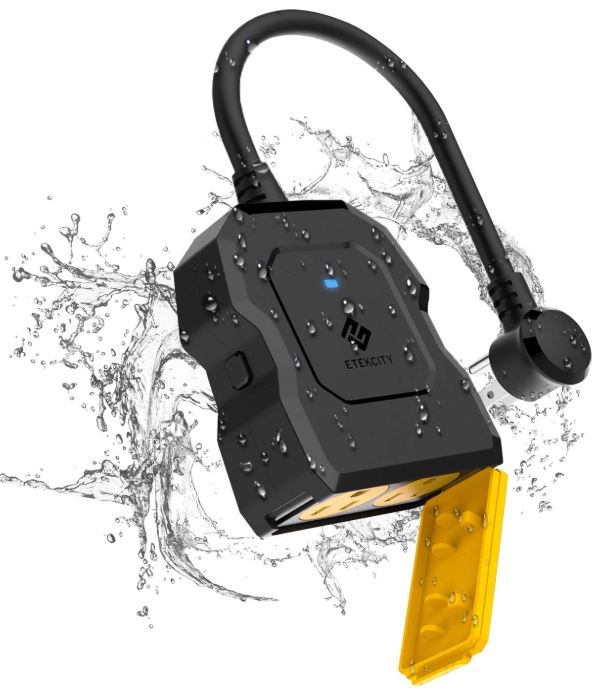 Etekcity Outdoor Smart Plug
The Etekcity Outdoor Smart Plug is a duplex plug that plugs into your existing outdoor power outlet. It's big, it's fat, and it's powerful, with a 10-gauge cord that can handle a lot of abuse. It's also rated for water resistance, with an IP44 rating. Rain, sleet, and snow are no obstacle. The Etekcity Outdoor Smart Plug will continue to operate effectively even in the worst of conditions. But that's just a matter of weatherproofing, and there are plenty of weatherproof outdoor power outlets. The truly impressive thing about this smart plug is just how versatile it is.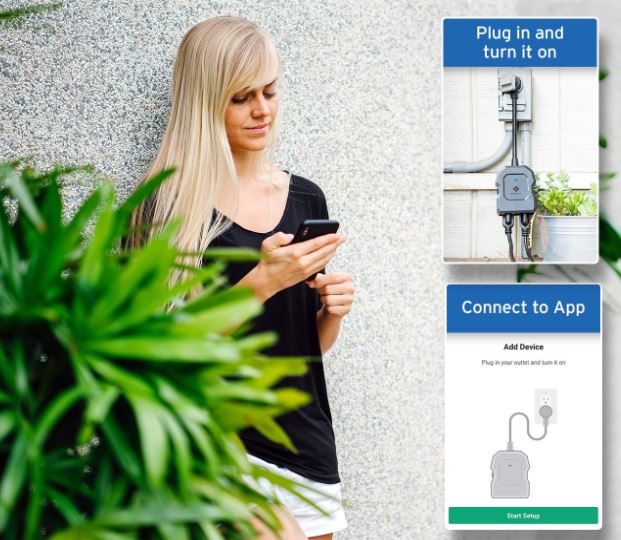 Syncs With the Sun
To begin with, there's a sunrise/sunset option. This is mostly designed for lights, and it's understandable why that would be the case. For example, suppose you have a set of patio lights that's designed to deter burglars? Wouldn't you want those lights to come on on a regular basis? Yes, you could use a standard light-sensitive switch, but those don't necessarily save any power. On the contrary, they burn through vampire power like nobody's business. This is because the light sensor needs to remain constantly active. It's not a "smart" device. It's just sitting there, active, looking for sunlight.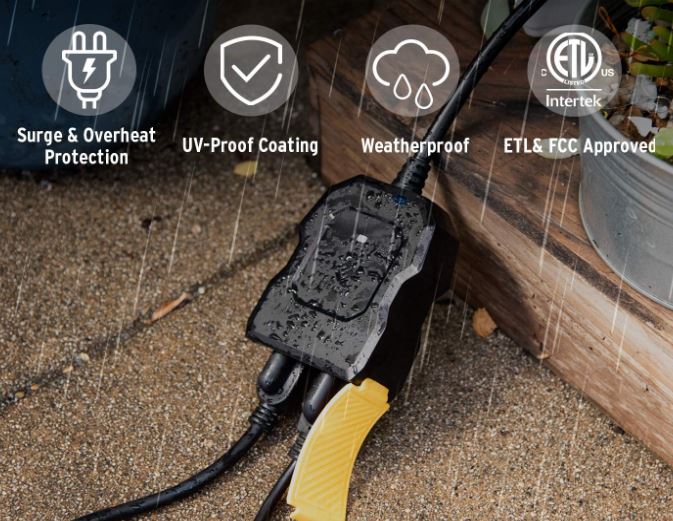 With Etekcity's sunrise/sunset feature, your lights will automatically activate when the sun goes down, and they'll also shut off at sunrise. No light sensor is required. Simply your location. Once you set your location in the app, the Etekcity Outdoor Smart Plug knows when your local sunrise and sunset times are. In sunrise/sunset mode, it will turn on and off accordingly.
The Etekcity app also allows for voice control. Not only can you operate it through the app, but you can use your favorite voice control app. It's compatible with both Amazon Alexa and the Google Assistant, so you'll have plenty of options. Keep in mind, though, that Siri support is still upcoming, but it's not available yet. If you're a hardcore Apple user, you'll want to choose a different smart plug.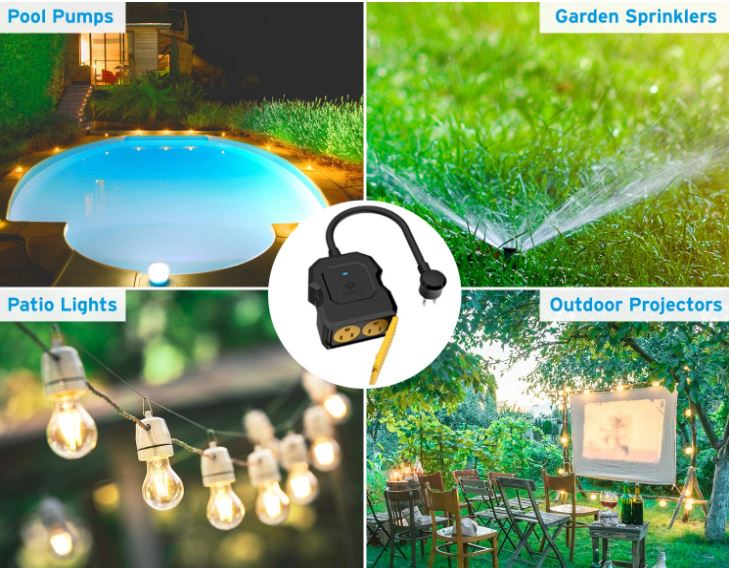 More Options
But you're not limited to just a simple daytime/nighttime schedule. Using the Etekcity app, you can also set your own schedule. Want your lights to come on at 6 AM? It's easy. Want them to shut off at 10 PM? Equally easy. Press a button, and it's done. Not only that, but the Etekcity offers constant energy monitoring. If you need to know how much electricity you're using, it's as simple as using the app.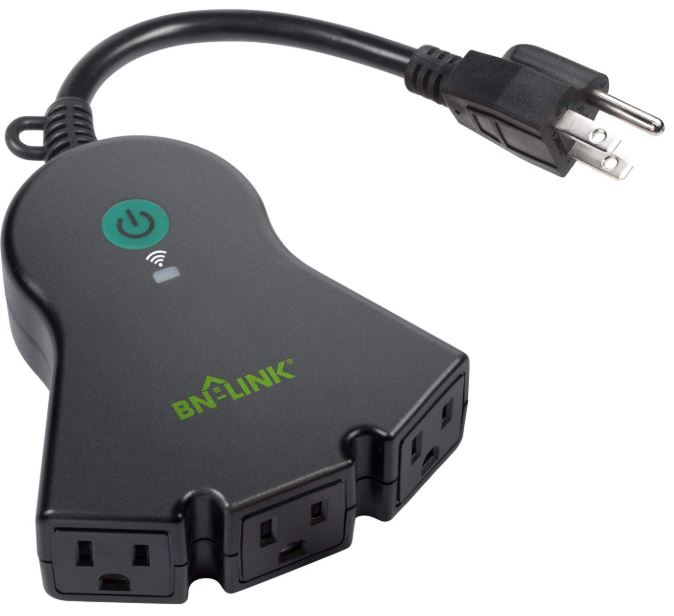 BN-LINK Smart WiFi Heavy Duty Outdoor Outlet
The BN-LINK Smart WiFi Heavy Duty Outdoor Outlet truly lives up to its name. It's tough, it's beefy, and it supports a trio of 15-amp outlets. If you're powering a set of powerful electronic devices, with lots of power demand, it's hard to beat. It's also IP44-rated for outdoor use. Rain storms? No problem. 6 inches of snow? No worries. Constant fog and mist? The BN-LINK will keep on trucking. No matter what your local weather conditions, this smart plug is a great choice. You won't have to worry about your plug. But make sure that your devices are safe for outdoor use. It doesn't magically protect non-waterproof devices.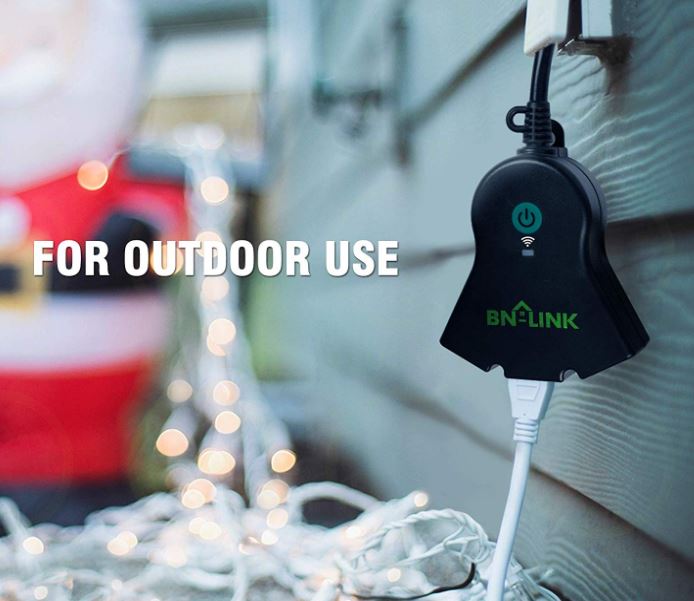 Timing Choices
The BN-LINK is compatible with all smartphone voice controls, including Siri, Alexa, and Google Assistant. This is a significant improvement over Etekcity's offering, which doesn't support Siri. Considering how many people prefer Apple products, this is a tough feature to argue with. The ability to control your devices from your iPhone is a major plus. Want to turn on your lights remotely? You can do it hands-free. Want to run your sprinkler system? Do it with your words. There's no need to use a third-party app for connectivity.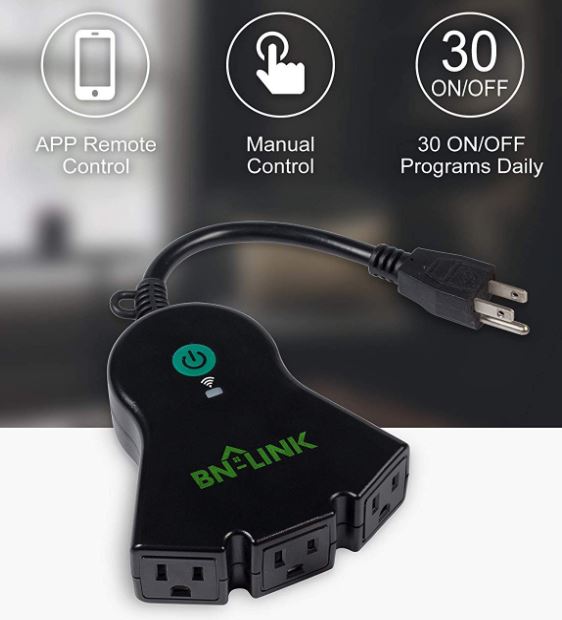 Like the Etekcity Outdoor Smart Plug, the BN-LINK allows for an easier alternative. Not only can you set a timer for your devices, you can also program them to operate based on the day/night cycle. Obviously, this feature depends on setting your device to your local time zone. But this isn't a big deal. The BN-LINK comes with a smartphone app. Provided that you've paired your device, you'll already be ready to go. Turn on at sunset. Turn off at sunup. It's very easy. All you have to do is use the BN-LINK's built-in sunset/sundown function, which makes light control as easy as selecting a single button.
Connectivity
The BN-LINK Smart WiFi Heavy Duty Outdoor Outlet connects with a 2.4 GHz wireless signal. This makes it compatible with a wide variety of routers and wireless devices. If your router was manufactured anytime after the mid-1990s, you'll be able to connect without any problems. The wireless signal is also secured, which means your smart home devices won't be vulnerable to hackers just because you're using an app for control.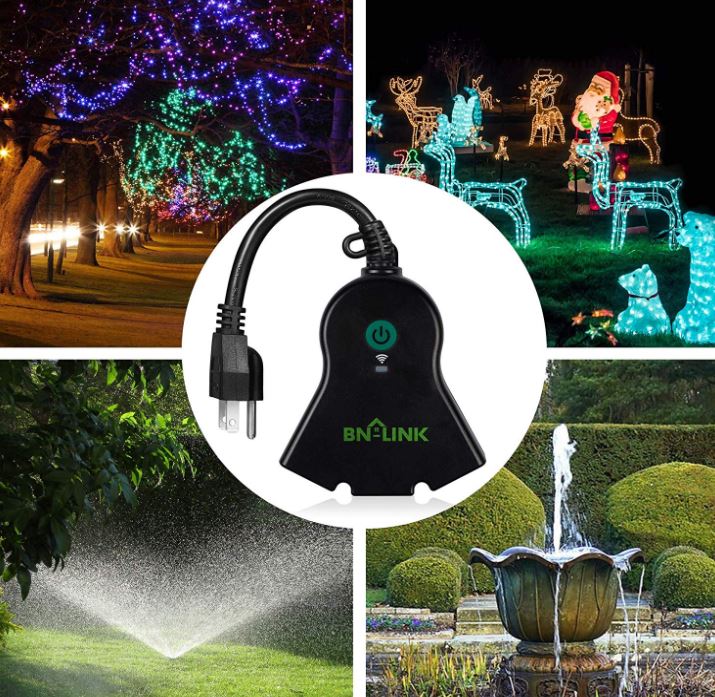 The tether on the BN-LINK is on the short side but that shouldn't be a problem. It's designed primarily as a replacement for a standard power outlet, so it's supposed to be short. But it's important to keep in mind that your device will need a long enough cord to plug in. If you're going to need an extension cord, consider a weatherproof option. Otherwise, you're liable to experience a short-circuit or other serious damage.
The app itself is easy to install. It's called "Smart Life", and it's available on all major app platforms. Whether you're running iOS, Android, or Windows, you'll have the ability to easily control your device from your smartphone. Unlike a lot of brands, BN-LINK allows for connectivity across multiple smartphone providers. No matter what phone you prefer, you'll be able to enjoy their outdoor smart outlet.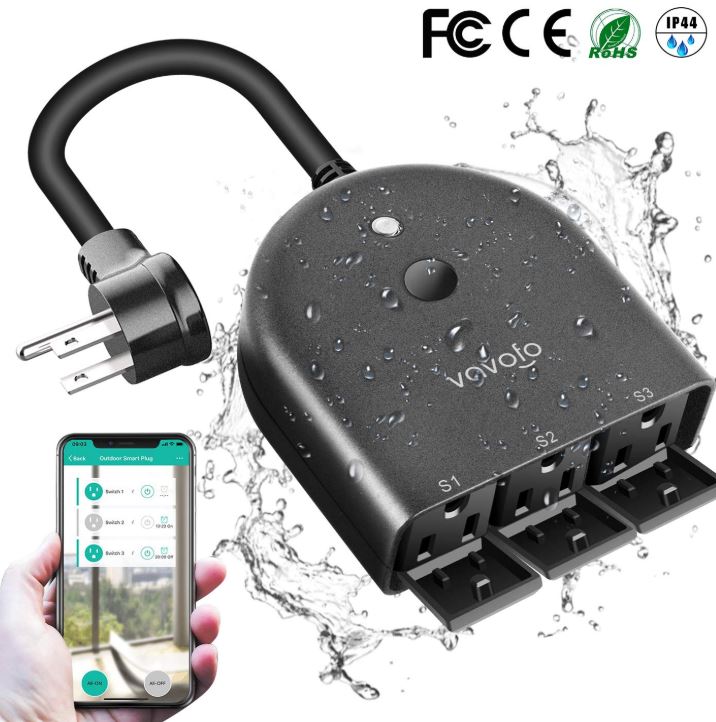 VAVOFO Outdoor Smart Outlet
The VAVOFO Outdoor Smart Outlet is a three-plug outlet that offers an IP44 weather-resistance rating. The plugs each have their own individual cover, which flips open with a flick of your thumb. They also offer 15-amp power with a full 120 volts. As a result, you're going to get enough juice to power all of your outdoor devices, without the need to add any other accessories.
Simply plug in the VAVOFO, connect your device, and you're ready to go. The design is also fireproof. It won't combust until it reaches 750 degrees Celsius. That's obviously not enough to resist a major fire, but it ensures that the VAVOFO will withstand lightning strikes and other everyday damage.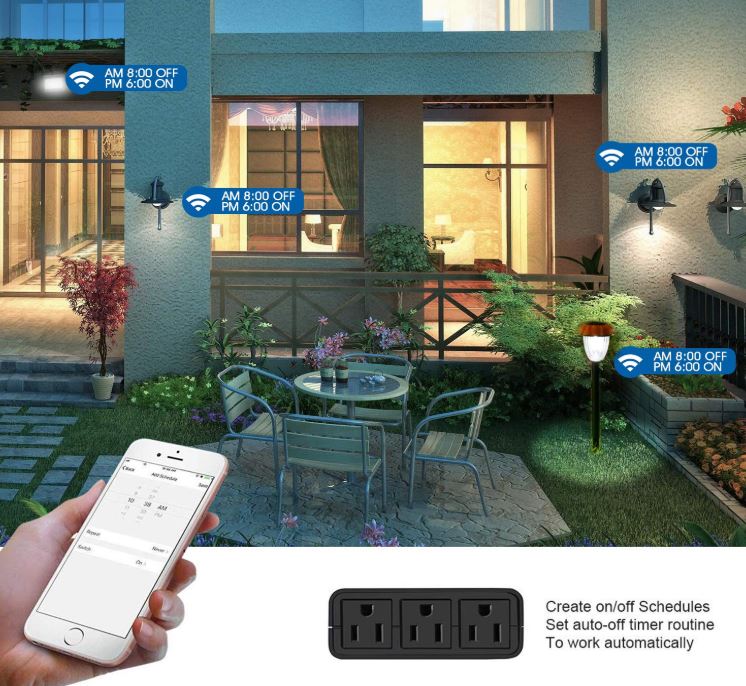 Daytime or Nighttime Use
VAVOFO's outdoor outlet connects to your devices seamlessly via WiFi. It's compatible with a wide variety of smartphone controls. By default, you can use VAVOFO's Smart Life app. It's downloadable for free on Apple, Android, and Windows systems. Not only that, but it lets you choose a localized sunset/sunrise option for lights. As with our previous selections, this is an amazing feature. On its face, this isn't any better than a light-sensitive switch, but in reality, it offers a lot more.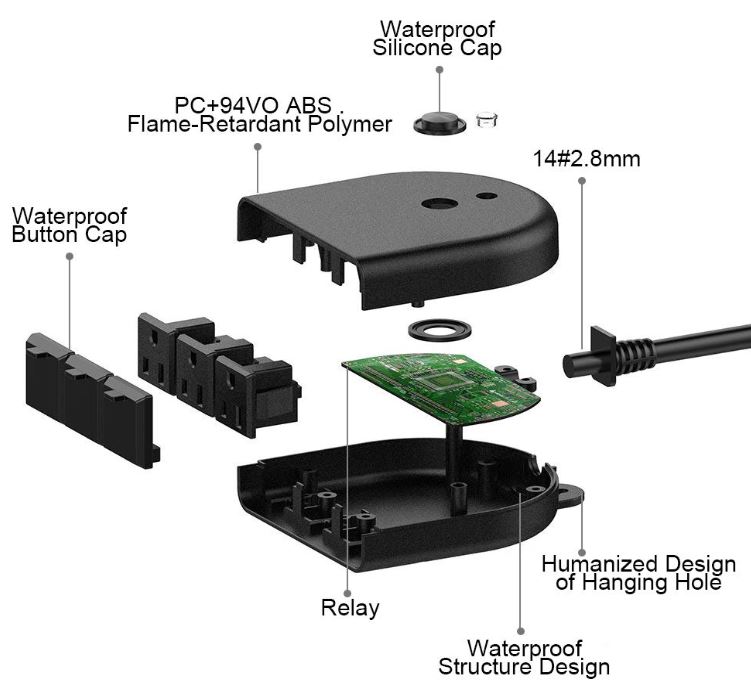 The smartphone app includes timer options. You can use this feature to set a seven-day timer. Forget about a 9-5 timer, imagine setting a new schedule for each day of the week. Suppose you want to switch your lights on at 5 o'clock on weekdays, but 7 o'clock on Saturdays. With VAVOFO's app, choosing one or the other is as easy as clicking your smartphone screen a few times.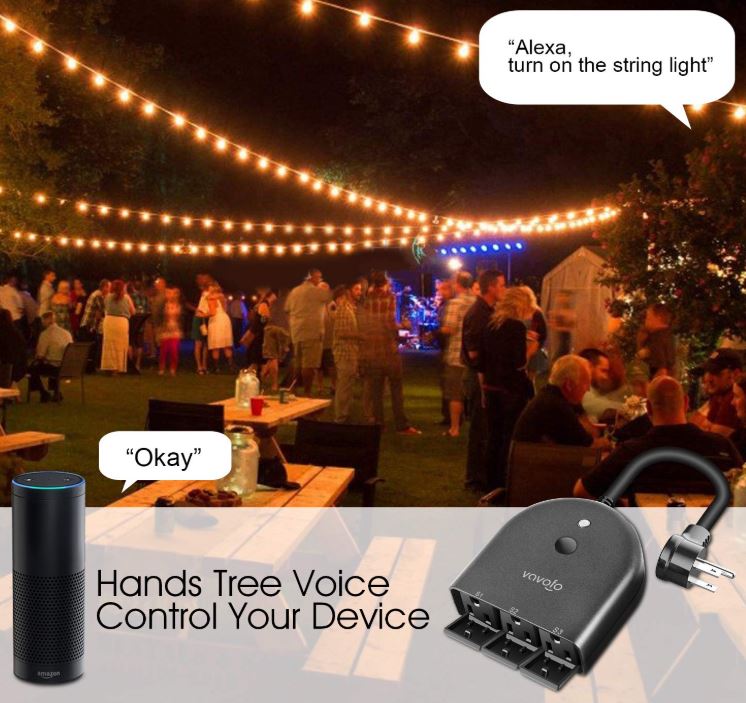 Power-Saving Design
The VAVOFO doesn't just turn your devices on and off. It also prevents energy loss due to "vampire power". Vampire power is a constant, slow energy drain caused by appliances that have been powered off. LED lights, time indicators, and other features can constantly drain energy. This can result in larger power bills, even when you're not using your devices. Vampire power also has a negative impact on the planet. It can cause you to pollute more than you intended, even if you're an environmentally-conscious person.
This is one of the biggest benefits of any smart plug. While other plugs allow your devices to draw power constantly, smart plugs allow you to choose when your devices have — or don't have — access to electricity.
Final Verdict
Which of these WiFi outdoor smart plugs is the best? The most obvious choice is the Etekcity Outdoor Smart Plug. It can sync with the sun, sync with your own schedule, or work on demand. The water resistance is also excellent. Even if your neighborhood is plagued by constant storms, you'll be just fine. Best of all, you'll have the option of voice control.
But sadly, the Etekcity isn't compatible with Apple's Siri voice assistant. So, if you're an Apple user, you'll need to choose a different smart plug. A good alternative would be the BN-LINK Smart WiFi Heavy Duty Outdoor Outlet. Not only does this plug offer three outlets instead of two, it's also compatible with all smartphones. If you're an Apple fan, you'll appreciate this feature. Not only that, but it has three outlets instead of two.
Finally, the VAVOFO is an excellent choice due to its durability. Other smart plugs allow you to control whether they're on or off. And that's fine. It's the main reason you buy a smart plug, after all! But the VAVOFO will shut off automatically when temperatures get too high. This is an excellent safety feature, and it makes the VAVOFO well worth considering. That said, all of these options would make a good choice. No matter what route you choose, you're not going to go wrong.