Have you ever wondered how many people get such smooth, stable video recordings from a smart phone? Do they have ice-water in their veins and the steady hands of a brain surgeon? In some cases, yes. But most people have a little bit of a tremble in their hands. And even if you think you're holding your smartphone steady, tiny vibrations can quickly become obvious.
A few years ago, you had a couple of options. You could either buy a professional camera with a gimbal, or you could deal with shaky video. But nowadays, you can invest in a smartphone gimbal. These tools hold your camera steady, and can even keep it level as you move it around. Not only will this eliminate vibrations, but it will keep the screen from tilting from side to side.
Today, we're going to be reviewing the Funsnap Capture 2. This is an upgraded version of the original Funsnap Capture, which is one of the most popular smartphone gimbals available. It stabilizes your phone along all three axes, ensuring a steady, smooth recording. It can also control some of your phone's functions, both on iPhone and Android. But is the juice worth the squeeze? We're about to find out.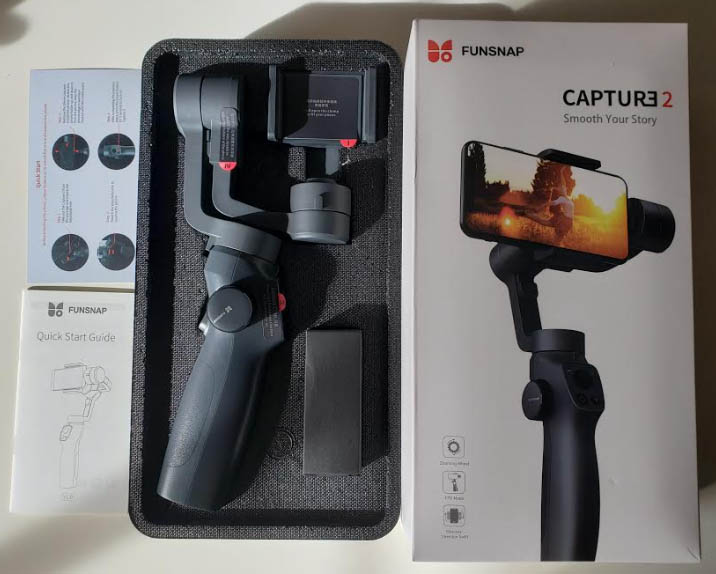 What's in the Box?
The first thing we noticed about the Funsnap Capture 2 is how well-packaged it is. A lot of electronics aren't well designed for transport, and you can end up having to jury rig a solution. The Capture 2, by contrast, comes in a sturdy, foam-block carrying case. In addition to the gimbal itself, you also get a small tripod, which is ideal for shooting stationary video.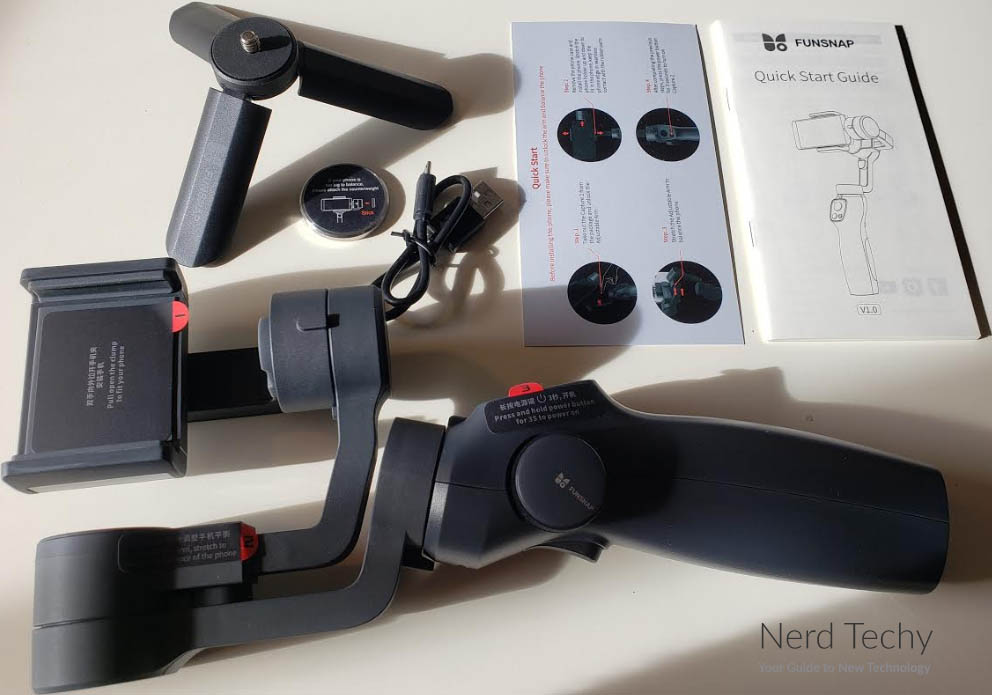 Use code "nerdtechyGL" on Amazon.com for 10% Off
Overall Design
The Capture 2 is sturdy and well-engineered, with a black anodized aluminum finish that can take a beating if it has to. The overall length is 12.3 inches from the bottom of the handle to the top of the unit. The phone bracket itself is the widest part, and measures 6.6 inches in width. It's 3.1 inches deep at its fattest point. However, the ergonomic handle is smaller. At about 1 ½ inches in diameter, it's ideally sized for most people's grip. The entire kit tips the scales at 1.8 pounds, but the gimbal itself, without the tripod, is a comfortable 17.6 ounces. At this weight, it's easy to carry for long periods without causing any exhaustion.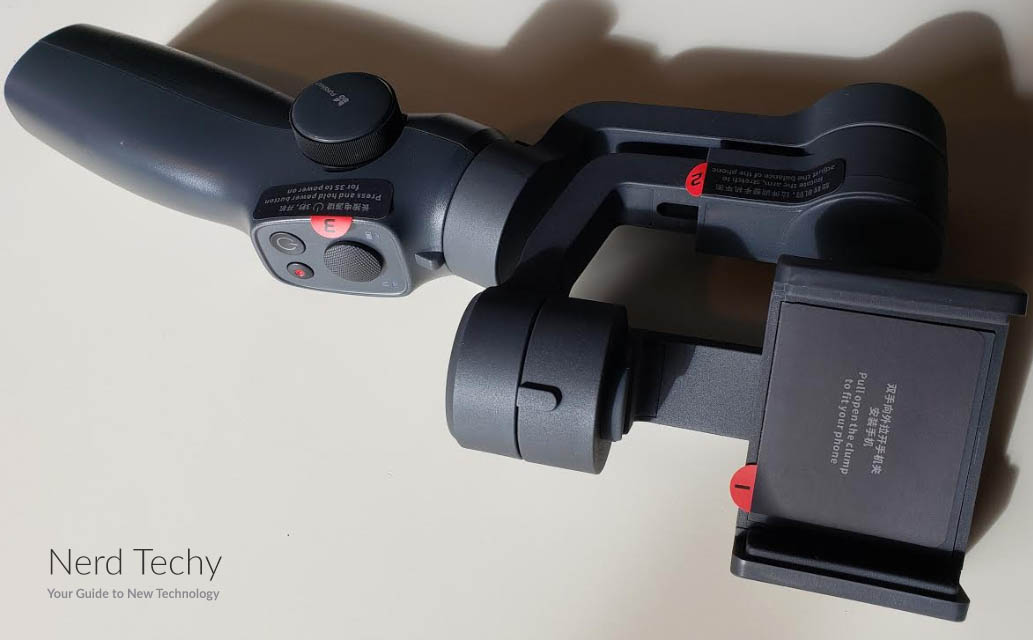 The Capture 2's primary controls are located at the top of the handle, and are operated with your thumb. The primary power button has two functions. When you hold it for 3 seconds, it will turn the gimbal on or off. When you tap it, it will change the Capture 2's recording mode. An LED light next to the button indicates what mode you're in. We'll talk about the different modes in more detail later.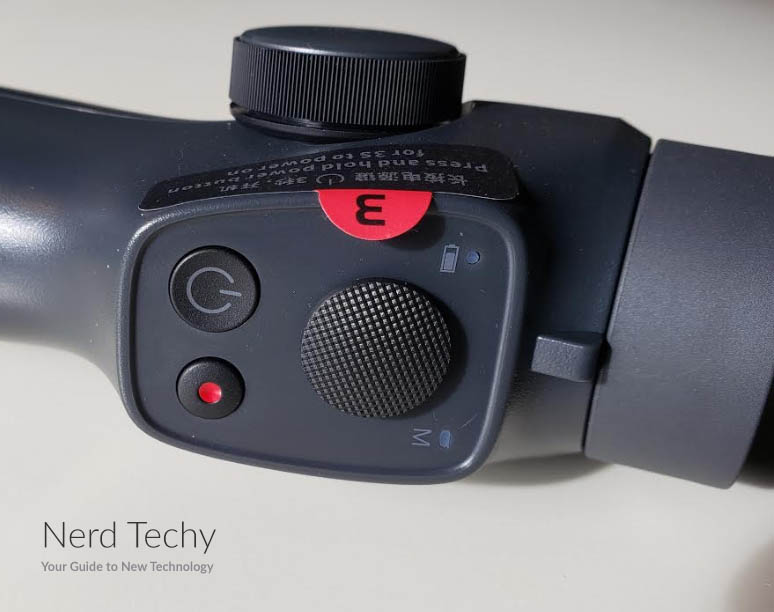 A smaller button next to the power button is used to snap photos or record and stop video. Above both of those buttons is a thumb-operated joystick, that can be used to tilt and pan your phone. The joystick has a surprisingly soft touch, and is very comfortable and easy to operate, even while you're moving. Finally, a second LED keeps you updated on the status of the Capture 2's battery. Normally, the indicator is solid green in color. When the charge drops to 30 percent, the LED will turn red. When you reach 10 percent of battery life, the LED will start flashing red. This gives you a few minutes to finish what you're doing before the gimbal powers off.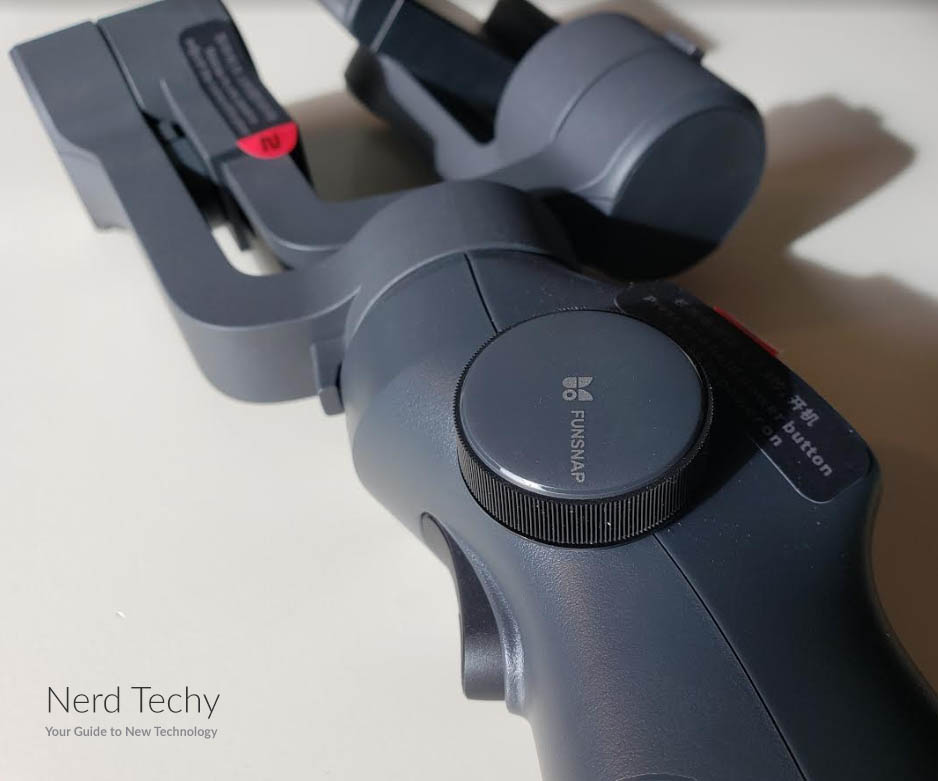 However, the main improvement Funsnap made over the original Capture is the way they designed the zoom function. On the original, zooming was controlled with a slider. In theory, this is a well-engineered design. And it certainly was, at least in terms of durability. On the other hand, using the slider was sometimes finicky. If you wanted to return to the same zoom level a second time, it wasn't easy. Funsnap has upgraded the Capture 2 with a large zoom dial. It's designed so that you can operate it with your free hand while you're filming. It rotates smoothly, with just enough resistance that it won't rotate by accident. That said, its position on the left side of the handle won't be as convenient for southpaw.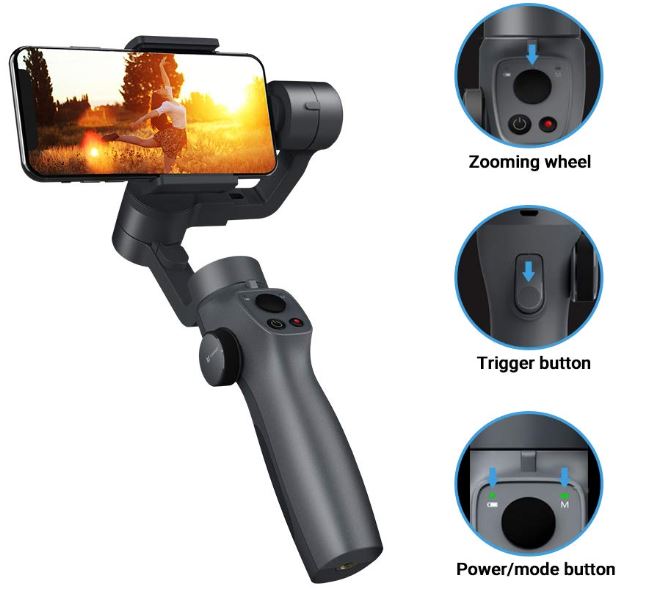 There's a trigger on the front of the handle, and it's designed to be operated with your index finger. When pulled, it will automatically adjust your camera so it's flat and level. Pulling it again will activate Phone Go mode, which we'll talk about later.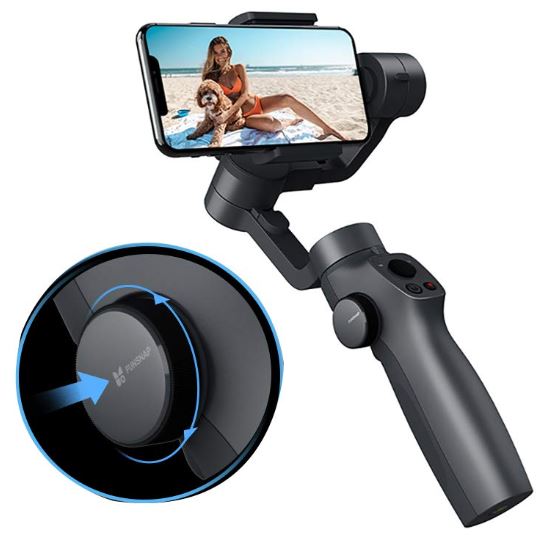 We've already mentioned that the Capture 2 is relatively compact and lightweight. That said, for action sports, you might want something even smaller. In that case, the Flowmotion Smartphone Stabilizer might scratch that itch. It's an older design, but it's literally small enough to carry in your front pocket.
Device Compatibility
The Funsnap Capture 2 has a padded, spring-loaded clamp that can be used to mount a wide variety of smartphones. The width is adjustable from 2.16 inches to 3.54 inches, which covers just about every smartphone on the market. The weight capacity is also pretty good. It's rated for 250 grams. This is more than enough for the iPhone X (174 grams) or the Samsung Galaxy Note 9 (201 grams). These are two of the heavier phones on the market, and the Capture 2 can handle them with no issues.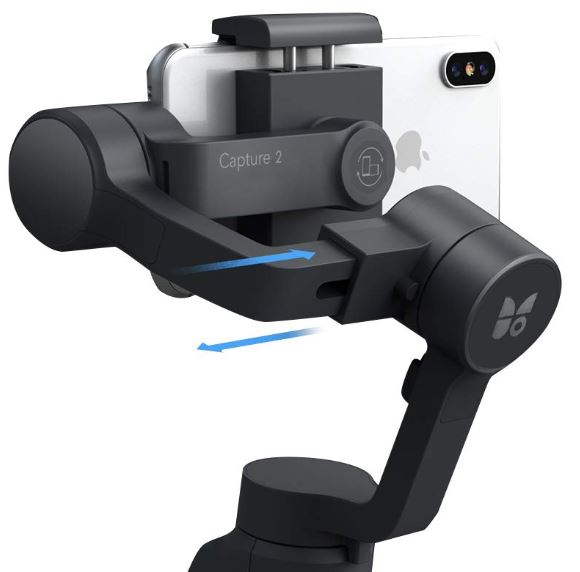 One thing that could have been improved was the way the bracket adjusts. It's tough and well-manufactured, and the padding won't scratch your phone or case. However, locking your phone into place can take some getting used to. Rather than turn a dial to tighten the bracket, you simply push and pull the locking arm. While this has the advantage of simplicity, the arm moves in distinct "clicks". As a result, some phones will be crooked when they're first inserted. This isn't a huge deal. The Capture 2 will easily level the camera out, but that will drain a small amount of battery.
We should point out that the Capture 2 is also capable of mounting a GoPro camera. That said, it's not ideal for this purpose. It uses your smartphone's gyroscope to determine when the horizon is level. Since a GoPro doesn't have a built-in microphone, the Capture 2 won't be able to level it. It will help keep your camera steady, but that's about it.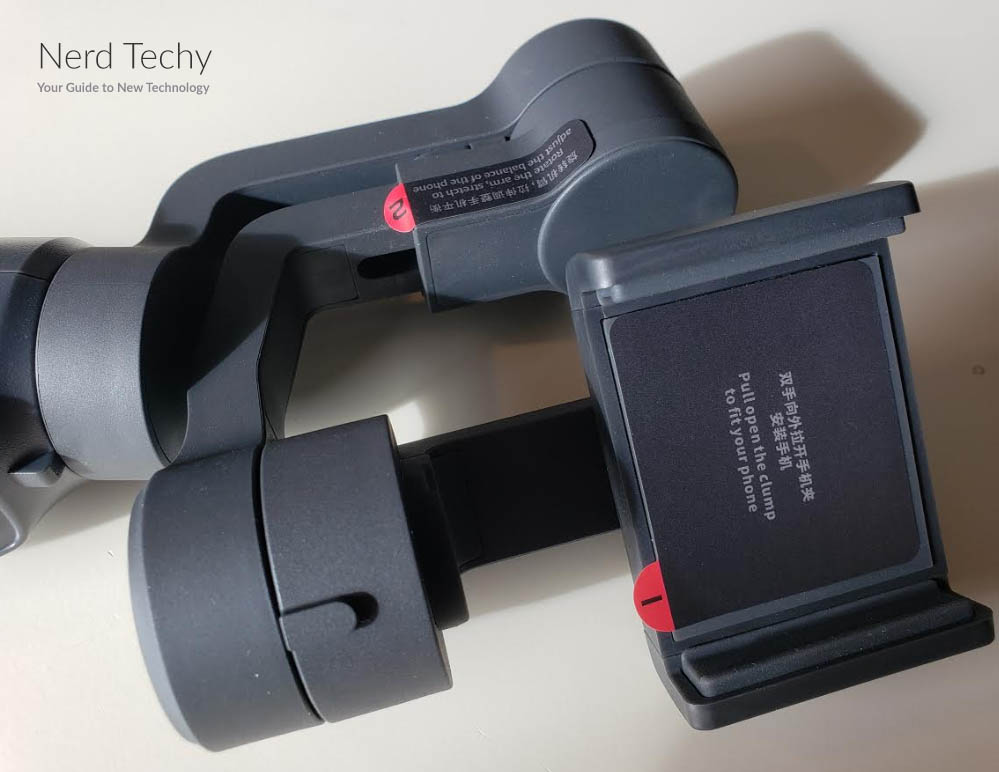 If you're looking for a good GoPro mount, though, there are plenty of good ones on the market. The Feiyu Tech FY-WG is one of these. Not only is it wearable, but it's also exceedingly stable.
Operation
Operating the Funsnap Capture 2 is very simple. There are 3 different shooting modes, and you can cycle through them by pressing the power button. The mode LED will indicate which mode you're using.
The primary mode is called All-Following. In this mode, the gimbal allows you to pan and tilt the camera. All it will do is keep the horizon level. In All-Following mode, the LED will be green.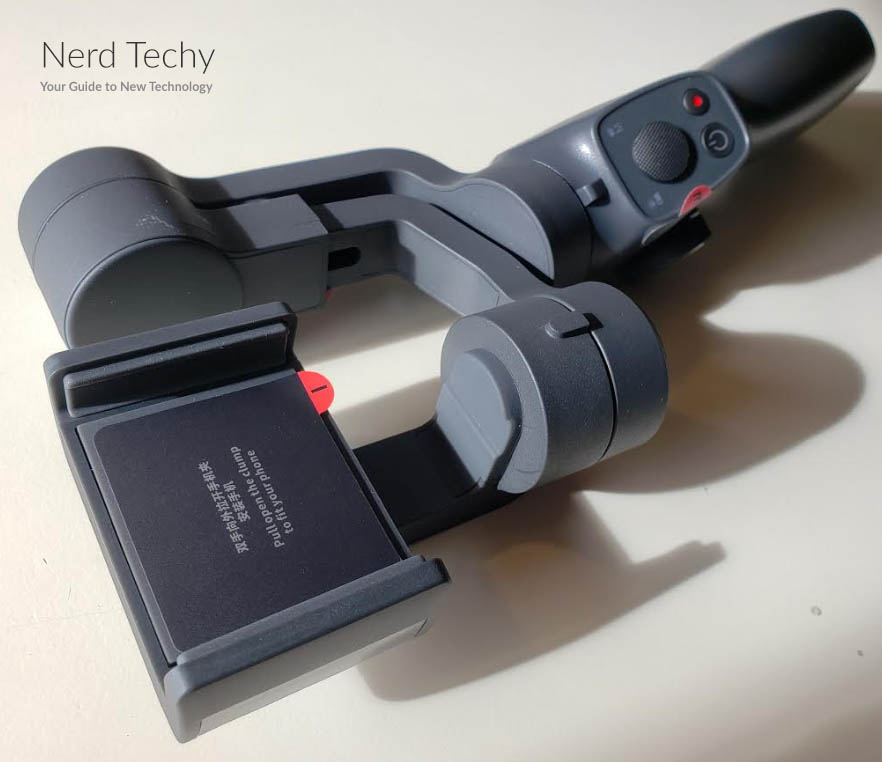 In Pan-Following mode, the Capture 2 keeps the horizon level and prevents tilting. However, you can still pan your phone from side to side. In Pan-Following mode, the LED will be blue.
In Locked mode, the camera will stay pointed at the same target as you move. This allows you to walk around in circles and keep the camera on the same subject. The LED indicator will be red in this mode.
Another, additional mode can be activated by pulling the Capture 2's trigger. This is called Phone Go mode, and it turns your motor speed up to the maximum. It's perfect for tracking fast objects, like a flying bird or a skateboarder making a jump. However, the gimbal will burn through battery life much faster in this mode. For most everyday recording, you'll get plenty of performance from one of the standard modes. And your batteries will last a good bit longer.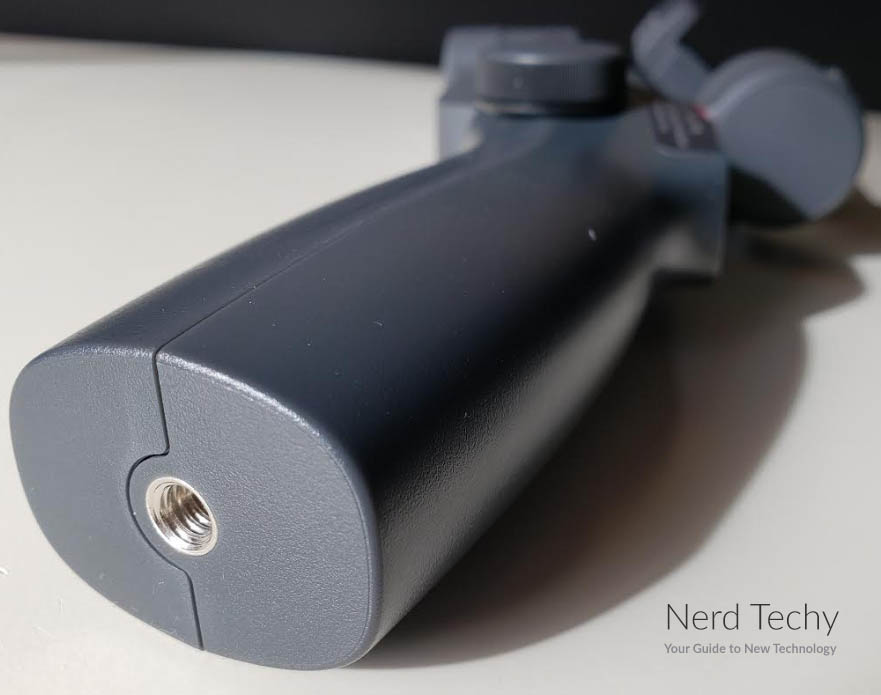 We should also talk for a second about motor noise. In standard modes, the Capture 2's motors are whisper quiet. They're audible, but they're too quiet to pick up on camera. However, in Phone Go mode, the motors can get a little bit louder. This isn't that big of a deal, though. Unless you're filming in a very quiet location, you're not even going to notice.
The Capture 2's battery is rated to last for 12 hours. This is a bit optimistic, and it assumes that you're not in motion a lot. In practice, anywhere between 8 to 12 hours is more realistic. That's still more than enough for a day of filming. And since the battery charges in only 2 hours, topping off overnight is no big deal.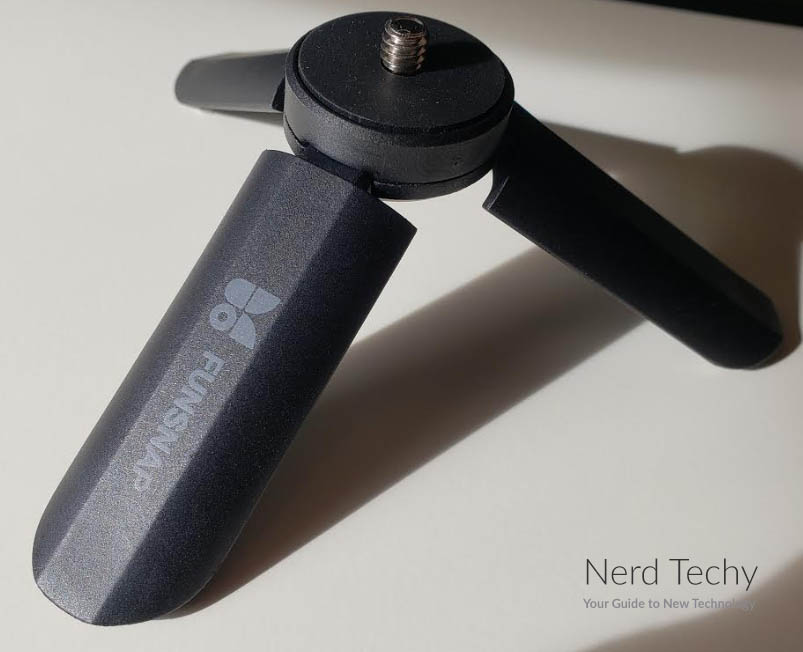 Funsnap also provides a free companion app for the Capture 2. It's available on iOS and Android, and helps you tweak some of the gimbal's basic settings. It also gives you access to panorama and time-lapse mode. For panoramas, you're best off setting the Capture 2 on its tripod. This will maximize your stability.
The only serious limitation of the Capture 2 is that it needs to be carried. As a result, it can only go where you go. If you want to record somewhere that you can't walk to, the Potensic D85 is a great choice. It's a drone, so it can go just about anywhere!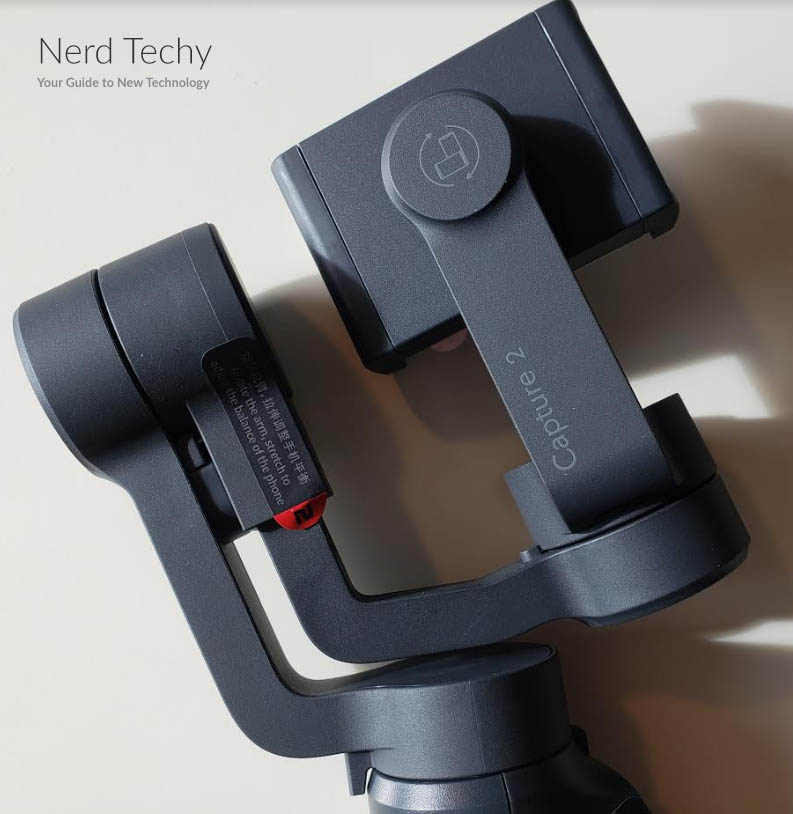 Use code "nerdtechyGL" on Amazon.com for 10% Off
Final Verdict
With its rugged design, it's easy to understand why the Funsnap Capture 2 is one of 2019's hottest smartphone gimbals. A lot of smartphone accessories claim to be professional-grade, but are actually built like toys. The Capture 2 is truly well-engineered, and it will last you for a long time. We also appreciated the sturdy foam-block carrying case. It says a lot about Funsnap's dedication to quality.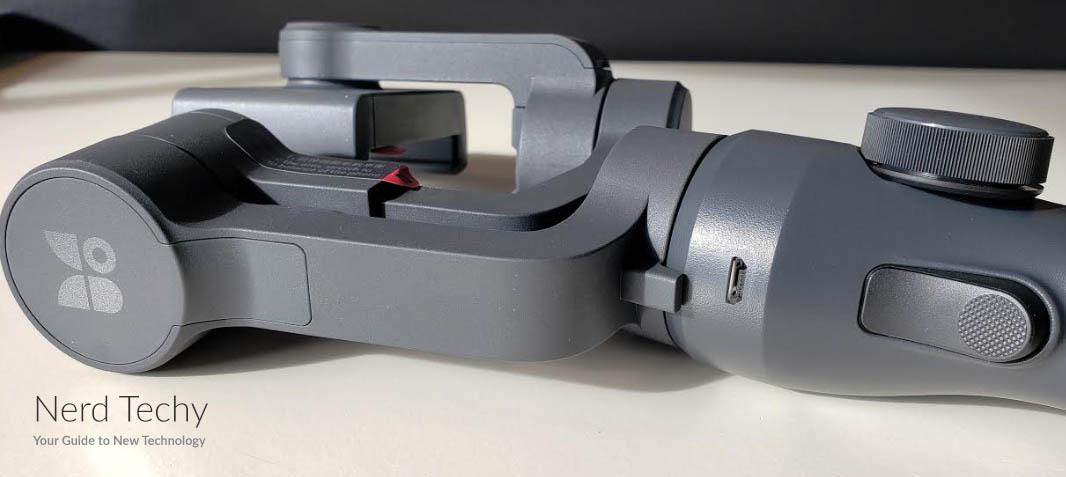 Of course, just because something is rugged doesn't mean it's good. A concrete block is rugged, but it's not going to keep your phone stable. Thankfully, the Capture 2 delivers a ton of features that allow you to record in a variety of situations. Whether you want stability, or whether you want to lock your smartphone onto a particular target, your needs are covered.