Digital picture frames have been around for well over a decade at this point. They're a great way to share pictures with relatives, and they also give you more options. In the past, you'd need to choose between multiple pictures to decide what to frame. This was a simple matter of wall space. There are only so many pictures you can hang! With a digital picture frame, you can have dozens of photos or more in a single space. No need to choose which ones to hang and which ones to throw out.
But updating a digital picture frame can be a pain. You have to remove the SD card, put it in your phone or computer, and transfer over any additional photos. Needless to say, this can be a headache if you're hundreds of miles away. And even if you're close, it's somewhat time consuming.
The Dragon Touch 10-Inch WiFi Digital Picture Frame solves all of these problems. Because it allows you to upload photos remotely, you'll never be more than a few clicks away from an upload. But how well does it work? And is it worth buying? We're about to take a deep dive, and tell you everything we've learned about this picture frame.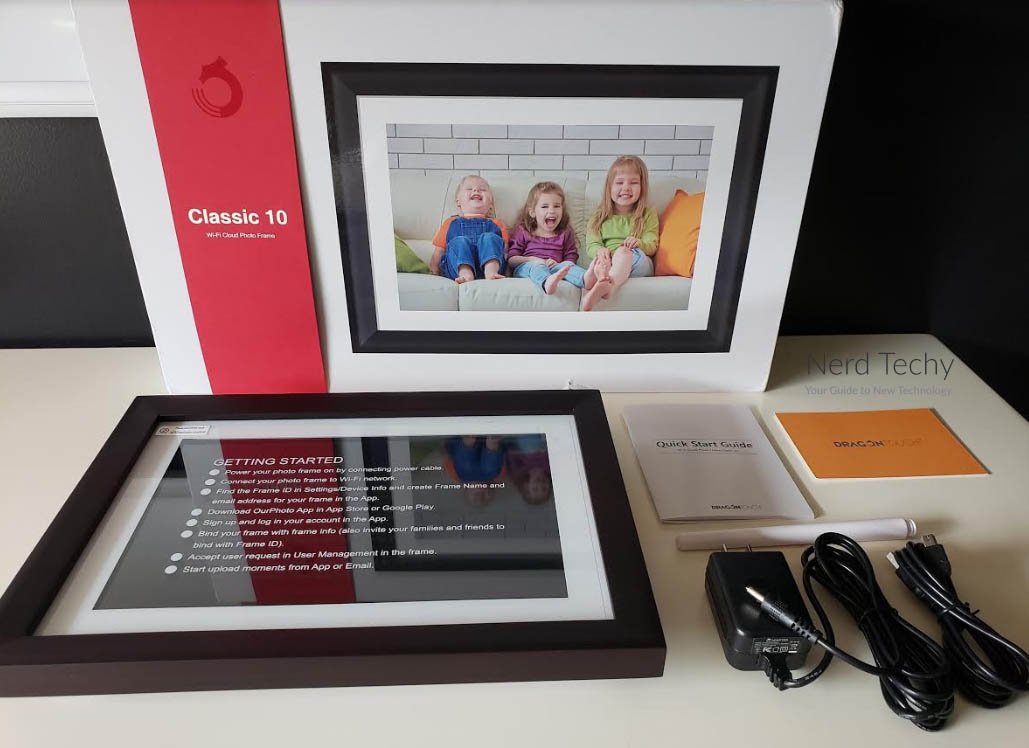 One thing the Dragon Touch won't do is function as a monitor. If you're looking for a small, portable screen for your PC or tablet, we highly recommend the Lepow Portable Monitor. The stand even folds up over the monitor, which makes it very easy to store and transport. Now, let's learn more about the Dragon Touch!
Classic Design
The Dragon Touch is a mid-sized picture frame that measures 16.6 x 10.1 x 2.4 inches. The depth includes the built-in stand, which can be folded up for transport or wall hanging. It weighs 3.2 pounds, which is surprisingly heavy for the size. But it feels nice and solid in your hands. The moment you pick it up, you'll know you're holding a well-engineered piece of equipment.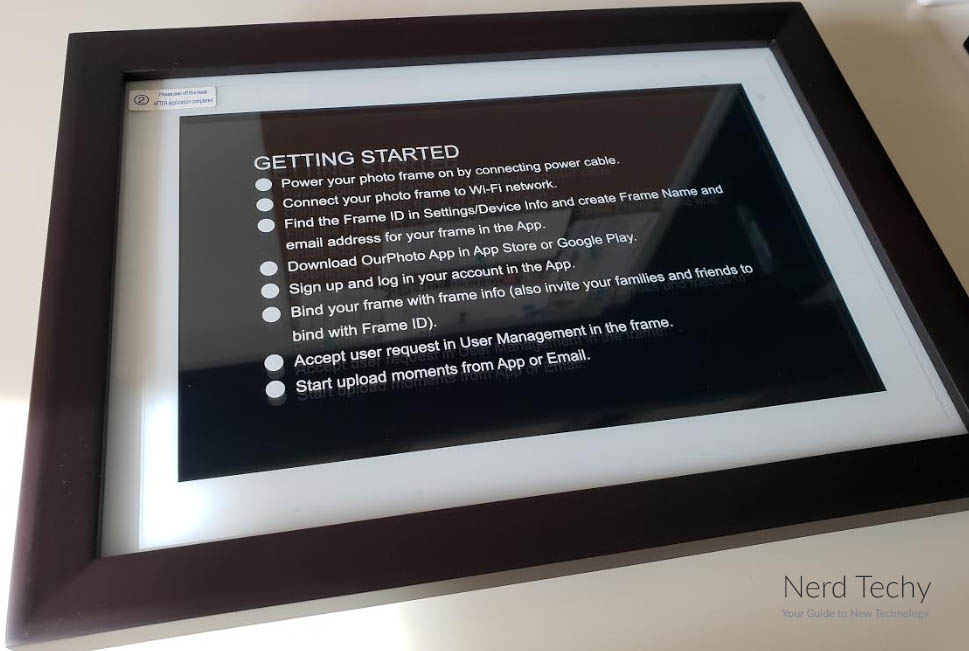 The outer frame is ABS plastic, but it has a smooth texture. It looks like a traditional picture frame painted black, complete with a beveled edge that looks really sharp. Inside, there's a white border that simulates the appearance of traditional picture frame matting. Within that border, you'll find the screen itself, which is where your picture will be displayed. The surface is smart glass, similar to your smartphone, and complete with touch controls.
The Dragon Touch has a built-in gyroscope that automatically senses rotation. It will display in portrait or landscape mode automatically, depending on how the frame is oriented. The stand is capable of supporting it in either orientation. This makes it easy to set up on a desk, dresser, or shelf. Alternatively, the Dragon Touch comes pre-equipped with a mounting hole on the back. You can hang it on your wall, both in portrait and landscape orientations.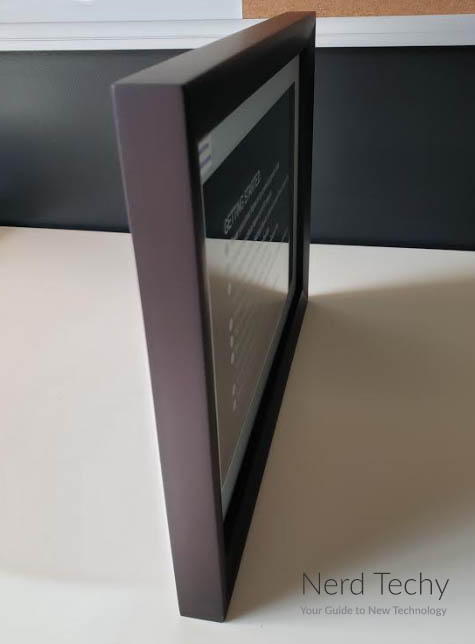 In addition to ordinary photo functions, the Dragon Touch has several extra features that are worth pointing out. Through the touchscreen menu, you can personalize all of these settings to meet your needs. There's a brightness adjustment, so you can tune the display to the right level for your home. On top of that, there's an alarm function, which allows you to use the Dragon Touch to get up for work. There's even an auto on/off feature, so the screen can shut off at night to keep your space dark. Keep in mind, though, that the Dragon Touch doesn't have a built-in battery. You'll need to keep it plugged in at all times in order for it to display your pictures.
Receive a 24% discount when you use this link to order through Amazon.com
Picture Quality
The Dragon Touch's display is a 10.1-inch touchscreen that serves both as a display and an input. It has a resolution of 1280 x 800, which is an odd choice. The aspect ratio is 16:10 instead of 16:9, so you'll lose a bit off the top and bottom of 1080p photos. You can also share up to 30-second video clips to the frame, albeit with a similar limitation. There's no sound – the Dragon Touch doesn't have any speakers. But it's a great way to wave to family members, even if you're on the other side of the world.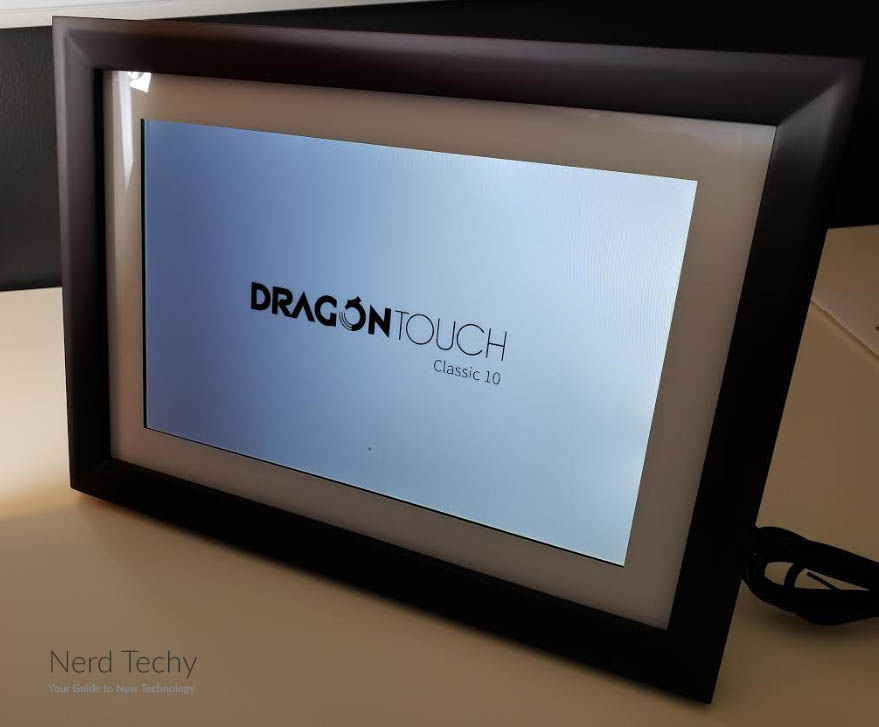 When it's being used as a control panel, the screen offers a variety of different options. We've already talked about the "extras", but the basic controls are also well set-up. You can choose different types of transition effects between photos, for a custom look. You can choose how often the pictures will change, anywhere from seconds to minutes. You can also choose whether to include videos in the slideshow, or whether to view them separately. Finally, you can manually cycle through different photos. This is helpful if your sister emails you 100 pictures from her trip to the Grand Canyon. You won't have to wait for them all to cycle!
The Dragon Touch has a built-in 16GB SSD drive. This is a huge amount of storage for a digital picture frame. Assuming a 300 KB size per picture, it allows for an insane 40,000 pictures in total. But you can always add more memory. By using the menu, you can choose which memory sources to include in your slideshow. If for some reason you need more storage, you can expand your capacity with a USB drive or SD card.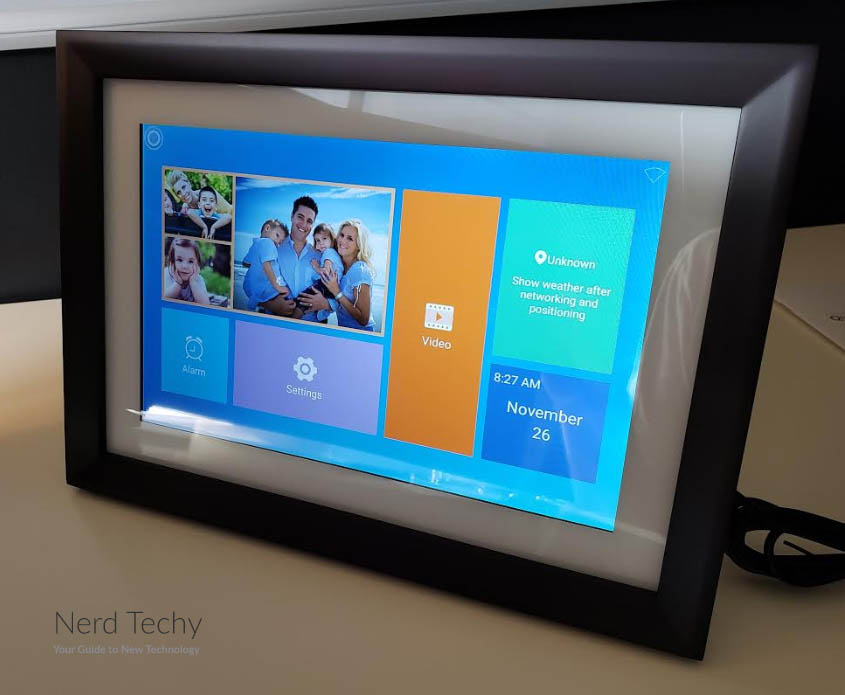 Of course, before you can use a digital picture frame, you're going to need some digital pictures. Nowadays, most of us have smartphones that can perform this task with ease. But there are some places where smartphones can't go. And there are some times where you're better off keeping your smartphone secured for safety. If you need a camera to record action-packed or underwater activities, consider the APEMAN A77. It's a tough action camera, similar to a GoPro, that's designed to go just about anywhere.
Constant Connectivity
As its name implies, the Dragon Touch picture frame connects to your WiFi network. And while it works just fine in offline mode, you'll be missing out on several features if it's not connected. To begin with, you can upload photos directly from Dragon Touch's OurPhoto App. The app is available for free on iOS and Android, and takes just seconds to install.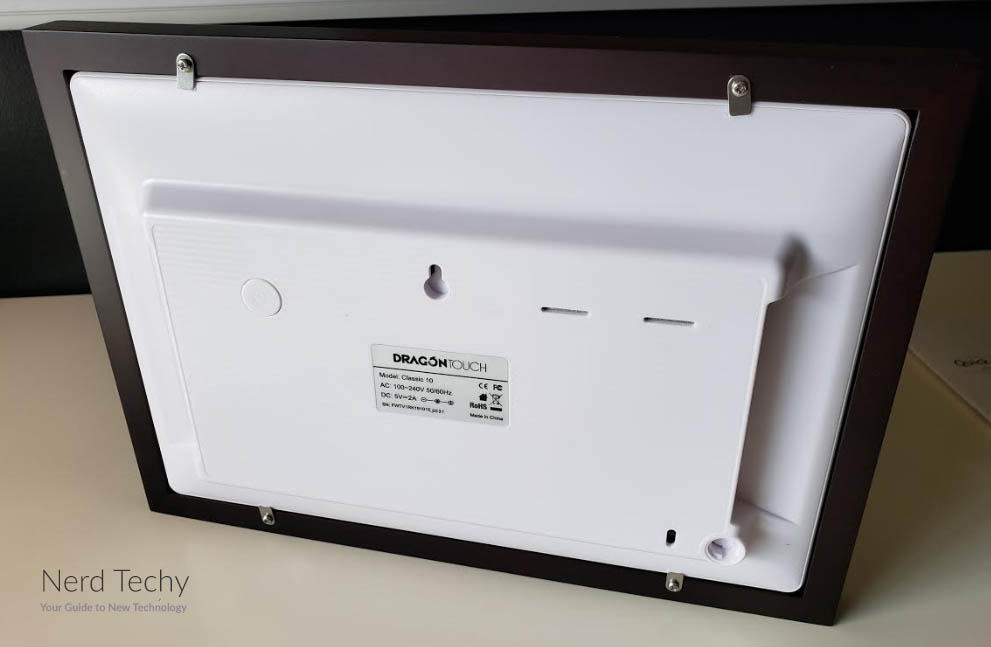 Once you've paired the app with your picture frame, you can upload pictures from anywhere in the world. Up to 10 authorized users can be added simultaneously, so the whole family can upload. If you want to keep grandma updated on several family members' activities, this is a great way to do it. Users can be added and removed directly from the picture frame. Alternatively, one user can be set as an administrator, and can manage user groups remotely.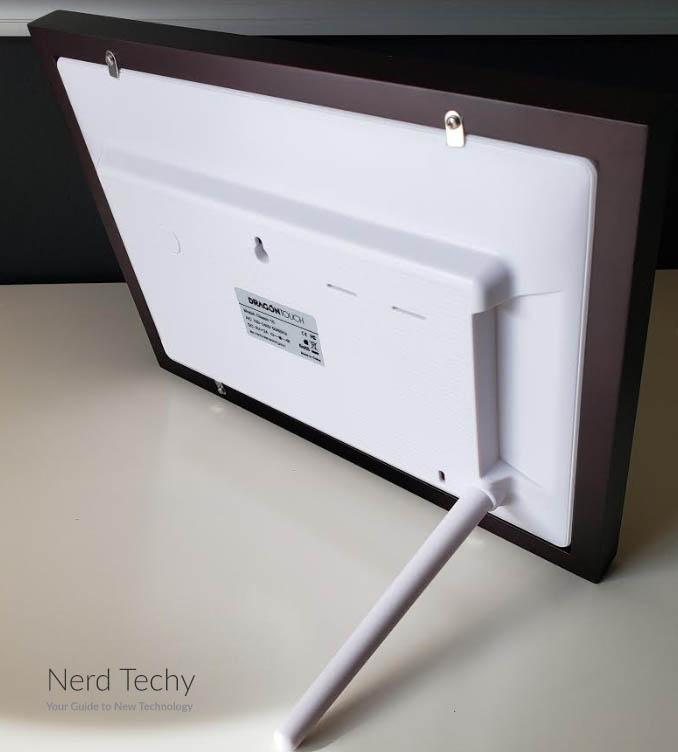 There are other ways to add photos, as well. For instance, the Dragon Touch has its own email address. The same 10 authorized app users can also add photos via email. Just email your pictures to the frame, and they'll automatically be added to the rotation. You can also add photos directly from any device on the same WiFi network. When you first set up the Dragon Touch, it will automatically create an FTP server. This server should automatically show up on your home's network. This allows for easy drag-and-drop photo management.
Of course, you can also do things the old-fashioned way. The back of the Dragon Touch features both a USB port and an SD card slot. You can connect to the frame with your phone or laptop using a USB cable. Or, you can simply put your photos on a thumb drive or SD card. Insert the drive or card into the Dragon Touch, and you can drag and drop photos into the rotation.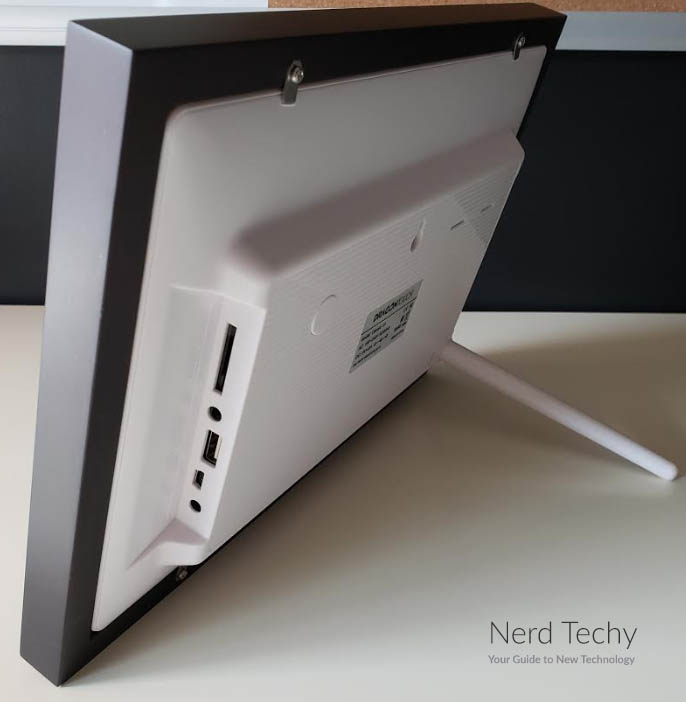 Deleting photos and videos is also easy. Using the Dragon Touch's touchscreen, you can delete photos as they show up. You can also bring up a list of all photos and videos. From this menu, you can easily delete out-of-date or unwanted photos. Considering all the file management options, the Dragon Touch is very easy for anyone to use.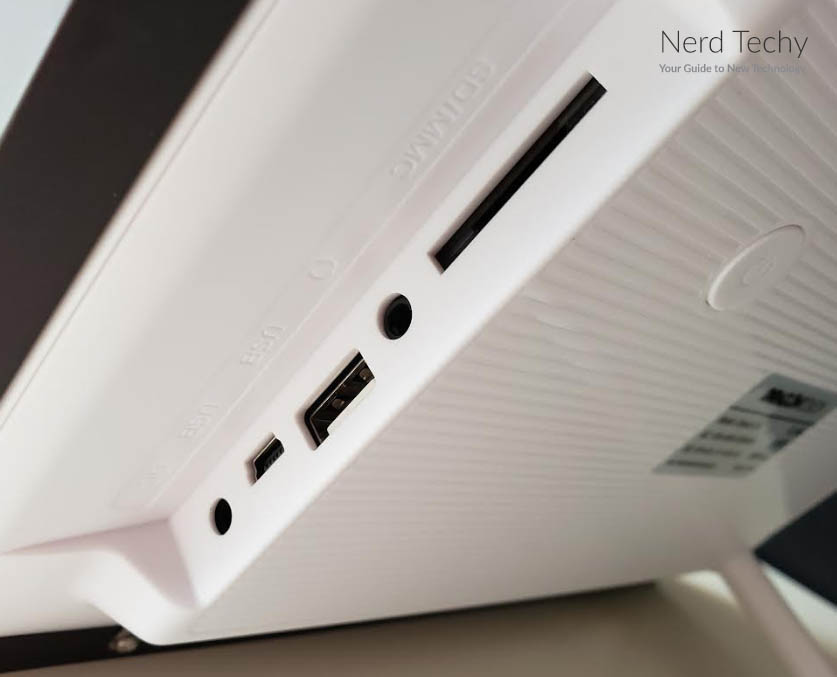 Receive a 24% discount when you use this link to order through Amazon.com
Final Verdict
There are many digital picture frames on the market, and most of them are unremarkable. You can choose just about anything from the Wal Mart shelf, and it will work just fine. But most digital picture frames are "dumb". You have to manage them manually, which can get tedious.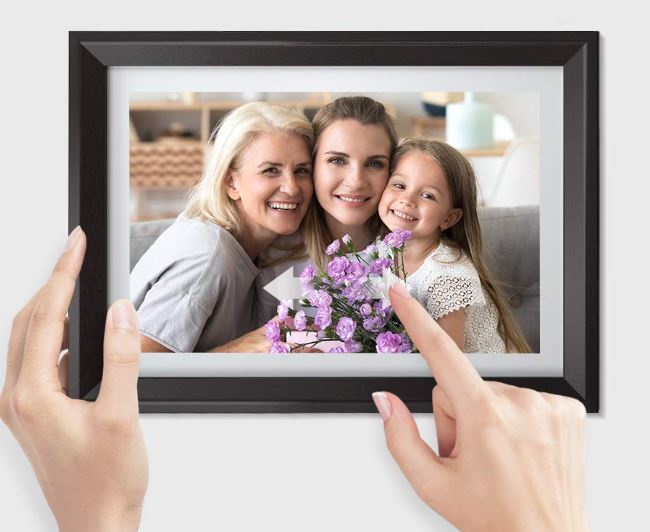 The Dragon Touch offers a whole lot more. Primarily, we were impressed by the ability to add pictures and videos from anywhere with an internet connection. This makes the Dragon Touch a perfect choice for elderly relatives. If you have an aunt, uncle, parent, or grandparent who doesn't "get" smartphones, there's no reason to leave them out. With the Dragon Touch, you can share your photos remotely. Set it up for them once, and you'll be able to share vacation photos and much more. Considering the time of year, it's a great choice for a holiday gift.