A few years ago, only computer programmers and graphic designers used a dual-monitor setup. While most operating systems have supported the feature at least since the 90s, few people used it. With faster graphics cards and lighter technology, this is no longer the case. Millions of Americans now use a dual display, including creative professionals and gamers. But if you're using a laptop, this isn't always practical. Running a dual-monitor setup on your own desk is simple enough, but it's tough to take one on the road. The solution is to use a lightweight, portable monitor.
Of course, a portable monitor opens up a wealth of other possibilities as well. For example, you can use one to expand your cell phone display. You can even use one with game consoles, whether you're in a hotel or at a friend's house. Today, we'll be reviewing the Lepow Portable Monitor. This is a compact, portable 1080p monitor that's ideal for travel. Now, we're going to take a closer look at all of the features it has to offer.
On the other end of the spectrum, we recently reviewed the best 34-inch curved ultrawide monitors. They're obviously not ideal for travel. But if you want a big, high-quality display, they're tough to beat.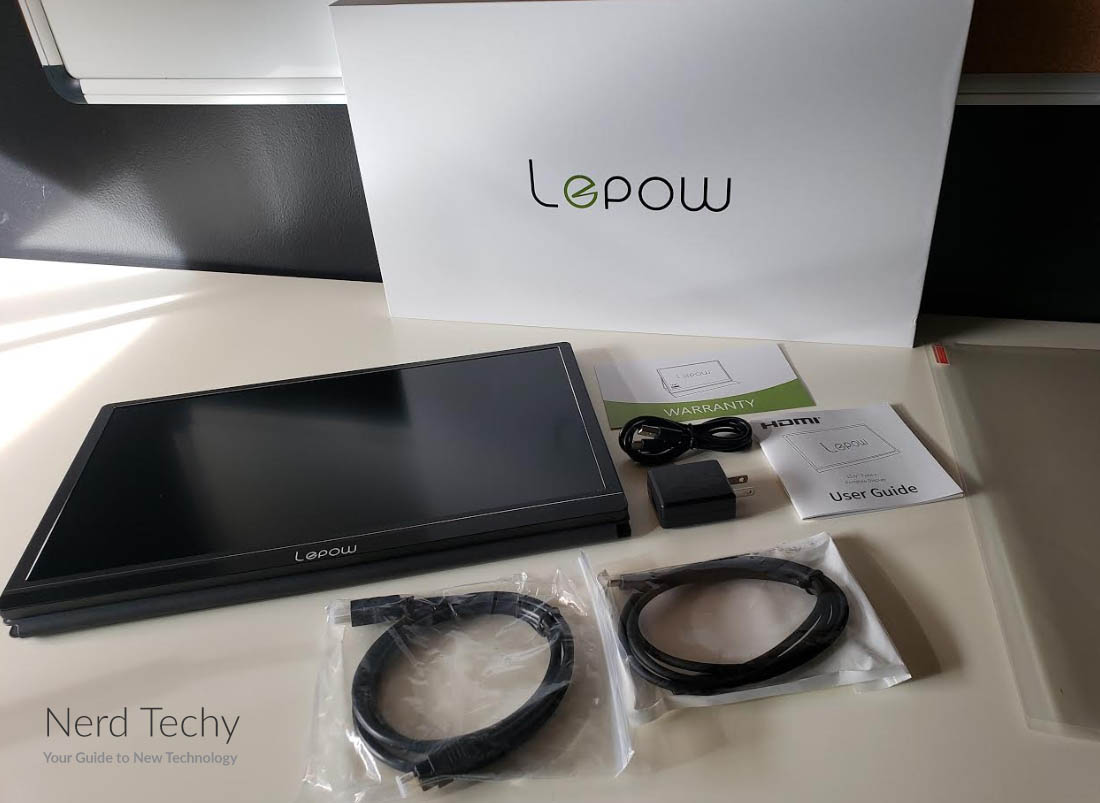 What's in the Box?
Before we go any further, let's take a look at what comes in the box. Of course, you get the Lepow Portable Monitor. But there are a few extras that add even more value. Here's what you get:
Foldable magnetic cover
Transparent screen protector
USB Type-C to Type-C cable
USB Type-A to Type-C cable
HDMI to Mini HDMI cable
Owner's manual
Overall Design
The Lepow Portable Monitor has a slim design. It's only 0.34 inches thick, not including the magnetic cover. Even with the cover, it's just over half an inch in thickness, slim enough to easily slip into a briefcase sleeve. The screen measures 15.6 inches on the diagonal, with overall dimensions of 14.5 inches wide and 8.8 inches tall. It weighs only 1.7 pounds, including the cover. All in all, it's very easy to transport.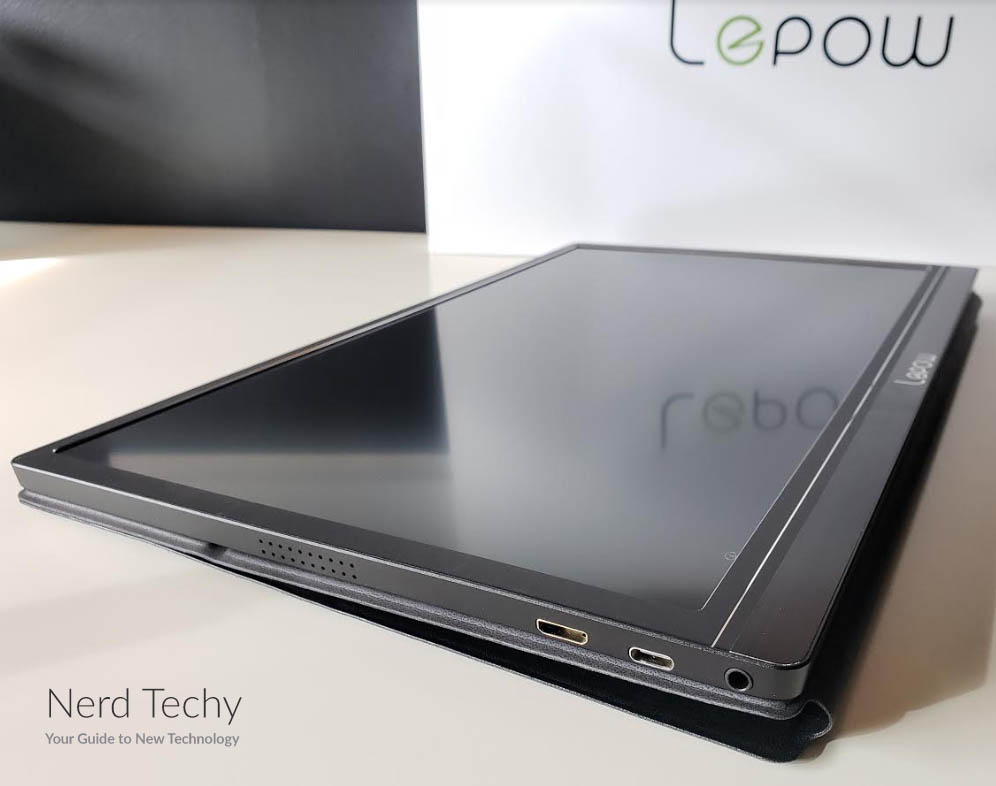 The frame is constructed from black ABS plastic, which has a dull finish that blends in with most electronics. The only decoration is a small silver Lepow logo, which is embossed just underneath the screen. On the left and right sides of the unit, you'll find two sets of vent holes, which cover the two speakers. Looking at left side of the monitor, under the speaker, there's a mini HDMI port, a USB-C port, and the 3.5mm aux port. On the right side, there's a PD port in a similar position. The power and menu buttons are also located on that side.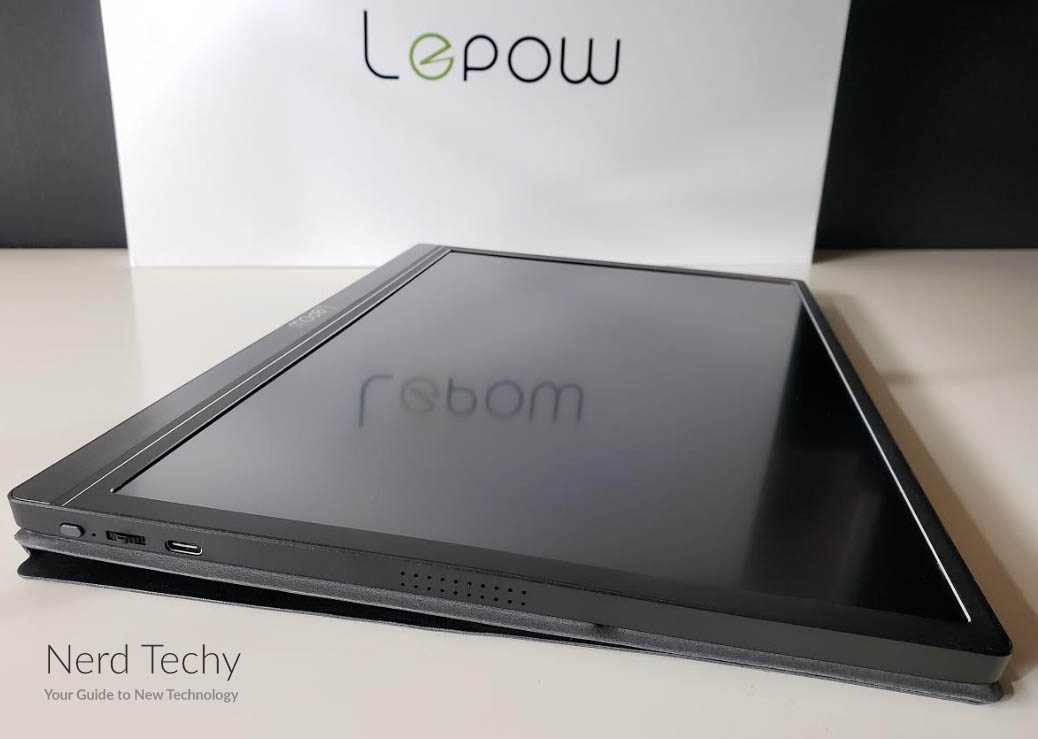 The clear screen cover is well designed, and prevents scratches to the display. Much like a screen protector for your smartphone, it clings due to static electricity. It stays in place very well, but it's still relatively easy to re-position should that become necessary.
Part of the way Lepow made their portable monitor so light is by eliminating as many accessories as possible. For this reason, there's no kickstand built into the frame. Instead, the magnetic cover doubles as a stand. The edge of the cover clings to the top back of the monitor, providing support. And you can move the bottom of the screen forward or backward to adjust the angle for comfort.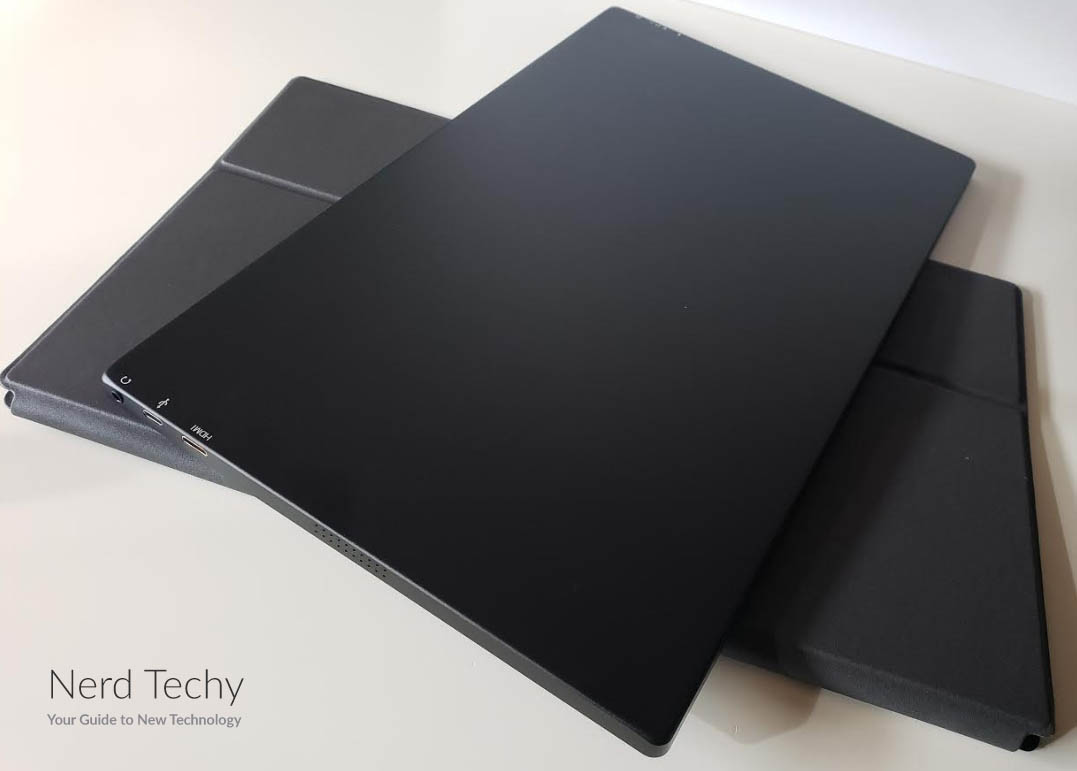 Connectivity
In terms of connectivity, you get several different options. The mini HDMI cable will get you the best video quality, but this isn't always ideal for a secondary monitor. Many computers only have a single HDMI port. However, for a secondary screen on a laptop, that's all you're going to need. Furthermore, HDMI is going to be your only option for game consoles, since consoles don't support USB monitors.
That said, USB is going to be your best option in many situations. If you're connecting to a desktop that only has a single HDMI port, adding another can be an involved process. Using a USB port saves you the need to upgrade your graphics card to one that has an extra HDMI port. Furthermore, with USB, you can connect to a smartphone or tablet. If you're using an Apple device, we recommend using the PD port instead. You'll get better performance than standard USB Type-C.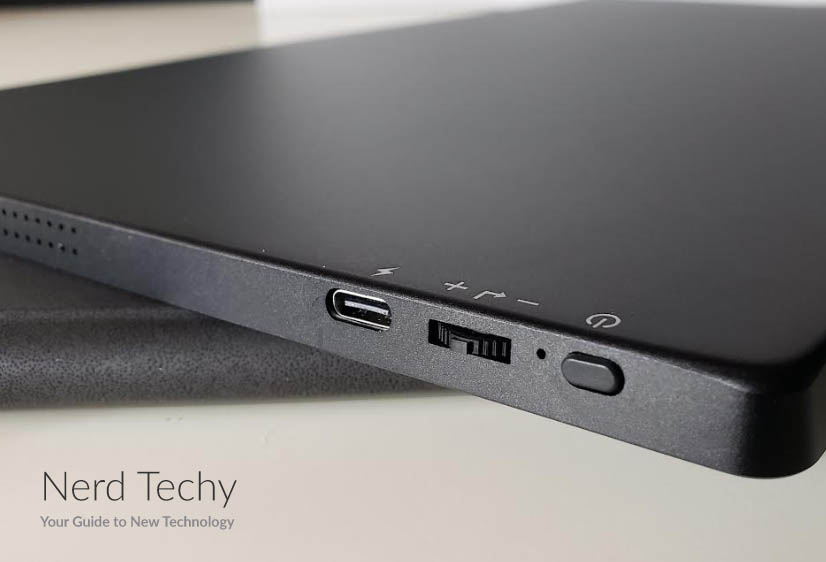 There's an additional advantage to using a USB connection. It can be used to power your monitor. This is another side effect of the Lepow monitor's light weight. There's no built-in battery, which saves a few pounds. It also saves you the need to charge your monitor. However, this also means that your monitor needs to be constantly plugged in. If you're using an HDMI connection, you can use the included USB Type-C cable and AC adapter to plug into a wall outlet. But if you're using a USB connection, the monitor will instead be powered by your device.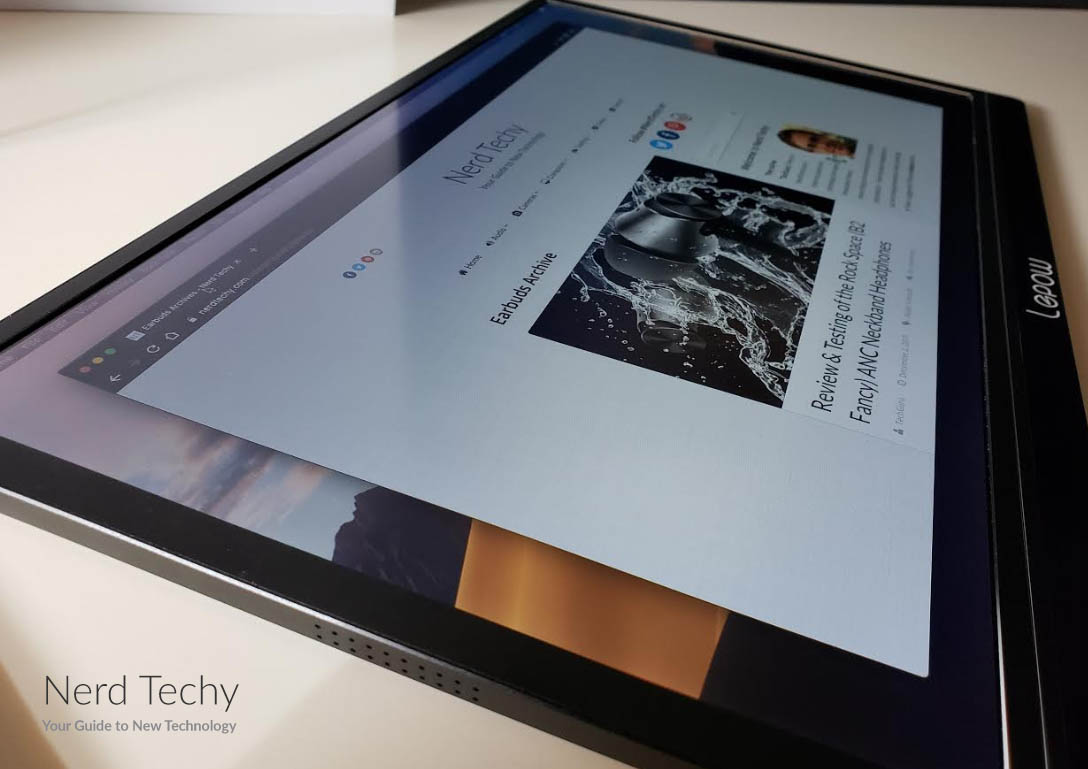 This can be either a good thing or a bad thing. On the one hand, it allows you to operate without the need for a wall outlet. On the other hand, it can quickly drain your phone or laptop battery. If you want to avoid this, you can still use AC power. Just use the USB to PD cable with the AC adapter instead, and you'll get the best of both worlds.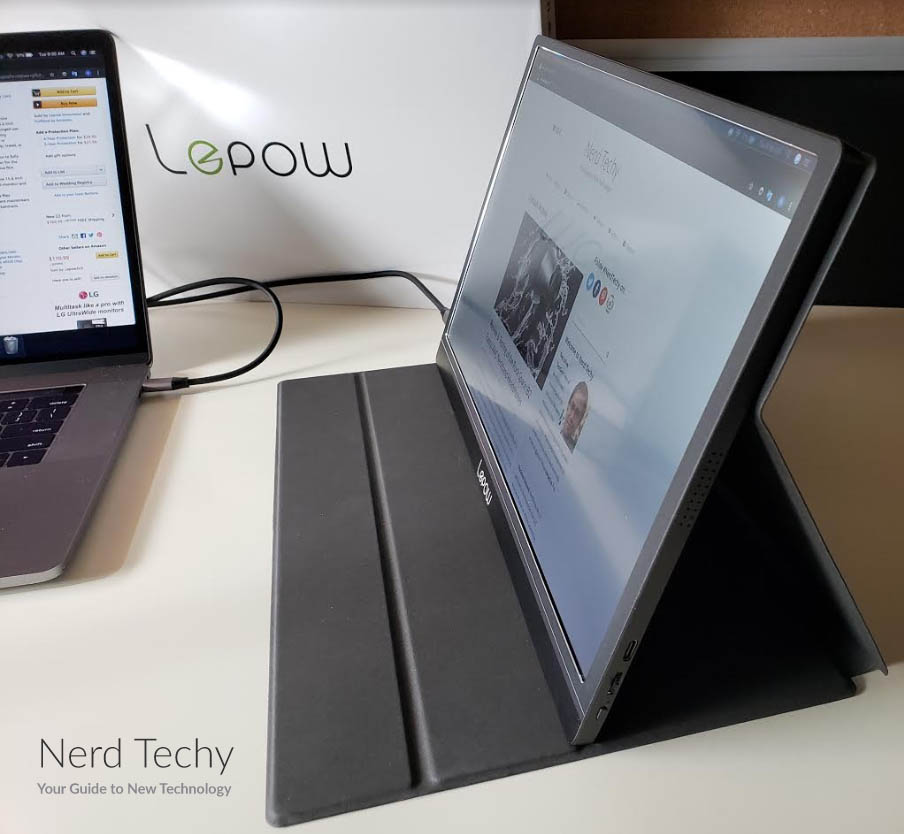 When the Lepow Portable Monitor is connected, it will default to the same screen orientation as your device. If you're connected to a smartphone, it will display in portrait mode. When connected to a PC, laptop, or Macbook, it will display in landscape mode. However, this can be easily changed by using your device's settings. While portrait mode is perfectly viable, there are a couple of issues you should be aware of.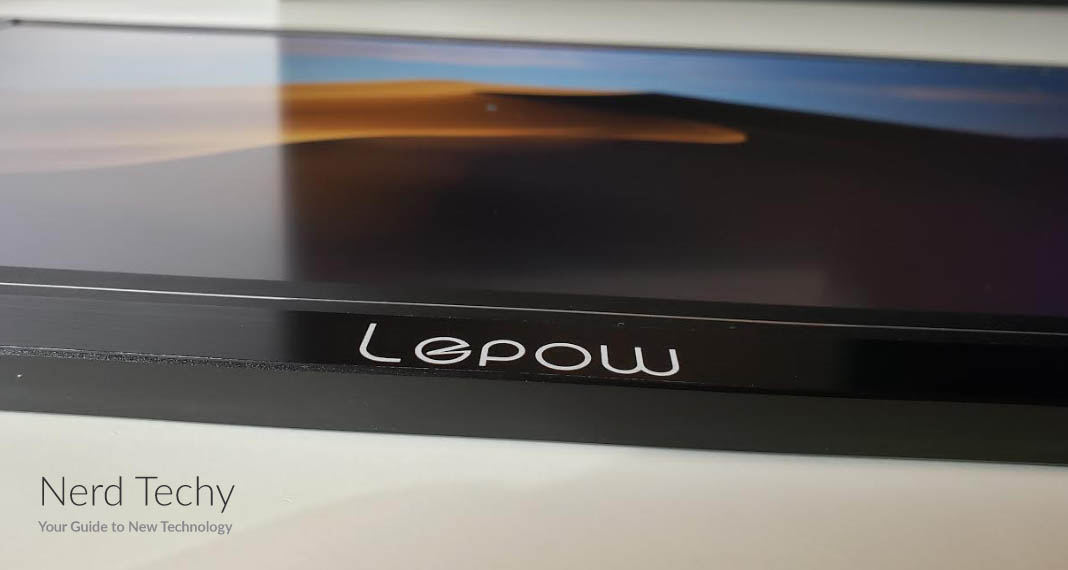 First, the magnetic cover will hold your monitor totally vertical, rather than at an angle. Depending on how you're sitting, this can result in eye strain. In addition, the monitor will also be resting on the menu button. If you're not careful, this can cause the menu to randomly pop up on screen while you're trying to work. That said, many portable monitors don't even support this mode, and it's always good to have options.
If you're going to be spending a lot of time without access to AC power, you're going to need a battery. In this case, your monitor is going to be a little bit heavier. However, you'll be able to use it in a park, a coffee shop, or on an airplane. If that's what you need, we recommend the Auzai Ultra Slim Portable Monitor.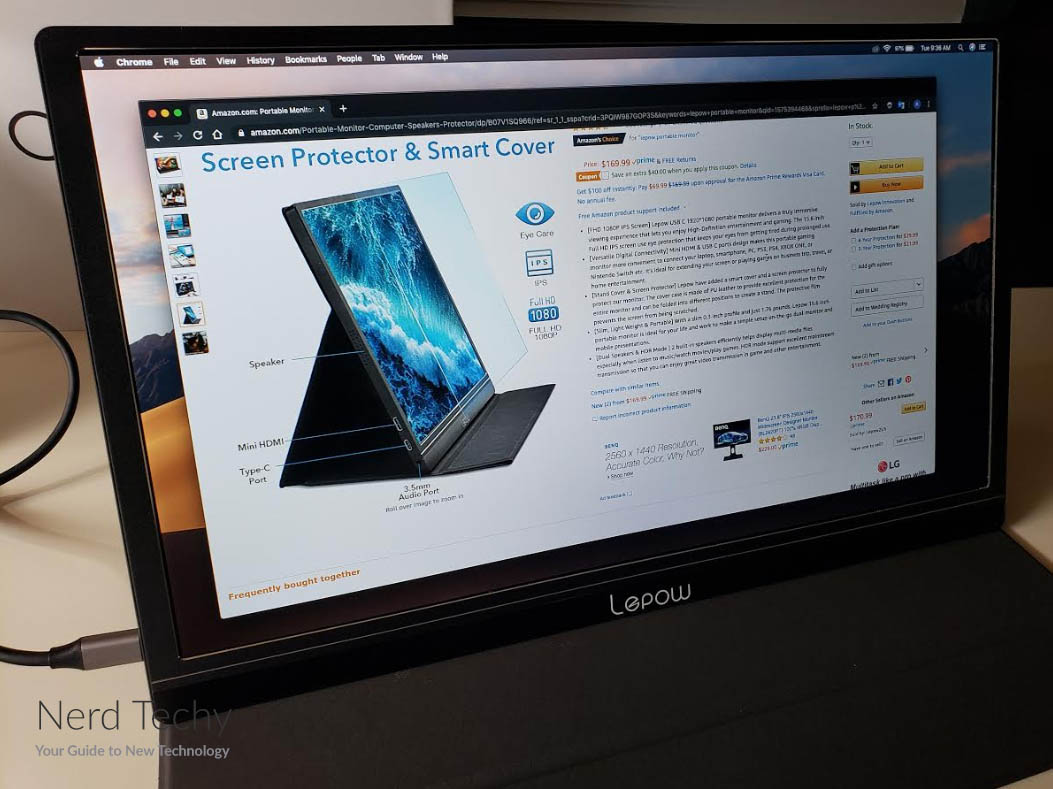 Video and Audio
The Lepow Portable Monitor utilizes an IPS panel. This type of panel provides a wider viewing angle than a standard LED screen. In that regard, the Lepow delivers. The maximum viewing angle is 85 degrees, both along the vertical and the horizontal axis. Effectively, this means it can be viewed from any angle, since anything 90 degrees or more would be physically impossible.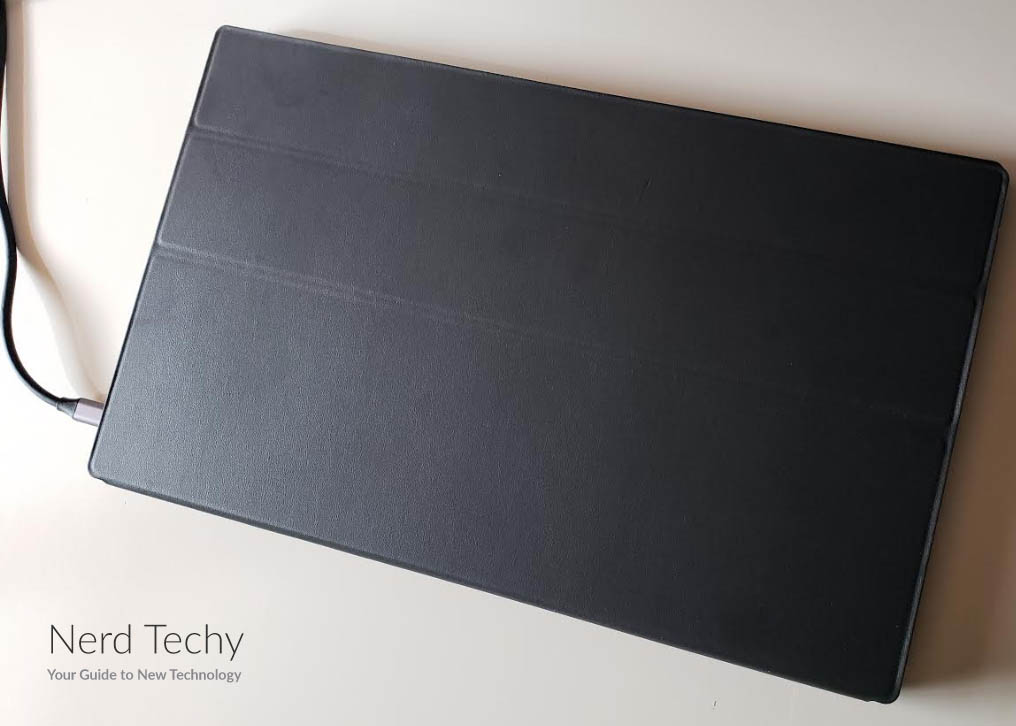 That said, IPS panels are not known for their vibrancy or refresh rate. The Lepow's color gamut is only 72 percent. This means that it can only produce 72 percent of possible LED colors. Now, this sounds awful, but it's not that awful. Keep in mind that LED pixels can produce billions of colors. So even with only 72 percent, it's not like you're going to be stuck in black and white. For everyday use, you're going to be just fine. On the other hand, if you're picky about color vibrancy – or if you're a graphic designer – you might be underwhelmed. The refresh rate, though, is better than most IPS panels. The Lepow is capable of 60 frames per second, so it's a viable choice for gaming.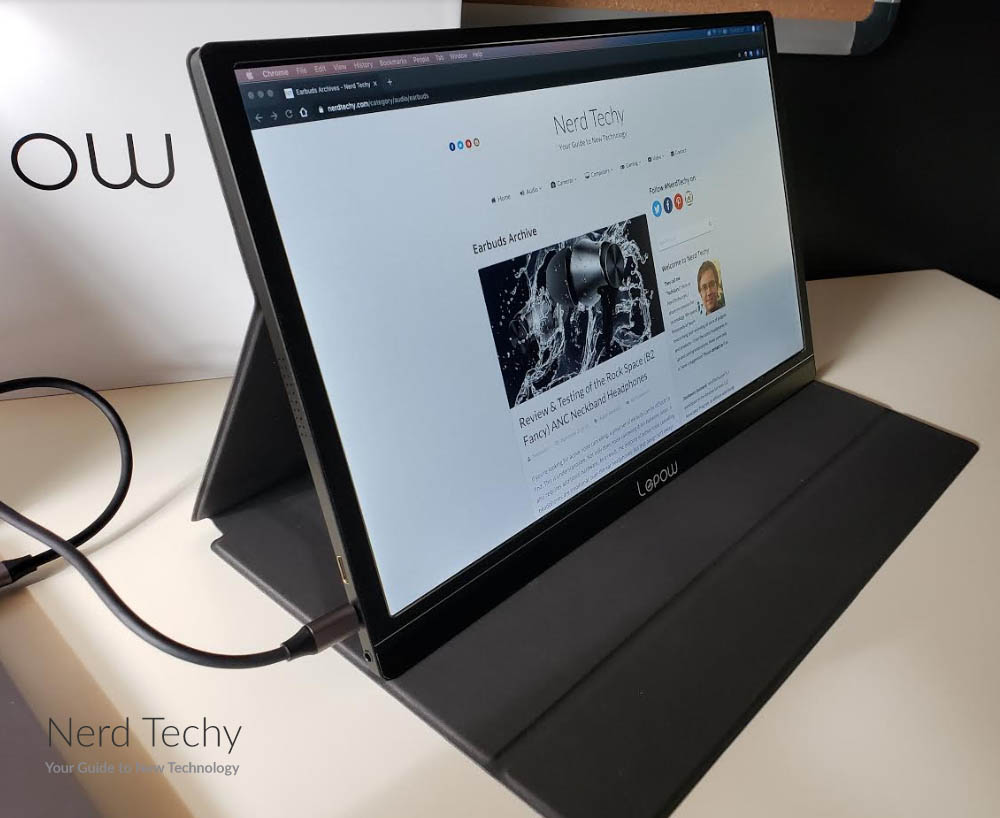 The Lepow's resolution is 1920 x 1080 pixels, which means it's standard 1080p. In a 15.6-inch screen, that's essentially as good as it gets. Even if the manufacturer upgraded it to 2K, you wouldn't be able to tell the difference at this size. The pixels are small enough and close enough together that there's just no visible difference.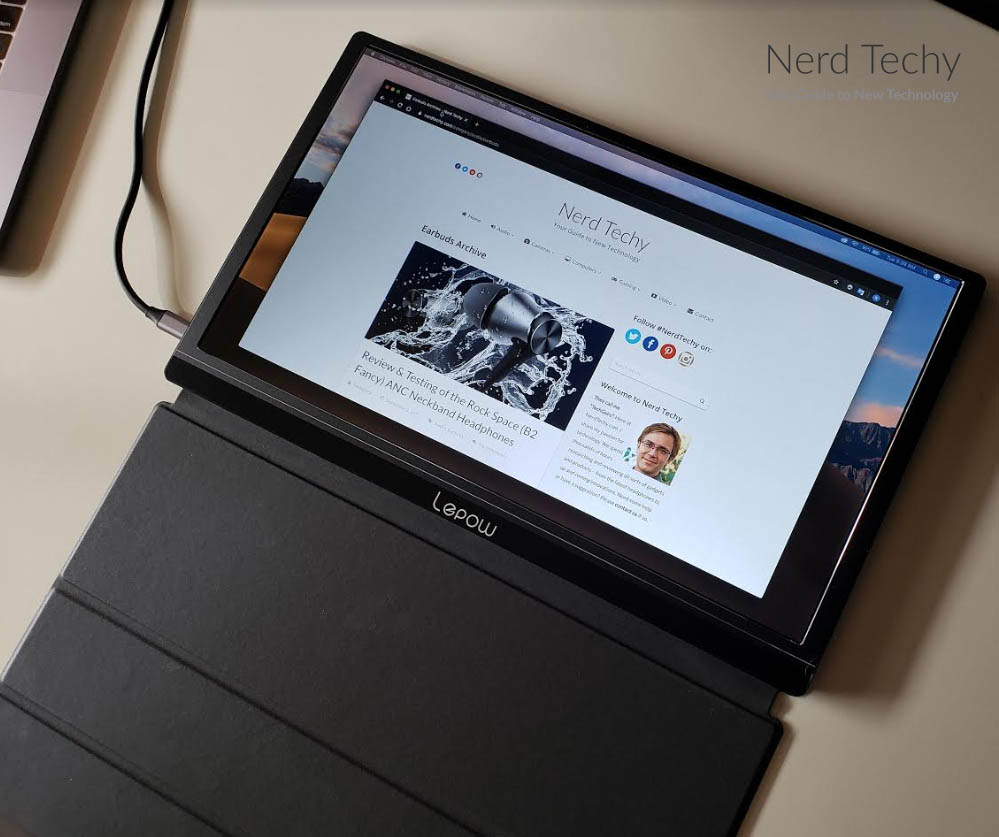 You will notice that the default monitor brightness is 30 percent. This can be too dim for well-lit locations, but it's a good way to save power. Unfortunately, the Lepow doesn't remember any changes you make to the display settings. As a result, you'll have to adjust the brightness every time you start it up. The contrast ratio is 1000:1. That's not the best on the market, but it's still in line with current standards. You'll get enough black detail to distinguish darker videos and photos.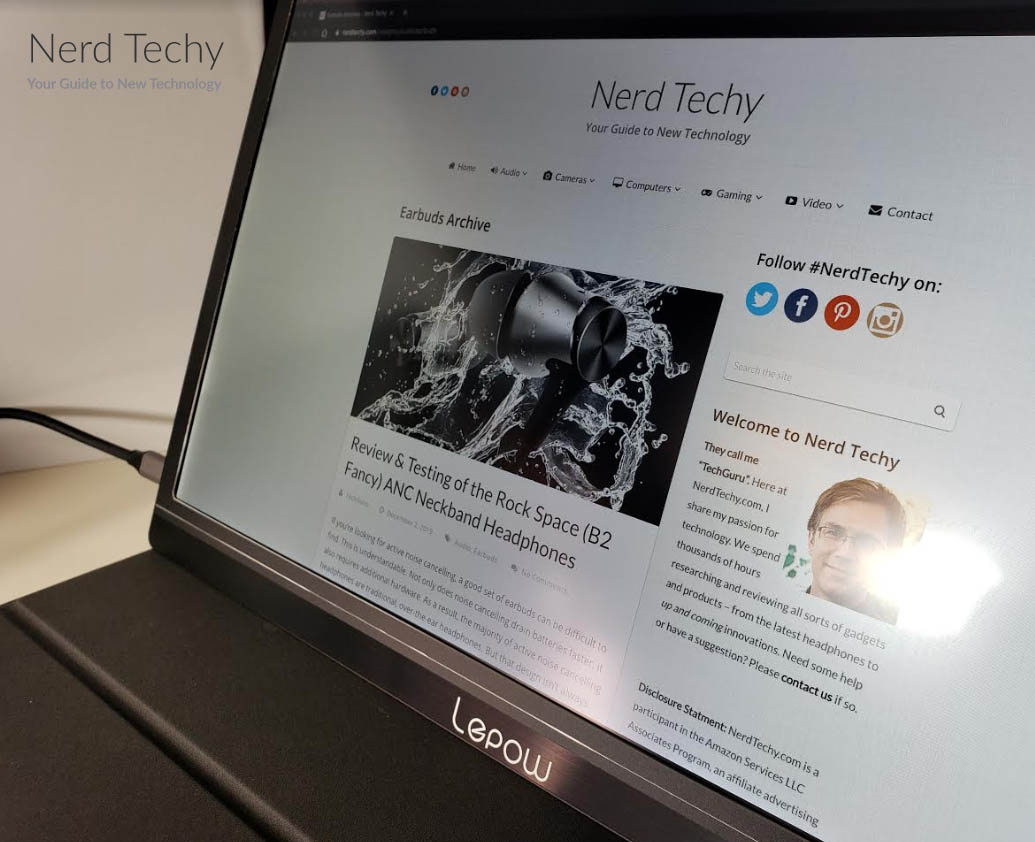 As you might expect, the Lepow's speakers aren't terribly impressive. They're not very loud, even at full volume. If you're watching a YouTube stream in the privacy of your own bedroom, this won't be a problem. But if you need serious volume, you'll be disappointed. Similarly, the quality of the audio is sub-par, with noticeable rattle in the bass. Then again, you don't buy a portable monitor for speaker quality. If audio is a major concern, get yourself a good pair of headphones.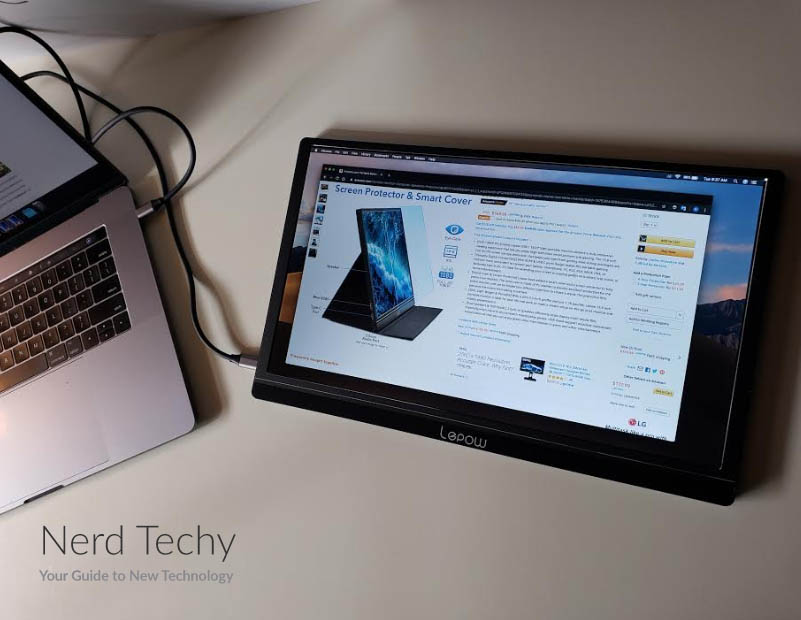 Final Verdict
At the end of the day, the Lepow Portable Monitor has a lot to offer. To begin with, it's exceptionally light. At 1.7 pounds, you'll barely even notice that it's inside your backpack or briefcase. It's also well-designed. The magnetic case is a great feature, since serves as both a stand and a case. And it eliminates the need for a kickstand, saving weight.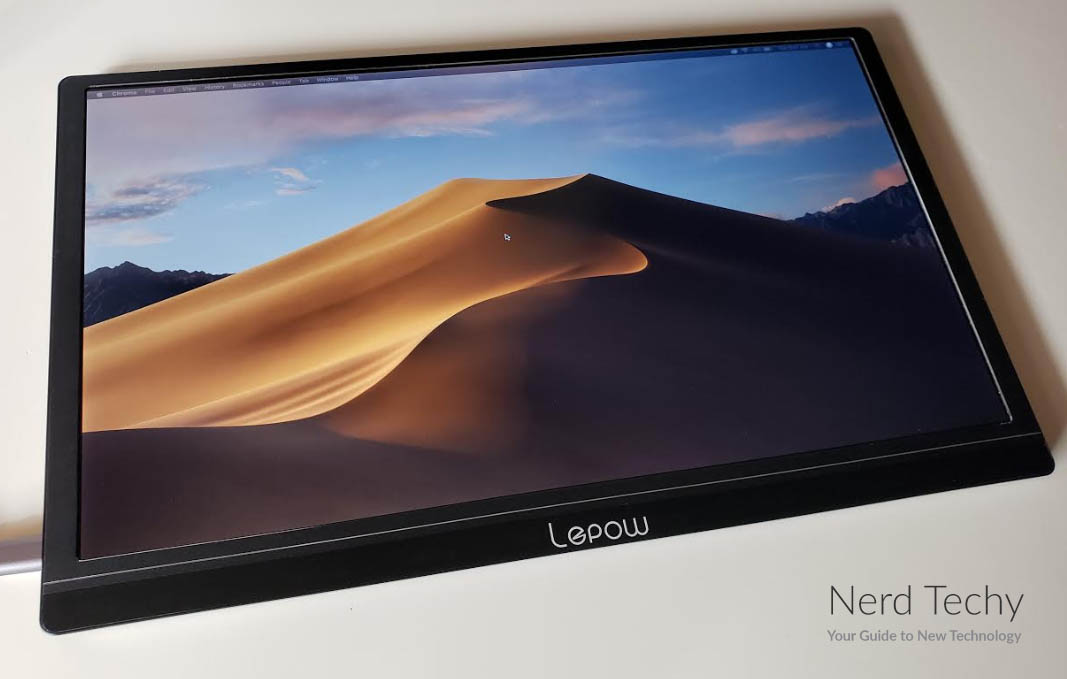 The power system is a bit of a mixed bag. A battery is usually the heaviest part of any device, so a wired design saves weight. On the other hand, if you're not near a power outlet, you'll need to rely on your phone or laptop. With a smartphone in particular, this can significantly reduce your battery life.
The video quality is good, but it's not the best on the market. It will serve for gaming in a pinch. But the real advantage is for presentations and office applications. It's especially useful for frequent fliers. If you need to fit a second monitor in your carry-on bag, the Lepow is the best on the market.
Meet Derek, "TechGuru," a 34-year-old technology enthusiast with a deep passion for tech innovations. With extensive experience, he specializes in gaming hardware and software, and has expertise in gadgets, custom PCs, and audio.
Besides writing about tech and reviewing new products, Derek enjoys traveling, hiking, and photography. Committed to keeping up with the latest industry trends, he aims to guide readers in making informed tech decisions.