If you spend a lot of time on the road, access to a reliable monitor is not always guaranteed. Suppose you're staying in a hotel room and you want to watch a movie on your favorite streaming service. Do you need an HDMI cable to connect to the room's TV? A Mini HDMI? A USB Type-C? To be prepared for all options, you'd need to carry a whole kit of cables and adapters. And the options get even worse if you depend on a standalone monitor for work. If you're doing a lot of work in Photoshop on your tablet, the last thing you want is to be reliant on your hotel's TV to get your work done efficiently.
A reliable, portable monitor can help you solve some of these problems. So we've decided to review AUZAI's new 15.6-Inch Ultra Slim Portable Monitor. This LCD screen is designed to be compact and lightweight enough to pack away in your carry-on bag, and to offer reliable performance for a variety of applications, from gaming to working to watching movies. But is it worth investing in? We decided to take a closer look, and to look at some of the less superficial features that can make or break a portable monitor.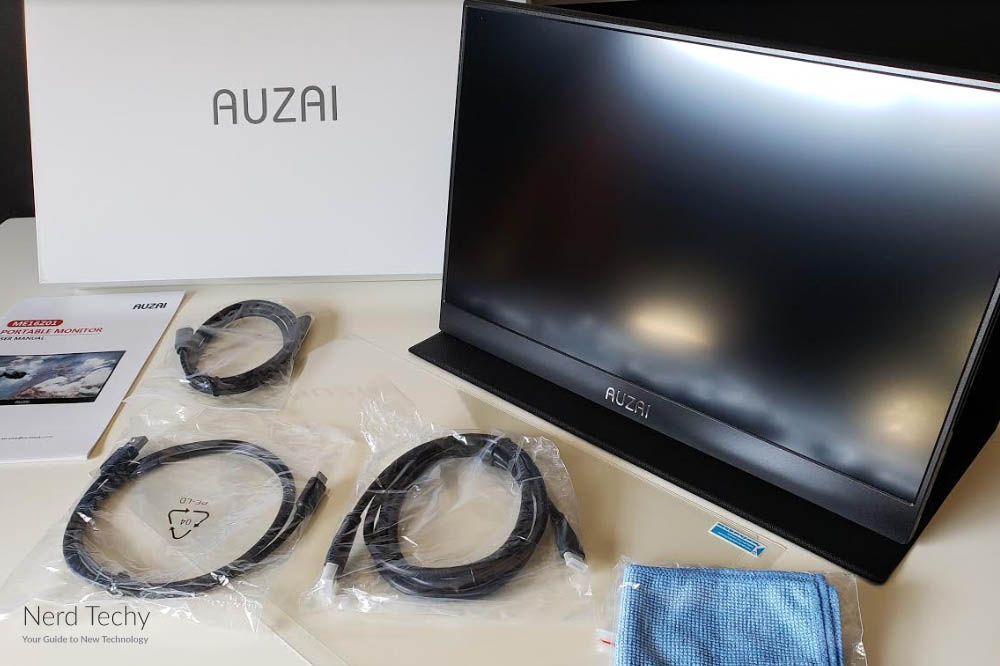 Now, if you were looking for a large screen, we hate to disappoint you. But you're not going to find a 27-inch screen that's suitable for travel – at least not yet. Still, there are plenty of excellent gaming monitors available. We recently reviewed the BenQ Zowie XL2731, and it's a great choice for a stationary gaming monitor.
Technical Specifications
Before we go any further, let's take a look at the AUZAI's basic specifications. If you already have a good idea of what you're looking for, this might help you make a quick decision.
15.6-inch screen size
IPS LED panel
1920 x 1080 resolution
6:9 aspect ratio
250 cd/m2 brightness
1,000:1 contrast ratio
30 ms response time
USB Type-C and Mini HDMI inputs
USB Type-C power supply included
Weighs 4.05 pounds
Measures 13.9 x 8.7 x 0.3 inches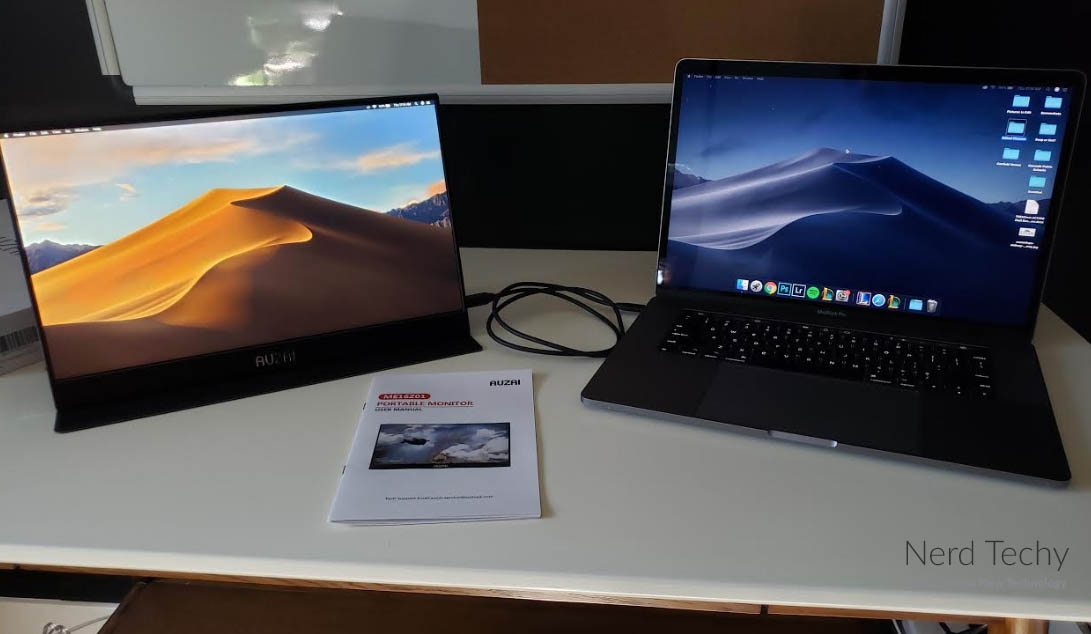 Design & Features
The main attraction of the AUZAI is, clearly, it's incredibly compact size. When folded up, it measures 13.9 inches long, 8.7 inches wide, and a slim 0.3 inches thick, about the size of a legal notepad. Even if you pack light and your travel kit consists of a messenger bag, you'll have plenty of space. The small size is also convenient for gaming on the go. Throw it in your backpack with your console of choice, and you can set up on your buddy's coffee table in just a few minutes. The kit includes a stiff plastic case, which conveniently doubles as a stand, while a heavy-duty polycarbonate screen protector ensures that your screen won't get scratched during use.
The screen itself uses IPS LED diodes, which are optimized for a wide viewing angle. This is ideal if you're using a multi-monitor setup, since one of those monitors at minimum is going to be off to one side. In this case, you can easily set the AUZAI to the side, and leave your primary monitor directly in front of you. IPS diodes are also virtually flicker-free, so you won't experience any irritating strobing. That said, IPS LEDs aren't the best choice for the most vibrant color, so you may see some issues with black balance.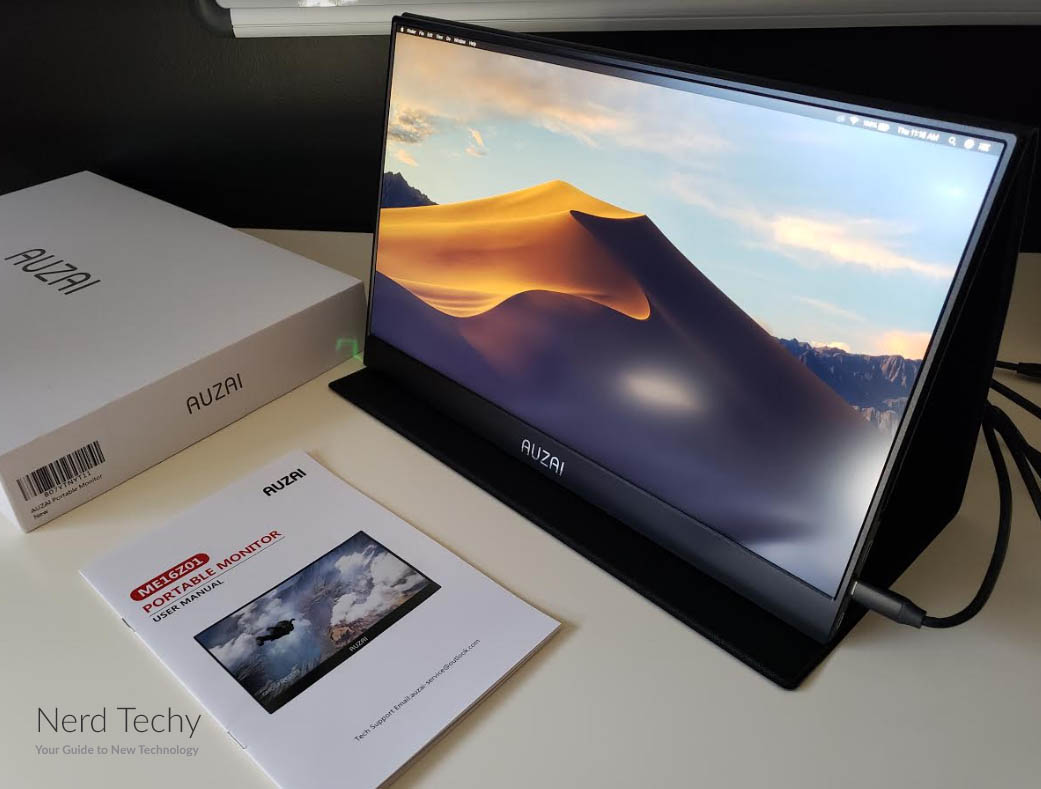 The speakers are about what you'd expect from speakers in a mid-priced portable monitor. They're functional, and they're probably better than the speakers in your tablet or smartphone. But they're no replacement for the speakers in a gaming laptop or even a basic television. Still, you get true stereo, and the ability to take your rig on the road without the need to carry along bulky headphones or a set of Bluetooth speakers. That said, you can always use headphones if you like. The AUZAI sports a 3.5mm aux port for connecting your favorite over-the-ear headphones.
If you're in the market for something even smaller and more compact, the Duex Pro Portable Monitor is as portable as they come. This 12.5-inch, 1.5 pound pintsized LED screen is designed to clip to the back of your laptop, and can swivel 180 degrees to use in presentations.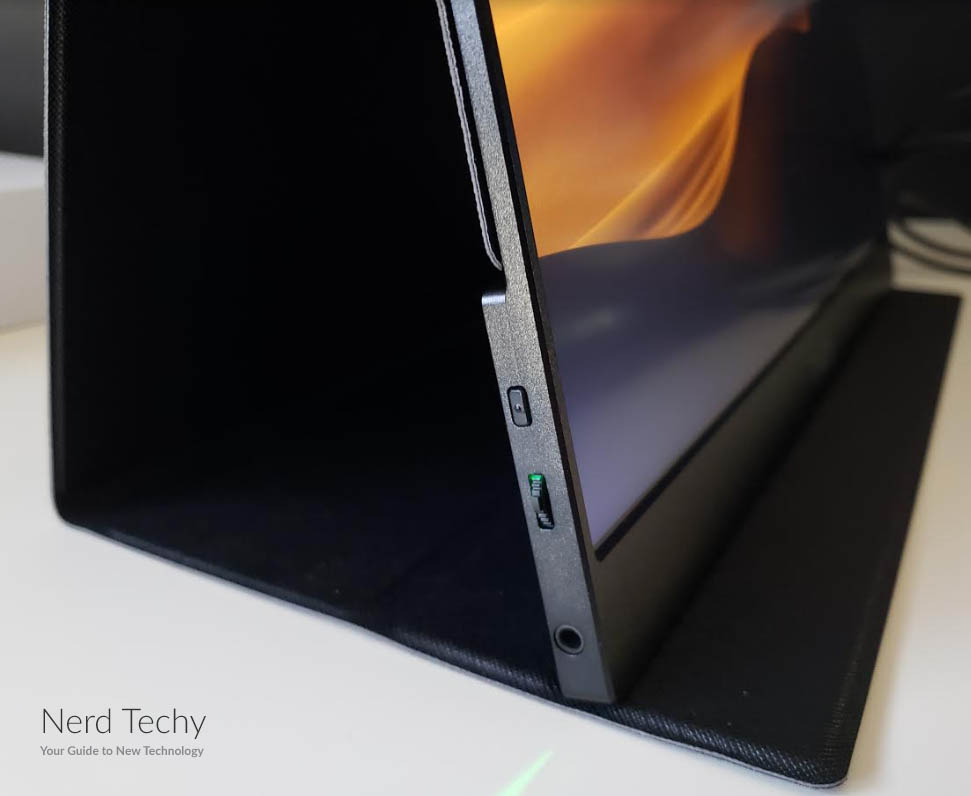 Video Quality
The AUZAI's display resolution is full 1080p, which is honestly all you need in a 15.6-inch monitor. At this size, 4K would be overkill, and you'd be better off investing your money in other features, like a monitor with better speakers. In the real world, at 15.6 inches, there's no noticeable difference between 1080p and 4K. That said, not all 1080p monitors are created equal, and there are a few things we should look at when we evaluate the overall picture quality on the AUZAI.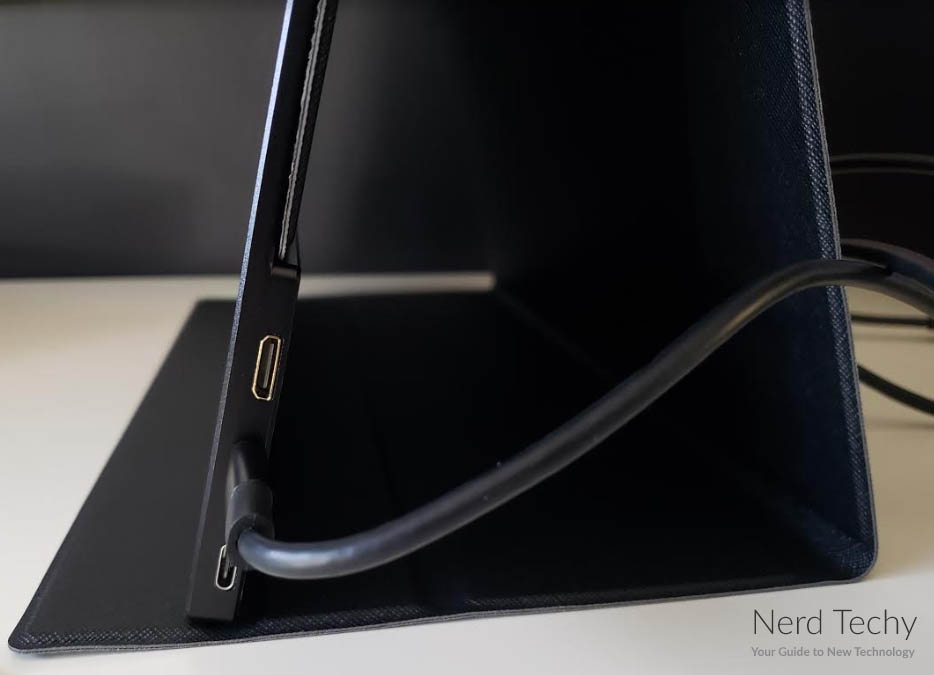 To begin with, the display utilizes HDR technology. This allows for a more vibrant color balance than a cheaper display. That said, the black level is still hampered by the IPS LED display, so while you'll get plenty of contrast between dark and light colors, similar dark colors can be difficult to distinguish, particularly when they're in shadow.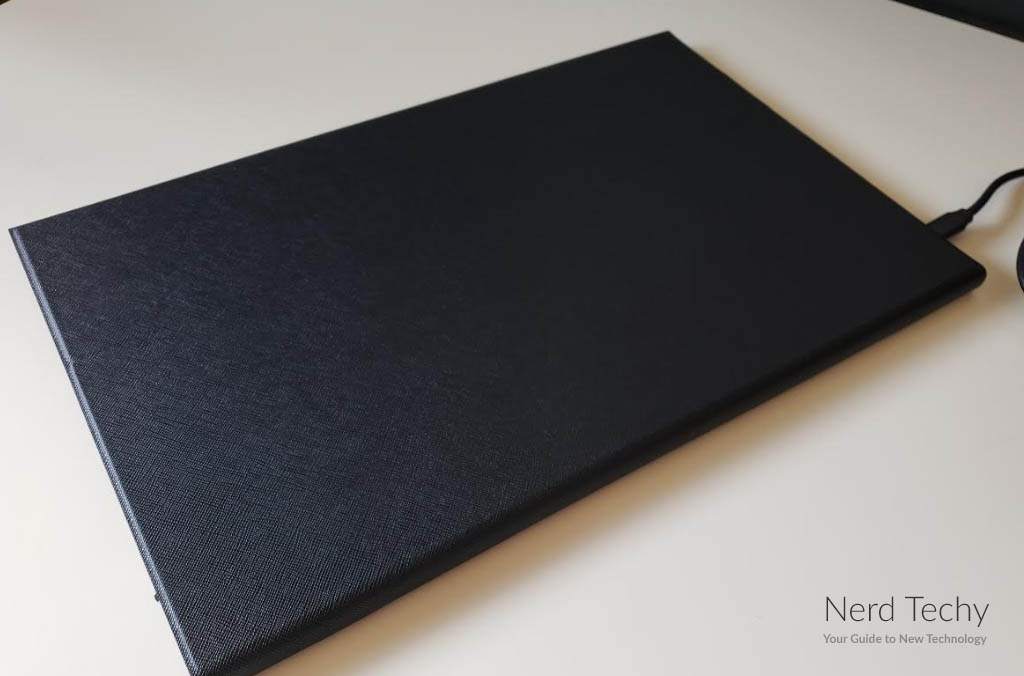 If you want to get the most out of the AUZAI – or any monitor, for that matter – you'll need to adjust your settings appropriately for your environment. And with a portable monitor, that can mean adjusting your settings every time you're in a new location. Thankfully, the on-board OSD menu is easy to navigate, with three buttons that click clearly when pressed. This menu allows you to adjust the brightness, contrast, color balance, and audio options, so you can easily optimize for different color and lighting conditions.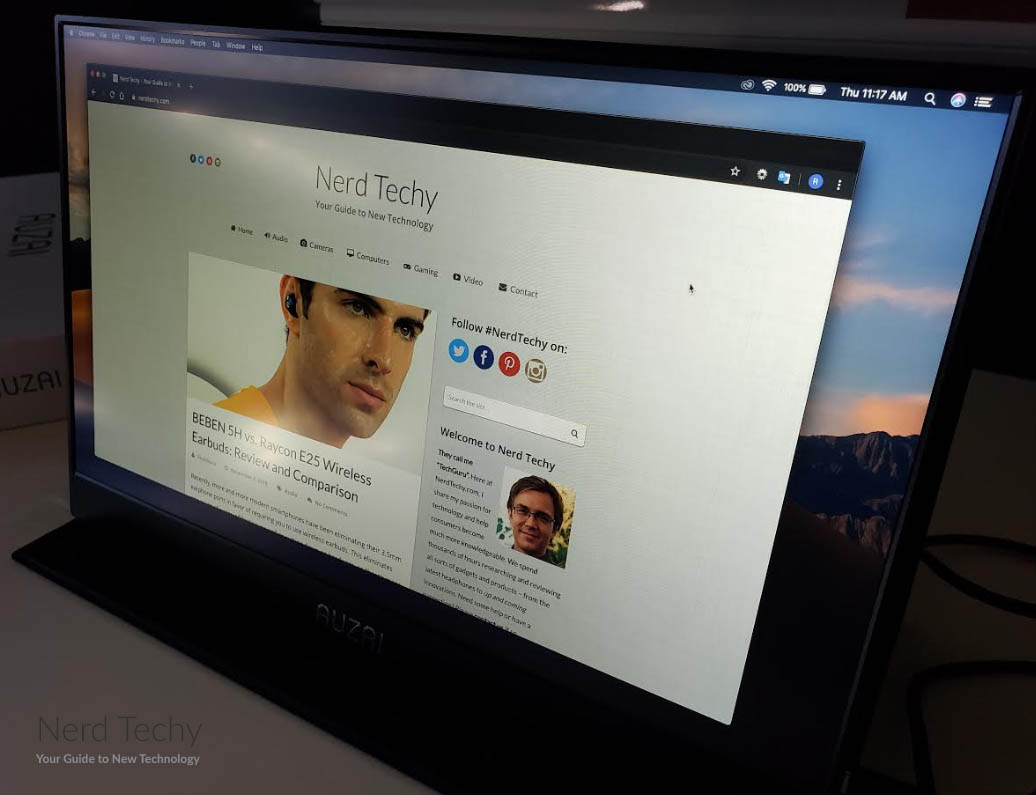 In one regard, the AUZAI is not optimized for gaming. It offers a response time of about 30 milliseconds, while we'd typically expect a gaming monitor to offer 10 or fewer milliseconds of response time. Response time is the difference between the time your device sends a video frame to your monitor, and the time your monitor actually displays the frame. This can have an effect that's similar to lag, so you might want to look elsewhere for a multiplayer gaming monitor. That said, 30 milliseconds is not going to cause any problems for creative work, business applications, or watching movies.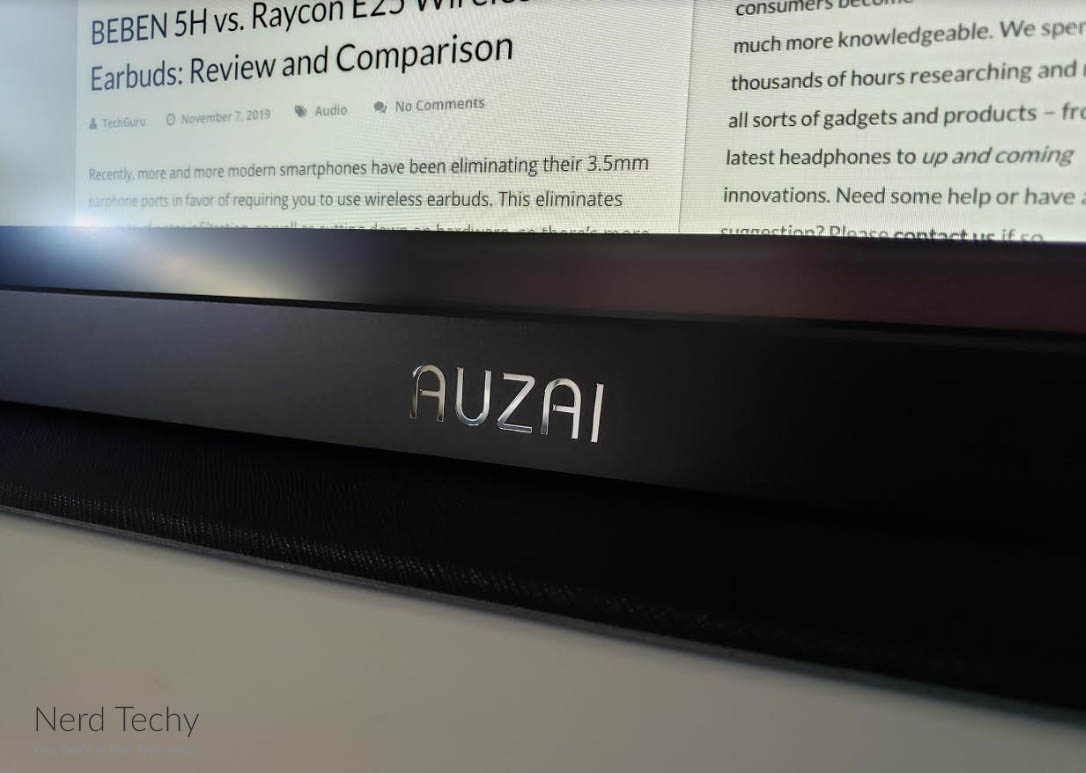 If you want a dedicated gaming monitor that offers very short response time, once again, you'll be hard-pressed to find a portable one. That said, there are several large, stationary gaming monitors on the market that provide very short response times. These include the LG 27GL850, which offers a truly insane response time of 1 millisecond.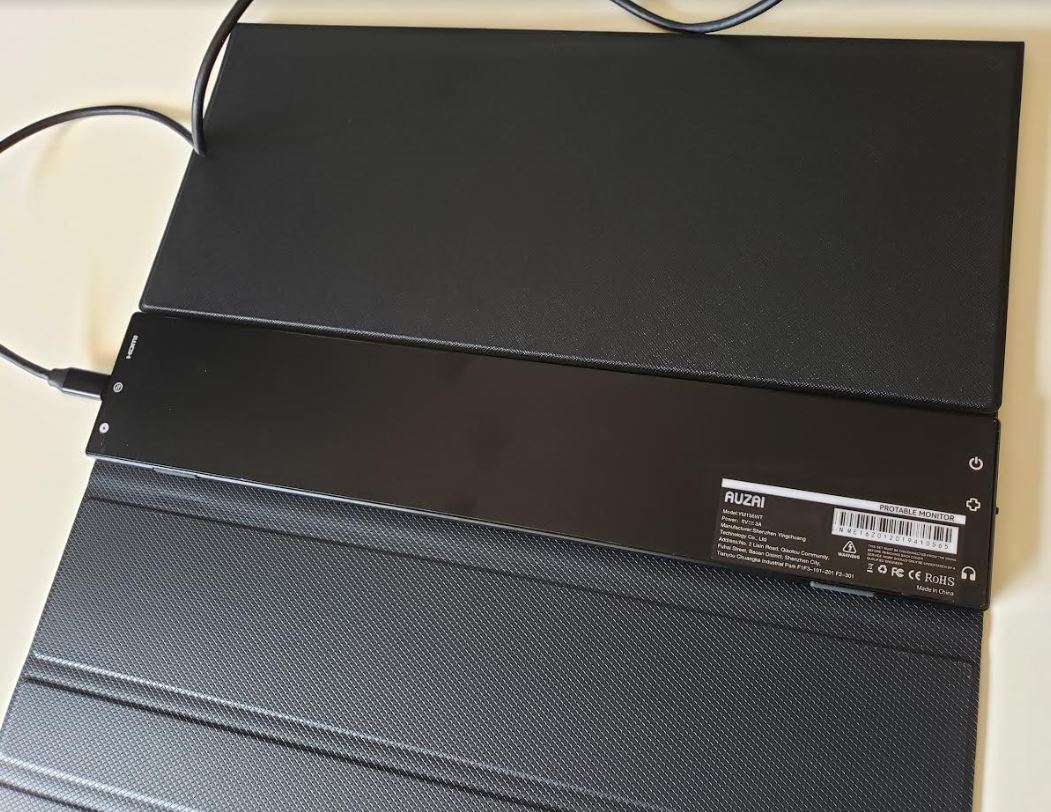 Accessories & Compatibility
For charging, the AUZAI utilizes a USB-C to USB Type-A cable and a USB-C to USB-C cable. This can be plugged into any computer or USB charging block, although you'll want to be careful about plugging it into a 1-amp outlet, which can be insufficient for powering the speakers at a reasonable volume along with the monitor. However, this is only necessary if you're connecting to your AUZAI via Mini HDMI. If you're connecting to your laptop or tablet with a USB Type-C to Type-C cable, there should be enough power to run the screen without any additional problems.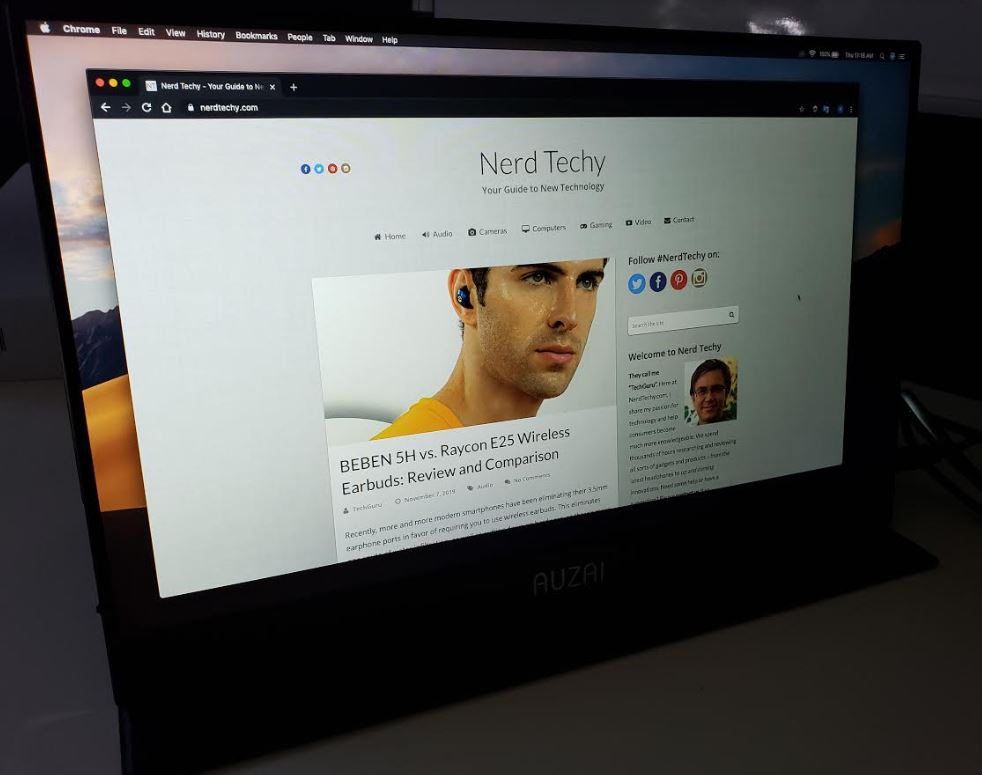 One common use for the AUZAI is as a dual display. Because it's 1080p and not some other, higher resolutions, it's easy to use even if your device doesn't have a dedicated graphics card. You don't need a high-end gaming rig to properly utilize the AUZAI. An iPhone or Chromebook can easily handle presentations, or even allow you to watch a movie along with your loved ones on a long airplane flight.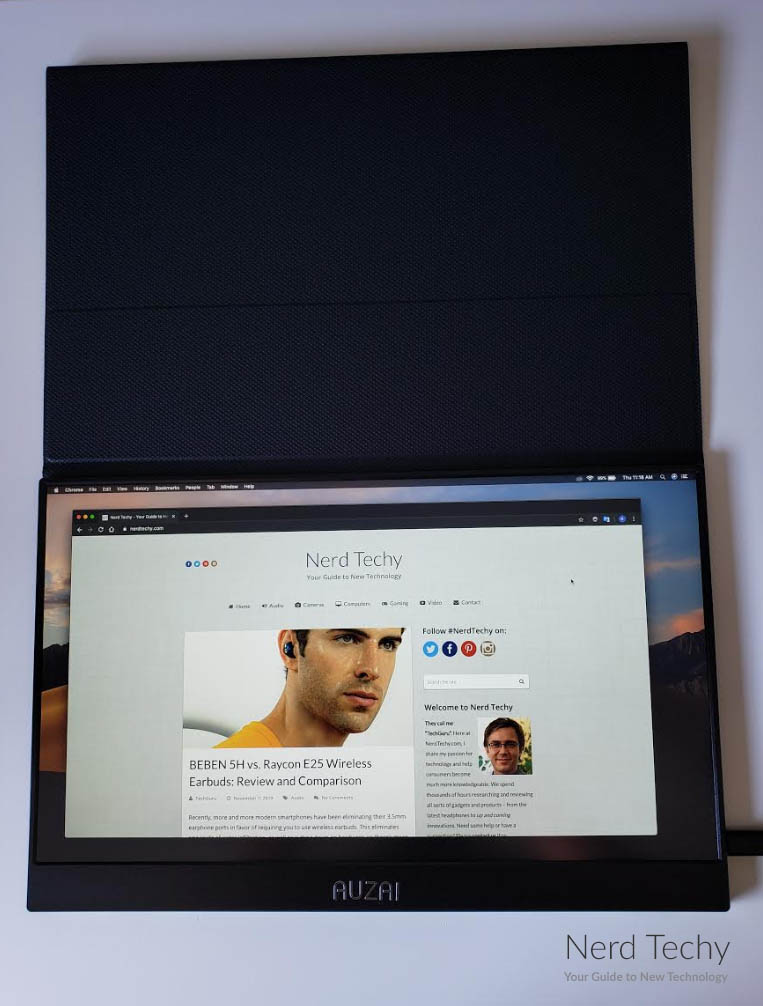 For PCs or tablets, the best wiring option is generally USB Type-C. This will eliminate the need to use the separate charging cable. That said, if you have an older computer or laptop, your USB ports may not support 5-amp power. If that's the case, you may be forced to use a separate power cable regardless.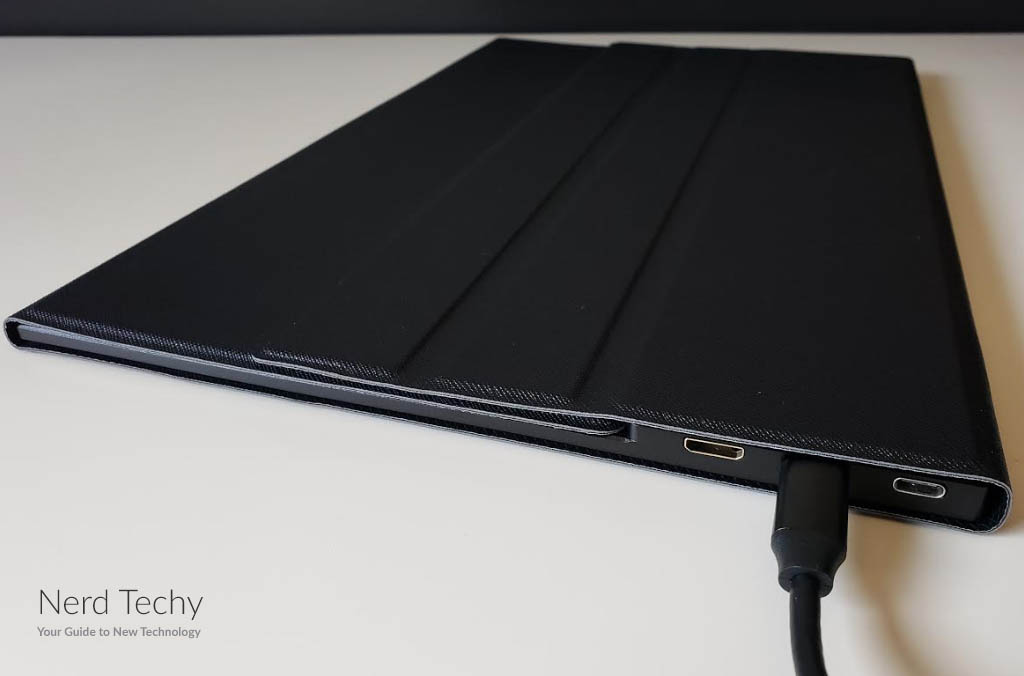 For game consoles, Mini HDMI is really the only option. Neither the Xbox 360 nor the PlayStation 4 support USB monitors, but both of them ship with an HDMI cable for connecting to your TV. In this case, the best – and most affordable – choice is simply to order a Micro HDMI to HDMI adapter. This will allow you to connect to the AUZAI using your existing hardware.
Final Verdict
So, is AUZAI's 15.6-Inch Ultra Slim Portable Monitor worth buying? It depends on what you're looking for. Primarily, it's designed as a secondary monitor for business or creative work, and it excels at both of those applications. While the black balance leaves a little bit to be desired, the color balance overall is better than we'd usually expect on a monitor of this size and weight. If you're doing a lot of work in Photoshop, the AUZAI is an excellent choice.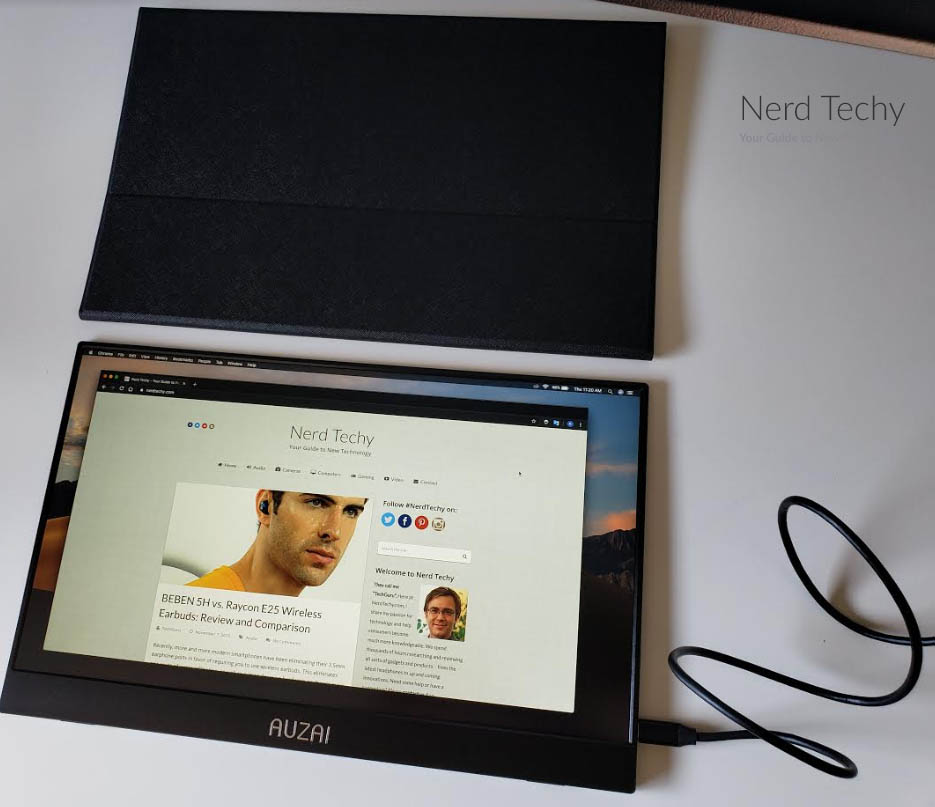 For gaming, results are a little more mixed. The 30 milliseconds of response time is a bit much for multiplayer gaming, and may put you at a disadvantage in a competitive match. Then again, if you're not playing a first-person shooter, you're probably not going to notice 30 milliseconds of delay. It's not going to be an issue while you're playing Minecraft or The Witcher 3.
For movies, this monitor is an excellent choice. We'd buy one simply so we could use it on the road, to get a bigger screen while streaming Netflix videos on the phone. The size upgrade – and speaker upgrade – from a smartphone to the AUZAI is significant enough to be well worth the investment.