Over the last few years, SoundPEATS has grown significantly as a company. From their beginnings as a budget-rate manufacturer, they've started to put out some very well-engineered earbuds. These include the TruEngine 2, which we've reviewed recently.
The TruEngine SE, which came out around the same time, is a smaller earbud, without the large in-ear wings that made the TruEngine 2 so highly adjustable. The case for the SE is also smaller than the case for the 2, providing a more portable design. But what else does the TruEngine SE bring to the table? We took a close look at its features, benefits, and drawbacks; here's what we found.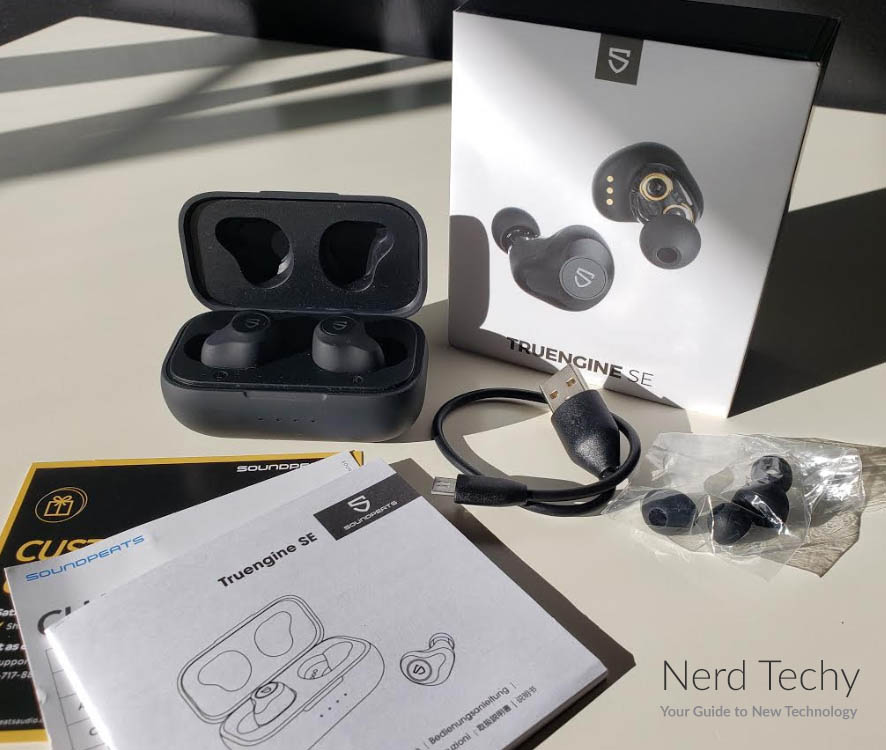 Basic Construction
The first thing you'll notice when you open the SoundPEATS box is that it's well packaged, with plenty of inflatable cushion to keep anything from getting damaged during shipping. The earbuds ship inside the charging case, along with a Micro USB charging cable, an instruction booklet, and 3 different sized pairs of extra ear tips.
The case itself is well-engineered, with a clamshell design and a smooth, matte finish on the plastic outer shell. Four white LED lights underneath the opening display the current battery charge. The lights are understated, and only illuminate when the case has been opened, or when it's currently plugged into a charger. The case is lightweight, tipping the scales at just 43 grams (1.5 ounces), while each of the earbuds weighs only 5 grams (0.18 ounces). That makes the TruEngine SE very portable, especially considering the small size of the case, which measures only 1 inch deep x 1.1 inches wide x 0.8 inches tall.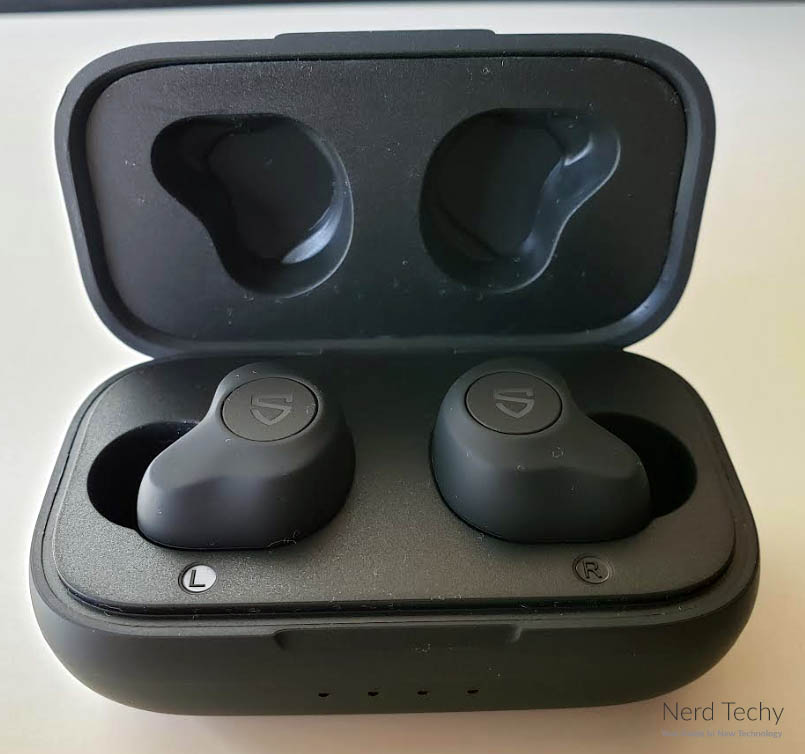 The clamshell case has a magnetic closure, which snaps shut securely when it's closed, but is still easy enough to open one-handed. The inner earbud wells are also magnetized, ensuring that the earbuds will fall securely into place, and will not be out of position when you put them in the case to charge. The earbuds themselves have a long, slender design. Most of the weight is built into the outer portion.
The TruEngine SE earbuds have a compact, ergonomic shape that's designed to slip easily into your ears. We found that this feature works very well if you've got an average-sized ear canal. However, if your ear canal is unusually wide, narrow, or has a very shallow slope, the ear buds won't fit quite as well. This isn't a problem with the design of the TruEngine SE buds themselves. In fact, this can easily be solved by swapping out the standard ear tips with either smaller or larger tips (included).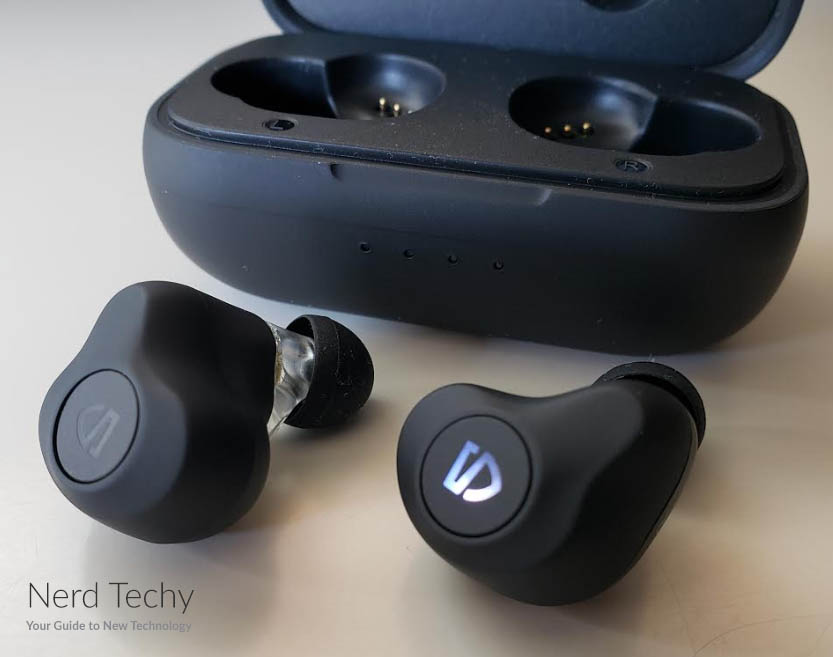 One note about the fit. TruEngine SE earbuds are designed to sit deep inside your ear canals, at a downward angle. If you try to put them in flat, or if you don't push them in very deeply, they're not going to stay in. When properly inserted, they should work just fine for most people.
The earbuds are attractive, with a unique open back on the inside of the housing. This allows you to get a clear look at the central portion of the SE, where the drivers are located, and while it's purely a cosmetic feature, it's still pretty cool. More to the point, the earbuds are IPX5 rated for water resistance. This means that they're not rated for submersion, but they're capable of withstanding any amount of sweat or rain you can throw at them. The TruEngine SE case is also IPX5 rated, providing plenty of protection from accidental spills.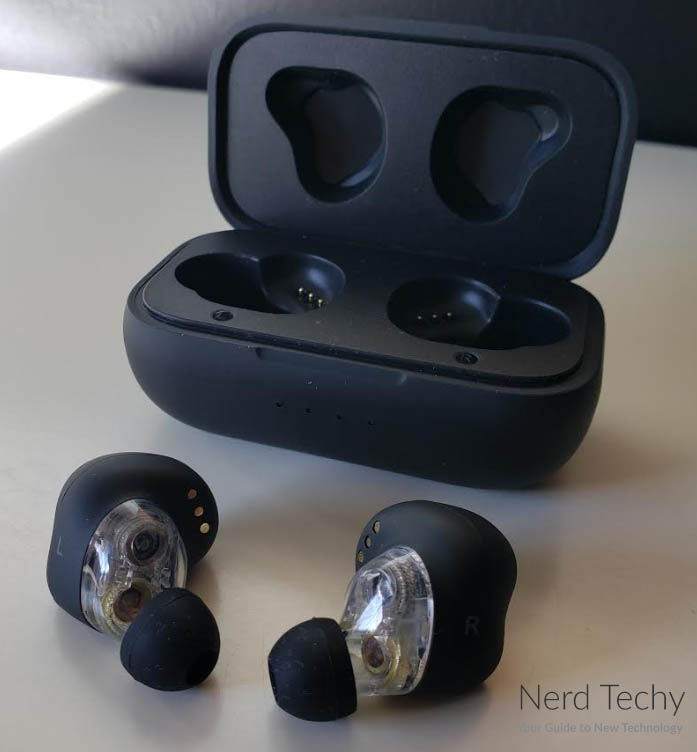 Battery and Charging
More important than an earbud's outward appearance is how well the battery performs. In this case, each TruEngine SE earbud holds a small charge of 50 mAh, which is enough to last for about 5 ½ hours. In addition, when fully charged, the charging case carries a charge of 400 mAh. Keeping in mind that the batteries in the earbuds total 100 mAh, you can recharge them approximately 4 times. This gives you a total charge time of about 27 hours, assuming you have your charging case with you. Even if you're going on a short vacation, that should be more than enough time to get you through the airport and a couple of flights.
The case itself charges relatively quickly, in only 2 hours. This is impressive for a Micro USB device, and it means that you can use TruEngine SE earbuds more or less continuously. The four LED lights on the front are also a nice touch, since they correspond roughly to how many total recharges are available from your case's internal battery.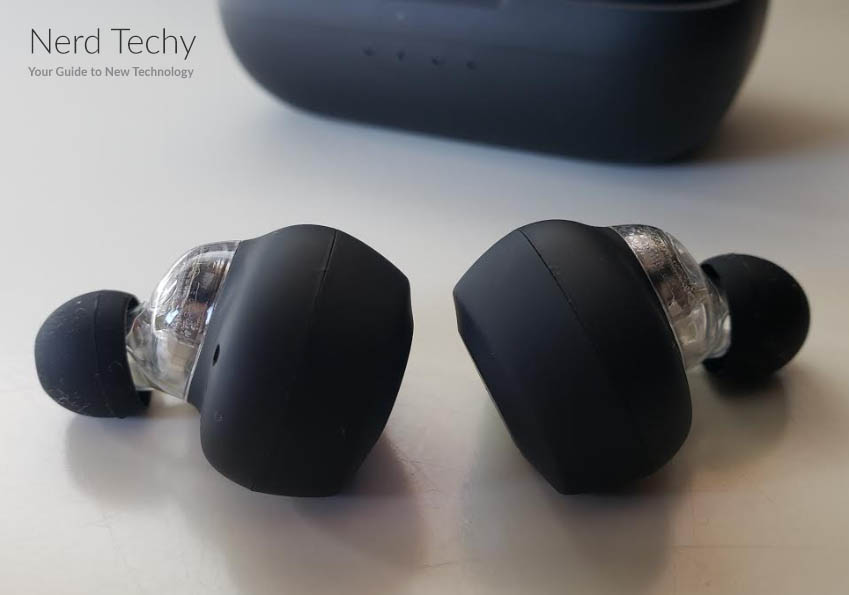 Connectivity
These SoundPEATS earbuds are very easy to pair. Simply remove them from the case, and the logo on the back will glow blue and red. This means that the earbuds are turned on. Next, open up your Bluetooth menu on your phone or MP3 player. The correct option should say "SoundPEATS Truengine SE", but your mileage may vary depending on what kind of device you use.
Sometimes, you may have trouble pairing the earbuds. Although we didn't run into this issue, it's something that might come up eventually. In this case, you'll need to set both earbuds back in the case, wait for them to turn off, then remove the TruEngine SE from your phone's Bluetooth memory. From there, you should be able to re-pair without any issues. This sometimes happens when you use a single earbud and then try to pair both earbuds again.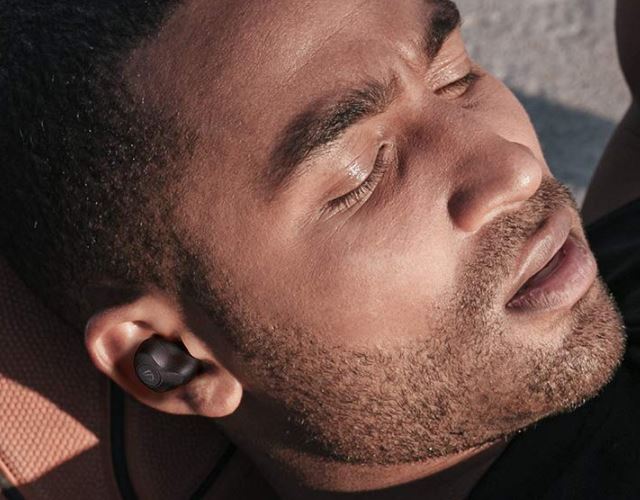 The connection itself is very stable, and utilizes the newest Bluetooth 5.0 protocol. This is a major improvement over the older 4.2 protocol, although you won't notice much difference if you're only listening to music. However, Bluetooth 5.0 offers significantly lower latency than 4.2, which means there's virtually no lag between the signal your phone receives and the sound you hear from your earbud. This is a huge improvement when you're watching movies, and also leads to less crosstalk during phone conversations.
Finally, we should look at the controls. Each SE earbud has a single button, which is located right on the crown of the earbud. It serves a variety of functions. When you press it a single time, it functions as a play/pause button, or to answer and hang up on phone calls. Long-pressing for 1.5 seconds will skip to the next track, and pressing three times will bring up your phone's voice assistant, such as Siri or Google Assistant. Additionally, you can set the volume by pressing the button twice, quickly. Last but not least, you can skip tracks by holding it for ~1.5 seconds – after the light beeps it'll skip to the next track.
If you like the idea of a USB 5.0 earbud, but you want something with more ergonomic options, consider the TOZO T6 earbuds. They offer excellent audio quality, along with several eat tip options and reasonable battery life.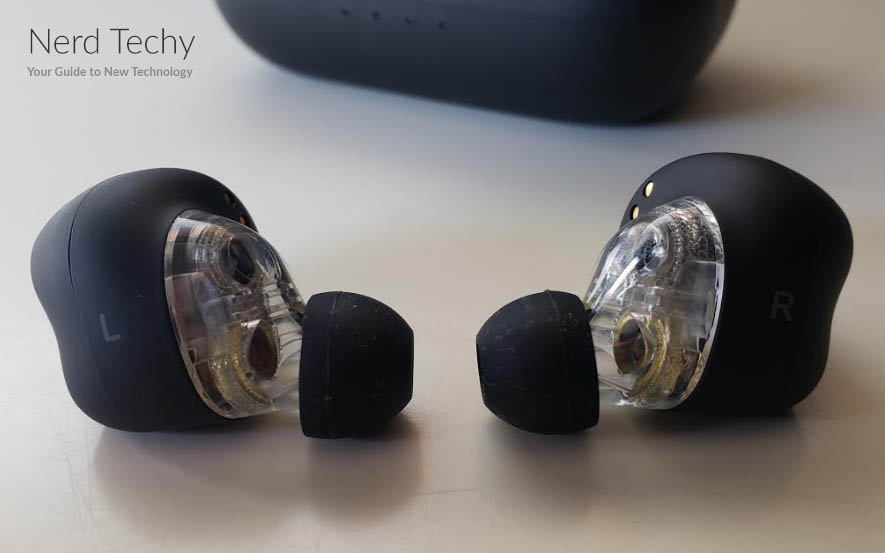 Sound Quality
When it comes to sound quality, everything else about a pair of earbuds pales by comparison. Nothing is as important. For that reason, we were excited to see that the TruEngine SE utilizes dual dynamic drivers, which is unusual in a pair of earbuds at this price. This type of driver offers more separation between the low and high end of the spectrum, which leads to less muddiness in the mids and more clarity in the highs and the lows.
In the highs, we found absolutely zero interference from mids or lows. Even with an intense bass, there was no rattle, and strings and cymbals maintained their clarity even under intense competition from other parts of the sound spectrum.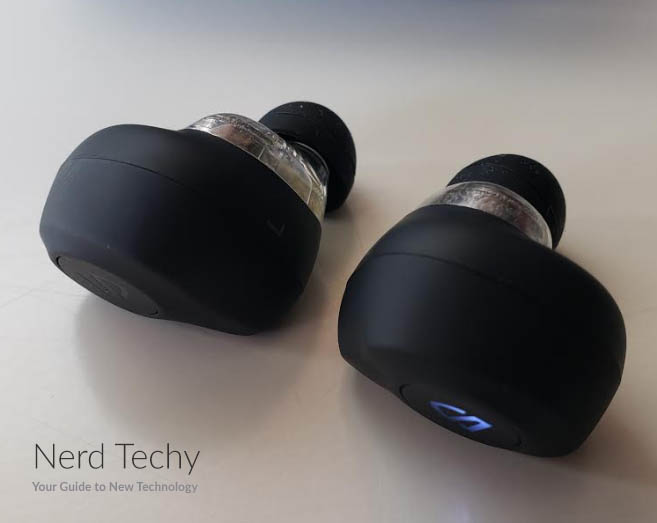 That said, the mids are where these drivers really shine, and that's to be expected. After all, mids are the first frequency to get crowded out on cheap drivers, so they're a canary in the coal mine when it comes to quality. We're happy to report that mids were exceptionally clear, and vocals came through without any interference. This is a particularly nice feature if you're a fan of rap, hip-hop, or other vocal-heavy genres. That said, it's also important for guitars and any other front and center instruments.
As is to be expected from earbuds in this price range, the bass is not very powerful. However, it's got plenty of separation, so even if it's not loud, it has plenty of presence. As a result, the TruEngine SE provides much better bass quality than a lot of earbuds in its class.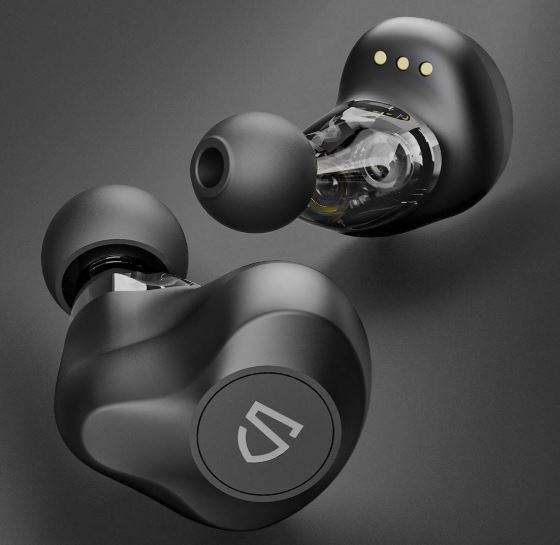 For phone calls, the microphone quality is quite good. Obviously, it's not what you'd expect from anything with a dedicated boom mic, but let's compare apples to apples. Compared to any pair of earbuds with a built-in microphone, the quality is better than we'd expect. It's certainly good enough that the person on the other end of the line won't complain about you sounding fuzzy.
For even more personalization, read our review of the Anker Soundcore Liberty Air 2. These earbuds have a classic AirPod shape, and include a personalized equalization profile that you can set up through Anker's mobile app.
Final Verdict
With the TruEngine SE, SoundPEATS has once again produced a well-engineered set of earbuds at an affordable price point. The dual dynamic drivers push out a lot of sound, and create a good sense of space with plenty of separation between the bass and the highs. That amount of separation is unusual in an earbud of this size, and it's one reason the SE is seriously worth considering. Another is the water resistance, which is essential if you rely on your earbuds to keep you motivated during a workout.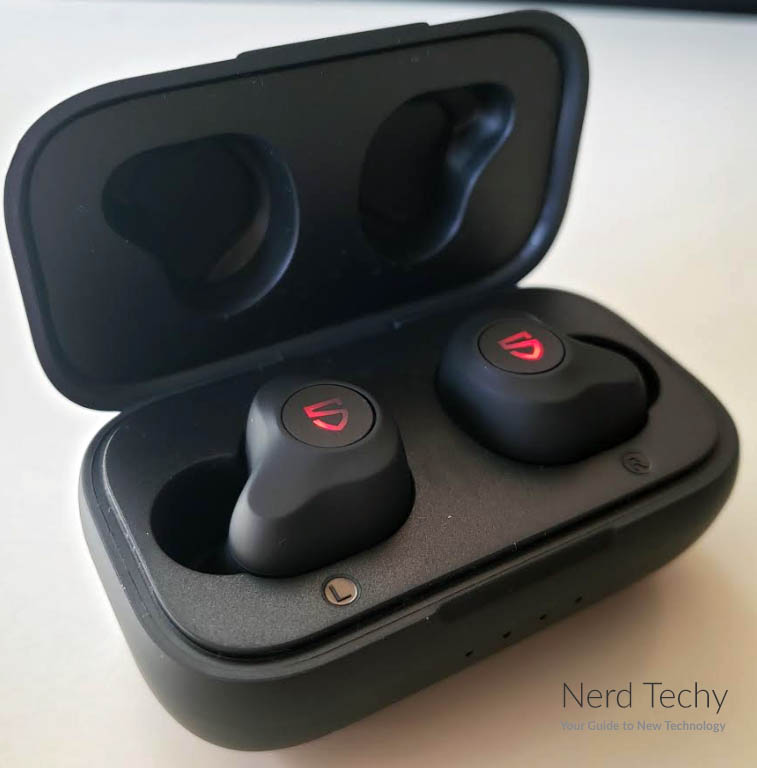 These earbuds do rely on Micro USB instead of USB-C, but that shortcoming also has a flip-side: you can charge the case using a standard Android charger. And while ergonomics may be an issue for some people, the SE is very comfortable in most ear canals. Add to that the quality and clarity of a Bluetooth 5.0 connection, and it's hard to find much not to like. Whether you use your earbuds primarily for phone calls or mostly for music, you'll appreciate the overall quality and design.