This September, electronics manufacturer Anker announced the release of six brand new varieties of earbuds. We'll be covering several of them this week, but today we're going to focus on the Soundcore Liberty 2.
The Liberty 2 is an upgrade to Soundcore's original Liberty Air. The original Liberty was a high-quality pair of earbuds, but it had a few significant drawbacks. Primarily, they charged via Micro USB instead of USB Type-C, so they took nearly 8 hours to fully charge from a dead state. This was inconvenient, and the Liberty 2 has been upgraded with USB-C charging. In addition, this latest version of the Liberty allows for wireless charging. This isn't quite as efficient as a wired charge, but the ability to charge on a Qi pad is a nice touch.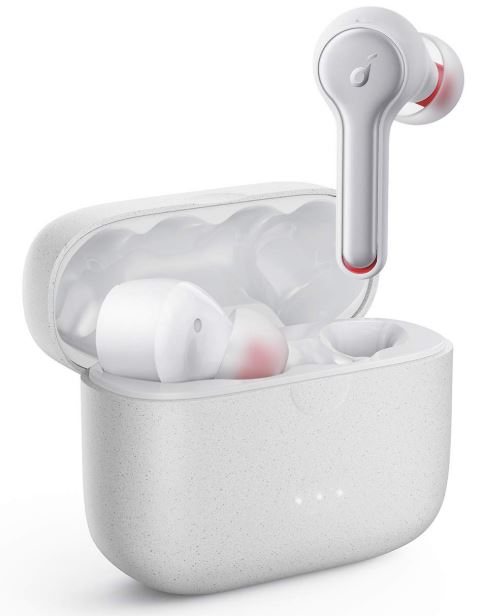 Earbud Design
The Liberty Air 2 is unusual for an Anker earbud in that it's white instead of black. In many ways, they actually look a lot like Apple Airpods. Their charging case is compact, and has deep holes for the extensions on the bottom of the earbuds.
The lid on the case is spring-loaded, and it's easy to pop open with one hand. It still provides good resistance, though, so it won't easily come open by accident. The earbuds are easy to remove with two fingers, so once again you're looking at easy, one-handed use.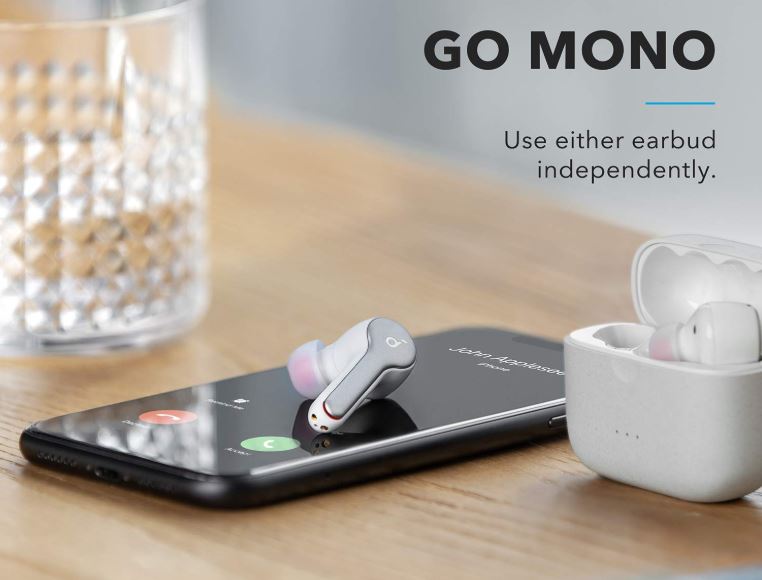 The buds themselves are on the larger side, but they still don't protrude much once they're inserted. The earbud extensions rest easily at a downward, forward angle. This is similar to how you'd wear an Airpod, but it's a tried-and-true design, and why mess with something that works?
The controls are on the small side, though, which is disappointing. This can make them difficult to press, which is a shame, because the outer surface has plenty of room for bigger buttons. Then again, operation is fairly straightforward, so learning the control scheme will be relatively easy.
In terms of comfort, the Air 2 is among the best in the game. It comes with five different sizes of ear tip, which means it's significantly easier to find a good fit than it is with most other earbuds, which typically come with three sets of tips. In addition, the Liberty Air 2 is IPX4 water-resistant. This isn't the same standard as many other truly waterproof earbuds, but it does mean they can stand up to a bit of light rain.
These earbuds are reasonably compact, but they're not exactly the tiniest pieces of hardware on the market. If you're looking for a peewee-sized bud that's truly tiny, consider the Aukey T10. The T10 offers good sound in a compact package. It also has a reliable battery life of 7 hours, with additional juice available from the charging station. That said, it still doesn't provide the sound quality you'd expect from Anker.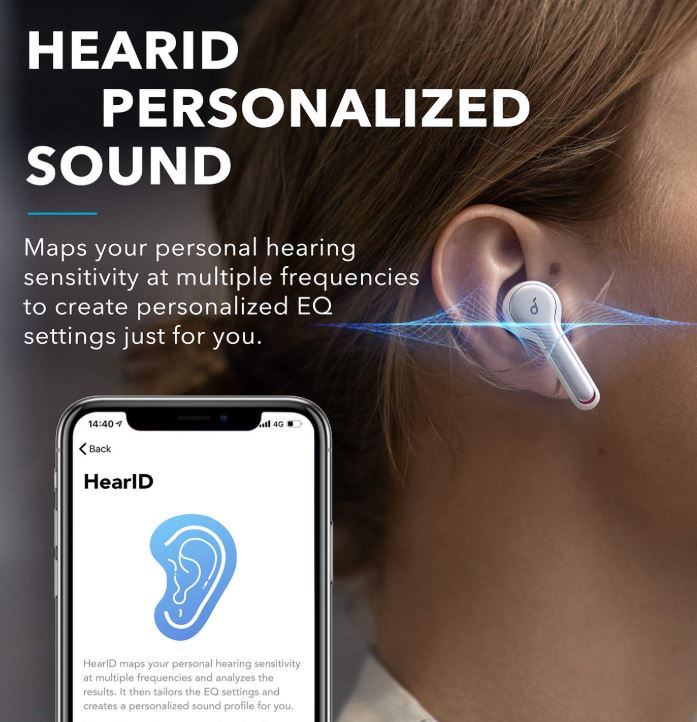 Sound Quality
At the Liberty Air 2's unveiling, Soundcore general manager Rock Gao had this to say: "By positioning the Knowles balanced armature driver directly in front of the dynamic driver and aligning both with the listener's ear canal, the resulting sound is sonically accurate. During the initial stages of design, we weren't happy with the soundstage and looked into creating the coaxial architecture. This new design provided us with a crisp treble, a full and rich bass, plus a delicately balanced midrange with true audio alignment of all frequencies. Additionally, working with 10 Grammy-award winning recording engineers, we were able to tune these earbuds to be sonically accurate to give listeners the same experience that comes out of the recording studio." But how did the Liberty Air 2 measure up to these expectations?
We'll start with the mids and highs, which should be reliable on any decent set of earbuds. Bass is harder to get right, but mids and highs are essential to quality sound. The mids are less powerful than you're probably used to. This is due to the V-shaped EQ of the Air 2. It means that vocals will not be as pronounced, but you'll get extra punch from both the highs and the lows. This really helps the highs, since it clears out a lot of space for mid-highs. Cymbals, bells, and tambourines will all cut through the mix, without drowning out your mids altogether.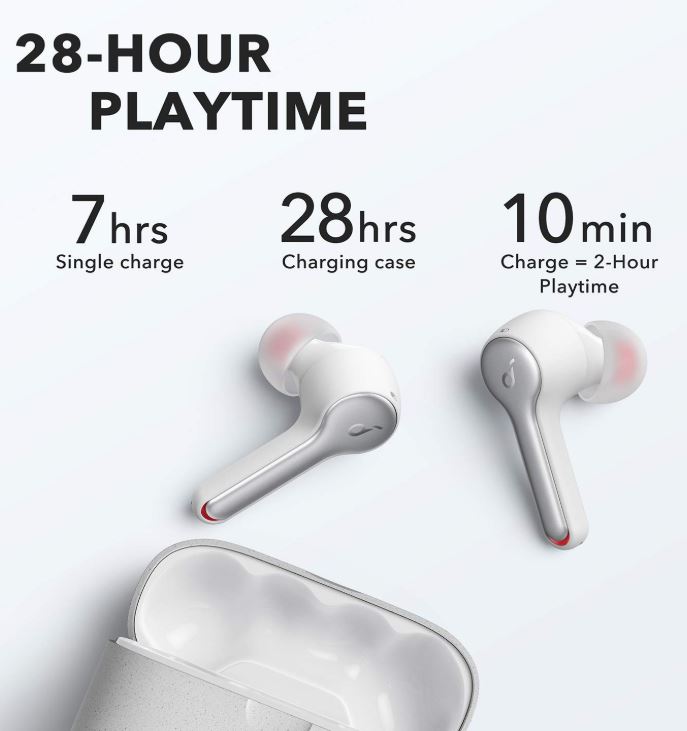 The lows offer plenty of punch. You can tell that they're cranked up, but that's okay. Any bass boost is helpful on a pair of in-ear earbuds, and it's nice to see a manufacturer who does their absolute best to increase the bass response. You also get a good feeling of space, which explains why so many Grammy Award-winners are on board. A good mix requires plenty of separation and space for all the instruments, and any elite musician understands that. Noise reduction is also good, although it's just a passive system, so loud noises can and will get through.
Of course, a good pair of earbuds also needs to perform well when you're on the phone. In this regard, the Liberty Air 2 delivers in spades. The Bluetooth 5.0 connection is fast, reliable, and easy to set up. And the EQ seems to change when you're on the phone, emphasizing mids to make the other person's speech as clear as possible.
These earbuds also utilize Qualcomm's CVC 8.0 technology. This is a special vocal filter, which blocks out ambient noise and background conversation. In other words, the person you're talking to is going to hear you clearly, even if you're in a crowded environment.
In addition, the Soundcore Liberty Air 2 utilizes Anker's HearID technology. This is a set of options that can be chosen through their smartphone app, and it allows you to customize the earbuds to your unique needs, so the balance will be perfect for you.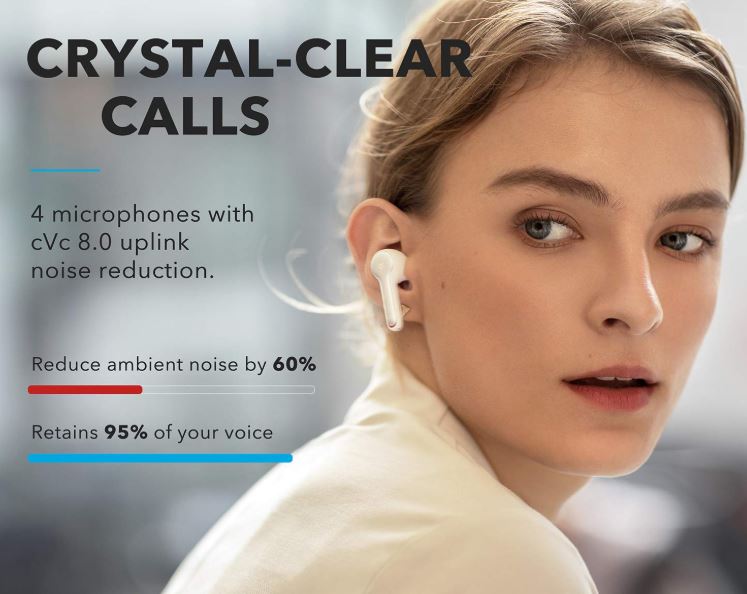 This is made even easier by the four sets of microphones on the earbuds. If there's a ton of noise coming from one angle or another, the software will simply compensate by emphasizing the sound from a different microphone. This is great if you have small children, since if they're hollering in the other room your business client still won't hear them on their end of the line.
This requires two things: first, you need to download the iOS or Android app. Secondly, you need to take the HearID hearing test. It measures how well you can hear sounds of different frequencies, and then adjusts the EQ to compensate for your individual hearing abilities. It turns out that different people have different sensitivity to particular frequencies, and this test helps you hone in on what you are and aren't able to hear well.
Connection and Compatibility
The Liberty Air 2 connects to your devices with the latest Bluetooth 5.0 protocol. This means they'll offer the fastest connection possible, although they also support older protocols in the event that you're using an older device. If you own an old-school original iPod or a legacy laptop for playing music, these earbuds will still be compatible.
The Liberty Air 2 also supports all of the latest codecs. This includes SBC, AAC, and aptX codecs, all of which are common on iOS and Android devices. In other words, it's a fantastic choice for mobile users of all stripes, regardless of what streaming software you're using.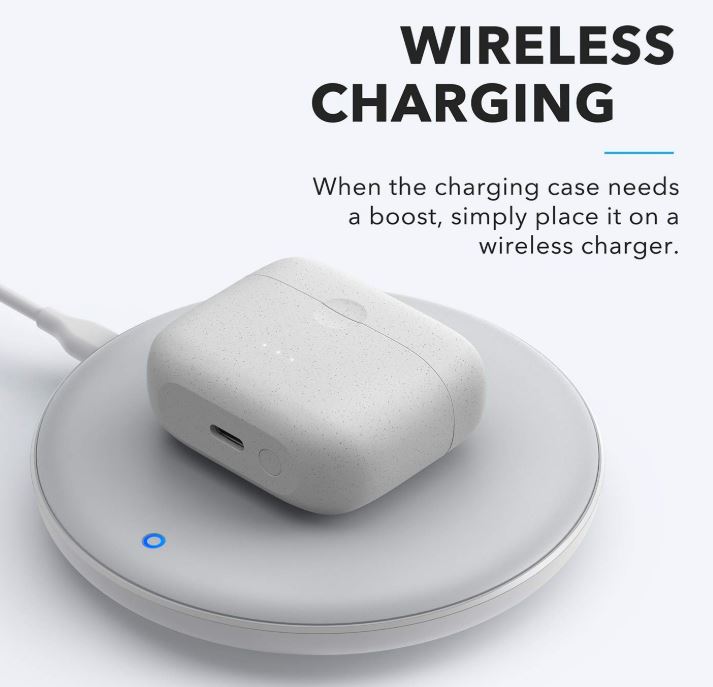 Finally, the Soundcore app can be used to adjust your EQ from any device. If you're not happy with the default V-shaped EQ, you can pump up the mids, roll back the bass, or make any other changes you desire. Why rely on your phone or MP3 player to set the EQ, when you can use the earbuds themselves? After all, that's how you'd use a stereo system. Shy should your earbuds be any different?
Charging and Accessories
Like most wireless earbuds, the Liberty Air 2 arrives in a slick charging case. It's designed similarly to the Airpod case, with slots for the earbud wings to slide into. As we've already mentioned, the lid is spring loaded, which makes it both secure and easy to open. On the front of it, you'll find a trio of LED lights, which indicates the current charge. On the rear, you'll find a USB-C charging port, so you can plug the device in quickly and easily.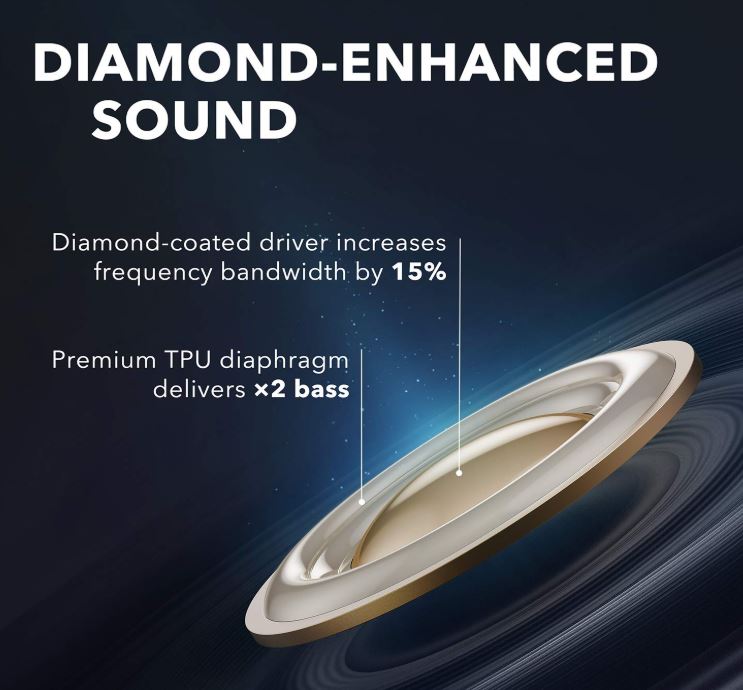 In addition, the Liberty Air 2 can also be recharged wirelessly. If you use a Qi charging pad, simply set the charging case on top and watch the battery lights illuminate one by one. This is slower than wired charging, but also more convenient. As long as you're within a few feet of a power outlet, you'll be able to recharge your battery.
That said, this is a mid-priced set of earbuds, and many people are looking for something more affordable. If that sounds like you, read our Letsfit T22 review. There, we talk about an inexpensive pair of earbuds that have a lot to offer. In addition to a reasonable battery life, they also offer plenty of sound quality for the price. Mids and highs are both crisp and clear, although you'll notice a dropoff in bass punch. Then again, a loss of bass is to be expected at that price point.
Final Verdict
The Soundcore Liberty Air 2 is a top-tier set of earbuds. They're especially impressive considering the middle-of-the-road price. Honestly, we came into this review expecting a lot less, and we ended up being seriously impressed.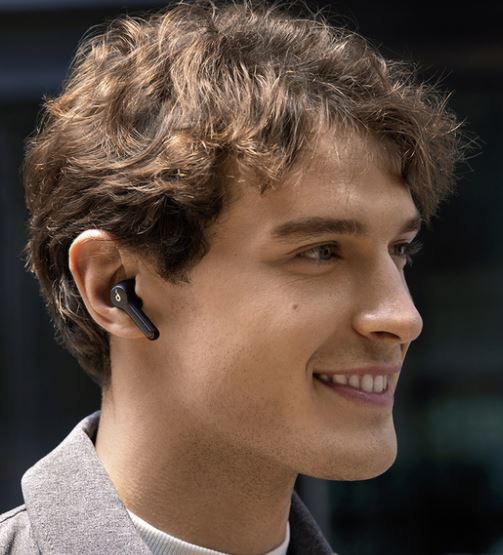 To begin with, while the default sound profile wasn't anything to write home about, the personalized EQ was a fantastic feature. If you take the time to set these earbuds up correctly, you're going to experience the fullest sound possible. Not only that, but the Soundcore app lets you further customize your sound, which is something that shouldn't be taken for granted.
All in all, this is a high-quality pair of earbuds that come at a reasonable price. Provided you adjust the settings properly, you'll get exactly the sound you want. More than that, you'll also get a good sense of space and plenty of separation between instruments. If you want to jam out on the same type of earbuds the pros use, the Liberty Air 2 is a solid choice.