True wireless earbuds have dominated the audio market recently and for good reason. Wires are quickly becoming obsolete. From Qi wireless charging standards for our mobile devices, to true wireless headphones, people are moving away from the tangled days of the past and toward a liberated future. Nikola Tesla would be proud to see the movement toward a wireless world.
With that said, there are a lot of options to choose from when it comes to true wireless earbuds. To make your choice easier we are here to introduce the Letsfit T22s. To get all of the gripes out of the way immediately, the biggest complaint we have about these earbuds is the fact that they did so many things right and still decided to use a micro-USB charging port instead of USB-C.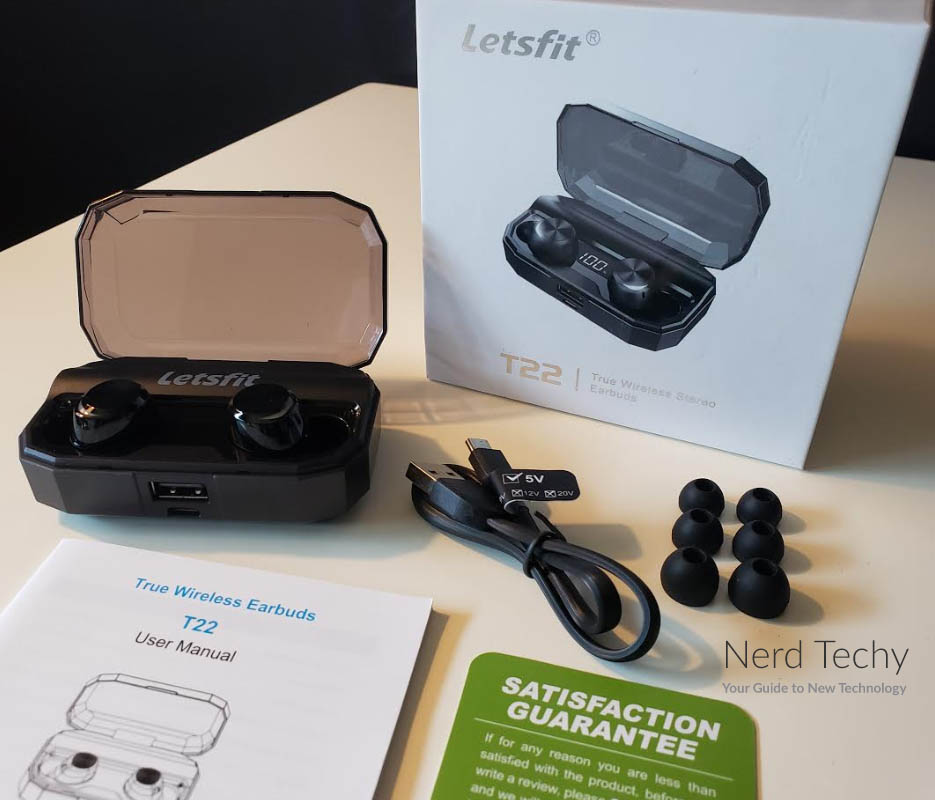 USB-C technology is the new standard and everything is moving toward its adoption so choosing to make a new product and not use USB-C is very nearly unforgivable. If the T22s weren't so great in so many other ways, and the charging port being on the charging case and not the earbuds, it would almost be enough to impact our buying decision. But since they did so much right we can forgive them this one time.
Design & Functionality
These earbuds are about as minimalist as you can get while also being slick and stylish. Their flat metallic surface has a rigid swirl design but also doubles as the touch pad for their touch control system. As expected with the touch control system you can use it for your basic headphone functions. If you tap the multi-function button once you will either play or pause your audio. If you tap the button on the right earbud twice you will skip to the next track. Pressing the button twice on the left earbud will go to the previous track. If you tap and hold the right earbud the volume will increase and doing so on the left earbud will make the volume go down.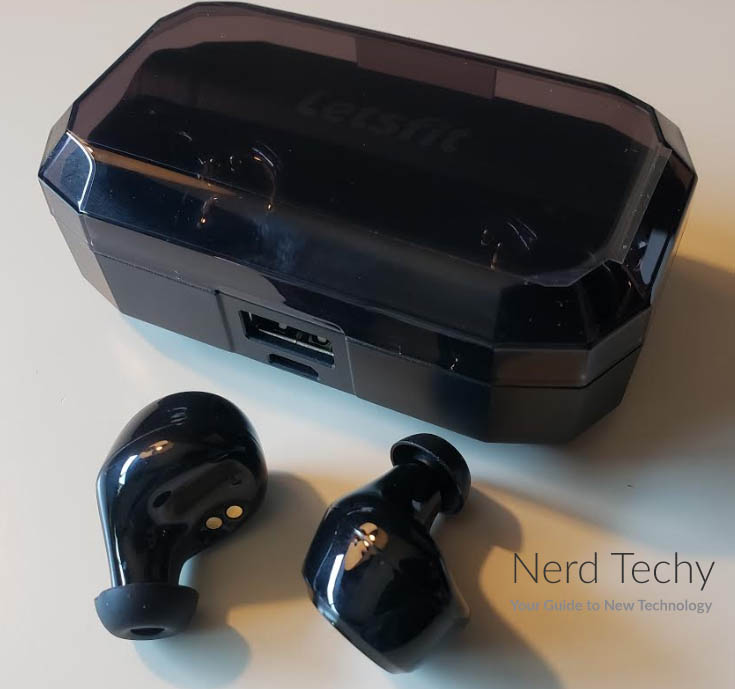 You can use the touch control system for answering calls by tapping the multi-function button once while getting a call or with a call active. If you wish to deny an incoming call, you can tap and hold the button on either earbud for three seconds. If you tap the button on either bud three times in a row you will enter your phones voice control assistant mode and can then engage with your phone assistant as usual. The touch control system is fairly simple and utilizes the earbud's total real estate effectively.
These earbuds have an IPX6 water resistant rating which makes them much more durable than most of the other earbuds on the market. To give you an example of their water resistance, one of the tests that products go through to get an IPX6 rating is to be sprayed with powerful water jets with a minimum of 100 liters of water per minute for at least three minutes. That is some serious resistance that far exceeds a normal exposure that you might have with earbuds. What you have to remember is that an IPX6 rating does not qualify these earbuds to be fully submerged in water so as long as you don't take them swimming or drop them in the toilet you should be OK.
Wireless Connectivity
With the latest rendition of Bluetooth technology being a prerequisite to have true wireless earbuds in the first place, it goes without saying that these earbuds have Bluetooth 5.0. Without Bluetooth 5.0 your device would be unable to pair with multiple devices at the same time and therefore would be unable to pair with two earbuds. Along with this wireless protocol, you get a massive increase in the quality of the audio over previous Bluetooth versions. There is no signal loss or delay which causes smooth audio transmission for the earbuds and a much higher capacity to deal with higher quality audio codecs.
The awesome new multi-cast sync technology also allows you to switch between your right and left earbuds without any additional pairing steps, signal loss, or delay in the music stream. This means that when you place one of the earbuds back into the charging case you can utilize the remaining earbud for streaming your audio. This is both incredibly convenient and a very cool feature to have. The ability to listen to your music or audiobooks while having one ear available to listen to others and respond when necessary is wonderful.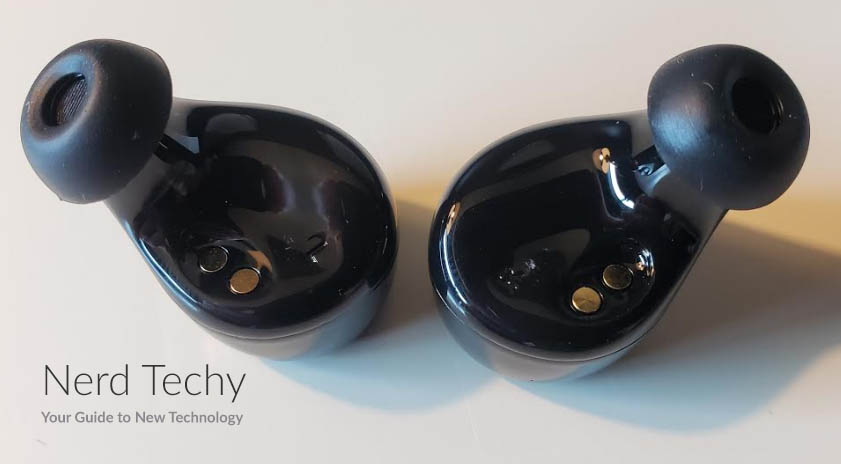 Battery Lifespan
The battery power in the T22s is pretty impressive. Most of the competitor TW earbuds out there cap out at around 3 hours of play time before they need to be tossed into the charging case. Then the charging case on most of them tend to give you a total of around 20 to 30 hours of use. The LetsFit T22s however come in at a solid 4.5 hours of play time on a single charge and the 2600mAh battery in the charging case gets you up to 80 hours of playback time. With 1 hour of charge you can get up to 4.5 hours of play time on the earbuds.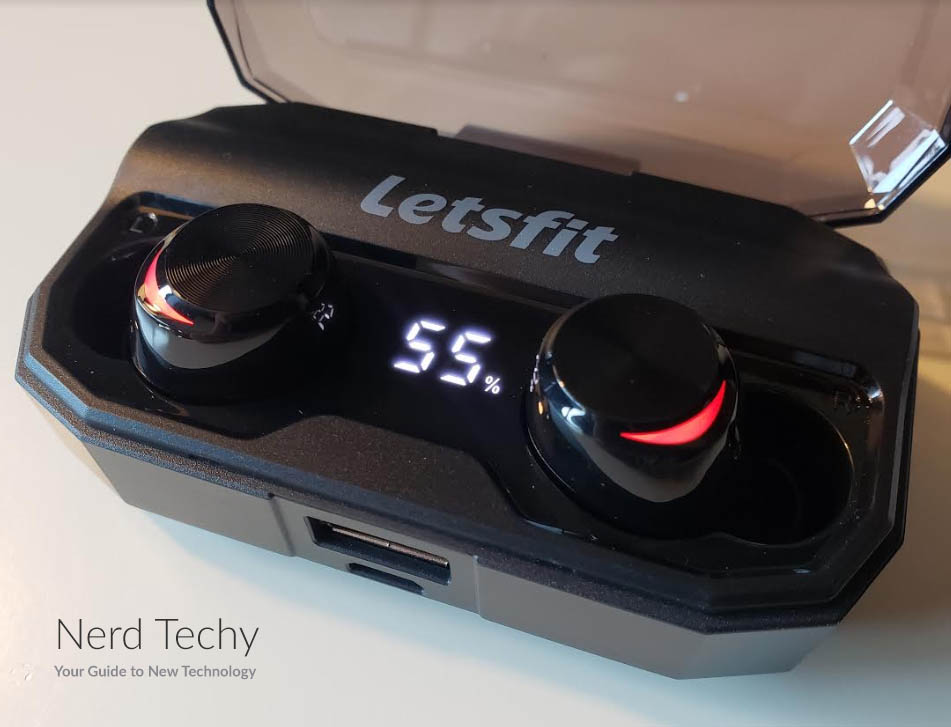 What is great about the charging case, aside from the 80 hours of playback time it gives you with your earbuds, is that it can be used as a portable power bank to charge your phone or other USB powered device. There are so many earbud manufacturers that miss the easy opportunity to make the charging case a power bank. Whenever we see the double function of the charging case we know the manufacturer actually cares about their consumers because they want to give them all the functionality they possibly can.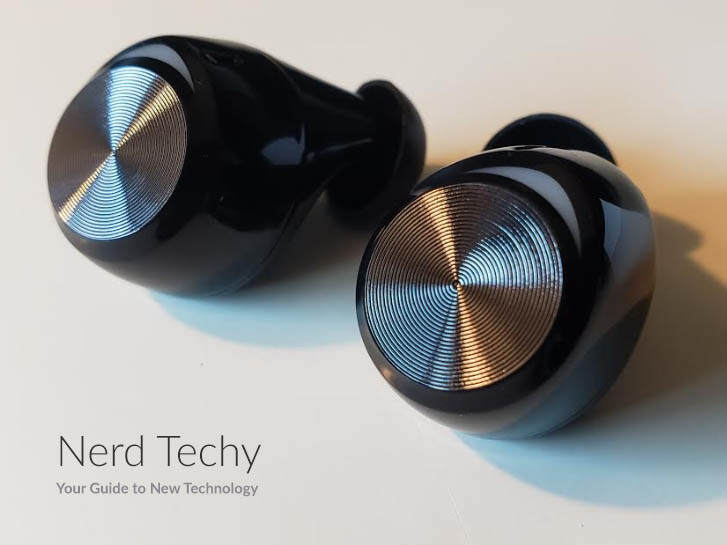 Since we are on the topic of the charging case, one cool feature is that there is an LED display that shows the charge percentage of the charging case so that you don't get surprised with a dead battery. With the display showing the actual numbers instead of just three bars representing your battery, it is impossible to miss.
One final but really great function in the charging case is the fact that it's Qi wireless charging compatible. That means if you have a Qi charging pad you can just set the charging case on your pad. This is more convenient than it sounds since it is so easy to sit down at your desk and just set the charging case down, then realize later that you should have plugged it in when you had the chance. Now you can sit down, toss the case on your charging pad and then walk away with a full charge.
Qi wireless power induction is a phenomenal technology that should be implemented in every device. It is also a very interesting technology to learn about because despite what you might think there is no actual power transfer happening from the charging pad to the charged device. What happens instead is that the receiver coil is activated by the electromagnetic field generated by the charging pad and it then moves the electrons in your battery into a charged state via the electromagnetic field. Obviously, there is a lot more physics involved but that is the gist of what is happening.
Audio Quality
We must say that the audio quality on the T22s is amazing. With the AAC HD code protocol you can get maximum quality audio streams. These also utilize a new chipset that processes deep bass so you can feel reverberating in your head.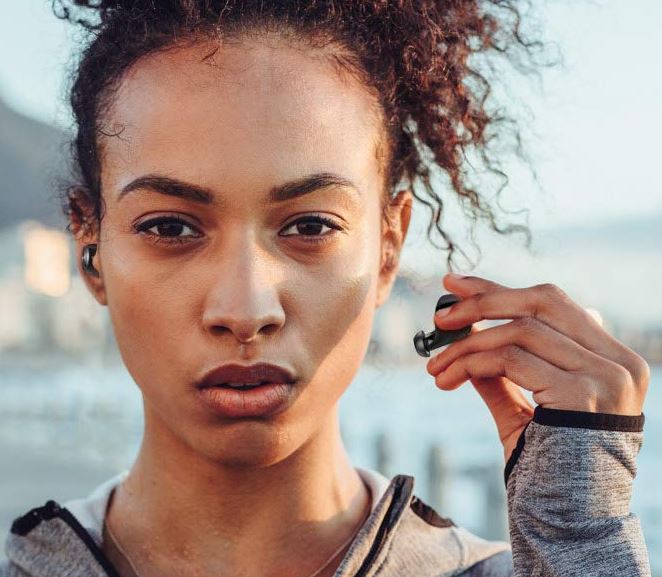 The mic audio is also incredibly clear on calls despite not having an extended shaft to get the mic closer to your mouth as many other earbuds do, including the SoundPEATs Truepods that we reviewed recently. That said they do not have very much in the way of wind protection for the microphone so you may need to cup your hands over them if you are caught in the wind.
Other Considerations
The Letsfit T22 earbuds come with a 45 day money back and exchange policy along with a twelve month warranty that covers any defects. When combined with their 24/7 customer support it makes buying these earbuds completely risk free. As with all true wireless earbuds, you have to decide whether or not you are the kind of person that wont lose one of the earbuds because they certainly are easy to lose. What lowers this risk just a tad is that the master earbud can switch to either one so if you lose one, the other will still be completely functional. That is a great little feature as often you find a single earbud is the dedicated master and the other earbud cannot function alone without it.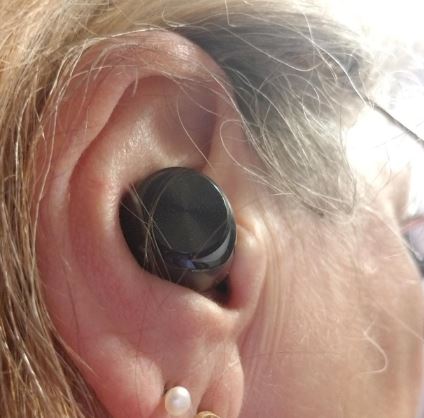 Final Verdict
If the USB-C protocol just triggered you too much to the point that you cant overlook it or everything else great about the T22 true wireless earbuds, then you should check out the SoundPEATS TrueEngine 2 earbuds instead. We wouldn't blame you for feeling that way because USB-C is just so much better and you never have to look at the USB port to figure out which vertical orientation you need to have your cable in order to plug it into your charging case. Too many times have we tried plugging in a micro-USB cable into its port and realized it was upside down, flipped it over and then still couldn't get it in then looked closer and found out it was right the first time.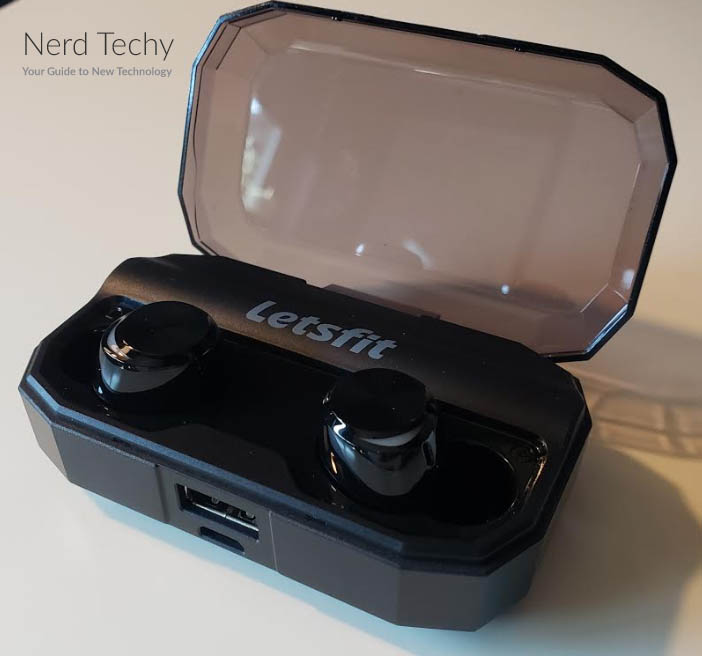 That said, if the USB-C is only a minor offense in your opinion, then these earbuds did basically everything else right. They have great quality audio, the latest audio streaming technology, and look amazing with an incredibly low profile. Their battery life is much better than many other earbuds on the market, their charging case has dual functionality with a larger than average battery and wireless charging compatibility. Pretty much everything you would want in a pair of earbuds while also being incredibly comfortable to wear, so give them a shot if are in the market for a great pair of true wireless earbuds.
Meet Derek, "TechGuru," a 34-year-old technology enthusiast with a deep passion for tech innovations. With extensive experience, he specializes in gaming hardware and software, and has expertise in gadgets, custom PCs, and audio.
Besides writing about tech and reviewing new products, Derek enjoys traveling, hiking, and photography. Committed to keeping up with the latest industry trends, he aims to guide readers in making informed tech decisions.