If you're experiencing foot pain, or if you're just feeling more stiffness than you'd like, a foot massager is an appealing proposition. This is a problem for gamers especially, since sitting still can lead to all kinds of problems throughout your body, especially in your lower extremities. But there are many foot massagers on the market, and all of them are different.
Today, we're going to be looking at the Etekcity Smart Foot Massager, a new, innovative foot massager that integrates with your smartphone for easy control, and also offers a heating function to sooth away everyday aches and pains.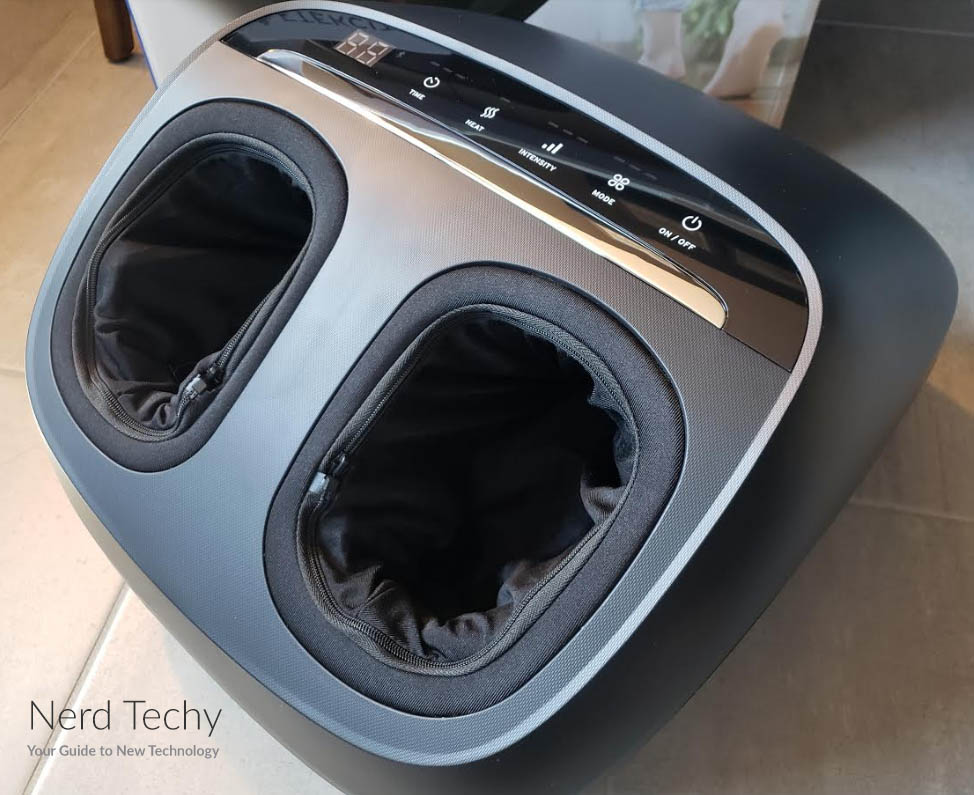 When you're looking at a foot massager, it's important to take a few things into consideration. The first is what it can do for you, which will talk about in more detail in a minute. But before you even think about that, it's important to consider the shape, weight, and power supply.
This massager is about the size of a PC tower laid on its size. At just over 12 pounds, it's surprisingly heavy for the size, although it's well balanced, so carrying it around is not a problem. It runs on 120-volt AC power, with a grounded, three-prong plug for safety. And it has a sleek, flat black shell that fits well with just about any home décor, so it will look just fine in the corner of your living room.
The appearance of this unit is more important than it sounds. The dimensions are fairly large, so you're not going to be able to stow it in a drawer or under your bed like you would with a smaller massager. It's going to be sitting out in the open where people see it. Thankfully, it's very attractive, and it's understated enough to blend into the background of almost any living room.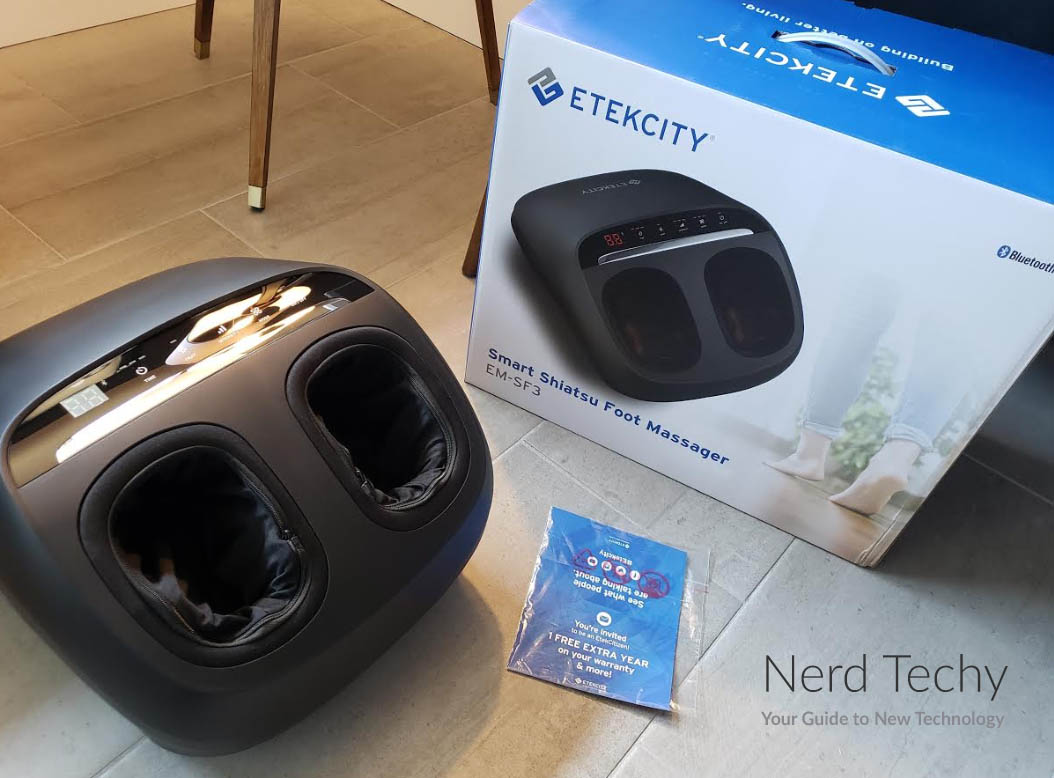 But enough about appearance. At the end of the day, that's a secondary concern compared to features and performance. So, how does the Smart Foot Massager compare to other market leaders in terms of features? Let's take a look!
What Does it do?
So, what exactly does this foot massager do?
Primarily, it's a heater and a massager in one. This is a helpful feature, since it allows for not just one but two types of therapy. The heating will relieve inflammation, while the massage function will relieve tension. When used together, they both compliment each-others' function, allowing for far more tension and inflammation relief than you'd get from just a massager or just a heating pad on its own.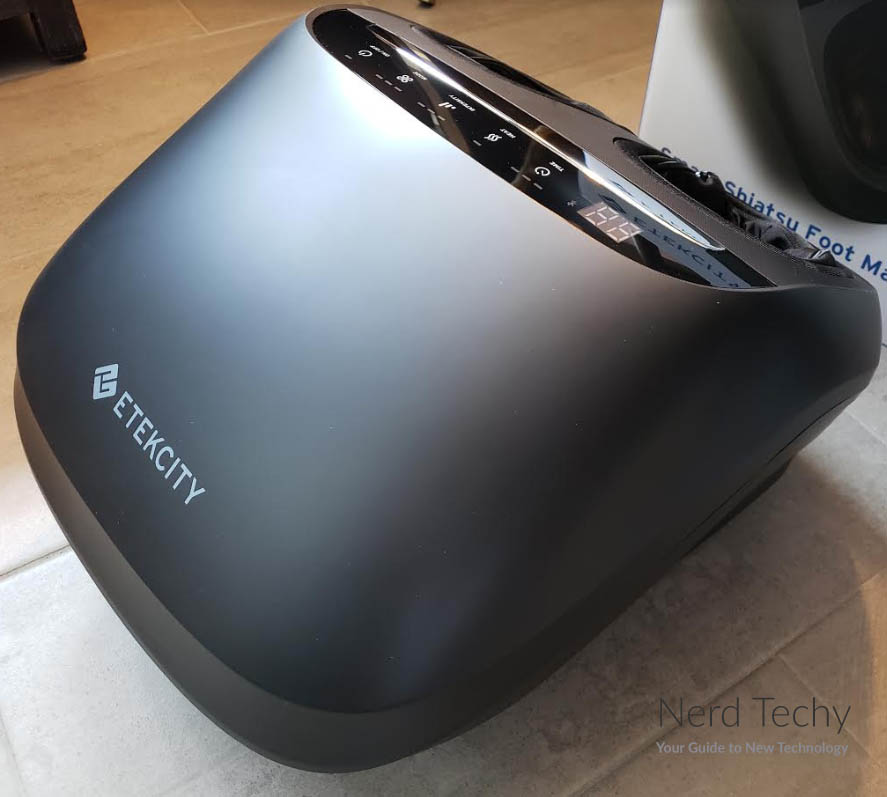 This massager offers three different modes, with three different levels of intensity. Whether you want a light, soft touch for simple relaxation, or whether you want a deep, powerful massage at the end of a hard day's work, the Smart Foot Massager will have you covered. The motors can also be adjusted independently, allowing for a custom massage that targets the areas where you need it most.
The Smart Foot Massager features cloth foot pockets, which are very comfortable and provide plenty of cushion to keep your toes from getting bruised while they're supposed to be getting pampered. When you insert your feet, the cushions inflate with warm air. This is the heat therapy we mentioned, but it also keeps your feet in place while they're getting their massage.
The Motors and Massagers
The Etekcity Smart Foot Massager utilizes three separate motors that massage three different parts of your feet. A set of large, studded rollers are positioned towards the front of your foot, and roll over the ball of your foot to loosen up connective tissue and padding, which can take abuse while your walking or running for a period of time.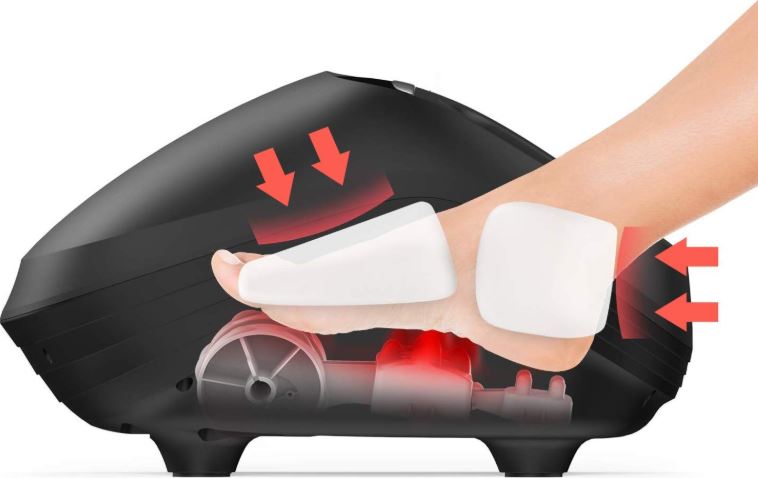 A studded plate scrapes the arch of your foot, although it provides a gentle touch thanks to the heavily padded shell. There's also a separate heel plate, which is also studded to loosen stiff tissue and encourage improved bloodflow. All three motors can be controlled independently, so you can customize your massage to your own personal needs.
The App and Controls
There are two ways to control the Smart Foot Massager: a set of manual controls, and a smartphone app. These controls aren't mutually exclusive. For example, if you're using the smartphone app, you can still pull your foot out and adjust the settings without interrupting the functionality of your app. This makes it very versatile, allowing you to control it with comfort and ease from any position.
The manual controls are touch-sensitive, and are located just forward of the top of the foot holes. They're specifically designed to be operated with your toes, which is a nice feature if you're experiencing pain and discomfort in more places than just your feet. The controls are also well illuminated, so they're easy to read without the need to bend over for a closer look.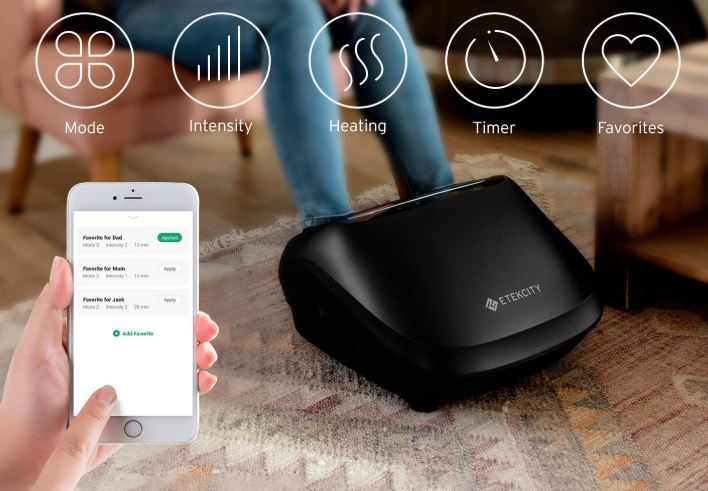 This massager also comes with a smartphone app. Essentially, you can use your phone as a remote control for adjusting your massager. The app includes all the same functions as the manual controls, including the ability to adjust motor intensity independently. Not only that, but the app also lets you set an infinite number of profiles, which means that everyone in the house can use their own pre-set settings.
Care and Maintenance
When it comes to anything that involves your feet, smell can become an issue. Now imagine a foot massager, with deep pockets that have lots of curves and grooves. Combine that with a porous inner layer, and you've got a surefire recipe for all kinds of funky smells.
Thankfully, the Smart Foot Massager is well up to the task of keeping your toes hygienic and your living room odor-free. The cloth foot pockets are removable and machine washable. Throw them in the laundry once a week, and you won't need to worry about that nasty stale foot smell.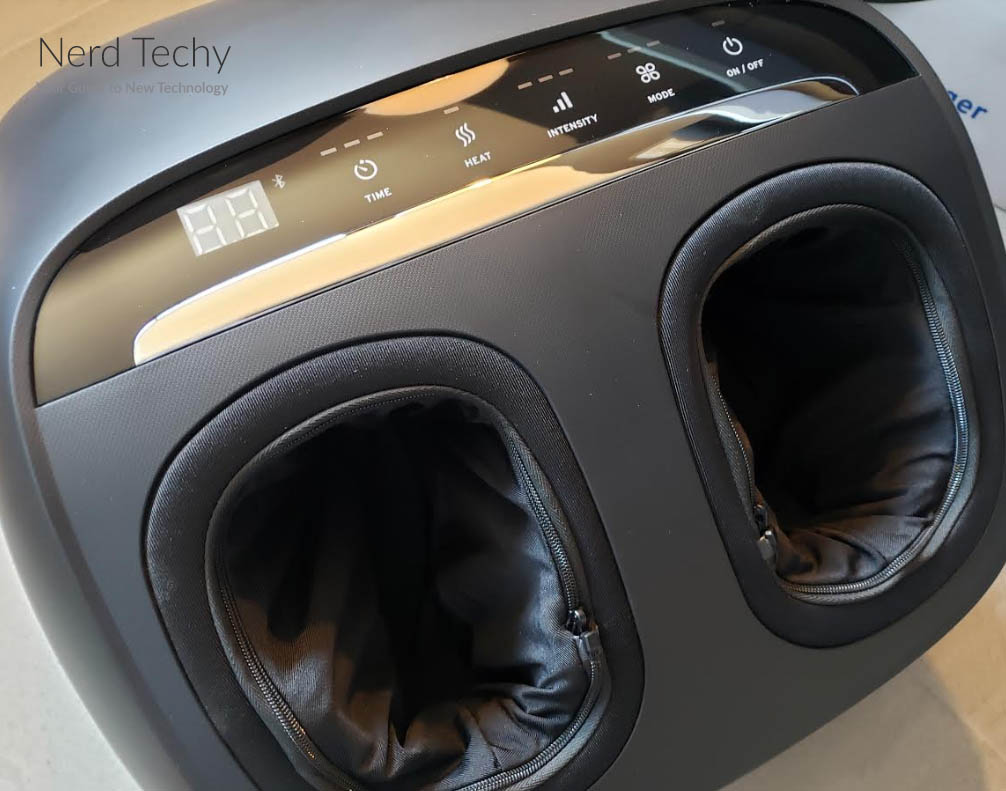 In terms of other maintenance, not much is necessary. The massage motor is enclosed inside the case, so there's no oiling necessary. And the machine runs on AC power, so you won't need to change any batteries. This makes the Smart Foot Massager a great choice for travel anywhere in the world that uses 120-volt power.
The Technical Specs
Before we wrap up, let's take a look at some of the basic specifications. These aren't as important as all the other features we talked about, but it's still important to know what you're getting. Here are the manufacturer's specifications:
Size: 18.4" deep x 15.4" wide x 10.7" high
Weight: 12.1 pounds
6 foot, 120-volt power cord
36-watt rated power
Touch panel and smartphone app controls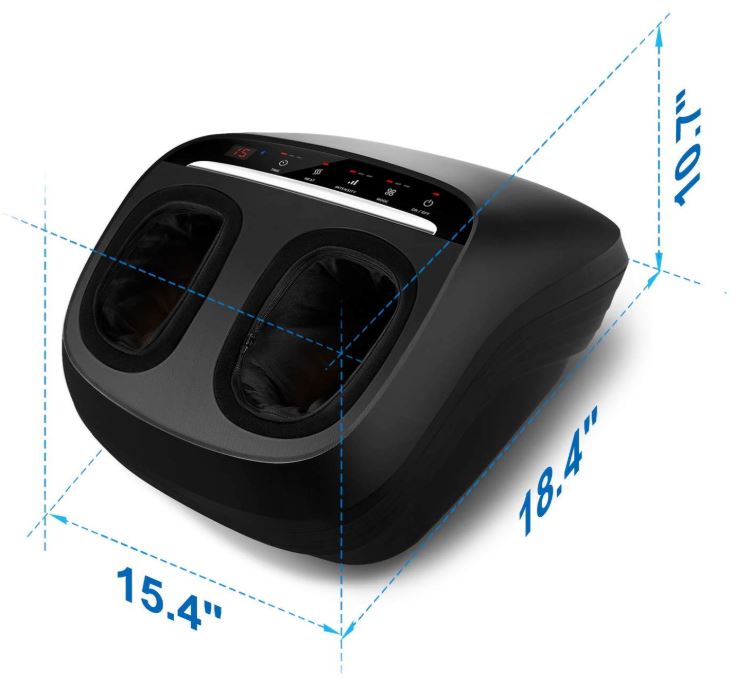 Foot Massager Benefits for Gamers
If you're a fan of our site, you're probably used to the wide array of gaming equipment we review. So we're going to assume you like gaming as much as the rest of us. If that's the case, muscle pain and soreness is more of a concern than you'd think. Sitting in the same place for a period of time can cause blood to build up in your extremities, and cause other soreness and stiffness.
Of course, not everybody who reads this is a gamer. But there are plenty of other reasons you might want a massager or a heater. For example, if you suffer from a chronic condition like rheumatoid arthritis, or if you're one of the more than 30 million US adults who suffers from diabetes, you can get a lot of relief from pain, stiffness, and other issues caused by your chronic illness.
Both heat and massage can help with these symptoms. Here are just a few of the benefits you'll get from a quality foot massager:
Pain Relief
Heat and massage can help relieve any pain associated with muscle inflammation, as well as any number of conditions that are totally unrelated to gaming. Massage in particular is an excellent treatment for conditions like plantar fasciitis, bunions, rheumatoid arthritis, diabetic neuropathy, and other causes of foot pain. Considering how common these conditions are, it's safe to say that just about everybody can benefit from a quality foot massager.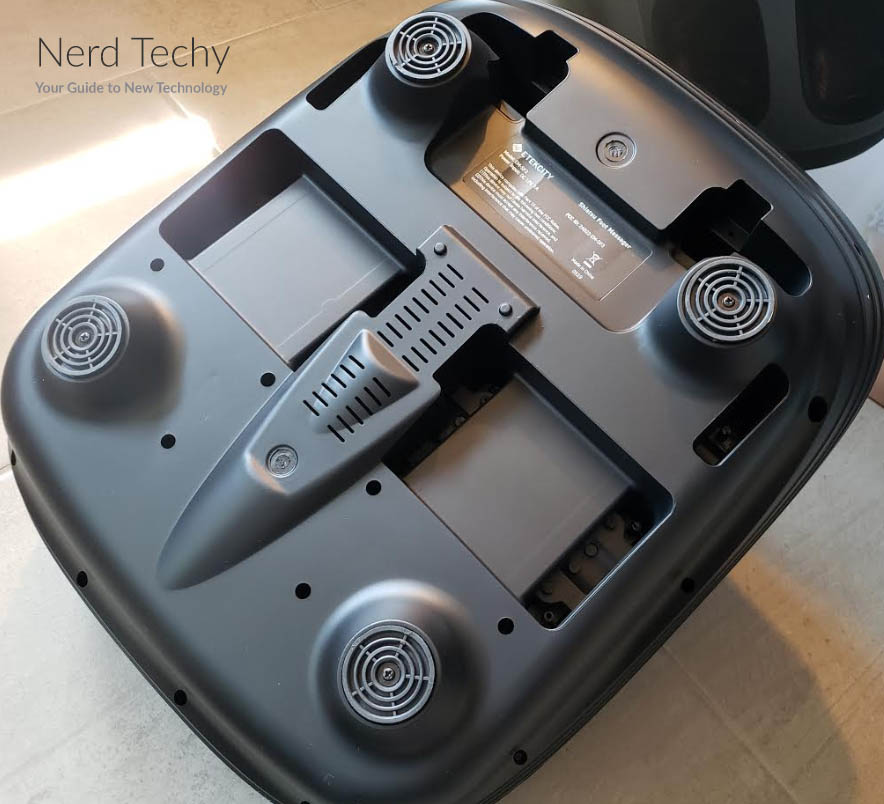 Improved Blood Circulation
We've already talked about the way blood can pool in your extremities while you're sitting still and gaming. This leads to inflammation, which makes pain and stiffness worse, and can aggravate inflammation-related disorders like plantar fasciitis. Heat can help relieve this, which is why you put a hot compress on a fresh bruise. Massage also helps with inflammation, although to a lesser extent.
In addition, circulation also promotes healing, since more blood flow means more nutrients in your tissues. If you're recovering from an injury such as a sprain or strain, you'll feel a lot better with regular massage and heat therapy.
Rest and Relaxation
Massage is also a great way to relax. With an automatic massager, you can experience this type of relaxation while you play your game. The heat is also a powerful stress reliever. If you're beating your head against the wall trying to tackle a tough gaming challenge, a little heat can go a long way.
Final Verdict
So, is the Etekcity Smart Foot Massager worth your investment? If you're suffering from any kind of foot pain or stiffness, it's hard to see why not. The heating element promotes circulation, while the massagers loosen up tight muscles, and encourage your feet to flex the way nature intended.
We also really liked the ultra-sensitive controls. If your feet are sore, it's a good chance you're sore all over, so it's nice to see a foot massager that doesn't require you to bend over just to operate the controls.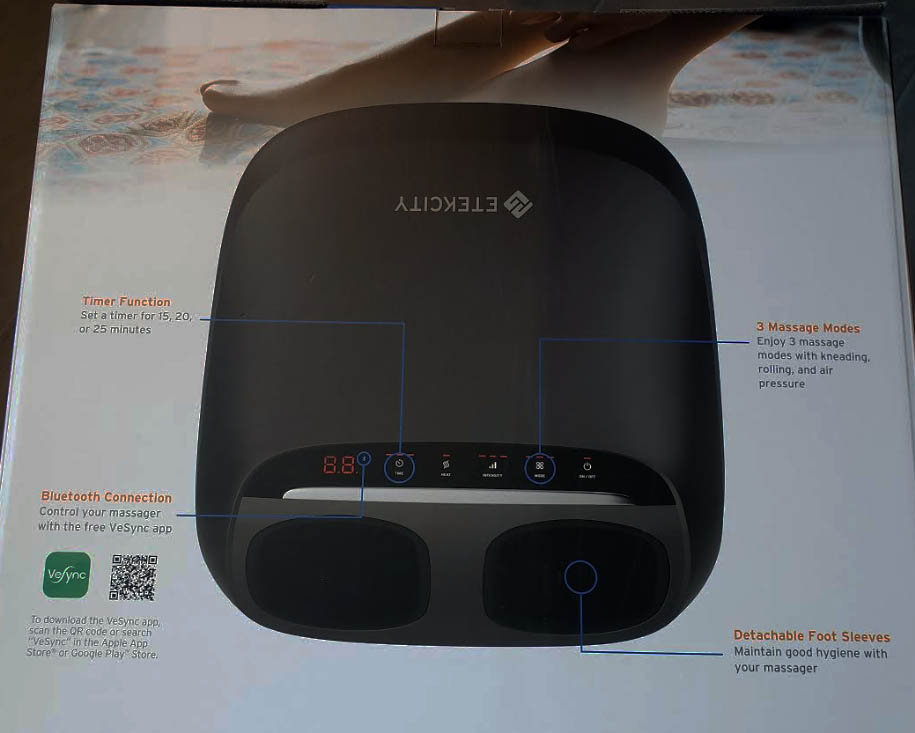 In a similar vein, the smartphone integration is a nice touch. A lot of smart devices leave us wondering whether an app is really necessary at all. Not so with the Etekcity. Why bother with the toe-operated buttons when you can use the smartphone controls, and not even have to move your feet at all?
All in all, this is a very well-designed foot massager, with a lot to recommend it. Just don't get too relaxed. It might put you to sleep before the timer even runs out.
Meet Derek, "TechGuru," a 34-year-old technology enthusiast with a deep passion for tech innovations. With extensive experience, he specializes in gaming hardware and software, and has expertise in gadgets, custom PCs, and audio.
Besides writing about tech and reviewing new products, Derek enjoys traveling, hiking, and photography. Committed to keeping up with the latest industry trends, he aims to guide readers in making informed tech decisions.