These days, almost every electronic device charges via a USB cable. That's a great convenience for all of us. It means no more carrying three, four, or five chargers with you when you're traveling on an airplane. Instead, you can carry a single USB charger, one or two cords, and that's it.
However, this has led to its own set of conundrums. To begin with, how do you charge all your devices for a single charger? For another thing, how does USB scale for devices like laptops, which require a lot more juice to become fully charged? The answer is USB Type-C, the latest iteration of USB technology, which can deliver significantly more voltage than older versions.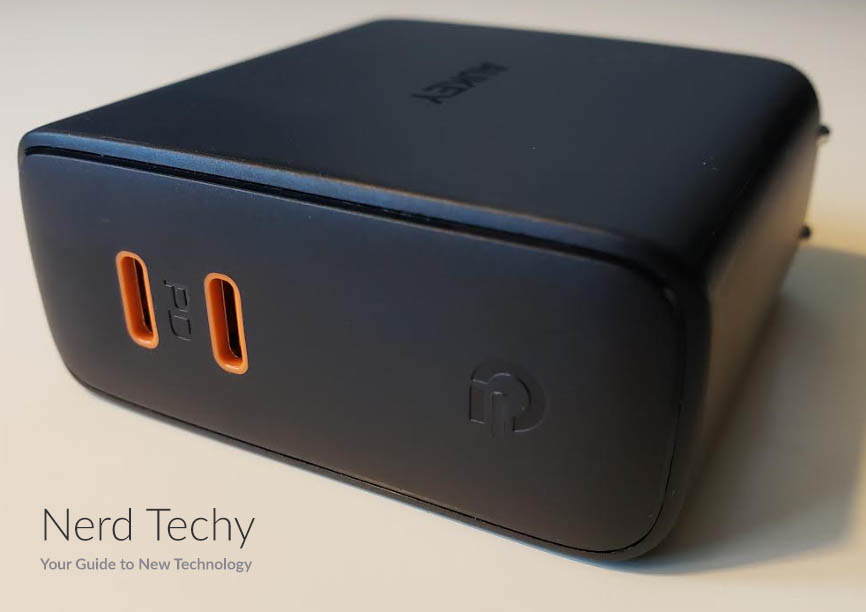 When it comes to USB wall chargers, there are a lot of options on the market. Today, we'll be looking at the PA-D5 wall charger from AUKEY. AUKEY is a Chinese manufacturer that's known for creating accessories for Apple products, including the iPhone, iPad, and iPod. They have a long track record of producing quality chargers, so when we heard about their new PA-D5 wall charger, we were excited to try it out.
So, what did we learn? We're about to go over all the PA-D5's features, and tell you what it does well – and what it doesn't. Let's get started!
What is it?
The AUCKEY PA-D5 is both compact and lightweight, both great features when you're looking for a portable travel charger. This charger features GaN ports, some of the first to pioneer the new USB Type-C protocol. One thing to know is that when the top USB-C port is being used independently, it outputs 18w PD. However, when the bottom USB-C port is used independently, it outputs 60w PD. Keep in mind that when both of these ports are used simultaneously, the top port outputs 18w while the bottom port outputs 45W PD. This keeps things balanced and safe while ensuring maximum charging from both outputs.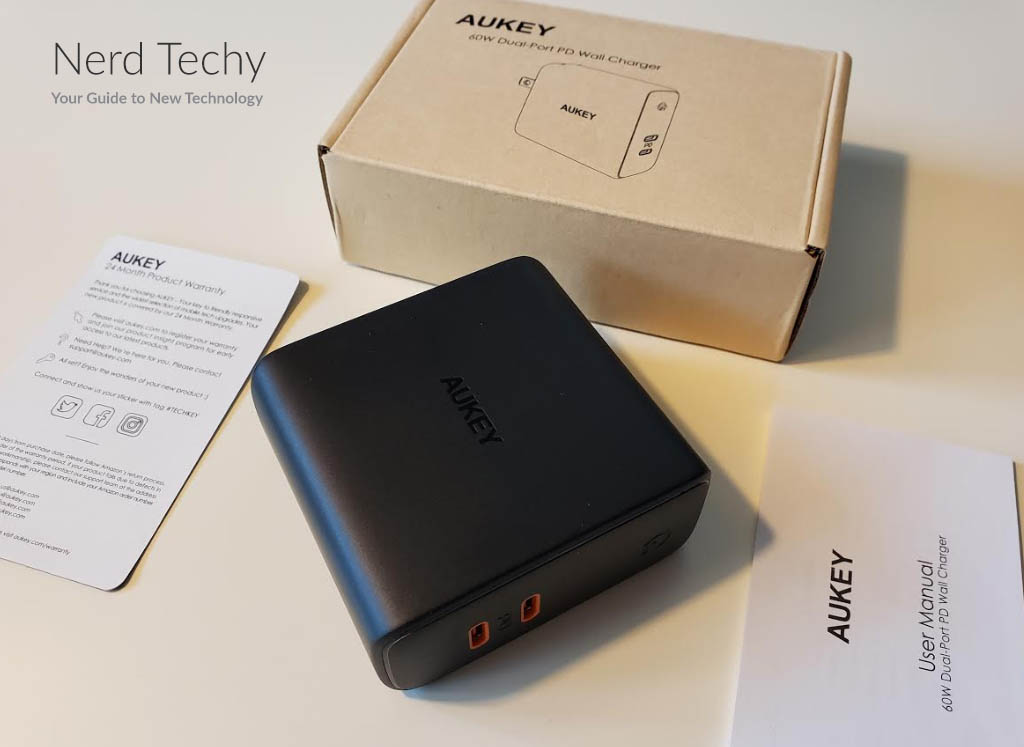 If you're familiar with AUKEY's earlier PA-D series chargers, the appearance will be familiar to you. The USB-C ports have orange rings around them, which makes them easy to see, particularly when you're trying to plug a black USB cable into the black charger.
The case itself measures a compact 2.6 x 2.5 x 1.1 inches, small enough to slip into a briefcase pocket with ease. It weighs only 1.6 ounces, which is exceptionally light. The USB port are both located on the front, just beneath a green LED that indicates when the charger is plugged in.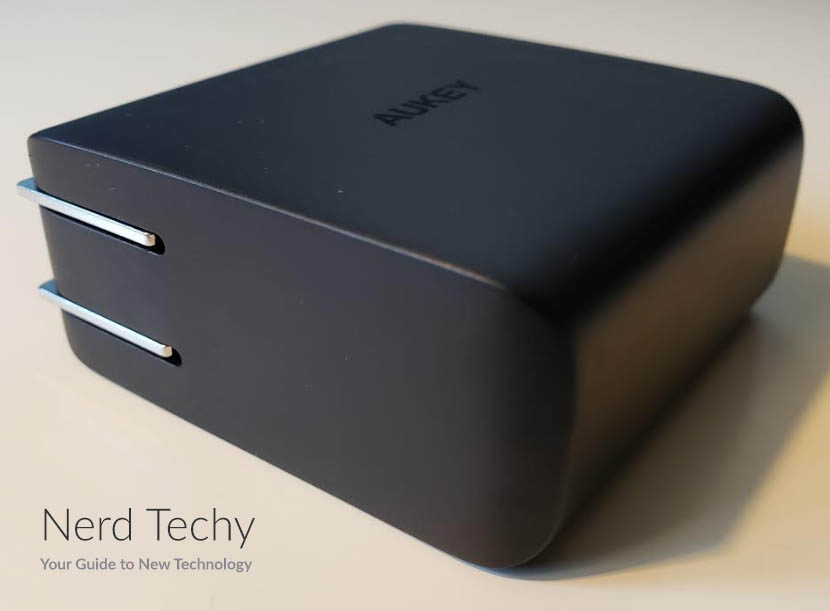 On the back side, you'll find a pair of collapsible power prongs. These are a great feature for travelers, since you can fold them up and not have to worry about the prongs getting snagged on your luggage and bending or breaking. They collapse fully into the body, and release easily with a single click. The circuitry itself is international, which means it can be used both for North American 110-volt power and international 220-volt power. As long as you have an adapter for the prongs, you're good to go.
The PA-D5's case is constructed from durable ABS plastic. This case is impact-resistant, and has a matte black finish that's resistant to scuffing or scratching. It's also easier to grip than a glossy case, which makes it more convenient when you're fumbling around for your charger in the dark.
Compatibility and Performance
As we've already mentioned, AUKEY is known primarily for their Mac chargers, and that remains true when it comes to their PA-D5. Because this is a Mac oriented charger, we thought it only fair to look at their Mac performance before anything else.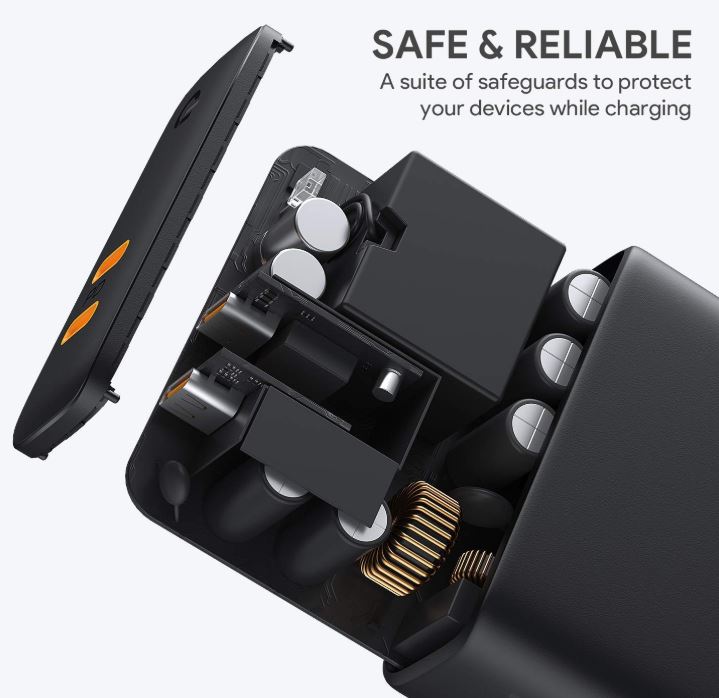 To do that, we took advantage of perhaps this charger's best feature: the self-adjusting output. Essentially, before it charges a device, it checks to see what voltage is safe, and throttles the output back to the device's maximum voltage. This makes the PA-D5 simultaneously powerful enough for high-voltage devices and safe enough for lower-voltage devices. That's a win-win.
Speaking of safety, this adapter never got too warm for comfort. Even when using it to charge a MacBook, you won't experience any excessive warmness, which boosts our confidence in the PA-D5's safety considerably. With all of that being said, let's see how it does for charging your devices.
To begin with, it offers excellent performance when you're charging an iPhone 8 or newer. These allow you to use the USB to PD or USB to Lightning cable, depending on the device. You can fast charge two phones at once, although you'll be just fine in the lower-voltage top port. This will free the bottom port up for larger devices.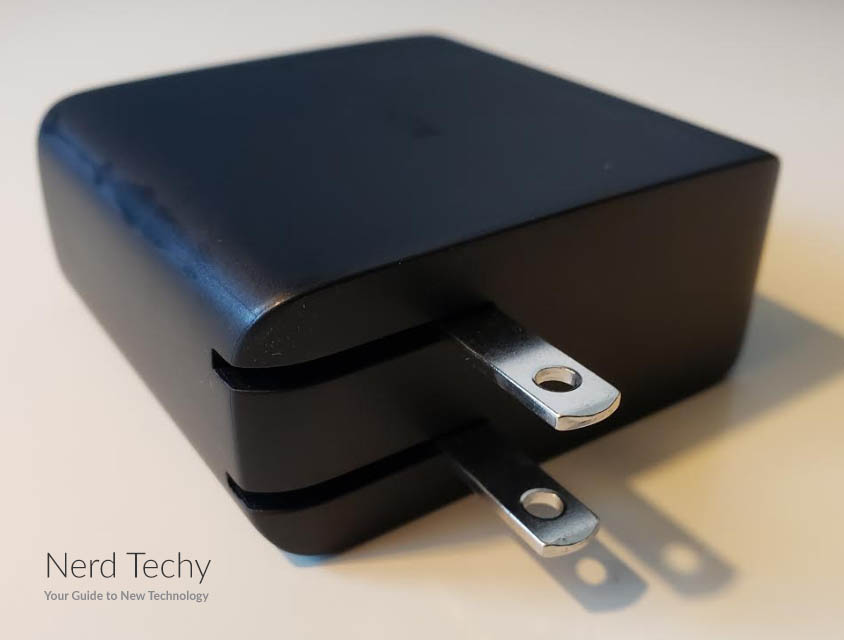 One thing that did disappoint us is that this charger doesn't include any cables. This may not be a problem for Android users, since most Android devices come with a USB cable, but Apple users may need to buy an adapter. This was an odd choice for a company that markets themselves for Apple products, but it's not a deal-breaker by any means.
With an Android phone, your charge rate will depend on the manufacturer. We can tell you for sure that there's no quick charge support on the Samsung Galaxy Note, but other manufacturers offer different types of support. Still, you'll get 9 to 10 watts, which is the maximum that these devices will take, so even with an incompatible device you'll get the best performance possible.
The bottom port provides enough power for a quick charge on a 13-inch MacBook pro, which can draw up to 56 watts. This allows you to charge just as quickly as you would with the factory charger, which means there's one less charger you'll need to throw in your briefcase or backpack. The same goes for larger laptops from other manufacturers, although you'll start to experience issues with any laptop larger than 15 inches. Provided you're under that size, you shouldn't have any issues.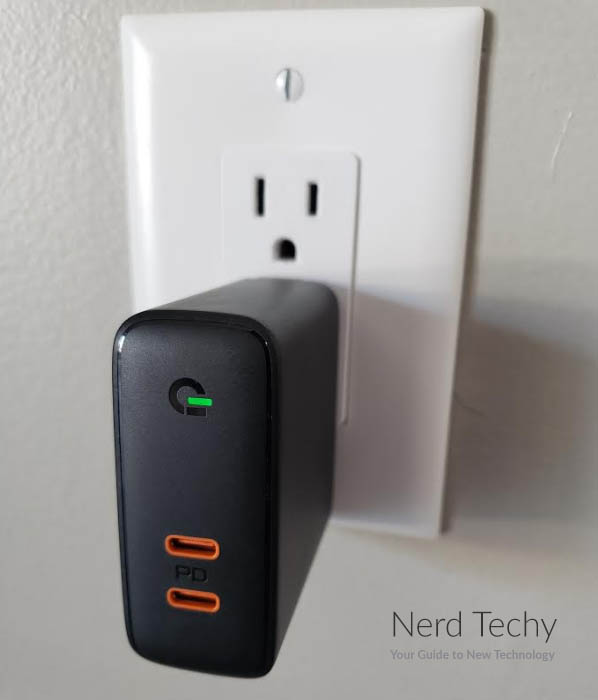 The top port offers almost enough charge for a Nintendo Switch, although you'll notice a drop in performance on older Switch models. You can play while you're charging, although in this case you'll notice that the charge rate is significantly slower than the factory charger, 12 watts instead of 18.
The top port offers a lower power of 18 watts. Since the whole charger has a maximum wattage of 63 watts, the maximum wattage on the bottom port drops from 60 to 45 watts when there's a device plugged in in the top. For most machines, this won't be an issue, but you'll want to check your owner's manual if you're charging a larger laptop.
Whether you're charging one device or two, an LED light on the charging block provides an independent indicator of whether it's receiving power. This is a helpful feature if your device doesn't have a charging light, since you'll at least know that the charger itself is connected. That can be an immense help during troubleshooting, so you can spend less time sorting out issues with your device.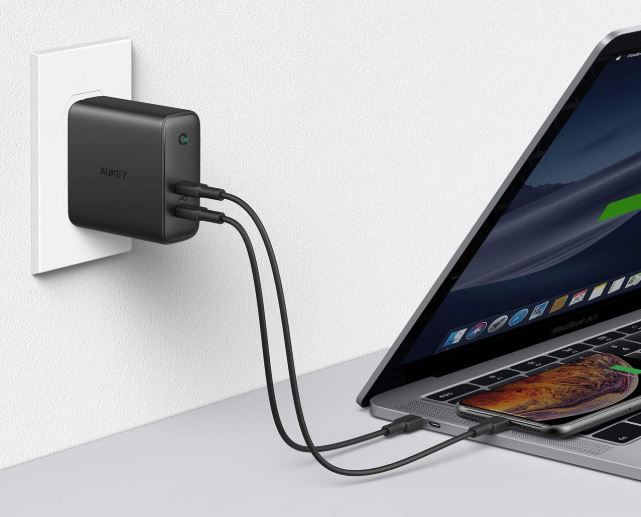 Technical Specifications
Now that we've spent a lot of time talking about the PA-D5's benefits and features, it's time to sum up. Here's a quick overview of the technical specs, for those of you who are just skimming.
Ports: 2 USB type-C
Top port: 18 watts (5V/3A, 9V/3A, 12V/1.5A)
Bottom port: 60 watts (5v/3A, 9V/3A, 12V/3A, 15V/3A, 20V/3A)
Total power output: 63 watts
Input: 100-200 volts, 1.6 amps, 50/60 Hz
Dimensions: 2.6" x 2.5" x 1.1"
Weight: 5.2 ounces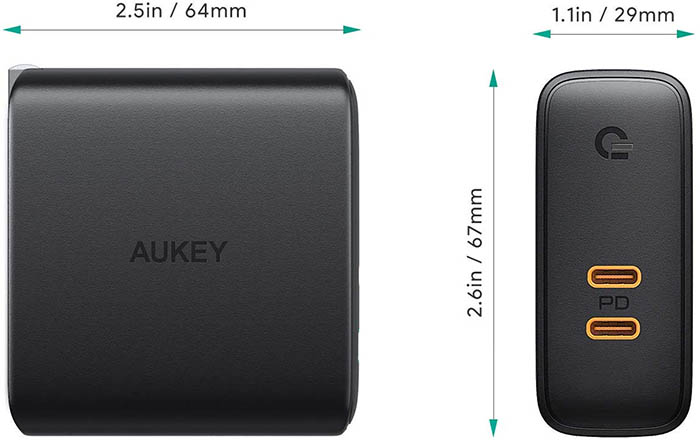 Other Quality Chargers
Before we wrap up, it's important to recognize that AUKEY's PA-D5 isn't necessarily ideal for everyone. Maybe you want more portability, or more USB ports. Maybe you want a solar charger, or a charger that functions as a portable power pack. Thankfully, we've written about several other USB chargers in the past. Here are a few that might be closer to what you're looking for.
The best multiport chargers. In this post, we review a handful of multiport USB wall chargers. These include the Anker Quick Charge, a powerful four-port charger, as well as the Amazon Basics USB wall charger. We also look at the Sabrent 10-Port Family-Sized Desktop USB Rapid Charger, a power block that's big enough not just for your family, but for your family reunion.
The RAVPower RP-PB172. This is a beefy, 20,000 Ah power supply that provides a lot of extra juice when you're out and about. That's enough juice to charge the latest iPhone three times over, with a bit left over. It features a pair of USB ports for charging, as well as a PD port for charging compatible devices.
The CHOETECH 24W Portable Solar Charger. If you're trying to charge your device but you don't want to worry about finding an outlet, it's hard to beat the versatility of a solar charger. If you can find a patch of sunshine, you can charge your phone; it's that simple. It also features a small storage pouch for your phone, complete with a hole that allows you to run the charging cord.
Final Word
In the end, the AUKEY PA-D5 is an easy recommendation. It doesn't have as many power ports as some other chargers, but what it does offer is blazing fast speed, equivalent to a Mac wall charger. That means you won't be stuck waiting half the day for a slow wall charger to recharge your powerful Mac battery.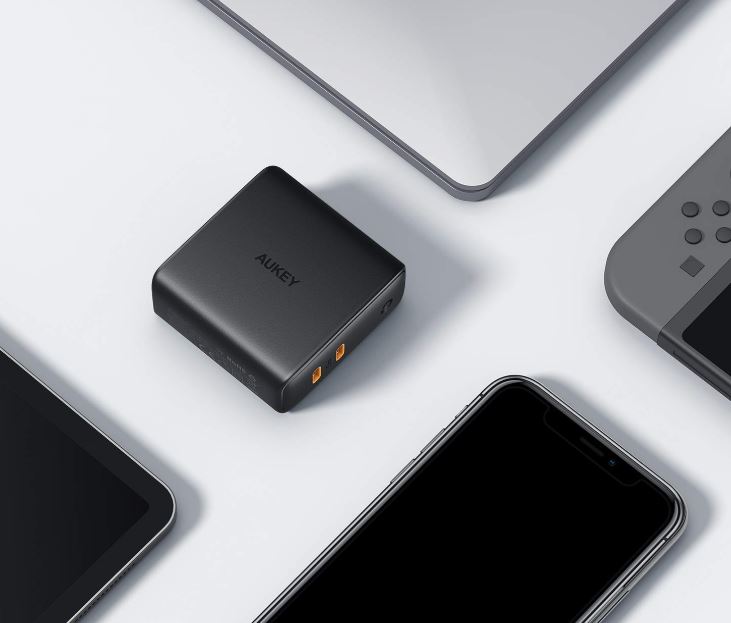 Not only that, but you can charge your phone at the same time as your laptop. Sure, you'll experience a slight drop in voltage, but it's really not substantial in the grand scheme of things. The secondary port is a USB-A, which allows for compatibility with a wider variety of devices. While it's not as fast as the primary port, it's still reasonably powerful.
Not only that, but all AUKEY products come with a 45-day no-questions-asked return policy. They also include a two-year manufacturer's warranty, so you'll have plenty of time to get things sorted out if there are any issues. That said, we doubt you'll need to make use of the warranty at all. The charger is just that good.
Meet Derek, "TechGuru," a 34-year-old technology enthusiast with a deep passion for tech innovations. With extensive experience, he specializes in gaming hardware and software, and has expertise in gadgets, custom PCs, and audio.
Besides writing about tech and reviewing new products, Derek enjoys traveling, hiking, and photography. Committed to keeping up with the latest industry trends, he aims to guide readers in making informed tech decisions.