It's increasingly common to find USB charging plugs on wall sockets. If you head to a well-funded university library, an upscale hotel, or a home built in the past five years, there's a good chance you're going to run into a couple of USB charging ports on the wall.
In the future, we might be lucky enough to have USB charging ports installed on most wall sockets, in most places. But the world isn't there yet. For the time being, if you want to keep your devices charged without having to carry a dozen chargers and a couple surge protectors, then you need the help of a good USB wall charger.
Choosing the Right Multiport USB Wall Charger for You
In many cases, people who plan on using their charger at home will want a different type of USB charger than someone who's traveling. Finding the right charger is mostly a balance of portability, capacity, and general quality. Fortunately, that makes it easy to narrow down your selection.
Build Quality & Longevity
When it comes to build quality, the things to be most concerned about are moving parts and safety standards. Avoiding cheap knockoffs is often a good idea because they often don't follow the safety standards laid out by developed nations. With the right protections, even if a power surge happens, your devices will be protected.
For moving parts, you're mostly interested in whether or not the wall charger has a hinge. When you can swing down a pair of power prongs to plug into the wall, that's great for portability, but it can be subpar for longevity. Especially if the hinge isn't made well. Should anything happen to the power prongs, the entire wall charger could instantly be rendered useless.
If you plan on running the wall charger in a very hot environment, exceeding 90° Fahrenheit, then you're going to want to think about cooling. Pretty much every USB wall charger will run a little hot, especially as you plug several devices into it. But some devices are better at dissipating heat than others.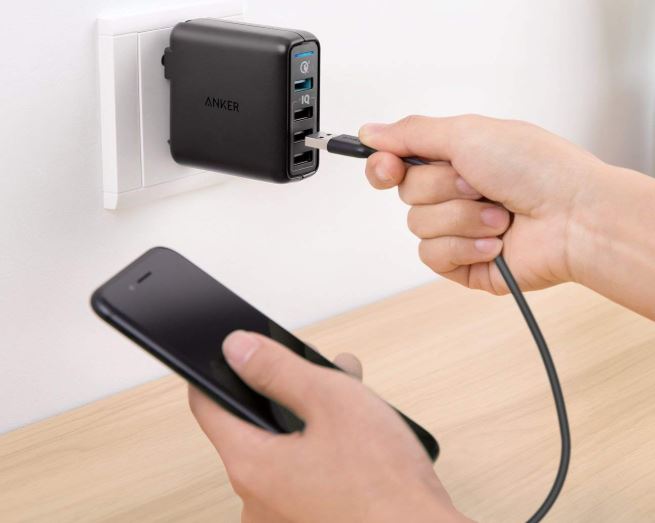 Charge Speed
How quickly your devices can charge is largely dependent on amperage. Older USB ports, or USB ports with a weaker power source, will typically provide 1A. That's enough to slowly but surely charge up your stuff through a USB connection.
You should look for at least 2A USB ports, which have become increasingly common over the past ten years. They're capable of recharging most devices without a couple of hours, and significantly faster than their 1A counterparts.
You might also be on the lookout for 2.4A USB ports, which are marginally faster than 2A ports. When you're charging a smartphone battery, the difference between 2.4A and 2.0A is only a matter of minutes, so it's nothing to obsess over. But it's something to keep in mind.
Quantity of Ports
Most people in most circumstances will only need two or three USB ports on their wall charger. That's probably why most wall chargers provide four ports.
Of course, some people need more than four ports. Fortunately, it's possible to find some pretty good consumer grade equipment that can support as many as 10 ports. But as you continue to add on extras, you do end up paying more for the charger.
USB Port LED Interface
Another detail you might consider is whether or not you can judge the charging status of devices which are plugged in to the charger. When you're using a charger with between one and five ports, you typically find there is only a single LED to indicate the status of every device connected to the charger. It's only when you start looking at chargers with far more ports that you end up getting more detailed LED descriptions for each device.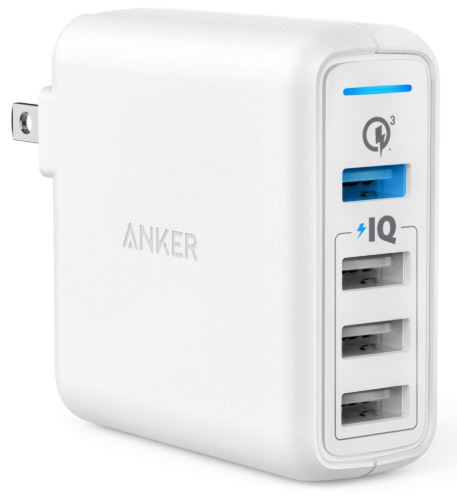 Anker Quick Charge 3.0 43.5W 4-Port USB Wall Charger
Anker makes a variety of tech accessories, and nearly all of them are competent. Their 43.5W 4-Port USB Wall Charger provides a full 3.0A for each of its ports, allowing users to recharge their mobile devices with haste.
However, it also restricts you to 8A across the entire charger. If you have four devices plugged in, you're going to encounter throttling to 2A. When running at full speed, this charger is capable of recharging an iPhone X in about 2 hours, and iPad Pro 9.7 in about 3.5 hours. When throttled, those figures are closer to 1hr 40-minutes, and 3-hours.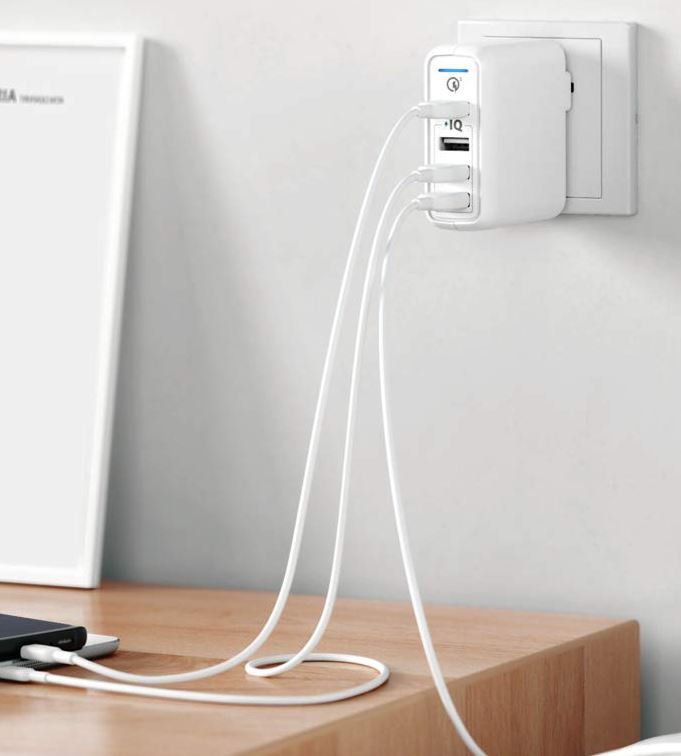 Build & Design
The Anker 4-Port USB Wall Charger measures 2.56 x 2.56 x 1.14 inches. It weighs about four ounces, which makes it great for traveling. Similar to the AmazonBasics 40W charger, this unit extends out a pair of power prongs, allowing you to connect with a wall socket. When you're done charging, you can unplug the wall charger and flip those power prongs back into the storage position.
The charger is available in both black and white. The body of the charger was given a glossy finish, while the front portion was given a matte finish. This is likely because glossy plastics are prone to scratching, which would be likely to occur if USB plugs were used against it repeatedly. However, it does cause the device to look a little disjointed.
Along the top, there's a large blue LED which can give you an indication about the status of your charge. Unfortunately, there's only a single LED. That makes it impossible to know the status of every device on the charger at a glance.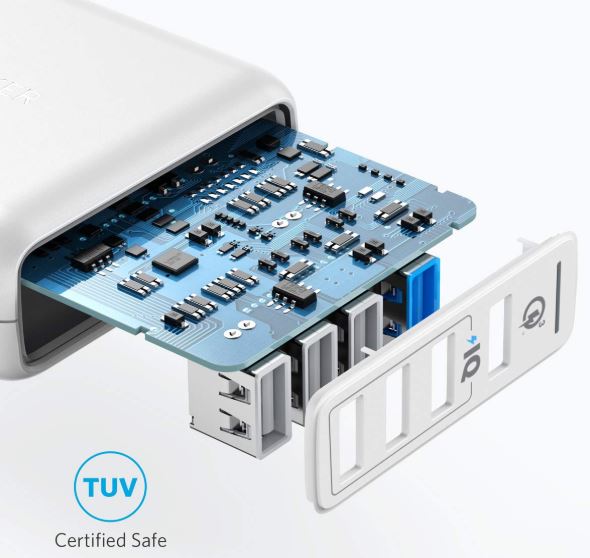 Other Considerations
Anker provides all the basic safety features you want from a device like this, including protection for the devices which are plugged in. The 100-240V design is suitable for traveling outside of North America.
But you have to be careful with the power pins. People are often rough or careless when plugging or unplugging electronics. The power pins on this charger are made to move in and out of the unit. Consequently, they're not the most stable power pins you're ever going to encounter. You want to treat them with care.
If you accidentally pull out a vacuum cord while the cord is at an odd angle, that might bend the pins on the cord. But that's nothing that can't be undone, so people usually don't get bent out of shape about it. But when you start to abuse these power pins, they're actually likely to break.
This kit includes an 18-month warranty from Anker, though it doesn't cover damages caused by careless use.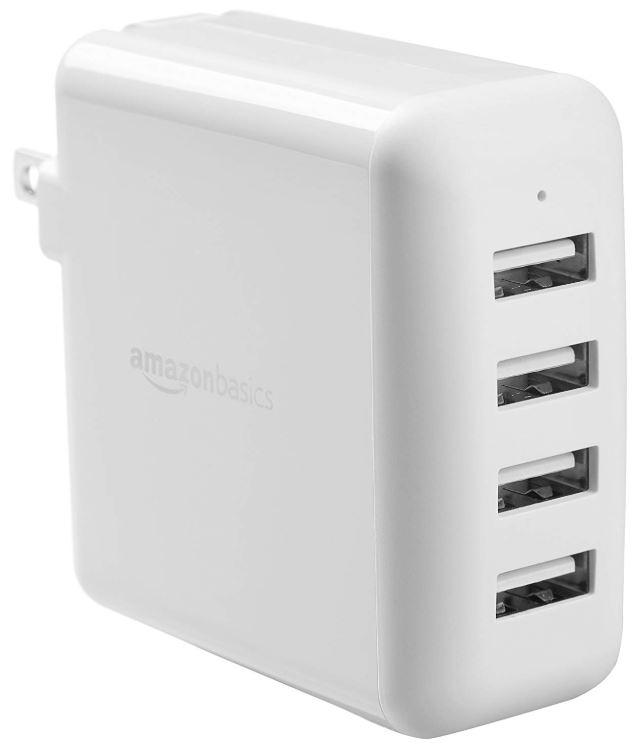 AmazonBasics 40W 4-Port USB Wall Charger
When you choose an AmazonBasics product, you tend to know what you're getting. For AmazonBasics, it's all about providing decent stuff with highly competitive pricing. If they truly have a competitor, it's probably brands like Walmart.
Consequently, their chargers and adapters are almost by definition not the best. The AmazonBasics 40W 4-Port USB Wall Charger is best described as competent. The adapter isn't going to blow you away with extras or innovative design decisions. But it might save you a couple bucks, if all you care about is having something that works.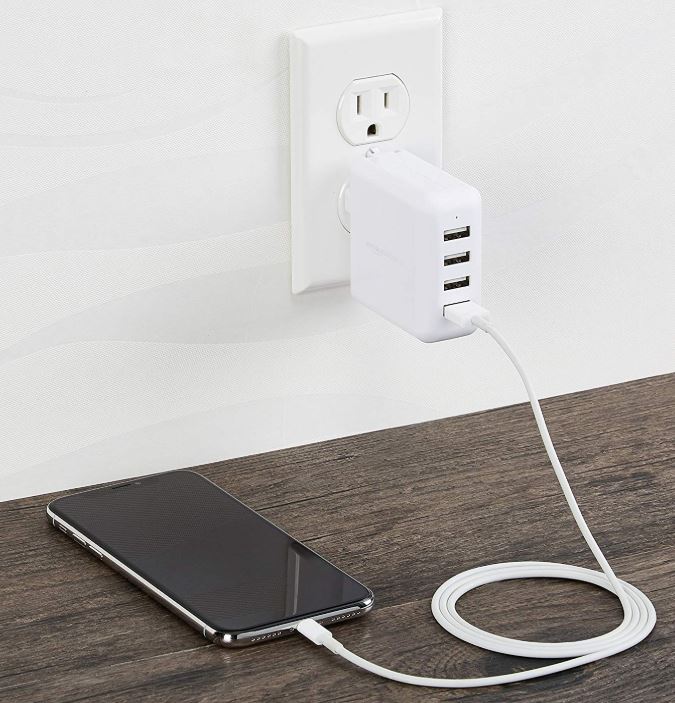 Build & Design
The AmazonBasics 40W 4-Port USB Wall Charger is built to measure 2.56 x 2.56 x 1.14 inches. That's a small box-like design, which allows the charger to be quite portable. When you want to make use of it, you've got to extend a pair of power prongs by flipping them away from the protective chassis of the charger.
The hinge on which this occurs is reasonably sturdy, but ultimately it's still a hinge. If you don't treat it reasonably well, it will eventually wear down and break. Similar to the previous charger on this list, the AmazonBasics 40W 4-Port USB Wall Charger is available in white and black.
Both types use matte plastic for the face plating of the charger, and then a glossy finish for the body of the adapter. Stylistically, this doesn't look very attractive. But it does help protect the unit from getting scratched up in short order. Whatever you think of its appearance, this device does provide some essential charging capabilities and with all the trimmings.
More specifically, its four port design provides 2.4A of current for each port. Though it caps out at a total of 40 watts and 8A across the entire device. It might be worth noting, there isn't any support for quick charge features, so quick charge devices will have charged at regular speeds.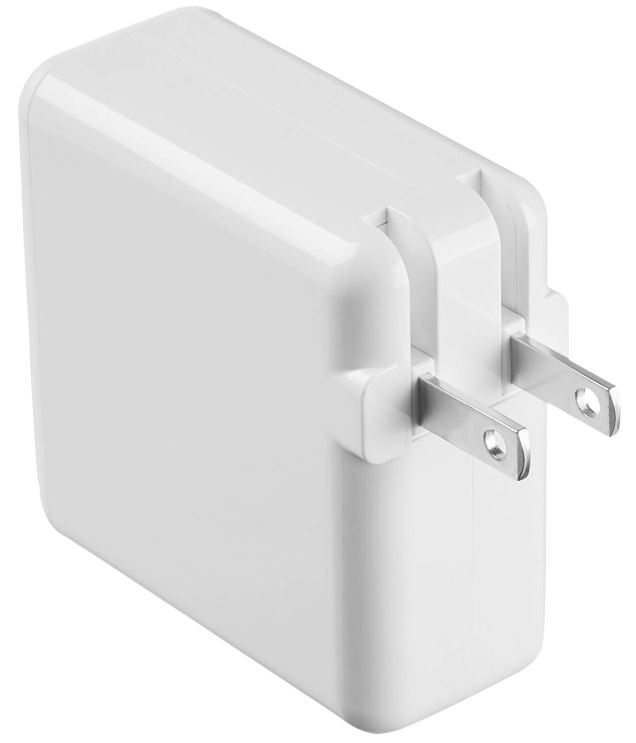 Other Considerations
Each port has an LED indicator which will glow blue when it's on standby or power mode, and then green when charging. When devices have finished charging, it will leap back over to a solid blue light. Unfortunately, these lights are bright to a fault.
If you're placing them in a bedroom at night, you may as well consider this charger a nightlight. Though if that was where you wanted to place it, and the lighting bothered you, covering it with some tape wouldn't be too difficult.
Internally speaking, this device is built to meet basic safety standards including an internal safety switch, automatic shutoff, and an energy efficient design. It's reasonably lightweight and portable, but there isn't any charging cable included. Additionally, this charger includes the 1-year AmazonBasics warranty available on all these types of devices.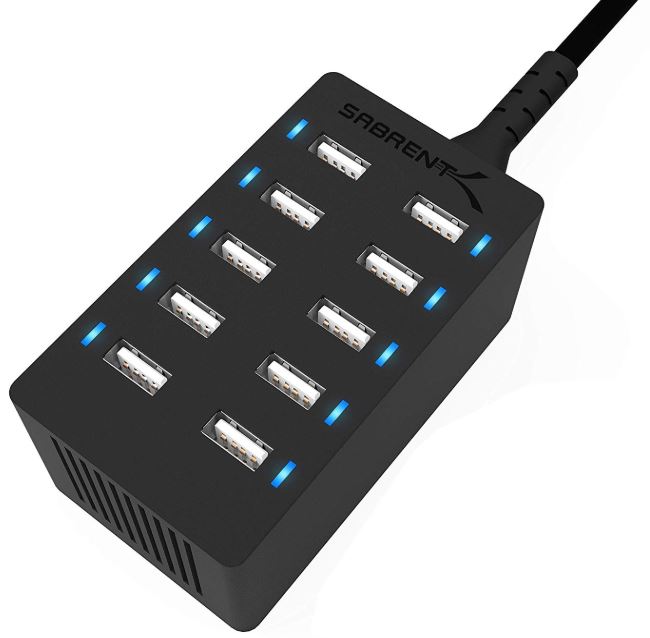 Sabrent 10-Port Family-Sized Desktop USB Rapid Charger
The Sabrent 10-Port Family-Sized USB Charger is the largest in a long line of similar accessories. Sabrent's 2-port solution is also pretty popular, but it's the 10 port version that really shines. Though there are special challenges that come with creating larger equipment, especially if any of the USB connections end up blocking other ports.
Internally, this charger is based on some fairly modern smart-port technology, which makes it capable of instantly identifying common electronics. It can provide 2.4A ports, however, there's a 12A cap placed on the device. People who are actually drawing 2.4A on each and every port will want to keep that in mind.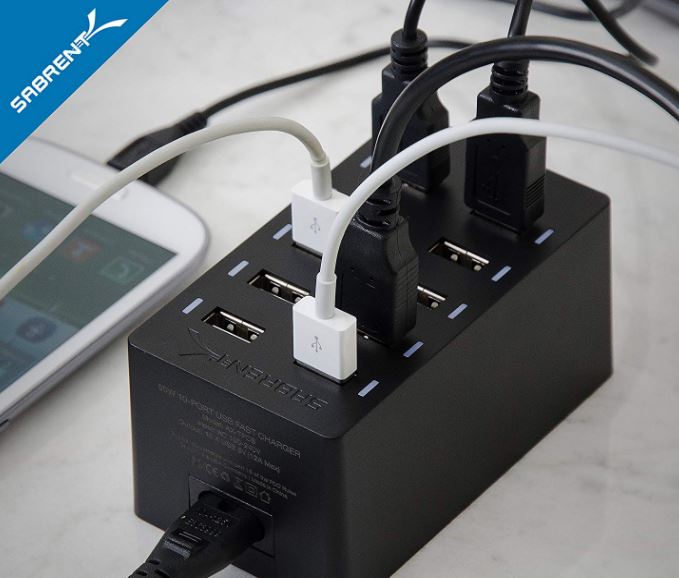 Build & Design
This large and boxy charger measures 3.82 x 1.89 x 2.09 inches, and weighs about half a pound. The connecting cord only runs about six feet, which is a tad short.
From a quick glance, you ought to be able to determine that this charger allows you to charge up to 10 USB devices at the same time. Running that many devices, you'll be glad to know they also paid attention to overcharge protection.
Along the front, each port is positioned next to a colored LED that can help indicate changes in status for each device. They will let you know whether devices are charging, full, and so forth. The fact there are separate LEDs for each connection is actually pretty distinctive.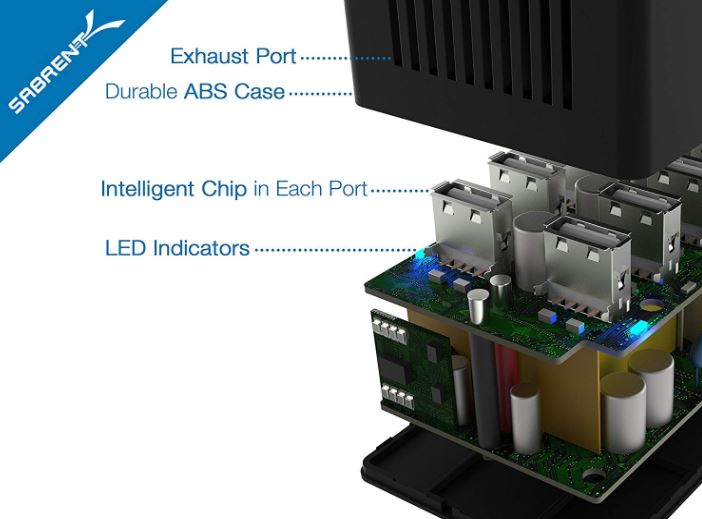 Other Considerations
If you actually connect all ten ports with a device, you'll find the Sabrent 10-Port Family USB Charger begins to run fairly hot. There's some ventilation on the sides of the charger that can keep it from becoming an issue, and you shouldn't block that ventilation if it can be avoided.
Because it uses AC 100-200V voltage inputs, this charger is suitable for international travel. However, in spite of its name specifically mentioning rapid charge, there aren't any quick charging features on board.
The 2.4A charge isn't slow, not by any means. But putting "rapid charge" in your name is a little misleading for people who are looking specifically for special charging features.
Picking Between Three Great Multiport USB Wall Chargers
The Anker 4-Port USB Wall Charger is very similar to the AmazonBasics charger, but the quality of its build is slightly superior. Anker provides a slightly better warranty, but all of this comes at a slightly higher cost. If plan on making frantic use of your USB wall charger, it can be worth investing a couple extra bucks into its quality.
The AmazonBasics 40W 4-Port USB Wall Charger is everything that an AmazonBasics product sets out to be. It's an option that's cheap without being totally awful. If you're on a tight budget and all you really care about is whether or not the charger works, AmazonBasics is likely the right choice for you. You only want to avoid this option if you plan on using the charger in a mostly portable fashion.
The Sabrent 10-Port Family-Sized Desktop USB Rapid Charger is unlike the Anker or AmazonBasics chargers. It's intent on providing USB charging for as many as ten devices simultaneously. Though after you start going over 8 ports, you're going to find every device will fall from 2.4A to 2.0A, slightly slowing charging speed. All in all, it's a clear choice for someone who anticipates the need for nearly a dozen USB connections.