Your keyboard is arguably one of the most important components in your entire computer system. It's the one device that you spend more time interacting with, and a poor-quality keyboard can ruin your experience with even the highest end computers.
Before we go any further, let's do a quick tally. How many of you always use a desk lamp when you're on the computer? If you answered yes, this article might not be for you. Chances are, most people do not have any lighting dedicated to their keyboard. Fortunately, this doesn't mean that you'll have to hunt and peck in the dark. With a proper illuminated keyboard, you can solve your lighting problem without any external peripherals. The lighting on an illuminated keyboard is much more subtle. Only the icons themselves, and sometimes the area around each individual key, are illuminated.
Keyboards come in all shapes and designs. Many of these designs come with illumination built right in. We'll be taking a look at the three best illuminated keyboards on the market. We'll help you understand the differences between them, and find the one that's right for you.
Logitech K800 Wireless Illuminated Keyboard
If it wasn't for Logitech, we'd have a whole lot less to write about. As one of the largest manufacturers of affordable computer peripherals, Logitech gravitates towards solutions that work for the average user. It's not that their products are lacking in features, but more likely that they know exactly which features users want. When you buy Logitech, you're getting something that is highly functional and much less gimmicky than competing solutions in the same price bracket.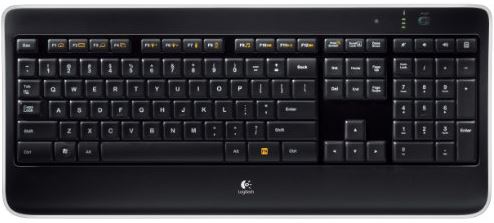 Design
Logitech's first illuminated keyboard hit store shelves two years ago. The K800 Wireless Illuminated Keyboard is very similar in design to its predecessor, but with a few key updates.
From first glance, this keyboard will be familiar to you. All of the keys use the standard layout. Around the keyboard, you've got a nice thick bezel that is rounded off on each side. This helps the keyboard stand out from your desk, and gives you a comfortable place to rest your wrists.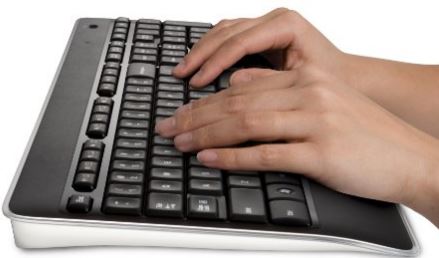 That being said, this is an extremely thin keyboard. It's low profile makes it seem right at home on your desk. It's very comfortable to use, and even if you're resting your wrists directly on the desk you won't place yourself in any un-ergonomic positions.
The one thing you will notice is that some of the keys are marked with orange icons instead of the typical gray ink. This is to bring your attention to the additional functionality Logitech has added to the keyboard. The top row of keys is your standard function keys, labeled F1 to F12. But above the labels is a secondary orange label. Many of them are pretty self-explanatory.
The mail envelope, for example, opens your mail client. The house icon opens the web browser and brings you to your homepage. There are a number of icons along the top that control everything from your screen brightness to your power settings. This is similar to what Apple is doing with their new Macbook Pros. Because the F keys aren't used that often, it's nice to see a manufacturer giving them some purpose.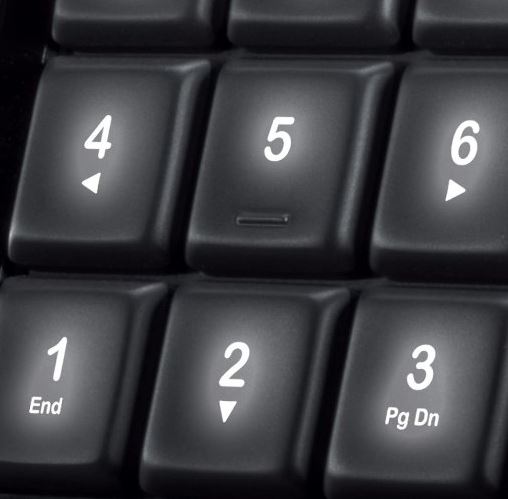 Connectivity
This is a fully wireless keyboard. It uses Logitech's advanced "unified" receiver. Basically, what the unified receivers do is connect all of your wireless peripherals to the same adapter. If you're already using a wireless mouse, you won't have to use another adapter for the keyboard. This is nice to see. When wireless peripherals first hit the market, they were restricted by the low bandwidth of USB 1.1. But today, even the older USB 2.0 standard has more than enough bandwidth for multiple devices. This frees up a USB port, allowing you to connect other types of hardware.
Since it's a wireless device, battery life can be a concern. Fortunately, Logitech has included a high-performance lithium ion battery. This battery gives you about 6 hours of battery life. If you're sitting down for a long gaming session, you might have to keep your charger connected. Luckily, since it uses a standard Micro-USB charging cable, you'll never be without a charger. You can use any standard cellphone charger, and it will work just as well as the included cable.
Illumination
With this keyboard, Logitech went for a soft and subtle method of illumination. The LED is located directly under each keycap. But the light isn't going to shine directly in your eyes. The markings on each key are actually subtle diffusers. This makes the light more along the lines of a soft glow. In bright light, they appear to be the same as standard keys. But when the light is dim, every key marking appears vibrantly so you don't have to strain to see it.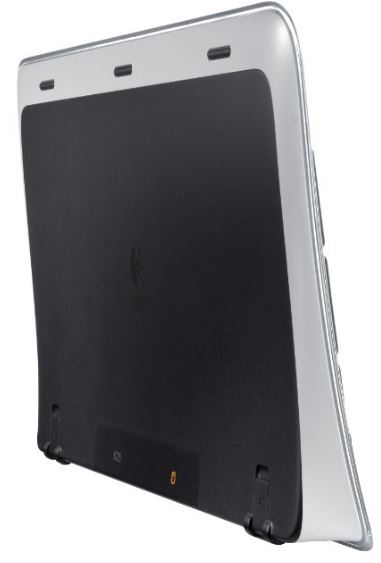 Mechanics
For many people, how a keyboard feels is one of the most important things to consider. There are all types of keyboards on the market, many promising to be especially useful for specific purposes. But 90% of the keyboards sold use something called rubber dome actuators. As the name implies, these are small rubber bubbles placed on a large matt. When you depress a key, you're actually crushing the rubber dome, causing two contacts to touch. Although the keyboard has a very slim profile, it feels just like any other keyboard you've used before. This means that it will be extremely familiar, and there is no real learning curve to use it.
Corsair Gaming K70 LUX Mechanical Keyboard
If you're familiar with Corsair's product line, you're likely an enthusiast who wants only the best components in your computer setup. Corsair is best known for their high-quality memory, cases, and cooling equipment. But it's not commonly known that they also make a great computer. With their entire lineup geared towards those who want the best, most reliable equipment, this is our first choice for users who are looking for products in that category.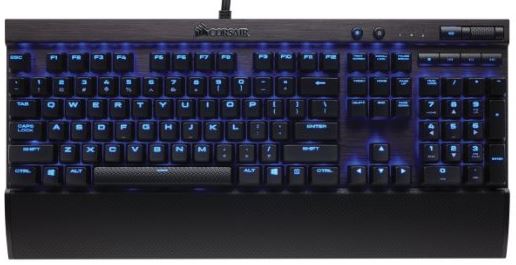 Design
Many products that are geared towards gaming have a more aggressive look to them, and the Corsair K70 is no different. The keyboard features sharp lines that, although simple in nature, create a very powerful contrast effect. From the thick bezel along the top to the smooth gradient of the wrist wrest rest, the keyboard is almost imposing. It wants you to know it's there. But this isn't just a product that looks good, it's something that performs better than almost all of the keyboards on the market.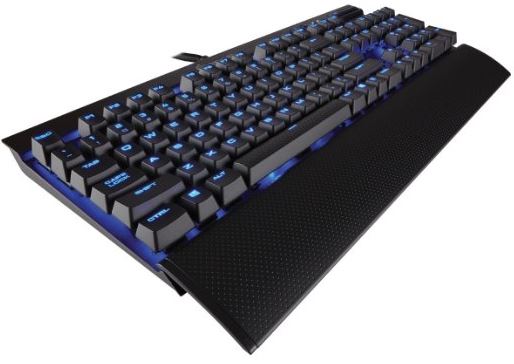 A lot of this can be attributed to the additional features that are included with the keyboard. If you enjoy listening to some music while you game, you'll appreciate the dedicated media controls on the top right corner. You've got pause, play, stop, and navigational controls just above the number pad. Along the top of the keyboard is a volume wheel that makes getting the exact volume easy.
Gamers will also appreciate the colorized WASD keys which make finding your directional controls simple. But the cherry on top is the smooth gradient of the wrist wrest. This keyboard is a little higher than some, and the wrist wrest is a comfortable way to ease the transition.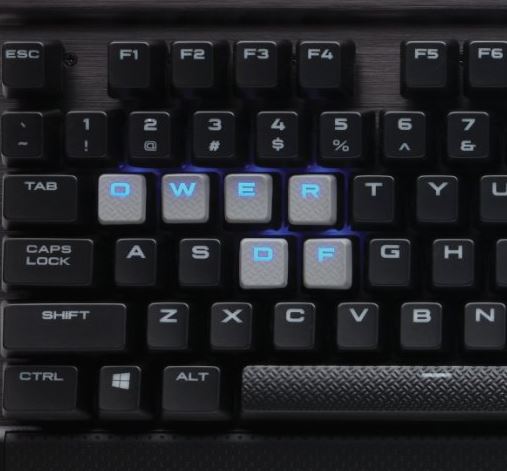 Connectivity
On paper, this is just a basic USB keyboard. Plug it into a USB port, and you're up and running just like every budget brand keyboard made since 2002. But under the hood, there is a lot more going on. Most USB keyboards us an extremely basic controller. These controllers typically suffer from delay and what they call "key rollover." If you push too many buttons too quickly, the keyboard will become overwhelmed and send some of your key presses only after you're removed your hands from some of the other keys. For gamers, that just doesn't work. You instant response. That's why the advanced controller in this keyboard is capable of near instantaneous response times, and no key roll over at all. This type of performance isn't possible with wireless keyboards, so you're getting the best of the best here.
Illumination
This keyboard is illuminated on two fronts. First, you've got the key caps. All of the logos light up with a vibrant light in your choice of red or blue. But since the keys are raised a little off the back of the keyboard, the LED light spills over onto the base. This creates a striking visual appeal that you'll be proud to have on your desk.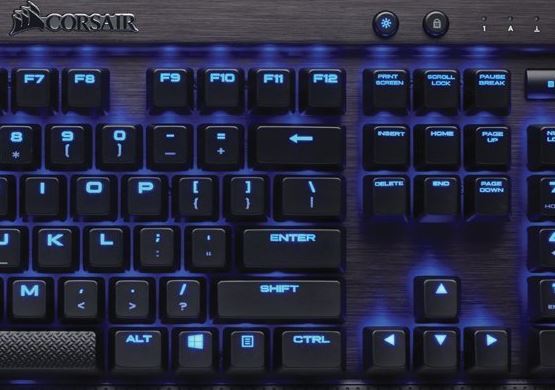 Mechanics
If you haven't used a mechanical keyboard before, be prepared to be impressed. Instead of the rubber domes (which many feel has a "smushy" imprecise motion) they are using fully mechanical switches. These switches involve a physical spring loaded mechanism that buckles under pressure. The result is a physical click that you can feel. Since typing is based entirely on muscle memory, mechanical switches tend to improve your performance bot a noticeable margin.
Even though many feel that mechanical keyboards provide an experience that is incomparable to your typical model, this keyboard is even better for gamers. It uses switches made by a company called Cherry. These are the gold standard for mechanical switches, and the particular model they used in this keyboard is designed for gamers. It's got a faster actuation point, letting you respond instantly to stimuli. Plus, they've even managed to dampen the sound a little, addressing the only complaint people ever have about mechanical keyboards.
Velocifire VM01
If you're looking for a mechanical keyboard that won't break the bank, Velocifire has got your back. As their name implies, they specialize in high quality input devices. The VM01 is a little more of a bare bones model than some, but it's got everything we like to see in a good keyboard.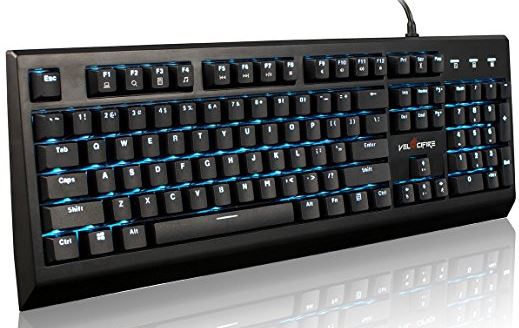 Design
If you're looking for something that will blend into your desk, you're in luck. The Velocifire VM01 has a very standard look. But despite its average appearance, it's much more than your average keyboard. There are a few subtle visual clues that give this away. For starters, the USB cable is a little thicker than normal. In fact, the keyboard itself is a little larger than some. Like the last mechanical keyboard we looked at, the extra depth is to make room for the high end mechanical actuators, so it's space well used.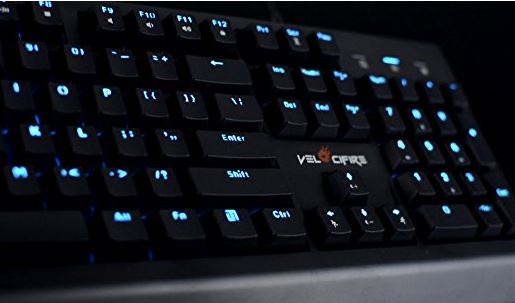 Connectivity
Much like the Corsair keyboard, this one uses an intelligent key rollover processor that allows the keyboard to send key presses instantly, even if you were to depress every single key at the same time. But that's not all, it also has a built in anti-ghosting program. Have you ever noticed that, even though you only press a button once, your computer interprets it as two key presses? This is what's known as ghosting. This keyboard has a high end anti-ghosting system that will prevent it from ever happening again. The downside of this advanced system is that, once again, it cannot work properly over wireless.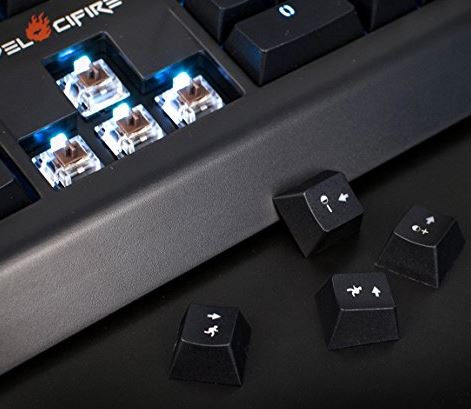 Illumination
On the Velocifire VM01, all of the illumination is located behind the actual keys themselves. Before we tried it out, we weren't too sure about this system. But during use, we actually became quite fond of it. The lighting is a lot less "in your face" than many keyboards. It's subtler, and easier on the eyes in dark situations. Since you'll generally be using the illumination feature when it's dark, you'll be glad it's laid out the way it is.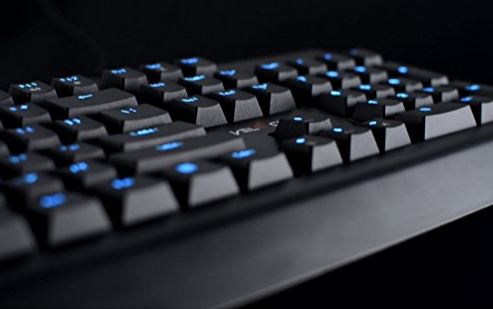 Mechanics
Because this is a mechanical keyboard, you'll be getting the high-quality typing experience you've always wanted. But this isn't your average mechanical keyboard either. This particular model uses brown switches. These are very similar to the blue switches, which offer the highest level of feedback designed for people we spend a lot of time typing. The browns are identical, except they have additional components that make the switches a little quieter. This means that the keyboard can be used even in a busy room or office setting, and you won't disturb anyone.
Which Backlit Illuminated Keyboard is Right for Me?
All of these are great keyboards, but the one you choose will depend heavily on what you need to do with the keyboard.
If you're looking for an affordable wireless keyboard, look no further than the Logitech K800 Wireless Illuminated Keyboard. This keyboard is made to the same high standard you're used to from Logitech, and allows it to sync with the Unified Receiver so all of your peripherals can talk to each other without occupying another USB port.
But if you want the best typing experience possible, check out the Velocifire VM01. This keyboard has incredibly mechanical switches that allow you to type faster, with less errors.
But if you're a gamer, you can't use just any mechanical keyboard. You need something that's perfectly suited for your individual needs. The Corsair Gaming K70 LUX is the best choice in this category. It's a little more expensive than some, but it's got tons of additional functionality designed to improve your gaming experience. In our opinion, once you try it out, you'll never be able to go back.
Meet Derek, "TechGuru," a 34-year-old technology enthusiast with a deep passion for tech innovations. With extensive experience, he specializes in gaming hardware and software, and has expertise in gadgets, custom PCs, and audio.
Besides writing about tech and reviewing new products, Derek enjoys traveling, hiking, and photography. Committed to keeping up with the latest industry trends, he aims to guide readers in making informed tech decisions.