These Bluetooth headphones are essentially the non Apple versions of the Apple AirPods. You will notice the almost identical design and size with the added benefit of not having to fork out the price of a pair of AirPods. Of course they do not have the brand power of Apple and it would be easy to think they just ripped off the design to ride Apple's coattails. So who is the team behind SoundPeats anyway?
SoundPeats jumped onto the scene in 2015 as a brand focusing on urban sports and the active lifestyle market. Their mission statement sums this up nicely, stating that "SoundPeats commits to creating immersive audio experiences and a free wearing feeling for the people who pursue a healthy lifestyle."
That all sounds nice but what matters here is if they can live up to the promise of quality and durability. The answer to this question is both a yes and a no. With an IPX4 water resistance rating it leaves a little to be desired in terms of durability against the elements however on that same note the overall quality is great.
They didn't cut corners but utilizing old audio technology which is seen right off the bat with their choice to utilize Bluetooth 5.0 instead of older renditions. They also implemented a neat touch control system and have dual microphones in each earbud along with a biological diaphragm enhanced sound system. What does that mean and why is it important? Well lets jump right into an in depth analysis!
Design & Usability
To start off, if you have seen the Apple Airpods then you know the design of the TruePods. They come in at 1.5 x 0.6 x 0.8 inches and have that fun toothbrush shape that the Airpods made so popular. SoundPeats utilizes this shape for their advanced touch control system that allows you to easily manipulate your music, calls and voice assistant features for your phone. The design also ends up working very well for their microphone as the mic is extended far enough out to not be blocked by your ear.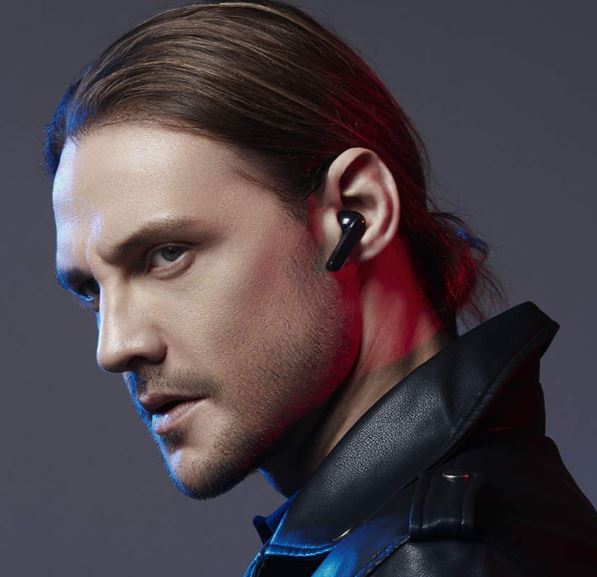 The touch control system is quite easy to use. If you double tap on the right earbud that acts as a play or pause command for your music (or whatever last audio file you were playing). Double tapping on the left earbud however will activate your phones voice assistant such as OK Google and Siri depending on your phone operating system of choice.
Holding down on your right earbud is the skip command and there are a few other commands in the manual. Once you get used to controlling the Truepods with their touch control system the experience is very smooth.
Though this is not so much an issue with the design as much as it is with the aesthetic choice of a glossy finish, if you utilize the touch controls with sweaty palms you tend to leave smudges and fingerprints. This is one of the reasons why we prefer matte finishes over glossy ones, however for those of you that carry around a micro fiber cloth you can simply clean them up every once in a while to make sure you look good at all times.
Comfort
Interestingly enough, despite the protrusion of the shaft of the TruePods, laying down with them in your ears is not uncomfortable. Though if you are a motorcycle rider these tend to fall out every time you pull your helmet off. A null point for the sane car drivers out there but for those living life on the edge, wearing these with your helmet might pose a problem, though while the helmet is on they are comfortable.
In fact, regardless of what you may think after gazing upon the shape of the Truepods for the first time, they are surprisingly ergonomic and fit firmly in the ear. This is due to the fact that they were designed to fit into your auricles in order to make them snug in the ear. The shaft of the TruePods also make it incredibly easy to put in and pull out of your ear and are actually quite stylish.
Wireless Connectivity
Any manufacturer making wireless earbuds in todays day and age is either utilizing Bluetooth 5.0 or they are not worth buying. With Bluetooth 5.0 you get much higher battery efficiency, audio stream stability and quality, as well as the Dual Audio feature.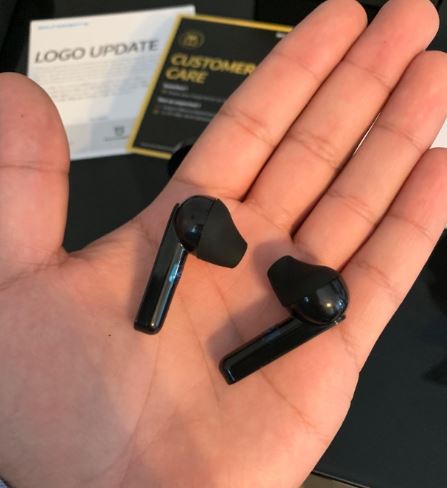 Battery Lifespan
These earbuds are right on the middle line of battery life. Running at max volume you can expect to get around 3 to 4 hours of play time before you need to toss them into the charging case. With the charging case you can expect between 16 and 20 hours of usage before you are dead in the water.
The charging case is just a charging case in this instance so unlike manufacturers like Axloie that are getting into the habit of making their charging cases multi-purpose, it doesn't appear SoundPeats is interested in doing so. With the Axloie Attitude X9P for example, you can utilize the charging case as a portable power bank, plus it has a much beefier battery getting you around 130 hours of playtime out of your earbuds.
The Axloie products are a bit of an exception to the rule though since charging cases for 90% of the true wireless earbuds on the market are solely for charging the paired earbuds. The only real reason to voice this as a concern is in the hopes that more manufacturers will get the hint and start making longer lasting, multi-purpose charging cases. You should expect about a 2 hour charge time from zero power to full charge for the earbuds as well as a 2 hour charge time for the charging case itself.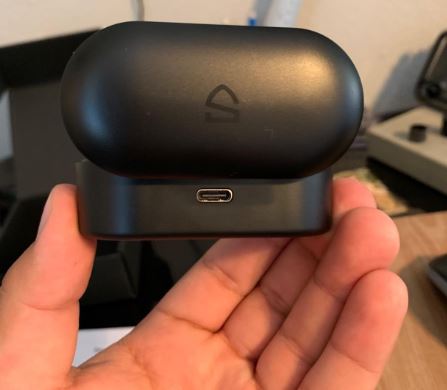 We do have to give SoundPeats kudos though for one specific feature in their charging case. That is the inclusion of USB-C charging instead of older obsolete USB plugs. Nothing is more frustrating for us technology lovers than to see high tech, state of the art, newly released products, that use some old USB micro or USB mini plug. So thumbs up for SoundPeats making the hump to USB-C.
Audio Quality
For you audiophiles out there you know that a speakers diaphragm is a key component in producing good quality sound. The diaphragm is essentially the element of the speaker that is sensitive to the magnetic field fluctuations. Once the coil is stimulated by an electric signal, the magnetic field changes and alters the shape of the diaphragm. The fast changes in the electrical signal cause the diaphragm to vibrate at high speeds generating the sound. So if you have a poor quality diaphragm then you will have poor quality sound no matter how great every other component is.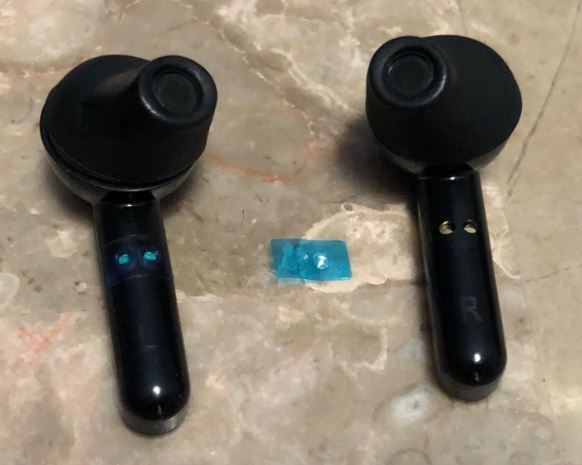 The biological diaphragm enhanced sound that you see on the specs sheet for the TruePods just means that they are a different material and are manufactured in a slightly different way than is traditional with other materials. They are made from cellulose thin and dense fibers that are at this time the best material for cones by far. Essentially it just produced thinner, more durable material that doesn't lose its shape over time that would cause depreciating quality after a lot of use.
Overall for the quality the TruePods will delivery premium sound, powerful bass and excellent treble. As far as your listening experience is concerned you wont find many other options that deliver the quality of the TruePods within the same price range. These earbuds should definitely be on every passionate deal finders watchlist.
Other Considerations
Though we briefly mentioned it at the start of this review, the IPX4 water resistant rating is not the best. For a company that is targeting people that live an active and sporty lifestyle, you would think they would at least go for IPX6. With the IPX4 rating you get resistance to water splashes from any direction. That means they only really had excessive sweat in mind when designing the TruePods.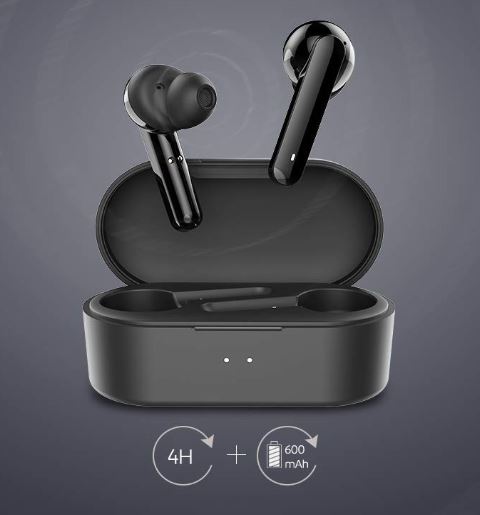 Despite the splash resistant rating you should not wear these in heavy rain or the shower. It goes without saying but you cannot submerge them in water either as they are only rated to handle splashing. If you want a pair of earbuds that can be fully submerged in water you will need at least an IPX7 rating. For that you would be better off checking out the Kharbon IPX7 earbuds.
One other considering is the warranty. Despite being a 12 month warranty, they only cover manufacturer defects. So should you actually have a lifestyle on par with the people they market to, you might end up damaging the earbuds fairly quickly and end up needing to replace them.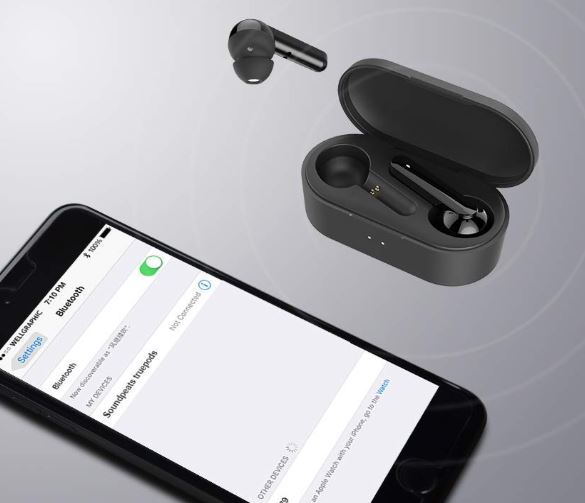 Not the biggest gripe considering most people tend to be fairly careful with their digital devices, plus the earbuds are light enough that a drop wont do much damage. It only makes the list of concerns because it is counter to the company mission. That said, SoundPeats does have a few other more durable earbuds including the Q31s and the TrueEngine2s that they just released so if you need a rugged pair you should check those out.
Who Should Choose SOUNDPEATS TruePods?
The answer to this question is a little surprising considering the companies target market. However after the considerations listed above we would suggest these to literally everyone other than the most active individuals.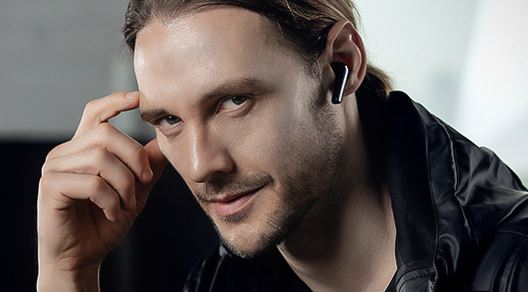 That means that as long as you are not engaging in any extreme sports, water sports, or require particularly rugged earbuds, then the SoundPEATS TruePods are great. They deliver really good quality audio, fit comfortably in the ear, and look good.