If you're in the market for a new pair of earbuds, the wide array of options can be intimidating. With so many earbuds on the market, how are you supposed to make sense of what's worth buying and what gets a hard pass?
Thankfully, we're here to help. Today, we'll be taking a look at MUCRO True Wireless Bluetooth Earbuds, which are designed to solve the dilemma of choosing between a solid pair of listening buds and a functional pair of earbuds to pair with your smartphone.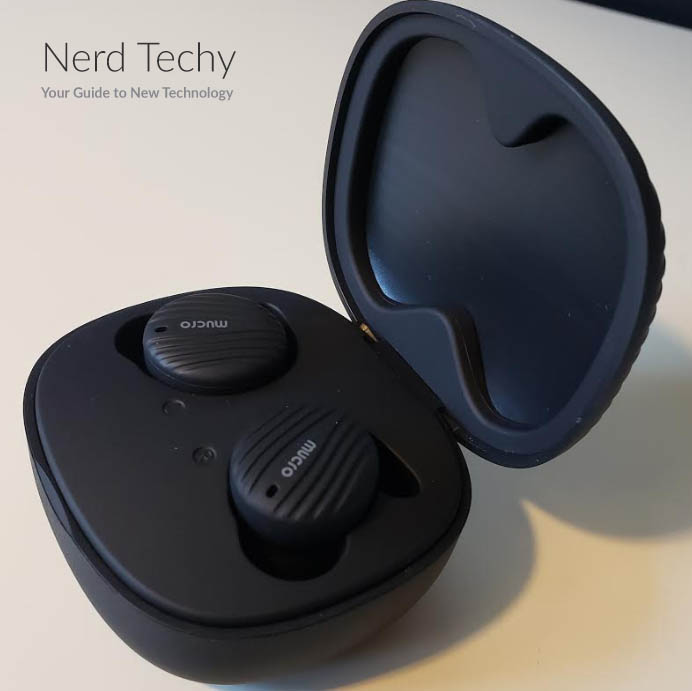 That sounds nice, but how good are they really? How easy are they to use, and how well do they perform? We're about to take a close look at these earbuds, and give you a sense of how they perform.
What's in the Box?
Earbuds come as a package deal, with accessories that also make a difference as to the performance and value. So before we take a deep dive into their features, let's see what's in the box, so we can get a good idea of what we're dealing with.
Wireless earbuds
Charging and storage box
3 interchangeable ear hooks
Owner's manual
Now that we've got a good idea of the overall features, let's get into these earbuds' design and function.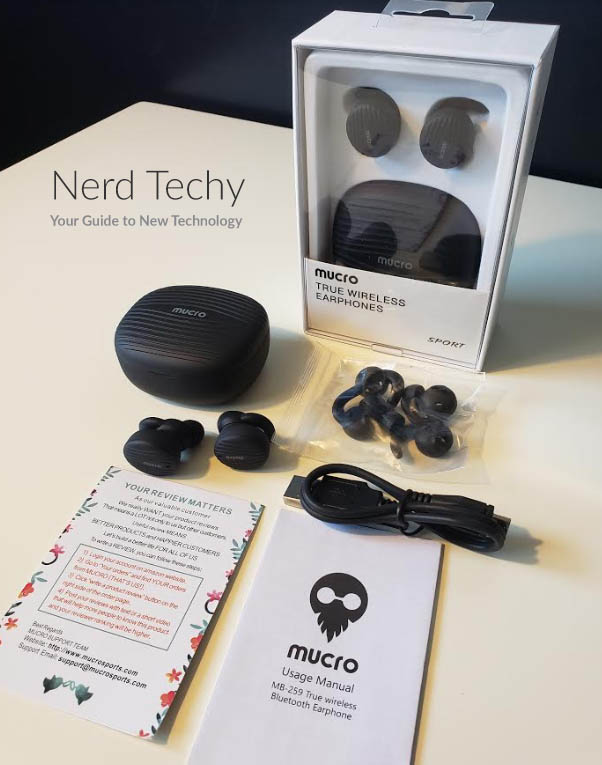 Design & Features
MUCRO True Wireless Bluetooth earbuds are designed to work in two different modes. This is perhaps their best feature, so let's spell it out. They work in master-slave mode or single mode. Essentially, what this means is that you can pair them either with one phone or with two.
Pair them with two phones, and one phone will control music on both earbuds, while the second phone can control call functions on a single earbud only. This allows two phones to function in tandem, and it's a great feature for couples who are listening to an audiobook together and still want to be able to take calls.
These earbuds are designed for outdoor use, as well as for athletic activities. The audio chip functions even under intense vibration, and even if the case is covered in moisture. If you're looking for a pair of earbuds that stand up well to your everyday work out or the occasional cloudburst during a run, these are a solid choice. The textured finish stays in your ears well even when they're wet, so there's no worry about them slipping out.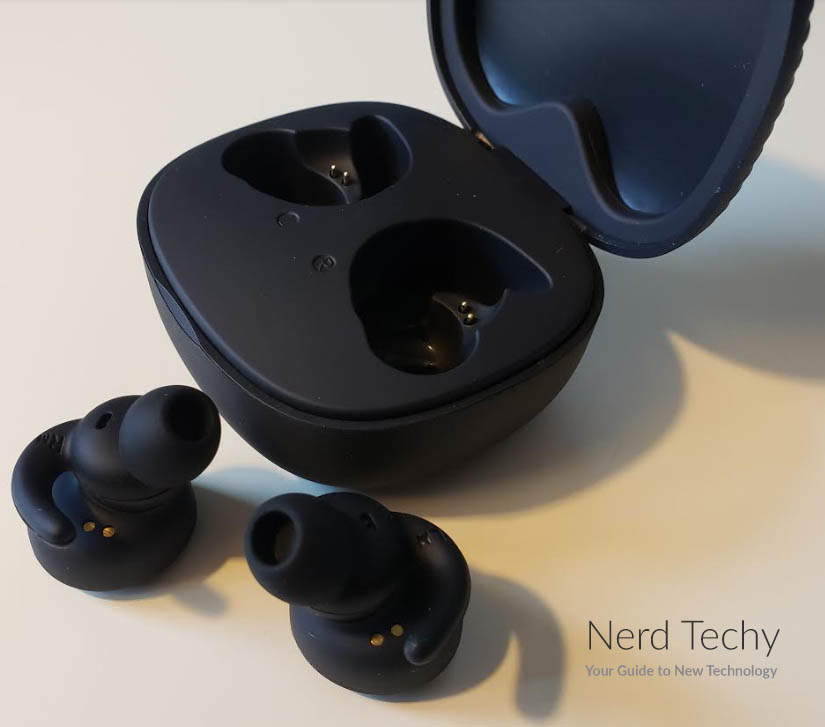 The True Wireless Bluetooth Earbuds have an easy-to-use, soft touch control with a single on/off option. This doesn't allow for a ton of functionality, but it does double as a play/pause function when you're listening to music. In addition, you can hold down the button to ignore a call, so you're not missing out on much functionality, especially considering we're talking about earbuds, not earphones.
These earbuds are compatible with virtually any mobile phone. This includes all current versions of Apple and Android. Since this makes them compatible with more than 90 percent of current smartphones, we'd say you're pretty well covered.
They're also easy to pair. Simply take both earbuds out of the chargin case, open Bluetooth on your phone, and select "MB-259R". This will pair them immediately, and all call functions will be enabled on any modern smartphone.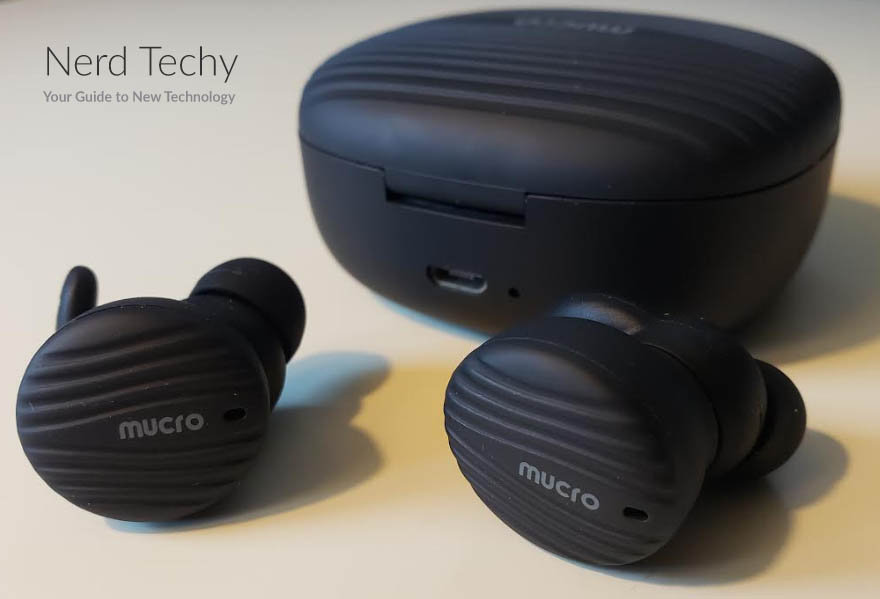 If for some reason you're having connectivity issues, these earbuds are also easy to reset. All you have to do is tap the top of the case, and their memory will clear. After that, you can simply remove them from the case again, and pair them to your mobile device just as you normally would.
Another thing we appreciated was the built-in microphones on both earbuds. This is a nice feature, especially if you're used to earbuds where the microphone is located only on one side or the other.
Finally, these earbuds come at a very reasonable price. That's as good a reason as any to buy, especially when you consider the benefits we've already discussed.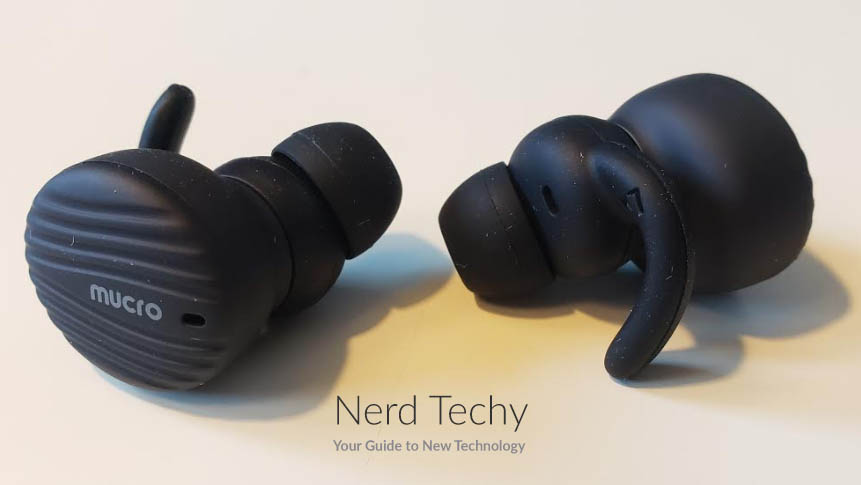 Accessories and Battery
As we mentioned before we started, a pair of earbuds is more than just the buds themselves. The quality of construction is just as important when it comes to accessories and add-ons. After all, it doesn't make much difference how good your earbuds are if your batteries don't last very long, or if you don't have a worthwhile carrying case.
So, what do you get with the True Wireless Bluetooth Earbuds? Let's take a look.
First, you get three interchangeable ear hooks that are sized for a large, medium, and small fit. We encourage you to experiment, since it really does make a significant difference as to the overall quality of the fit. If the earbuds fall out too easily, try a large. If they hurt, try a medium. The default tips are a medium, which is what most people are going to find most comfortable. This means that the majority of people will also get an extra set of tips.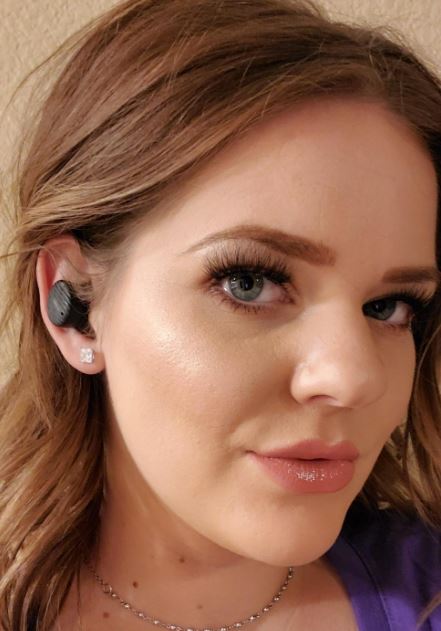 The case is a small oval case that's padded with dense foam. This keeps your earbuds well protected for travel, whether you're flying, driving, or just stowing them in your backpack for a day of camping. The case includes a battery pack, which provides eighteen hours of extra battery life.
Combined with the earbuds' basic battery life of six hours, that's 24 hours of continuous operation. This seems to ring true even if you're constantly listening to audio over Bluetooth. Compared to most earbuds in this price range, that's actually a pretty good battery life, and it adds a lot of value to the overall package.
These earbuds use the latest Bluetooth 5.0 protocol, which allows them to run with as little power consumption as possible. They offer good battery life even at full volume, which is particularly useful when you're on the phone. Nobody likes to have to conserve battery life by turning the volume down and making it hard to hear their friends. With these earbuds, you don't need to.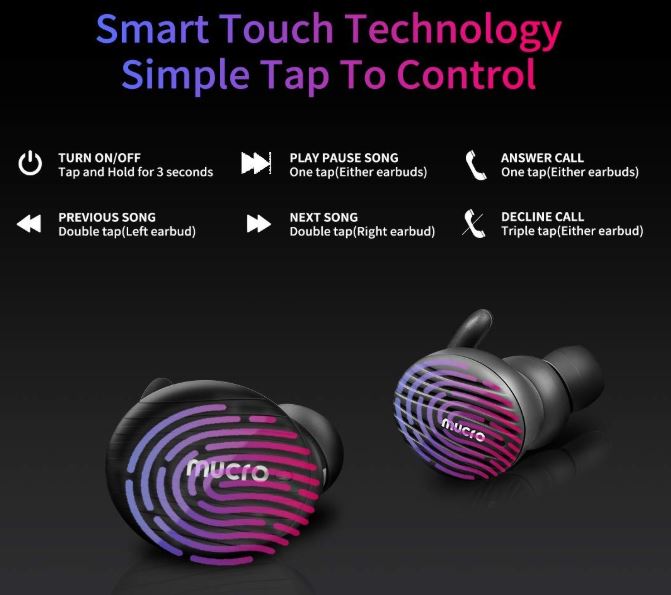 Sound Quality
As you would expect from a pair of earbuds that come at this kind of price, you're looking at a compromise when it comes to sound quality. We're not saying these earbuds are bad; they're not. They're just not the best you'll ever see.
To begin with, we already talked about the good call quality. This also translates to podcasts and audiobooks, and also to rap to a more limited extent. Essentially, any time you're listening to vocals, you're going to get good quality from these earbuds. This is because the mids and the highs are well-balanced, which also provides a good balance for any music where trebles are important, such as classical and country music.
That said, the bass on these earbuds leaves a lot to be desired. If you're listening to music with a heavy bass, you're going to hear more buzz and less boom than you want. Not only that, but the bass can muddy the mids, which means that pop music, or any dance music with a heavy bass line, can end up sounding less spectacular than it should.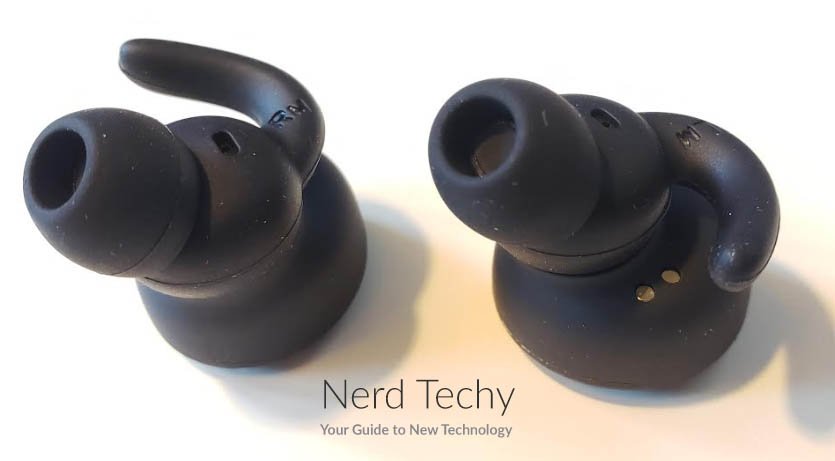 So ultimately, whether or not these earbuds are worth your while is going to depend on what you're listening to. If you're concerned primarily about call quality, they're well prepared to handle your needs. If you're more concerned about listening to dance music, these buds will come out flat.
Alternative Options
Of course, not every pair of wireless earbuds is going to be right for everybody. You may be primarily concerned about call quality, in which case good stereo and bass will be less significant to you than a reliable Bluetooth connection and good calling controls. Conversely, you may be looking for optimal sound quality, with fewer calling concerns and no need for a bunch of extra control options.
Either way, we understand. Thankfully, we've reviewed a number of earbuds in the past. If MUCRO's offerings aren't quite your speed, here are a few other options that might be a better fit.
The Jabra Elite 75T. These earbuds are similar to the MUCRO earbuds in terms of size and portability. They're designed to tuck smoothly into your ear wells, and to deliver plenty of volume when you need it. They come with a smartphone app that includes an EQ, so you can customize your sound experience, and they also feature 28 hours of battery life.
The Sony WH-CH510. These are full-sized earphones, not earbuds, but they still offer a much more compact profile than the Mickey Mouse ears that are prevalent among louder, more bass-heavy designs. This is a welcome feature, and it comes with multiple call controls that make these Sony earbuds a great choice if you want plenty of sound quality both during calls and while listening to your favorite streaming app. They come at a steep price, but that's to be expected from the latest quality Sony gear.
Tribit FlyBuds. These earbuds are purpose-built for shock, weather and sweat resistance. They're a go-to option for athletes, or for anyone who appreciates an earbud that's designed for work and play. These earbuds come in an ultra-slim charging case, which makes them easy to tuck into your pocket, even if all you're wearing is a pair of gym shorts. They also offer an impressive 36 hours of battery life when you include the reserve charge on the case.

The Final Verdict
MUCRO's True Wireless Bluetooth Earbuds aren't about to win any awards for sound quality, but that doesn't mean they're not worth buying. For one thing, they're very reasonably priced, which alone makes them worth considering, especially when you take the connectivity into consideration.
These buds allow you to pair them with two phones at once. This makes them a fantastic option for couples, since you can listen to music, a podcast, or an audiobook together and still have the ability to take calls independently. That's a lot of functionality for a very low price.
Finally, the battery life is a lot better than you'll see on a lot of budget-priced earbuds. Again, 24 hours isn't the best in the world, but it's the best you'll see at this price, especially without the need for a big, bulky battery pack. All in all, these earbuds are a great value.