AUKEY is a Chinese electronics brand, known primarily for their Mac chargers and other Mac-compatible accessories. In recent years, they've expanded their offerings to include headphones. The EP-T10 is the latest in their Key series of earbuds, and it's a welcome addition to the lineup.
But just because a company is good at making powered equipment doesn't mean they're necessarily the best at making good sound equipment. To find out how AUKEY's earbuds stack up against the rest of the competition, we've decided to take a deep dive into their construction, technical specifications, and features. Now, let's get a closer look at these well-engineered earbuds.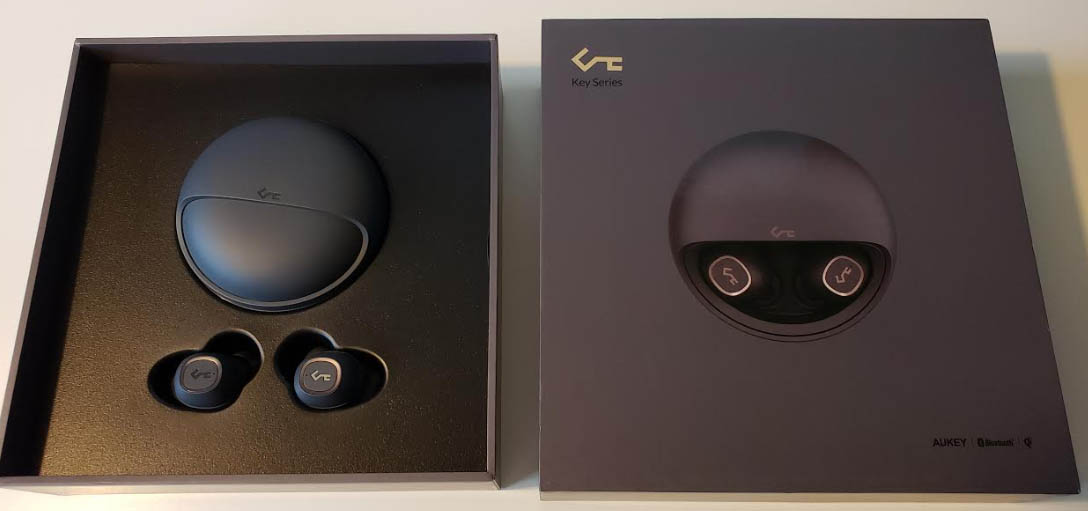 What's in the Box?
Before we take a close look at these, let's see what's in the package. That way, we'll have a better idea of what we should expect going forward.
2 earbuds
Wireless charging case
3 extra sets of ear tips
3 extra sets of wing tips
User's manual
3-foot USB cable
As you can see, there's more to these than just the buds themselves. So, let's take a closer look, and find out what they have to offer.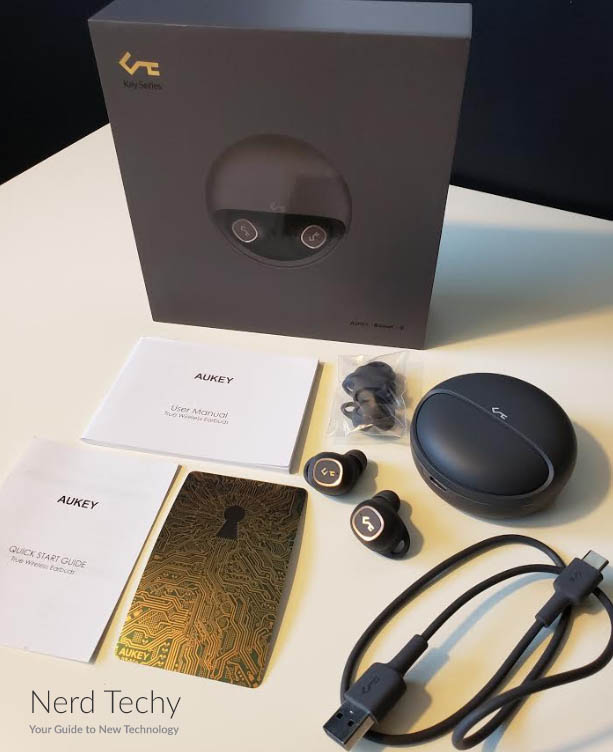 Design & Features
The EP-T10 are 100 percent wireless. They're small, they're sleek, and they're designed to tuck into your ears effortlessly, without any bulky over-the-ear straps or external battery pods. They have a matte black shell, along with a flat profile that's nearly invisible when it's tucked into your ear.
The shell itself is totally modular. In addition to replaceable rubber ear tips, the wing tips are also replaceable. This allows for a secure fit no matter what the shape of your outer ear. It makes the EP-T10 suitable for virtually any ear size, which means it's going to be a good fit for just about anybody.
These earbuds, along with the charging case, weigh a total of 8 ounces. This sounds heavy, but keep in mind that we're talking about a charging case that includes a power pack. Considering the weight of the battery, the rest of the assembly is impressively lightweight.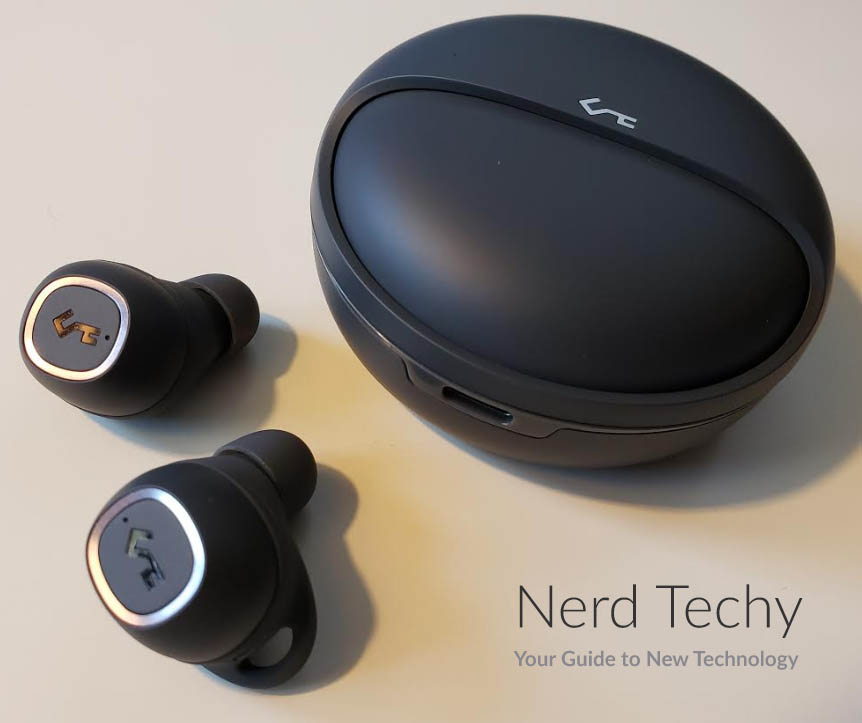 The earbuds themselves are exceptionally light, and don't have the "battery heavy" feel we've come to expect from a lot of earbuds. Even at this weight, they offer a secure fit, so they're not going to pop out of your ears easily under any circumstances. As a result, they're a great choice for running, workouts, and other athletic activities.
They're also weatherproof and sweat-proof. Not only is this another point in their favor when it comes to workouts, it's also great for anyone who might get caught in the rain. Why should a freak storm ruin your headphones?
They're capable of wireless charging. That makes them more convenient to charge than many wireless earbuds, many of which require you to carry around an independent battery pack just to get a few hours of operation.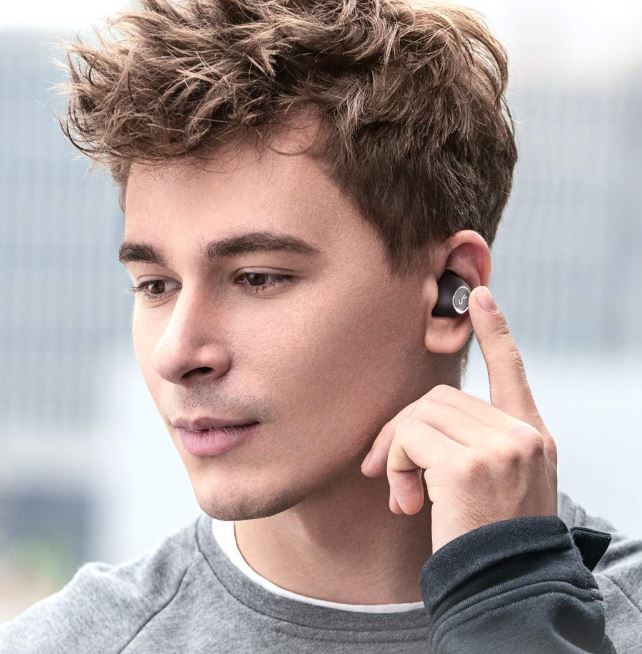 Aukey's EP-T10 can be used independently, which allows you to charge one earbud while still using the other for phone calls. That said, there is an automatic pause feature when you're listening to music and removing a single earbud. We appreciate this feature, since it makes it obvious that AUKEY appreciates the important differences people expect between earbuds you use for listening to music and earbuds you use for making a phone call.
There's only one thing we didn't like about the overall design of the EP-T10, and it's common to many wireless earbuds. Specifically, the touch controls can be complicated to operate. If you frequently use the "skip" buttons to move forward and backward, the awkward, press-and-hold operation can be a pain to use. Especially since there's a fine line between "press" (play/pause) and "press and hold" (skip).
We're not saying that they're impossible to use. As a matter of fact, once you've worn them for a couple weeks, the controls become second nature. That said, if ergonomics and usability are your primary concern, you may be disappointed. On the other hand, touch controls are fairly standard for Bluetooth earbuds, and most of them have the same problem when it comes to ease of use.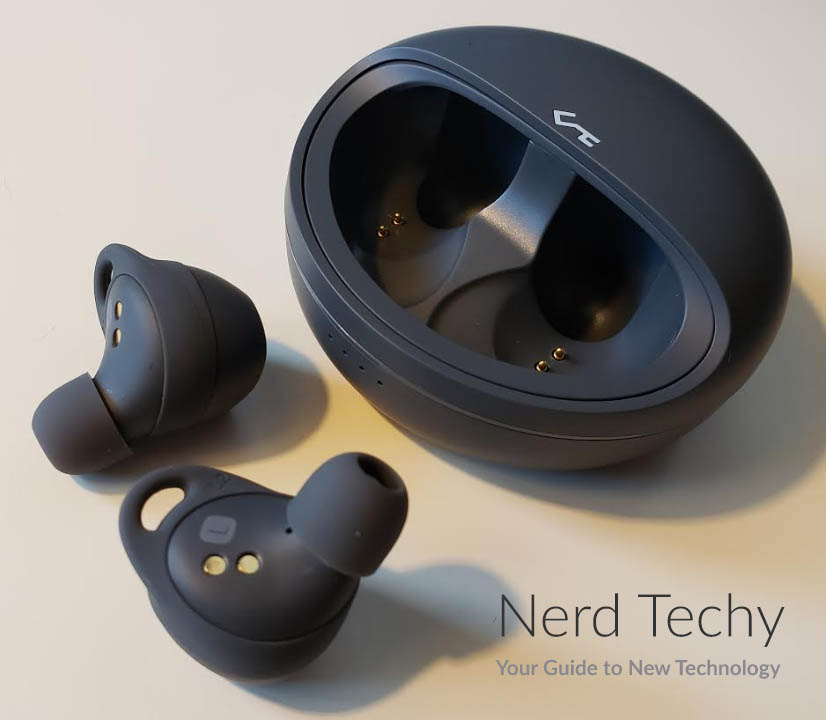 Accessories and Battery
As we said, a pair of wireless earbuds is a lot more than just the buds themselves. So let's take a look at what else is in the package. First, the charging case is very well designed. It's oval in shape, with a flat base that remains stable on just about any surface. The two slots in the top are perfectly molded for the earbuds, and are open enough that they're easy to clean with a cotton swab and some rubbing alcohol.
The earbuds themselves provide 7 hours of battery life. This isn't bad, especially when you consider the battery life of other comparably-sized earbuds, which often offer 3, 4, or 5-hour charges. This is more than enough if you're using your earbuds simply for listening to music before and after work. However, if you're looking for an all-day battery that works for hands-free calling, you're going to need a little more juice.
Thankfully, the EP-T10 offers just that. The charging case comes to the rescue, with a reserve battery that provides 17.5 percent of charge. The independent operation makes this very easy to use, since you can charge one earbud at a time while using the other for hands-free calling.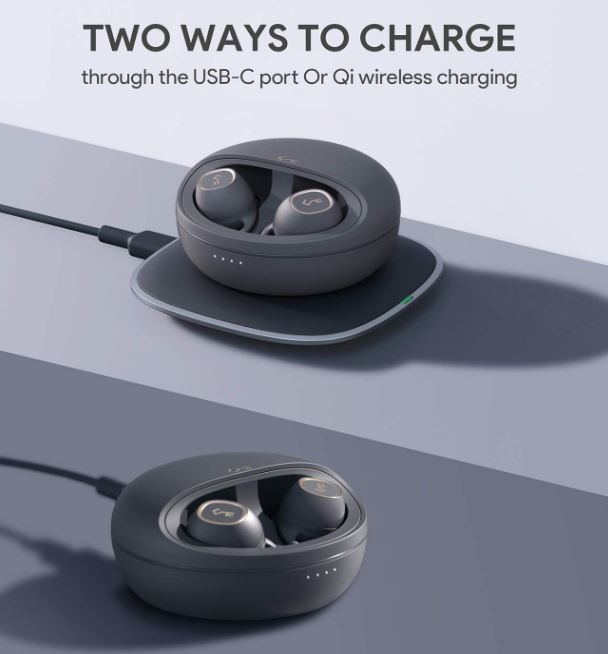 But suppose you want to set your earbuds down on your desk, or you want to charge them while they're in use? They offer Qi wireless charging, which means you can keep your batteries topped off any time you're within a few feet of a power outlet.
Sound Quality
Now that we've talked about the EP-T10's features, let's get down to the most basic aspect of all: the sound. After all, even the most amazing pair of earbuds is significantly less impressive if it doesn't offer clear, consistent sound quality.
They feature graphene diaphragms, which produce less vibration than traditional earbuds, and allow for plenty of clarity even when you've got the volume and the bass cranked up. This is a much-appreciated feature. While it won't give you additional bass, it will ensure that your mids and your highs don't get muddled just because you've got a passion for dance music.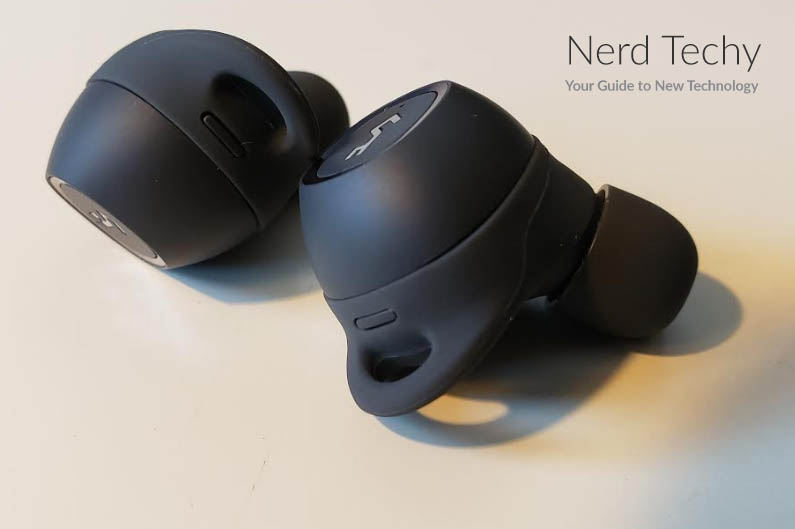 Speaking of bass, the quality is excellent for such a small set of drivers. We were pleasantly surprised by the richness and the depth of the lower spectrum, especially considering the fact that AUKEY isn't known for making audio equipment.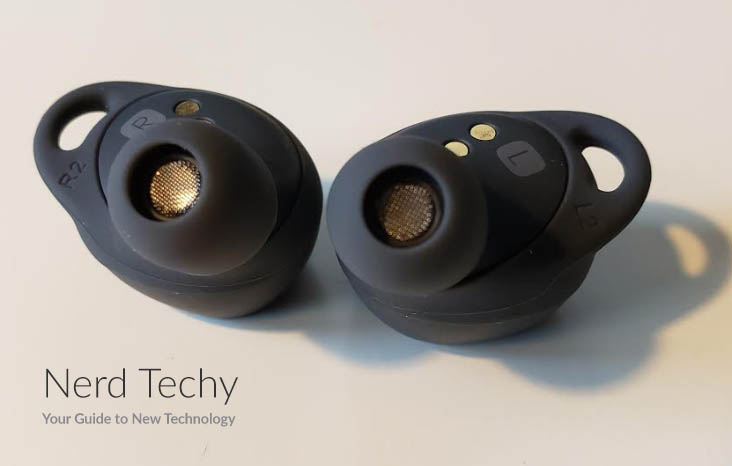 In terms of voice performance, you'll experience near-zero latency during phone calls. This is a fantastic feature when you're on a conference call, or during other time-sensitive communications where a half-second's delay can cause problems for business or pleasure.
Another area where zero latency is important is when you're watching videos. If you spend a lot of time watching Netflix or YouTube, you'll appreciate the absence of any lag between the video and the audio. In that sense, these wireless earbuds offer the same near-zero latency as a comparable pair of wired earbuds, so you'll enjoy a full, immersive experience while you're enjoying your favorite streaming series.
Alternative Options
When you're in the market for a new pair of earbuds, it's important to make sure you're getting the right pair for your needs. Because this is a personal decision, we understand that not every pair of earbuds is going to be the right choice for everybody's needs.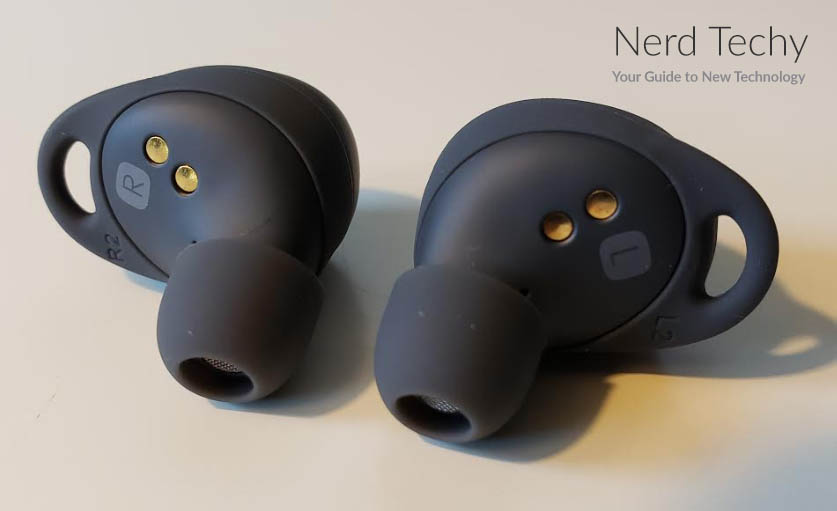 If these buds weren't quite up to your expectations, don't worry. We've reviewed dozens of earbuds over the years. Here are a few that might be more in line with what you were looking for.
The SoundPEATS Truengine 2. These are larger than most in-ear earbuds, but the reason for the large size is that they have a dual driver. Even with a dedicated bass driver, they still offer six to seven hours of battery life. That's not including the charging case, which boosts total battery life to an impressive 30 hours. That's pretty impressive, especially considering the well-rounded sound quality.
The Jabra Elite 75T. They're lightweight and compact, a perfect choice both for portability and for keeping a low profile. The sound is geared towards the mids and the highs, so you'll get better quality from vocals than you will from music. That said, they're a great choice for phone calls and for your daily commute. Be careful of the batteries, though; they're only good for 7 hours, and the charging case doesn't have a power reserve.
The Sony WH-CH510. These are traditional over-the-ear earphones. They offer better bass response than any earbud all the market, although that comes with the commensurate disadvantage of a larger size and less portability. Because of the greater surface area, they allow for plenty of room for controls. The three-button system provides far more functionality than you'll get from a single-touch earbud.
The Final Verdict
So, are the AUKEY Key Series EP-T10 Earbuds worth the investment? We'd certainly say they are! This is a quality set of earbuds, whether you're listening to music or just taking phone calls. That kind of versatility is hard to find in the world of smaller earbuds, and it's much appreciated.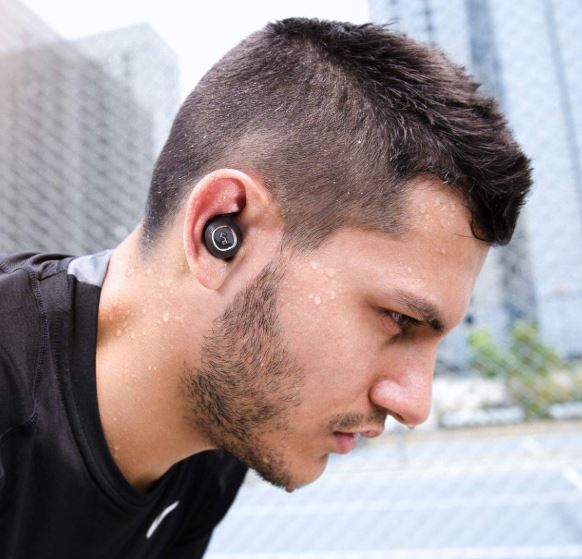 Another strong point is battery life. The seven hours of base performance is more or less standard, but the reserve capacity of the charging case is a worthwhile addition, particularly for most people's purposes. Use your earbuds in the morning, charge them in the case while you're at work, then wear them home at the end of the day.
They're also comfortable to wear, with extra buds and wing tips that allow for a comfortable fit no matter the shape of your ear. With this much versatility, the EP-T10 is a high-quality earbud for almost any needs.