How any of us lived through the age of dial up is beyond comprehension. If a website takes longer than a few seconds to load in today's day and age we are filled with annoyance and start checking the task manager for RAM or CPU usage so that we can figure out why websites are delayed a whole 5 seconds! Perhaps not everyone is that extreme but speed is definitely important.
If you are paying for gigabit speed internet you want to be able to access the internet at gigabit speeds. Whatever the reason that there is a slowdown is simply not acceptable. Many of do not realize that there is often a bottleneck in the connection. That bottleneck is our access point or modem. If your access point is only rated to give a connection speed of 50 Mbps you should first and foremost ask yourself why you are using such ancient technology, and second you shouldn't be surprised why everything is going so slow.
Today we demand performance from every bit of technology we have and we push the abilities of our networks to their limits. When every person in the house has a laptop, a tablet, a phone, all streaming videos and playing games, it's no wonder things aren't buffering fast enough. On top of that our homes are getting more and more demanding of the network with smart televisions, wireless security cameras, amazon Alexa devices and more.
With our hyper-connected households in our hyper-connected world, having an access point that is going to be reliable, fast, and long lasting, is more important than ever. The EnGenius Neutron EWS377AP Wi-Fi 6 Mnaged Access Point, not only achieves those list of needs, but they actually exceed them.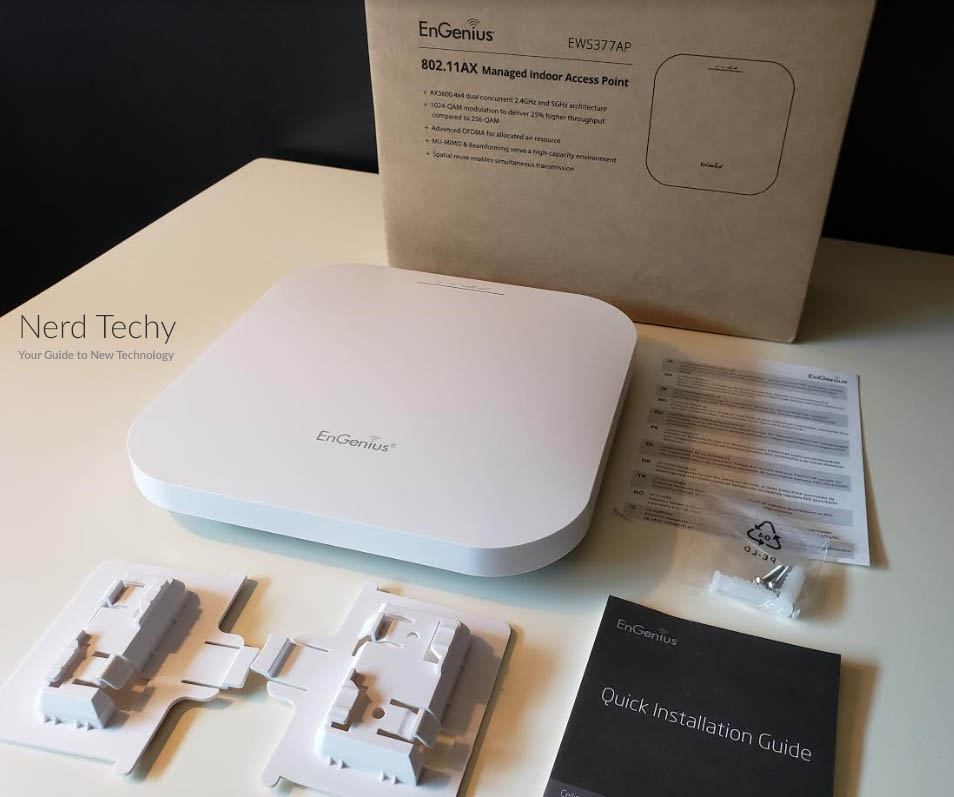 Build & Design
To start, the design of this wireless access point is beautifully minimalistic. It was designed to be mounted on a wall and blend in. The access point comes only 1.3 inches off the wall when mounted and has a square dimension of 8.1 by 8.1 inches. Even with the contained size this access point weighs in at 1.95 pounds and feels incredibly solid when holding it which is a testament to the build quality.
There is a single Ethernet port on the back and a power port right next to it. The power port is entirely optional however since the Ethernet port can power the access point if you have the EnGenius Technologies 802.3AT/AF Gigabit POE+ Adapter. With the POE adapter you can have a single cable running to the access point for both the power and the connection and of course for the aesthetic appeal of the clean single cable look.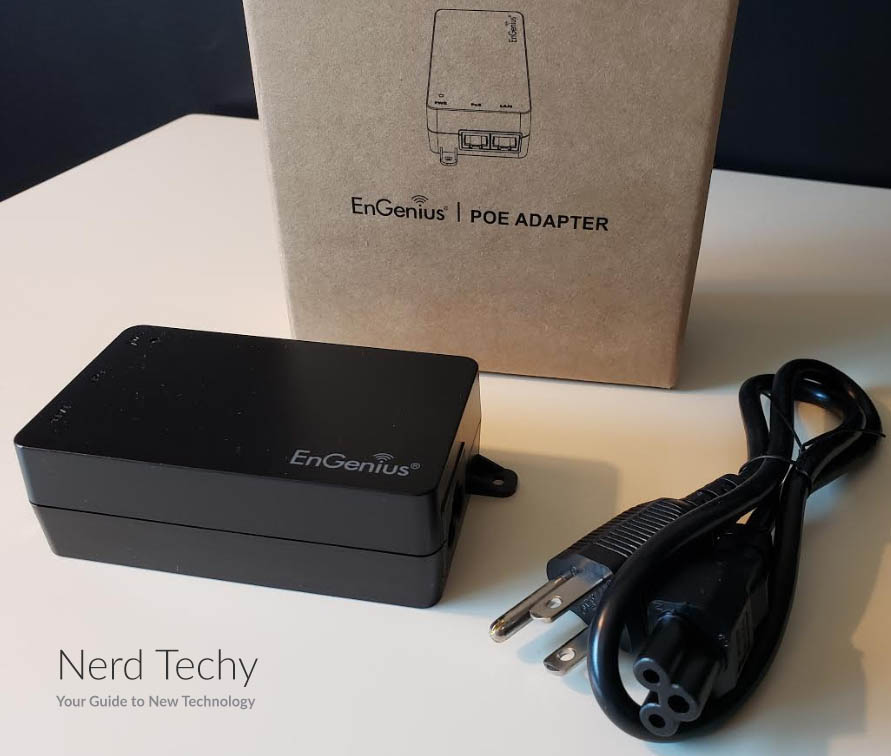 Features & Technology
Talking network technology always makes us nerd out so prepare yourself for some in depth coverage of the tech inside this access point. This Engenius Neutron access point is packed with the latest in networking technology. It utilizes the next generation standard WiFi known as Wi-Fi 6 or 802.11ax. Some key differentiators with Wi-Fi 6 include OFDMA otherwise known as orthogonal frequency division multiple access which shares channels to maximize network efficiency for both uplink and downlink traffic. OFDMA also reduces the latency between your access point and your connected devices and has full backward compatibility for both the 2.4 and 5 GHz frequencies. Along with that the 802.11ax standard has longer OFDM symbols meaning there is a shorter wait time between the data transmission, and it tolerates more signal noise so you get an even greater coverage area.
It also has 4x the capacity of previous Wi-Fi renditions and a feature called "target wake time" which helps with your device battery life connected to the Wi-Fi. Yes, your wireless access point can now help increase your mobile phones battery life by determining when and how much a device will wake up to utilize data. If you are looking for a smart access point to power your smart home, it absolutely must have Wi-Fi 6.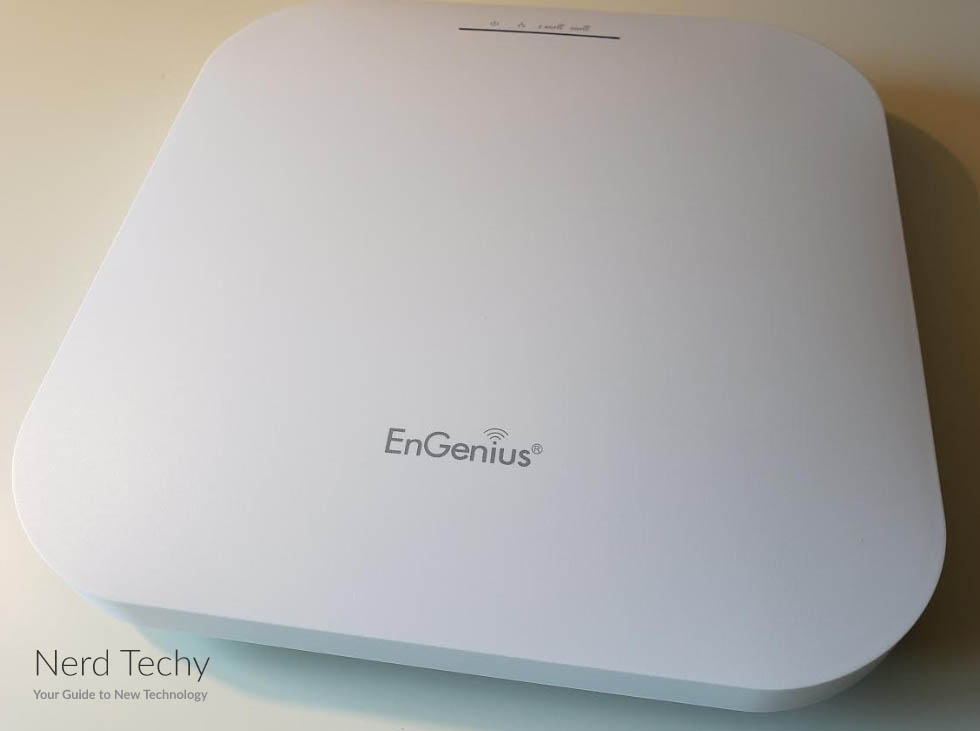 Tucked inside the Engenius Neutron is a Qualcomm chipset that helps make it run more efficiently so that it utilizes less power while having a maximum aggregate speed of 3.5 Gbps. That max speed is over the combined 2.4 and 5 GHz frequencies where 2.4 max is 1,148 Mbps and with 2,400 Mbps on the 5 GHz. All that means for you is that your access point will not be the bottleneck preventing you from utilizing the network speed you are paying your ISP for.
It also has MU-MIMO functionality, which just stands for multi-user, multiple input, multiple output. It was created to be used in a place where there are many people trying to access a wireless network at the same time. MU-MIMO is sometimes called Next-Gen AC which refers to the 802.11ac protocol that came before 802.11ax. With 802.11 users are usually served on a first come first serve basis and that can cause congestion in the network for people that get stuck in the line. Essentially what MU-MIMO does is allow multiple users to make requests simultaneously without that congestion. It comes in 2×2, 3×3, and 4×4 variations which refers to the number of streams it can handle. The EnGenius Neutron is the latest greatest 4×4 variation.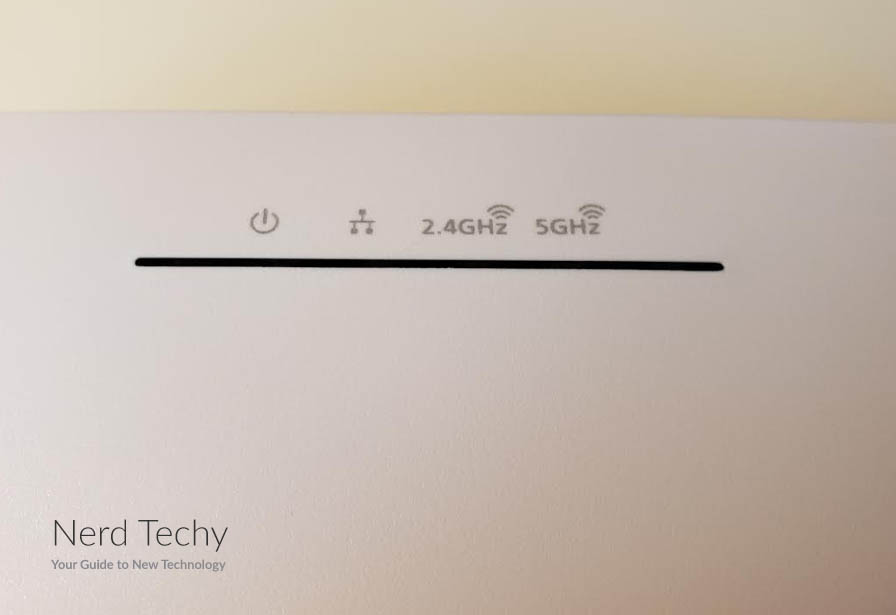 This is an access point that would be perfectly suited being in either a large household with plenty of kids or even a business environment. If it can handle that kind of workload it can handle whatever you want to throw at it as well. Whether you want a stable connection for your virtual reality gaming or twitch streaming career, this is an access point that can help you get there. It's fair to assess that this access point might be too powerful for individuals that just want to engage in basic internet usage, for a still great, but less intense option, check out the Netgear WAC124 AC2000 Dual Band Wireless Router.
Network Connectivity
It goes without saying that with the technology packed inside, the network coverage area and connectivity strength is phenomenal. During testing we connected a variety of different types of devices simultaneously and then set them all to stream different YouTube videos and not a single device had connection issues. Each unit had a connection speed that we have previously only seen on wired networks.
Security Features
If you are a security minded person, and all of you should be, you want top of the line security options on any network device you purchase. The EnGenius Neutron not only has the latest WPA3 Wi-Fi security, but it also has the option for the trusted WPA2-AES authentication as well.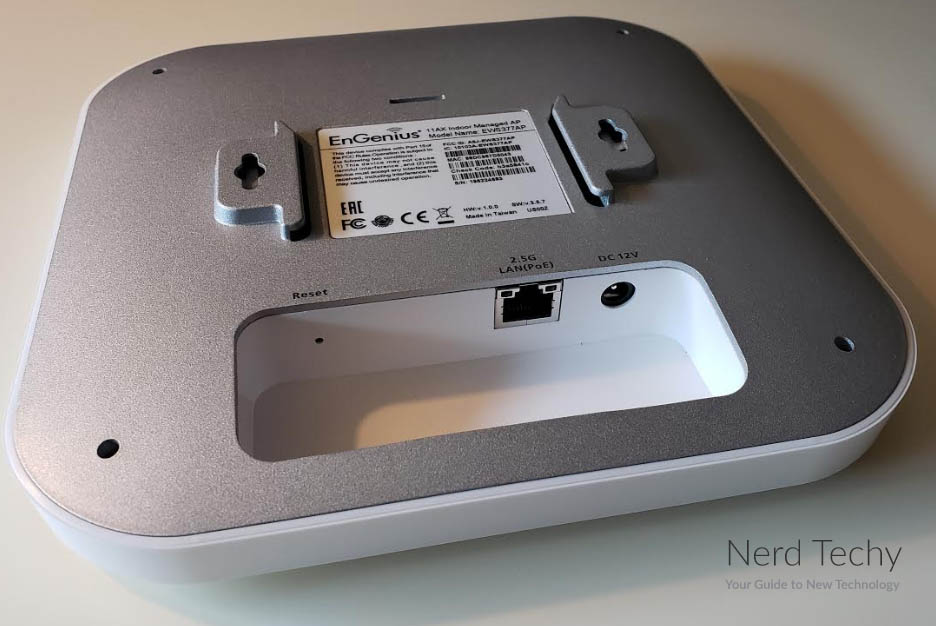 With WPA3 you get four additional security features that are not found in WPA2. This includes individualized data encryption for every device connected, protection against brute-force attacks, an easy connection process for devices without displays, and even higher security for government and industrial applications.
For the individualized connection it means when you connect your phone the traffic between your phone and the access point will be encrypted without the use of a passphrase. That means that even if someone somehow gains access to your access point, they will not be able to snoop on your traffic without cracking the encryption. This is of course particularly beneficial for public Wi-Fi connections that have always been risky. It is a fair choice to still not trust public access points and for that you should check out the Keezel 2.0 VPN Portable Router so that you can maintain your security when you leave the safety of your own EnGenius Neutron.
With the brute-force protection WPA3 networks are no longer vulnerable to the "KRACK" attack that WPA2 devices fell victim too. During the handshake process the KRACK attack was used to see and decrypt much of what happened on your network even without the network password. So that along with the government grade 192-bit security suite built in makes for a network that you can feel safe on.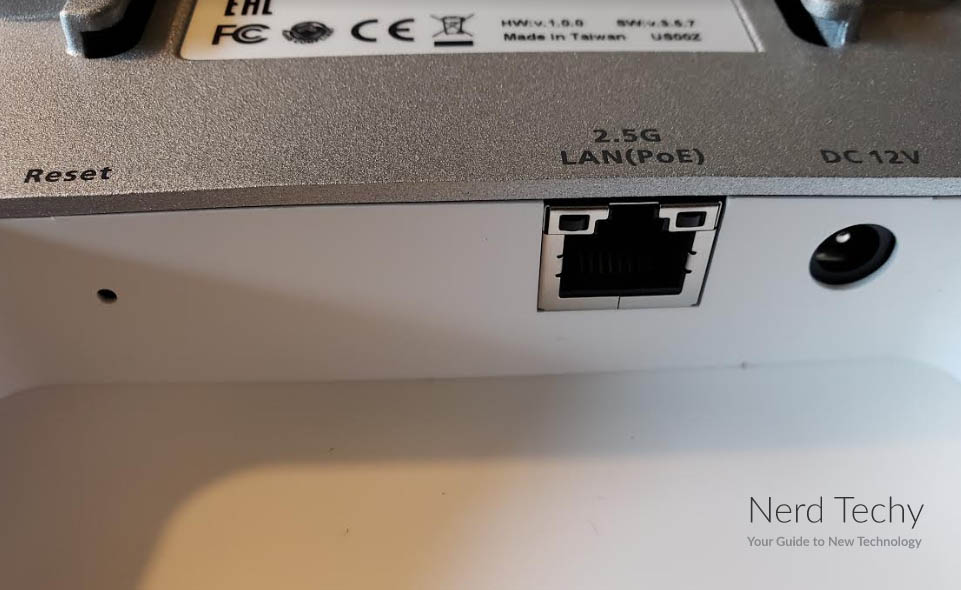 The Verdict
When you purchase technology you always run the risk of buying something that is obsolete immediately because technology advances at such a fast rate. That is why you have to make an effort not to exacerbate that problem by knowingly buying older, inferior, unsecure, faulty technology. This is doubly the case with networking equipment. The right access point can completely dictate how your online experience is, either making it great or making it miserable. With the EnGenius Neutron access point the only option is a great experience.
For most products it is easy to find flaws so we can then point them out and avoid looking like cheerleaders. With the EnGenius Neutron EWS377AP however it was much more difficult to do so. From the minimalist design, POE functionality, excellent connection speeds and bandwidth, to it's next generation security protocols there is not a lot to complain about. There is even the ability to manage your access point remotely over EWS and ezMASTER.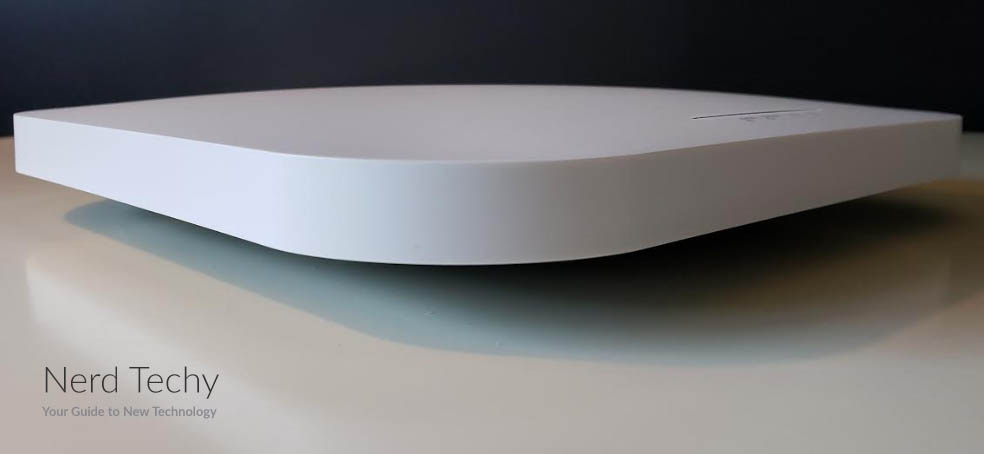 So after analyzing everything what could we find that was worthy of complaining about? Well there actually was a single thing we identified that was a bit annoying, that is the fact that the power adapter is not included with the access point. This might seem like a minor complaint, because it is, however it just seems strange that they would put an effort into building such a great product, and then after you dish out the money, you don't even get a power adapter.
We definitely think that the price point for this product deserves to have the power adapter included. Though if we are going to be completely fair, the power adapter is sort of pointless if you decide to use the POE option. And everyone should definitely utilize the POE option if for nothing else than it looks much prettier when mounted to your wall than if you have to cables.
This is an access point everyone should look into so they can future-proof their connection experience and benefit from the latest safety protocols. Let us know what you think of this access point and if you have had the same or different experience.