In today's modern world, there are thousands of different headphones and earbuds to choose from. Whether you're an occasional music listener or an all-day audiophile, selecting the right pair can be a cumbersome task. Like most consumers, portability, comfort and sound quality are some of the top traits that one may seek when figuring out which pair to own. On top of that, overall value and affordability play a key role. However, the question remains; is there a set of earbuds that truly meet all requirements? While the answer is typically controversial, we believe we've found one of the most promising new-releases of the season.
Introducing, the iKonex X7 Personalized Wireless Earbuds. Currently being funded through IndieGoGo, the X7's seem to blend everything we typically look for with a price-point that makes sense. We were lucky enough to get our hands on a pair to thoroughly test and review them for ourselves. We'll be taking a close look to see how they perform, pros and cons and all of the important qualities that are worth mentioning.
"Your Portable Hi-Fi Theater"
Before we get started, it's good to know the goal of iKonex with their X7 earbuds. They were specially tailored to simulate a theater-like environment into a compact, wireless earbud. While this is usually much easier to achieve in over-ear, studio-grade headphones, it's a challenge to convey this kind of sound quality in such a small form-factor like an earbud. Typically, earbuds lack the sound clarity/quality of physically larger headphones. This is for the simple fact that a small form-factor can have a much tougher time resonating theater-like effects. More on this later.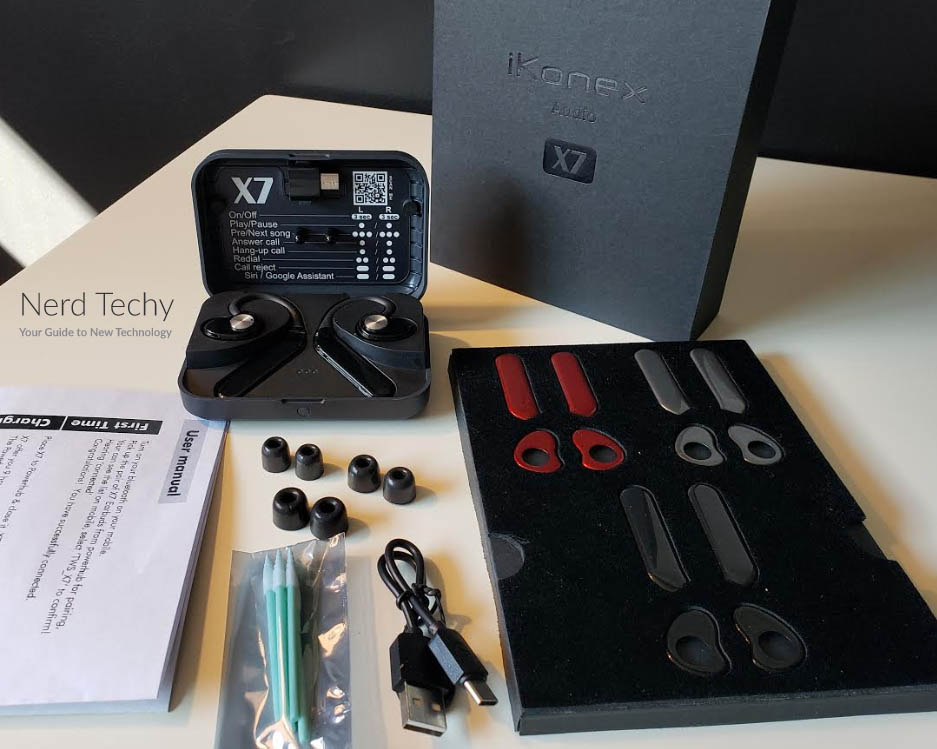 Opening the Box
Right when we opened the box, it was apparent that the iKonex X7 were unlike most earbuds. They come included with three color-options of face-tips for the ideal amount of visual personalization. Red, gray or black, this allows you to customize the external color of the earbuds to make them your own. Underneath the layout of face-tips, we found the powerhub, three pairs of different-sized foam ear tips, an instruction manual, a USB charging cable and the earbuds themselves.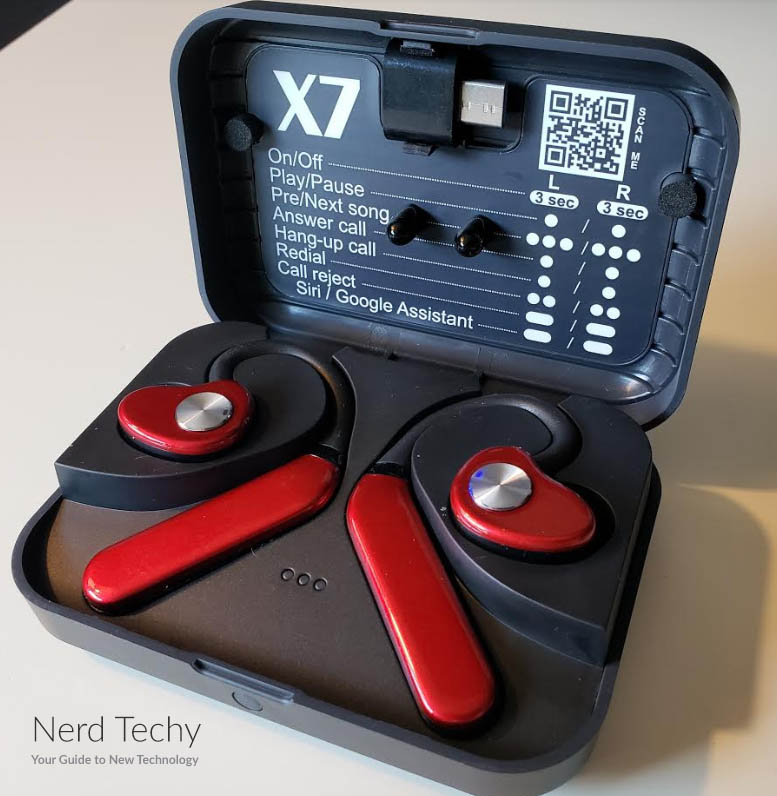 Configuration
Setting up the iKonex X7's for the first time is actually quite simple. It sure helps that they've included such clear and concise instructions that direct you on all of the functions. After you've attached the properly sized foam ear tips and snapped-on your favorite colored face-tips, pairing it to your music-source is the next step. But before we do that, we recommend leaving them in the powerhub with the lid closed for a couple hours to top-off the batteries. Although they come shipped with a partial charge, this will get them ready for continuous first-time use.
Once you've charged them for a little bit, make sure Bluetooth is activated on your mobile device. Then, take the earbuds from the powerhub and the LEDs will begin to alternatively flash between red and blue. This lets you know that they're looking to pair. At this time, you'll be able to see them appear as "TWS_X7" as an available Bluetooth connection. On your mobile device, click to confirm and you'll be greeted with an audible "Connected", informing you that the earbuds are configured and ready for listening.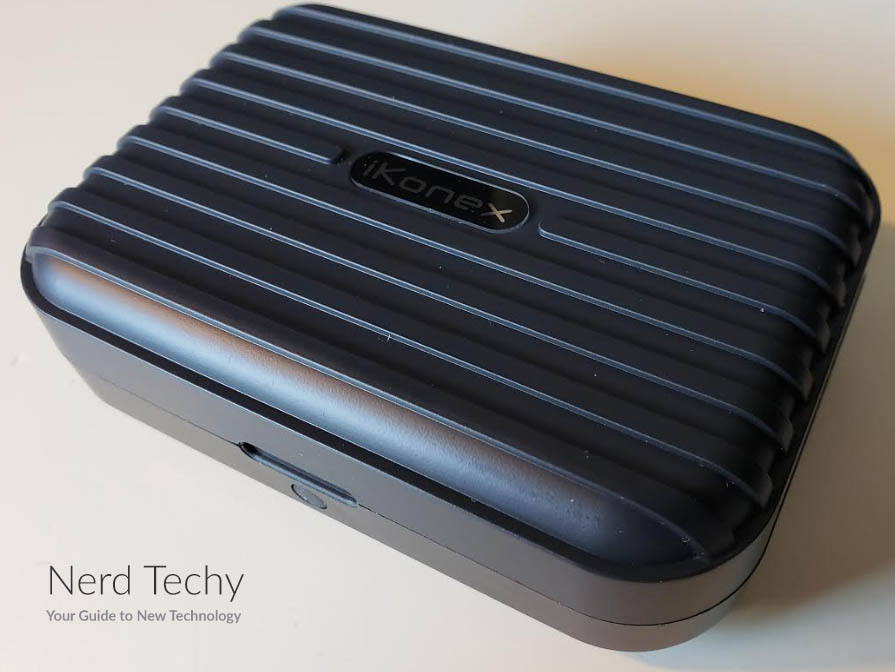 Comfort and Fit
Believe it or not, the comfort and fit of a pair of earbuds goes hand-in-hand with sound quality. Why is this? If you don't have a comfortable, snug and sturdy fit to your ear canal, not only will it get on your nerves over the course of time, but it will ultimately effect the sound quality. Creating a nice seal between the ear-tips and your ear canal is crucial for the sound to be as good as it can be. You'll want to select the right set of foam ear-tips that offer a snug fit without pressure points or looseness. After your done figuring out which set of ear-tips you prefer, you likely won't ever need to go through this process again.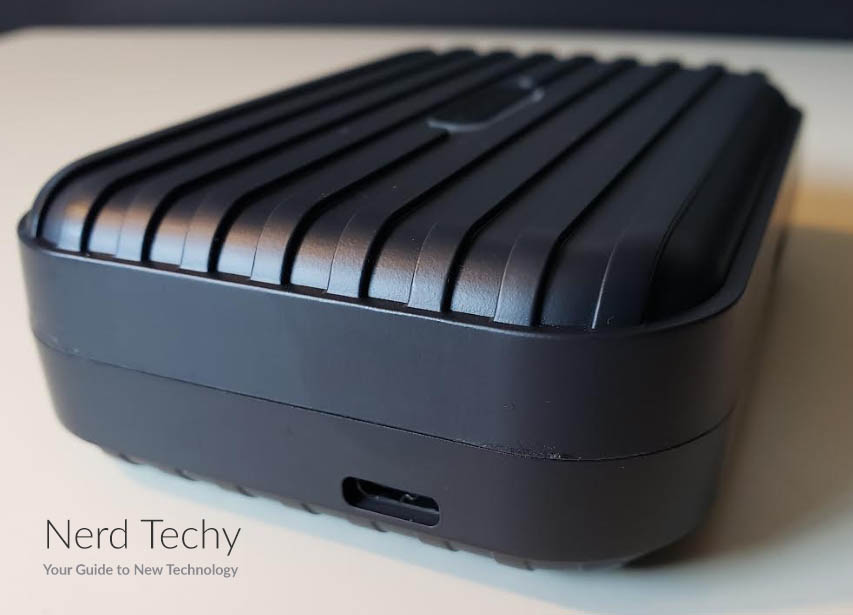 Moving on, the iKonex X7's boast an allergy-free ear-hook design that wraps around the backside of your ear and securely locks on. Needless to say, we're a big fan of the way that they fit. The ear hooks seem to be the perfect size and don't wiggle or create too much pressure which would lead to long-term discomfort. We've had them in our ears for 4-5 hour periods without the need to re-adjust.
The comfort that the X7's offer is quite pleasing. In addition, we haven't found them build-up sweat over the course of a long workout, whereas other pairs we've tested in the past have carried this major problem. They seem small enough to fit correctly and bulky enough to not become a burden on the listening experience.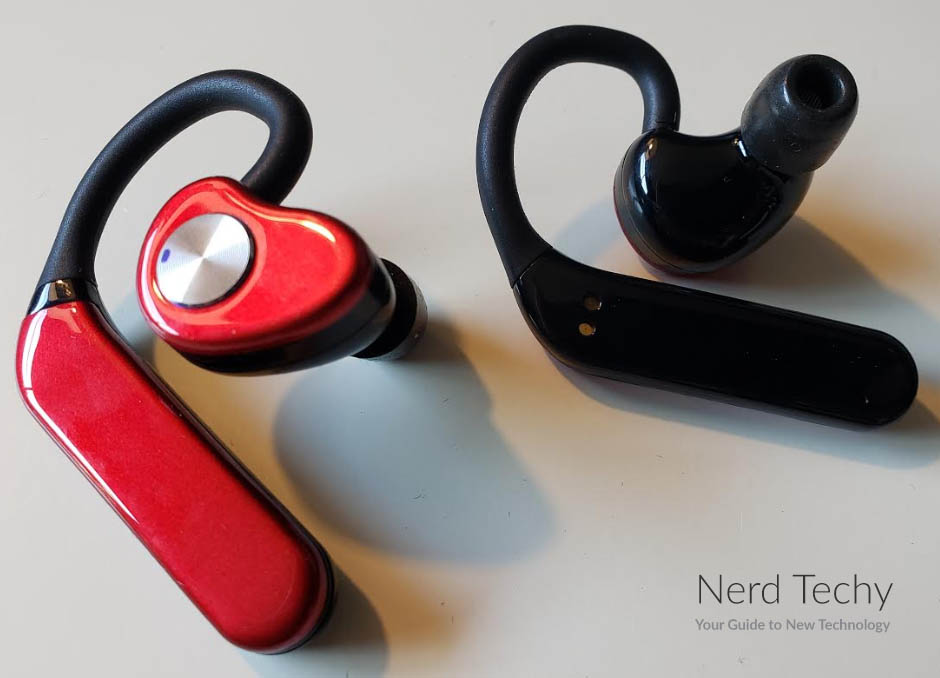 Controls
Although from first-glance you can't see any buttons or controls on the external body of the X7 earbuds, there's a reason for that. They're equipped with an "easy touch control" feature that lets you handle all of the functions with simple short and long presses. You have the ability to play, pause, skip forward/back, answer/redial/hang-up/reject phone calls and even activate Siri and Google Assistant. While memorizing each of these controls can be difficult at first, all of these functions are clearly identified on the inside of the power pack case. This simple touch-control feature is actually quite simple, especially when you have a legend on-hand that informs you exactly how to activate each one.
We found the controls to be quite straight-forward and simple to use. It's an intuitive way to de-clutter the external appearance by integrating a smart, touch-controlled feature like this. In our opinion, much more ideal than having a variety of tiny buttons to deal with.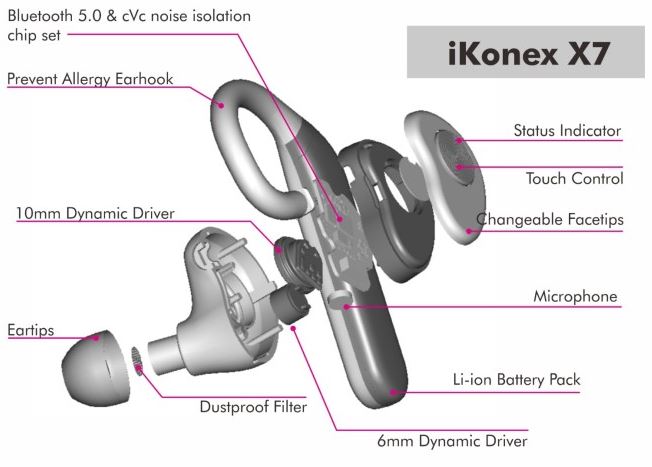 Sound Quality
As we mentioned previously, iKonex's goal was to create a set of earbuds that carry a balanced, theater-like experience. Looking at the specifications, it's clear that they went above and beyond to attempt to make this happen. They've equipped the X7's with a Bluetooth 5.0 and cVc noise isolation chipset which is capable of encoding up to 192 kHz and 24 bit audio format. What exactly does this mean though? 192 kHz is the sample rate defines the number of samples per second taken from a continuous signal to make a discrete signal. So, 192,000 audio samples are taken from the 24 bit depth recorded for each sample. In general, the higher the kHz is likely to be much clearer and smoother than a lower sample rate. While most of this depends on the audio-source, the X7's are fully capable of playing this most-pristine quality of audio.
In addition to their encoding capabilities, internally, there's a 10mm dynamic driver in conjunction with a 6mm dynamic driver. To put it bluntly, we're a big fan of the way that the X7's sound. The clarity that they're able to deliver is truly remarkable, considering what you're hearing is coming from such a small form-factor. We're convinced that the large dynamic driver in combination with the latest Bluetooth version creates the ideal blend of clarity that you'd expect in a theater-like experience.
The only shortcoming we encountered was a deep and invigorating bass. While we think it's safe to say that the bass is acceptable, it's not truly on-par with audiophile-grade headphones like the Bowers & Wilkins PX5. We admit, yes, it's kind of like apples and oranges – comparing earbuds with over-ear headphones. However, we believe an important aspect of a theater is the deep and rumbling bass we've come to expect.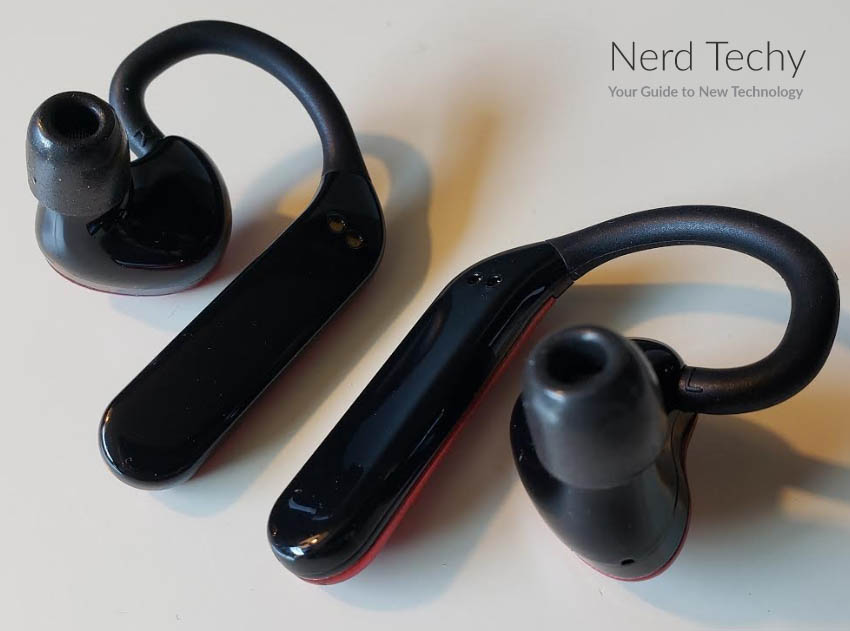 Call Quality
Although it's difficult to even notice, there's a tiny microphone integrated into the design of the iKonex X7 earbuds. Located right next to the lithium ion battery pack, this microphone is used for phone calls through your smartphone. While it may not be a feature that everyone uses regularly, having the ability to use with phone calls is a definite bonus. In addition, the functionality with accepting and rejecting phone calls is simple.
We tested the microphone through various phone calls and found it capable of transmitting crystal clear audio without interference. In fact, the integrated microphone did exceptionally well with phone calls in a variety of environments. Whether we were in a quiet room or a loud shopping mall, the audio on the other end was easy to make out. We believe this is because of the cVc noise isolation that does a fantastic job at keeping out unwanted background noise from being picked up.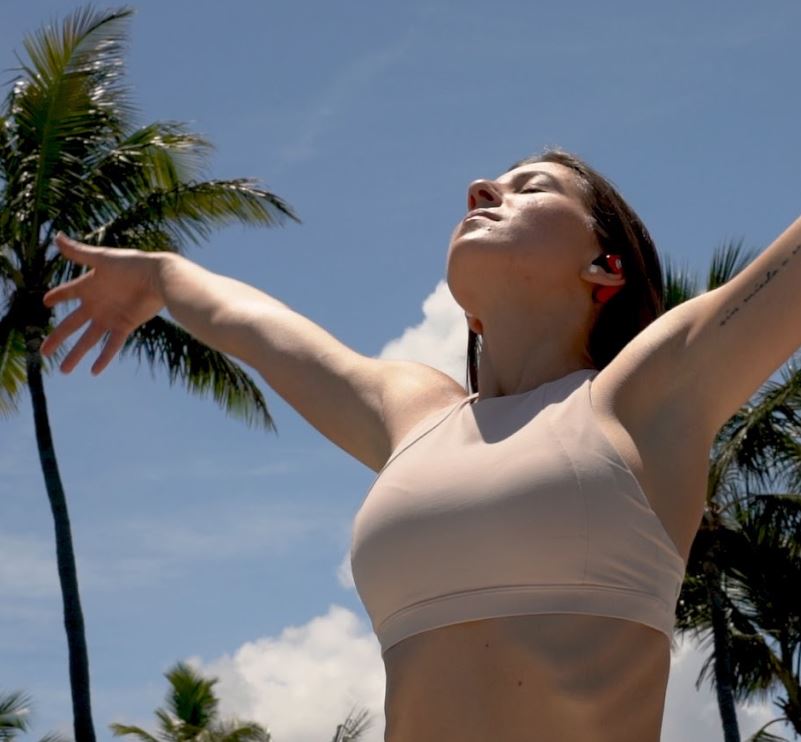 Wireless Range
With any wireless set of earbuds or headphones, the range between the audio-source and the earbuds is quite important. With the X7's, we experienced around 30-40 feet of crystal clear, lag-free audio transmission before it began to cut-out. While a lot of this is determined by the environment you're in and how many walls or obstructions are in the way, this seems to be plenty of wireless range for most scenarios.
Battery
In addition to wireless range, the battery life is a crucial factor for most listeners. We were quite impressed with the advertised 9 hour battery life, which is much more than most earbuds currently on the market. However, this is a best case scenario estimate that is subject to wireless range and volume. In other words, if you have the volume cranked up near the maximum or if you're a great distance away from your Bluetooth audio-source, you can expect much less battery life.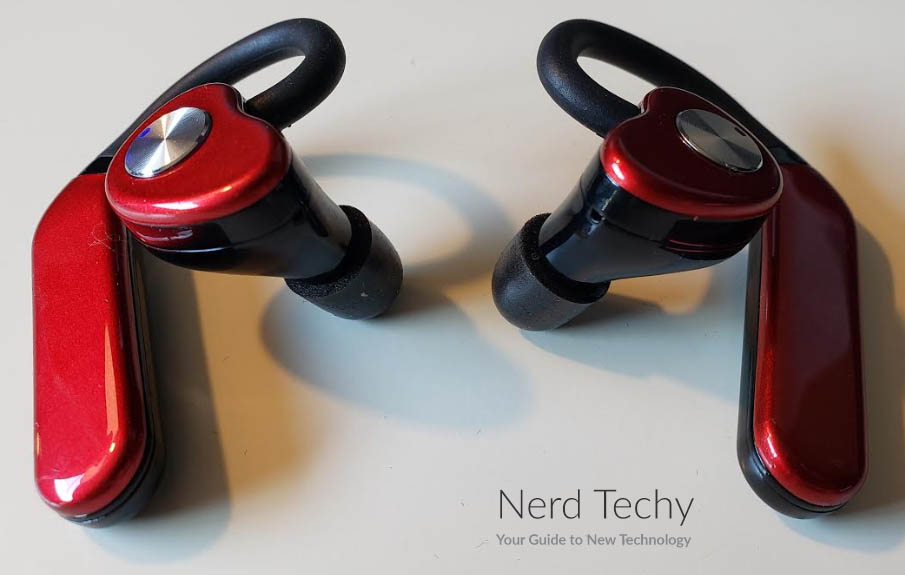 We listened to the X7's for about 5-6 hours at a ~60% volume and a 5 foot distance before they required a charge. Even 5-6 hours is a pretty impressive battery life in our opinion and quite acceptable for most listeners. We just think it's important to know that the volume and wireless range can drastically effect how long they can go without a charge.
Durability
Since the iKonex X7's are designed as an earbud for an active lifestyle, it's critical to consider their durability. We were very pleased to find out that they're equipped with IPX6 water-resistance for use in wet or sweaty conditions. What exactly is IPX6? It's a rating given to earbuds and other devices that prove they've been thoroughly tested for their waterproof ability. To withstand this test, the X7's endured a minimum of three minutes of being sprayed by at least 100 liters of water per minute.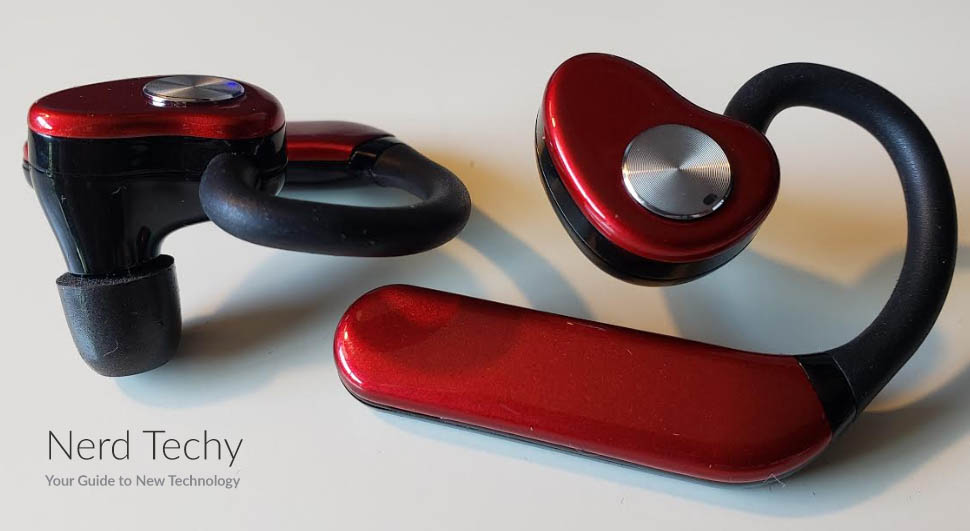 In other words, you can safely use them in the sauna, or during a vigorous workout without needing to worry about their longevity. However, this rating also means that you cannot submerge them in water for any amount of period. Although there's a photo on their IndieGoGo page of someone using them in a swimming pool, do not do this. Don't take them underwater because that will likely be the last time you use them.
Technical Specifications
Bluetooth Version: 5.0
Transmission Distance: 10 to 15 meters (30-45 feet)
Sensitivity: 106+/-3db
Drivers: 6+10mm Dynamic Titanium Drivers
Microphone: Stereo with cVc 8.0 Noise Isolation
Battery Life: Up to 9 hours
Powerhub: Offers 6 full charges to the earbuds
Charge Time via USB-C: 1.5 hours
Charge Time via Wireless Charging: 4.0 hours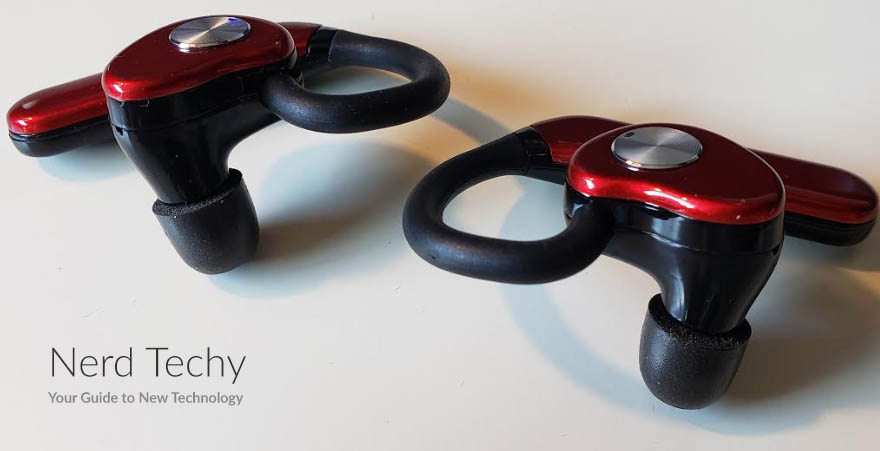 Final Thoughts
With the inclusion of dual drivers, the latest Bluetooth version and noise isolation, it's safe for us to say that the iKonex X7's will likely be a top-choice for consumers looking to acquire the perfect blend of high-end features and sound quality. On paper, they have more impressive features than other brands in the same category. In real life, they seem to meet all of the expectations we had with only a slight let-down in bass quality.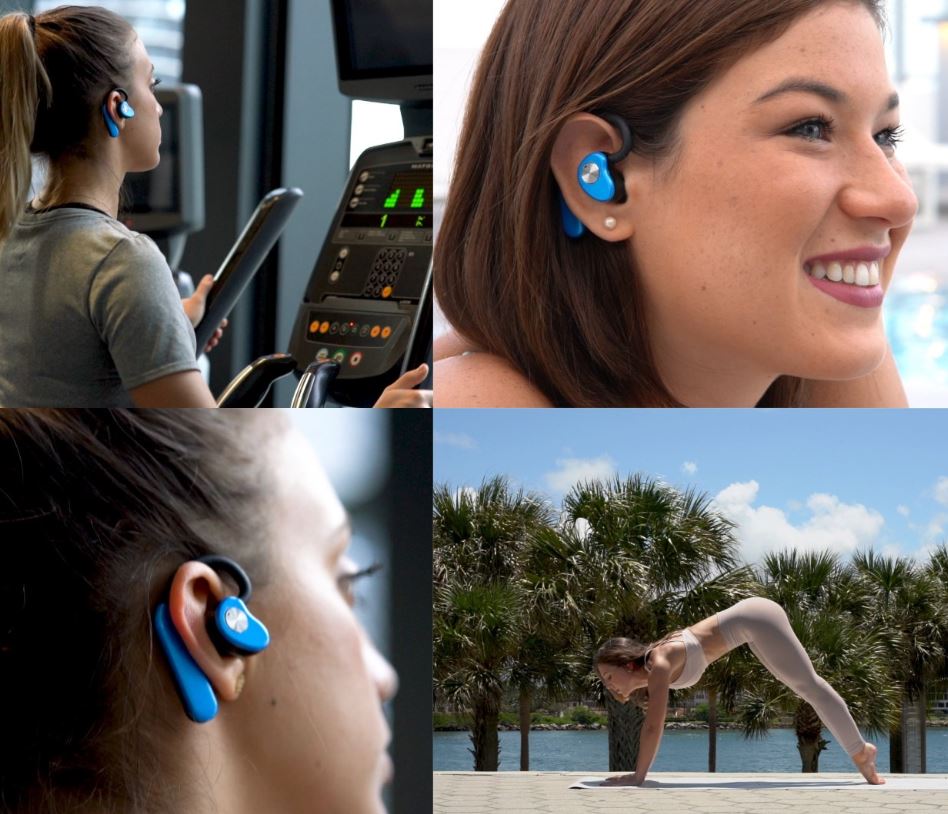 With the inclusion of the variety of face-tips, it's really nice to know that you can make them match your style while maintaining excellent features in every regard. These earbuds are simple to use, fit well and sonund excellent. We wouldn't hesitate to recommend them to anyone looking for an ideal blend of sound quality, style and comfort